One of the reasons I trained to be a Colour Therapist is that I believe in the theraputic benefits that colour can bring us. Colour therapy is a form of therapy for the mind, body and soul. Once you begin to experience how colour can enhance your life, uplifting you, energising you and giving you a renewed sense of positivity, you'll be able to implement new ways to harness the power of colour by adding daily colour therapy rituals into your routines.
To get you started on your adventures in colour, I invite you to join in my free 30-day challenge. Every day for 30 days you'll be encouraged to try different colour therapy rituals. I have chosen them because they're accessible, easy to accomplish and free, using things you already have at home. You don't need to make any investments other than a few minutes each day.
My hope is that you will emerge with a greater understanding of the powerful properties of colour by experiencing colour therapy in action for yourself. Intrigued? Here's how to take part in my 30 Days of Colour Therapy Rituals to Energise Your Month.
Try the challenge – 30 days of colour therapy
You can participate in this 30 day challenge whenever you want but I'm officially launching in for the 30 days of March 1 2023, simply because March 21st is when International Colour Day takes place. I felt like that would be a great way to celebrate this special date.

March also heralds the end of winter and beginning of Spring and being more aware of colour is a wonderful way to connect with changes in nature, temperature and other seasonal changes. But don't worry if you come across this Mid-month, or in an entirely different season. These activities are not time-tied, you can try them any time.
Get involved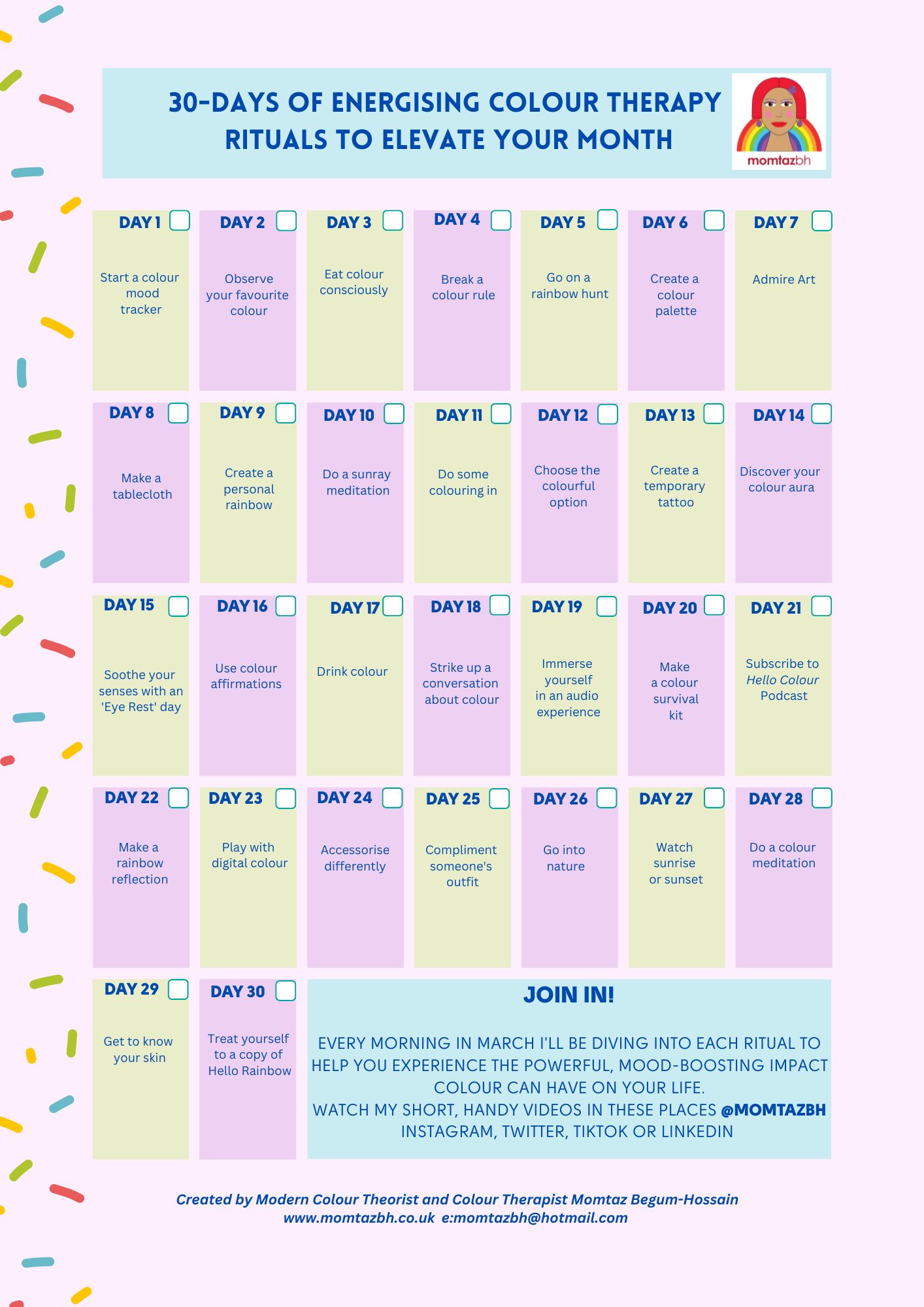 Here's how it works. Each day there is a different task – you can see them all in this handy guide. Every morning for the 30 days of March I will go into more details about how to try each one and you'll be able to see these across my social media channels on Instagram, Twitter, TikTok and LinkedIn – my account for all of them is @Momtazbh.
If you're participating after March 2023 and you miss these videos when they go out don't worry, I will link to them once the month is over so you can watch them back. If you're taking part real-time then do let me know how you're finding the Rainbow Rituals by leaving a comment either on any of those channels or right here on my blog.
FREE COLOUR THERAPY RESOURCES
There are several free resources to go with the 30-day challenge, including your own copy of the above list so that you can tick off each ritual as you do them. There's all included in a free PDF download so that you have everything in one handy place. To make the most of them I suggest printing them off so that you can enjoy the activities that have a practical side like colouring in, or you may find the visual reference.


What is colour therapy?
So now I've told you about the challenge (which I hope you'll join in!), let me rewind and give you a bit more context about what colour therapy is so you know what you're getting yourself in for.
Colour therapy is also referred to as chromatherapy. It's a type of complimentary therapy where colour is applied to a person to alleviate ailments, harnessing the healing properties of colour. But you don't need to go to a treatment with a colour therapist in order to experience a does of colour therapy, that you can do yourself every day and I'll show you how in my challenge.
Buy my book Hello Rainbow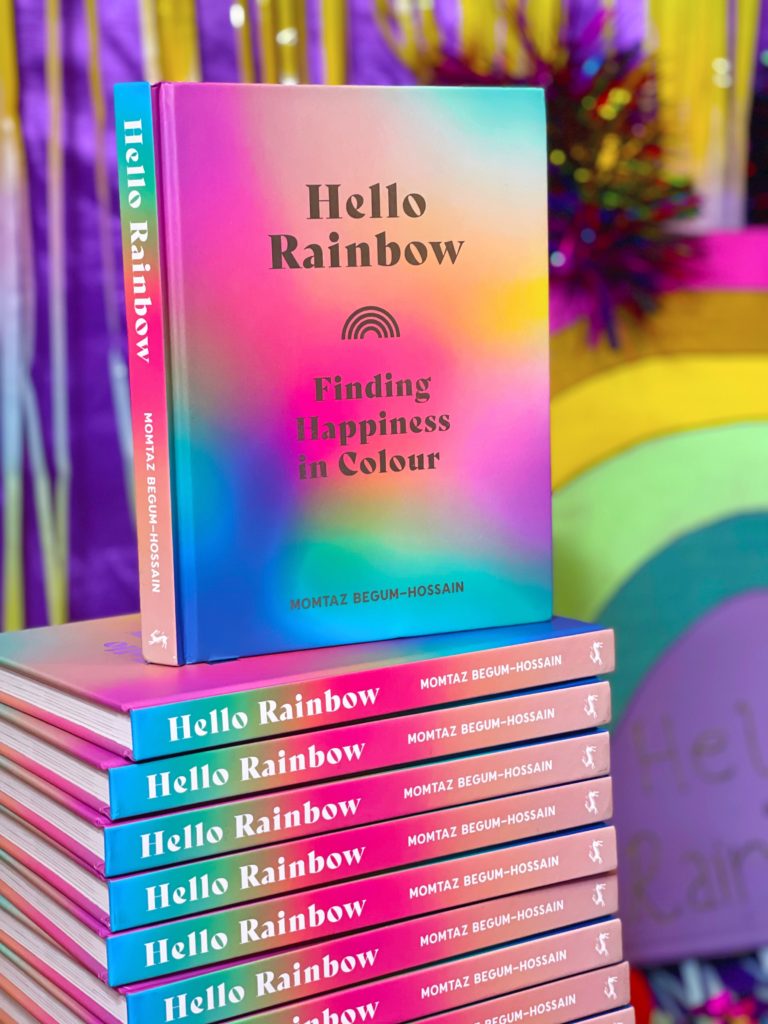 Get inspired by the theraputic benefits of colour by purchasing my book Hello Rainbow Finding Happiness in Colour. If you're based in the UK, head to my online shop where you can purchase a signed copy direct from me, otherwise you'll find it on Amazon and other book stores. There's a digital download version available too.
In it, I share more detail information and practical ways to add more colour into your life.
Yours colourfully,