Love jewellery? Add this design destination to your travel bucketlist now!
It would be an understatement to say that I love jewellery so a jewellery museum is my kind of place!
Not a day goes by when I don't accessorise with bright bangles, eccentric earrings, novelty necklaces, beautiful brooches, crazy clips…you get the picture. So when I heard there was a Glass and Jewellery Museum in Jablonec Nad Nisou, North Bohemia, Czech Republic it went straight to the top of must-do's when I visited The Crystal Valley region in September 2022.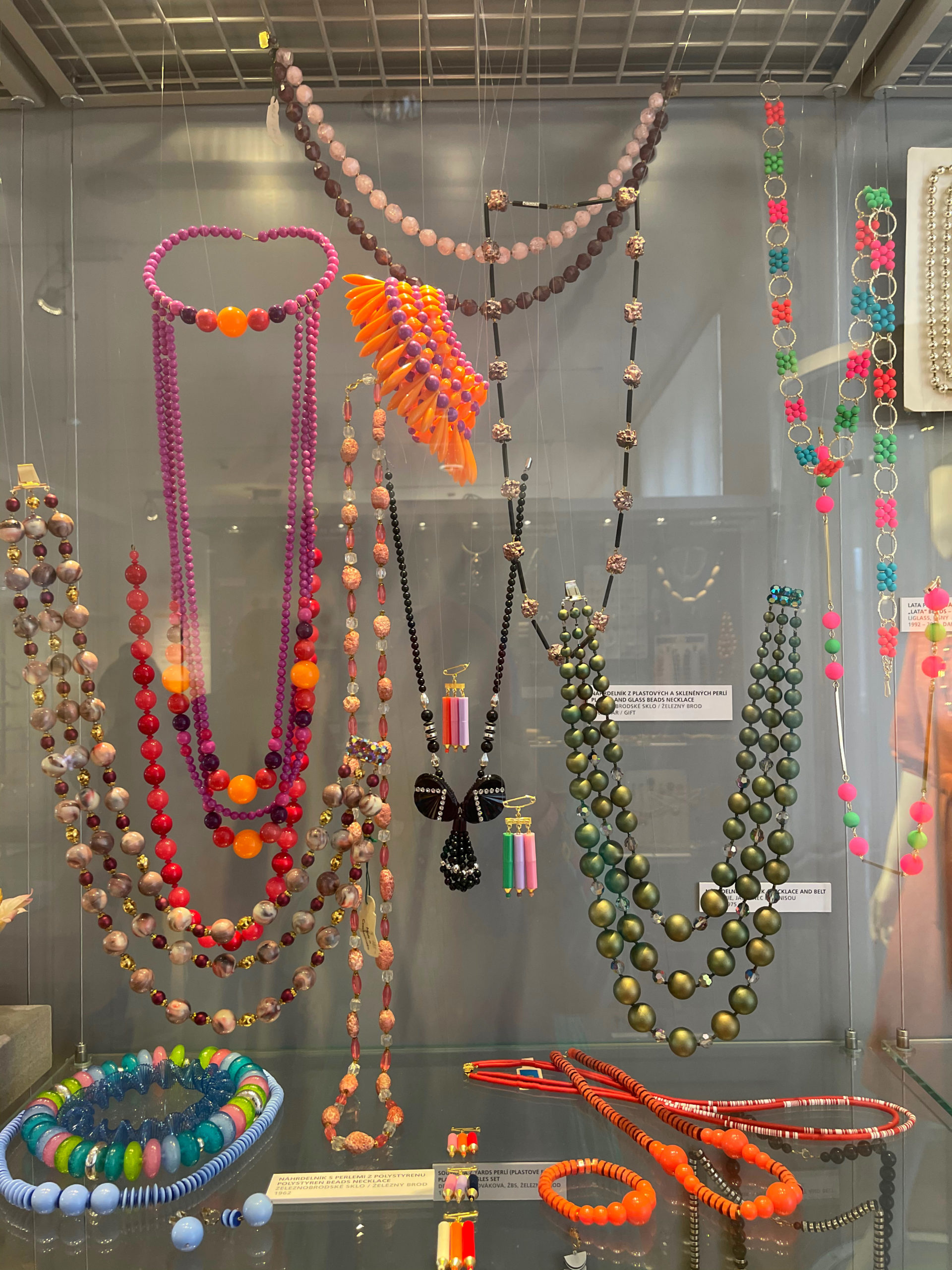 I had high hopes it would be an aesthetically pleasing and colourful institution, but nothing prepared me for the scale of their shimmering collection. The museum's permanent exhibition houses the largest range of costume jewellery in the world made from materials like glass beads, metal, wood and plastic. And if that fact isn't impressive enough, there's also a space dedicated to the most Christmas decorations you've ever seen.
And the records don't stop there. Intrigued?
Here's why jewellery lovers worldwide need to make a pilgrimage…
1. Witness the World's Longest Necklace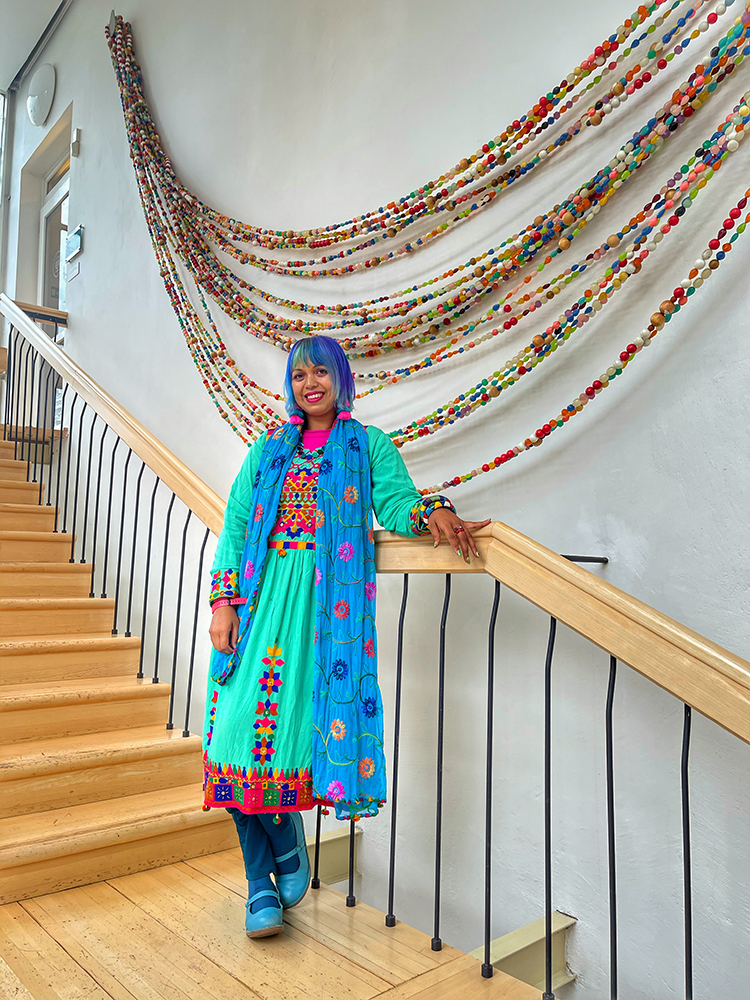 It took 9,244 beads to construct this record-breaking creation which is on display at the jewellery museum. It was made by graduates from the Art School in Jablonec nad Nisou and took 4 hours and 44 minutes to construct. Seeing it made me think we should dress more walls with jewellery, especially in large public spaces – who's with me?
2. Get up to speed on the history of glass and jewellery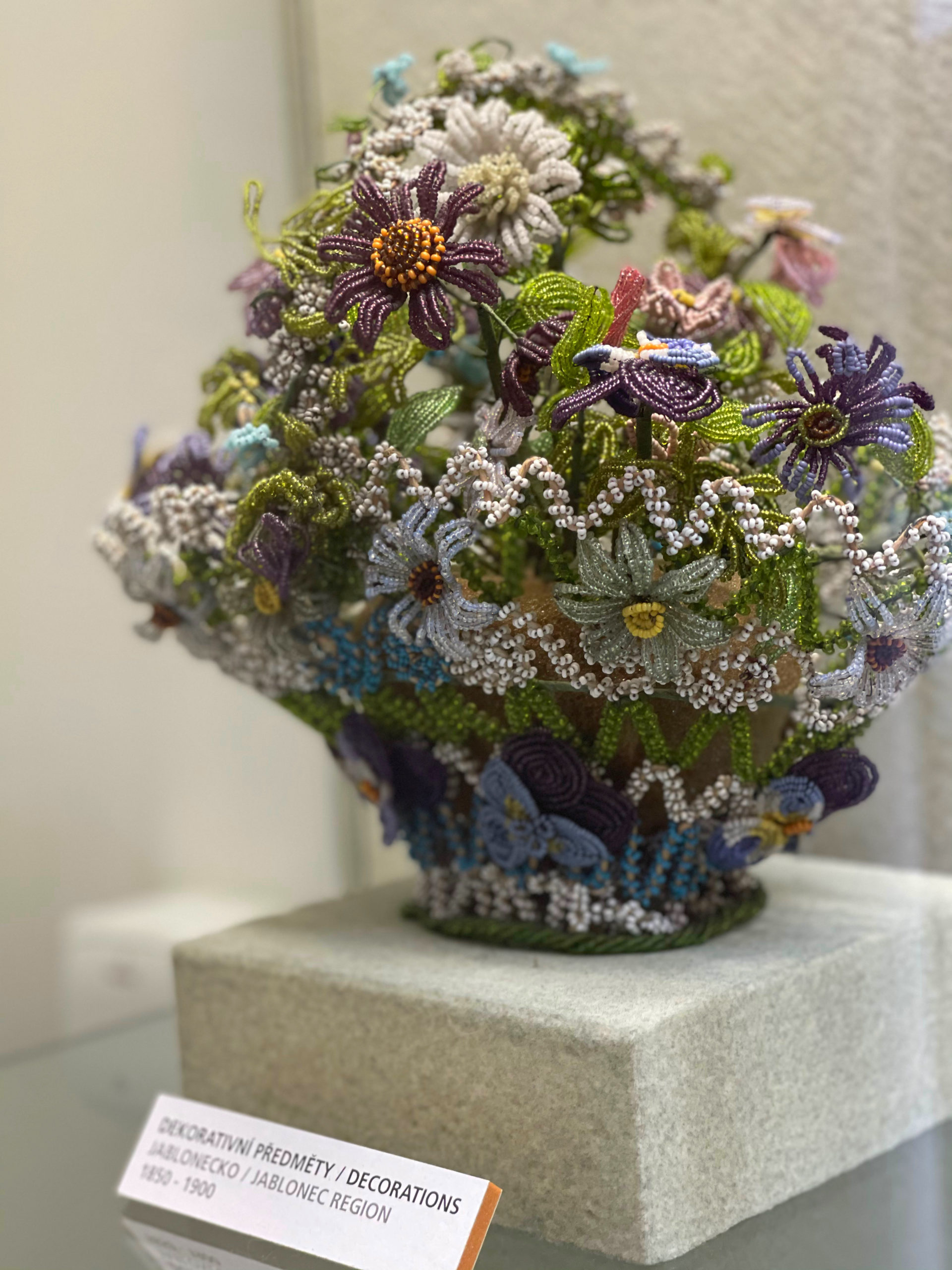 Bohemian glassmaking originated in the 14th century but glass making traces back to ancient civilisations. You can learn about the story of glass through information boards and exhibits at the museum. At the start of the exhibition there's also a selection of ancient jewellery-making equipment to admire.
3. Behold the beads at the jewellery museum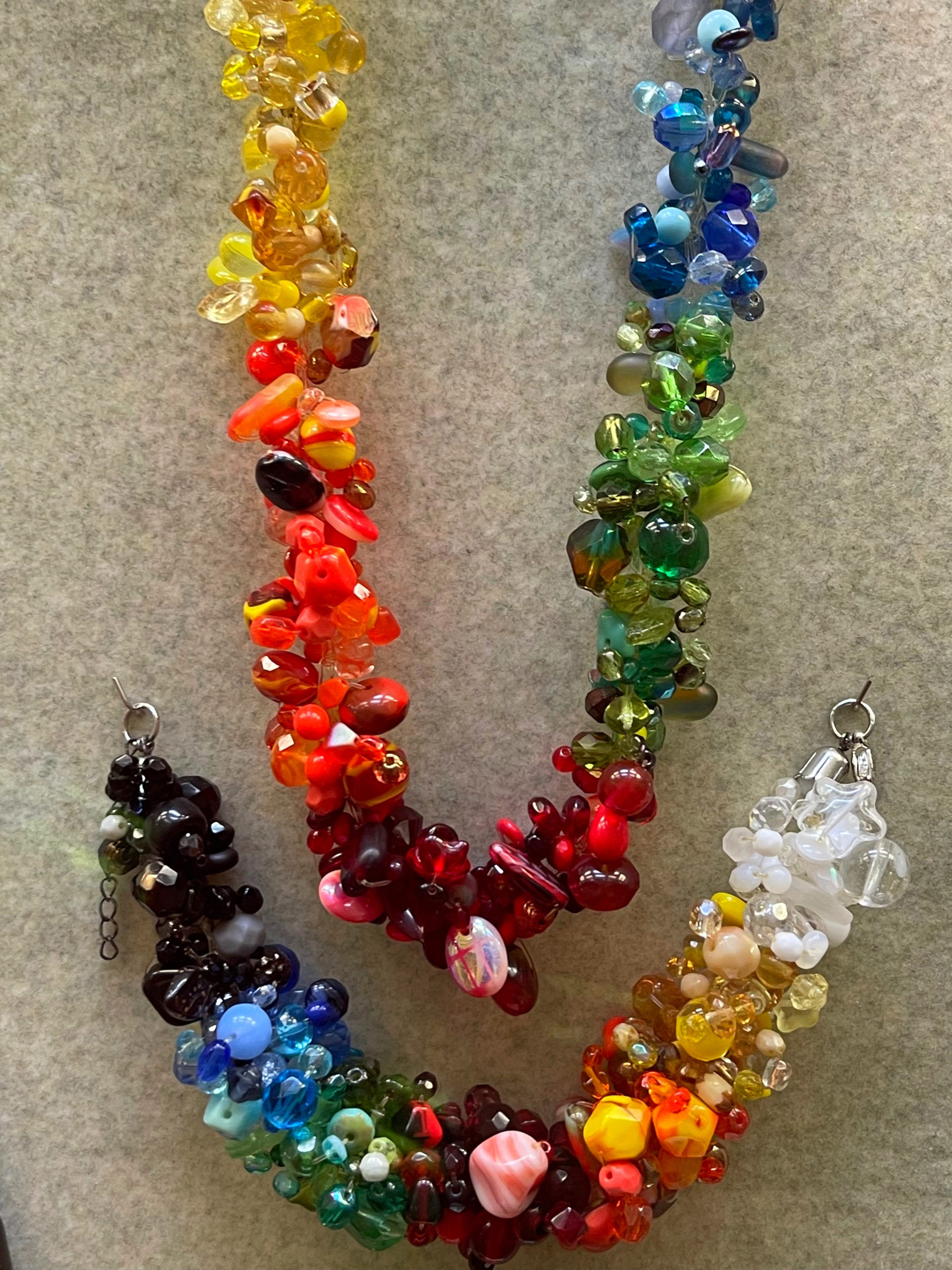 There are endless beads, stones and gems on display in all the rainbow colours. I particularly enjoyed seeing the process of how beads are made from thin glass rods.
The museum doesn't only show European glass and jewellery, you can also enjoy handcrafted creations from all over the world, like these African beaded collars. This is accompanied by a display on seed beads since this is the main bead used for jewellery in different African countries including Kenya and South Africa.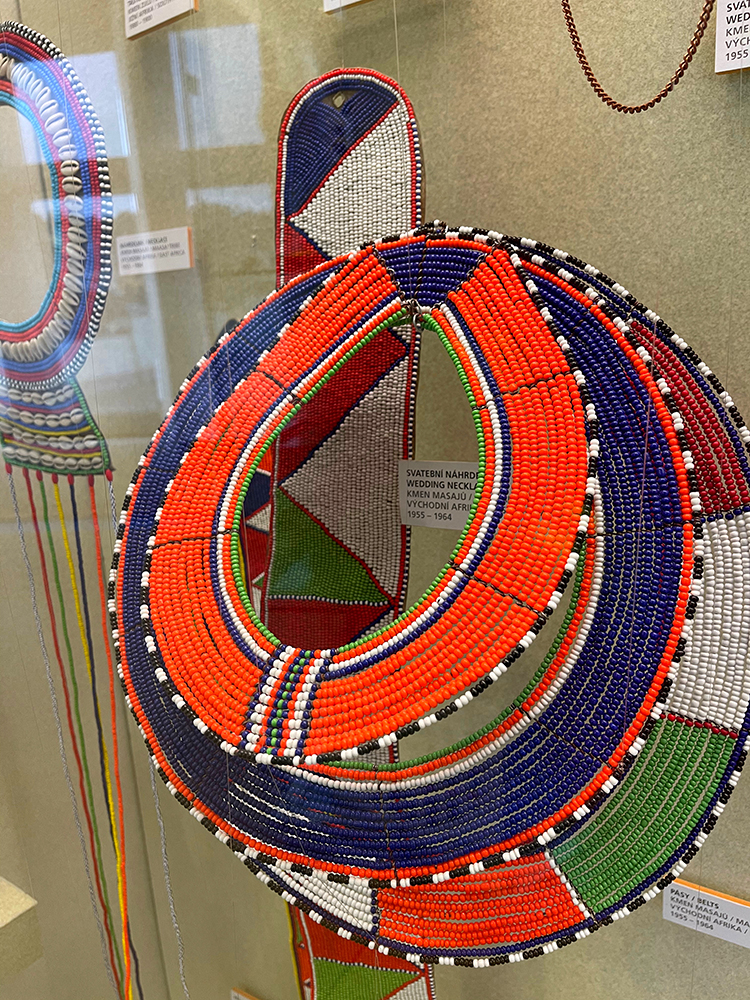 4. Get a dose of colour therapy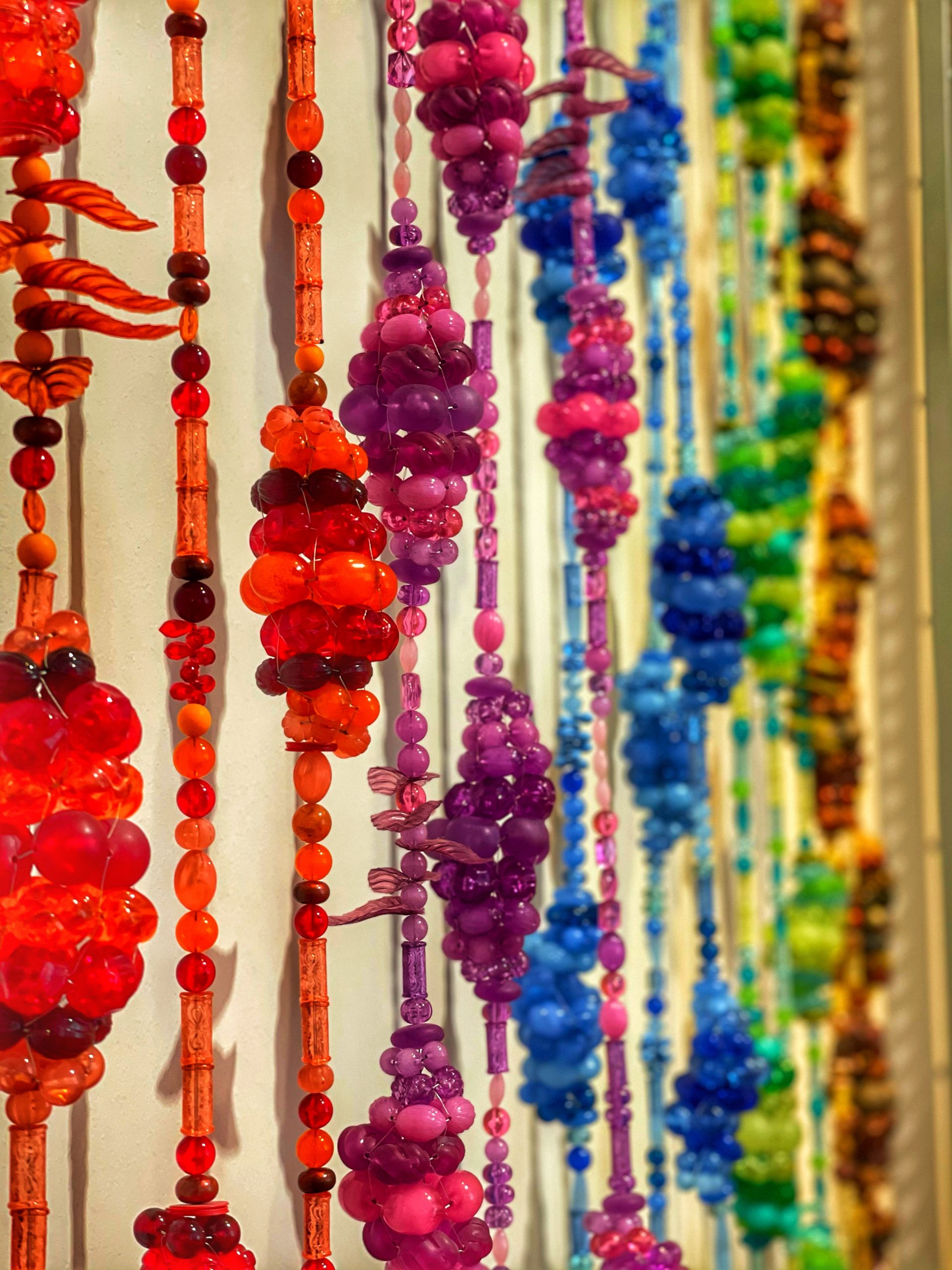 Everywhere you look there is colour – but not just vibrant shades. There's an entire section devoted to black glass jewellery.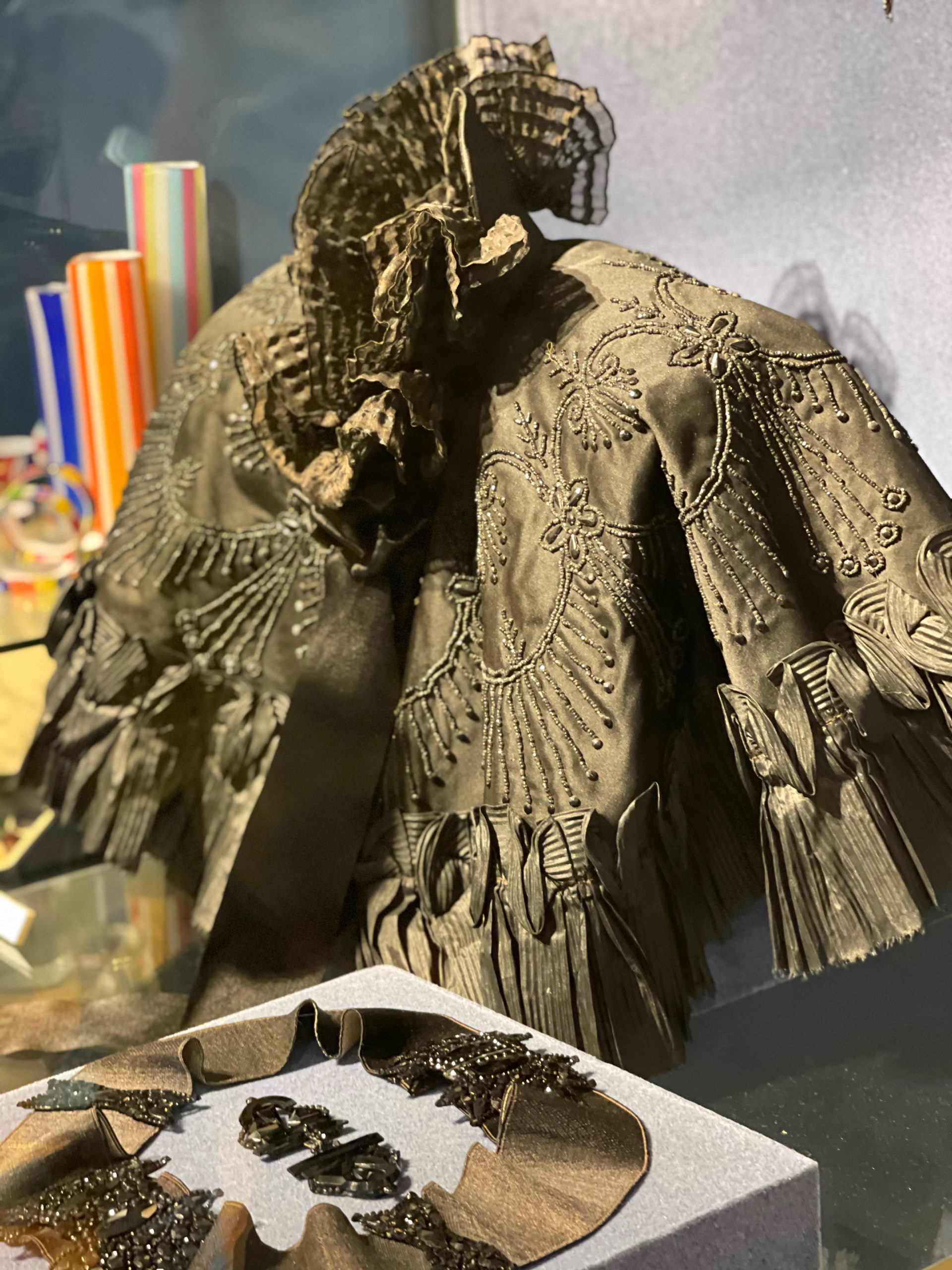 Black jewellery originated in the Jizera Mountains region of the Czech Republic in the mid 1800.s Before that 'jet jewellery' which was recognised and mined by the Romans was black due to its volcanic origins and thought to have healing properties. The black jewellery made in the Czechia however was made black through a process of soldering cut glass onto a wire frame. It was a lot more affordable that other types of black glass production.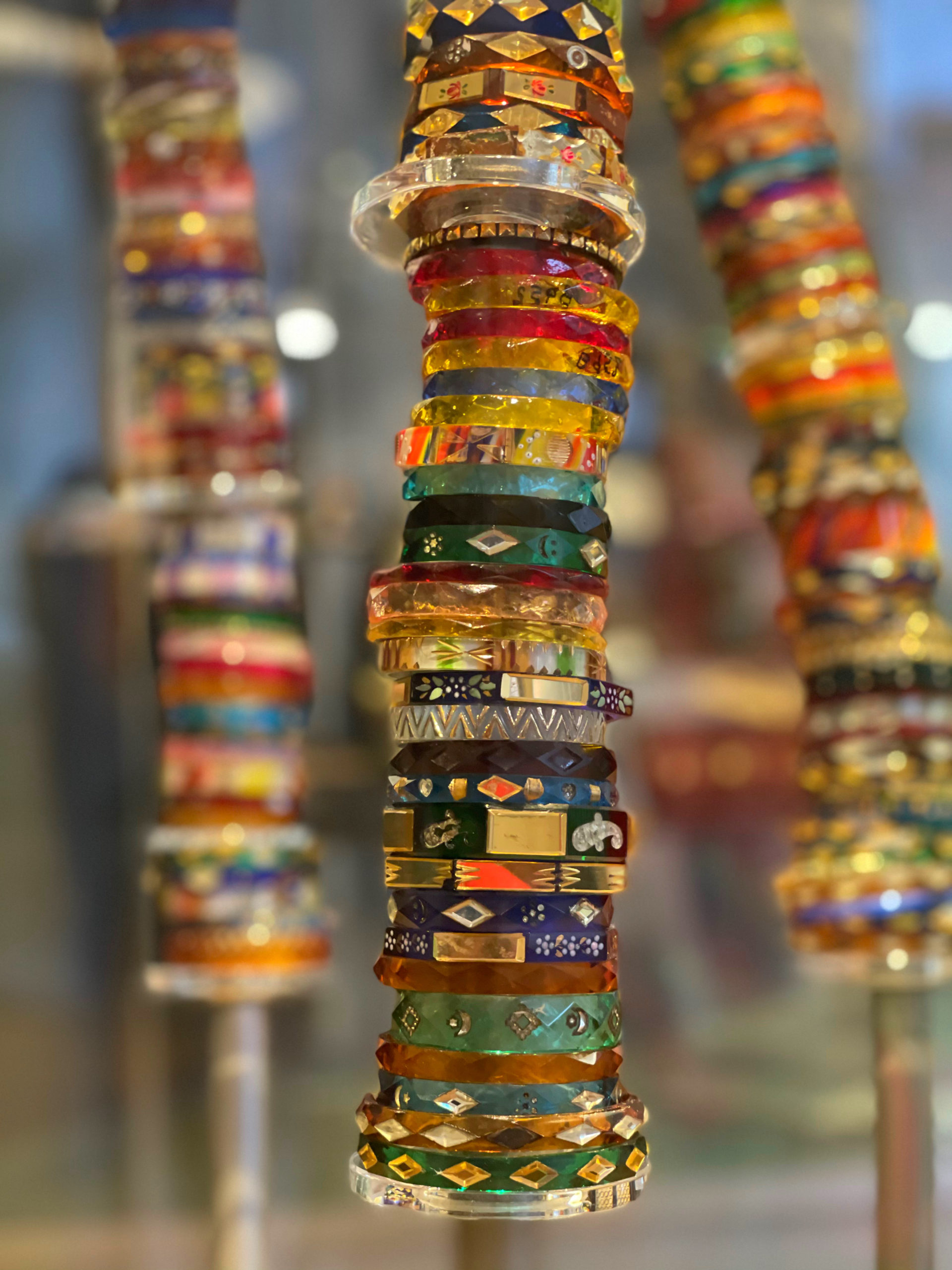 The Bangle display was my favourite section in the jewellery museum because it's my favourite type of jewellery and one I've worn all my life, my mother wore them too and no doubt my ancestors were also bangle lovers.
Czech glass bangles had an Indian aesthetic to them and were exported abroad. They were decorated by cutting, engraving, painting, gold plating and even gluing on small mirrors. The museum displays their bangles on a tree-like structure and honestly I had to keep going back to take it all in, it was just stunning.
5. See 15,000 Christmas decorations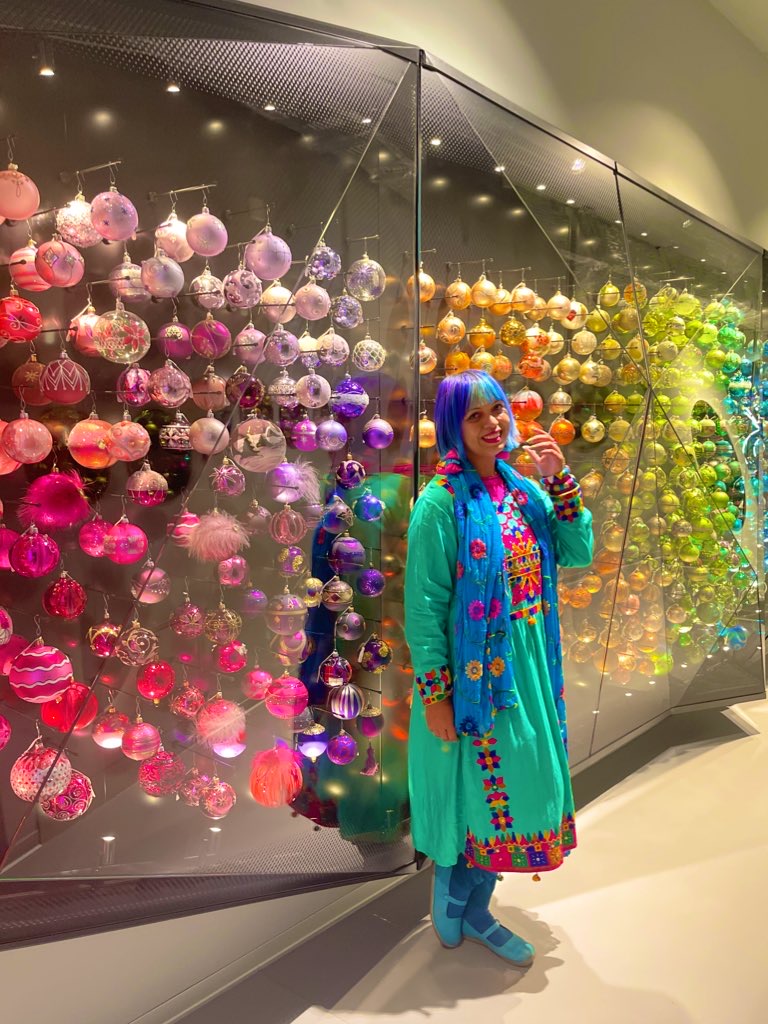 Behold the sparkles! There are a staggering 15,000 Christmas ornaments in the museum's archives in an annex called World of Wonders. In fact, there are so many that they don't all fit. but you'll still get to see around 4,000 of them. Arranged by themes and in rainbow order, you can wander around cabinets packed with seasonal decorations and even if it's not December you'll instantly feel in the festive spirit being there.
One of the really exciting aspects is that the rest of the museum is already mind-blowingly impressive and then you visit the Christmas collection at the end, not expecting it to be so impressive. I wondered around the space several times but I still didn't have a chance to spot all the details, there's so much to look at. Christmas fans will be in their element.
6. Marvel at glass art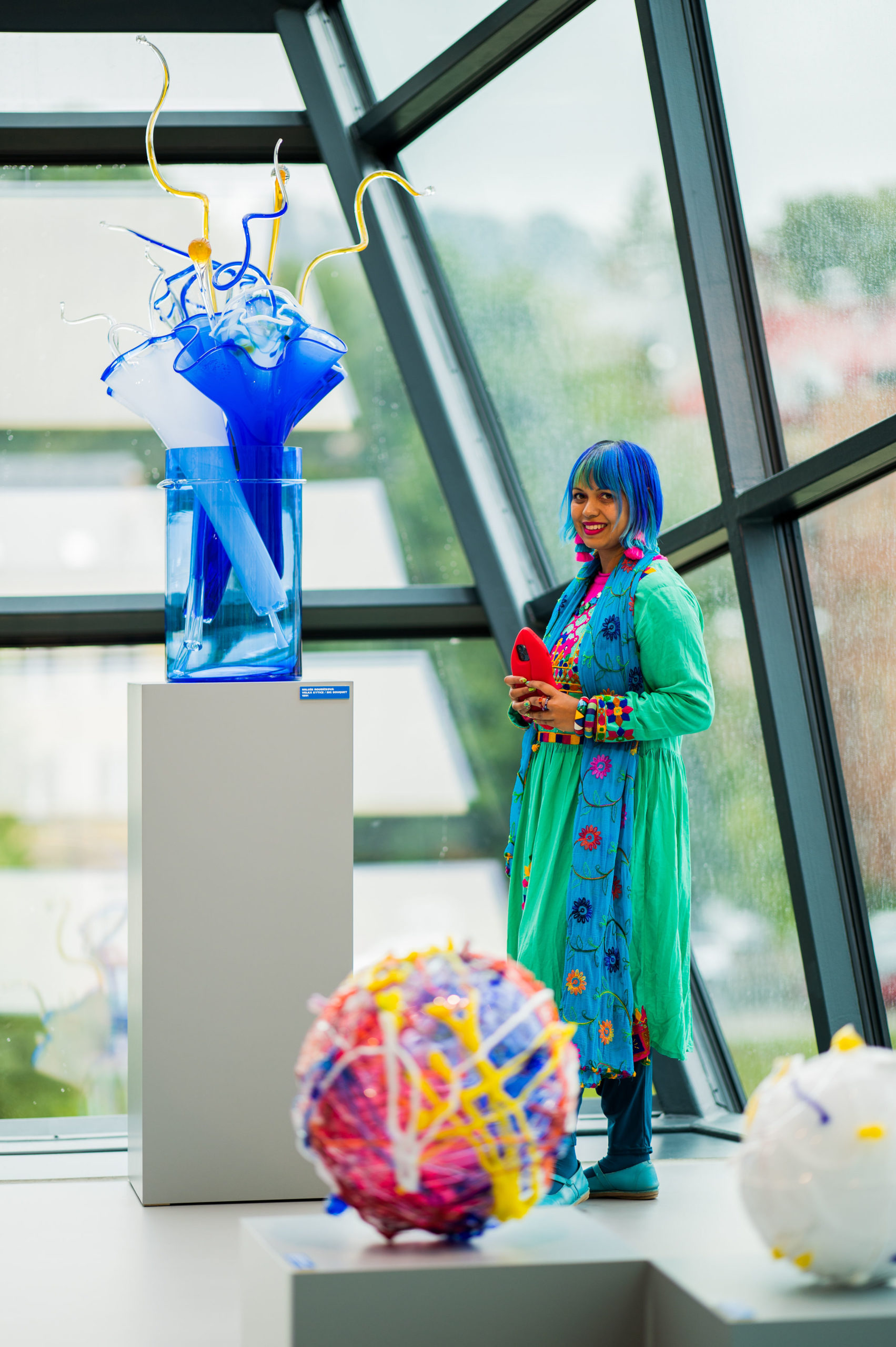 The jewellery museum isn't just a jewellery quarter where you can immerse yourself in fashionable accessories, it also has regular temporary exhibitions of glass art. When I visited they had a display by glass artists and craft icons Miluse and Rene Roubickova to celebrate their 100 year anniversary and it featured creative, colourful sculptures and vases, as you can see, I blended into the room well!
Within the main museum there's also a remarkable collection of Czech glass art, from across the decades to check out and enjoy.
Visiting the Glass and Jewellery Museum in Jablonec, North Bohemia
If you're visiting The Crystal Valley in the Czech Republic which is a hive of glassmaking activity, the museum is a short drive away and it's well worth combining the two. For the full address and opening hours head to their website.
Thank you to Visit Czech Republic for hosting my trip to the museum.
Yours colourfully,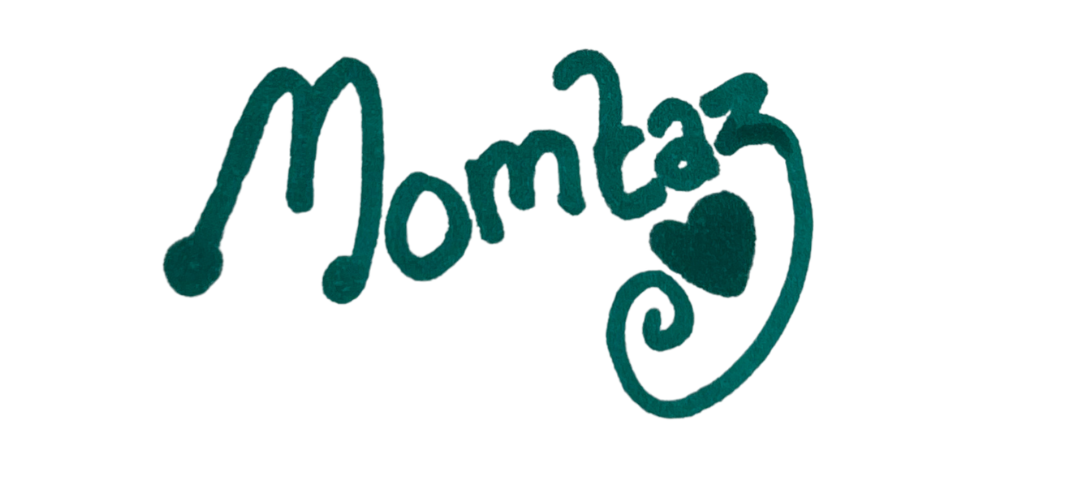 art exhibition
crafts
crystal valley
czech republic
design
gallery
handmade
jewellery