This is how I gave my ordinary grey bicycle a DIY makeover...
Ok, my freshly pimped wheels probably aren't really London's most colourful bicycle, but they must be a contender?
Decorating my bicycle has been my favourite lockdown hobby. Over the last few months I've been working on it on warm evenings, sat outside my flat, transforming what was once an ordinary grey pair of wheels into something that's much more fabulous and much more me and I've be wondering it it London's most colourful bike?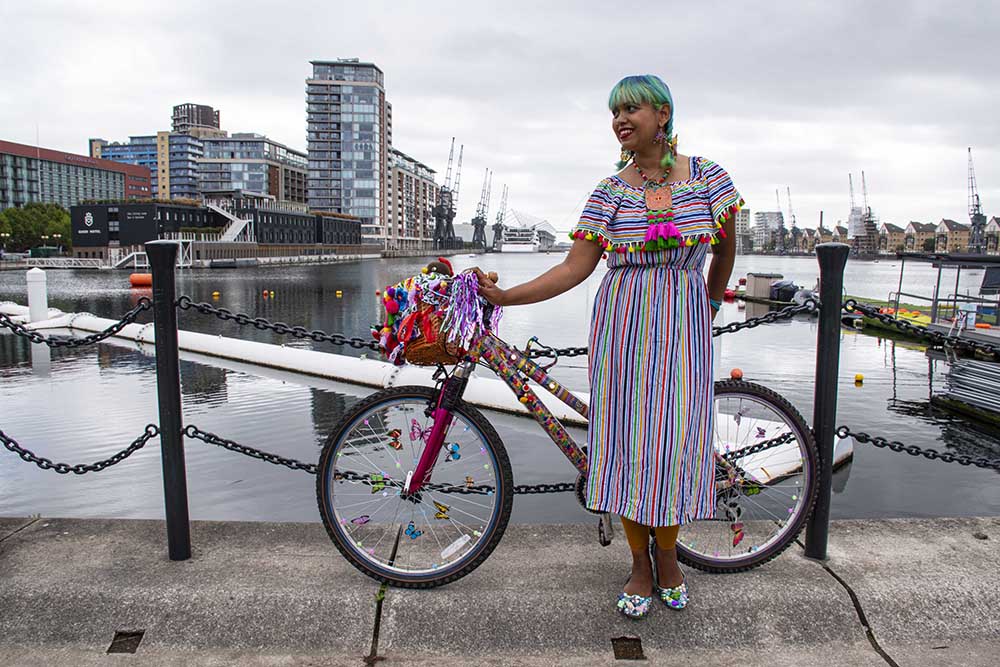 With the addition of washi tape, a colourful basket decorated with treasures I've picked up on my travels, Asian fabric trims, and glitter, I present to you: the Momtazmobile.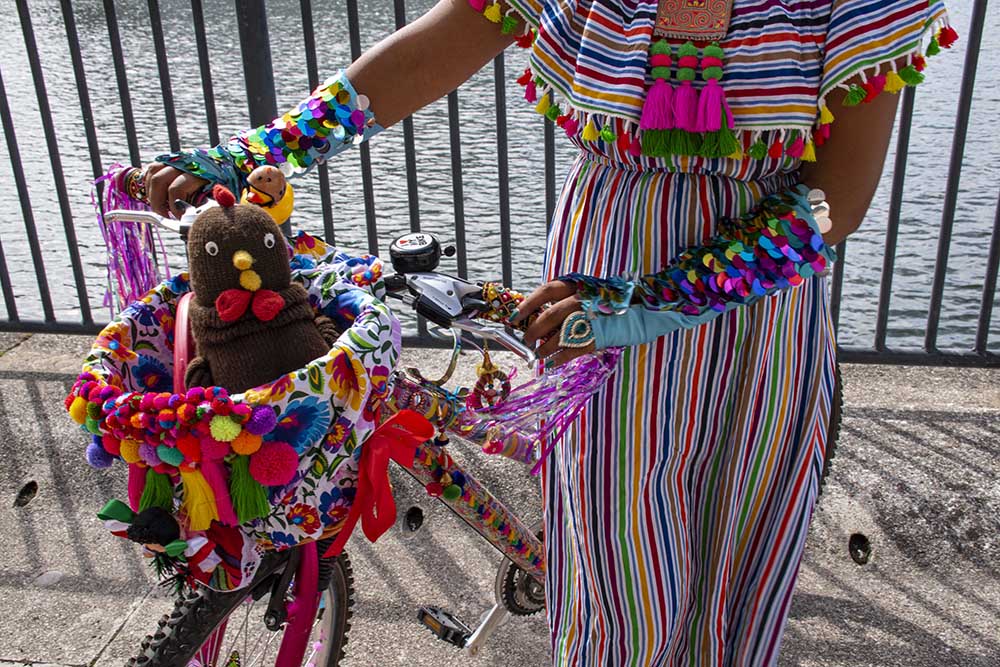 Want to know how I did it? I'll be sharing the full process in this blog post, but first, take a closer look at my ride and please join me in thanking Kathy Illingworth (who I met through the Old Spitalfield's Market Colour Walk) for taking these photos.
Could this be London's most colourful bicycle? Introducing the Momtazmobile!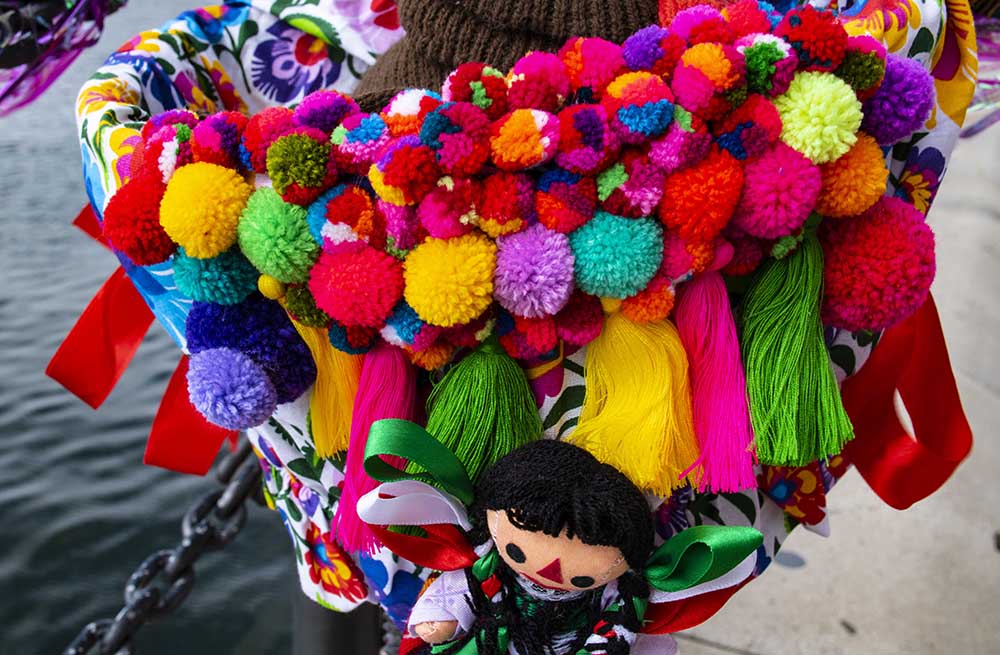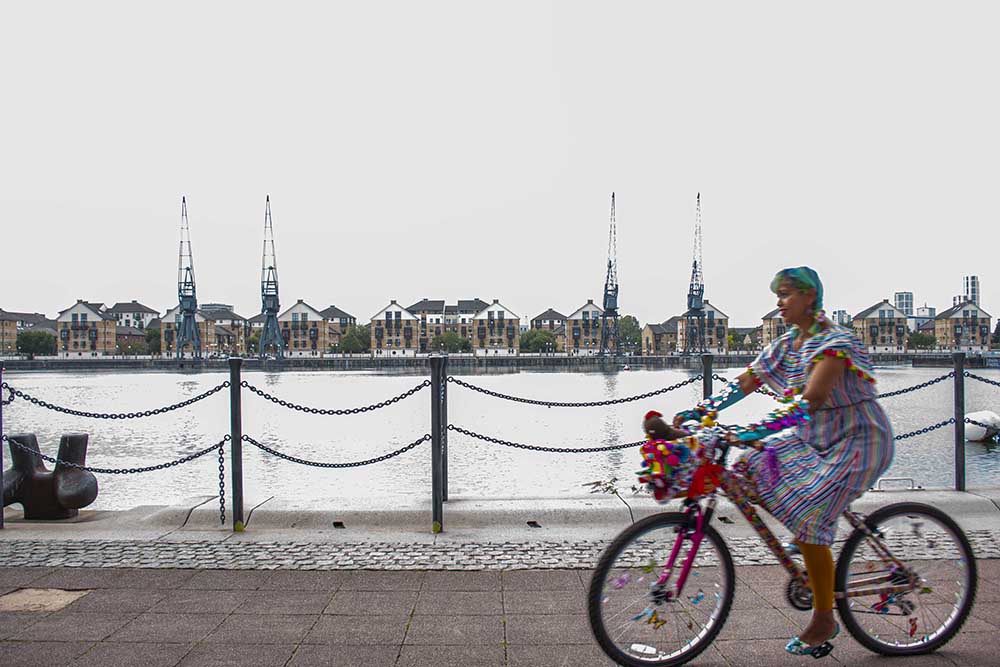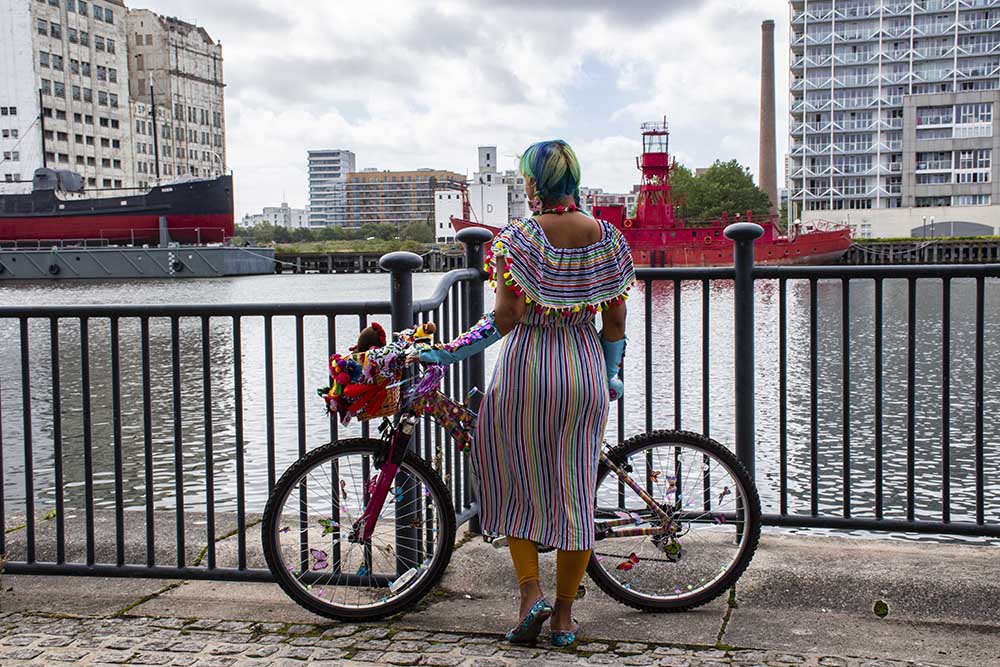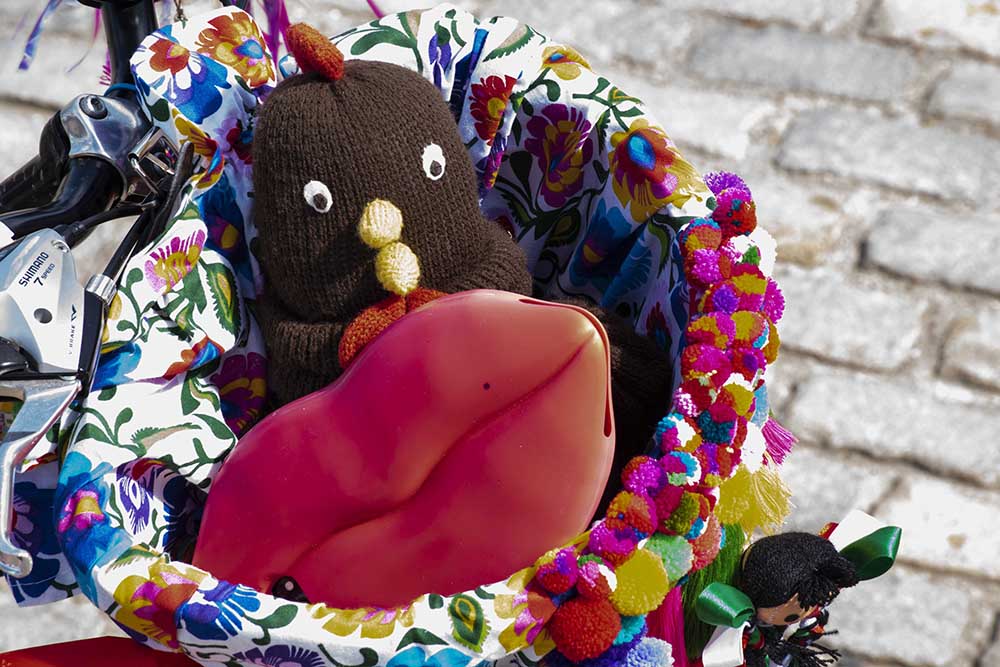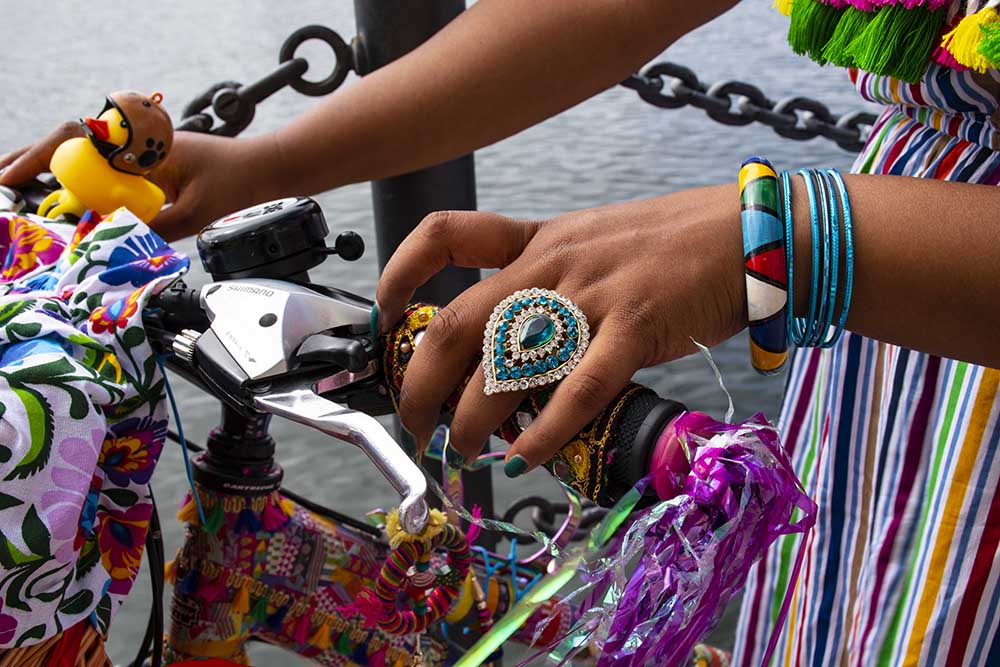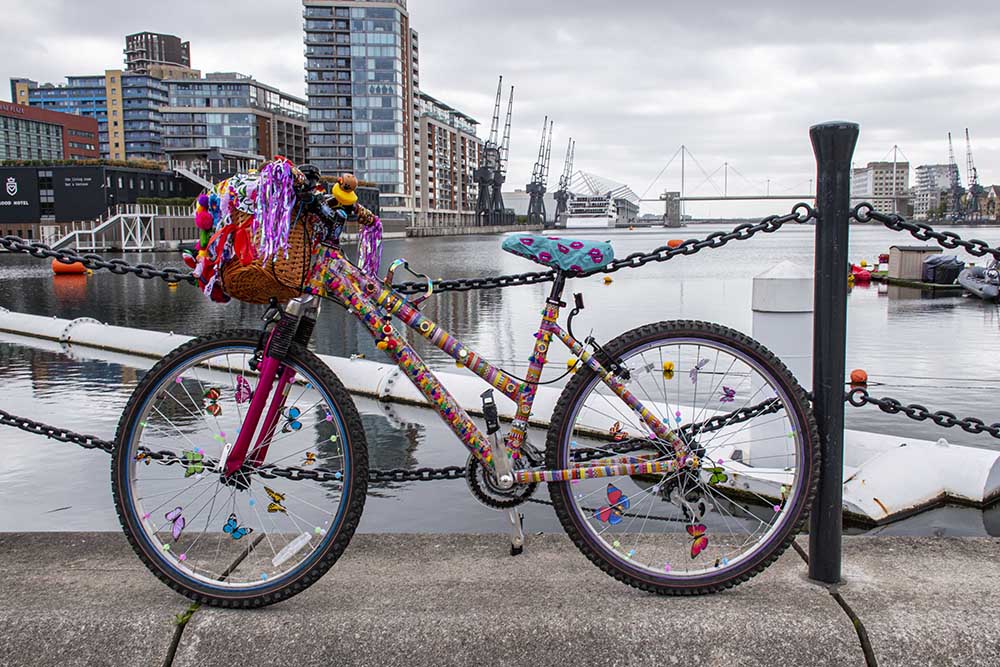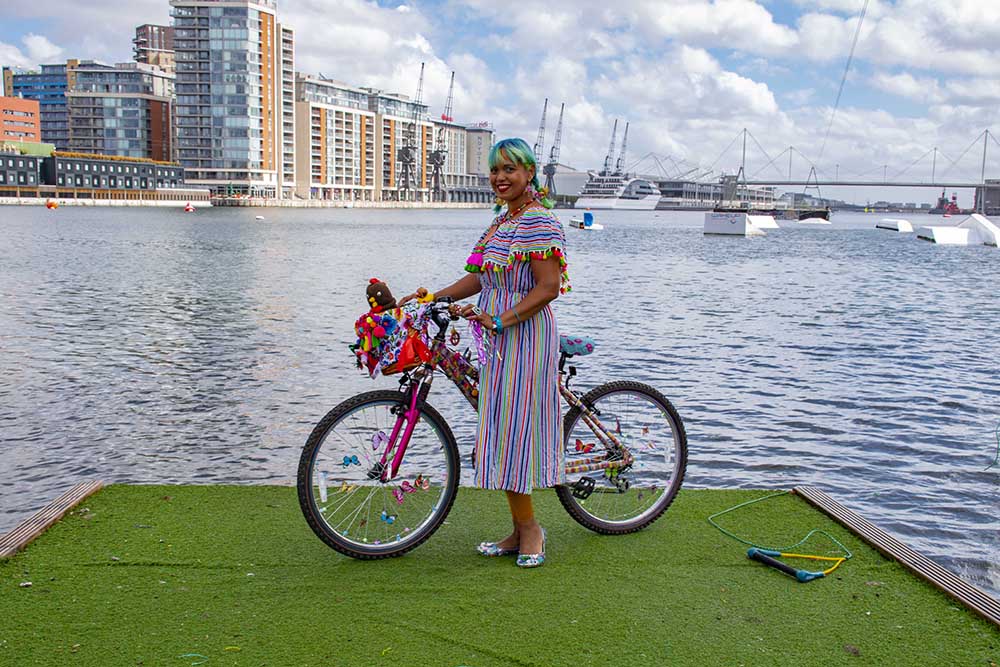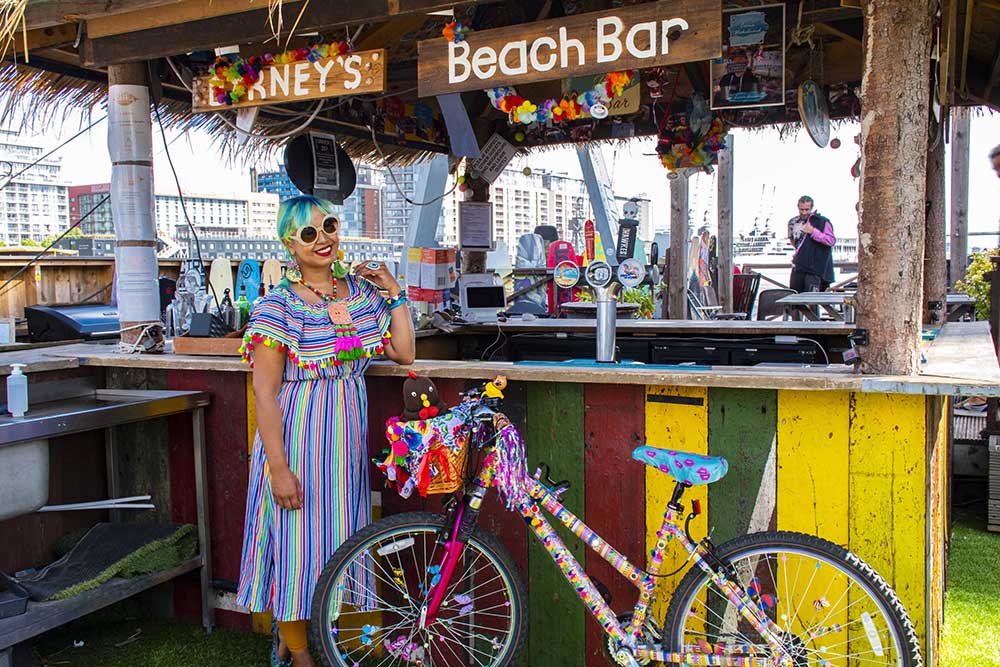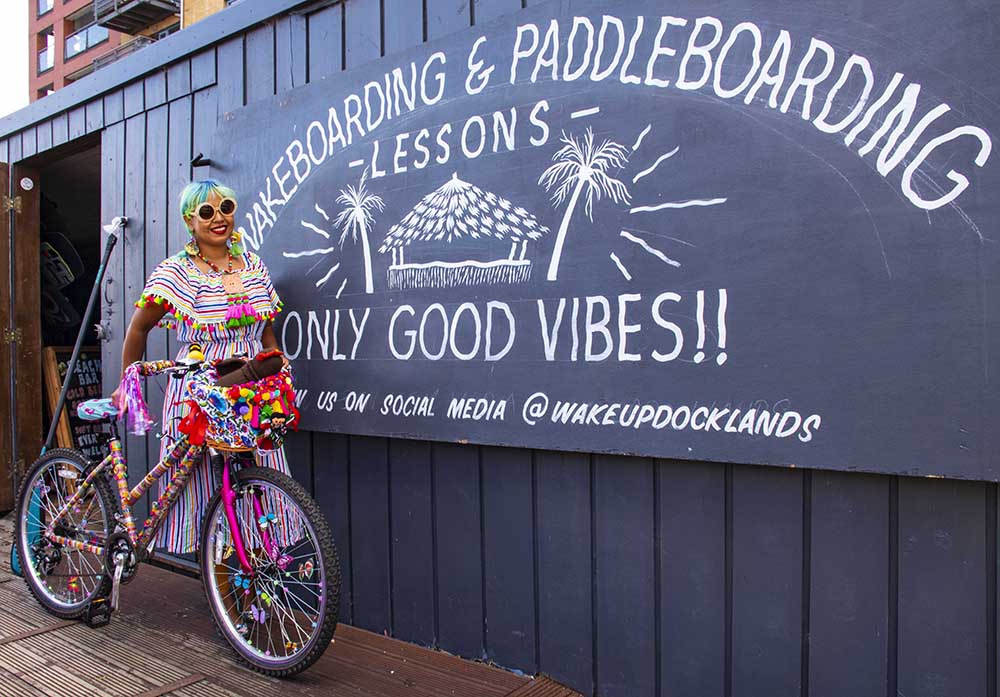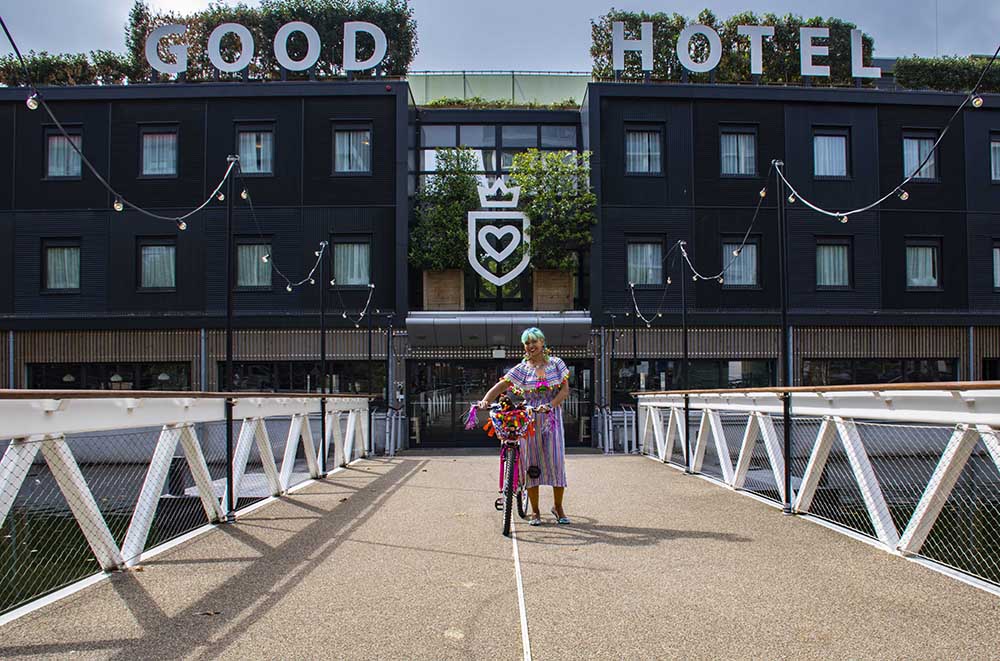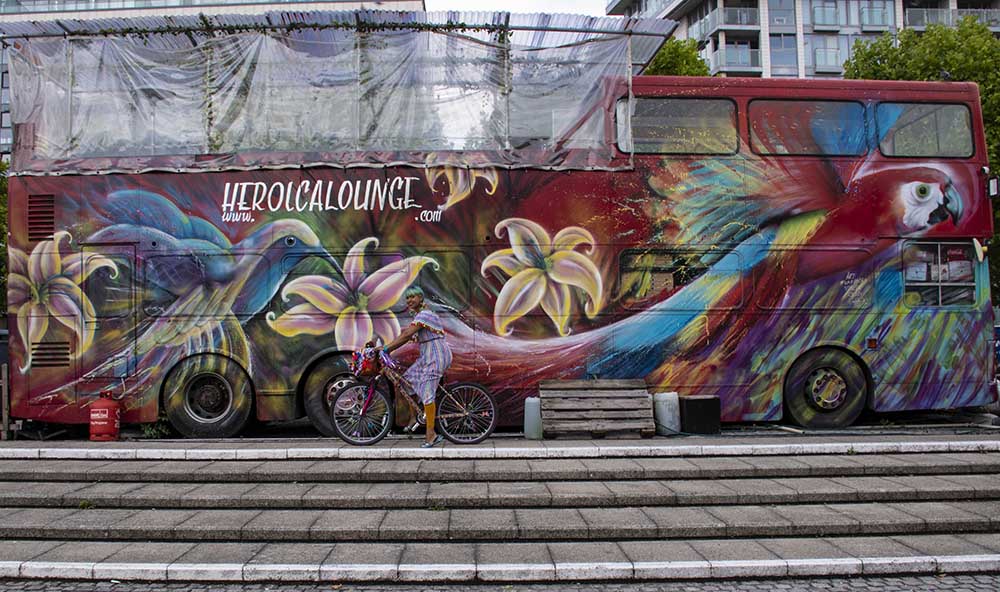 How I customised my bicycle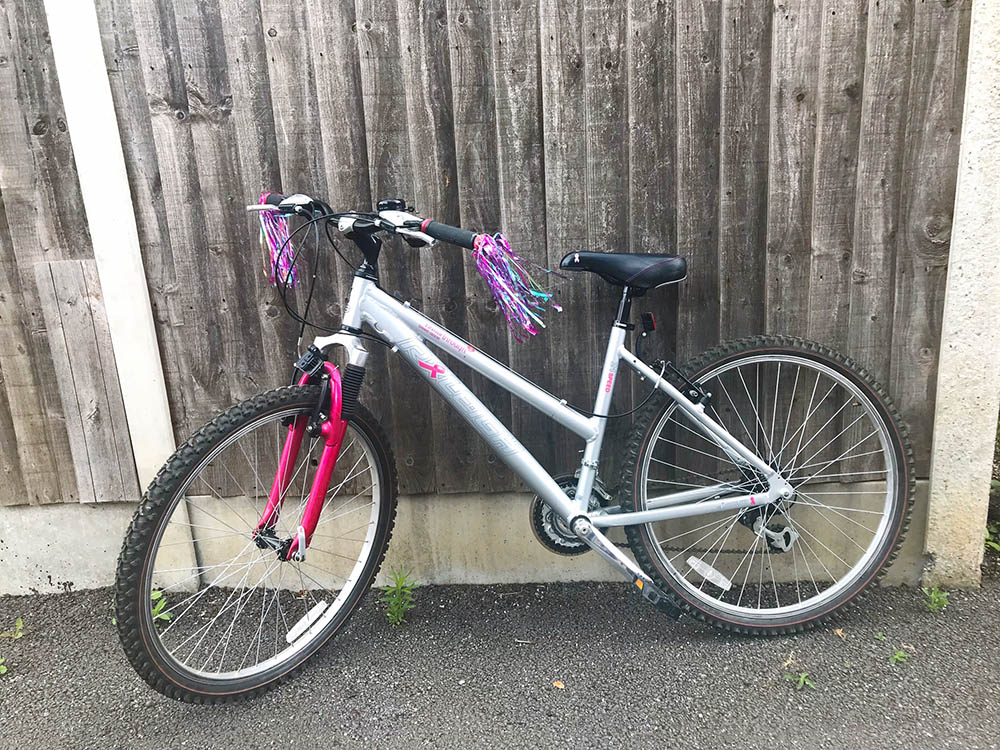 Firstly, let me tell you how I acquired the bike. I would never buy a grey bicycle. I won it in a competition. I've always wanted to customise it but for a long time I was just focusing on painting it, in a way that's similar to Bangladeshi rickshaw art or Pakistani truck art. Trouble is, I'm not really an illustrator or painter, my strengths lie in hands-on textured, collagey, surface design. Over lockdown when I had a bit more time, I was able to properly think about what I could realistically do and came up with a solution that was much easier than painting.
Step-by-step: how I made London's most colourful bicycle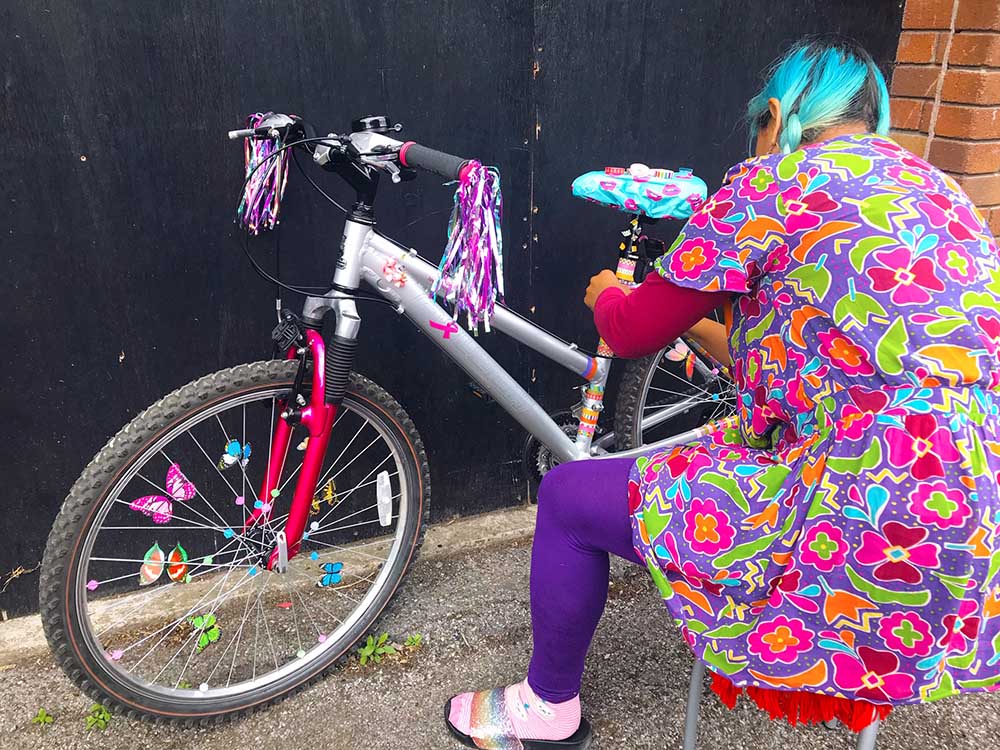 1 I started by cleaning the bicycle to ensure I had a smooth surface to work on.
2. Next, I attached the plastic spokey dokeys and butterflies to the wheels. The butterflies have wire endings and they just wrap around the bicycle spokes. The spokey dokeys give my bicycle a gentle tinkling sound that reminds me of boats on the shore.
3. Then I started covering the frame with washi tape by wrapping it around. Some sections are full stripes and in other sections I cut up smaller pieces to create a collaged effect.
4. Some of the edges of the washi tape didn't fully stick down so I went around the entire frame with pva glue, ensuring there were no bits sticking up.
5. To fix the washi tape and to give it a better finish, I sprayed the entire frame with spray varnish, four coats in total.
6. To add more character, I glued fabric trims around sections of the bike and stuck on some shisha mirrors.
7. I assembled the basket by placing the lining inside, stitched my Mexican doll at the front and then glued on some pompoms and tassels.
8. For the final touches I painted glitter glue on to parts of the frame not covered in washi tape to make them sparkle.
Voila!
The verdict?
I've been riding around my bicycle in my local area and I can't stop smiling, it makes me to happy to ride a bike I absolutely love. I've had some nice comments from other cyclists riding passed me too like 'cool bike' which has been very encouraging.
I'm a firm believer in individuality, and sharing, and celebrating your own creative ideas, and that's exactly what my bicycle represents. I decorated it exactly how I wanted it, to make me happy, and I'm so thrilled with the result.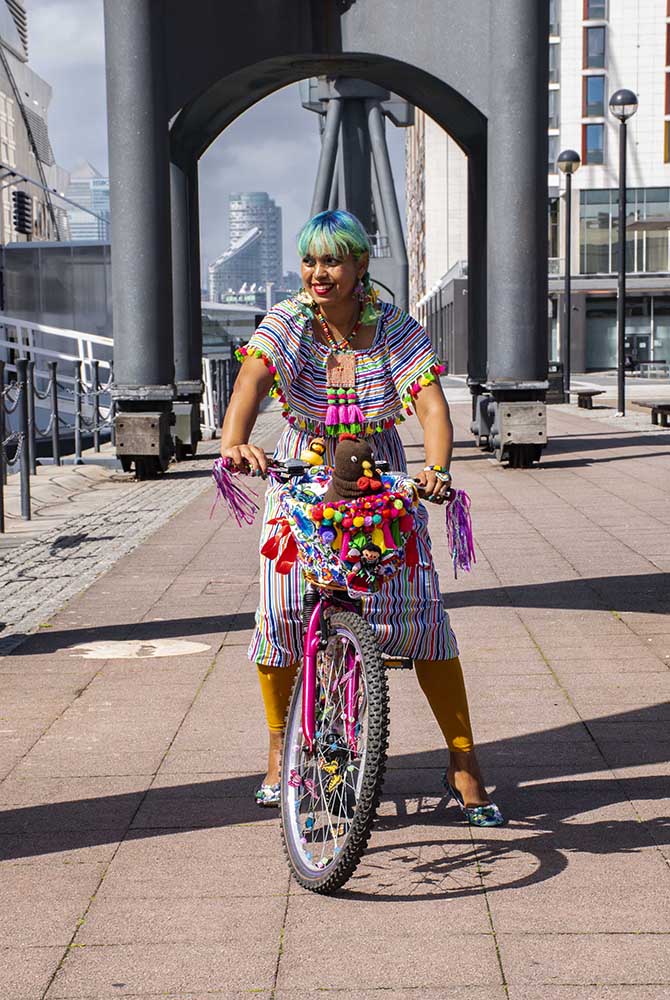 The main problem now is the sun, it seems to have disappeared. That's the trouble with finishing it at the end of the summer. The temperatures have plummeted to levels that aren't so fun for riding around in. But on the days when the sun does show up you can guarantee I'll be taking Momtazmobile for a spin!
If you're interested, here's what I used for my bicycle and what it cost:
Assorted washi tapes (£13)
Bicycle butterflies & spokey dokeys (£12)
Wicker basket (£12)
A fabric basket liner (£10 – handmade by a seller on Ebay)
Glitter Glue (£2)
Active Lites bicycle lights (£20)
Marker pens (£4)
Spray varnish (£7)
PVA glue (£1)
Tube of strong glue (£1, UHU)
Pakistani trims x 2 types, (£3, £4 from Green Street, London)
Shisha mirror (£2 for 12 from Green Street, London)
Light-up rubber duck (£3)
Waterproof seat cover (£6)
Drinks bottle holder (£9)
Tassels and pompoms (£6 bought in Thailand)
Fabric doll (£6 bought in Mexico)
Tassel decorations (£4 from my travels)
(The bicycle bell, handle bar tassels I already had)
TOTAL COST: £125
MAIN IMAGES: Kathy Illingworth LOCATION: Royal Docks, London
My bike is not London's Most Colourful Bike!
After I created this blog post I connected with a gentleman in South London called James Bond aka Bond Wimbledon aka The Kind of Bling and I am pleased to share that he indeed has London's Most Colourful Bike – not just one of them but several! Best of all he also DIYed them and his riding outfits.
I'm in awe of his incredible style and skill and am thankful to him for brightening up London's streets in such a colourful way. I hope that one day I'll get to see his bikes and meet him in person. If I do, I'll update this post with a photo of us but for now here's one from his Instagram.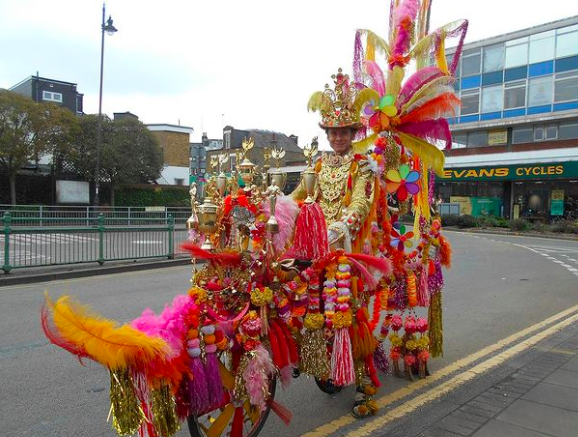 Yours colourfully,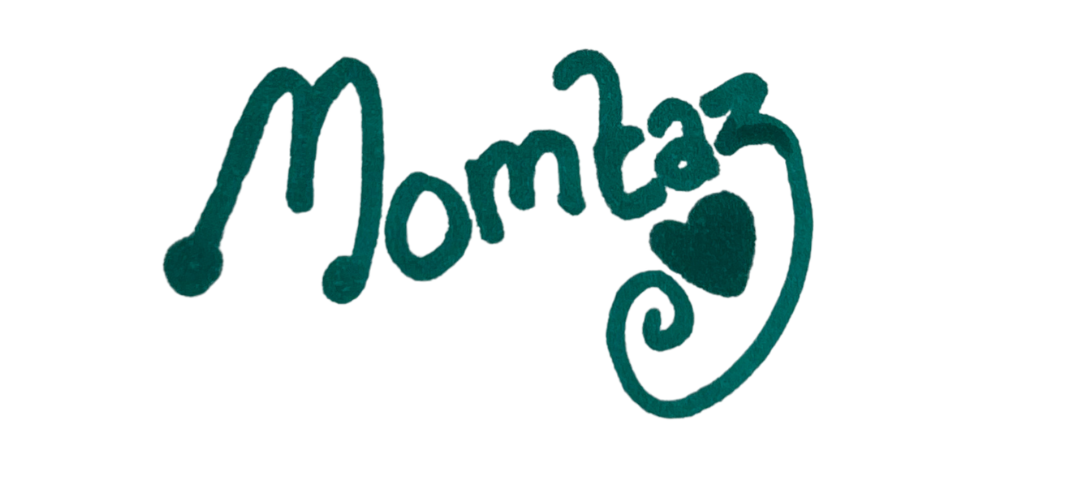 bicycle upcycle
colourful bike
customized bicycle
diy bike
emirates airline
good hotel
heroica lounge
how to customise bicycle
love open water
millennium mills
pimp your ride
royal docks london
wake up docklands
washi tape bicycle frame
washi tape crafts