Colourful Christmas Lights in London 2023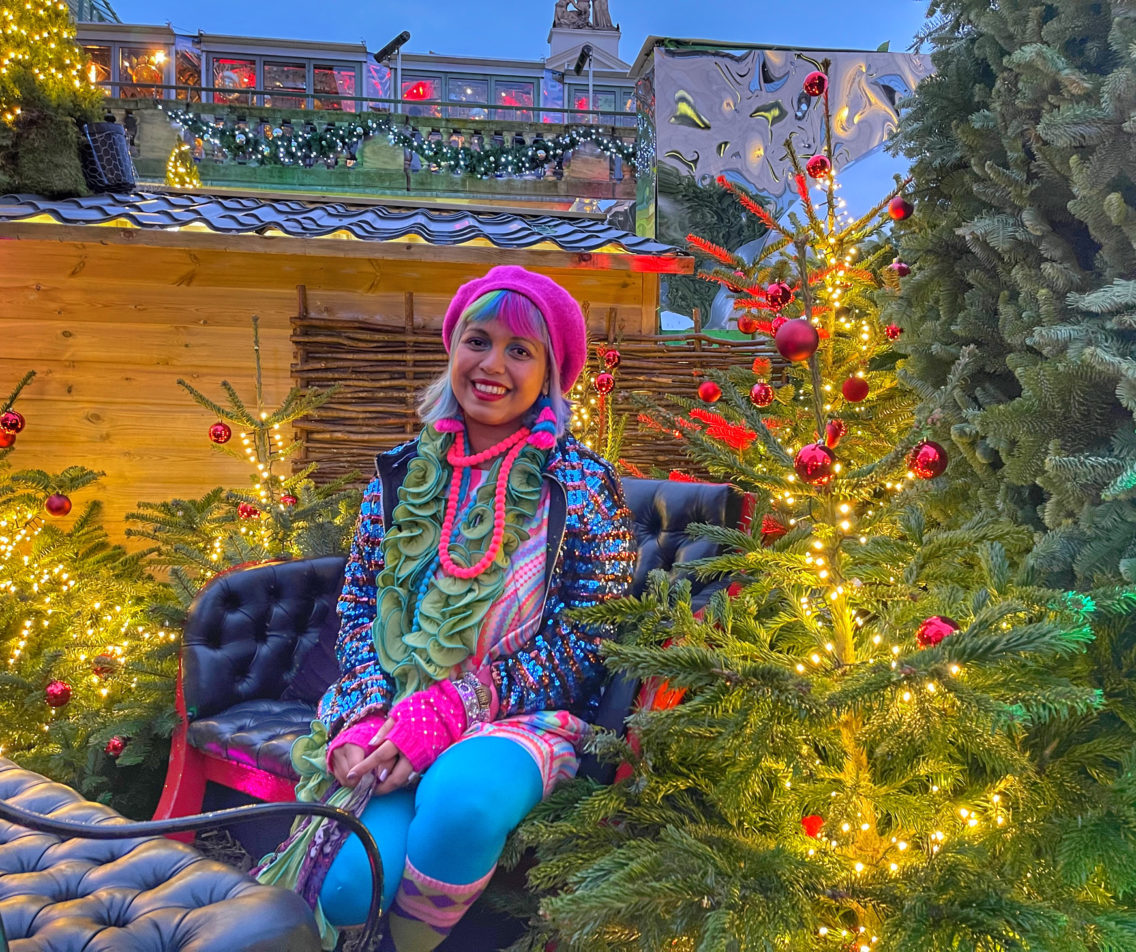 UPDATED 4th December*

Hello festive season! Brrrrrr! It's cold out there! But it's not all doom and gloom when we've got Christmas Lights to enjoy. It's time to start planning where to go to see the Christmas lights of London alongside seasonal installations and other wintery light shows for full on festive fun.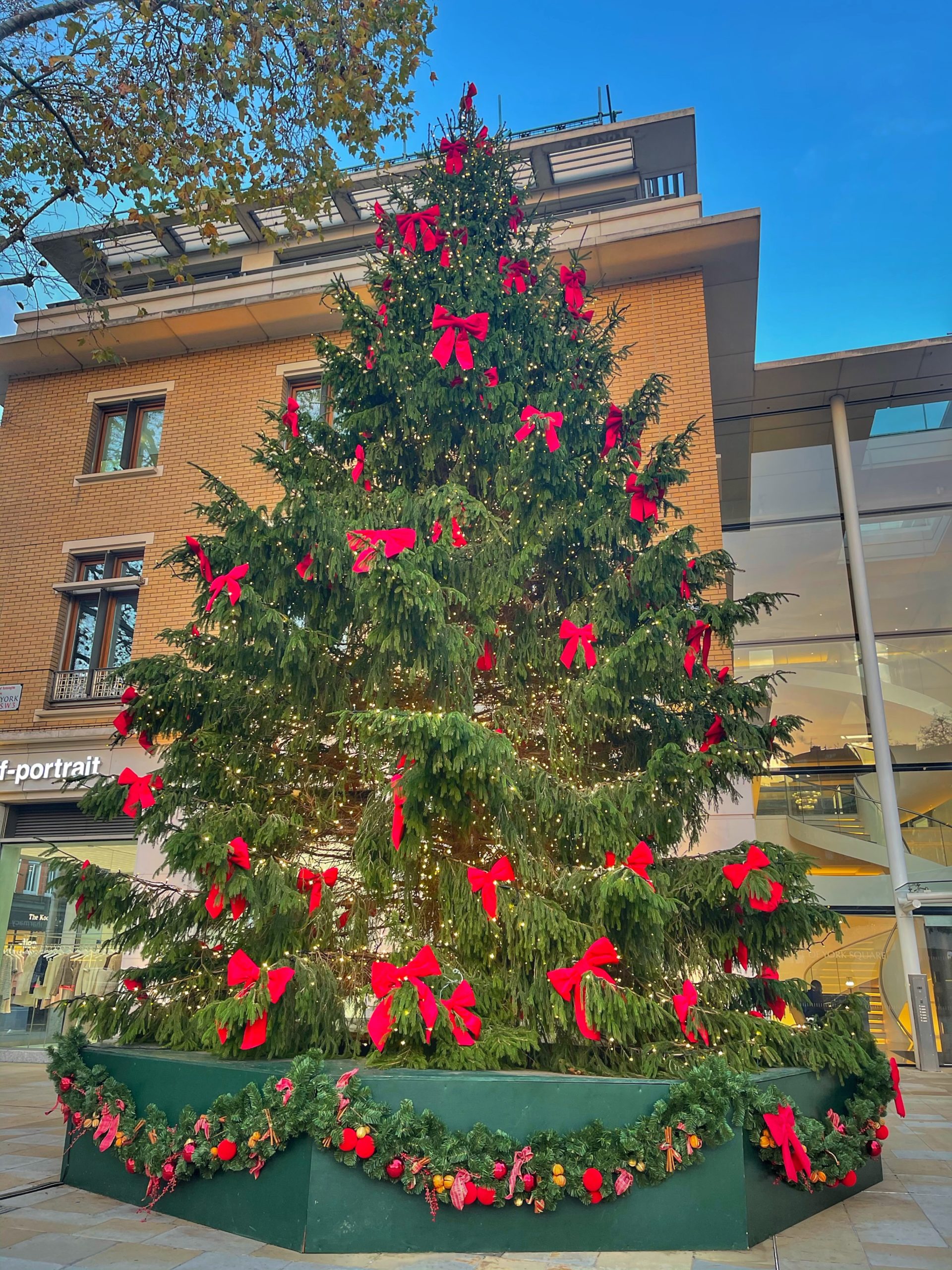 If you want to be the first to see this year's dazzling displays, the Christmas lights of London switch on events are the first glimpse of the themes. I started writing this blog posts before the light switch ons had taken place. Though some of the themes were still under wraps I was able to confirm where they were taking place and from past experience where you could head to enjoy the most colourful Christmas lights in the capital.
But in this latest update, it's now December and light is lit up with neon lights, fairylights and every other kind of light imaginable!
Ready for some festive photography? Lights, camera, action!
The best Christmas lights London – switch ons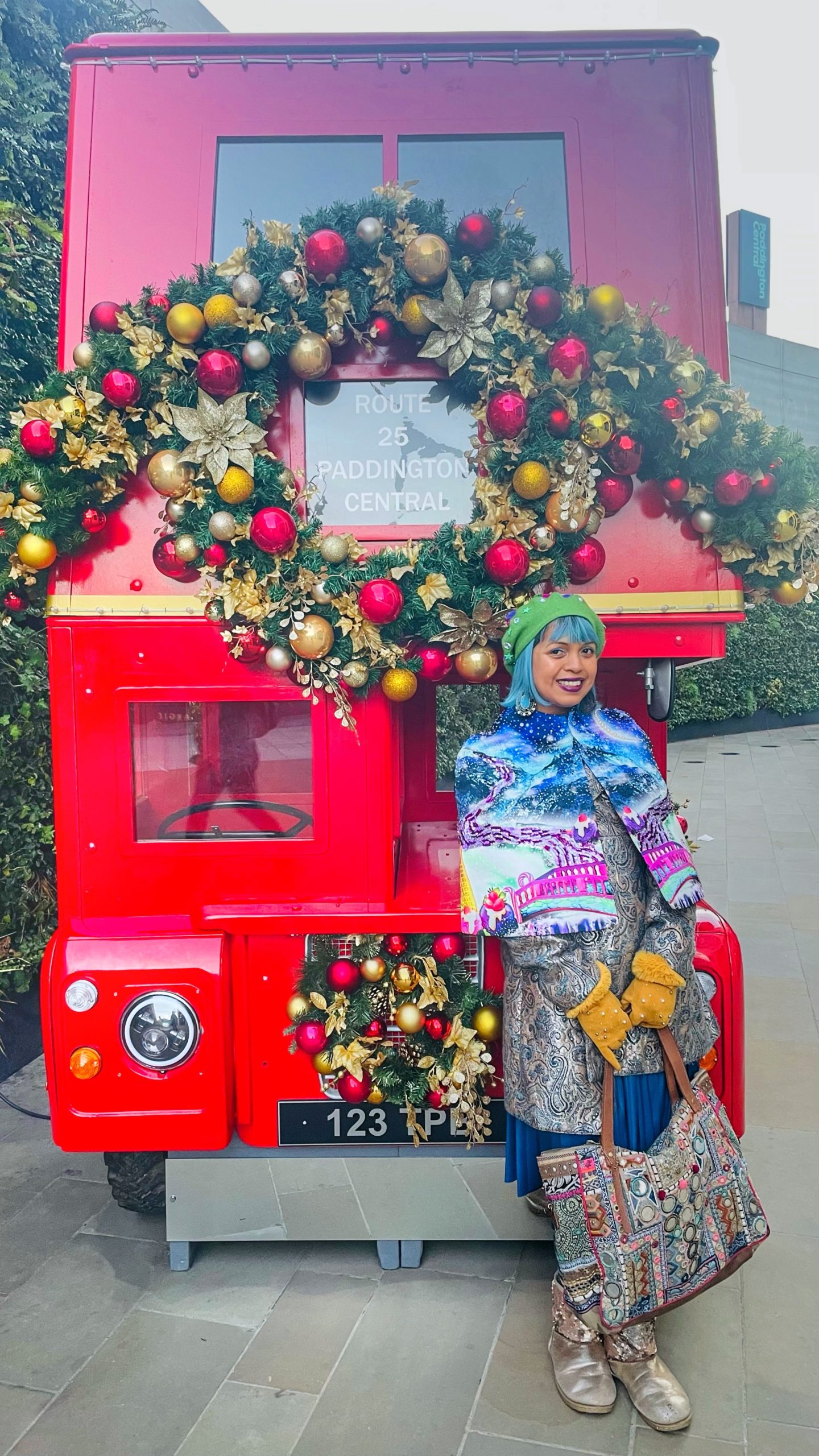 Christmas in Oxford Circus
(Switched on Thursday November 2nd)
The first of the light switch ons but usually not the most interesting in London. Oxford Street used to be the heart of shopping in London but now it's bang in the middle of two Westfield Shopping Centres and regular stores have closed in favour of endless luggage and sweet shops, the area has lost some prestige. For 2023, Oxford Street's light display supports a children's charity called Starlight and consists of dangling rows of twinkling stars, all of which are fully recyclable. It's part of their pledge to be more sustainable. This means they'll be on for fewer hours a day with a view to reducing their carbon footprint and saving money.
Christmas Lights of London – Oxford Street

Christmas Lights of London – St Christopher's Place
And while you're in the vicinity of Oxford Street, it's worth wandering through St Christopher's Place which is just off Oxford Street from Nov 14th and strolling down to see the Regent's Street Christmas Lights too as well as looking out for the lights in South Molten Street and Bond Street. Here, it's not just about the lights but the whole aesthetic with window displays in the high-end boutiques as they part and parcel of going to see the lights.
Christmas in Covent Garden started Tuesday November 7th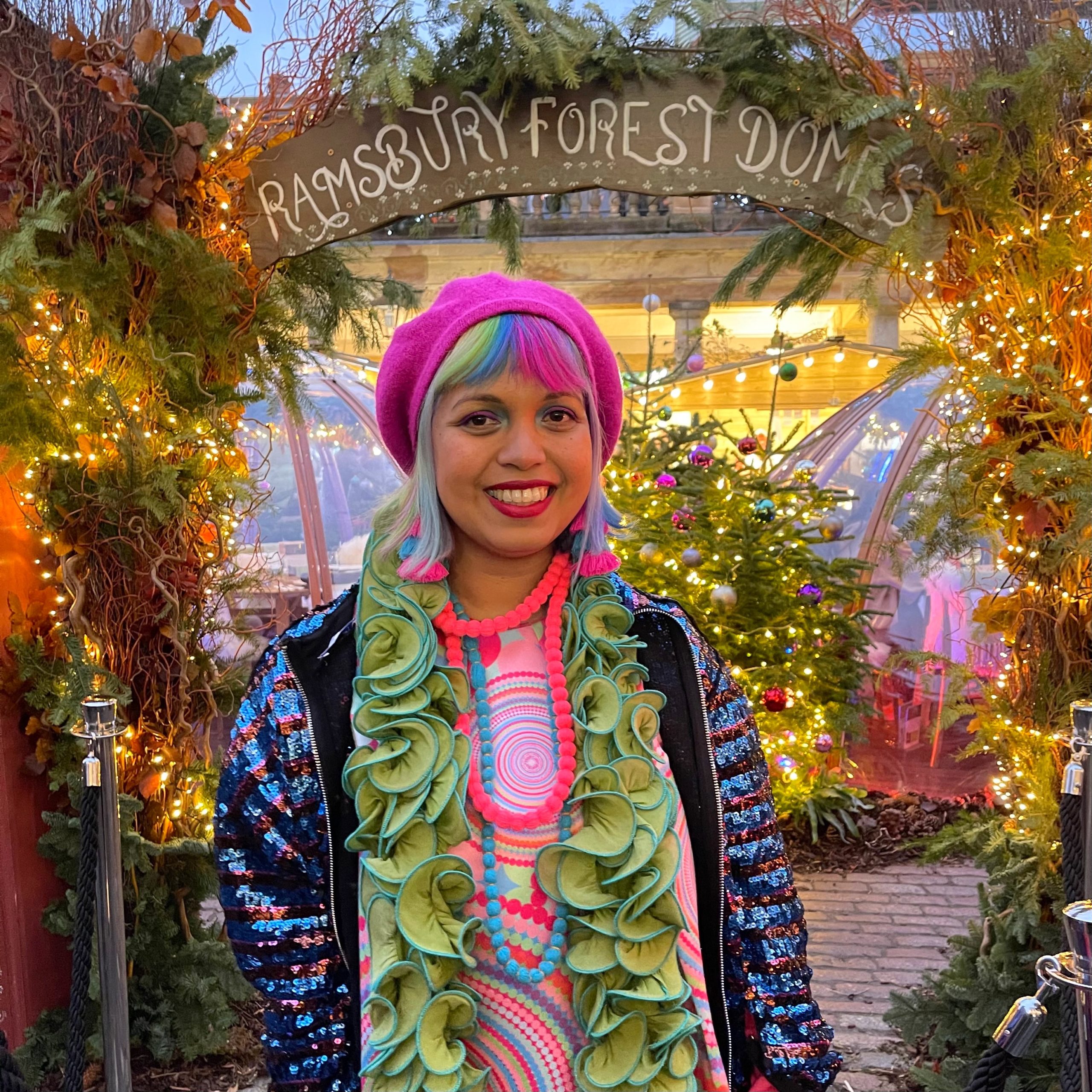 Covent Garden jumped on sustainability a while back. For the last few years the Christmas decorations inside the main market hall have been the same – huge disco balls and giant mistletoe. This year though they're promising a shake up. Rumour has it the ceilings will be adorned with huge glittering gold bells.
Update! The bells are now up!
This shot of Digital Content Creator Anoushka captures the scale of just how huge they are!
But it's not just the market that makes Covent Garden the best place to come for colourful Christmas lights in London.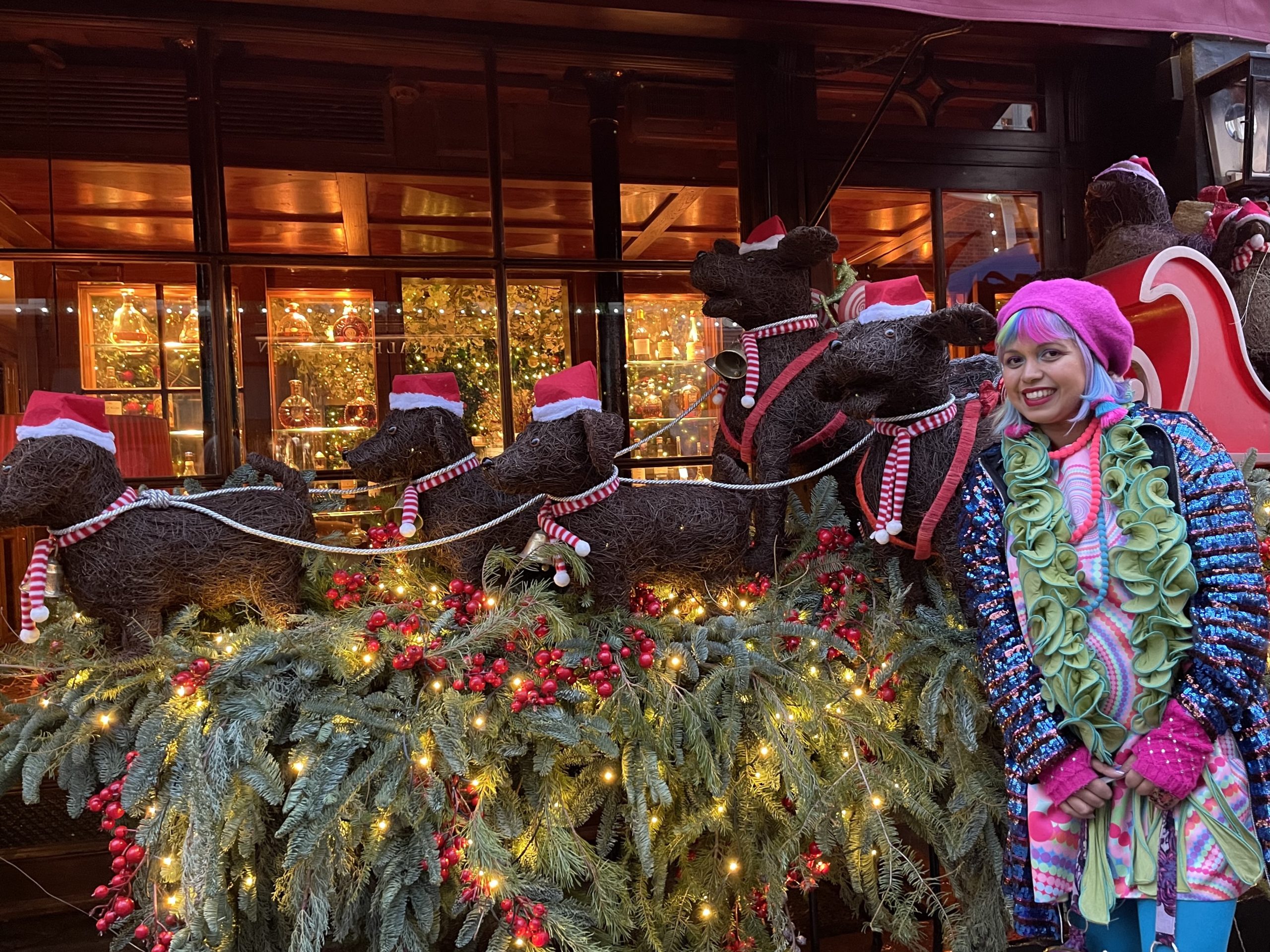 It's the adjacent areas like Seven Dials, the boutique shops and restaurants in the vicinity along side annual pop-ups from brands that makes it such a feast for the senses. I just hope these Santa dogs are returning!
Christmas in Carnaby Street started Wednesday November 8th
So where I mentioned that Oxford Street's lights can be a bit 'meh' Carnaby Street Christmas Lights tend to have one of the more exciting and creative Christmas light installations in London. Each year the themes gets more and more social media friendly. For 2023 the theme is Carnaby Universe with cosmic vibes consisting of light-up planets. As well as the main street you can also expect colourful surprises around this infamous shopping quarter.
Take a look at it on their Instagram for what you can expect:
Christmas in Trafalgar Square from Thursday December 7th
Much later than the other Christmas lights in London but it's all due to tradition. The huge tree here is an annual gift to London from Norway who unveils it on the first Thursday of December – makes sense, as it's a real tree so it means the needles will last until Christmas Day. The area also comes alive with Christmas shopping huts with food and gifts (but they're mostly mass-produced tacky items rather than anything useful) so don't get carried away!
Other areas to keep an eye on for photogenic Christmas lights in London are:
PADDINGTON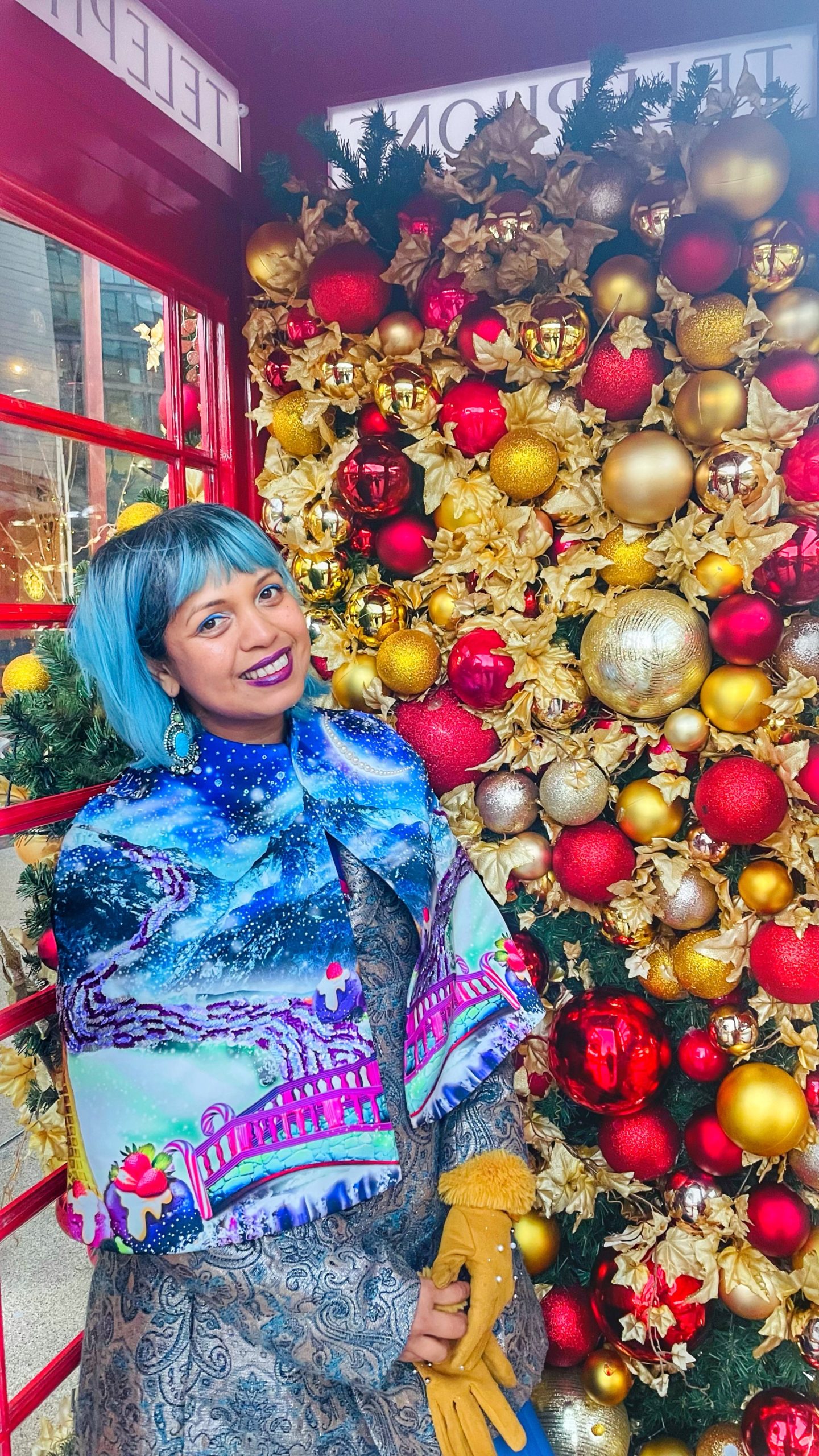 Last year they had a bus which I've shared a photo of above and a bauble-filled telephone box and for 2023 they have some giant frames…
but these are not ideal for selfies, you'll need someone else to shoot you in the for the best composition!
BATTERSEA POWER STATION
Battersea have their own lights show and art installations filled with twinkling Christmas lights and also an ice skating rink. They claim it's the only riverside one in London though in previous years you could just about spy the River Thames for the ice skating in Greenwich. It definately bring a winter wonderland vibe.

BELGRAVIA / ECCLESTON YARD
Eccleston Yard is such a cute and quirky quarter of the capital that's buzzing in the summer and looks wonderful dressed for Christmas too. Like other hip quarters in London they've partnered up with content creators to reveale what's in store. I love these insights as they really do know bow to hunt out the best bits.
MARYLEBONE VILLAGE CHRISTMAS LIGHTS
MAYFAIR
Sure, there are lights around Mayfair and at various shops and restaurants (there's alot of festive restaurant decor!) but the one stop always worth stopping for to see is the exterior of private member's club Annabel's which this year is a huge hot air balloon.
CHELSEA
Whatever the season Chelsea is the place to go for selfies. Their annual Chelsea in Bloom walking trails and recent Autumnal installations were all over social media and no doubt when Christmas gets underway from 18th November they'll be much to admire too, especially when to walking through their iconic walkwat.
LONDON BRIDGE CHRISTMAS LIGHTS
The heart of the action is Hay's Galleria which has a huge Christmas tree. Then outside, leading all the way to Tower Bridge is a sprawling Christmas Market, filled with lots of food stands so visit it for snacks and mulled wine as well as Christmas shopping.
COAL DROPS YARD CHRISTMAS LIGHTS
I'm still not over what a vast improvement to King's Cross Coal Drops Yard is. Its Christmas Markets ago-go here with plenty to enjoy from mulled wine to artisan foods and crafts. There are lat night openings too, more details in the this Instagram post.
ELSEWHERE
Local London boroughs will soon be unveiling their lights and trees too. These are usually fun, family events with Christmas markets and activities. Keep an eye for dates from local listings, the local council etc. Incidently, the Newham Council Christmas Tree lights go on Sat 18th November and I'll be there running an Elf Hat making workshop!
Christmas lights immersive experiences in London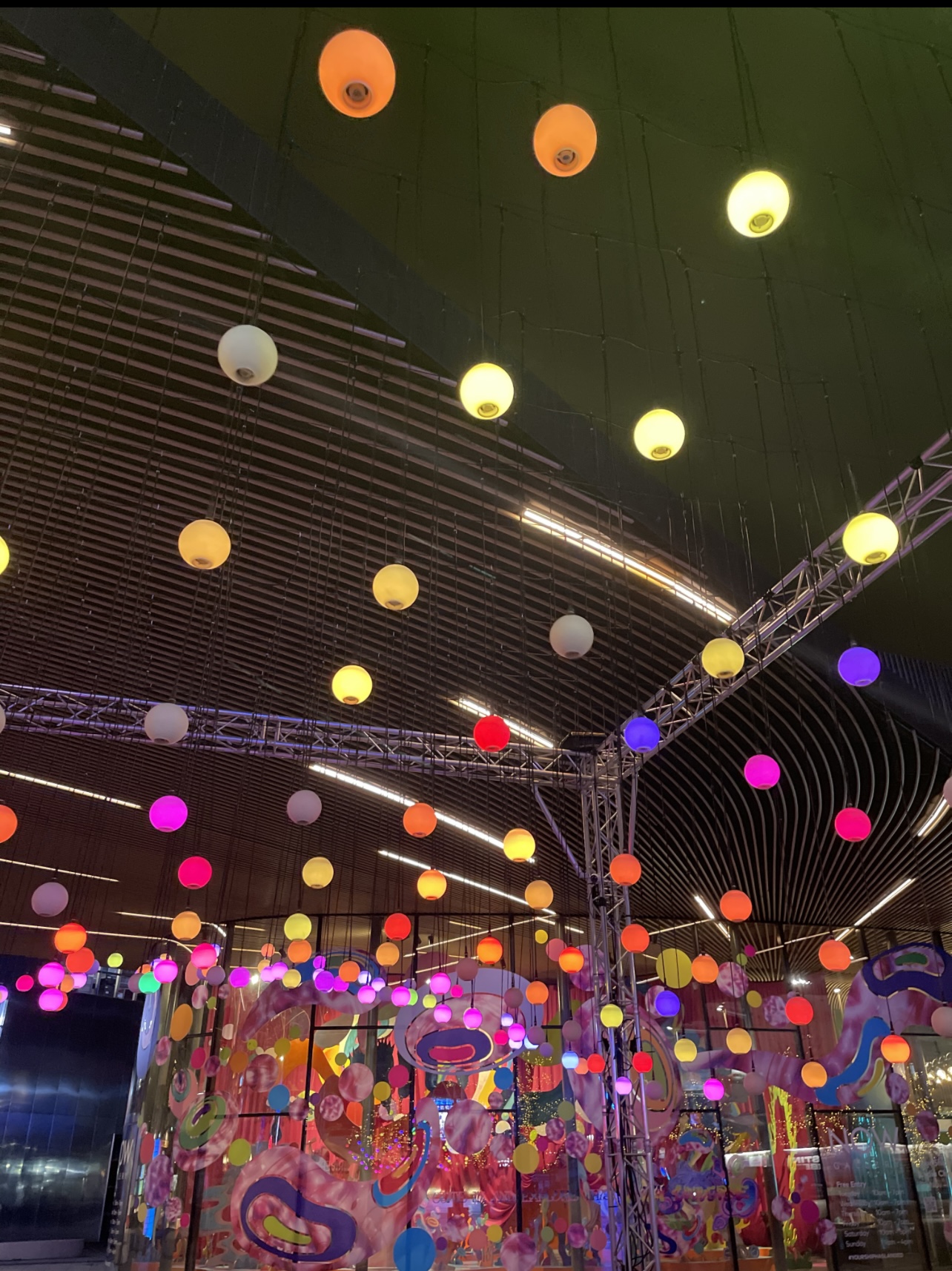 Coming into central London to see the lights and perhaps popping into Fortnum & Mason to look at Christmas cakes is an age-old tradition but who knew that these simple joys would be taken over by huge light installations and immersive experiences – even Santa never saw this one coming.
I'm no scrooge though, I'll totally here for colourful Christmas light experiences. Here are some places to seek out the festive rainbow…
Tottenham Court Road / Outernet Global
The huge 360 video walls that greet you when you come out of exit 3 at Tottenham Court Road Station have become a London icon in a short space of time. Constantly changing with different themed light shows it's highly likely they'll be some kind of Christmas light show there.
Epping Ongar Express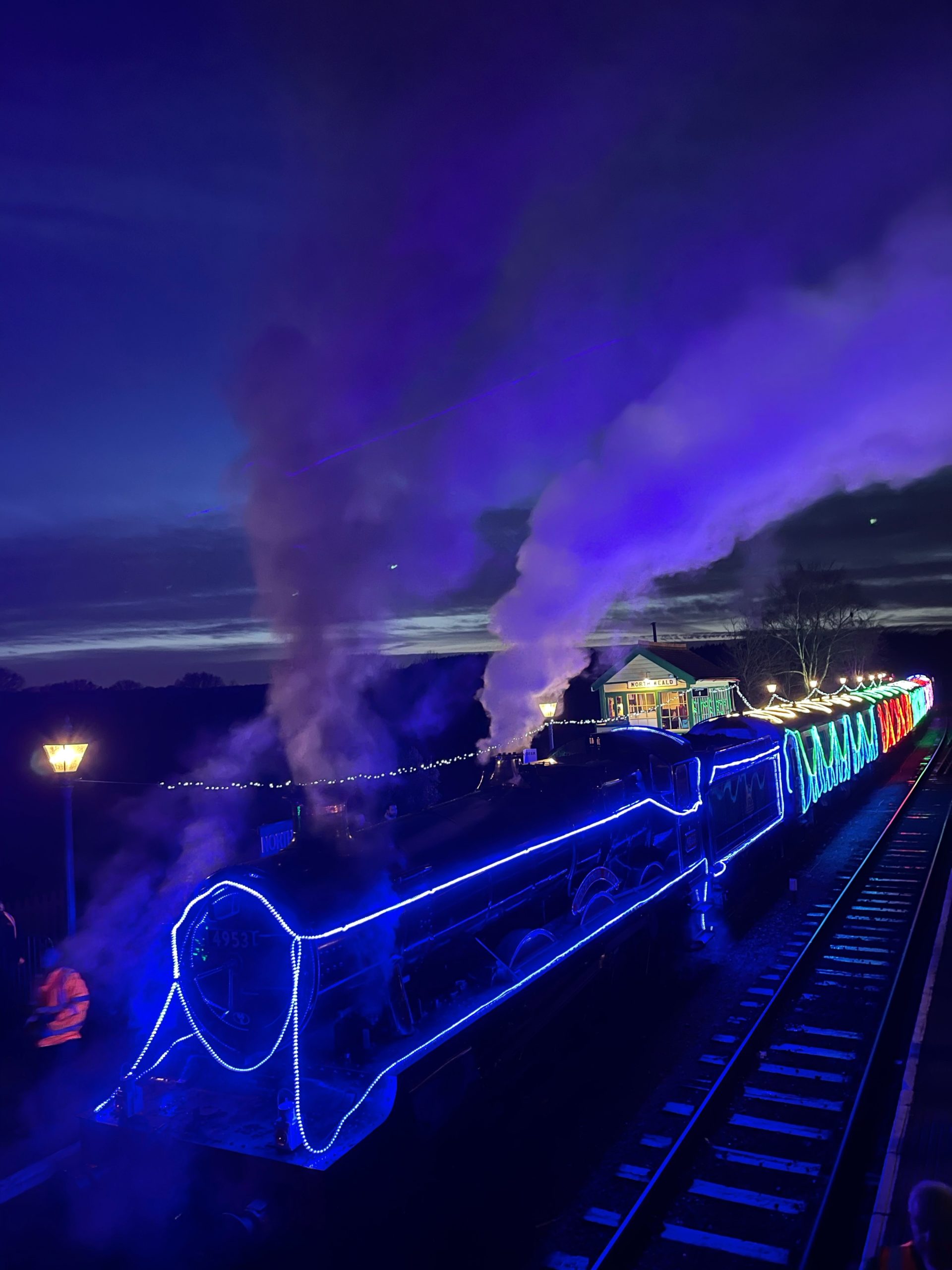 The stuff childhood dreams are made of. This light-up steam train is part Polar Express part Harry Potter. It runs right up until January and is one of the most fun Christmassy things I've ever done. Definitely order a snack box and then sit back in your Epping-Ongar Express seats, surrounded by Christmas décor, enjoy the music and views. There's also a stop off to stretch you legs and special dates when Santa is on board too.
Word of warning though when I visited the car-parking situation was an absolute nightmare on exiting. It was utter chaos, staff had no idea what was going on and as a result public did their own thing. So bear that in mind. Though parking aside I'd give it a 10/10 for fun, joy and colour it just could end stressfully.
Other destinations where Christmas Lights are an extravaganza include Eltham Palace and Kenwood House's Light Trail (both are part of English Heritage) and Kew Gardens.
Hyde Park Winter Wonderland
Part fun fair and part extremely tacky gift stalls, with lots of places to eat and drink Winter Wonderland will always attract families and friends seeking festive fun, dazzling lights but it's not for everyone – extremely colourful of course but loud and busy too. I visited once many years ago and just remember it feeling like beer festival and requiring lots of money. But this video on YouTube always springs to mind at this time of the year.
Christmas shopping in London – the season's most colourful stores
Selfridges Christmas Shop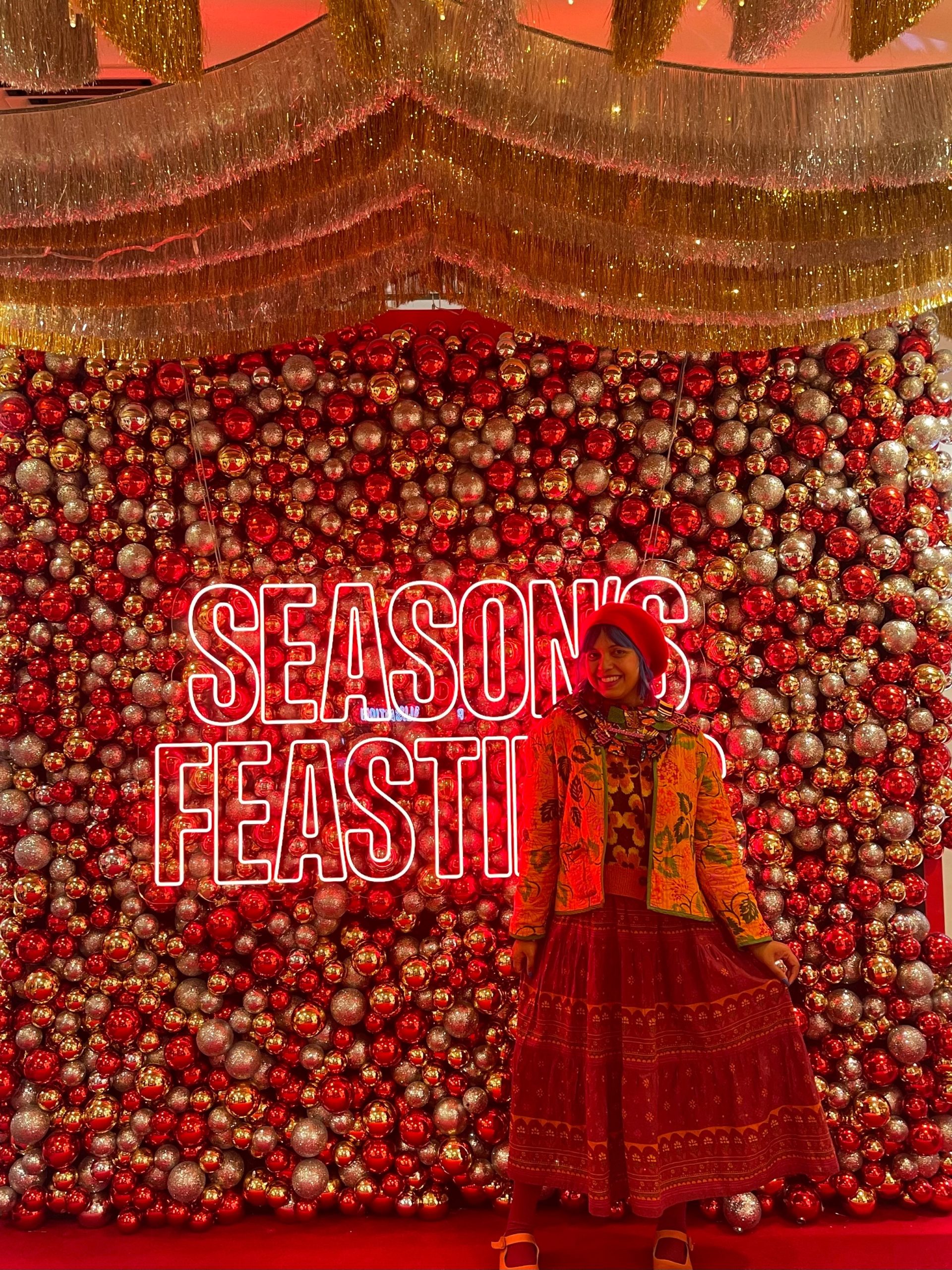 That one tradition that affirms the arrival of Christmas for me is visiting the Selfridges Christmas Shop. Not to shop because they are put of my price budget but to window shop, rainbow hunt and take pictures of aesthetically pleasing colour schemes. I love their themed Christmas trees and there's also a whole section on wrapping paper and tree decorations as well as lights. They've also previously had sections specialising in neon lights.
This year's the store opened three weeks earlier in September This year they have a staggering 1300 types of Christmas ornaments available. Still not as much as I saw and the Jewellery Museum in the Czech Republic but impressive nonetheless. However, when you actually go there as I recently found out the actual Christmas store is tiny, in previous years it's been huge, this year it doesn't even feel like a separate zone. I wasn't that impressed!
Garden Centres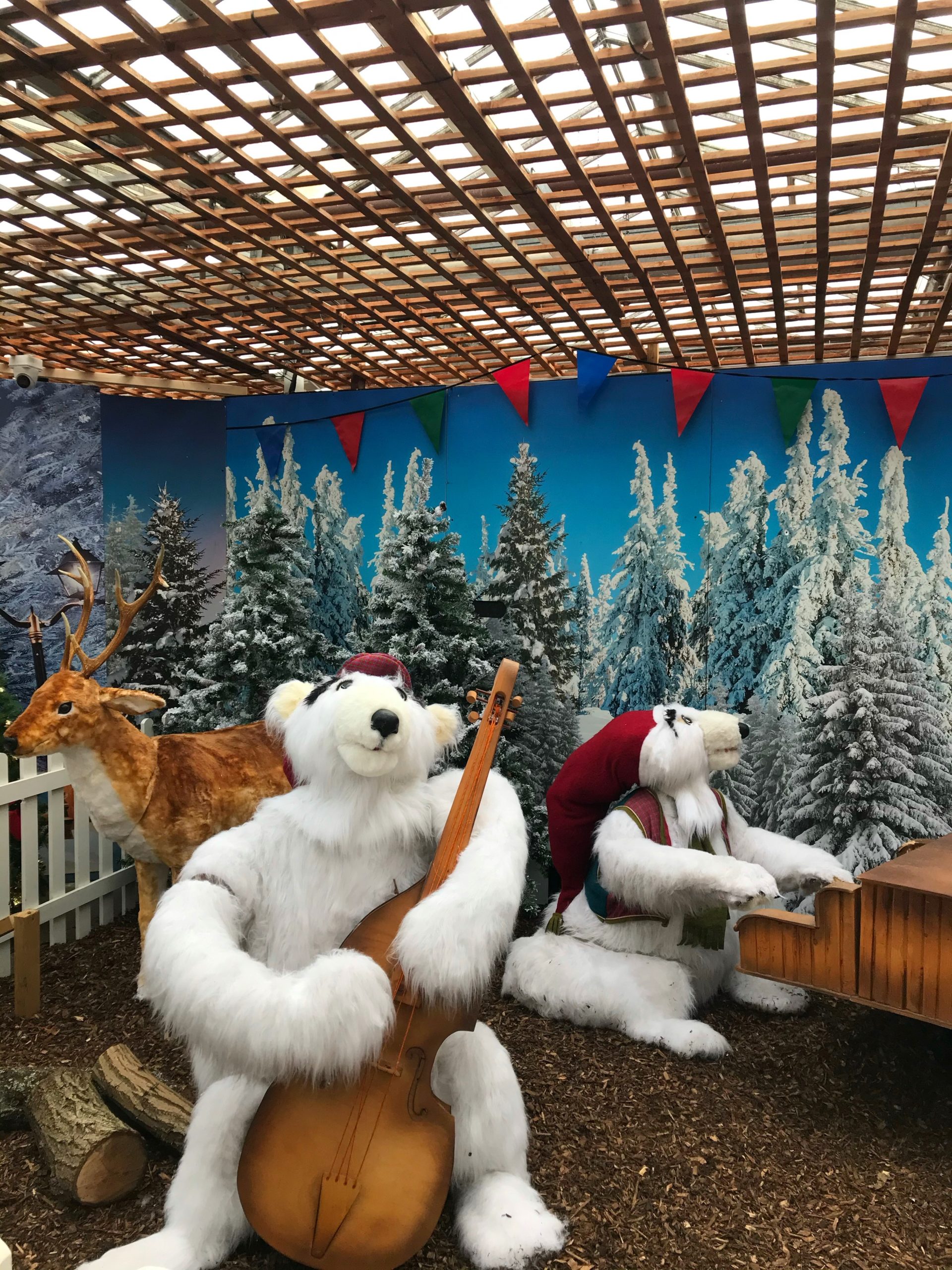 I don't have a garden but I love garden centres, especially at Christmas. If you get a chance, seek out one of the huge garden centres like the ones around Crews Hill in Enfield. They are like Christmas villages and they stock more colours of tinsel and lights then you'll find anywhere else. You may even discover some intriguing characters too like performing bears alongside the obvious – actual Christmas trees.
Most of the Christmas Lights in London stay on until early January, but that's not the end of the season as far as colourful lights in London are concerned. There's Canary Whar's Winter Light's event which takes place around mid Jan.
Whoever said London was a grey city? They clearly never visited at Christmas!
*This article will be regularly up-dated with locations, images, info as the Christmas Season in London unfolds so do bookmark the page and check back!