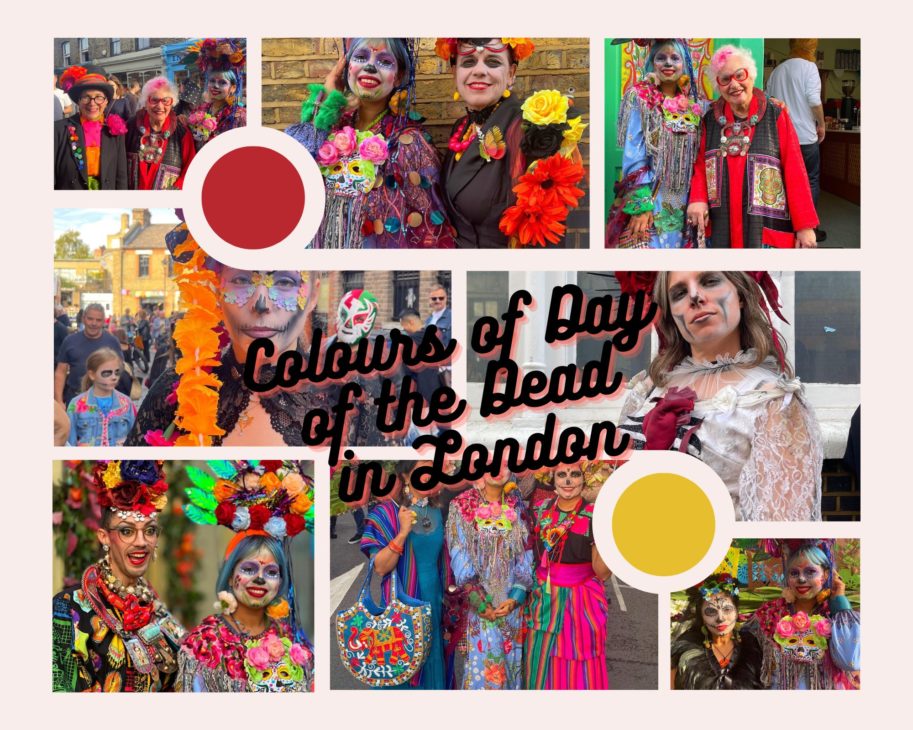 UPDATE: 21 OCTOBER 2023: The Day of The Dead celebrations in Columbia Road for 2023 take place on Saturday 28th October. It kicks off at 12pm and you can see the full schedule on the Columbia Road website. See you there!
It felt so good to be back celebrating at the biggest Day of The Dead festivities in London, at Columbia Road. The road is best-known for its weekly Columbia Road Flower Market on Sundays when thousands of people flock to buy their houseplants.
Once a year however the spirits descend in Columbia Road to celebrate the Mexican, South & Central America festival of Day of The Dead. For 2022 the traditions took place on Saturday 29th October. I visited the event with some of my colour-loving friends from the London Colourwalk Community and along with other visitors and locals, we paraded Columbia Road in our finest attire to celebrate Dia De Los Muertos.
What is Day of the Dead or Dia De Los Muertos
November 2nd is a day to celebrate and remember ancestors – it's date when some Mexicans (and some other Central and South American communities) believe that the souls of their deceased relatives return for the night. To welcome them they create an alter or ofrenda with photos, their favourite food, drinks and toys, ready for when they come by. This can often be in graveyards on their graves and they contain the four elements, earth, water, wind and fire. Flowers (especially marigolds) are popular too as their scent attracts the souls home. It's a colour-filled festival with costumes and decorations and these are the elements that have become synonymous with Day of The Dead represented in popular culture.
Similar festivals to remember and celebrate the dead are observed by other cultures at different times of the year.
Columbia Road's Day of The Dead – a London tradition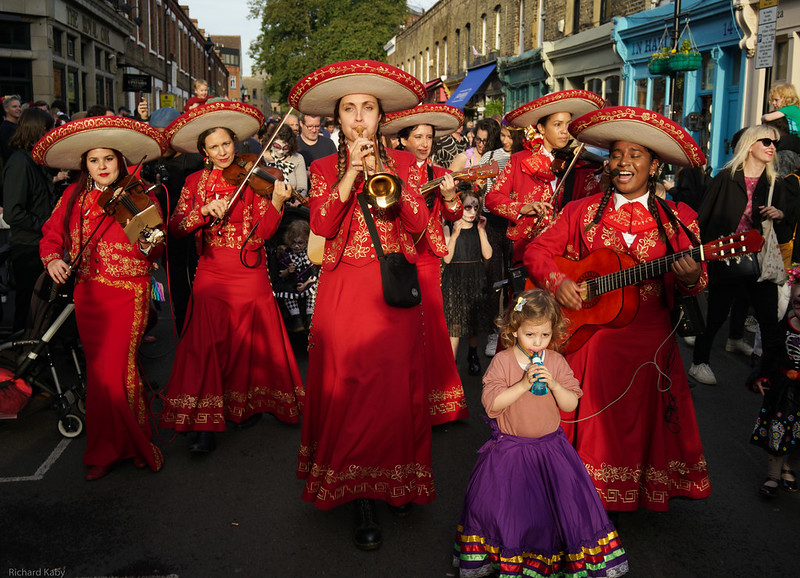 I last participated in Day of the Dead in Columbia Road, London back in 2019 and you can read more about that and see the photos in a blog I posted about that event. Fast-forward just 2 years and what a difference! I remember being absolutely freezing back in 2019. I was decked out in thermal layers and we hid under the shelters when freezing rain hit but this year the entire day was like like a warm summer afternoon. The sun didn't stop shining and there was a constant stream of people – it felt just like being in Mexico, my spiritual home and the country I've visited more than any other.
The event is organised by Mexican shop Milagros which sells all manner of colourful Mexican goods like homewares, tin decorations, shrines and ornaments. It's one of the most colourful shops in London, brimming wall-to-wall and table-to-table with charming collectables, many of which I've come across on my own Mexican travels so it's nice to have a place to buy them in London too.
What to expect at Day of The Dead in Columbia Road
COSTUME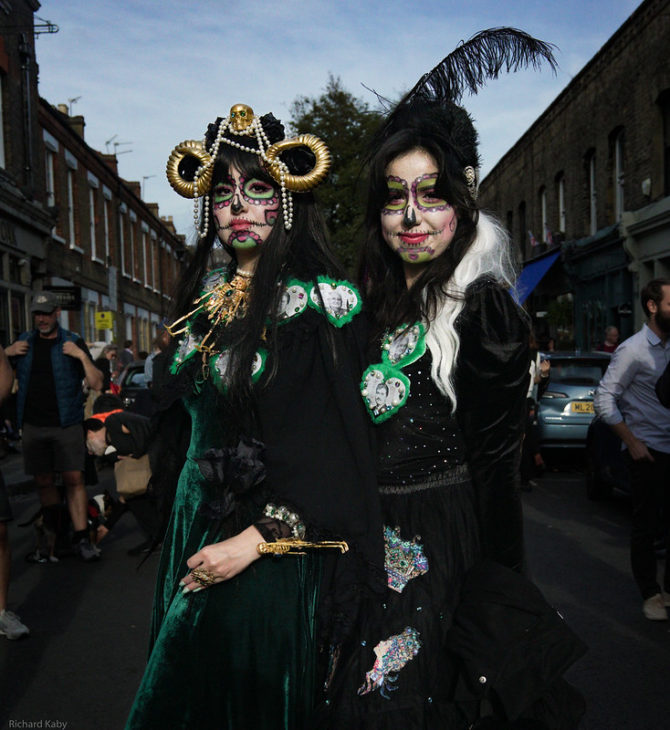 So the first thing to think about is costumes – people do dress up and it's an opportunity to get creative with your attire – something we don't often have a chance to do, so rather than worrying about it, embrace the freedom to come as 'anyone but yourself.'
It can be a simple accessory or you can opt for a complete make-over. If you need a hand – there is help available. Each year there's a Day of the Dead beauty parlour set up on Columbia Road and it's very reasonably priced, this year it was £6 for Day of The Dead make-up and £10 for hair and make-up. It works by drop in so you can simply walk in and step out looking the part.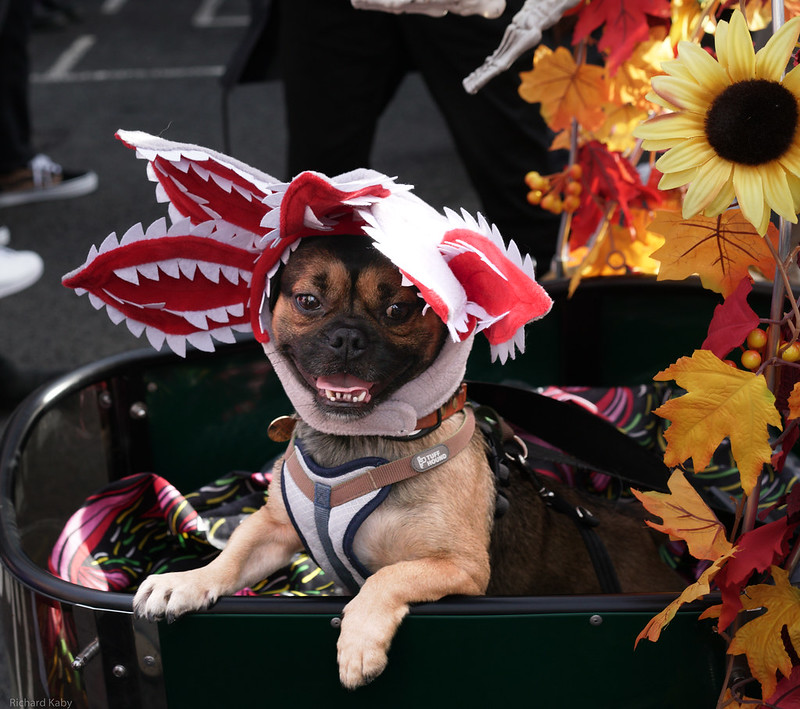 It's not just the humans that dress up – there are a whole host of pets in costume that turn up too and a pooch parade and costume competition to participate in too.
ENTERTAINMENT
Whatever time you turn up something will be happening but I recommend arriving earlier as it does get busier and it's nicer to have the balance of quieter and then seeing all the people. The events run from midday until the earl evening rom live music to a dance performance, prizes and parades. Here's the 2022 schedule and you can a expect similar type of programme whenever you go:
12pm Day of the Dead Beauty Parlour opens at Breathe 57 Columbia Rd
12pm Lunch served at Cheeky Chico's
12pm Mexican hot chocolate at Milagros
12pm The artist Michelle Mason from Mason & Painter has created a shrine at The Bird Cage
12.30am Day of the Dead Yoga -rattle your bones – prompt start at 12.30pm at Ezra Street. Join us
1pm/1.30pm Mexican Shelly dog procession
2.30pm/3 The best dressed & trickiest Day of the Dead dog competition run by Nick of J H Lee & Flourri of Dog Walk Style
3.00pm The Border Morris dancers will dance summoning up the spirits with themes of rebirth & death.
3.30/ 4pm Procession with the Mariachi, Colour Walk People, The Chevy and a coffin Leaving from The Bird Cage. Join us
4.30/5pm The procession will return from Cheeky Chico's.
DAY OF THE DEAD PARADE
The actual parade is a procession of whoever wants to join in, you can either walk up and down the street together, or you can watch from the sidelines. Either way you'll capture some great photos and there's lots of people to chat to.
FOOD
There are a number of bars and cafes in and around Columbia Road, a drinks kiosk serving cocktails and a traditional hot chocolate stand that makes thick, fresh chilli hot chocolate. For Mexican food to keep with the theme head to Cheeky Chicos Bar & Restaurant which serves up Mexi-fusion dishes like burritos and of course tequila.
I opted for an extremely delicious Virgin Mary at Printers & Stationers and a chilli vegan hot chocolate.
SHOPPING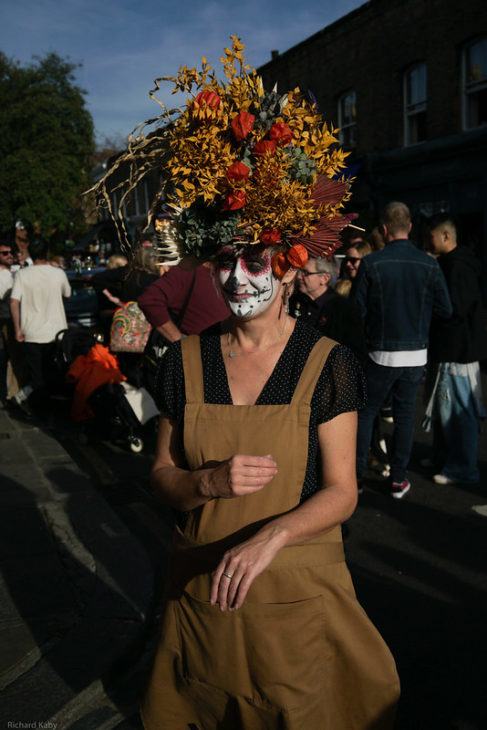 Though Columbia Road Flower market doesn't occur at the same time as Day of The Dead, it's a chance to explore the independent shops that line both sides of the street which are often difficult to access on market days due to the crowds. Popping into Mexican shop Milagros (number 61 Columbia Road) is a must and in the courtyard of the shop there are market stalls and a Day of the Dead alter. This is where you'll find cupcakes and hot chocolate too.
ATMOPSHERE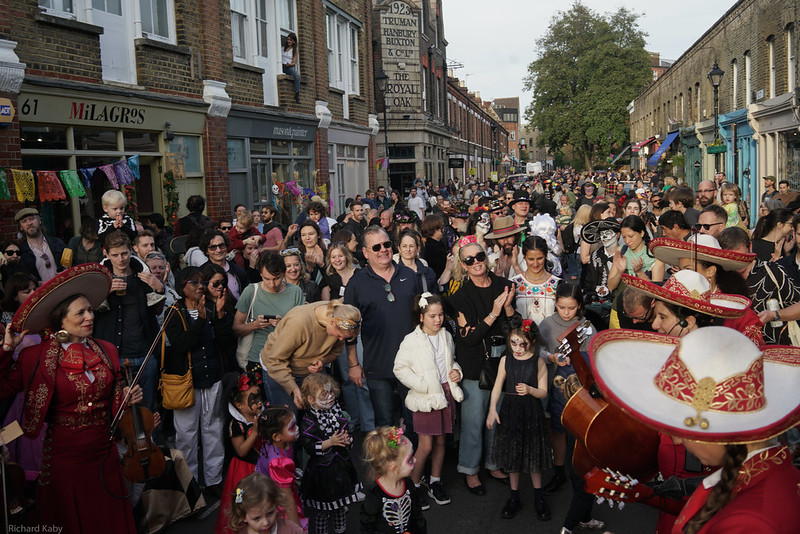 Day of The Dead in Columbia Road is all about the good vibes – no meanness allowed! I witnessed one issue which was that the street gets very crowded yet cars are still allowed through and there was an incident of a car rolling over someone's toe and this person understandably got very angry. Aside from that incident it's a welcoming atmosphere and it's very easy to talk to people, especially breaking the ice by commenting on outfits.
Regarding the incident I think Columbia Road should go car-free on this day – after all on the actual Columbia Road Flower Market day the road is closed to cars and there's no reason that couldn't be done on this one day a year too. But keep that in mind, it does get busy an it's a family event with lots of children in attendance so it's important to be aware of passing traffic even as people are walking on the main roads too.
PHOTOGRAPHY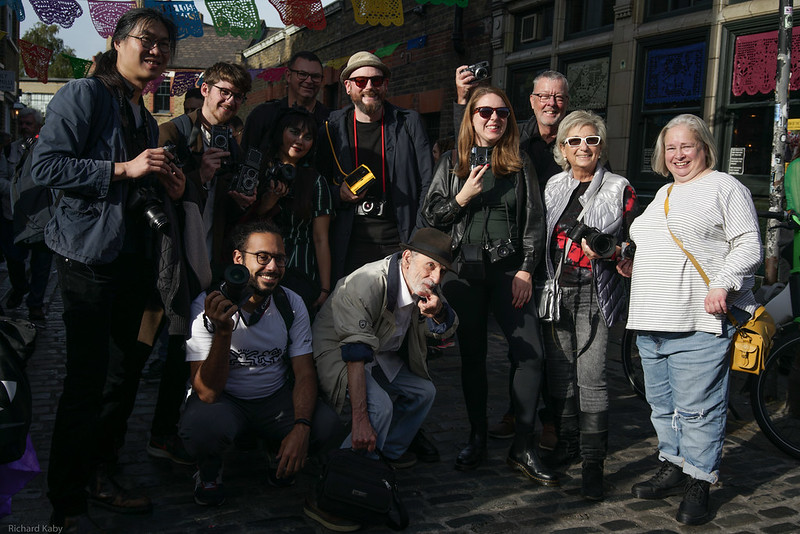 Come with a full battery because there is plenty to photograph and lots of photos to star in. If you are in costume people will stop you to take photos. It can be constant and at times I found it tough so I escaped by moving to the quieter side roads or stopping for refreshments for some downtime – it's important to do this otherwise you will get tired and hangry!
Why I love Day of The Dead
I've been interested in and celebrated Day of The Dead in some way since I was a teenager. Growing up in London in the 1990s (pre internet!) it wasn't something you would have heard about and certainly there were no Disney cartoons like Coco around then!
How I learnt about Day of The Dead was very unexpected, but it's a story I'm proud of. When I was 17 I was studying for my A'Levels at a 6th Form College in East London. I'd always been on the alternative spectrum, aesthetically speaking, fashion, music etc and so I stood out from other students. One day I was walking in the corridor and one of the Media Studies tutors who didn't teach asked me if he could have a word.
I didn't know his name and to this day over 20 years later I still don't. But anyway in that conversation he told me what Day of The Day is because he said he thought I'd enjoy it and secondly he said if I never needed a job here's a number for his friend who works at a Post-Production company in Soho.
I called the number I got a job and also discovered a colourful, creative festival that has been a part of my life every since.
I'm already looking forward to next year's Day of the Dead in Columbia Road but I do hope to be in Mexico one day so I can experience the festivities there – some of which take part in graveyards, the best place to connect with your ancestors.
VIDEO HIGHLIGHTS FROM THE DAY:
https://www.youtube.com/shorts/mHpPRjPerPo
How to get to Columbia Road Market
My preferred route of reaching Columbia Road is a 10 minute walk from Shoreditch High Street Overground station .