Neon Naked Life Drawing – the most colourful night out in London
There's Life Drawing and there's Neon Naked Life Drawing. Both art sessions feature real life models and the opportunity to do some sketching but they couldn't be more different!
Neon Naked Life Drawing is the most colourful night out in London. We're talking eye-popping, fluorescent, bold bright hues with a good dose of psychedelia thrown in. If a hit of mood-boosting colour therapy draws your interest, then you're guaranteed a dose at these art classes with a difference.
The difference being, unlike regular life drawing classes with black charcoals and pencils to create as-realistic-as-you-can drawings. Here, that life drawing rulebook is thrown out of the window.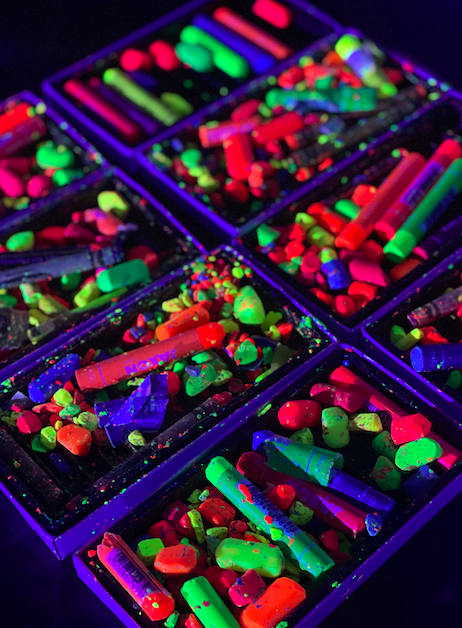 There's not a black pen in sight. Instead, vivid shocking pinks, yellows, greens and oranges are provided in the form of marker pens and crayons and creative play is encouraged.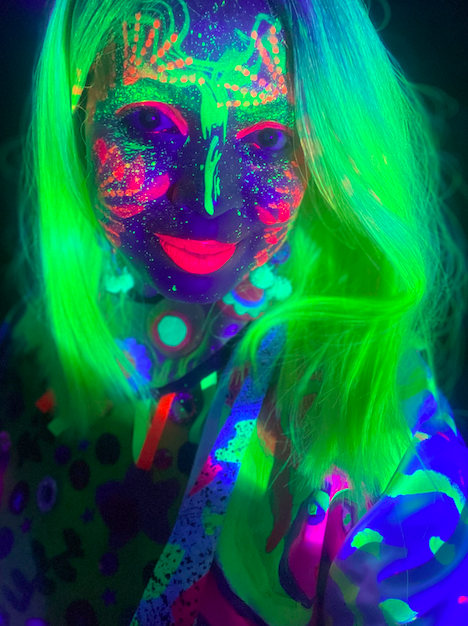 You can draw the model's bodies if you wish but more interesting is the body paint they're adorned with – geometric shapes, tribal inspired motifs and splattered paint styled with neon wigs, accessories and props. Intrigued? Well not only have I been to a few classes in person and online, I've also modelled there, so I have the full low down for you!
What to expect at a (Neon Naked) life drawing class
Let there be (neon) light…
Try something creative and turn an ordinary evening in London into an extraordinary one. Neon Naked Life Drawing gives you the opportunity to put your phones down and swap it for some mindful creativity. Sessions take place at a range of venues. It could be a room in a bar, restaurant, community or social space. They're private so you'll only be with other people who've also bought tickets.
The set-up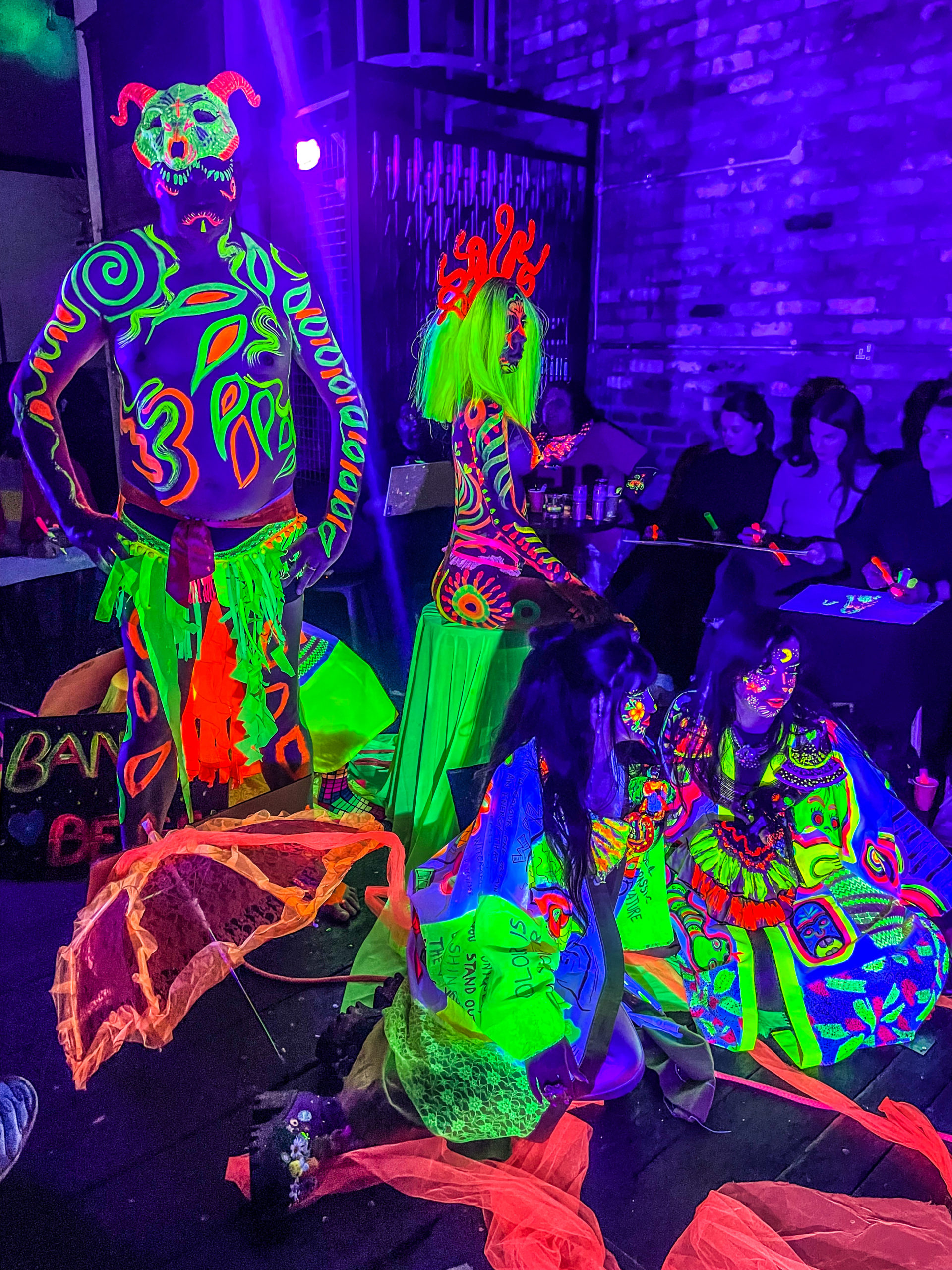 When you arrive the room will be laid out with chairs, paper and colouring tools. You don't need to take anything with you so if you're popping in after work or decide to go last minute, you can simply turn up and take part. One thing you'll notice is that the room will be dark with the ultra-violet lights already on. That's something to be prepared for. All sessions take place with the main lights off so you'll probably spend 90 minutes in a darker than usual environment. Though of course, the neon vibes make up for it!
The vibe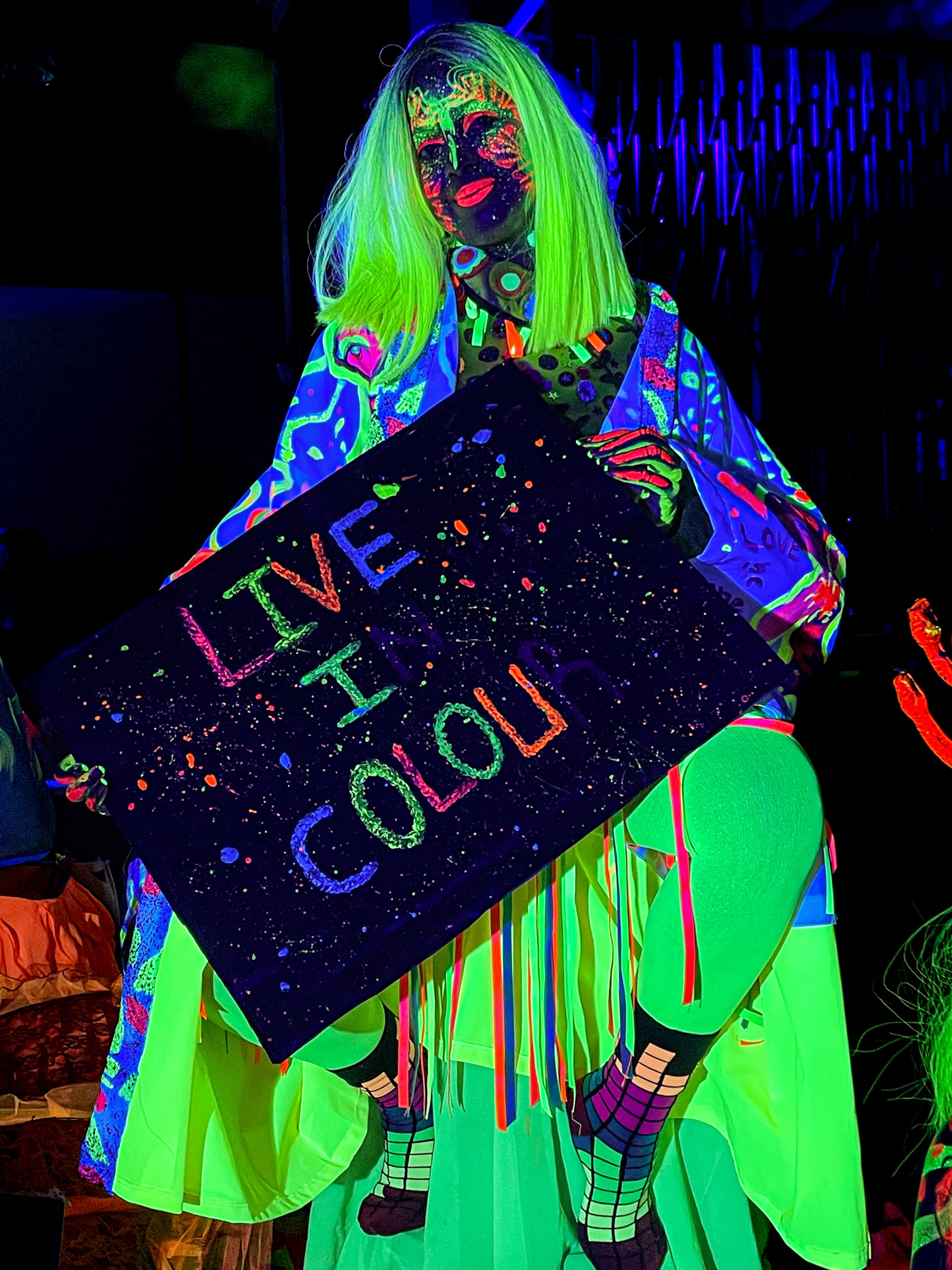 What I love about Neon Naked Life Drawing is that the sessions are so chilled and relaxed. The atmosphere is friendly, open and encouraging. Whatever your experience and whatever your ability, you're made to feel welcome. Best of all, Jylle who runs the event is so positive about everyone's efforts.
Session are structured – they start on time and end on time so there's no twiddling your thumbs. And because it's dark and there's always something happening you don't have to feel awkward about going alone – it's not like everyone will be chatting and you'll feel left out, everyone's too busy drawing! Neon Naked is something you can comfortably go to solo, so if you fancy giving it ago but feel like there's no one to go with, just go on your own. No one will bat an eyelid and you'll have a fabulous time.
The session
At each event there are real life models who you'll be drawing though a series of guided, timed sketches. They may be two minutes, six minutes or even 10. Each time you're encouraged to do a particular technique which could be you're only allowed to draw looking up or perhaps it's a two handed drawing. Jylle explains each task and as they change, so do the model's poses. You'll get about 6-7 different tasks over the course of the 90 minutes.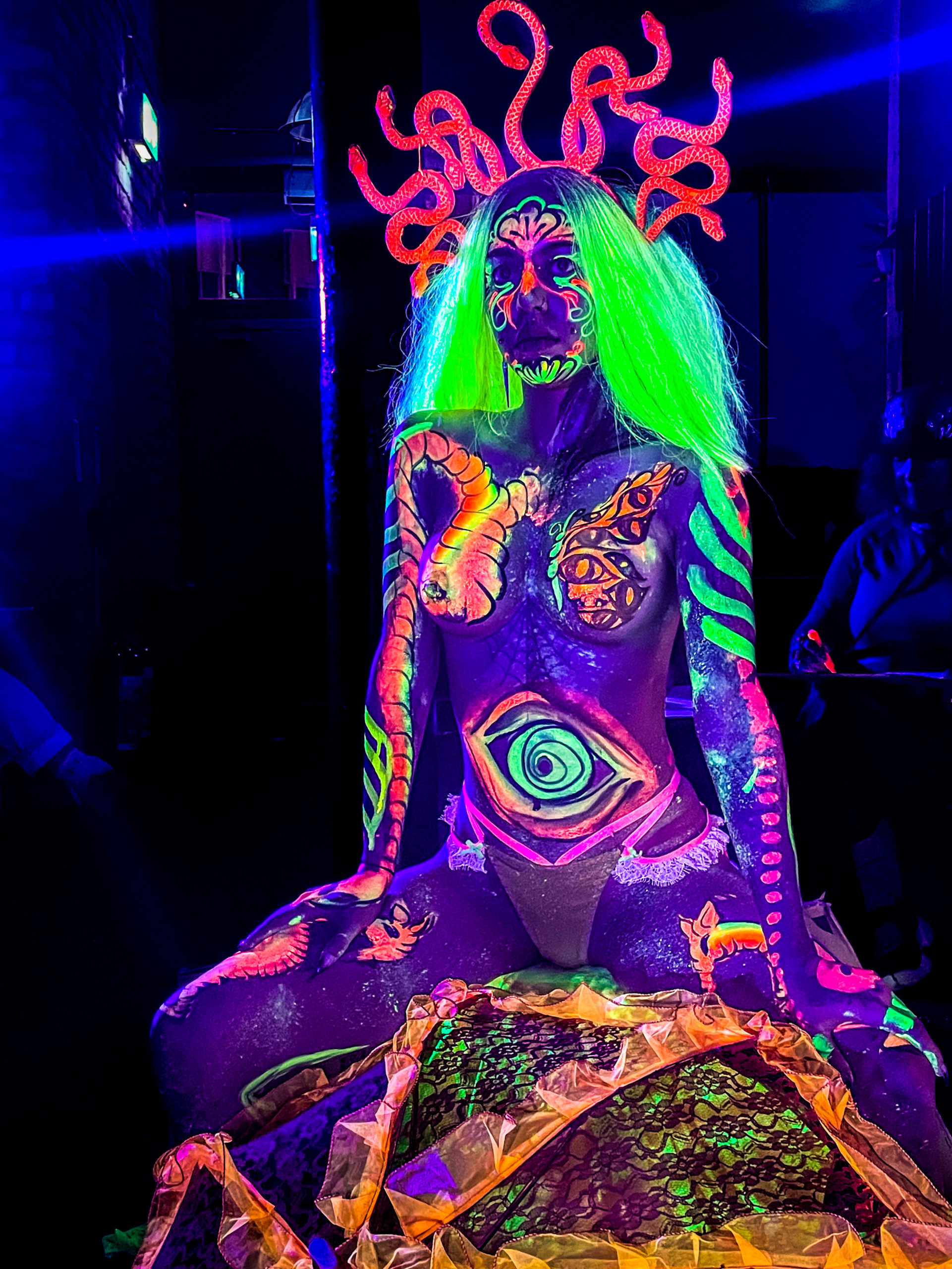 If you're wondering about the 'naked' element. The models are mostly naked or partially covered, or there may be some in outfits, or a mixture of outfits and painted skin giving you more choice with your compositions – which by the way, don't need to look real. Shape, pattern, colour and line-work is the focus more than an accurate human form.
Is life drawing difficult?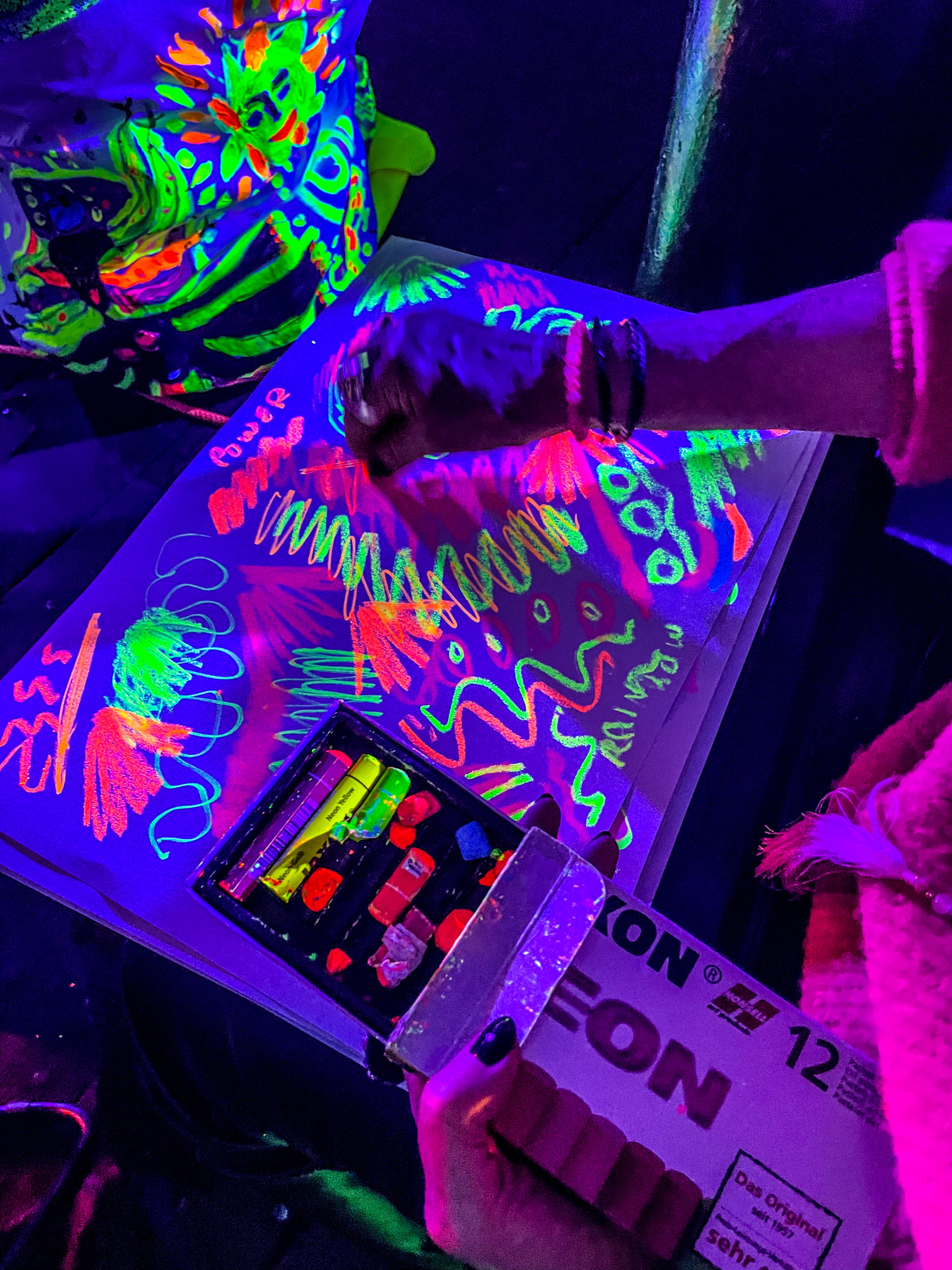 I think it depends what your intention is for going. If you want to master how to draw exact people proportions then it takes practice, possibly years. But if you let go of expectation and shift your mindset from difficult to experimental you don't have to worry about perfection; just go with the flow.
Show and tell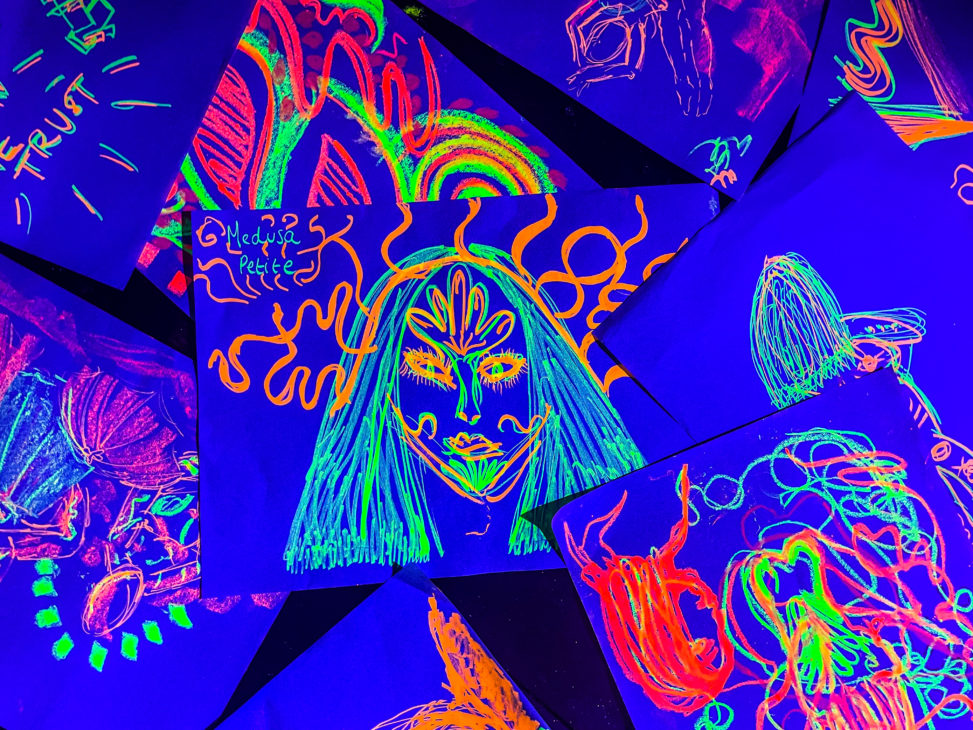 At the end of the session there's a gallery of the work created during the event and you're asked to share your favourite pieces for everyone to enjoy. It's a satisfying way to show-off work with strangers and fascinating to see the different ways the neon models have been interpreted. Again, don't feel nervous about this, the room is still dark and no one really knows whose art is whose.
Sue Kreitzman Colour Special at Neon Naked Life Drawing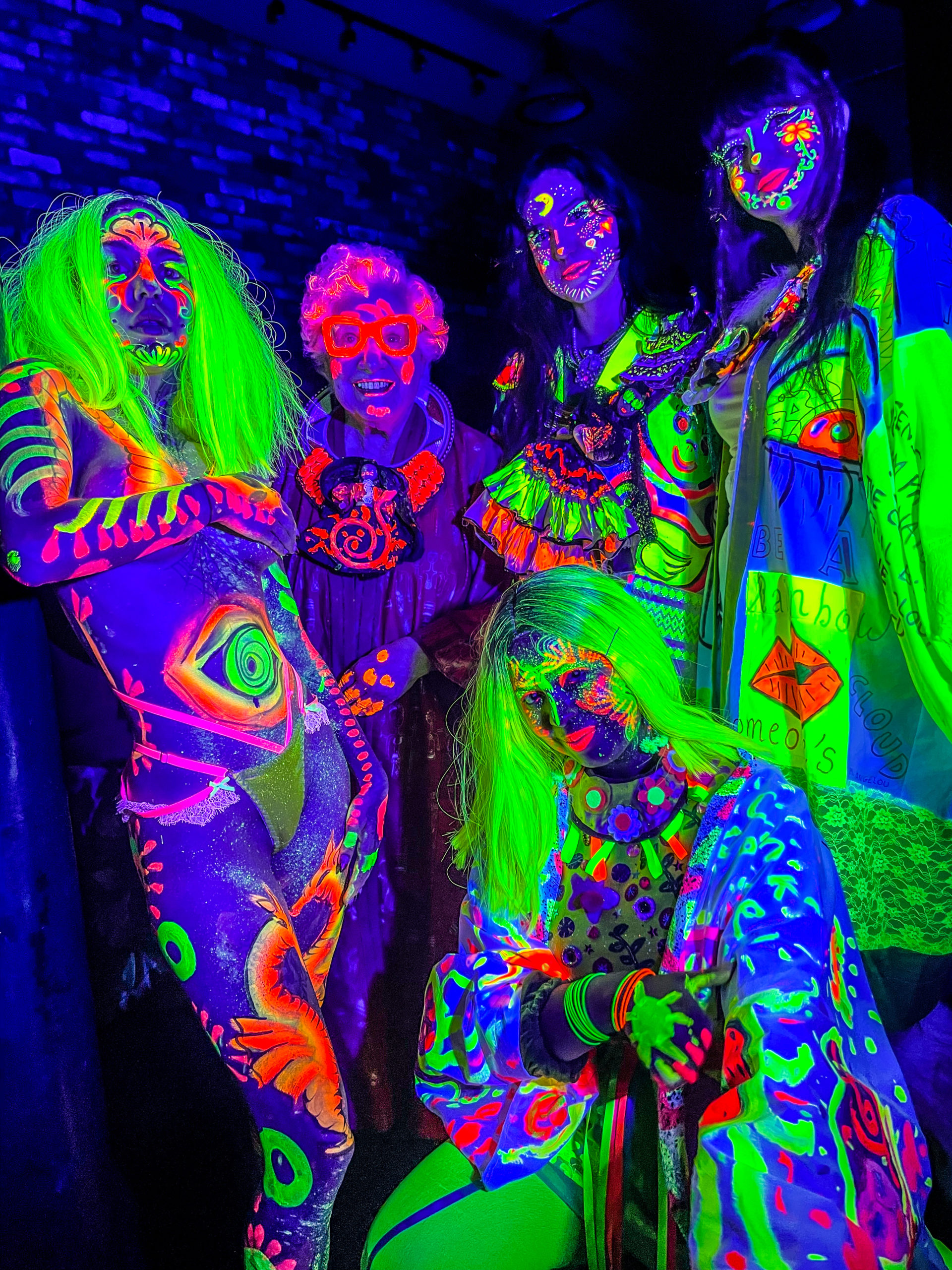 Amongst the regular sessions there's also 'special sessions' with specific themes, or guests and there's even daytime sessions with no nudity suitable for families to attend.
My friend and Colour Queen Sue Kreitzman has guested twice and it's be a great opportunity to hear about her approach to colour and to see models wearing some of her famous hand-painted kimonos during the sessions. In fact, that's how I ended up modelling at Neon Naked Life Drawing – Sue asked me to take part one of her ' neon naked specials'. Three of us wore Sue's art kimonos and we modelled alongside a regular model and a friend of ours Chris who also modelled for the first time, but he opted for skin art. In fact, I also helped paint him along with Jylle.
Modelling at Neon Naked Life Drawing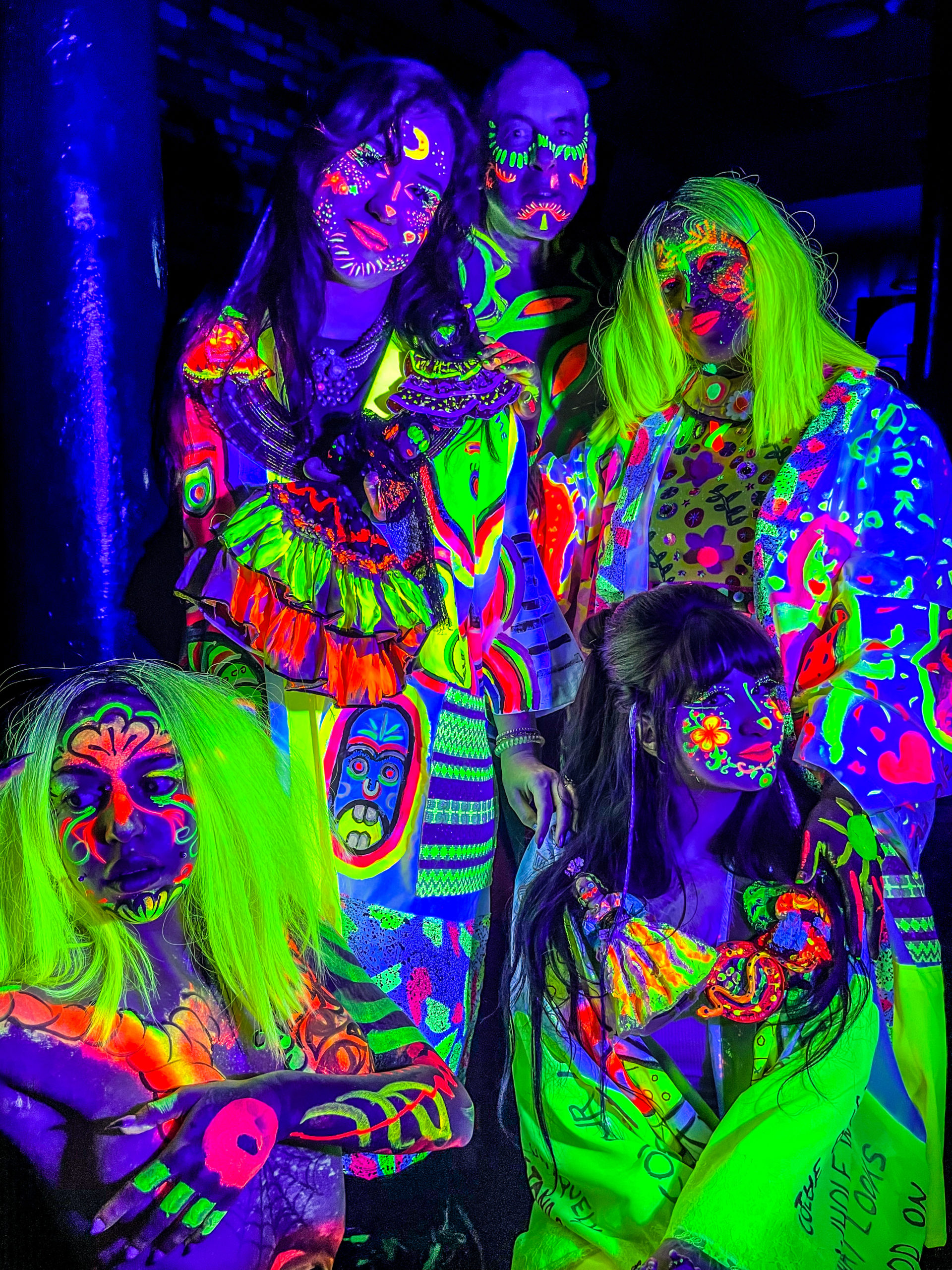 So what was it like to model at Neon Naked Life Drawing (clothed!)?
Extremely fun. Jylle brought along loads of neon accessories and props alongside make-up and wigs and that's what caught my eye. I don't usually wear wigs so it was an opportunity to explore a different persona, having long hair for a start which I haven't had since I was a teenager!
I opted for a neon yellow wig and teamed it with items I already have in my wardrobe like a top I customised and a ribbon skirt I made. I also painted the tips of my nails with neon polish and under UV they looked very cool!
Jylle did my make-up and she used different shaped brushed to creative effects – I loved the flicked paint dots. The finishing touch was wearing one of Sue's hand painted kimonos which had full 360 details on it – it was extraordinary.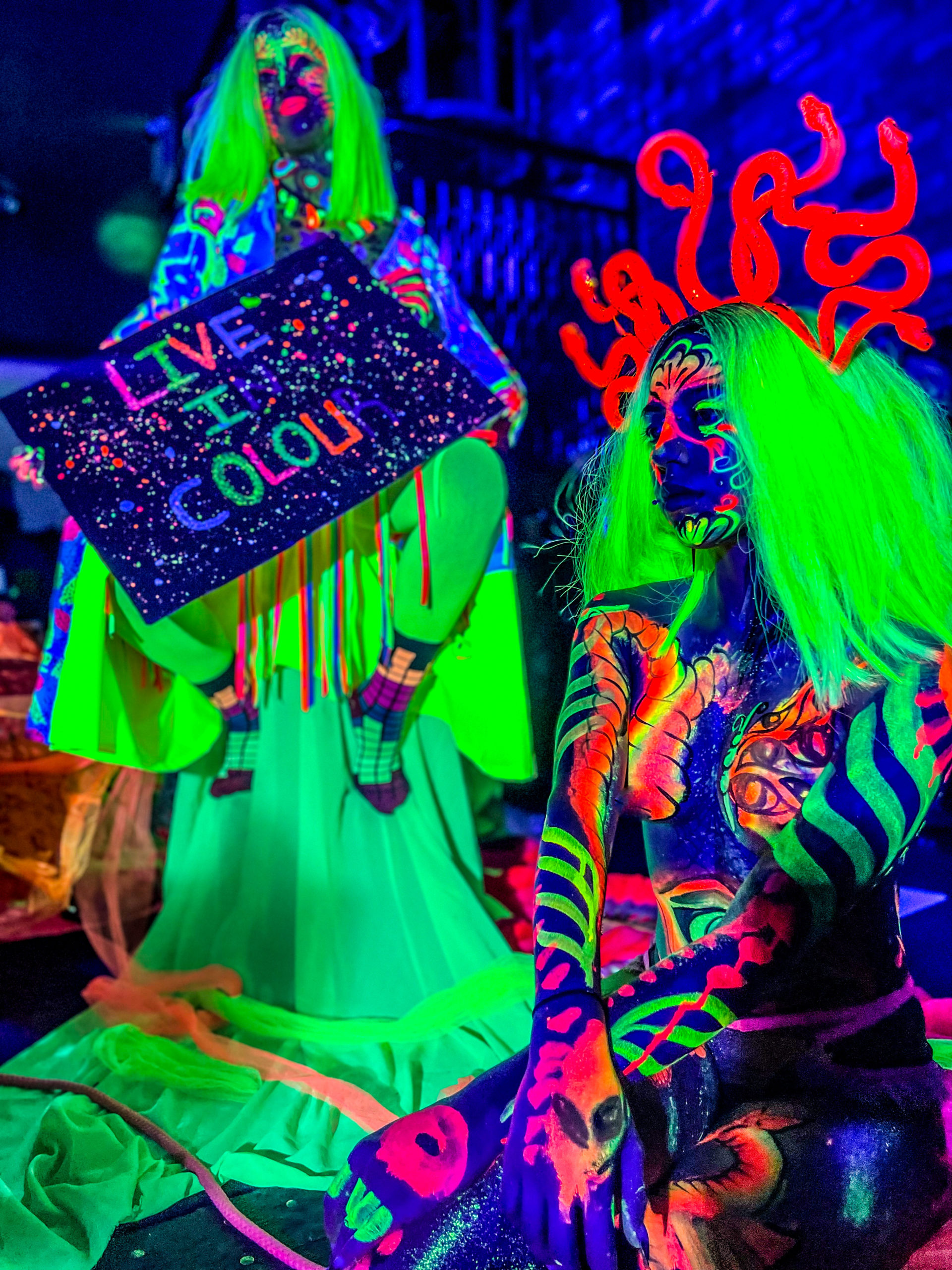 We weren't aware of what each prompt would be and nor were there any rehearsals. I sat on seats a couple of times as I felt it would be easier to hold my poses without getting cramp. And that's definitely something I learned in terms of finding comfortable positions that you can keep for a good few minutes.
The most fun pose was the continuous movement with props. Mine was a lightsaber style torch and the idea was to move slowly. I was definitely channeling the power of the wig and let go of any inhibitions and just felt the natural flow of how my body wanted to move. It's the kind of stretch and flow I should start all my mornings with as it feels really good.
I feel really lucky to have been involved in both sides of the event now; attending and participating. It's such a refreshing way to spend an evening and you'll leave feeling good that you achieved something in such a short amount of time.
The best life drawing classes in London
Neon Naked Life Drawing isn't the only unconventional life drawing workshop that regularly takes place in London. Head to Design My Night to check out some of the other themed sketch soirees you can get drawn into.
Follow Neon Naked on Instagram for images from their latest sessions.
Yours colourfully,