Welcome to the vibrant world of London street photography of the street style kind. The bustling city offers a plethora of opportunities to capture the essence of fashion amidst its colourful streets and I should know because I've tried it!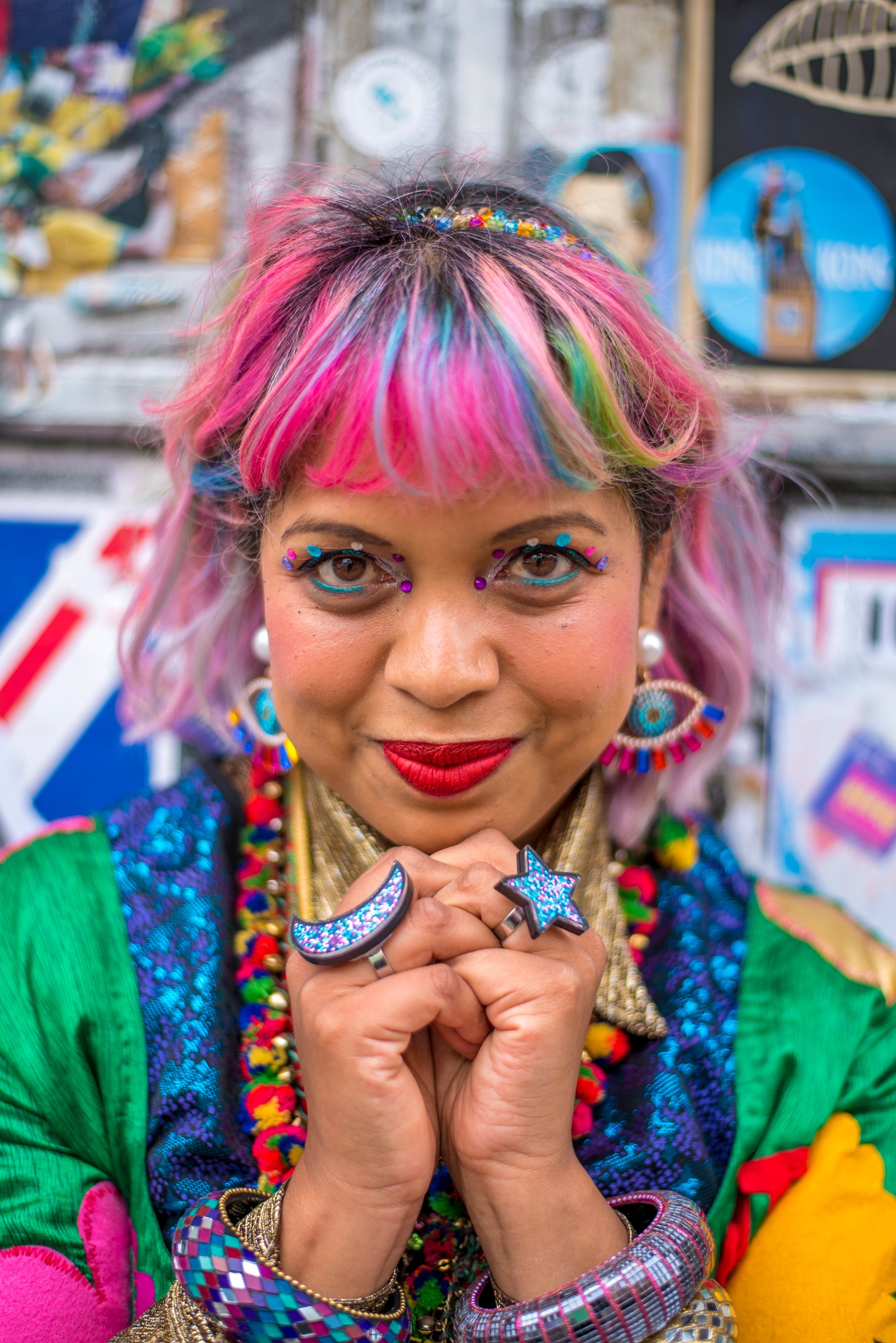 In this blog post, I share six practical tips to help elevate your street style photography game. From choosing the right location to incorporating props and utilising street furniture. Each tip will guide you towards creating stunning shots that showcase the unique fashion culture in London. Oh, and obviously look good on The Gram, in reels and photos!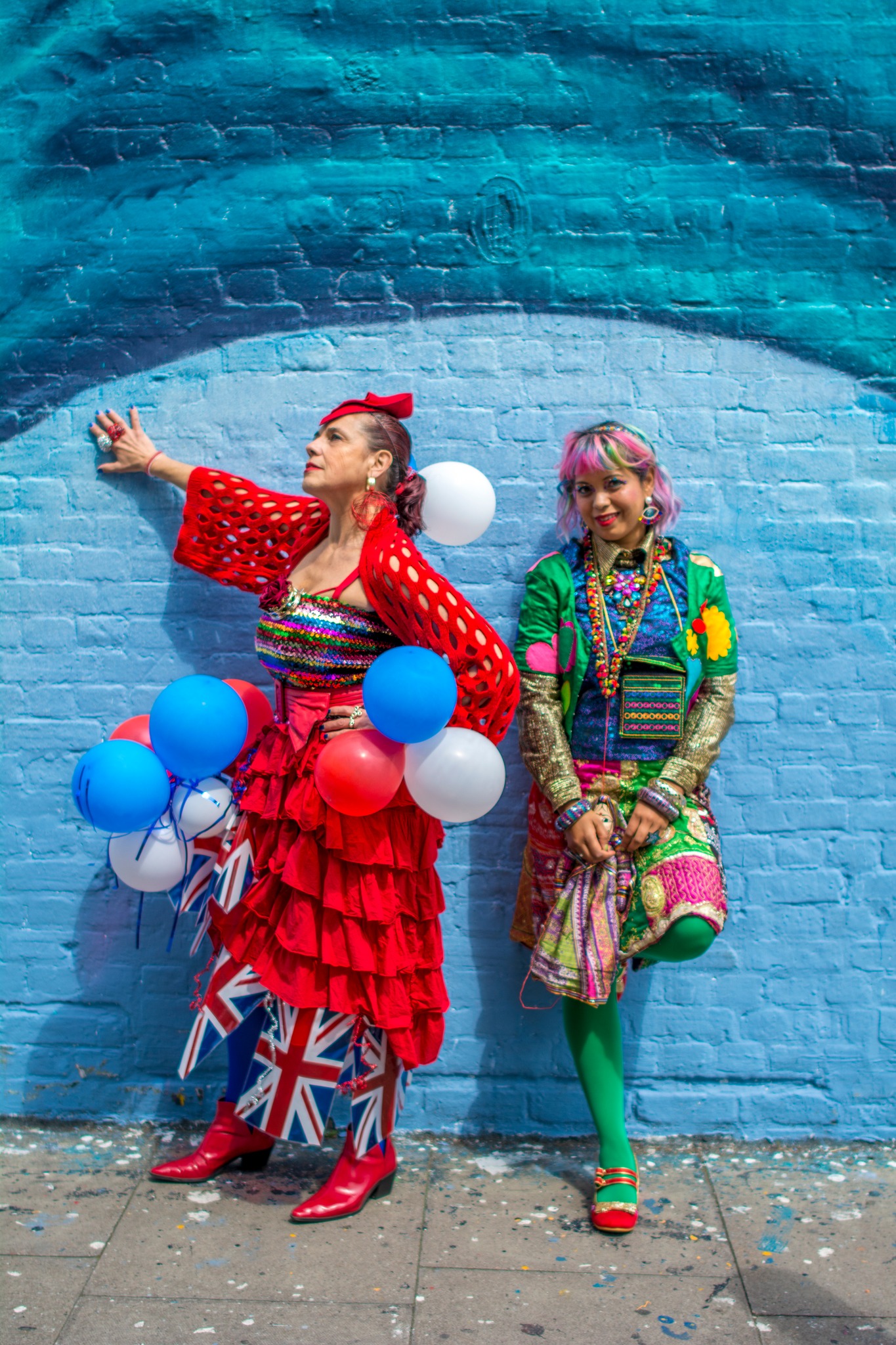 Whether you want to be the star of the frame, or behind the camera (like Danny Jackson who took all the photos in this post,) summer is the perfect time to get outside and get creative….
6 street style photography tips to get drool-worthy London pictures
1. LOCATION: Shoreditch, the Perfect Playground for Street Style Fashion Photography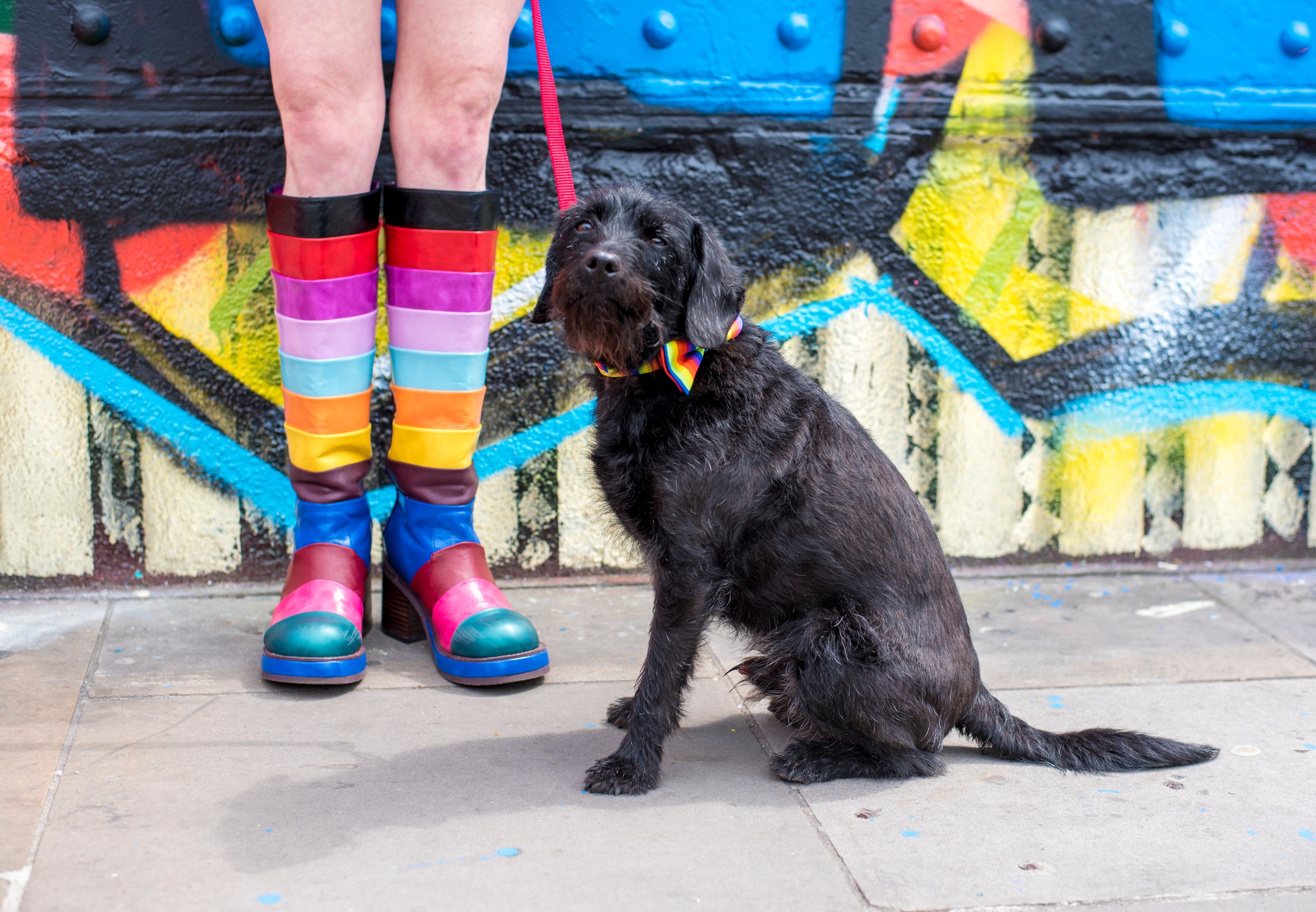 When it comes to capturing colourful street style in London, Shoreditch is hands down the place to go. Known for its artistic flair and vibrant atmosphere, this East London neighbourhood offers a myriad of backdrops for your fashion photography. It changes weekly thanks to the ever-changing eye-catching street art.
Street photographers can be found hanging out here daily. If you're a solo photographer looking to take some creative urban photography keep an eye out. Shoreditch exudes creativity and is teeming with stylish individuals who love to express themselves through fashion so it won't take you long to find one. Many will oblige to star in your photos when you stop and ask them.
2. EMBRACE THE COLOURS: Dress in Vibrant Attire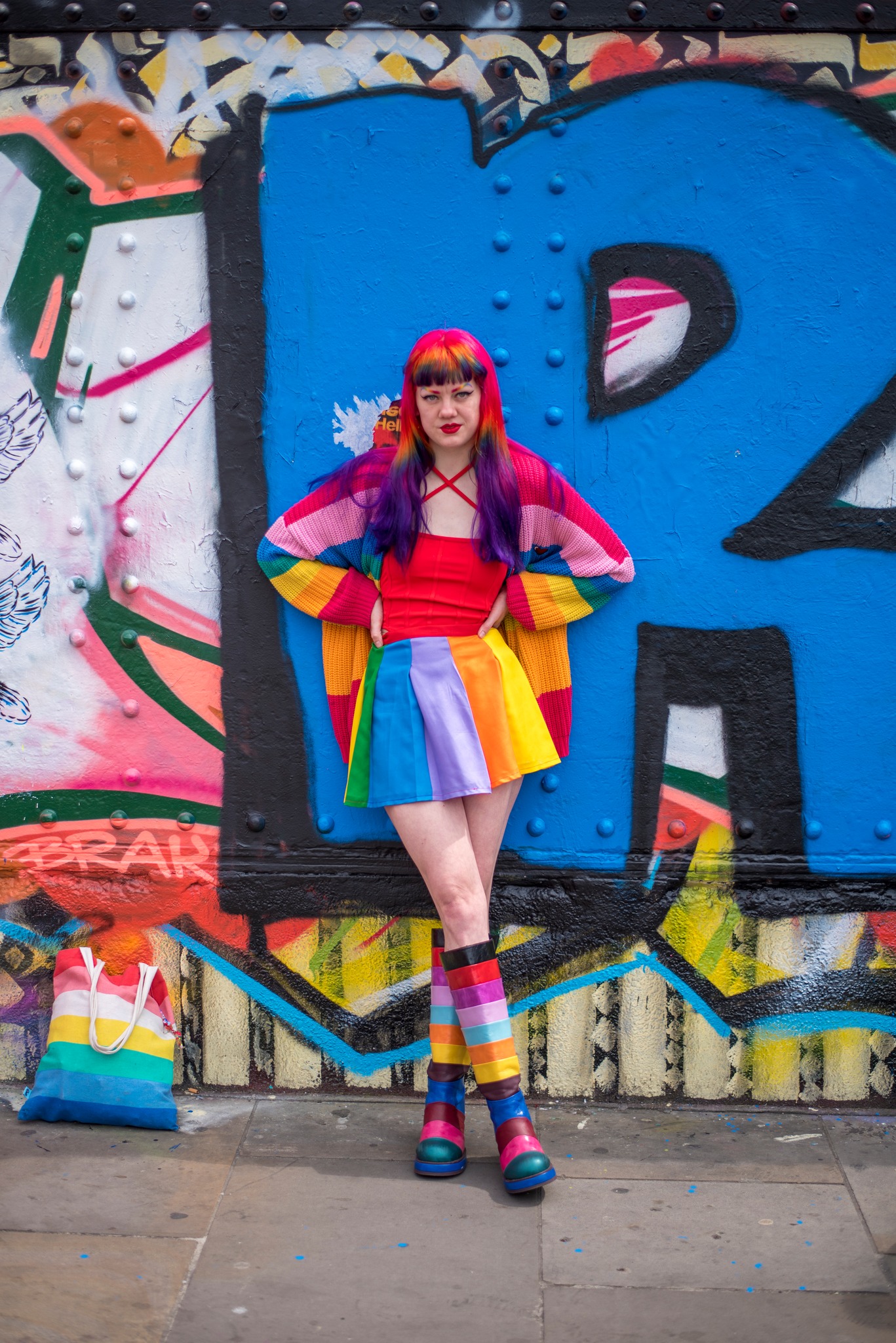 If you're not stopping strangers in the street but are organising your own get together with friends, you can amplify the visual impact of your street style fashion photography by encouraging everyone to wear vibrant and colourful attire. Bold hues, patterns, and textures not only enhance the overall aesthetic but also help individuals stand out amidst the urban landscape.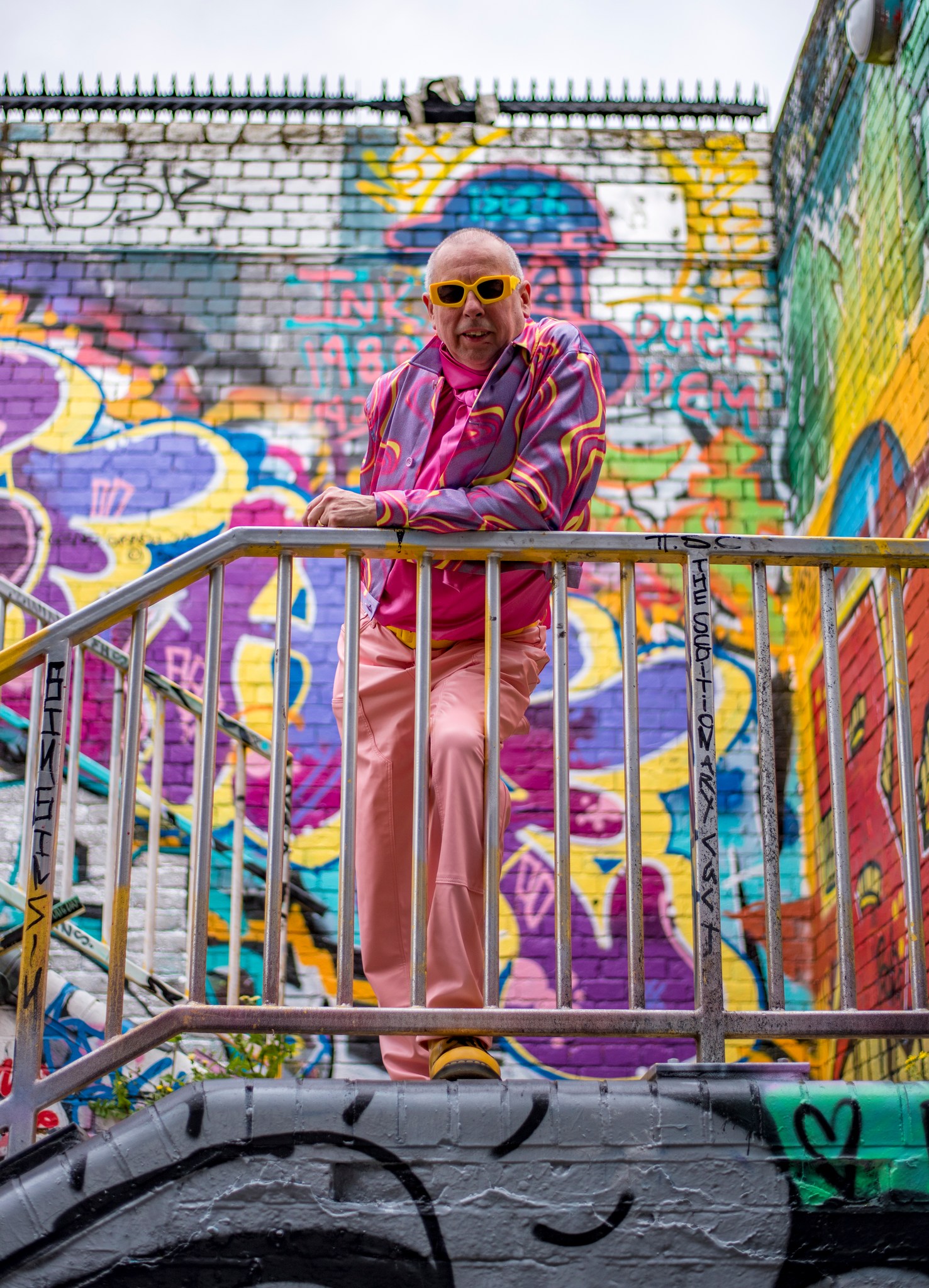 The juxtaposition of vibrant fashion against the city's backdrop creates striking imagery that you just can't get in a studio. While colour-on-colour may be too much for some people, I say until you've tried it you don't know how awesome a shot can be. A colourful outfit on a plain background has equal wow factor to colour against colour in my books!
3. GROUP SHOTS: Showcasing Collective Fashion Energy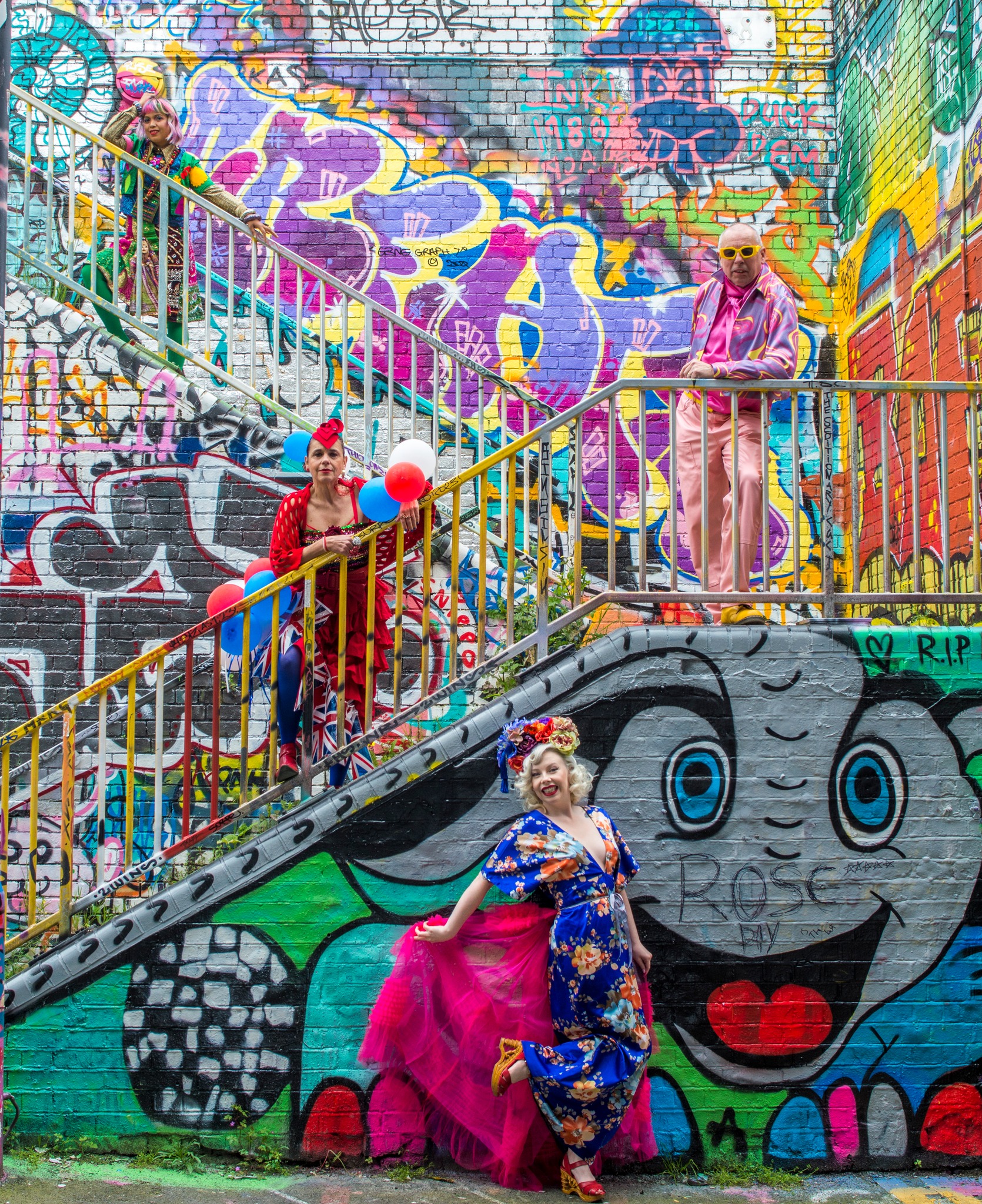 Incorporating group shots into your street style fashion photography adds a dynamic element to your photography portfolio and is also fun for everyone involved in the shoot. Encourage friends or fashion enthusiasts to come together, each expressing their unique style.
So who are the people in these photos I hear you cry?
Well I'm part of the London Colour Walk community. We meet the 3rd Thursday of the month in Old Spitalfield's Market at lunchtime, anyone can join us.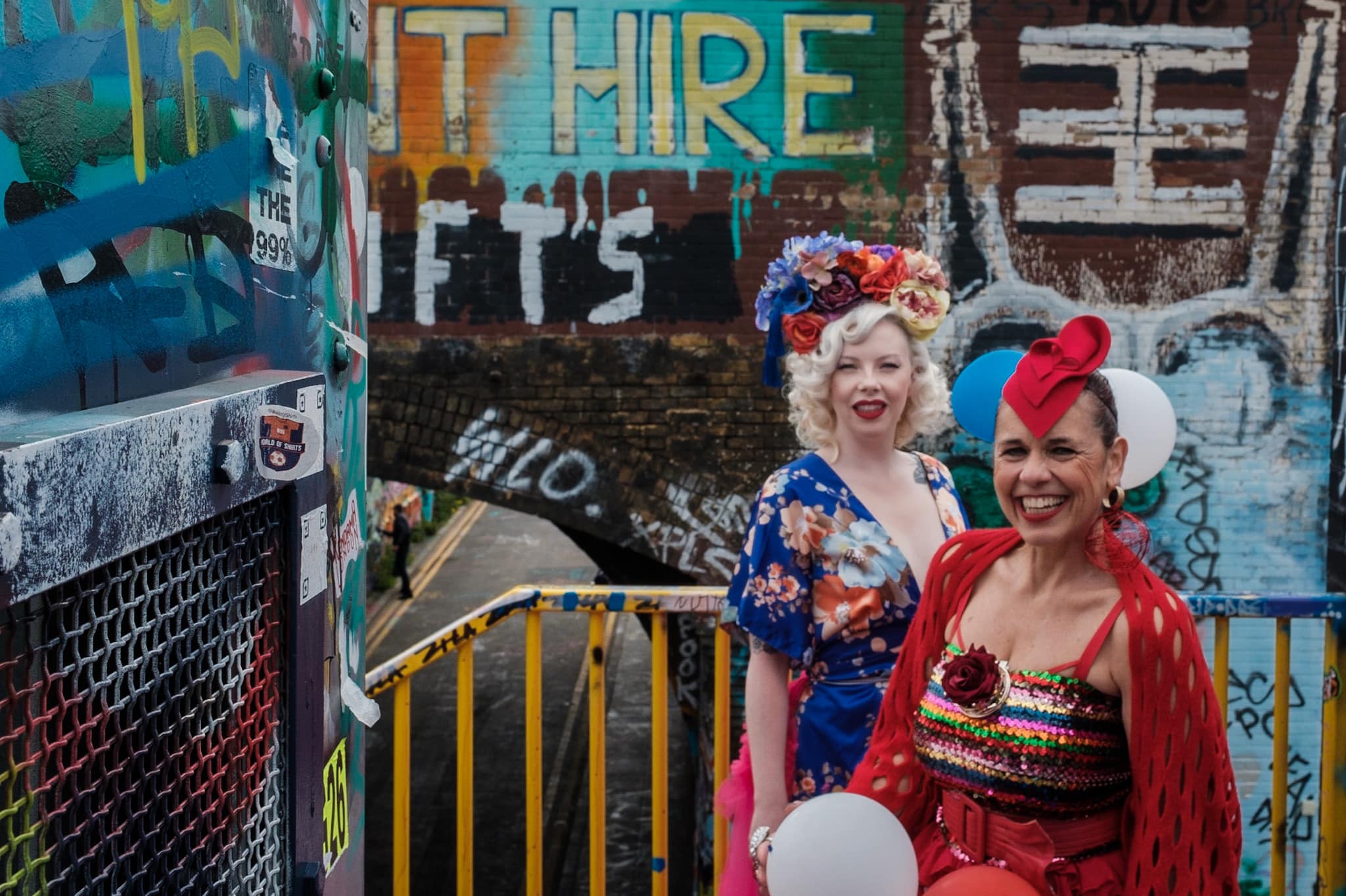 At a recent meet up a group of us met up ahead of the main event to do a pre-shoot. It was an open invitation to photographers and models so anyone could join us. The group was made up of people who go regularly, go sometimes and even a new person who'd never been before. Collaborating with strangers and friends can be equally as fun. The synergy between individuals who love fashion tends to flow whether you know each other or not.
For group shots try different compositions of posing, heights (stairs are great for this) and a mixture of looking to camera and away.
4. USE STREET FURNITURE: Embrace the Urban Environment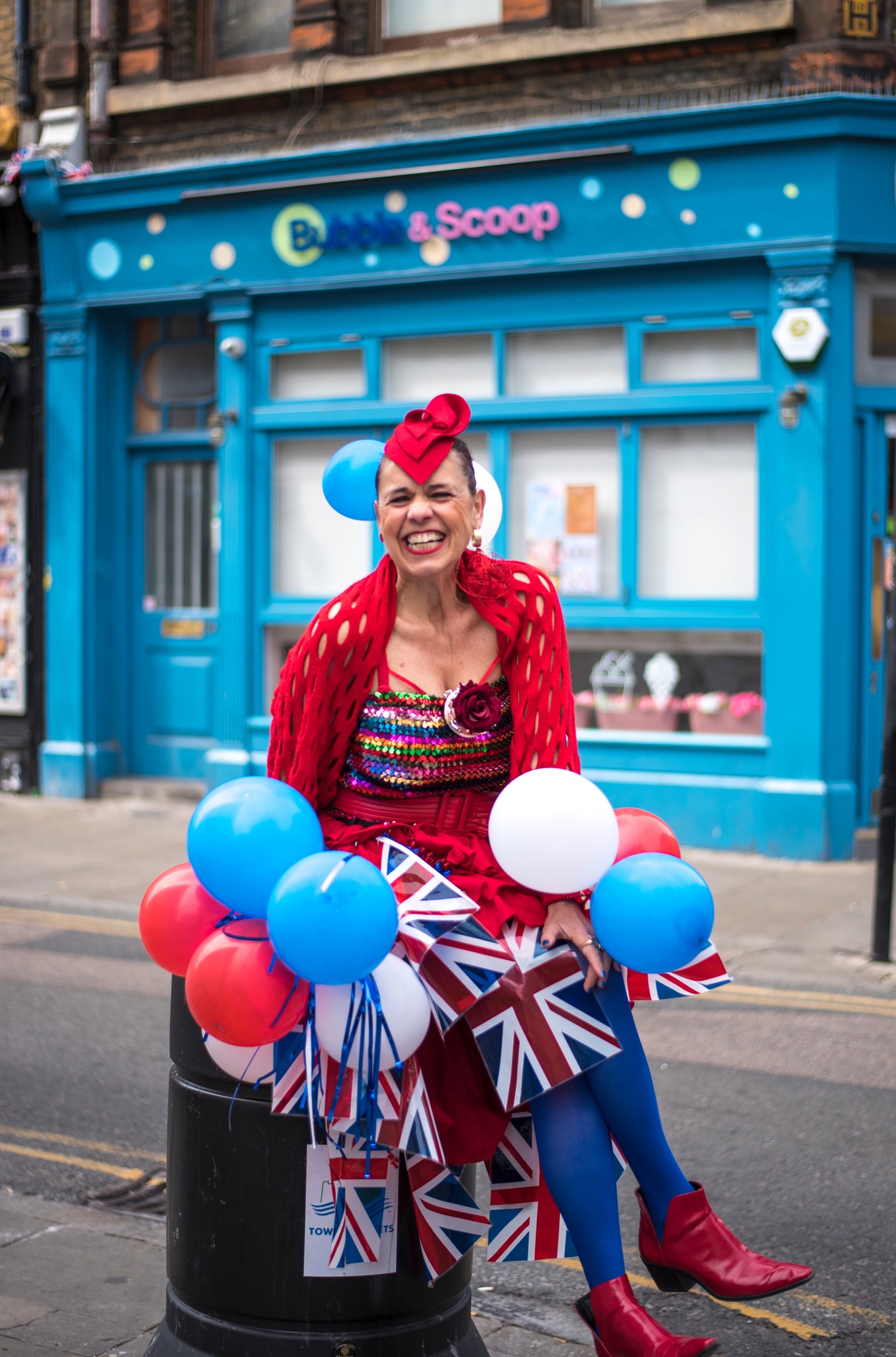 When I arrived at the shoot Marisa was sitting on a rubbish bin and it was the perfect moment. The streets of London are paved with all kinds of street furniture, such as benches, stairs, and lampposts which can all serve as stars in your street style fashion photography.
They not only provide interesting visual elements but also help create unique compositions and poses, so encourage your models to interact with the environment to enhance the overall aesthetic of your London street shot.
5. PROPS: Enhancing the Visual Narrative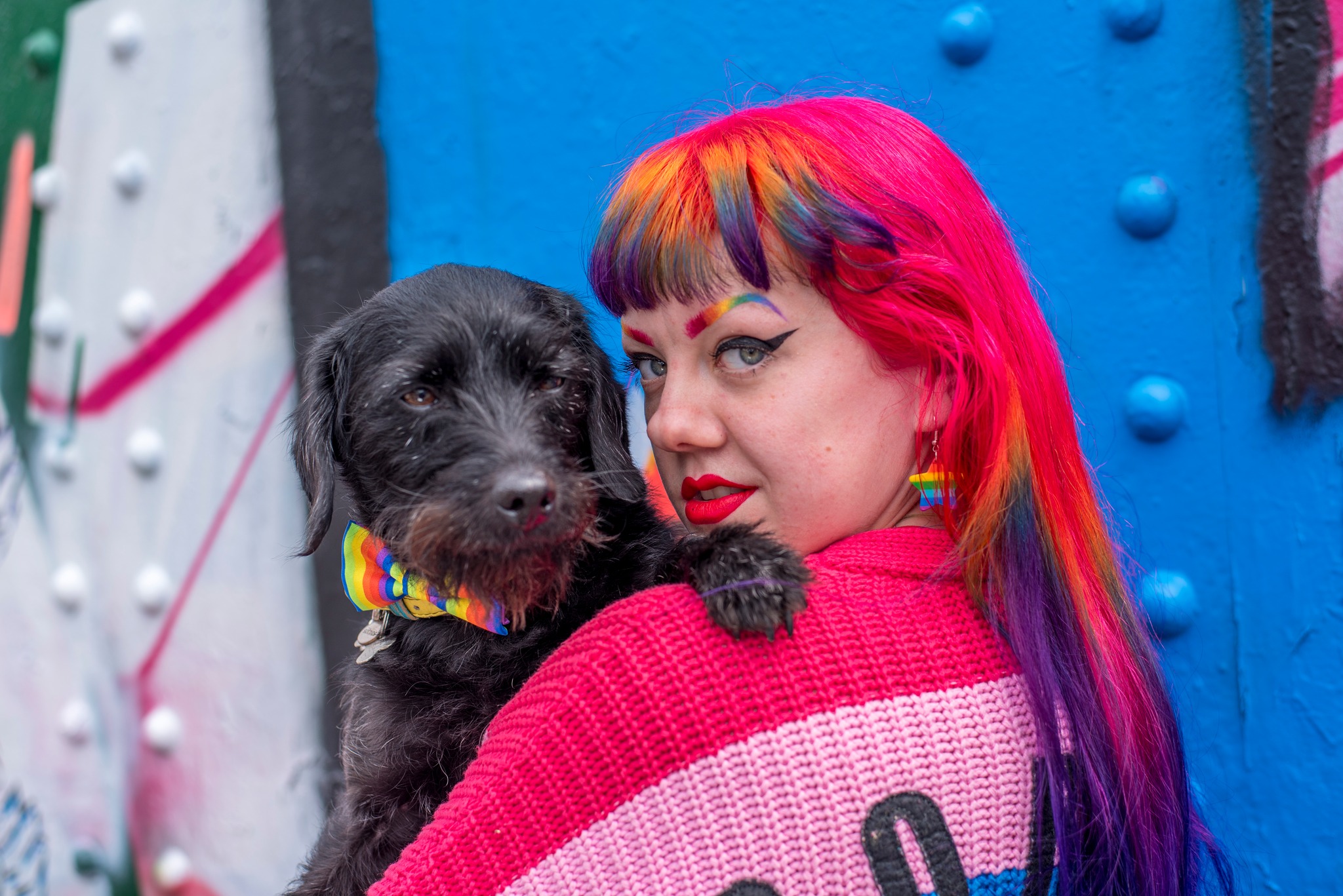 Incorporating props into your street style fashion photography is an extra way to add colour, interest and also makes models feel a bit more at ease. If you're not used to having pictures take a prop can be a distraction from any nerves. From bicycles and umbrellas to balloons and flowers, props can be used creatively to accentuate a model's style or create interesting visual interactions. And if you have access to a pet like Grace did with her dog Albert you're in for a treat. For the model you'll get some priceless snaps you'd struggle to get as a selfie and for photographers….cute animals are guaranteed likes!
6. A GOOD PHOTOGRAPHER: To Capture the Essence of Style
Behind every great street style fashion photograph is a skilled photographer who has a passion for style. If that's you, take the time to master your craft, experiment with angles and perspectives, and learn how to highlight the unique fashion details that make each subject stand out.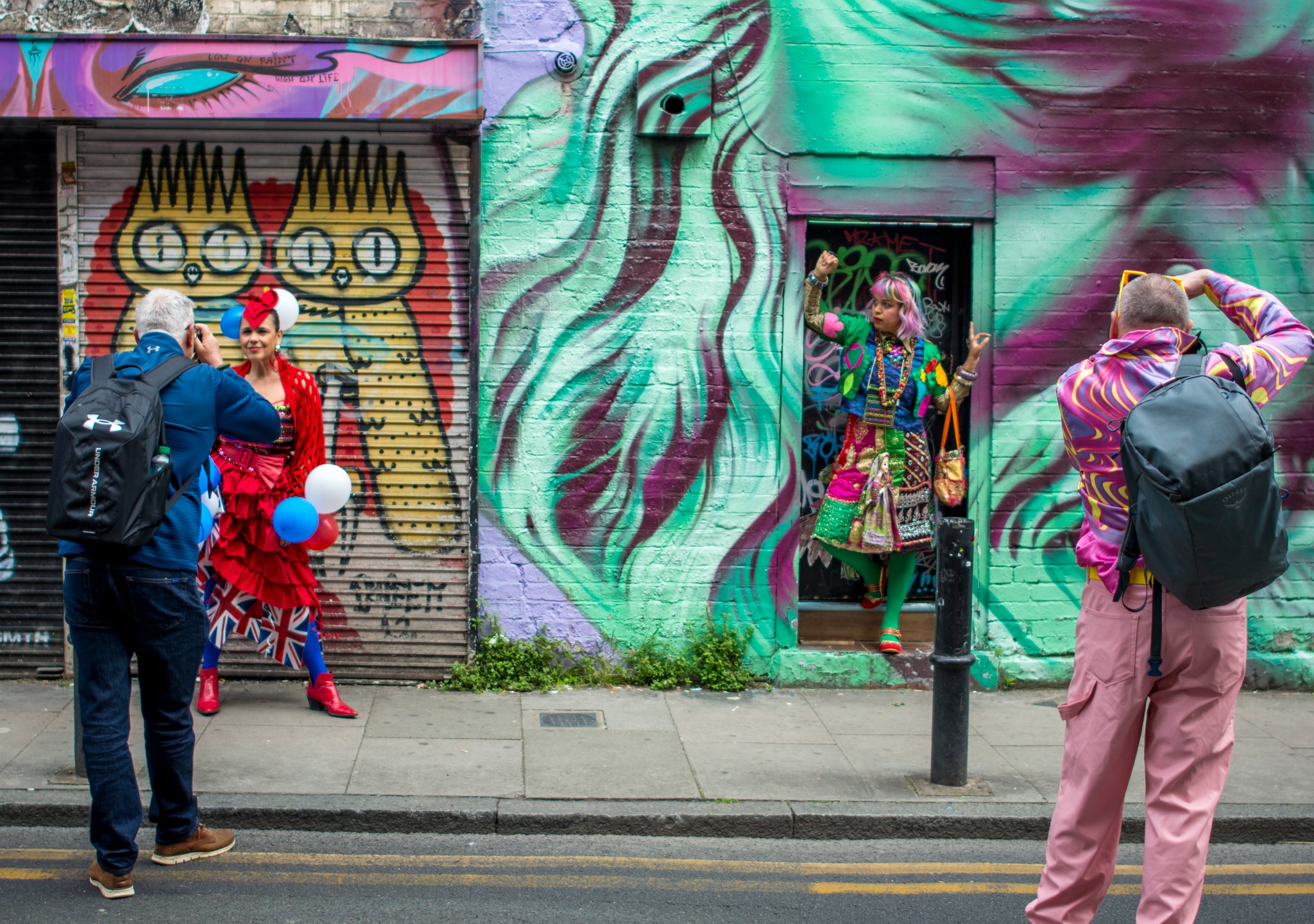 Understanding composition and lighting will enable you to create visually stunning images that tell a story which is why getting in regular practice on the streets of London through events like the Colour Walk is so helpful. Street parties and annual events like the Day of The Dead festival are also great places to practice your art.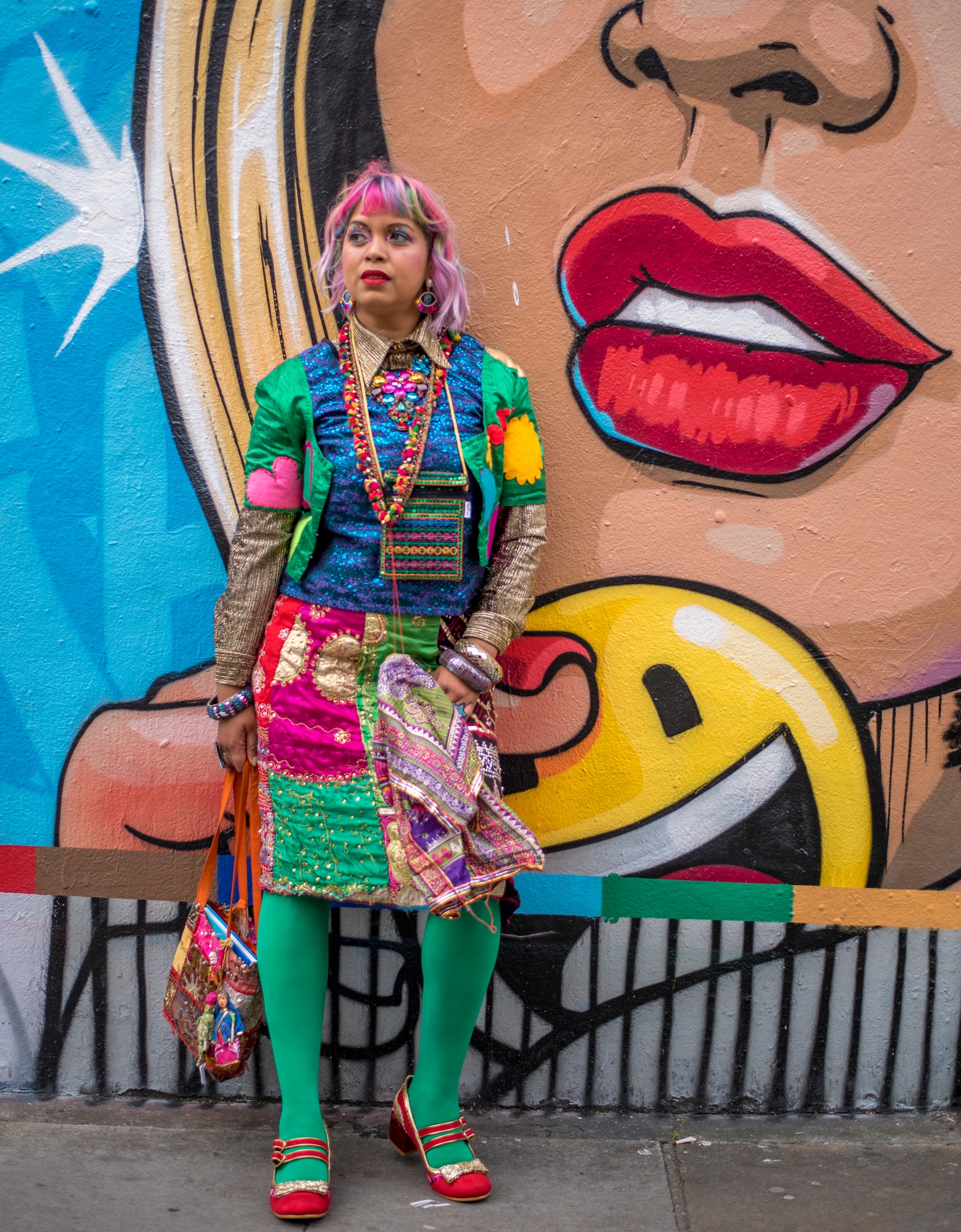 If you're a model (and I'm talking everyday people here of all shapes, sizes and ages like me, not professionals) I don't encourage you to meet up with random strangers you meet online who say they want to collab with you. Instead, I recommend going to a public event or meet-up. You don't necessarily need to go with someone, but do tell a friend where you'll be. Do your research, reach out and connect and chat before you commit. Ok that's the serious bit over with….let's get back to the fun.
The best places in Shoreditch for Street Photography
Brick Lane: diverse cultural influences and a treasure trove of fashion and street art. The street's colourful walls and bustling markets offer countless opportunities for capturing vibrant street style.
Boxpark: This innovative retail and dining space consists of container structures and creative graffiti walls which will inspire backdrops for your fashion photography.
Columbia Road Flower Market: An explosion of colour and fragrance, Columbia Road Flower Market on Sundays provides a gorgeous setting for capturing street style amidst the beauty of blooming flowers. The lively atmosphere and eclectic mix of shops and stalls create an enchanting backdrop for your fashion photography but get there early 'cos the crowds flock here after 9am.
Redchurch Street: Lined with fashionable boutiques, independent stores, and stylish cafes, Redchurch Street is a fashion hub in Shoreditch with street art aplenty in and around it.
Street photographers in London to connect with
I can only recommend people I've personally worked it but there are many other photographers in London.
Whether you're a photographer or fashion lover keen to star in some snaps come along and be part of this monthly extravaganza. Still exercise caution though; people are not vetted this is a public event open to anyone so be mindful.
If you're a photographer keen to practice creative street photography in London and shoot colourful techniques and events, get in touch with my friend Andrew who runs this group. They work with invited models so you can also practice portrait shots.
I hope you found these top tips for taking London street photography helpful. Happy London street photography shooting!
Thank you Danny Jackson for organising this session and taking the photos.
Yours colourfully,