Misshapes The Making of Tatty Devine: 20 years of making awesome jewellery (exhibition review)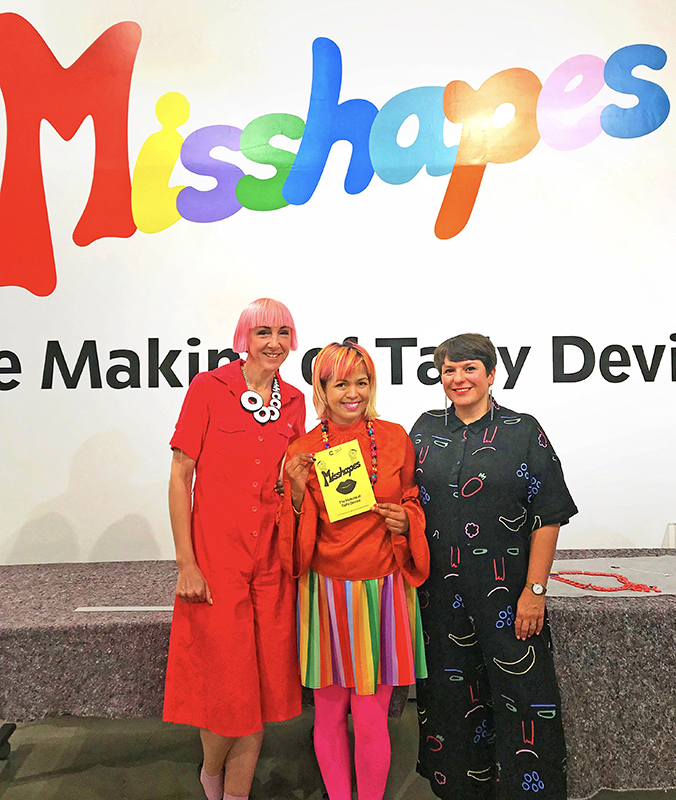 I'm not sure when I first came across Tatty Devine but it's an absolute epic achievement that jewellery designers Harriet Vine MBE and Rosie Wolfenden MBE are now celebrating 20 years of their iconic brand – and they're doing it in style with their very own exhibition. Misshapes The Making of Tatty Devine, is a collaboration with the Crafts Council that opens this Saturday 20th July in London, then tours the UK over the next two years, giving fans of their work, old, new and future ones, a chance to find out more about their creative journey. Plus, you can see some of the designs that have defined their aesthetic over the last two decades.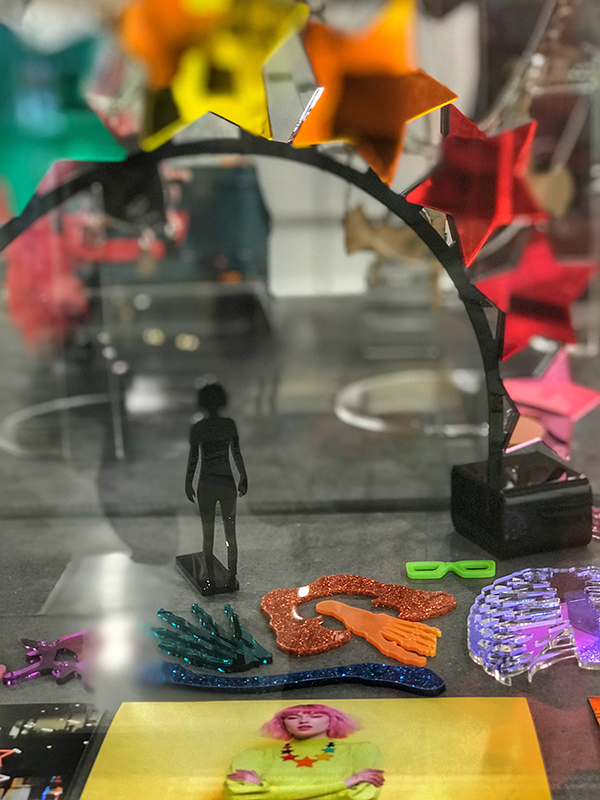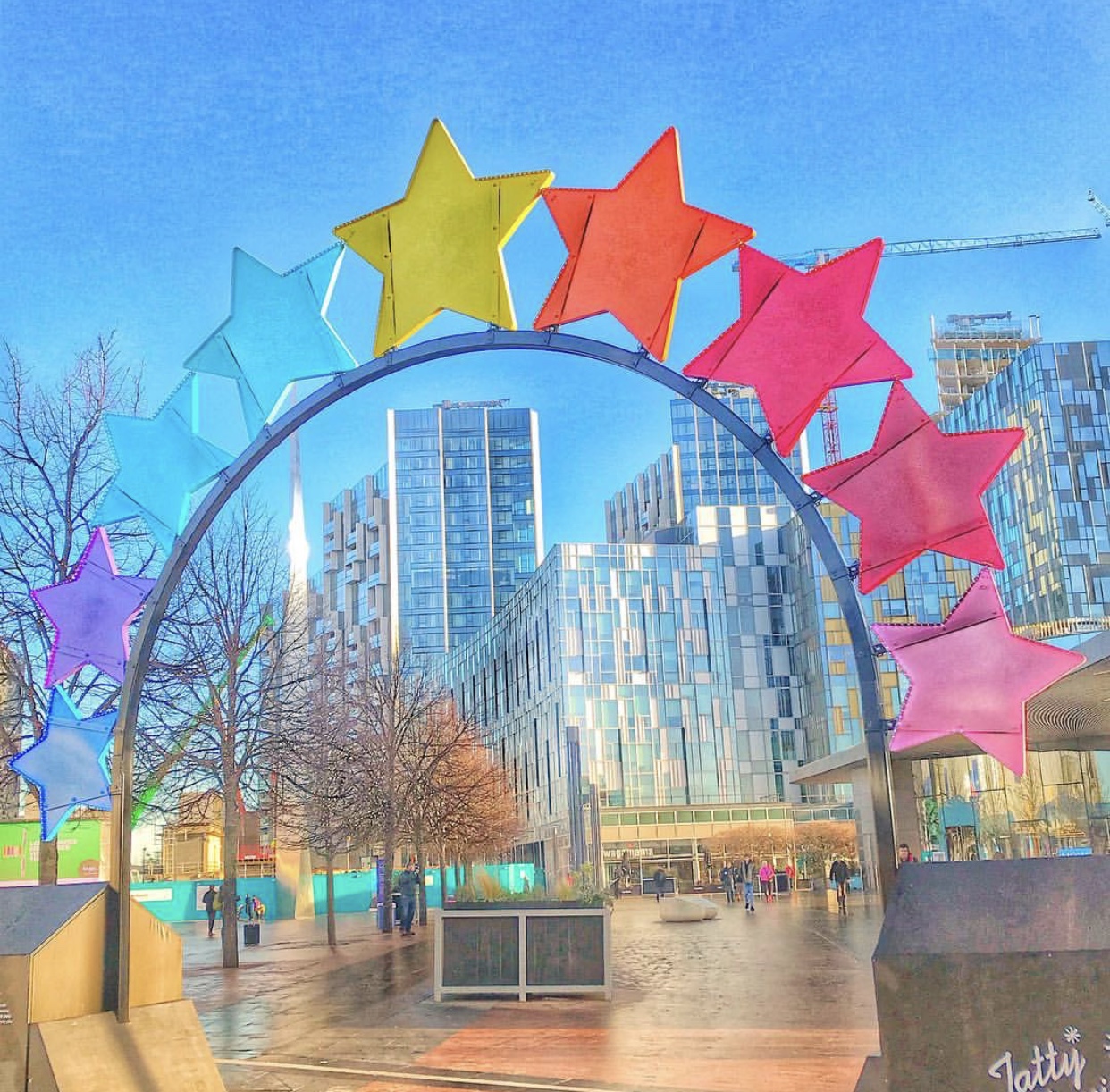 The Appeal of Tatty Devine
Anyone whose ever been a market stall holder selling their handmade crafts, or dreams about being a designer will find inspiration in their story which began in the most normal of ways. Two friends met at art school, sold their work on a market stall it got spotted by someone who worked at Vogue magazine and that's what kick started their journey.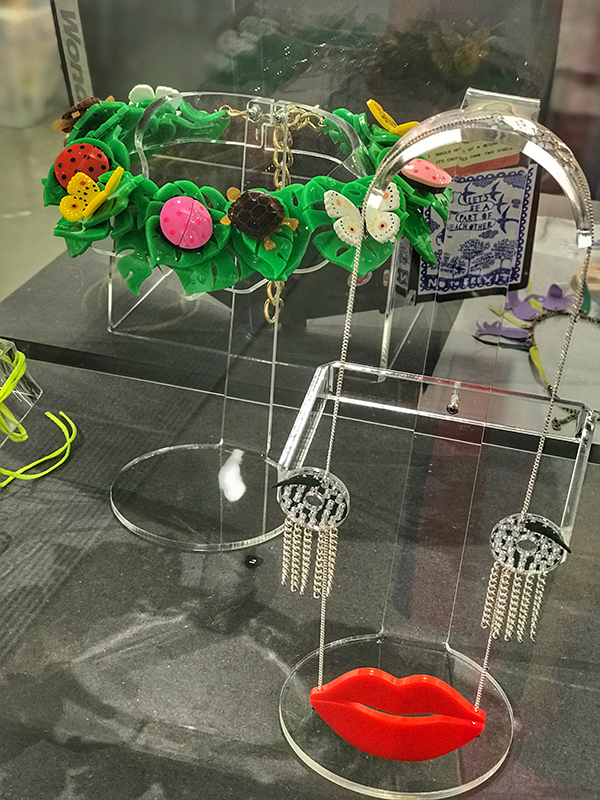 Storytelling is at the essence of Tatty Devine jewellery and I was lucky enough to have a tour of the exhibition by Harriet at a special preview two days before it opens to the public. The displays begin with some very treasured artefacts from 1996, including the first receipt from their Camden market stall, their stall notebook and some of the material scraps they found abandoned on the street and used to make their first collection. It's followed by their first photoshoot in Vogue magazine.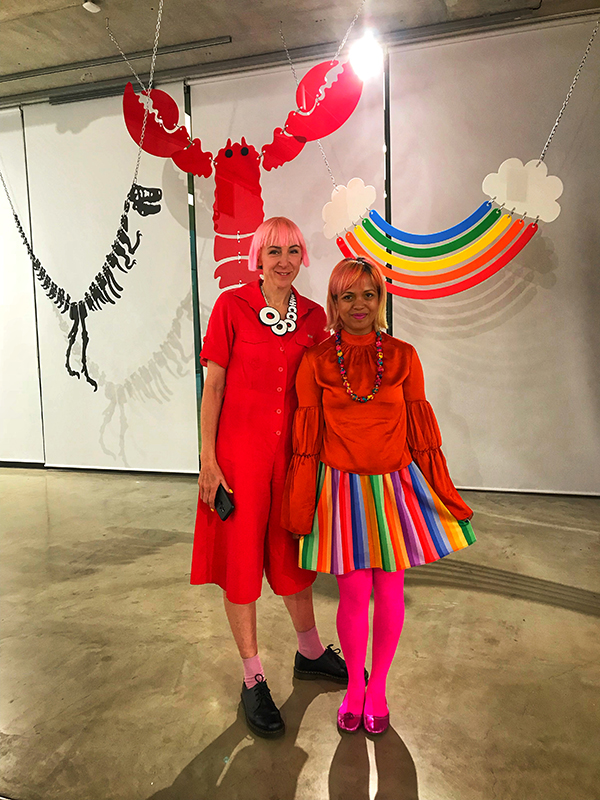 What to look out for…
You can wander through the exhibition at your leisure admiring different eras and themes of their work. I loved seeing their collaborations, including one with Sue Kreitzman. I particularly loved seeing some of the thought processes and ideas in their sketchbook pages. Harriet explained that she creates all the jewellery from paper first to get a feel for them before they move onto the laser-cutting stage.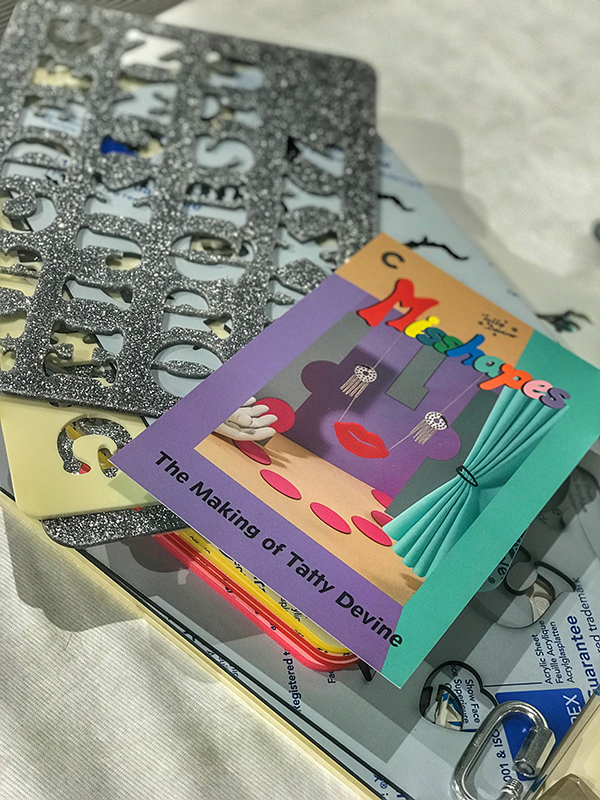 Seeing the acrylic sheets on display made me recall memories from CDT (craft, design, technology) classes at school. It's one I'd forgotten about but I spent a term use colourful acrylic to make things when I was around 14. I remember the agony of having to use a small saw to cut shapes from sheets of fluorescent yellow acrylic to make a key ring and then spending hours trying to sand down the edges to make them smooth.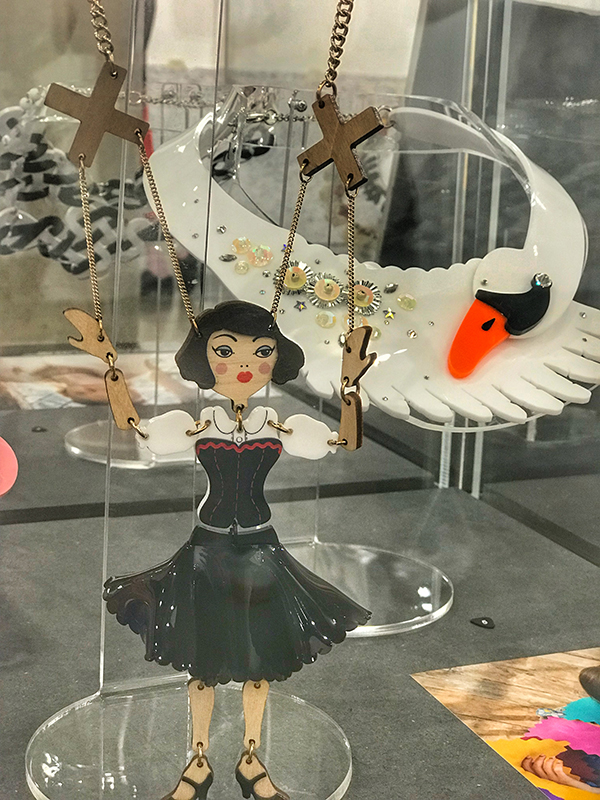 Tatty Devine's signature style
All of the Tatty Devine range was handmade in a similar fashion until they discovered laser cutting which revolutionalised the brand. But they haven't stopped at making cool, colourful jewellery that's flat; the 3D sculptural aspects of the material is one they've played around with, pushing the boundaries to make pieces that are tiny and intricate, through to giant statement creations.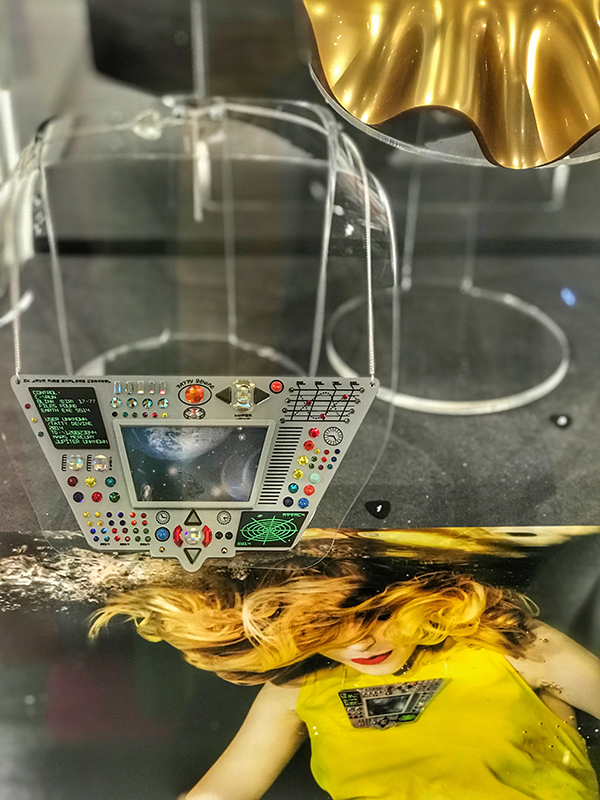 There's also a recreation of their first Brick Lane studio featuring a desk that Harriet's dad built for her and he also helped her build the one that's in the exhibition. I love that personal touch and also the fact the title of their exhibition is inspired by the Pulp song Mis-shapes (1995). It's a song that holds some very special memories for me and it perfectly encapsulates the beginning of their adventures together as it came out a year before they met.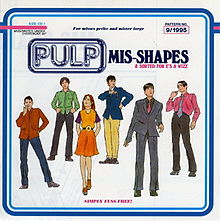 http://https://www.youtube.com/watch?v=S0DRch3YLh0 (listen here!)
The only thing missing from their 6,000 piece strong archive (only a small chunk of which is on display!) is perhaps a collaboration with Cadbury, to make a wearable chocolate box?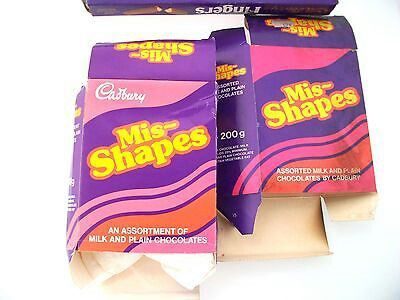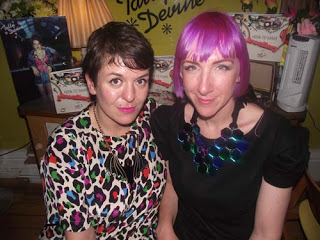 You can see Misshapes The Making of Tatty Devine at Lethaby Gallery, Central Saint Martins from 20 July – 11 August and also catch it touring in Cheltenham, Leicester, Wrexham, Brighton and Hove, Cirencester and again in London when it's on at the Stephen Lawrence Gallery, University of Greenwich. (It's FREE to visit YAY!)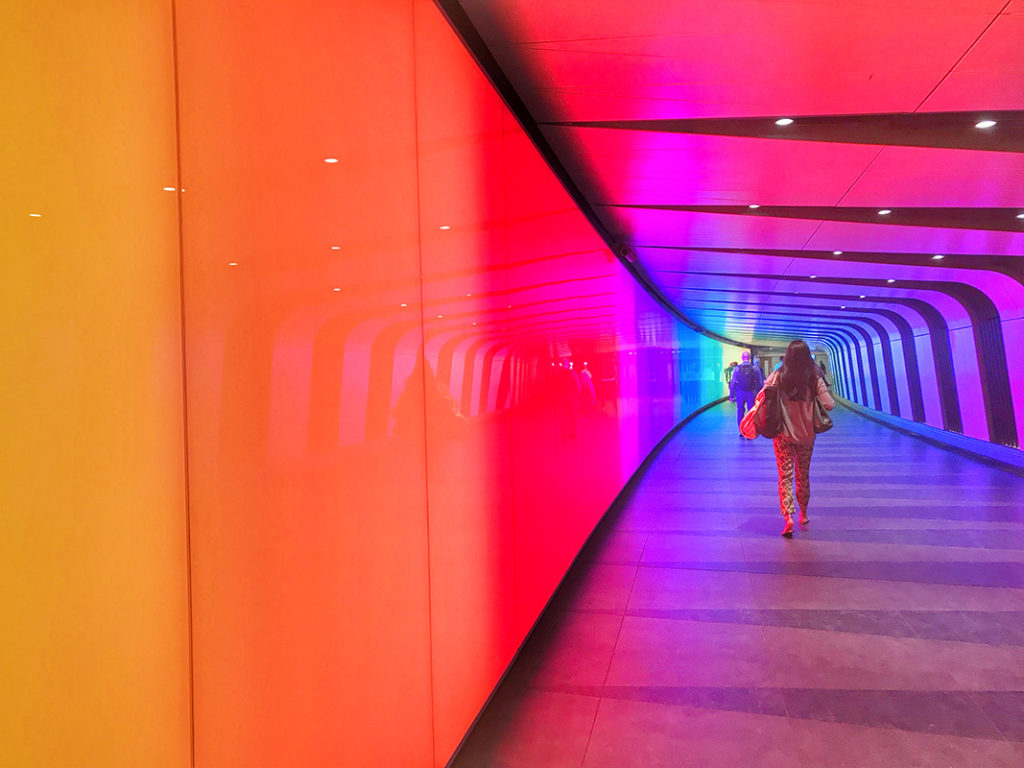 www.craftscouncil.org.uk/Misshapes