When the email dropped in my inbox with news that the 'Weavers Of The Clouds – Textile Arts of Peru' exhibition was opening at the Fashion and Textile Museum I nearly exploded from excitement. It sounded like an exhibition that summed up all my passions and the very ethos behind this blog – celebrating fashion and textiles from a part of the world that has a rich history of textile crafts and what's more: colour is at the heart of it.
Weavers of the Clouds Exhibition review
So I put the date in my diary and last month I was there as the doors opened for the preview. I had high hopes for the exhibition, mainly that I would adore the traditional Peruvian textiles and I did, but it was the contemporary garments that ended up being my favourite and that was totally unexpected.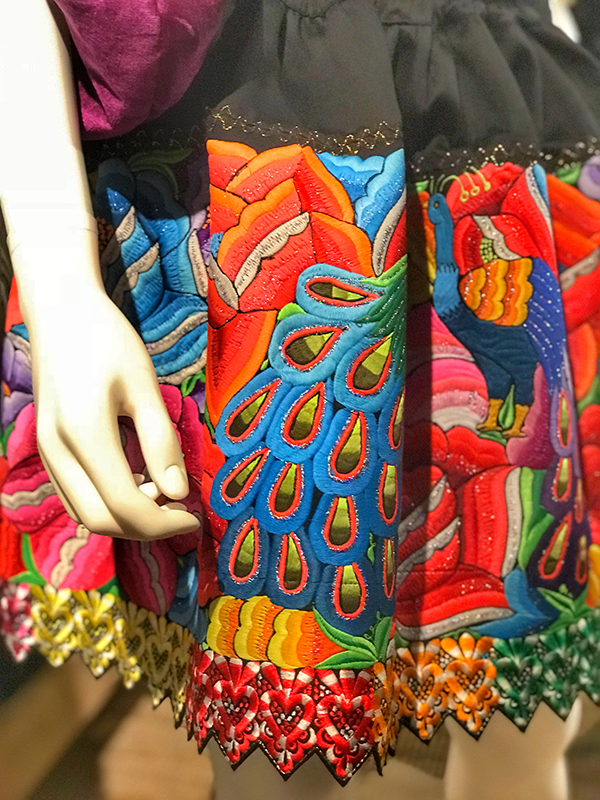 Textiles have been part of the fabric of Peruvian life for 7,000 years. During the Inca period handcrafted textiles and crafts were considered 'prized possessions' and within the exhibition there are examples of early weaving that date as far back at 300BC – I certainly wasn't expecting that.
Navigating the exhibition
The exhibition is split into sections with the ground floor dedicated to ancient Peruvian arts where you'll find tribal costumes, cultural clothing made from bark cloth, a series of paintings that depict indigenous clothing from across the country and then an introduction to traditional techniques like backstrap weaving and a room filled with artefacts, jewellery and gorgeous traditional outfits from different mountainous regions.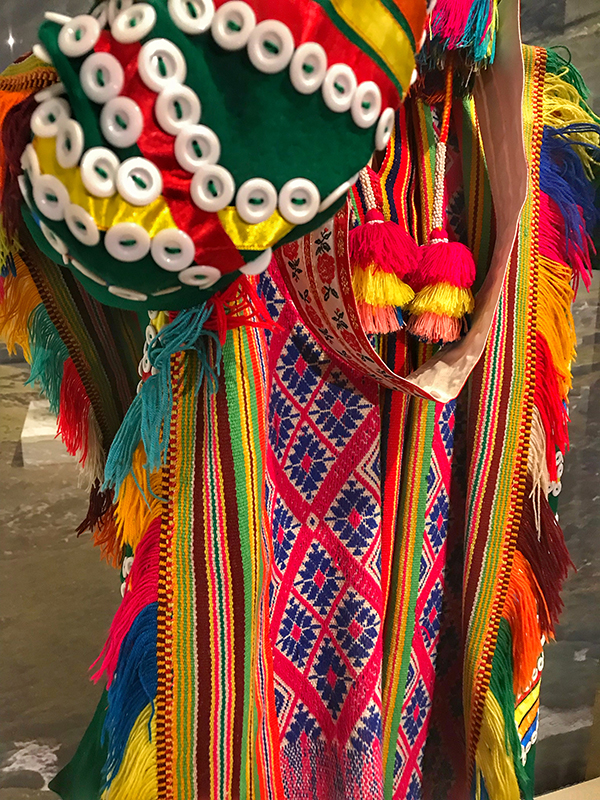 Rich colourful embellishments feature heavily and there are woven panels teamed with bold bright pom-poms, buttons, ribbons, trims and all manner of textured fabrics. This is the section I knew I'd fall in love with. If like me you have an appreciation for craft, travel and colourful textiles you'll want to spend all day here simply admiring all the details.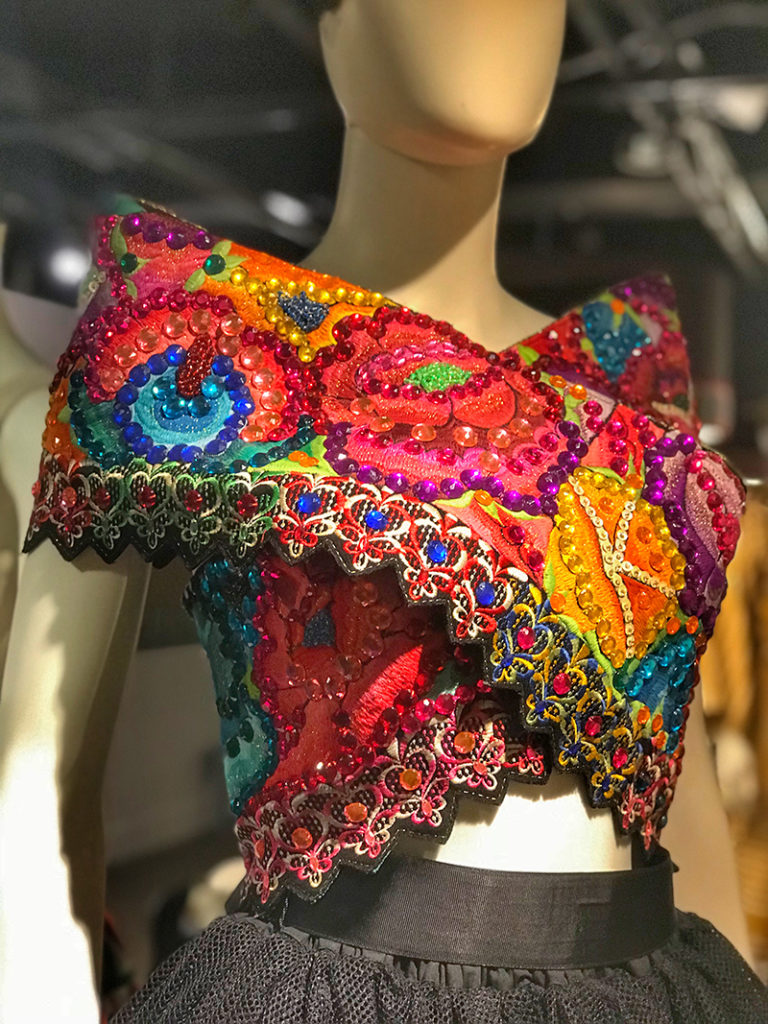 Save time for upstairs!
But save time on your visit for the upstairs too, for the contemporary section of the exhibition is fascinating. Largely made up of outfits created by contemporary Peruvian Fashion Designers there's a nod to natural ethical fabrics, teamed with the signature craft techniques and colours that make Peruvian textiles so distinct.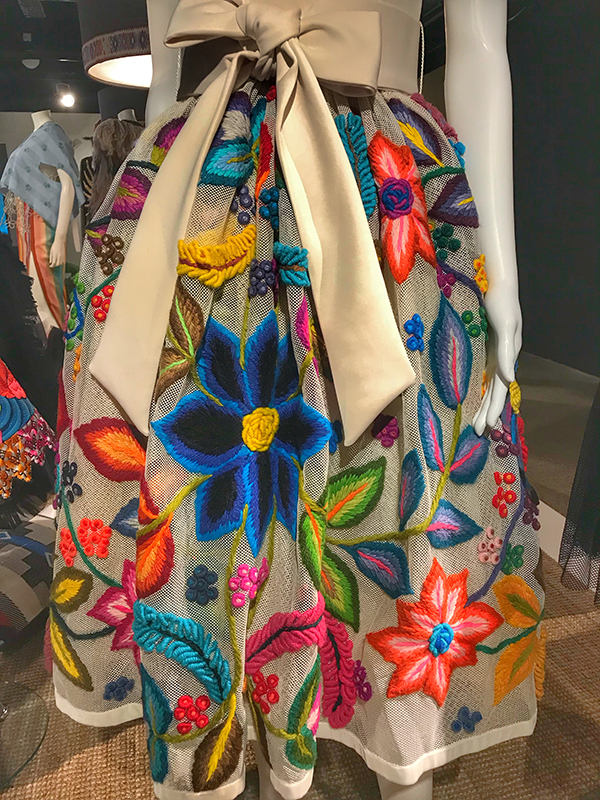 Favourite pieces
My absolute favourites were three pieces by Peruvian Designer Meche Correa, a dress that has a spectacularly colourful skirt consisting of huge Andean flowers, a second skirt embellished again with vibrant florals and a jewel encrusted wrap…all of which I would love to give a home to, they would perfectly fit into my wardrobe and my life.
Indian-American Designer Naeem Khan also has some of his work on display inspired by his own travels to Peru and again, I would happily wear his creations just look at this…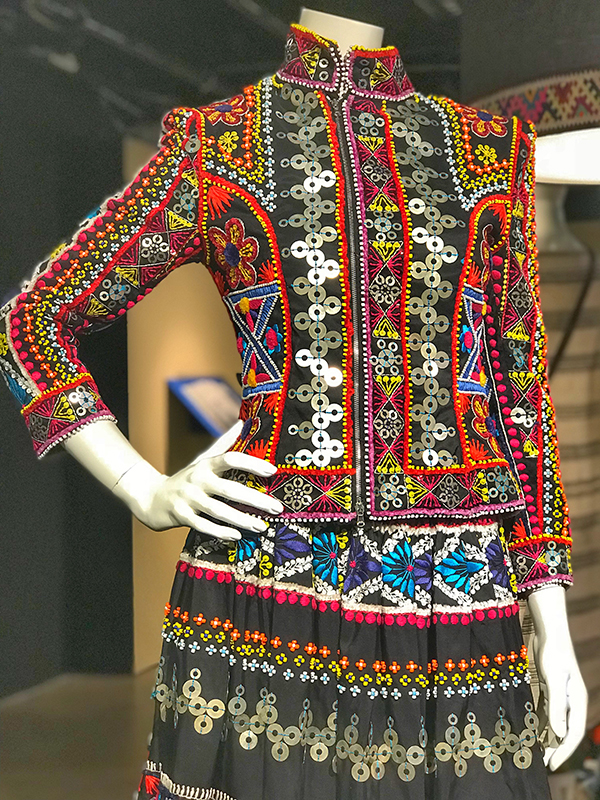 There's also a chance to see some of the work being created by Awamaki, a not-for-profit organisation that connects female artisans from the Andes with the global market. Look out for copies of a book displayed on the wall in this section, it's filled with fascinating pictures and interpretations of the motifs that they weave.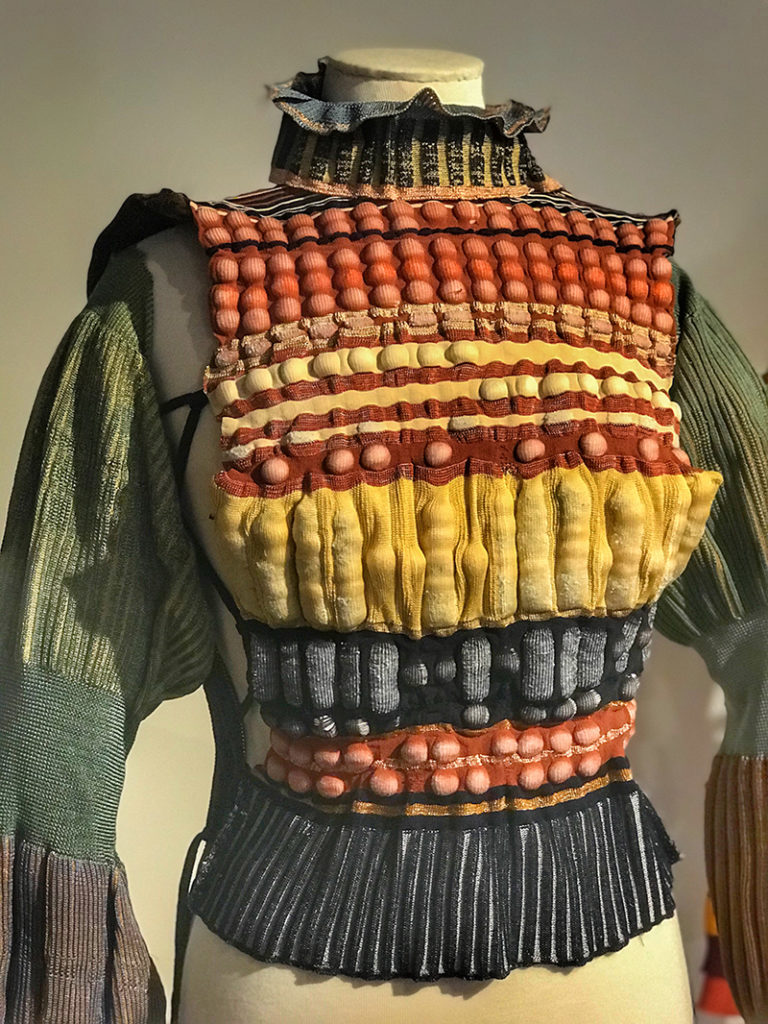 Students from Chelsea College of Art supported by manufacturers KUNA also have an area of the exhibition, showcasing modern fashion with Peruvian influences. You can browse sketchbook pages, samples and some very innovative garments ideas (again, I would happily wear them!)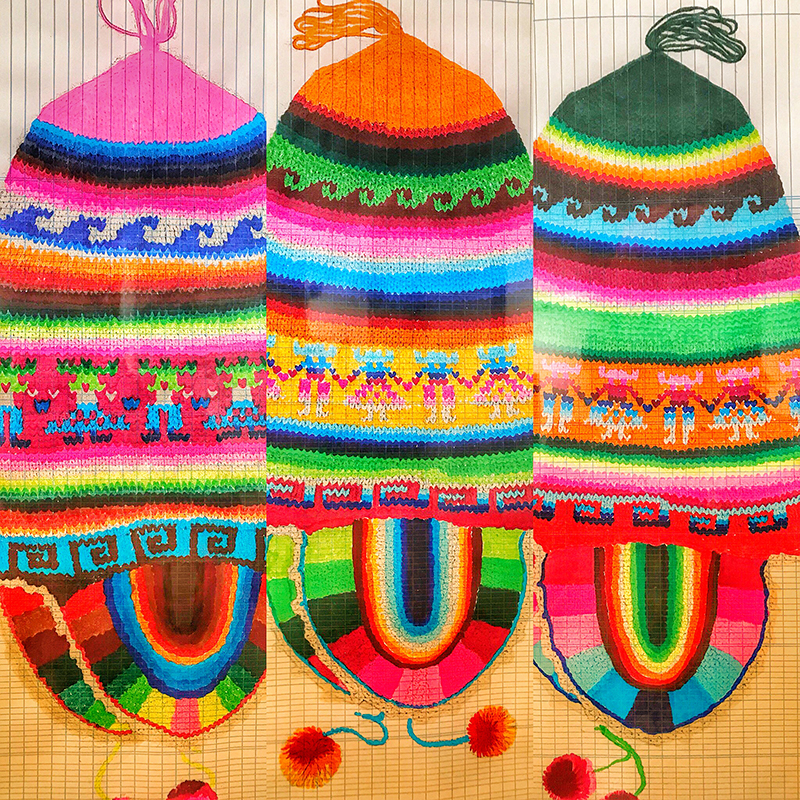 Modern interpretations
Finally there's a separate gallery featuring the work of 17 Peruvian artists who work with weaving and embroidery. There are unexpected materials and techniques but what caught my eye was the sketches on graph paper of traditional Peruvian woolly hats. This iconic headwear is recognised the world over but I'd never thought about them being individually planned and designed until I saw the illustrations – impressive stuff.
I don't want to give any more away but I can tell you that it's an exhibition that's rich in aesthetics, heritage and inspiration – read all the panels too because the history is fascinating and at times shocking too.
Take me to Peru!
Visiting Weavers of The Clouds is probably the closest I'll get to visiting Peru for a while but it's absolutely on my bucket list (I've seen photos of some of the craft markets there and I need an empty trunk to bring everything back) – until then, there are some nice Peruvian goodies in the Fashion and Textile Museum shop where I treated myself to a very sweet pair of earrings.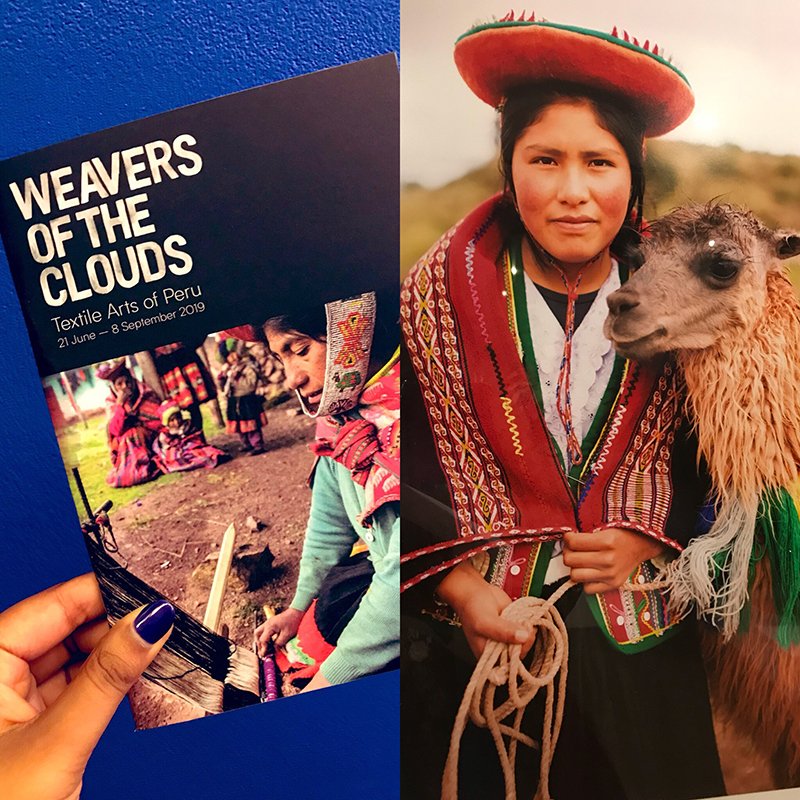 Weavers of The Clouds – Textile Arts of Peru is on from 21 June to 8 September 2019 at the Fashion and Textile Museum in Bermondsey, London.
Yours colourfully,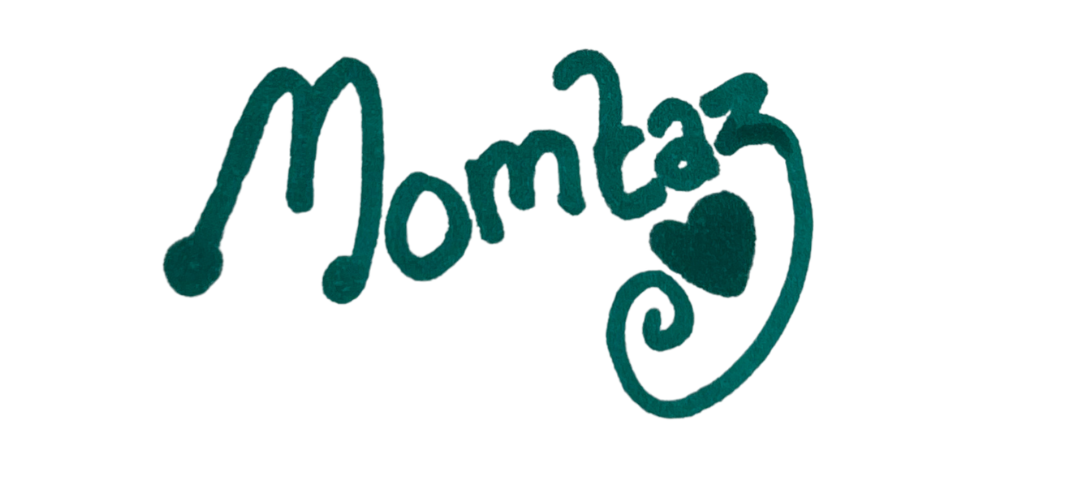 alpaca
Awamaki
backstrap weaving
Chelsea College of Art
colourful
contemporary Peruvian fashion
craft and travel
exhibition review
fashion and textiles museum London
handmade
heritage crafts
indigenous crafts
KUNA
llama
London museum
Meche Correa
Naeem Khan
newham college of further education
Peru
Peruvian
peruvian connection
peruvian fashion
peruvian textiles
south america
south american crafts
textile arts of Peru
textiles from Peru
The Andes
traditional crafts
traditional Peru crafts
weavers of the clouds