"Positivity Suit: An outfit that brings pure joy to the wearer, embodies their personality, and is their armour against negative energy in the world." Momtaz Begum-Hossain
Positivity Suit & shirt made by British Designer Claudette Joseph, Shot by Alexandre Pichon December 2020 pre-Lockdown...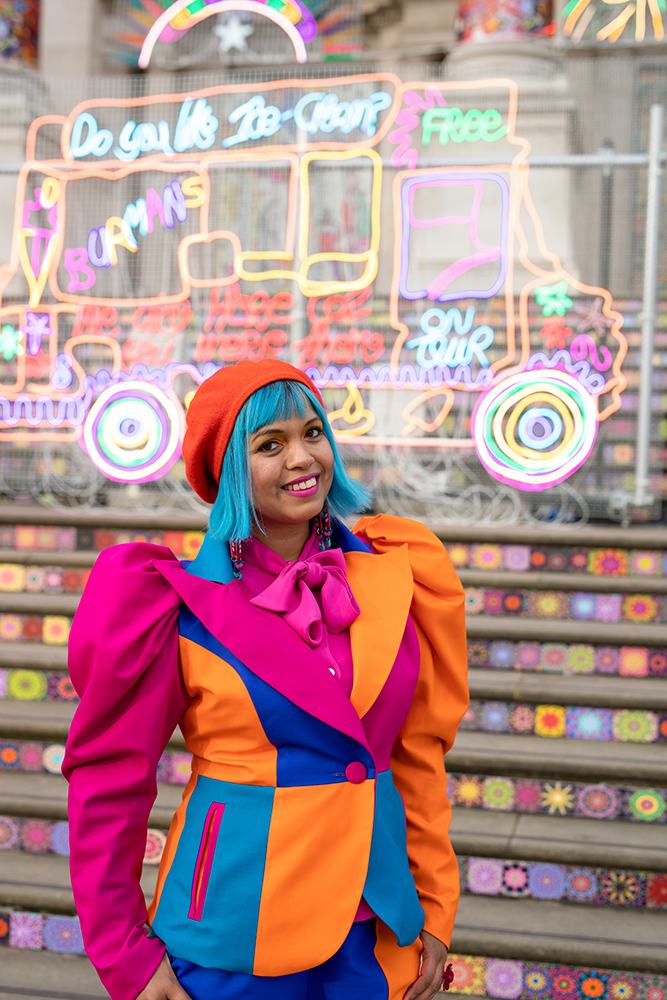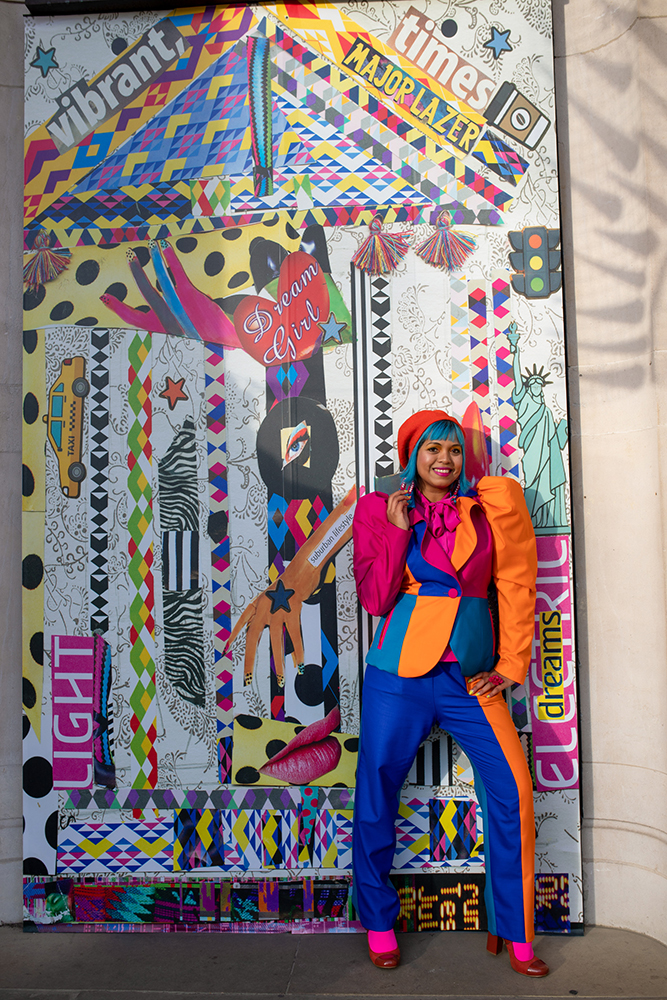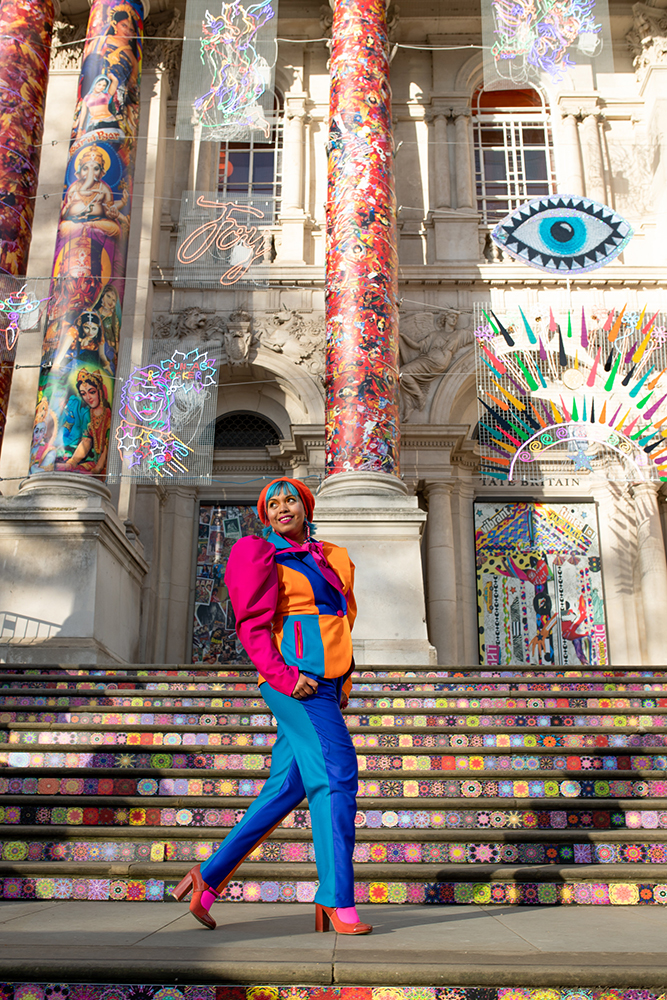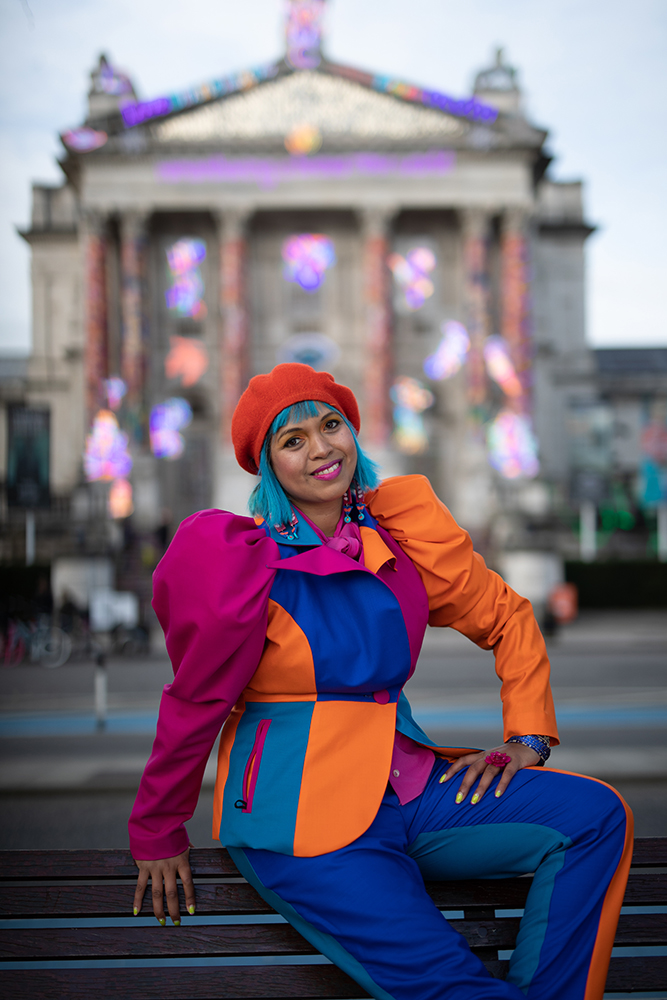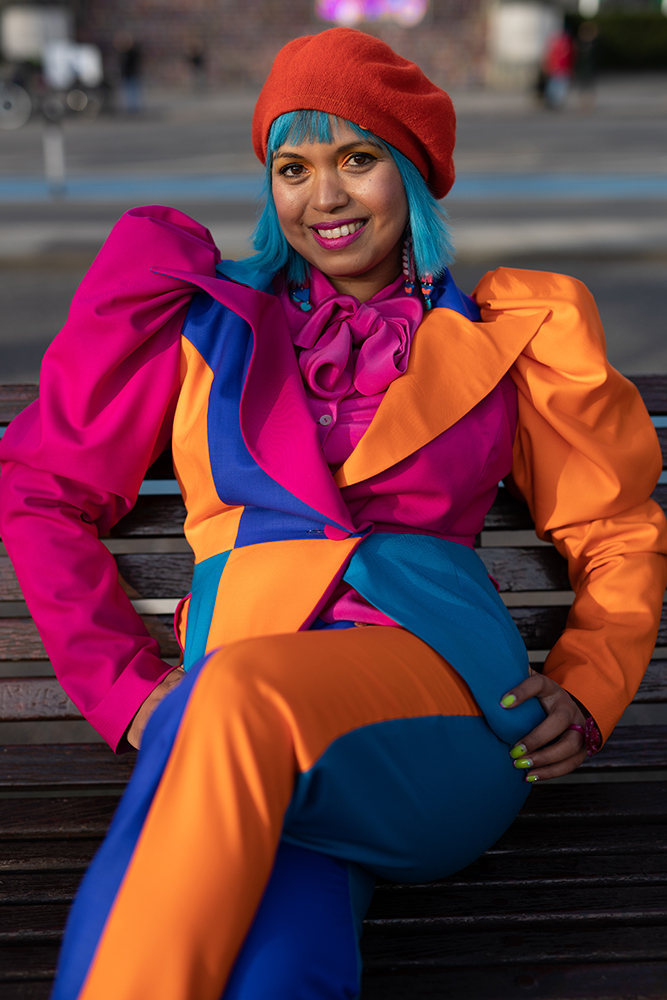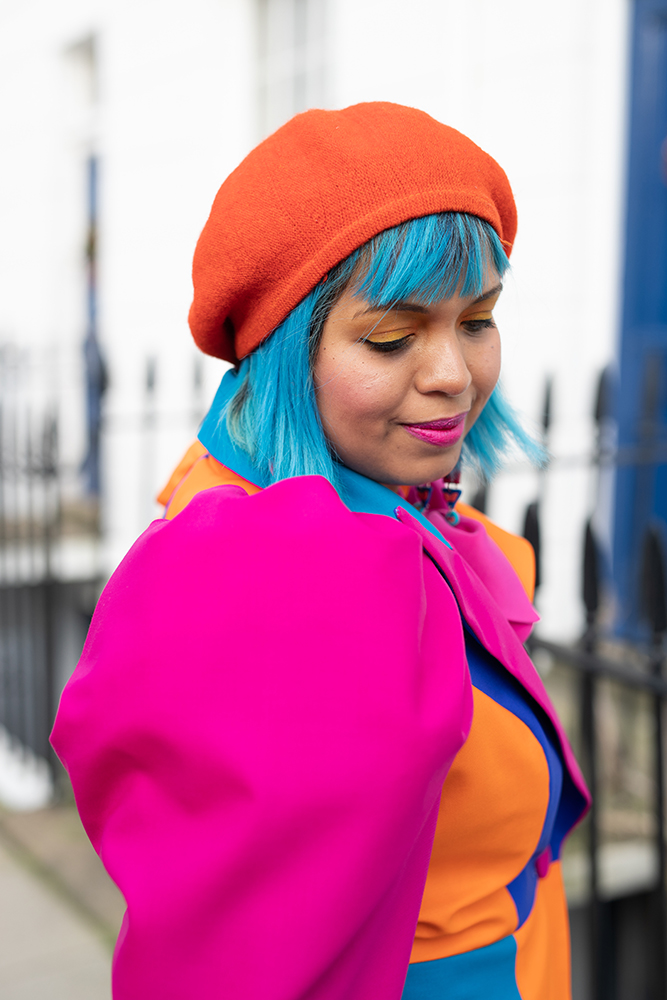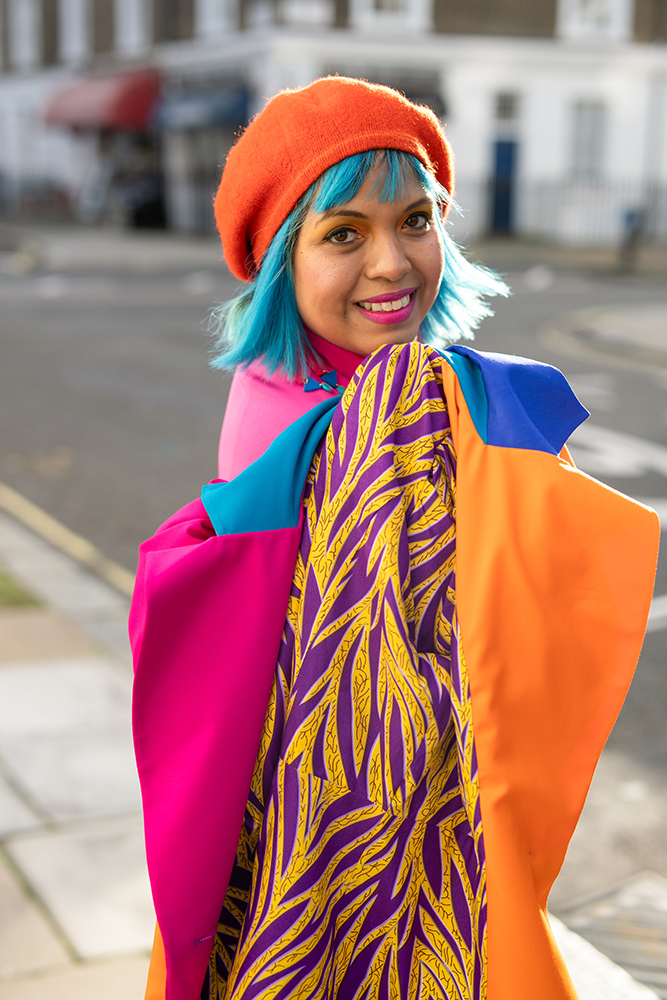 Rules are made to be broken
Styling myself has always been the way I've found personal joy. I don't feel happy conforming to expectations. I was the girl that wore jewellery underneath her school uniform. I pushed the rules to their limits by wearing purple lipstick to add colour to my daily outfit which consisted of a bottle green jumper, jacket, and school kilt.
In the workplace I found 'uniforms' to be equally as restrictive. I never enjoyed wearing black for department stores or the oversize navy fleece that drowned me when I worked in M&S Food. I temped in clothes store Gap for one day and on arrival was asked to wear a white t-shirt. I didn't own one so bought one from the store before my shift. My wages for the day were gone before I'd even made them.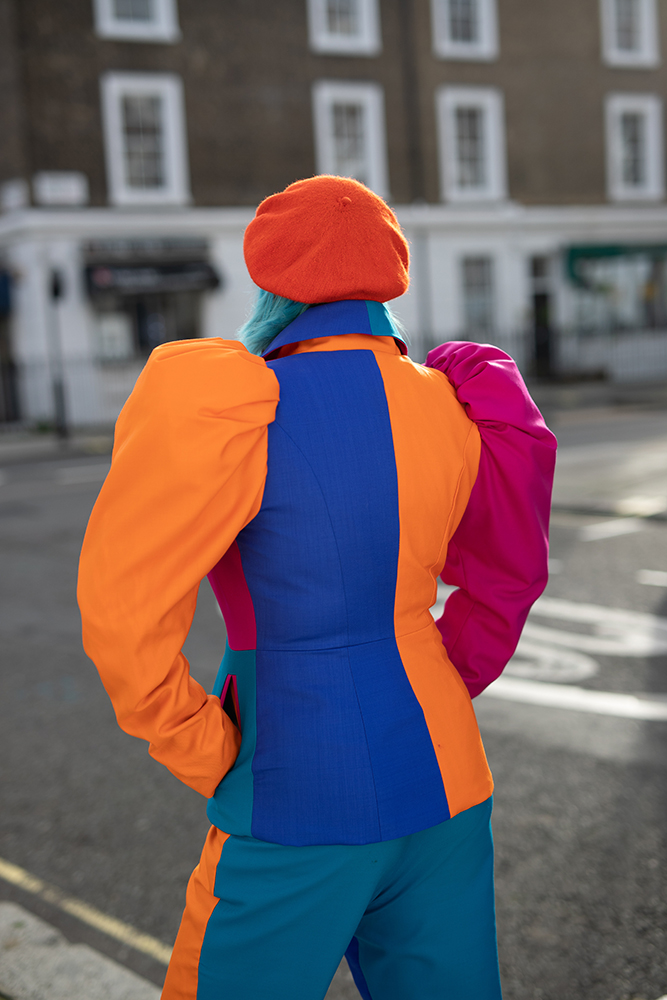 When I graduated from university and had interviews for jobs, and graduate placements I had little money to spend on clothing. A suit was out of the question. Instead, I wore a mis-match of jackets over dresses and bought a pair of 'just-in-case' black trousers but never wore them. Thankfully, I'm pleased to say that I've carved out a career that doesn't require me having to conform to anyone's dress standards, other than my own.
"I've found confidence by not feeling the pressure to fit in"
Being able to 'wear me' is a large part of my identity. Even though I've often been the odd colourful one, I've found confidence by not feeling the pressure to fit in.
The more we try and fit moulds or follow the style of others, the less we're being our authentic selves. But when we're free of the expectations placed on us, we can genuinely be happy. That's my view and it's where Positive Dressing comes in.
Positive Dressing, clothes with benefits
We're bombarded with 'challenges' every day and if we're not careful the negative ones can bring us down. But what if we could wear a protective armour that could shield off negative energy and instead, bring us contentment? That's what I felt when I first tried on my Positivity Suit.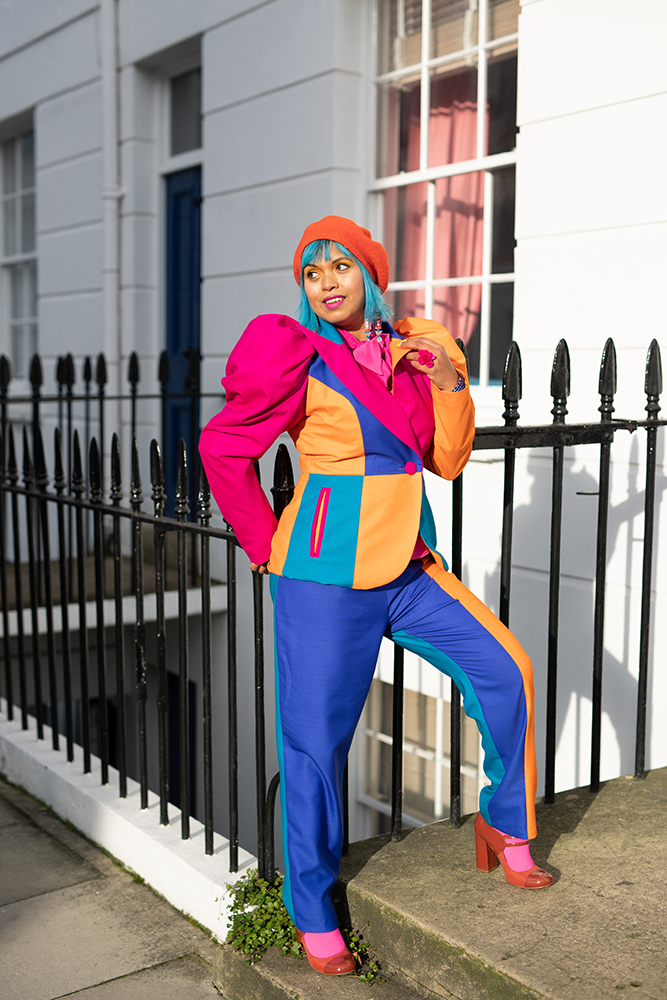 I commissioned Designer Claudette Joseph to make it for me last year for my 40th birthday in December. Having a bucketlist ahead of 'big number' birthdays is a tradition. But instead of setting goals (I've written about my failures of bucketists in a previous blog post), I thought of things I've never done: wearing a suit was one of them. I'd never worn a suit in my life so I decided that if I'm going to do it, it has to be the best suit ever, the ultimate, once-in-a-lifetime 'Suit of Dreams.'
Having a bespoke suit made
I was introduced to womenswear designer Claudette Joseph by my friend Tree who runs YT sewing channel Stitchless TV and was impressed with her beautiful tailoring and XR origami pattern cutting skills. After an initial consultation on Zoom I headed to her studio in Colchester, Essex where she took my measurements and we discussed shape, fabrics, and the most important question of all: colour.
Claudette drew some sketches and we discussed my concept for wanting something striking, bold, unconventional, and a one-off: made only for me. In fact, that was it was its purpose. No one else's opinion would matter, only my own, and I had to love it.
"I'd never worn a suit in my life so I thought if I'm going to do it, it has to be the best suit ever"
For the next stage Claudette translated her paper design into a toile from calico which I tried on. She then made some adjustments and sent me the toile back in the post.
Over a final zoom fitting session I strutted around my living room while Claudette took notes from her studio. I then spent a couple of hours deciding on the colour placement. The suit was split into sections. In a typical one colour suit you wouldn't notice all the panels, but with colour, I could pick them out individually, creating a block colour patchwork design.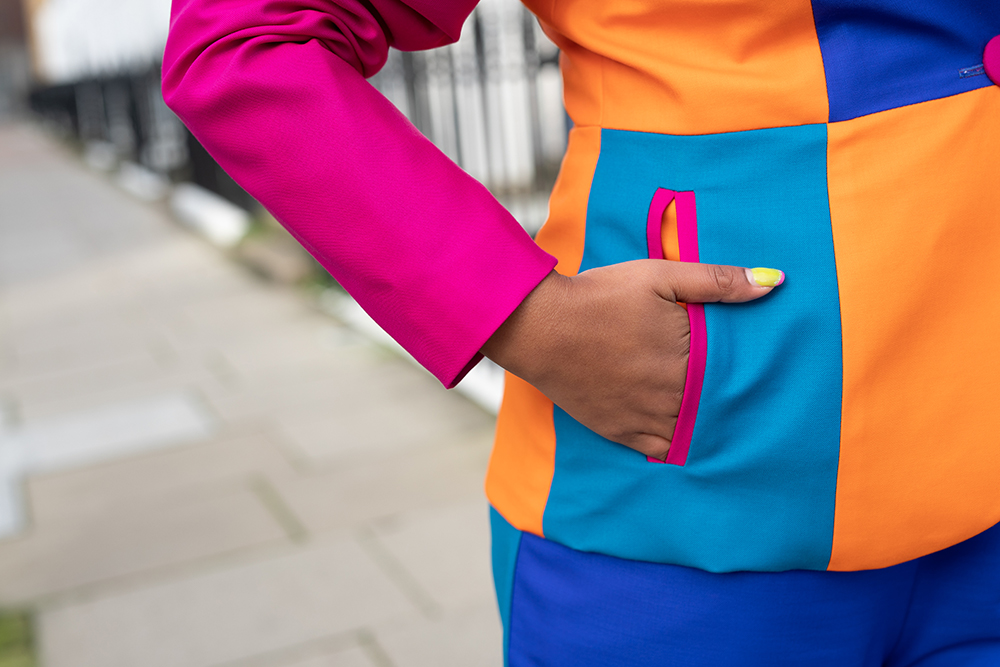 The Verdict
My very first suit feels like a milestone, marking a new era. Over the last 12 months I've re-focussed my career. After 20 years spent as a journalist I've transitioned into being a 'Colour and Crafts Expert.' My Positivity Suit is my armour to help me navigate this new world and it makes me feel like I can achieve anything: the power of positive dressing.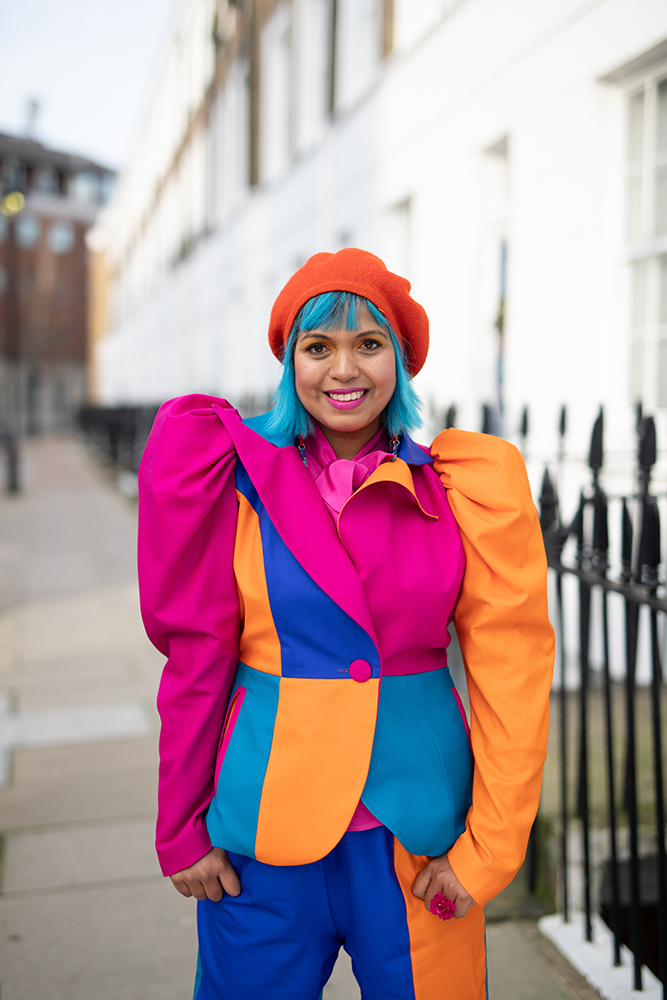 Suits have become the least worn type of clothing in the UK, since we've spent much of 2020/2021 in Covid-19 lockdown with meetings, events, conferences, special occasions, all cancelled. Loungewear has become the norm for many, but for me, my Positivity Suit is what I'm turning too. It's a break from the conventional and no matter how testing life gets I know it's there for me, hanging up in my room, an armour I can wear whenever I want to feel empowered, beautiful, and like I can conquer the world.
"I want to feel empowered, beautiful, and like I can conquer the world"
A Positivity Suit doesn't literally have to be a suit. It can be any outfit that boosts your confidence, makes you feel amazing, and most importantly gives you all the good vibes, that no one else can take away from you. Have a look through your wardrobe and assign a particular outfit with this role, or, if you're feeling inspired, it may be time to invest in a Positivity Suit of your own?
If you're keen to support indie designers and Black British businesses, please follow Claudette on Instagram.
Positivity Suit & shirt made by British Designer Claudette Joseph. Photography: Alexandre Pichon. Earrings: a gift from Dazzle and Sway. Location: Tate Britain, in front of Chila Kumari Burman's Remembering A Brave New World installation. Shot December 2020 pre-Lockdown.
This blog post is dedicated to the memory of Claudette's mum xx
Check out another of my mood-boosting outfits.
Yours colourfully,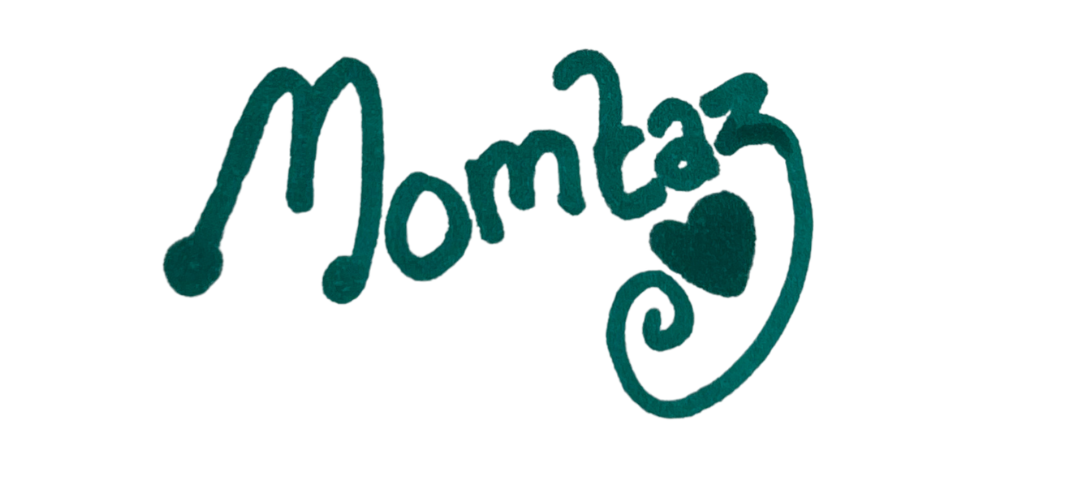 2021 fashion trends
alexandre pichon
black british business
british designer
chila kumari burman
claudette joseph
colour expert
dazzle and sway
female entrepreneur
female tailor
outfit of the day
positivity suit
remembering a brave new world