7 things you need to know before you visit Casa Azul, the Frida Kahlo Museum in Mexico City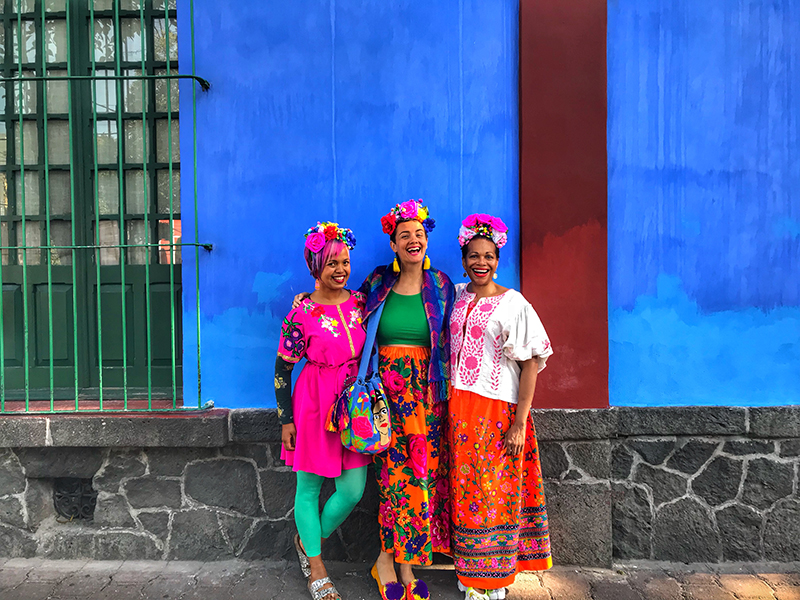 I'm writing this blogpost  from my sickbed, apt considering it's about Frida Kahlo's house, Casa Azul aka the Frida Kahlo Museum in Mexico City, the very place in which she was born, died and created many of her acclaimed artworks…from her bed. I'm in the latter stages of food poisoning which has wiped me out for the last week: a little parting gift from my visit to Mexico but no hard feelings I don't regret anything I ate, it was all delicious!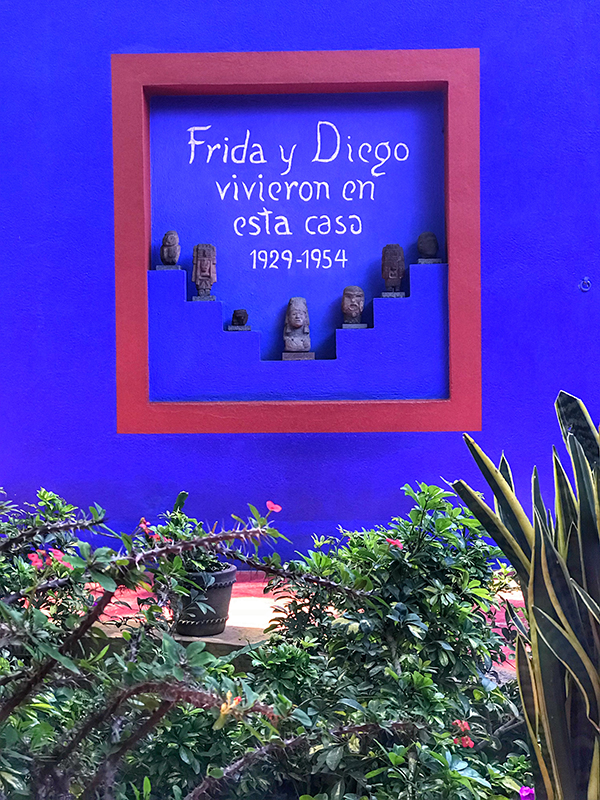 While I was there top of my agenda was visiting Museo Frida Kahlo in Coyoacan, Mexico City. I say top, but in truth part of me was actually thinking 'but there's a major exhibition currently on in London, where all the artefacts are from here, so won't the house be empty?'
In fact, I had more reason than others to think this because I've been to that very exhibition 'Making Herself Up' at the V&A Museum, read my previous post here – and it's packed with her belongings so I couldn't see how they'd be any left? I was intrigued and keen to compare, would the house in Mexico be as good as the exhibition in London? And does one need to go to both?
My questions and much more were answered as soon as I walked in. And what I discovered will hopefully inform your own visit here.
Items in a museum do not make an experience


Casa Azul ('The Blue House', also know as Museo De Frida and Frida's House) is a complete sensory experience that cannot be replicated at all, ever! Visiting the London exhibition moved me, it's a collection of her clothes, her beauty products, her casts, her clothing, photos and art… these are all 'things'. But in her real home there is an atmosphere, an air, a sense that you have completed a pilgrimage to be there and what you get from the experience is more than you could ever get from simply being inside an exhibition.
Gardens like Eden
The grounds of the museum/house are absolutely beautiful. There are stunning gardens, in full bloom with floral archways, seating areas and alcoves all set against the brilliant blue walls. You'll want to spend as much time in the gardens as you do inside, possibly more.
Take an audio guide
I'll be the first to admit that audio guides can be a pain to follow but in this instance you really will get far more from your visit if you take one. The snippets are short and they are split by the different sections of the house which are split over different floors. It means you don't need to go in and follow a particular order, you can just go to the bits you want to, so much better than waiting for the person in front of you to budge up.
Book! Book! Book!
Without any doubt it be busy so you must book your visit in advance. Slots are every 15 minutes and if you miss yours, you don't get admission. Those who turn up on the day and take their chances are admitted eventually but that can be as long as a 4-hour wait.
Once inside you may feel like you're constantly in a queue with obscured views, not everyone's cup of tea. Therefore take my advice: the only way to ensure you get a little privacy and space is to book the first slot of the day – 10am. That way when you enter you will have a chance to wander without distraction – but use your time wisely as before you know it, it will fill up around you.
It's emotional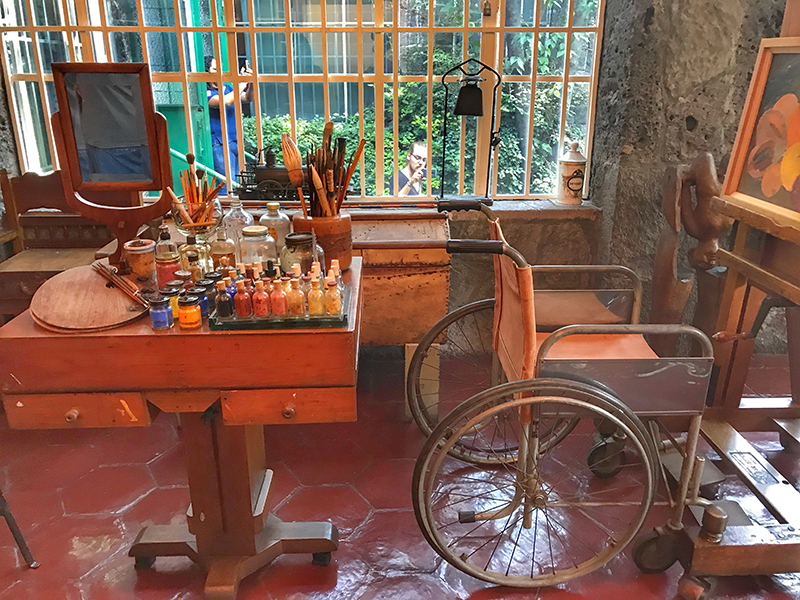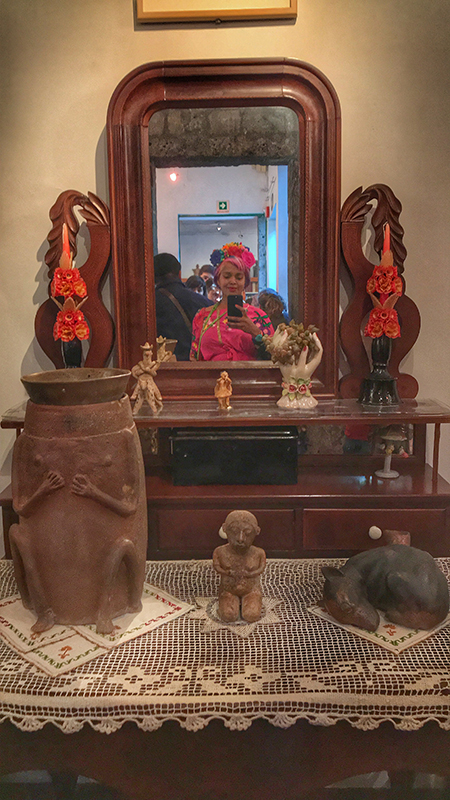 You will be moved. Ok the noise and bustle can be off putting but zone out of the people around you and remember that you're standing inside Frida's actual studio. You see the desk she had her paints on, the view from her window, how the light hit her walls, her wheelchair erected as though waiting for her to occupy it. It's overwhelming. Then you move through to her bedrooms. In the first you'll see the very bed in which a mirror was hung above her, enabling her to paint her portraits and everything about it will humble you. Then you wonder to her second room where amidst what looks like an ordinary bedroom there is an urn, which contains her ashes – this is not a spoiler it's a blink and you miss moment, it so go prepared to look out for it because if you do miss it, you'll be queuing for a long time to see it again.
Dress up!
OK not essential but if you do, everyone around you will appreciate it and you'll most likely get stopped and asked for photos – Frida would be proud.
Bring money (not necessarily for the shop!)
I had expected far greater things from Frida's shop it's a lot smaller than I thought it would be. However you can buy a very special edition of her diary printed on special paper printed at the museum that you can't get anywhere else in the world. It costs around £20 and is ideal for a true fan. If you want to buy Frida merchandise save it for the markets close by and street sellers. You'll find Frida bags and tees and all manner of other goodies.
After your visit you'll be peckish so walk 10 mins into the market to Tostadas Coyoacan (btw I didn't get ill eating here, that came much later in the trip.) There's all sorts of yummy flavours and delicious drinks too, one of my fave meals of the trip and a great recommendation from Donna from Haute Culture Textiles Tours, who I was visiting with, but more on that to come in a different post.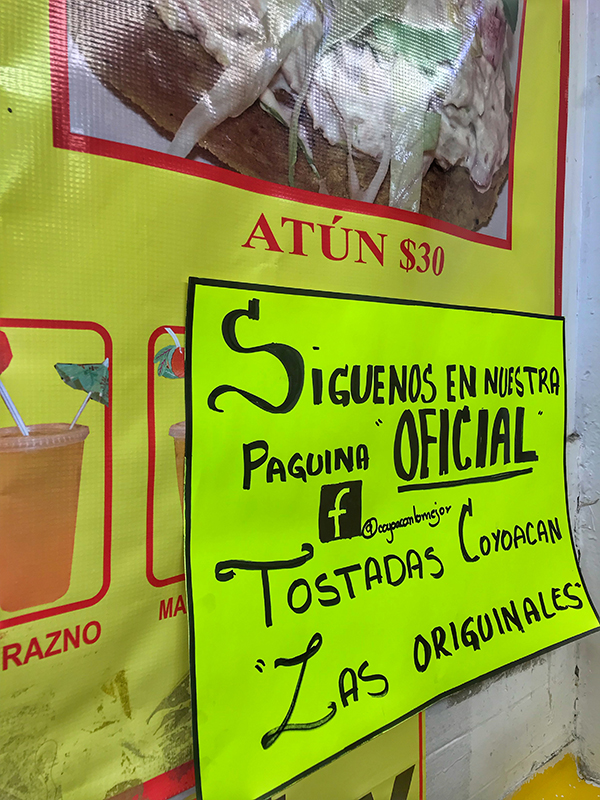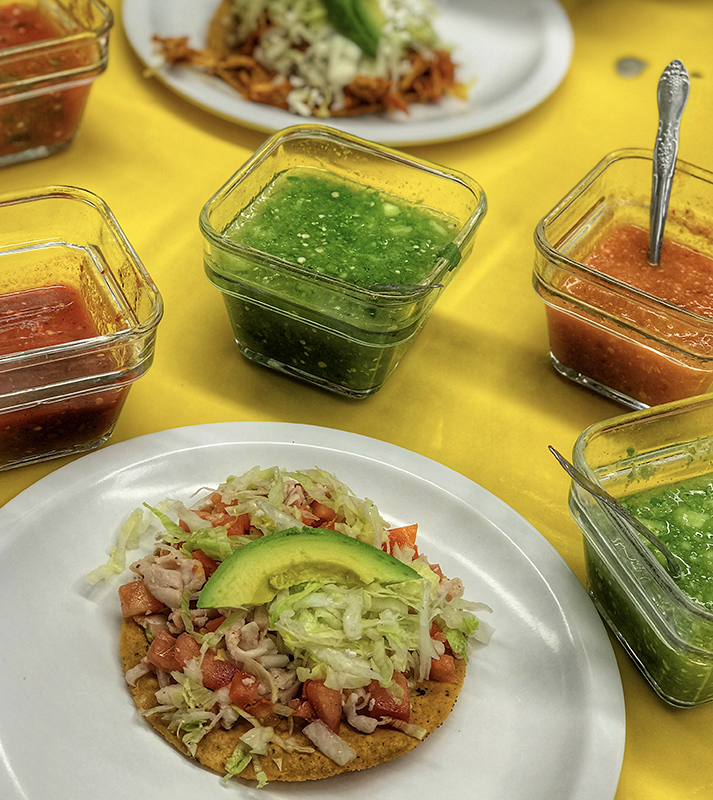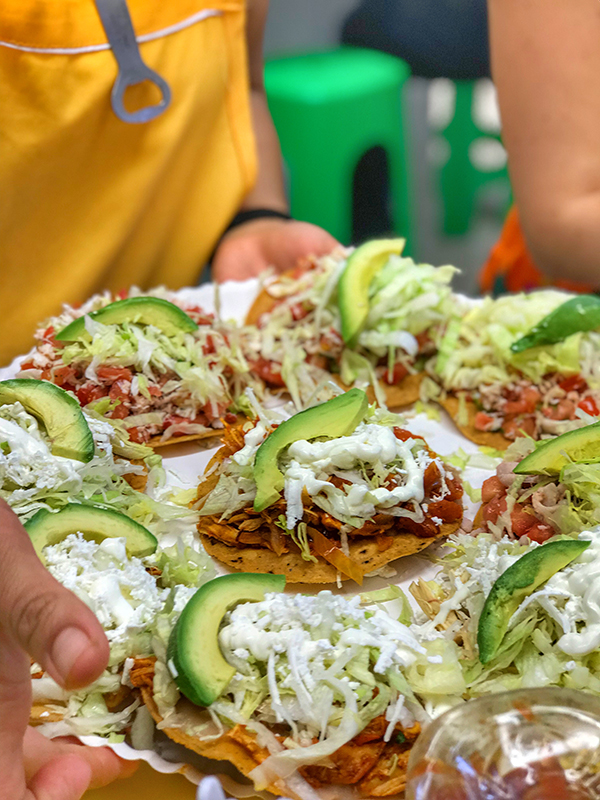 Then after lunch check out the rest of Coyoacan which is a vibrant, colourful, creative market town where you can easily while away a few hours, if not days.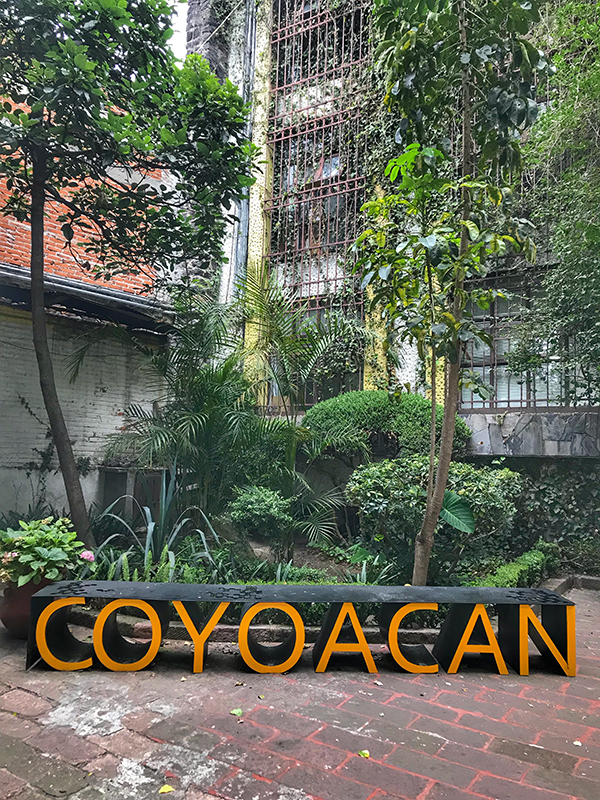 Happy visiting!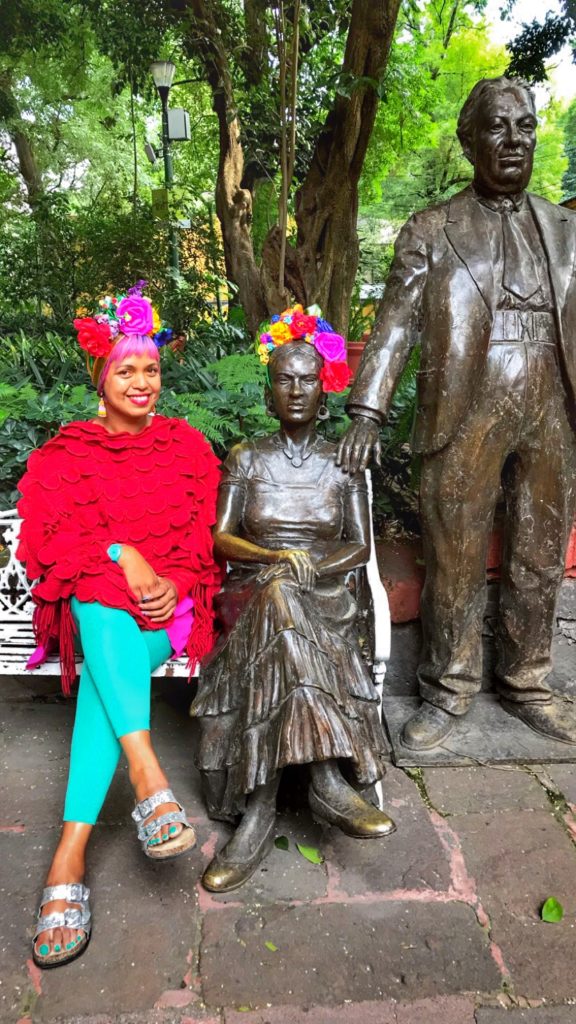 If you have any questions about the museum or your own advice about visiting it, leave a comment and share your thoughts. Thanks.