Why does Zandra Rhodes have pink hair and things I learnt at her 50 Years of Fabulous exhibition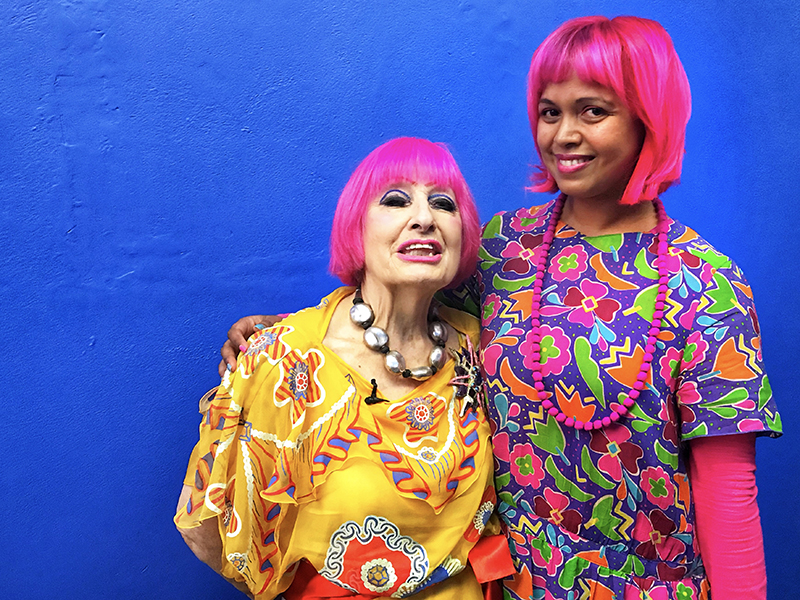 An icon for anyone with coloured hair Dame Zandra Rhodes is the most famous Brit to swap conventional locks for hair that truly represent her. I can't remember when as a teen I first came across Zandra but since then I've been in absolute awe of her pink hair and admire how it's played such a vital role in establishing her creative, colourful fashion brand. I'd be the person in a room to put up my hand and call her an inspiration to me, so having the chance to get see a preview of her new Zandra Rhodes exhibition, Zandra Rhodes – 50 Years of Fabulous, with her to show me around was an absolute treat. It was only a few weeks ago that Harriet Vine showed me around Misshapes The Making of Tatty Devine exhibition I feel extremely lucky but I'm also pleased I have a space (aka this blog) so share my stories.
So faced with an opportunity to speak to her I of course asked Zandra about her infamous hair and why she settled on pink as her signature shade. Intrigued? Well here's my post on why does Zandra Rhodes have pink hair and other things I learnt at her 50 Years of Fabulous exhibition….
Zandra has designed saris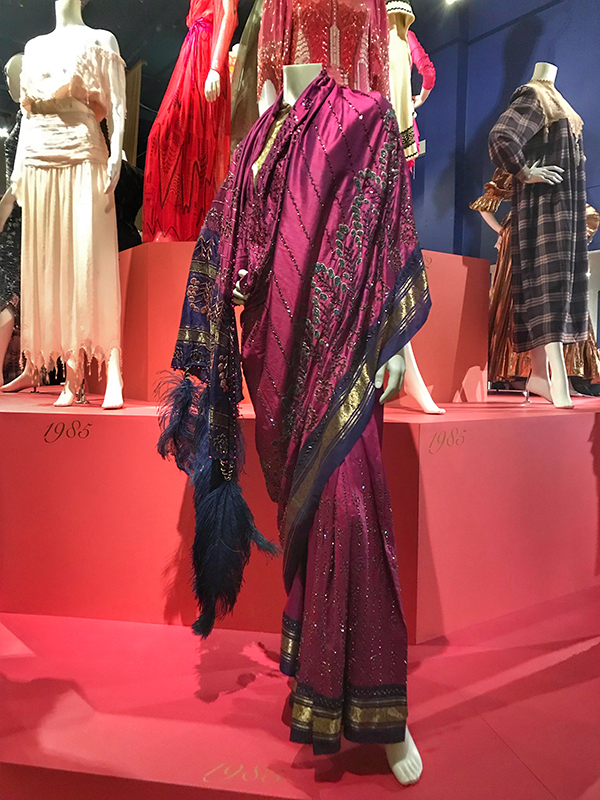 This was news to me. Though I know about Zandra Rhodes prints I had no idea that Zandra has designed sarees, (something I too have dabbled in). In the exhibition you can see a sari she created in 1986 which is part of a series of design projects she worked on inspired by India. In 1981 Zandra was invited by The Handicrafts & Handlooms Exports Corporation to take a tour of India and it led her to putting on her first show there in 1982. Craft and travel is a huge inspiration in Zandra's clothing and you'll also see pieces inspired by her travels throughout the exhibition including Australia, America and China.
She draws everything first…by hand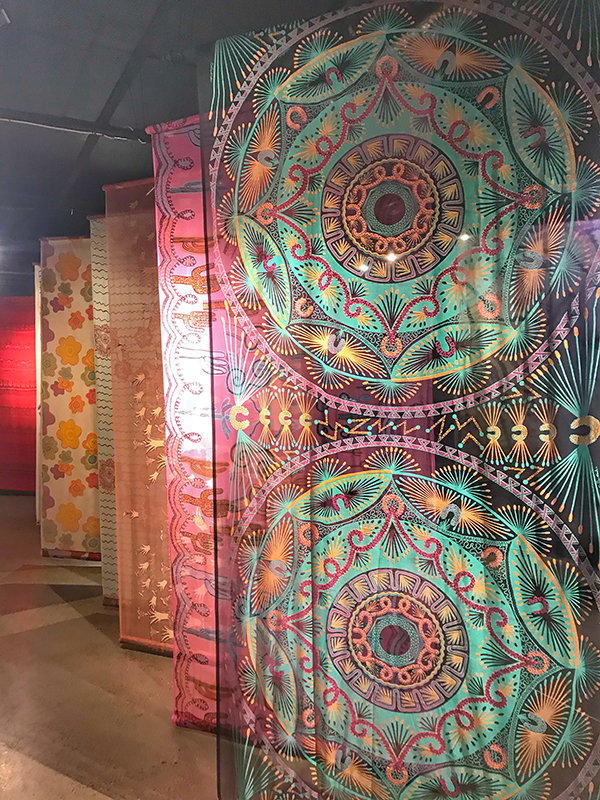 While newer fashion designers reach for digital aids, Zandra has sketched by hand from the beginning of her career. Every design she does begins as a drawing. The drawings then translate into the prints she's so well known for. An exhibition highlight is the 'chiffon forest' where you are surrounded be her prints creating a full 360-degree experience.
A hoarder and proud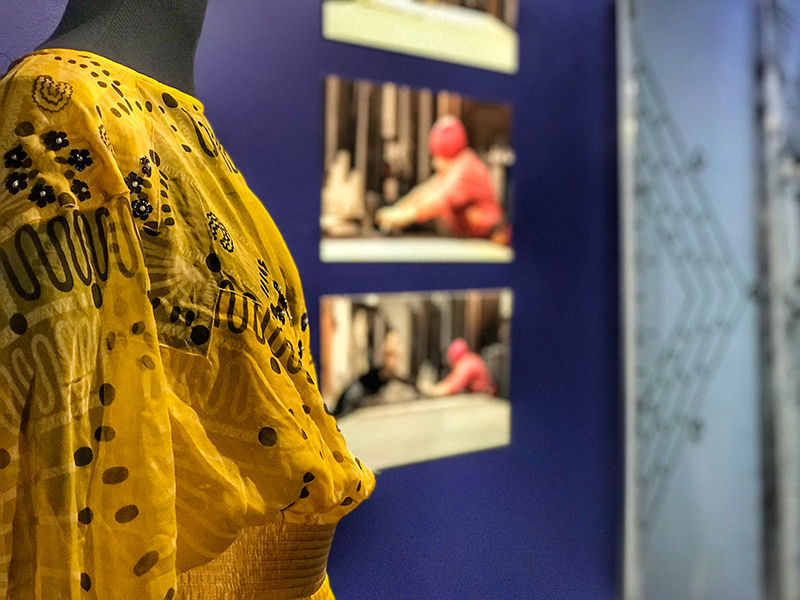 One of the anecdotes Zandra shared was that she loves keeping things (look away Marie Kondo!) In the exhibition you can see early outfits, sketchbook extracts and even the process of how her prints are made. A lot of exhibitions consist of donations from collectors but here you'll find items that Zandra herself has held on to and I like this because it shows she's proud of her creations and offers reassurance that one doesn't need to purge old things just because it's popular to do so.
Why does Zandra Rhodes have pink hair?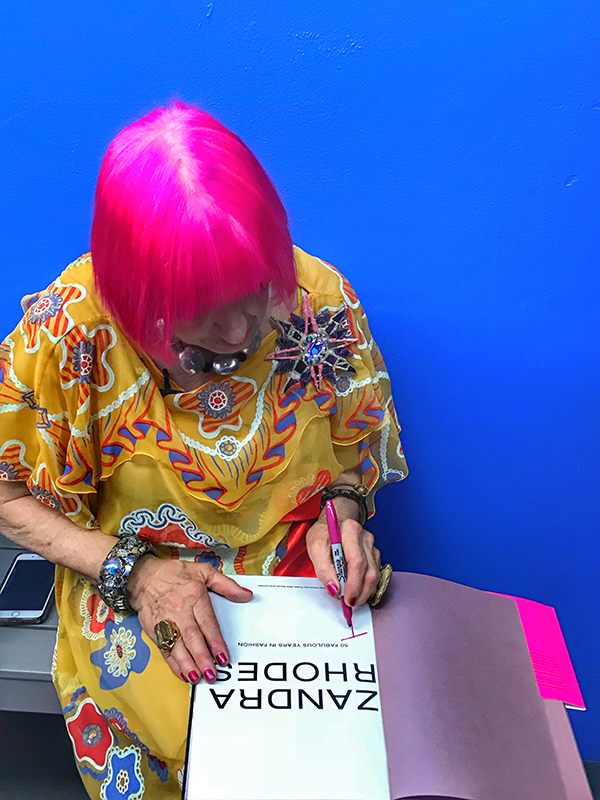 So we heard a story about how she wanted green hair but in the early days you couldn't get hold of green hair dye so she attempted to colour her hair herself and even decorated it in unexpected ways like sticking peacock feathers in it. But then when she finally found pink she realised it lasted the best. She told me her hair is pink because it's the easiest and doesn't wash out as much as other colours. Yep…not the answer I was expecting but I completely know what she means. Reds and pinks stay in my hair the longest too while purple is the worst. Creative and practical…she certainly knows what she's doing!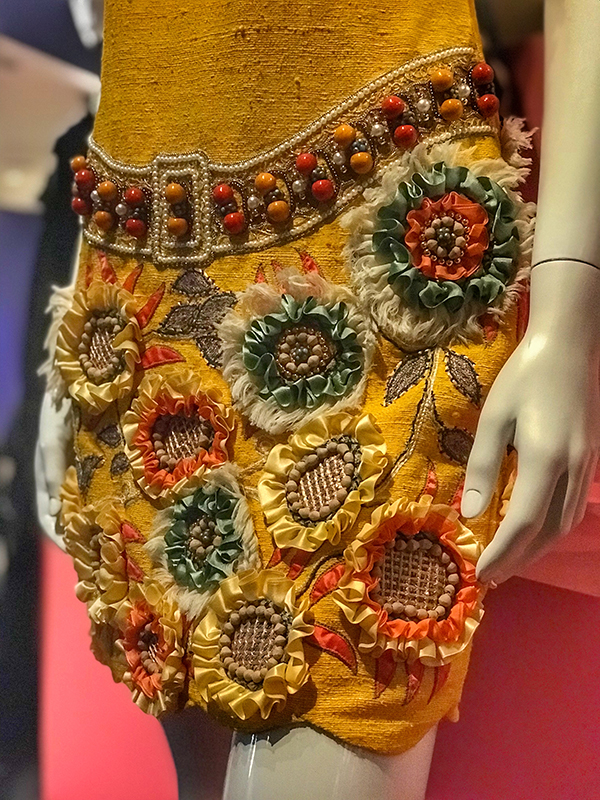 At the exhibition you'll see Zandra originals from her first lipstick print trousers that she made before her brand was established to 'that' pleated cape top worn by Freddie Mercury – it's like a Zandra Rhodes biography told through her clothing. Outfits are listed by date and it's an incredible timeline to see how her creations evolved yet stayed true to her style. I particularly love that Zandra still uses prints she designed in her early days, she hasn't discarded them because trends come and go; if she likes them she uses them again…we could all learn from this.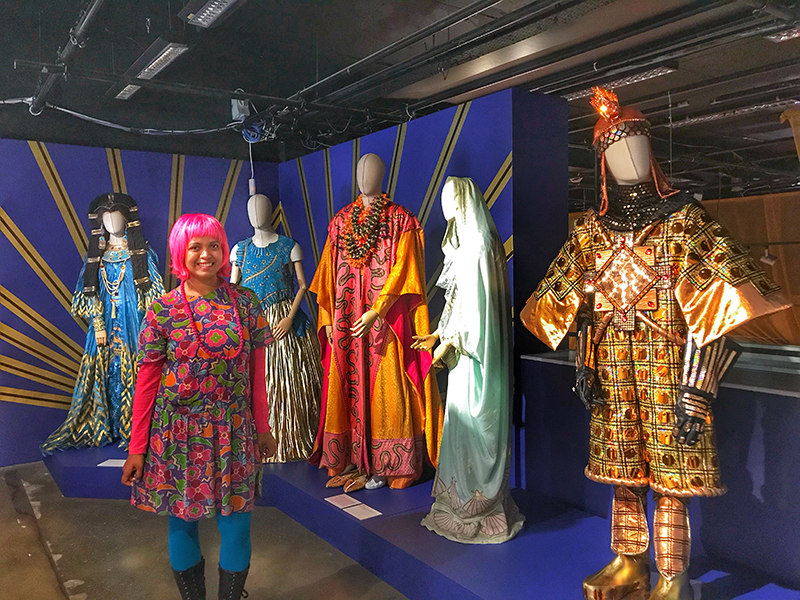 Post Zandra Rhodes exhibition snack stop
Hungry after the exhibition? After witnessing Zandra Rhodes 50 Fabulous years in fashion, head around the corner where you'll find Spier's Salad Phone box. I went there for lunch and was amazed by its ingenious use of space. As well as visiting the exhibition there's lots of Fashion and Textile Museum events coming up related to the Zandra Rhodes exhibition that are worth checking out such as talks and workshops.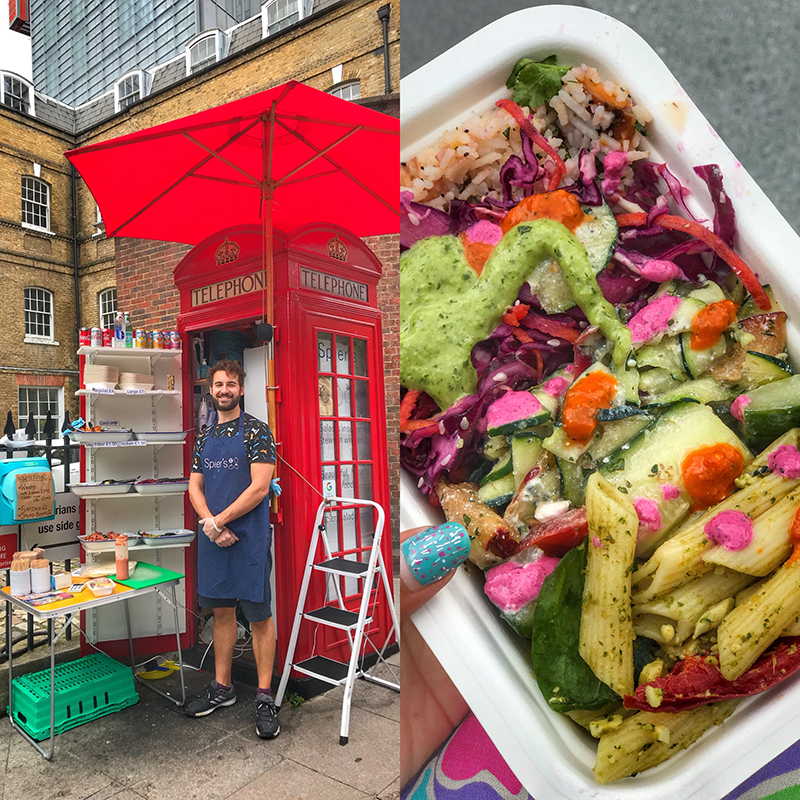 Exhibition details
You'll find Zandra Rhodes: 50 Years of Fabulous on at the Fashion and Textile Museum, 83 Bermondsey Street, London, SE1 3XF from 27th September 2019 – 26 January 2020.
Find out more and book tickets at www.ftmlondon.org.