Ok. I was already in love with Ashish and his flamboyant, rainbowtastic creations before I went to see his 20-year retrospective exhibition at the William Morris Gallery in Walthamstow but I fell in love all with it over again whilst there. Perhaps I took the title 'Fall In Love and Be More Tender' too literally…
10 reasons I love the Ashish exhibition (and why you will too!)

1. Ashish in Wonderland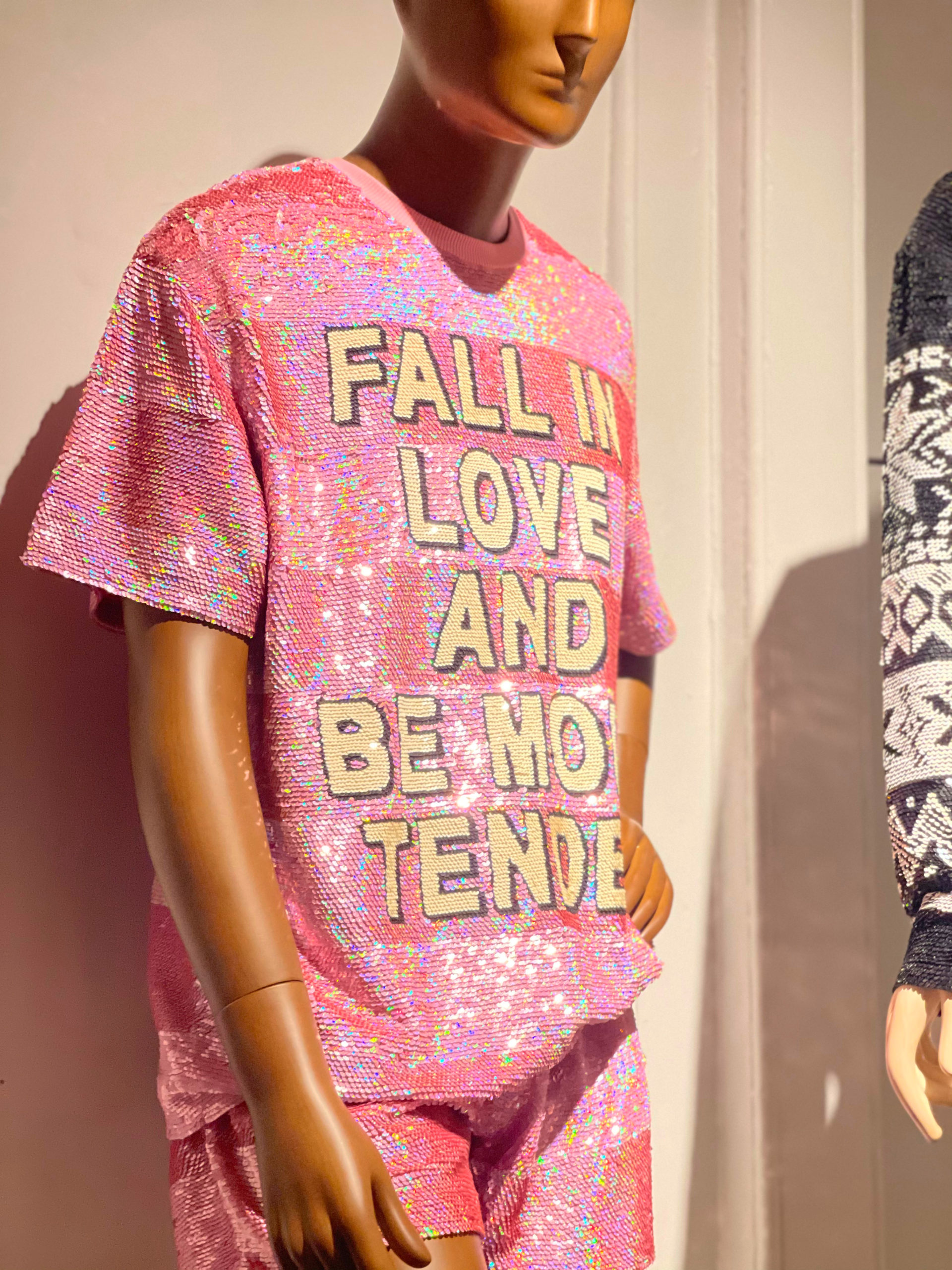 The William Morris Gallery has been transformed into an Ashish Wonderland. The joy begins the moment you enter the doors of the mansion. You're met by the shop with is filled with posters and eye-catching merchandise including a giant Ashish rainbow cushion and then you're led to the beginning; a short film screening about the Indian fashion designer. There are blown up digital floor-to-ceiling murals of his campaign shots in the corridor outside the screening room, gorgeously shot by photography collaborator Ashish Shah: they're an exhibition in themselves. And it's not just the main space on the groundfloor that's filled with his iconic, kaleidoscopic collection; there's more upstairs…
2. Rainbow outfits galore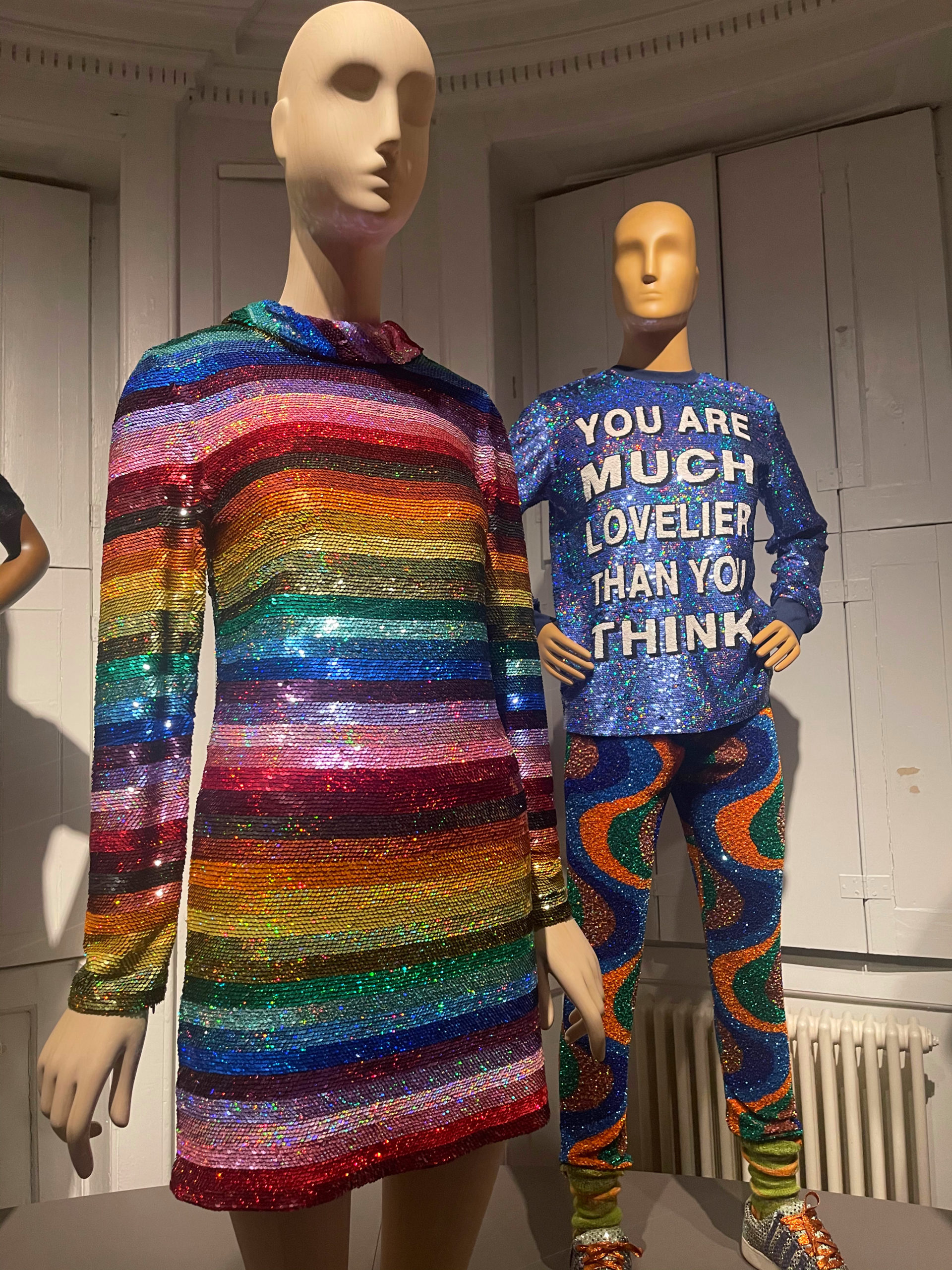 It's no secret that I'm obsessed with rainbow aesthetics and of the 60+ outfits on display, Ashish sure has rainbow couture covered; all of which I want to wear. Though how I'd choose what to wear when if they were in my wardrobe I don't know.
3. Style meets politics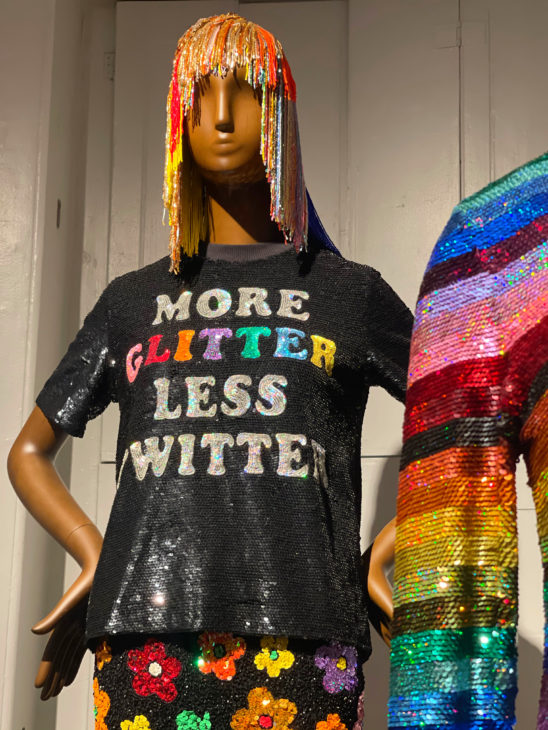 Fashion and politics have long been inter-twinned (think logo tees and anti-Brexit style statements) and that's a good thing. It can be difficult to share political opinions so fashion is the perfect medium to get creative with messages that need to be expressed. Long may it continue that designers aren't afraid to combine politics and art. Let us take a minute to appreciate this excellent t-shirt – 'More Glitter Less Twitter', Ashish's response to Trump and his non-sensical ramblings.
4. Ashish loves crafty inspo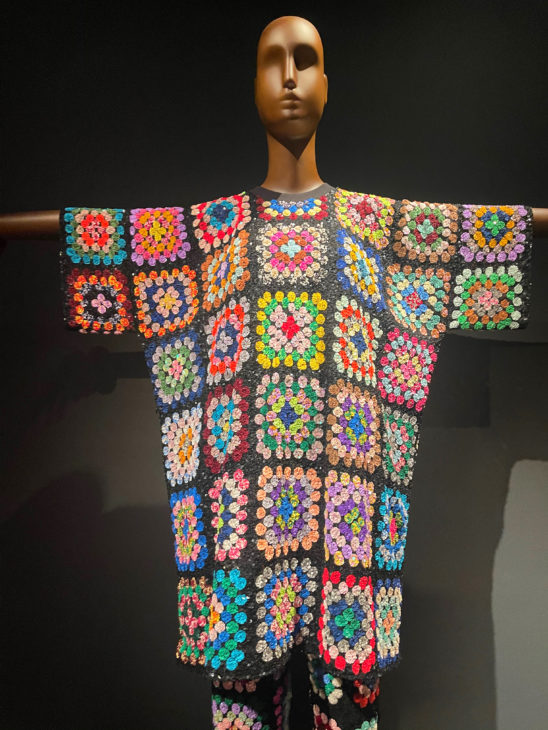 I remember Ashish's sequin granny squares being unveiled in 2019 and being utterly amazed. There's not an inch of actual yarn in sight and yet….it has to be crochet???! Remind's me of the Netflix show Is It Cake? only this time it's a case of Is It Wool?
5. High-end camp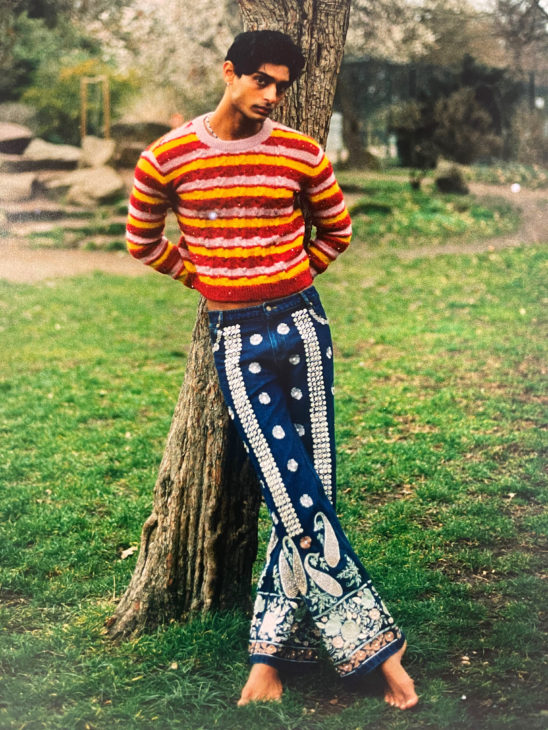 Remember when The Met Gala did the whole 'Camp: Notes of Fashion' theme? Well Ashish could have designed a piece for every guest – he takes camp to a whole new height injecting it with oodles of luxury. Look out for sequinned high-vis and carrier bags on display. There's also stunning photography, a bright pink activity sheet that explains more about Ashish, and my favourite; a leaflet for kids that breaks down LGBTQ+ definitions. 100% YES to this.
6. Creative couture for all genders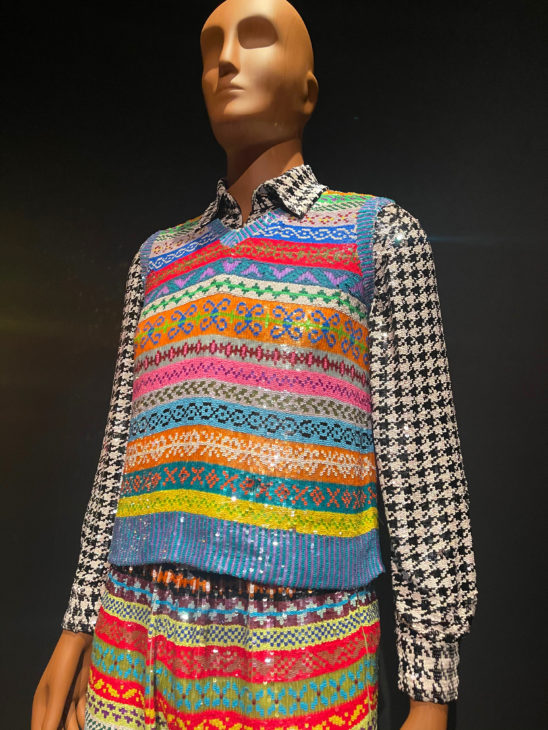 One of the things that really stood out for me throughout the exhibition was that the menswear was every bit as thoughtful and beautiful as the womenswear. It usually feels like a designer specialises in one or the other, but sometimes does the other because they have to, but that one gets less attention and is never as good. Not in the case of Ashish. I'm not the biggest of fan of menswear as there's such little choice compared to womenswear, but I finally found a collection I'd be proud to wear anything from.
7. BTS videos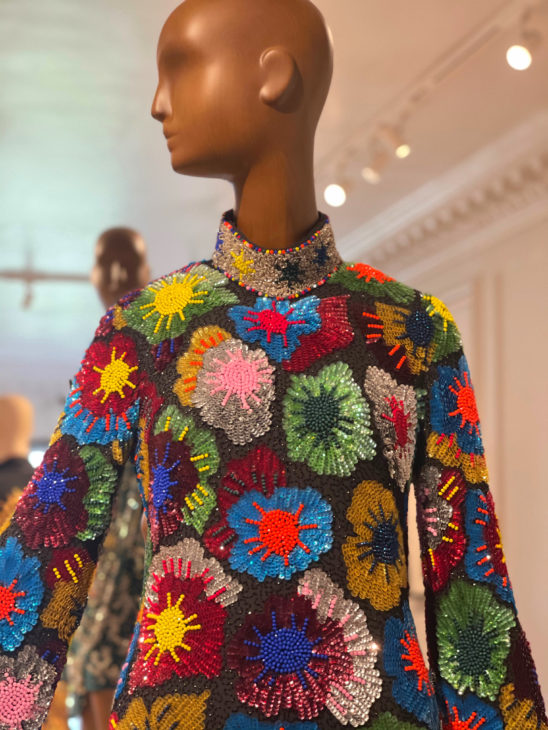 Back to the screening room I mentioned. Here, you get to see his old college tutor (and still someone he works with) Esme Young of The Great Sewing Bee judge fame who taught him at Central St Martins, chatting about working with him. We're also shown the intricate craftsmanship and handiwork that goes into each creation (I mean look at the detailing on this sequin floral dress), hear from Ashish himself and best of all (well my favourite bit,) watch him go sequin shopping in India. It's a great way to set the scene before you witness his fashion IRL.
8. Top-to-toe-styling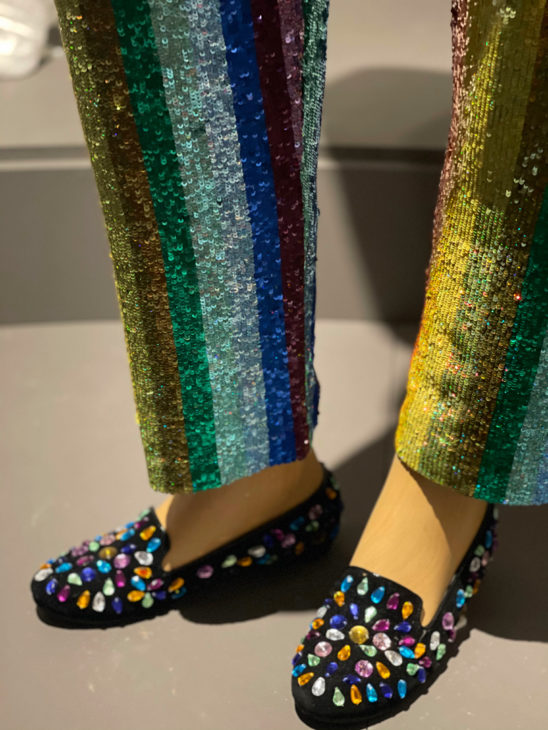 There's so much detail in every garment, but let your eyes wonder from top-to-toe because there's some seriously cool footwear action too – look out for the white sequin socks, they really blew my mind!
9. Free to visit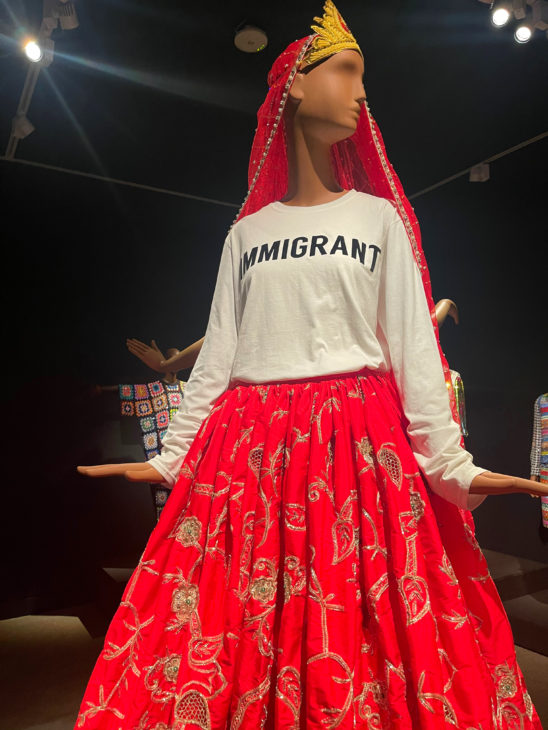 Art has never been more accessible. It's all around us in street art and social media and even on people, but going inside a physically gallery is still very much a great way to appreciate art in comfort. London exhibition prices are at an all-time high which excludes a lot of people from being able to enjoy them. The fact this is such a generous size exhibition and the quality of the pieces are so high and it's free? Thank You! What an opportunity to witness such incredible fashion. That means you – this is must-visit show for lovers of fashion, craft and colour and if you live in London you have no excuse not to go. Oh and there's an Immigrant t-shirt inspired by this iconic sweatshirt in the gallery shop too. Which I want.
10. I met Ashish!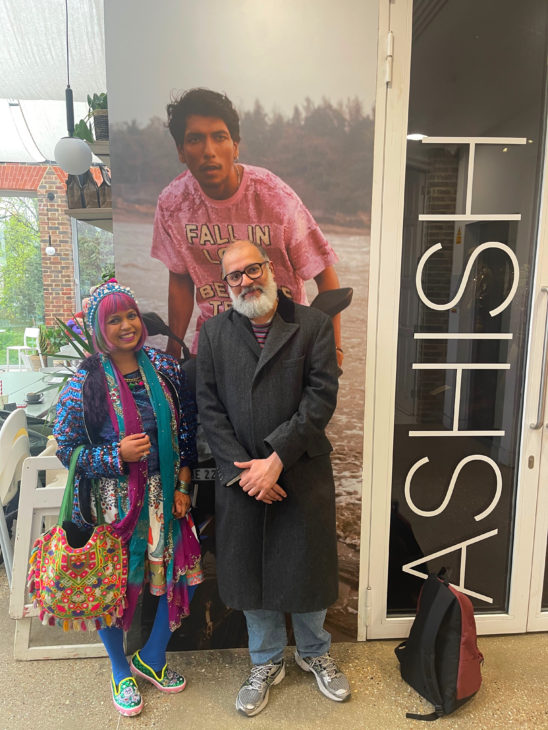 Look who I saw in the cafe…only Ashish himself. Was I starstruck? You better believe it, what a nice thing to happen. It's lovely to know that he still pops into his exhibition and it was super kind of him to star in a photo with me.
Hopefully, next time I'll meet him it's because he's dressing me for a special occasion – or just daywear, I'm not fussed : )
Fall In Love & Be More Tender is free to visit and open until 10th September at William Morris Gallery, Lloyd Park, Walthamstow, London.
Yours colourfully,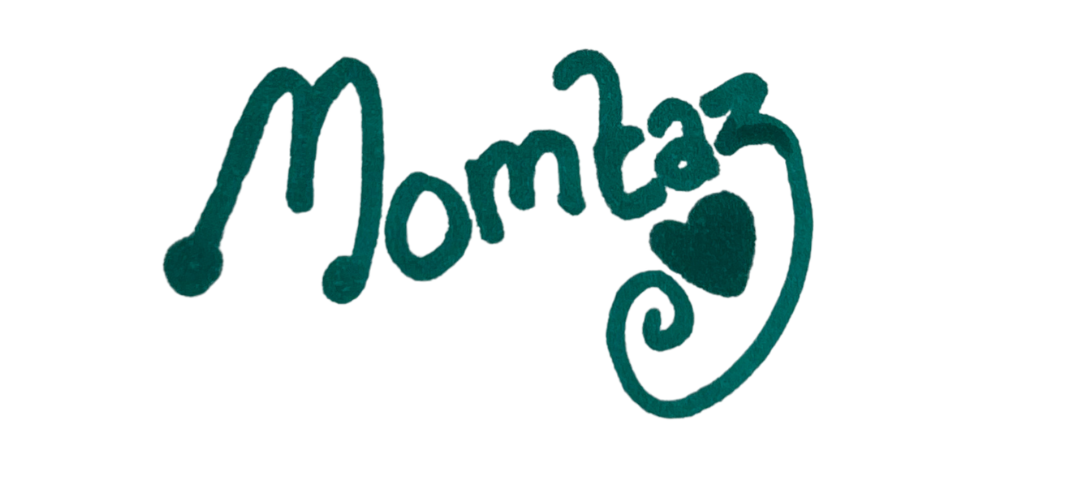 ashish
ashish gupta
exhibition
indian fashion designer
rainbow
sequins
william morris gallery