Spoiler Alert! I wore a lot of colour in 2022 but that's only part of my style story…
Getting dressed is often the happiest moment of my day. I view it as a moment of 'me-time', a chance to check in with myself and how I'm feeling, spot any resistance I have about the day ahead, think about how I want to feel, and exercise my creative energy.
My 2022 fashion trends are an assortment of old pieces riddled with memories, second-hand treasures, a handful of new clothes, many picked up on travels, and some gifted items – each ensemble is a personal reflection of me and they also align with the #WearYourHappy movement to wear clothes that make me beam inside and out!
Why I wear what I wear
Every outfit I wear has a purpose, makes me a feel a certain way, is usually suited to the occasion and is also led by intuition. Styling my outfits is an artform, every look is a limited edition moment as I rarely wear the same outfit twice. I'm a serial mix and matcher, pieces get worn a lot but in different ways.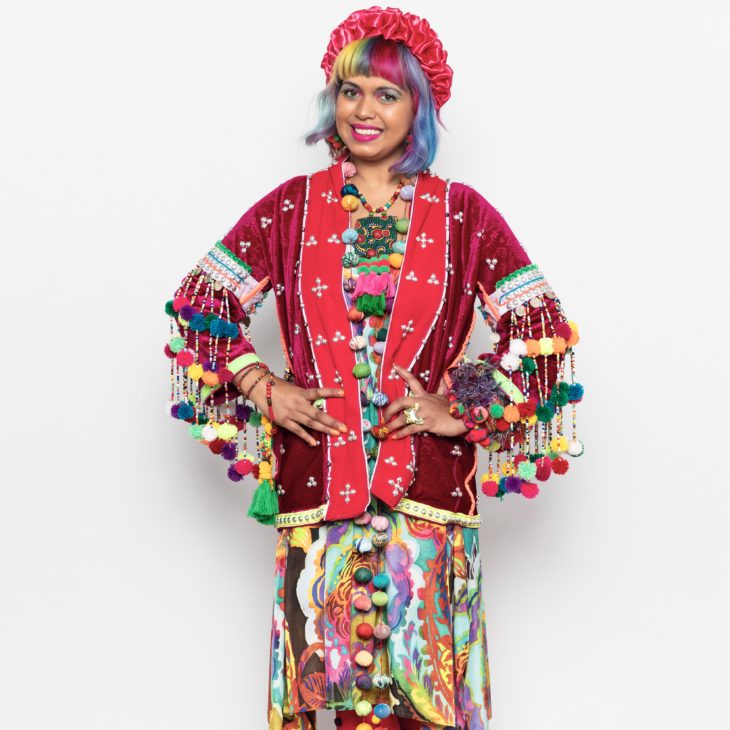 I felt compelled to write about some of my favourite outfits that I wore this year, (call it my 2022 fashion trends if you will) because my clothes are my diary. One of my motivations for writing a blog is because it's a record of my existence – the things I do, think and feel, and this post is about all of these things.
So welcome to my style story of 2022…
2022 Fashion Trends: My Street Style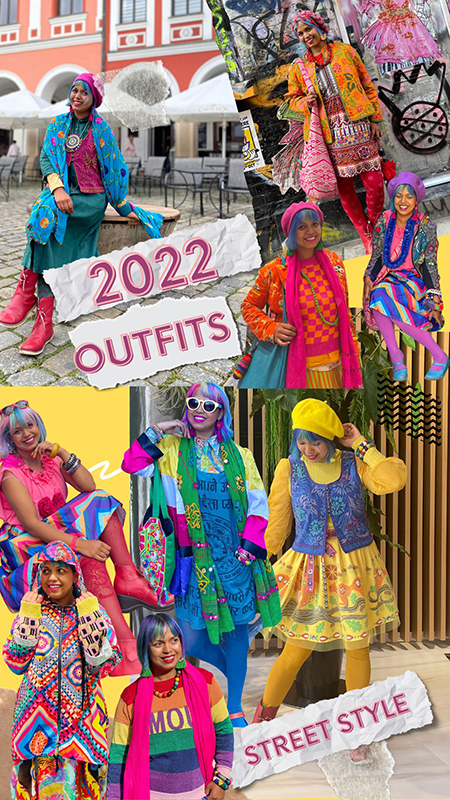 What we wear has a powerful effect. Just one glimpse of someone stirs a reaction and we can't help but form an opinion about them. Thoughts that occur can be anything from 'they look good' to 'do I find them attractive?' and 'where is that garment from? I want it!' to 'hideous – what are they wearing?'
I try not to think about what other people would think of what I'm wearing, mainly because I exert so much energy curating my looks making sure that I'm happy that I don't have time to ponder other people's perceptions. It's not easy to think like this but I promise, if you focus on making yourself feel good through what you wear, other people's judgements will fade away.
I refer to my 'street style' as my everyday wear – what I put on for casual adventures outside. This could be seeing friends, going shopping or visiting art exhibitions.
If you were to randomly bump into me in the street this is the type of outfit you'd find me wearing. I describe my everyday attire as 'sophisticated funk' (I labelled this term many years ago) it means that on one hand my clothing has an eccentric 'funky' sense (I doubt anyone uses the word 'funky' in 2023 but I coined the term in the 90s!) while maintaining a level of sophistication.
Colourful adults can be accused of looking like kid's TV presenters and that's not the aesthetic I'm going for. I like to keep a cool and quirky edge rather than cute and childlike. I also like challenging perception in that way – disproving stereotypes.
An assumption people have about me is that due to my colours I clearly like narcotics but they couldn't me more wrong – I'm teetotal. I've never drunk alcohol, smoked or taken anything harder than paracetamol – fingers crossed I won't ever need a stronger painkiller either.
2022 Fashion Trends: My Second-Hand Wardrobe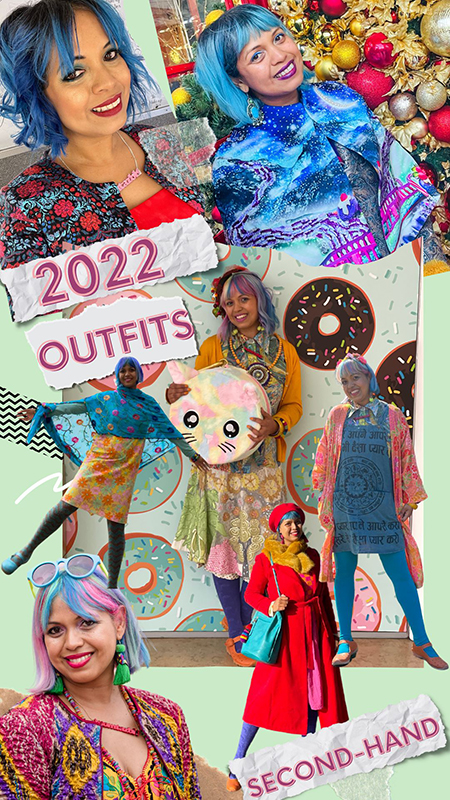 Second-hand fashion has been a way of life for me since I was born – I'm the youngest of four sisters so naturally hand-me-downs were always on trend in my house. It was the norm but when I finally got a part-time job at the weekends as a teenager I enjoyed the liberated feeling of buying my own clothes and I would constantly be scouring for bargains. I even bought a sewing machine with my first pay packet so I could DIY my wardrobe and this opened up the world of buying gorgeous fabrics too.
I can't walk past a charity shop without walking in. Wherever I am in the world (even f I'm running late) I have to take a look – it's an instant hit of dopamine, thinking that if I want something I can have it as it will be affordable!
That said, the success rate of finding good garments in charity shops has gone down hill with the rise of fast fashion and it's much harder to find rare vintage pieces. I scour vintage shops and kilo sales too and also look online.
The cape and skirt I'm wearing in the middle image are both by my favourite Fashion Designer Manish Arora and both were purchased pre-loved for £30 each which is an absolutely bargain as his pieces retail for £1000+ . I regularly seek out his clothing and have been successful a few times. The hunt continues : )
There are two jackets and a coat pictured too – every coat I own is second-hand and most of my jackets. I alway seem to find them in good condition and it allows me to freely mix and match my outfits without breaking the bank. I have second-hand outerwear in red, green, pink, silver and orange – no black coats in my wardrobe!
Why is it so hard to find Desi Second-Hand clothes?
Over Christmas I met up with a group of South Asian friends who were discussing taking their clothes to charity shops and it was disheartening to hear that few UK charity shops take them as they don't sell well. There are specific charity shops like Islamic Relief that sell them but your average Oxfam or British Heart Foundation is likely to turn Desi* clothes away. *(Desi refers to South Asian btw.)
The consensus from my friends was that typically the Asian community doesn't like the idea of second-hand, it's frowned upon – which is sad and a shame. I love looking through desi clothes when I do see them and I'm lucky to have found a few second-hand pieces, but it would be great to find more.
2022 Fashion Trends: My Colour Walk Looks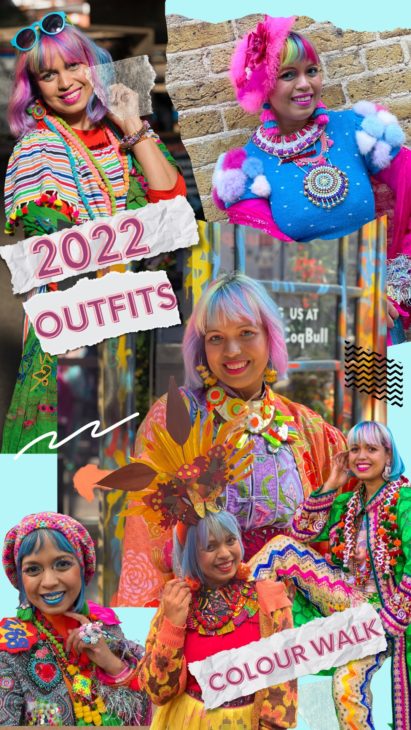 When you're a colour lover there's nothing more satisfying than being around fellow appreciators of colour who lift you up, and give you encouragement and motivation to be your authentic self. That's why I'm a regular at the Old Spitalfield's Colour Walk – a gathering of chromatic characters that takes place in London on the 3rd Thursday of the month.
Anyone can attend and the meet-up group recently celebrated their 6th birthday – I sadly missed that one and a couple of others during 2022 but here's some of the outfits I did wear to colour walk in 2022.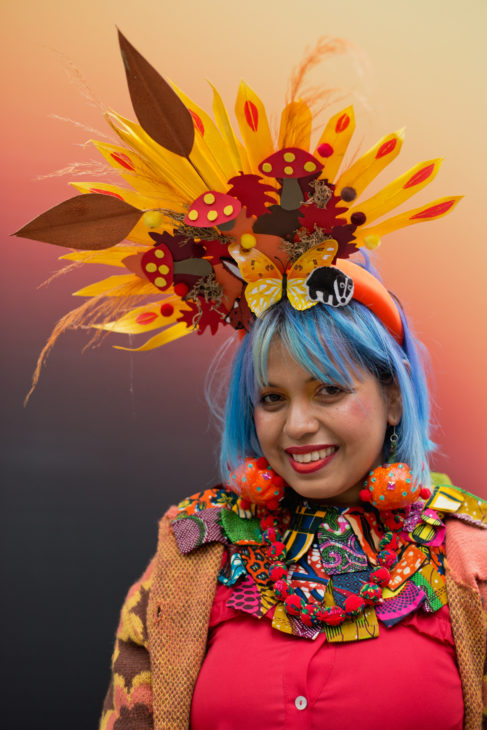 I don't plan my colour walk outfits, with the exception of October. I was keen to wear something Autumnal to match a new skirt I bought in the Czech Republic so I specifically made a headpiece. Typically, I have a few thoughts the night before but on the morning of the colour walk day I let my senses and intuition guide me. It's often unexpected, things I never would have thought of pairing together.
But experimentation is championed at colour walk, there is no limit to the creativity that colour walk represents and it's a day I look forward to every month because it's such a liberating feeling.
When I curate my colour walk outfits I take great pleasure in thinking about the complete look from head-to-toe and I place a bigger emphasis on accessories than for my every day street style outfits but that's the only difference.
I also try and include some handmade elements – in these photos it's my customised jacket, handmade headpieces, fabric necklace and sari coat.
2022: Fashion Trends: My Gudrun Sjosden Looks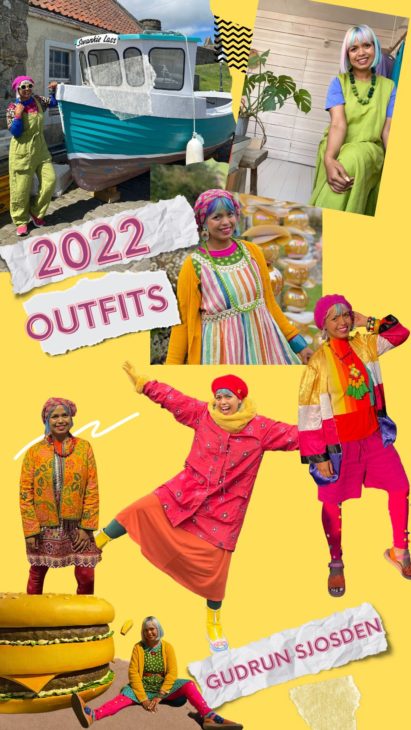 It's a real pleasure to be an Ambassador for Swedish womenswear brand Gudrun Sjosden – I feel aligned with her pieces because she places emphasis on colour, crafts and sustainable fabrics. Each season I'm gifted some pieces and for 2022 I used it as an opportunity to get some items that I've never had in my adult wardrobe and these fashion firsts changed my life!
Firstly, I opted for dungarees (I think I owned a pair as a child, but it would have been before the age of 10.) As an adult I'd never thought to try on a pair of dungarees but it turned out to be a total revelation. I'm still new to wearing trousers (that only started a couple of years ago when I got my first ever suit made) and so dungarees didn't appeal but when I spotted a green pair appear in the Spring collection I thought I'd give it a go.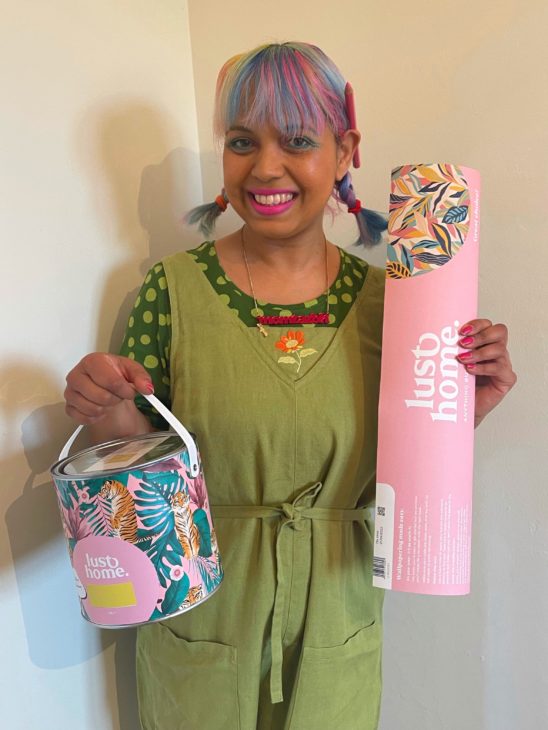 It was an immediate yes. They have huge pockets and have since become a travel staple for me, perfect airport wear as it means all my essentials are to hand when I fly; my phone, passport, headphones, purse, mirror and lipgloss! They also have home improvement vibes and were very handy when I did a Lust Home bedroom makeover.
I also got some shorts, I've never had non-gym shorts before but are long and comfortable and I feel confident in them.
Finally, another life-changing piece from the winter 2022 collection – a raincoat/waterproof anorak – I honestly don't know how I got by without one with the amount of rain we have in the UK. I've pretty much worn it every day since I got it in November, it's so spacious it fits over jackets. It was a lifesaver when I went to Montenegro in December too as it rained continuously but I didn't get wet!
2022: Fashion Trends: My Work Wardrobe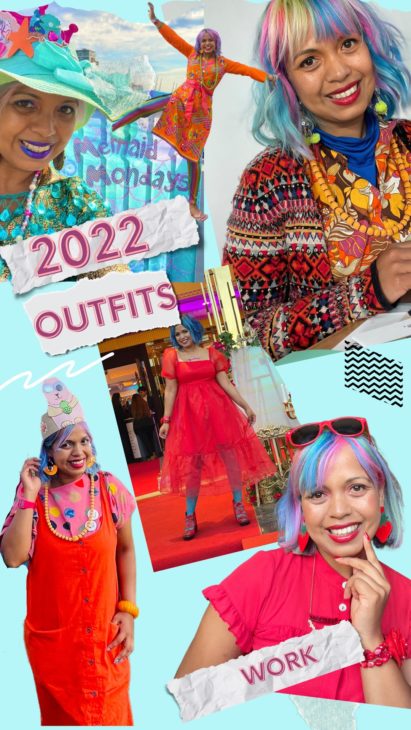 I'm anti dress-code which is why I've never been attracted to traditional career paths that command you dress a certain way to fit in. Even when I've temped in various civil service jobs (which are the most formal office environments I've worked in) I've still managed to get away with colour but as you'll see in the photo, my work wear is a bit more refined. There are more block colours unless the requirement is to dress like a mermaid which I had the pleasure of doing over the summer.
At the time, the UK was in meltdown. We had the biggest heatwaves we've had in years and amidst temperatures reaching mid-30 degrees I hosted four outdoor 'Mermaid Mondays' craft workshops. I love dressing for the occasion and as these sessions were about mermaid crafting I dressed in mermaid attire. The shell sequin top I'm wearing is one I bought during my first visit to Paris around 2001.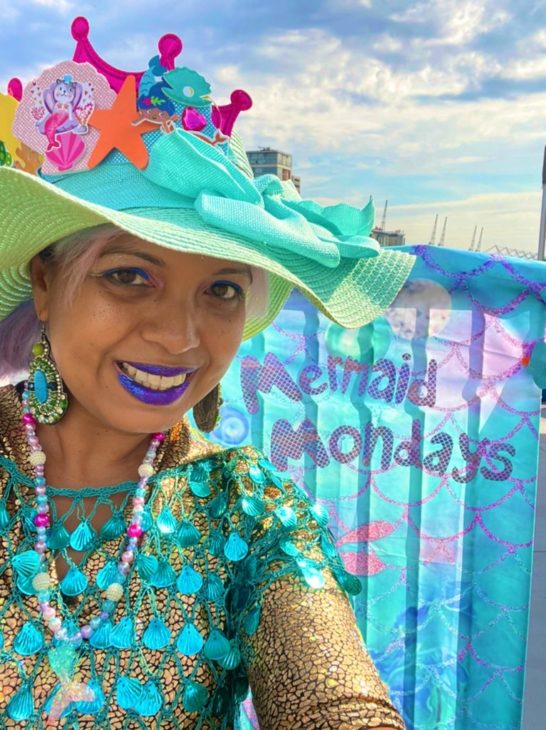 Sadly, I also made a major fashion faux pas. I was adamant I wanted to wear my mermaid crown all day which was a terrible decision as on that first day I got heatstroke and spent the rest of the day and next day recovering in bed. After that, I switched to wearing a sun hat with the mermaid crown on top.
My most personal outfit of 2022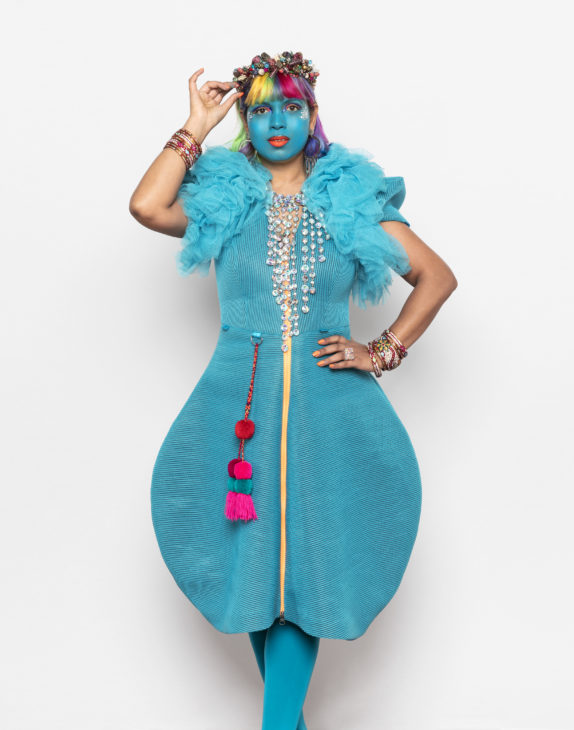 When photographer Anthony Lycett invited me to be photographed for his Self Style project I felt extremely honoured. The project which is a book and a community captures the inner essence of individuals whose personal style is key to their identity. Celebrating alternative sub-cultures, creatives and artists, he captures their aesthetic by giving them the chance to showcase two sides of their personality.
My first look is Me down to a T! You'll see if at the top of the blog if you scroll back – it's creative, colourful, crafty and full of textures and textiles with nods to my travels, it's me in clothing and accessory form.
My second look is an alternate version of me, showcasing a more mysterious, spiritual side, the blue in some ways representing the mask each of us wear at different times of our life to protect us.
Though much of my life is positive and filled with rainbows (literal rainbows!) I have the sides of me that are embed in darkness and 2023 is a year when I'll be doing along of inner healing work from past traumas that haunt me and much of that work is spiritual work – I'll save that for a different post later in the year when the time feels right.
My favourite outfit of 2022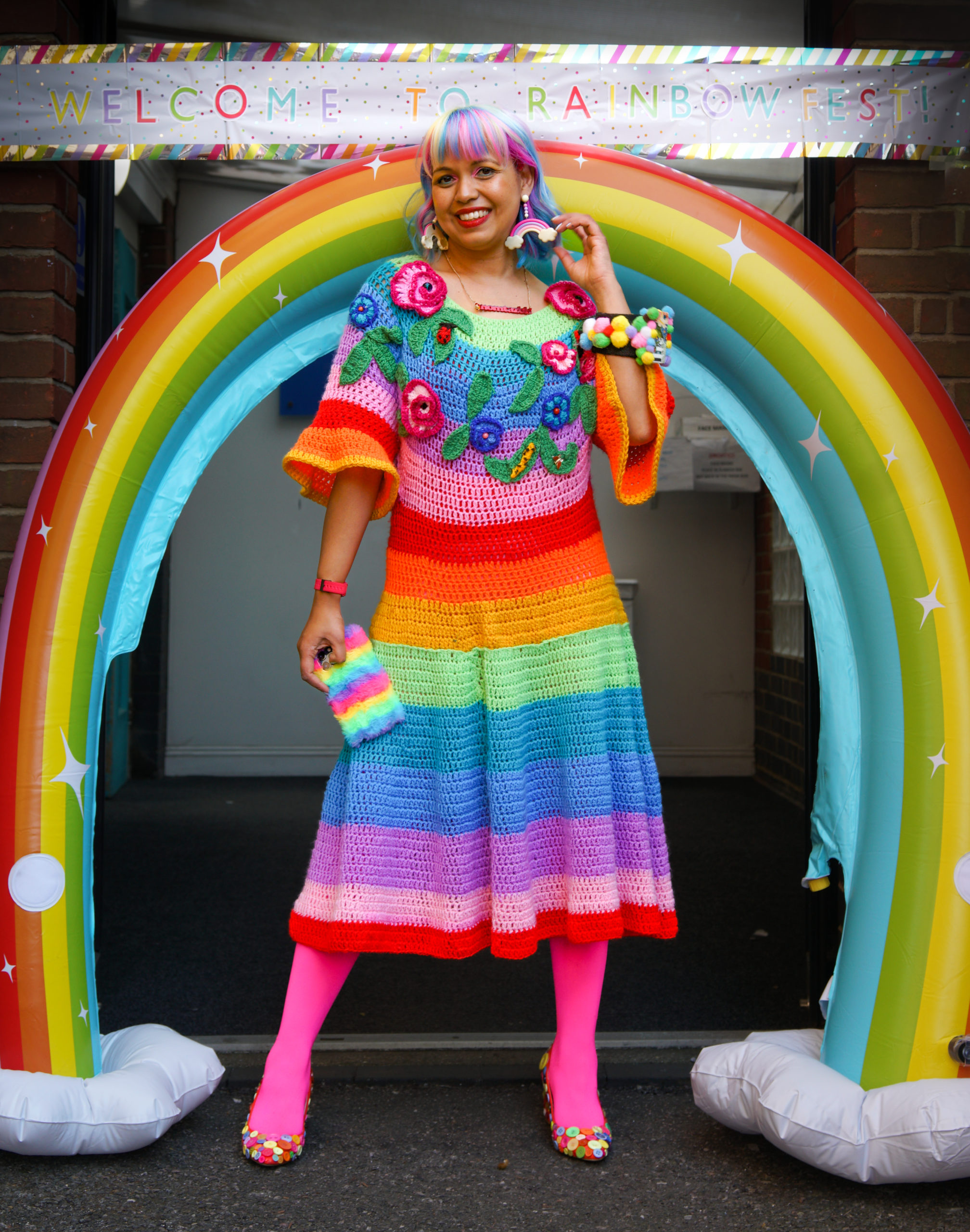 And now back to the rainbows! The launch party for my book Hello Rainbow was my most significant date of 2022 and I needed an outfit that captured the essence of me, my book and the event which took place the same week as International Colour Day.
The answer came in a handmade dress, hand-crocheted by my friend Maria-Fernanda who at the time of making the dress was 86 years old (she's now 87.)
It came about from a conversation we were having, I asked if she takes commissions and she replied that she'd already made a dress that hadn't been seen or tried on by anyone and it happened to be a rainbow dress that fit me like a glove. Talk about serendipity – an outfit has never been more meant to be!
I also never thought I could wear a crochet dress, I thought it would cling around my stomach which isn't a look I like, but due to the way she'd expertly made it that wasn't a problem.
And so, for the my most exciting day of 2022 I had the most exciting dress to wear – it also started its own trend as Maria-Fernanda received commissions to make two more similar dresses. Yay!
2022: Outfits in review
The interesting thing about creating these collages of my outfits for this post is seeing how consistent my personal style is. Whatever the season and whatever the weather it still has the same aesthetic and there's a lot of berets involved!
This week a friend sent me a photo of me from when I was a teenager. I have so few photos of me from that era as we didn't have a camera so the photo is pure treasure to me. It captures a moment in time. Looking back at it is giving me so much joy to see that girl and remember who she was.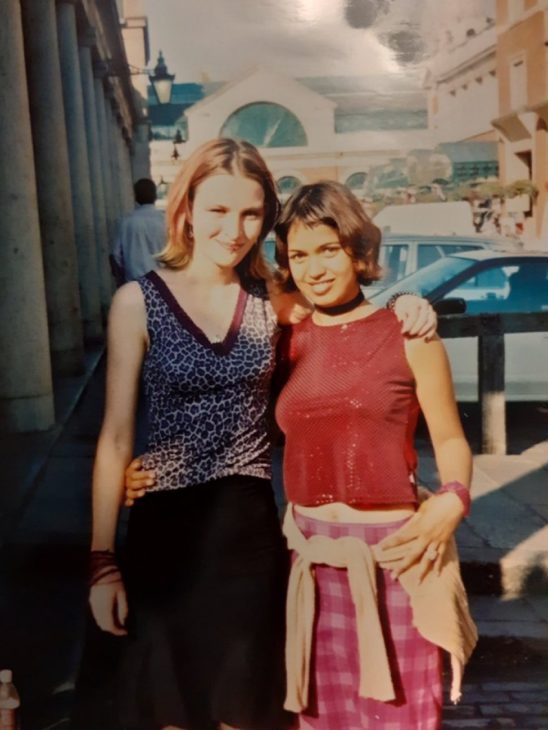 In decades to come, I look forward to going back through this blog post and remembering the fashion fearless individual that I was – I hope I'm still one then too!
Yours colourfully,