ARTICLE UPDATED: 6 April 2023
Back in 2019 I had the pleasure of meeting Musician and Customised Denim Jacket lover Peter Gibson, at Fabrications in Hackney, East London. The store had an exhibition celebrating the 50 years he spent customising jackets. Hearing him speak about his adventures on tour and crafting was so inspiring.
Sadly Peter passed away in April 2021. But his memory lives on. Continue scrolling down to read about the talk I went to by him and see some of his amazing work but before that a special mention…
Peter's wife Hanelle has organised a tribute exhibition to showcase his customised denim jackets giving public another opportunity to see them in April 2023. 'The Creativist' Peter Gibson: 1943-2021 takes place April 7-13th 2023 at The Art Pavilion, Mile End Park , Clinton Road, London E3 4QY. Full details are on Eventbrite.
And now onto the original article….
You've probably seen a customised denim jacket at some stage, but you're unlikely to have come across the incredible detail, dedication and storytelling that goes into the jackets embellished by Peter Gibson. Best known for being a blues musician, Peter is a member of the band Brett Marvin and the Thunderbolts who formed in 1968. But these last 50 years haven't just been spent making music; Peter dedicated his time in between touring and travelling between gigs to the craft of 'jacketing': an artform he 'invented for himself.'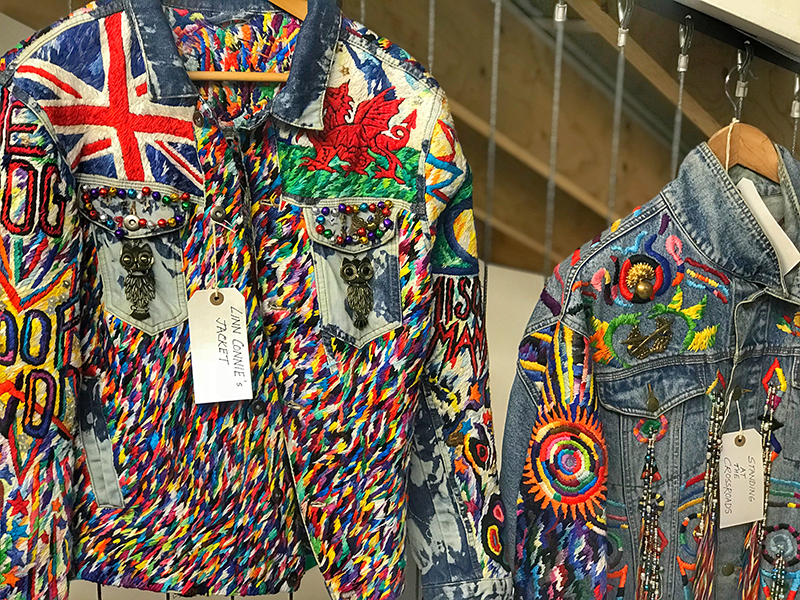 As someone who's not a fan of denim (I don't own any jeans let alone a denim jacket!) I was blown away when I came across images of his creations on the Fabrications Instagram account – I mean how could denim look so creative and colourful? I needed to know more, so I popped down to the opening night of the store's new exhibition dedicated to Peter's jackets.
Peter Gibson's jacketing exhibition
He has customised 30 jackets in 50 years, each one takes several years to stitch (this is proper slow fashion!), all meticulously sewn by hand, embellished with threads, buttons, trims and paint. There's over 20 of them on display at Fabrications where you can get up really close to them to properly appreciate the handiwork.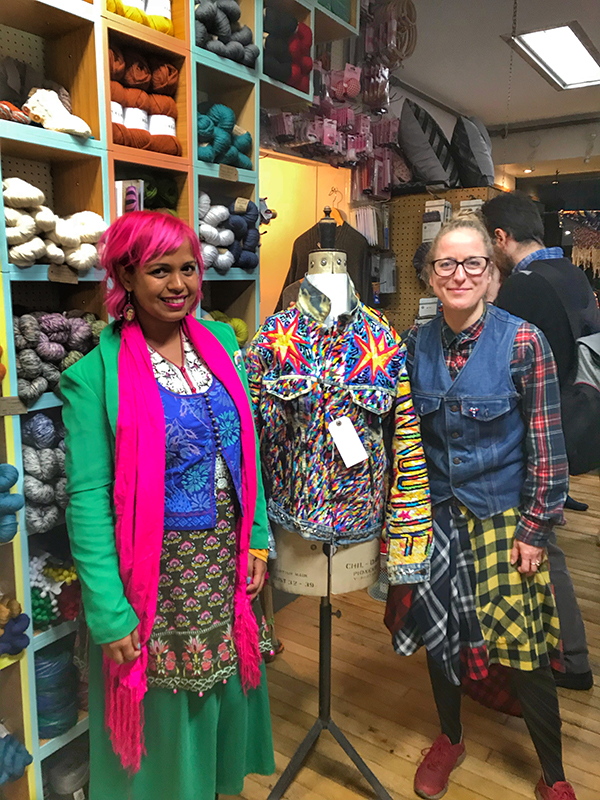 In a special interview held at the East London haberdashery shop, Peter explained more about how he got started: "It's something that I've invented for myself, party because as an artist I don't really believe in the conventional gallery thing. I like the fact that I can wear my art and I don't have to go around begging to have my paintings shown in a gallery."
"I wear my art"
Peter's DIY mentality seemed to immediately rub off onto the audience, one lady shouted out that she'd definitely be giving 'jacketing' a go. But more than the craft itself, what really inspired me was how he made them. He said: "It's something I could do anywhere, on a bus, on a train. When I'm travelling I've always got a project on me. I'm quite happy to sit and sew."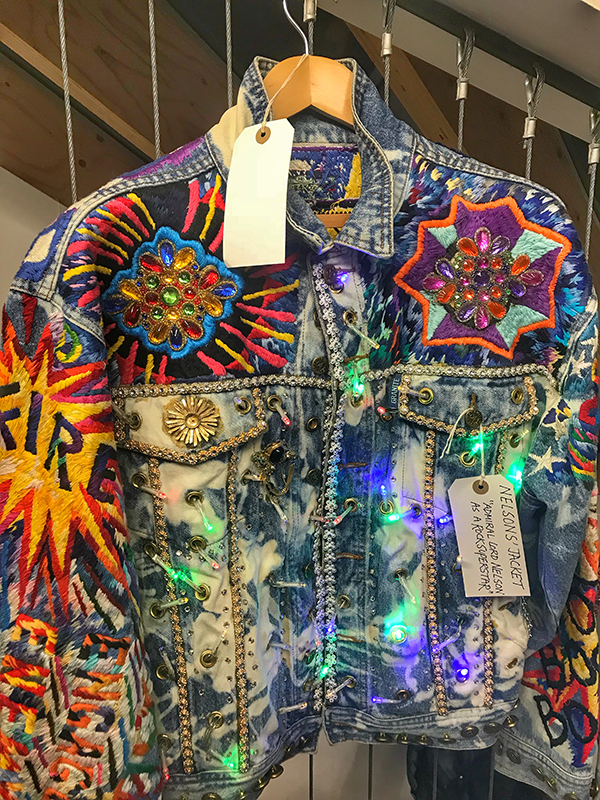 I often carry knitting when I'm travelling which all fits into a tiny easy to carry pouch so I can knit the odd square, but Peter using his time so productively to create full-blown art is so much more impressive. Not that he'd call himself an artist he said very modestly: "I set out wanting to be avant-garde but actually found I was not an artist at all – I was just an ordinary guy who liked sewing." (Less of the ordinary if you ask me!)
"I'm just an ordinary guy who likes sewing"
Peter's jackets have mostly been made for himself and his family. He told us: "The fact my kids say to me 'dad will you do me a jacket?' that means more to me then anything else on this planet. I tell them 'I would love to but you've got to tell me what makes you tick – the meaning of life is what makes you tick.
I'm very drawn to Peter's wisdom. So much of what he says makes perfect sense – especially his analogy of the meaning of life, I agree with him 100%.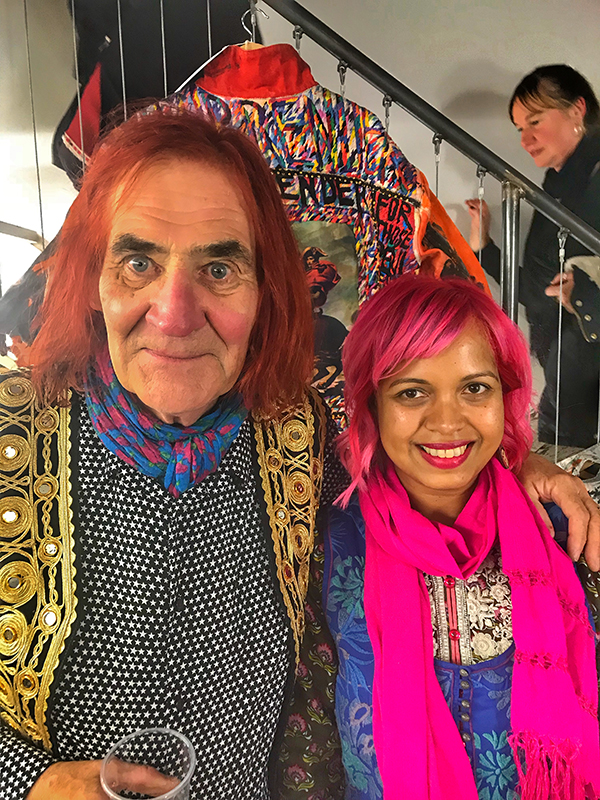 "Limitations are an artist's friend"
There's a definite signature style to Peter's jacketing, they're colourful for a start but they also tell stories with words, pictures and textures. Working on denim isn't easy as it's such a thick fabric. I was keen to ask him how he does the design side of them, as they are each so different. He told me: "One of the things that fascinated me is that the denim jacket has its own structure and you have to work within the structure – that was something I discovered by trial and error. It's very difficult to sew through the seams but there's a saying that limitations are an artist's best friend so working within the jacket framework I discovered a framework for the composition."
Yet more fascinating wisdom from Peter.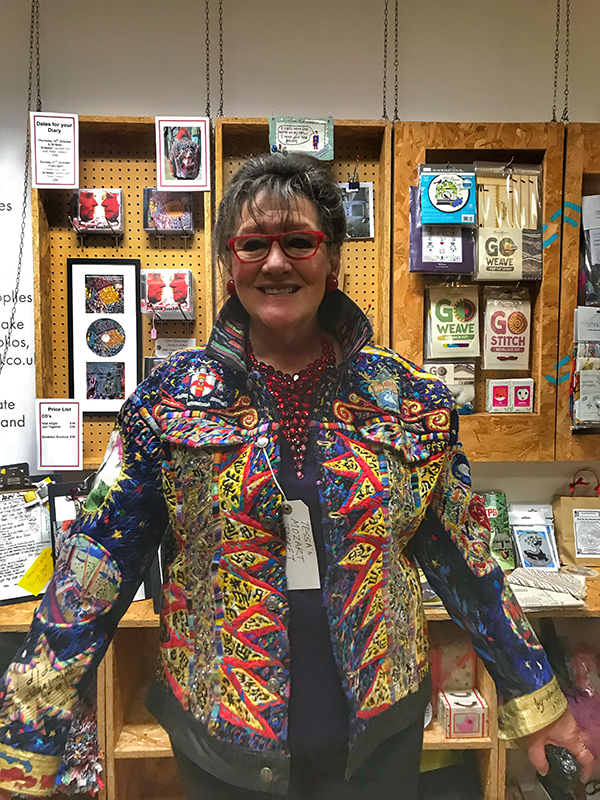 The exhibition at Fabrications is only the second time his jackets have been seen on public display so it's well worth taking a trip to Broadway Market for yourself.  Peter also gave an in store guided tour of his jackets and it was a rare opportunity to hear his stories and more of his wisdom. He also ran a workshop later in the month where he shared his jacketing techniques.
I'm definitely feeling the appreciation for denim jackets more now.
I won't be wearing a plain one anytime soon but if I had a chance to wear one of Peters….well I might get fully converted! : )
Watch this short video compilation of the event to see more of Peter's artware.
Like crafting? Check out my guide to the haberdashery shops of Soho.
Yours colourfully,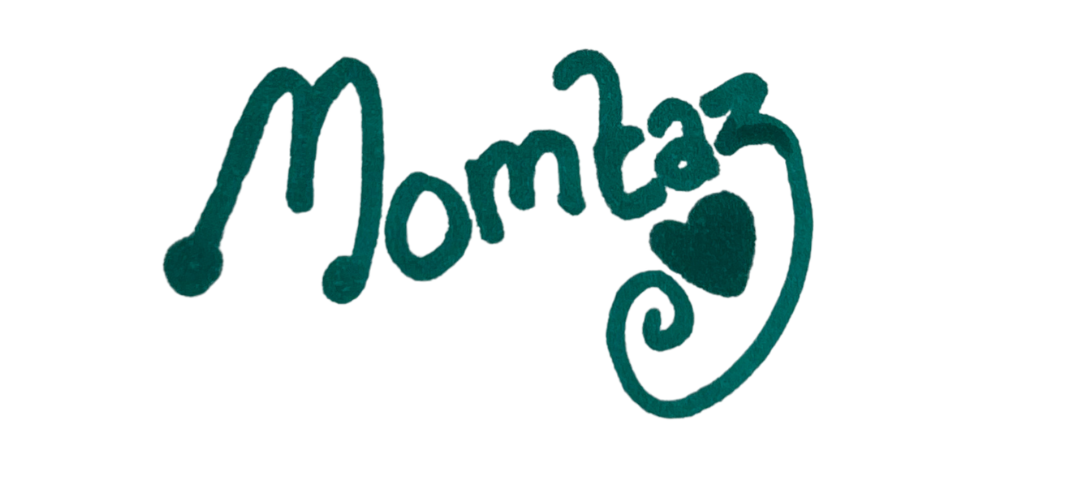 artware
Brett Marvin and the Thunderbolts
broadway market
denim
diy fashion
fabrications
how to customise denim jacket
how to customize denim jacket
Jacketing
Peter Gibson
slow fashion