Hotel review: Why I want to live inside Haymarket Hotel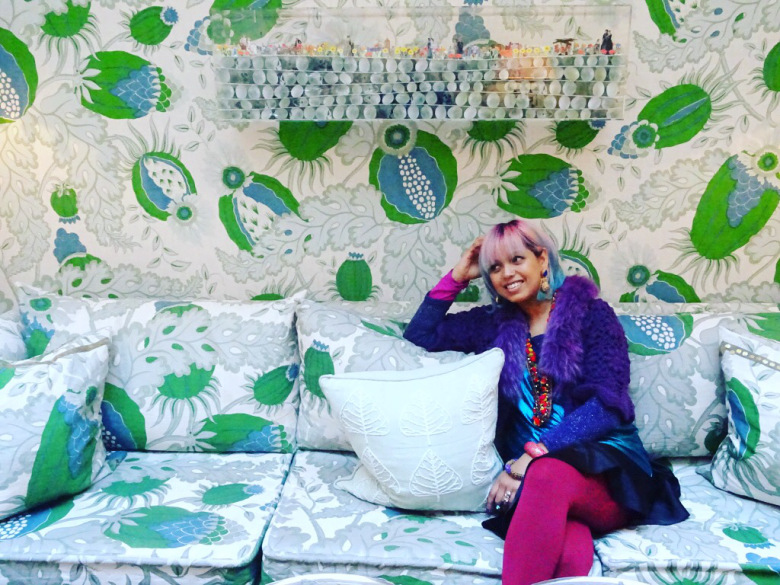 Is Haymarket Hotel an art gallery or a hotel? I'm going with both. A colourful, creative, oasis of sheer delight, Haymarket Hotel (run by the Firmdale group) takes sleeping away from home to a whole knew level. Comfy? Yes Welcoming? 100%. Clean? Absolutely. Spacious? Totally? Good food? Hands down. The tick box elements are easy to complete, but where this London retreat gets its Wow Factor and personality is in the design and décor. We're not talking 'finer details' either. Character is in the every essence of every  decision made, whether that's with centering the Brumus Restaurant around a striking, colourful painting of an African woman with her sparkly shoe collection, the fish print toilets in reception, with a felt elephant parade on the walls, or in the giant lamps that stand at the foot of the magical, sunset themed indoor swimming pool, where it actually feels like you are wadding into another world.

(Haymarket Hotel library)

If you're after somewhere to hang out, to take a break from the craziness of Piccadilly Circus, in Central London, the public conservatory allows visitors to be enveloped by the beauty of this visionary space…but if you're staying here overnight the treat really begins.

There's a chic art lounge library filled with handcrafted furniture and furnishings, and of course, the chance to experience your own slice of creative heaven inside one of the boutique hotel's bedrooms or suites…where basically I nearly died from delight.
Haymarket Hotel: One Bedroom Suffolk Suite

There are three of these suites within Haymarket as well as a number of two bedroom suites but what struck me on entering is how on earth they managed to get me a room that so immaculately matches my current hair shade?

What are the chances of finding a bedroom in shades of pink, blue and white? That was my initial shock. After that I was overjoyed by stumbling into a beautiful living room filled with colour.
From the mannequin in the corner through to the framed fabric wall hanging and rose print cushions: this suite was Everything. The vision of Interior Designer Kit Kemp MBE (imagine going to her house for tea?), the Co-Owner and Design Director of Firmdale Hotels, has a book called Every Room Tells A Story, where shares her inspiration behind designing the hotel rooms, which include working with artisans and crafts people from all over the world, making every room completely different.


Yes. Firmdale Hotels are the ultimate places to stay for fans of Craft and Travel.

That pool!

One of the most thoughtful touches in the room was a shelf of records and a record player to play them on, so of course I did just that before heading down for a dip in the pool, which temporarily, while the hotel's new bar is being fitted, has a poolside cocktail bar adding to the ambience. I also had a peek inside the hotel's meeting rooms which are in keeping with the hotel's delightful décor.


Breakfast buffet selection with the best granola ever

Kedgeree with a delicious spicy sauce & avocado on the side
Friendly staff and yummy food are part of the experience here, the hottest shower I've ever had and comfy bedding that cocoons you into a perfect's night sleep are luxuries that enhance your stay even more,  even when it feels like it can't be enhanced anymore.
Fun, fabulous, fashionable…I can't think of a more perfect place: now when can I move in?
All the Haymarket Hotels are gorgeous…enjoy the pics online before booking a stay. www.firmdalehotels.com Get more of a taste in this video interview with Kit Kemp.
Momtaz Begum-Hossain
Images: CraftandTravel.com