(Updated January 2023 – this post was written about the Neon Naked Life Drawing classes online classes that occurred during the Covid 19 lockdowns however the sessions are now back to running live in real life and you can find up and coming dates on their Eventbrite page. )
2020: Neon Naked Life Drawing Online – a look back!
So here's the thing. You'd never catch me at an ordinary life drawing class. No offence to life drawing fans but I tried it once, to double check, and it was exactly as I expected. Big sheets of white paper and black charcoal, everyone using the same materials doing the same types of sketching: nothing that inspired me. Then I heard about Neon Naked Life Drawing. NEON!
In Jylle Navarro's classes the emphasis is on colour, pattern and movement. Here participants don't just focus on body shape and position of the models, but also the intricate and creative brightly hued body paint and props that adorn them.
Pre-Covid Jylle was running classes several evenings a week in London but now her Neon Naked Life Drawing classes have gone online, which means that you can participate wherever you are, you just need to log on via zoom.
And don't worry if you're 'zoomed out.' I've experienced online fatigue from overly long work meetings, catch-ups and events but this class is different – it's chilled out, fun, there's great music, no pressure to have your camera on and you can dip in and out of the activities as you like.
So how does an online art class work? I gave Jylle's class a go and am reporting back…
What to expect from Neon Naked Lifedrawing online
The classes run on zoom at a set time 6-8pm on specific dates and currently cost £10 per household so it's an activity that all your housemates or family can participate in. Jylle is there throughout to keep you company and set each task.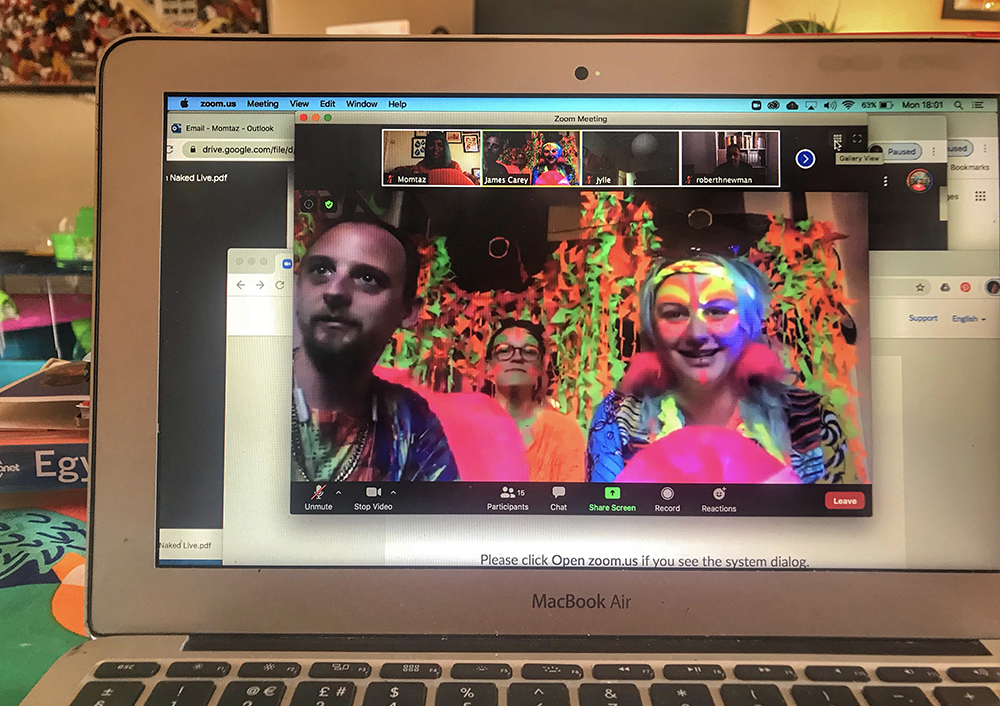 If you're wondering about the nudity element and whether children can participate my own feeling is yes. The way the UV lighting works in neon naked life drawing is that the focus is far less on the 'naked' and more on vibrant visuals. It's a parent's decision but I'm pretty sure having worked with kids over the years that they would love having a go at this. Jylle made a video to show what the zoom class is like, check it out on You Tube.
What you need: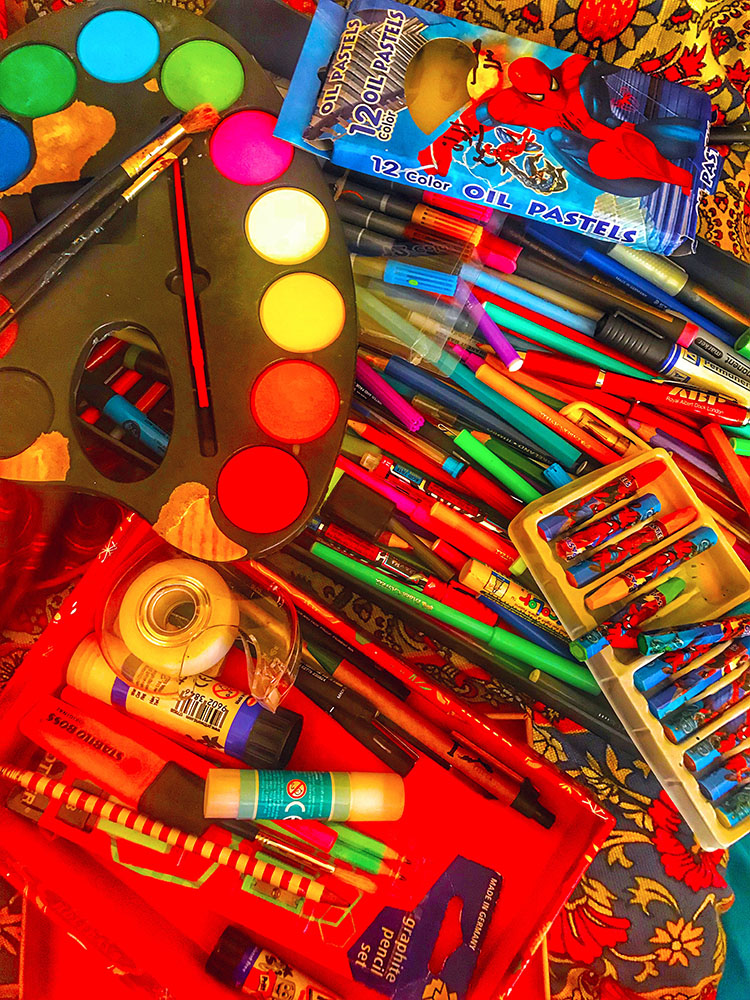 In terms of what you need the main thing is paper and art supplies.
I had an A4 sketchbook at home so I tore out and used pages from that but bigger sheets would mean you have more freedom and space to sketch. Some participants in the class I attended did digital sketches on their tablets, so it's whatever you prefer.
If you're not doing digital drawings then you'll need some art supplies. In my stash I had felt tip pens, coloured pencils and paints. I only had one neon marker pen that hadn't dried out but if you want the full Neon Naked Life Drawing experience, just like the IRL classes then buy an UV torch online ahead of the class and have some neon pens to hand. I didn't do this and I still had a satisfying session – but if do you have a torch or other UV light source it's well worth using.
But what if you can't draw?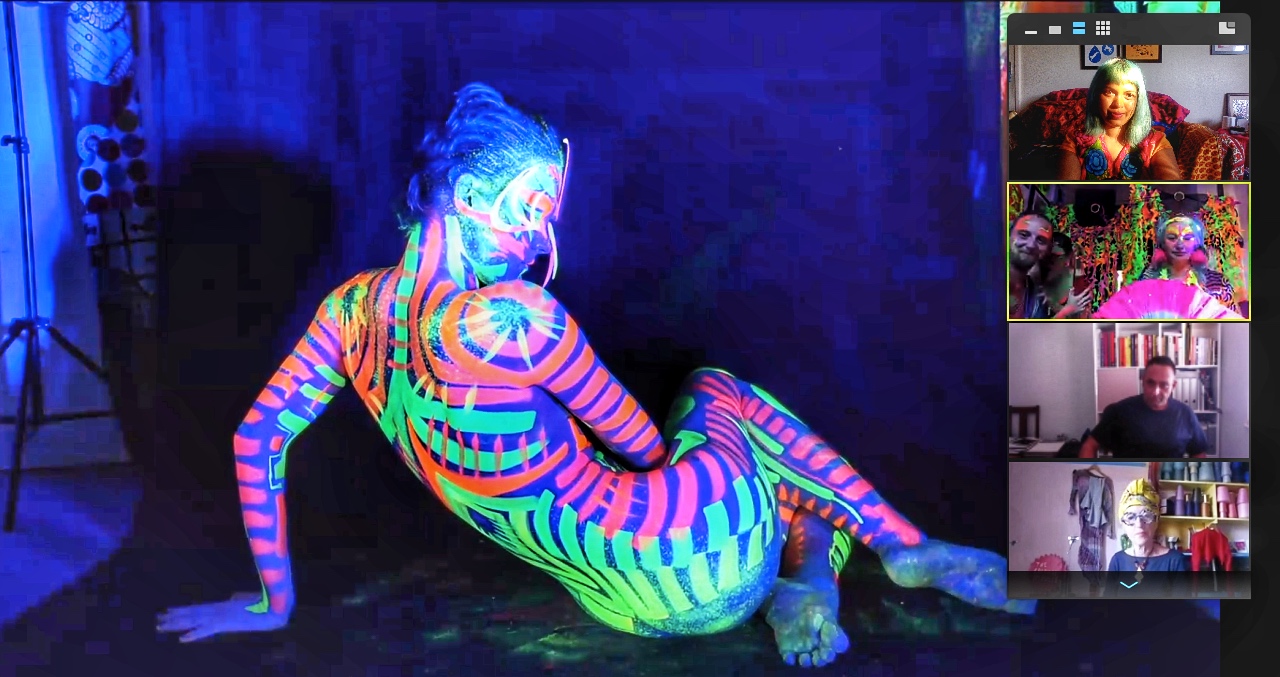 My sentiments exactly. I 100% put myself in the 'can't draw' category but at the same time I also know that it's a common mindset and one we need to get out of. The main bit of advice I can give is do not compare yourself to how others draw. Just focus on you and how you want to express yourself. My own drawings are very naïve and that's totally cool. Believe me, I don't feel confident sharing them but in the name of honest blogging here goes….
The class
The two hour class is split into different drawing techniques, all of which are timed and are based on different model poses like these…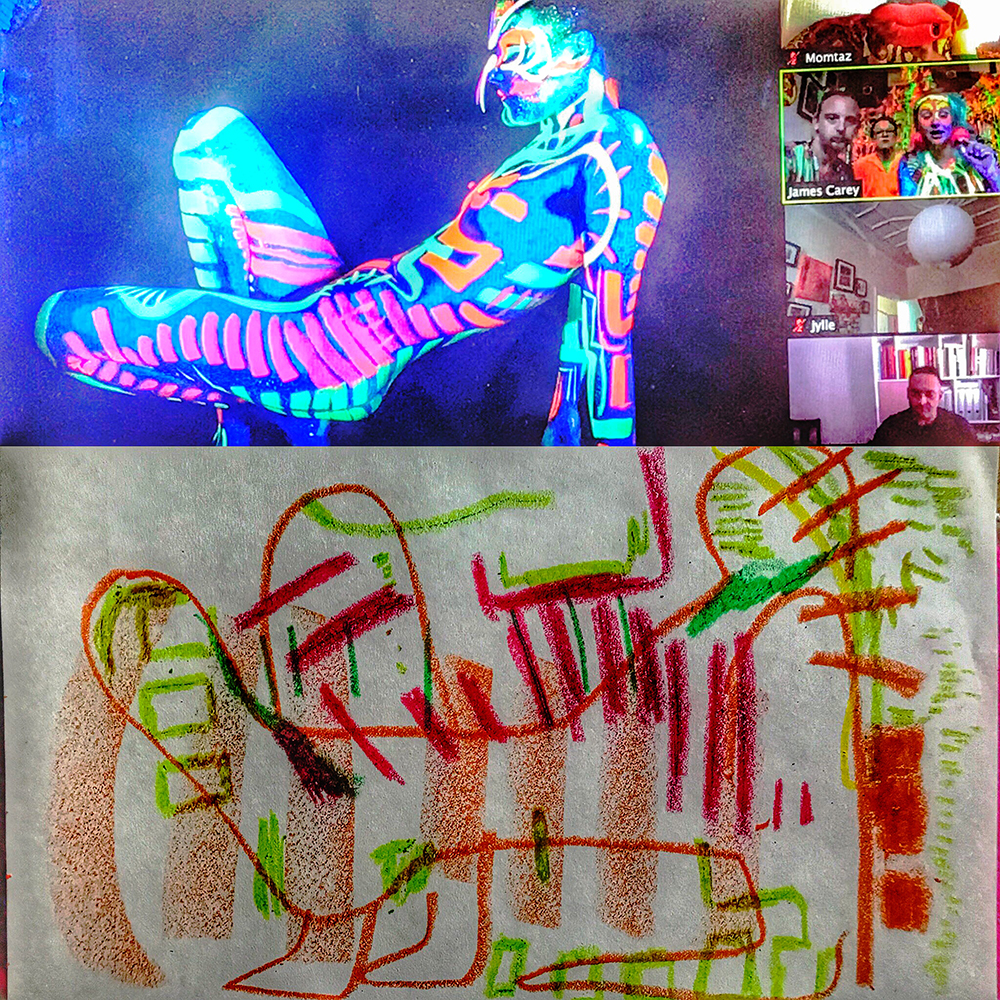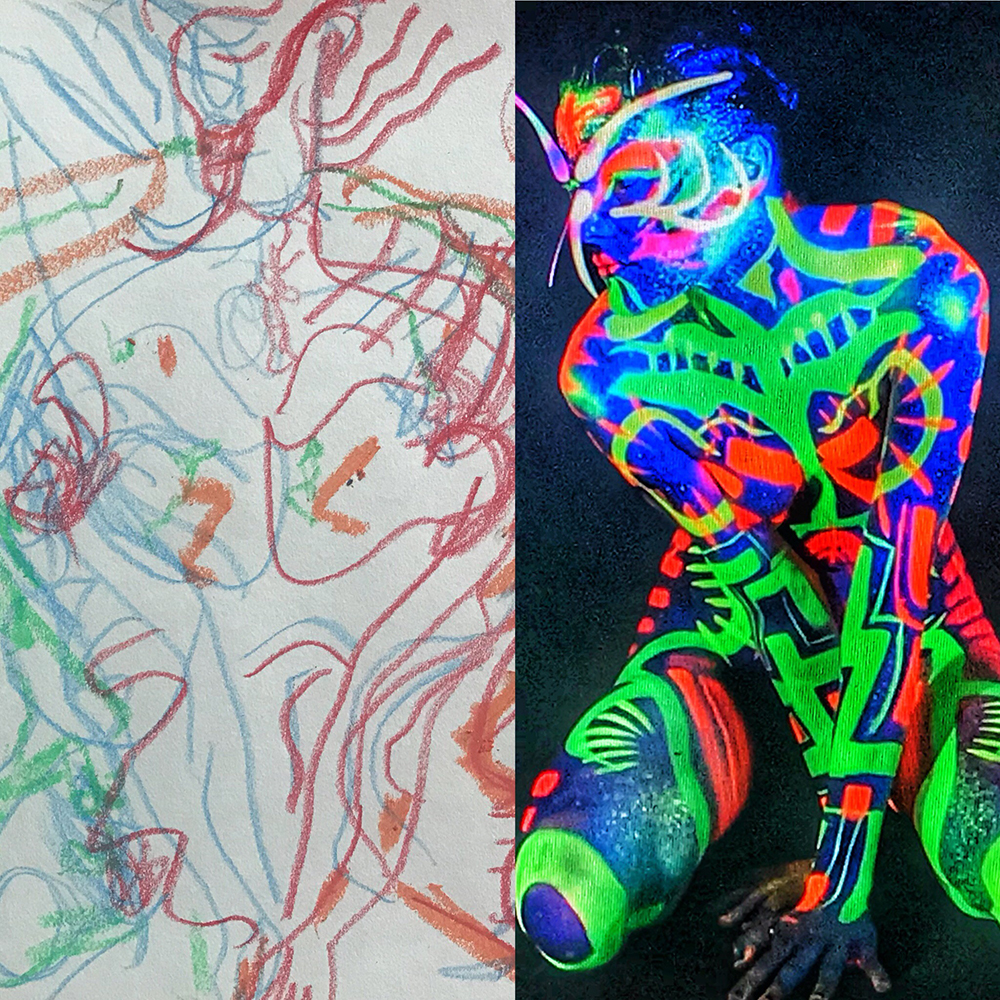 At the end of each technique we held up our work for others to see but fear not, if you really don't want to you don't have to. Jylle is such a positive and enthusiastic teacher, the best type that doesn't say something is right or wrong but is very encouraging even when you feel like yours are the least impressive sketches! Seeing work by others is very useful. As I said before don't compare but do get inspired.
Here's an overview of my sketches from the evening…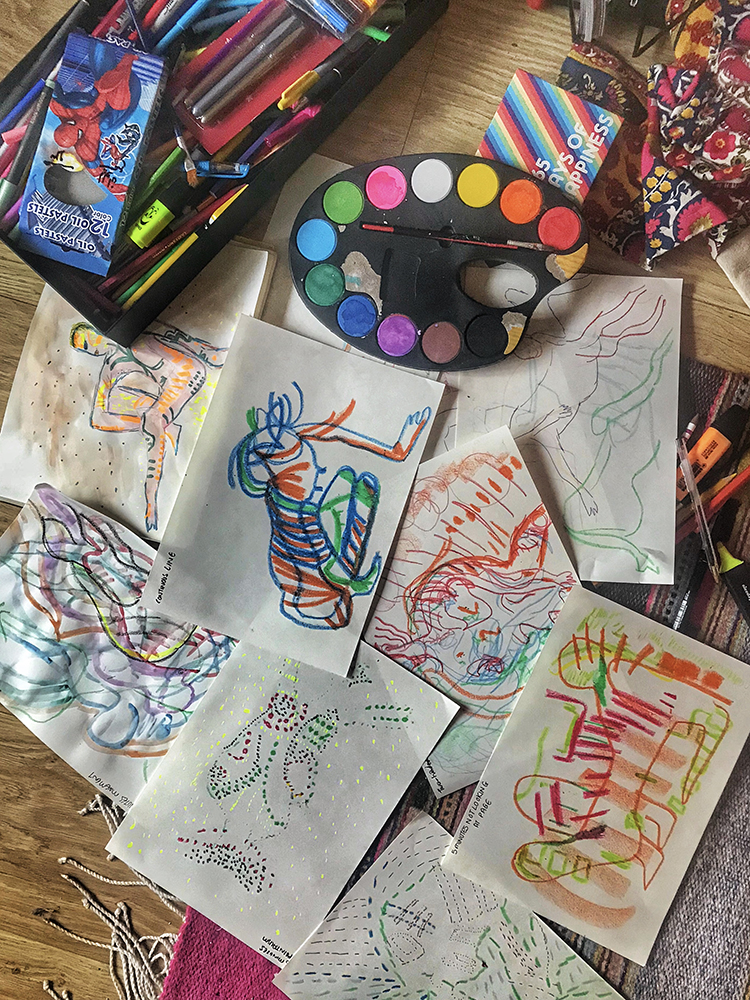 And because I wanted to show how there are so many different styles here's a couple of examples Jylle provided as inspiration ahead of the class…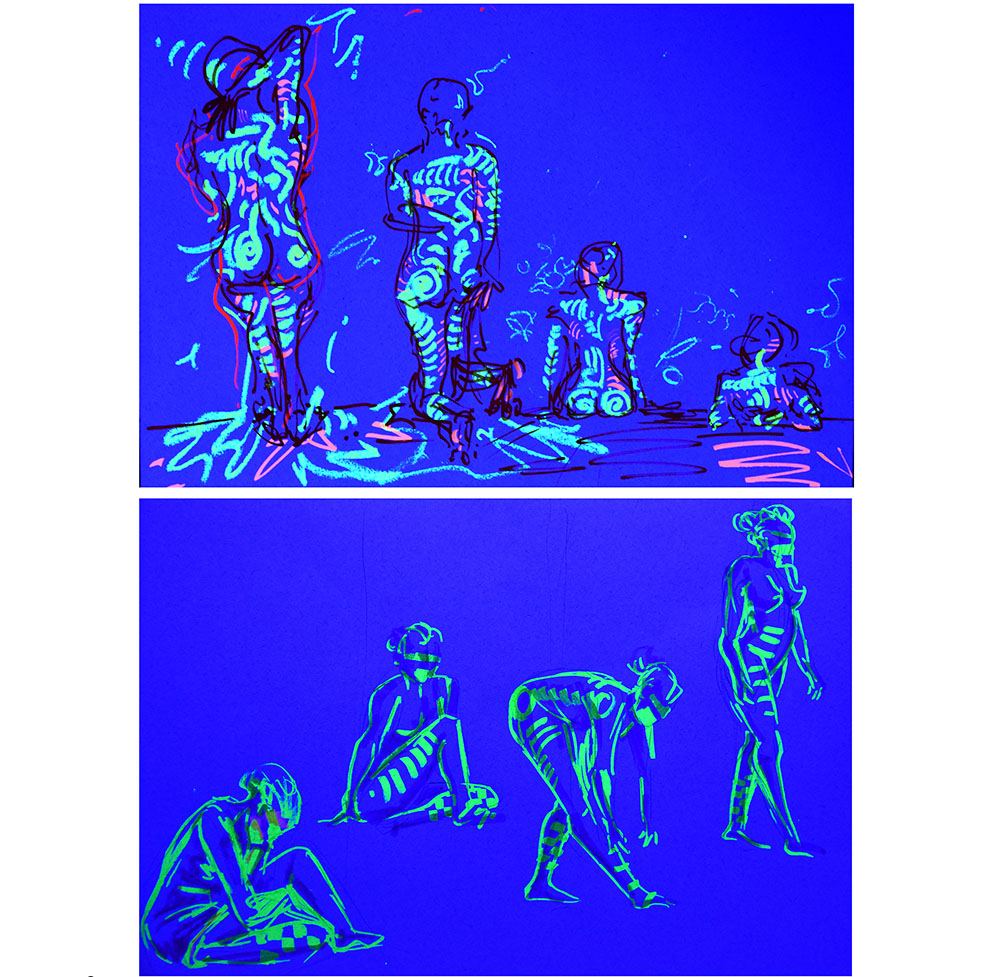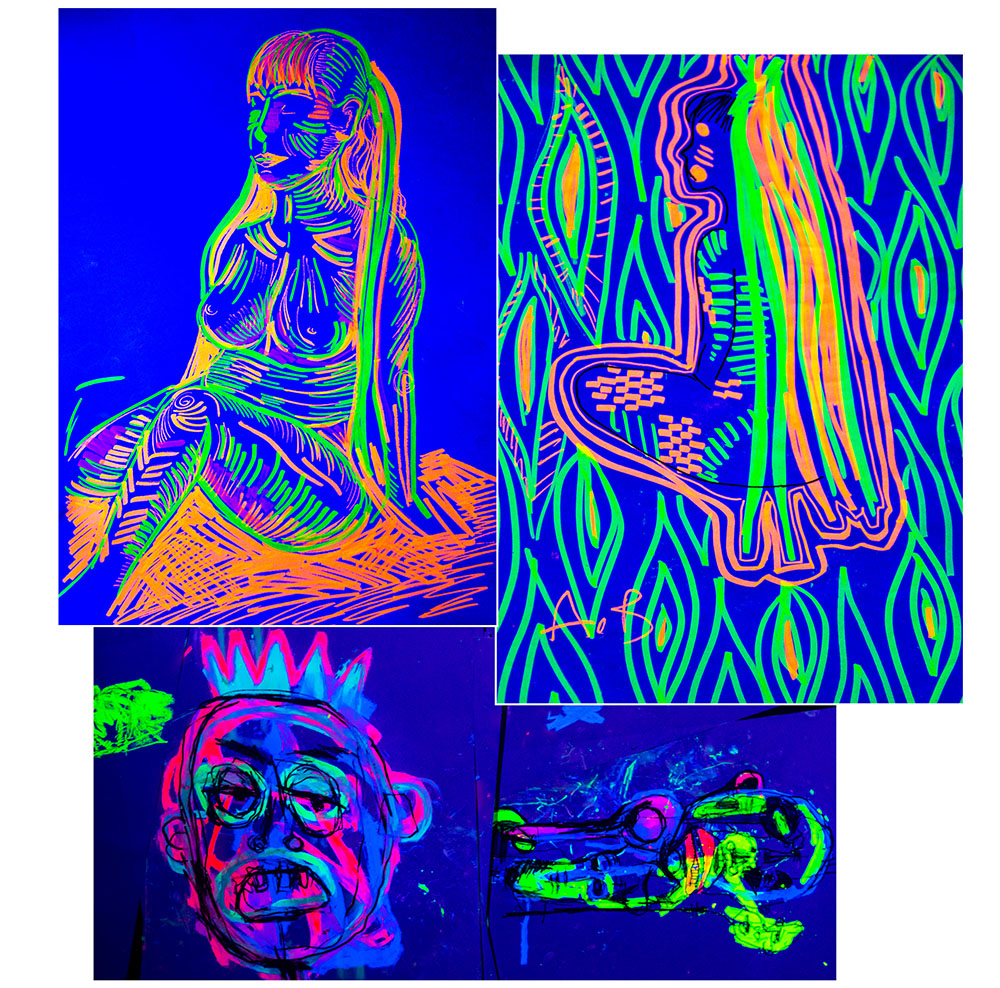 The two hours went remarkably quickly and as it was delivered live there was commentary from Jylle throughout and also her tech assistant and Lilith the fantastic beautiful life model. Her poses and movements are mesmerising. I could watch her for hours!
The verdict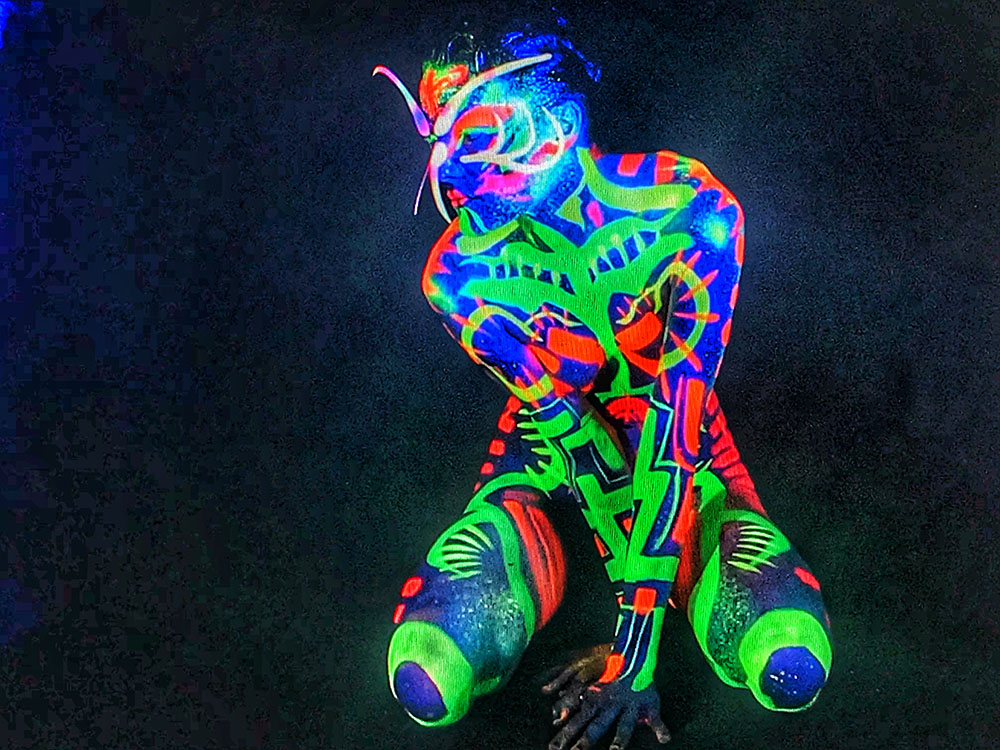 Setting aside two hours to do a live activity was like going to a proper class. I felt like I'd spent time with other people and achieved something, as I have all my sketches to show for it. Plus there was no stress about getting to a location on time. When I went to Neon Naked Life Drawing in real life earlier this year before Covid-19 hit, I remember it was pouring down with rain and I got soaked. Then I was really hungry afterwards as I didn't have time to eat before. But at home the rules are your own, you can turn up in your PJs, have some nibbles to hand and once it's over the kitchen is close by!
Give it a go!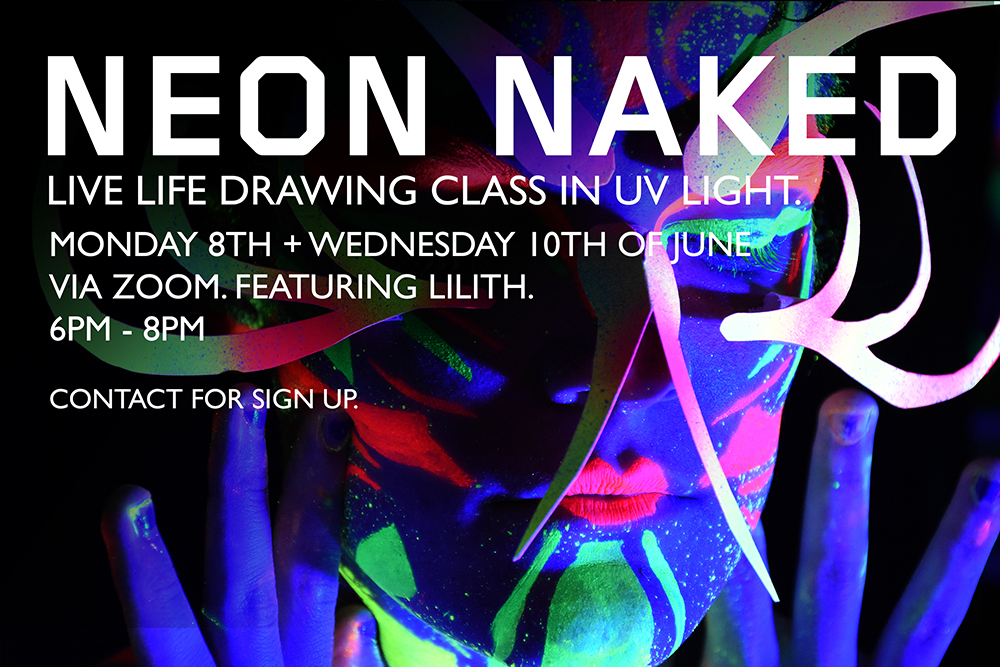 Whether you're already a life drawer, have never tried it, convinced you're not creative or are intrigued and fancy giving this a go I really recommend it. The colourful visuals are really exciting and the freedom to 'just create' on your own terms is liberating.
If you've got any questions about the class give me a shout or contact Jylle yourself. Follow Neon Naked on social media to find about future dates (there's two next week) and of course, for details of when they return to venues.
As well as doing this online art class I've been keeping creative during lockdown! If you liked this post, check out the Rainbow Bridge I volunteered on and some of the other crafts I've been making : )
Neon Naked Life Drawing online details:
£10 per household. Book online at Design My Night.Or via Eventbrite.
More info:www.neonnaked.com  See video of the class I attended.
I did my online class for free and wrote about it here but I've previously paid to attend a class in real life and liked it so much that I was really keen to try the online version of it.
Yours colourfully,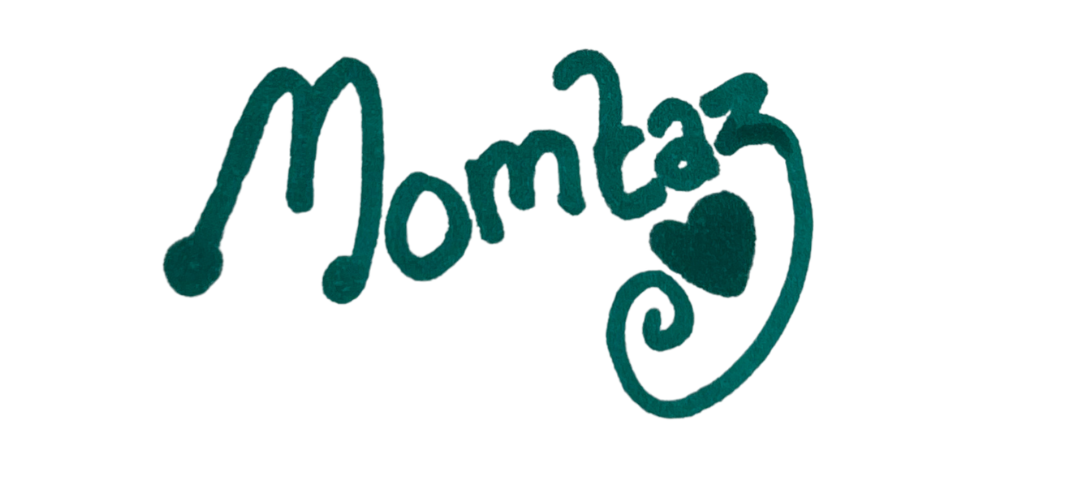 alternative art
jylle narravo
neon body paint
neon naked life drawing
online
online learning
zoom art class