I stayed at the most colourful hotel in Tenerife, Canary Islands and here's why you'll love it as much as I did...
Dear reader. As I pen this prose (ok, type on my laptop) I am half human, half donut. My childhood imagination concurred that the Canary Islands was the most exotic place in the world. I wanted to visit it so badly. Back then I had no idea that chocolate-covered donuts are a staple here. Nor that the most colourful hotel in Tenerife is fairytale-themed. If I had it would have blown my little travel-hungry mind.
Postcards from Bahia Principe Fantasia Tenerife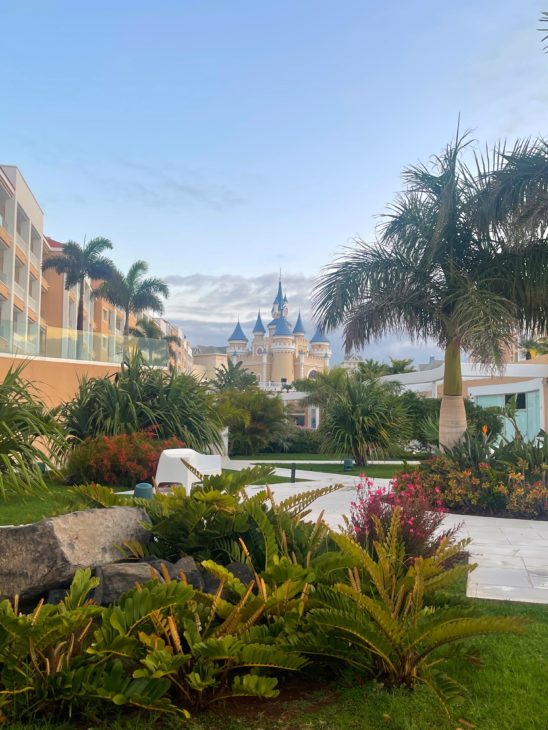 Fast-forward to adulthood and I recently embarked on my third trip to the Canary Islands thanks to an invitation from Jet2holidays.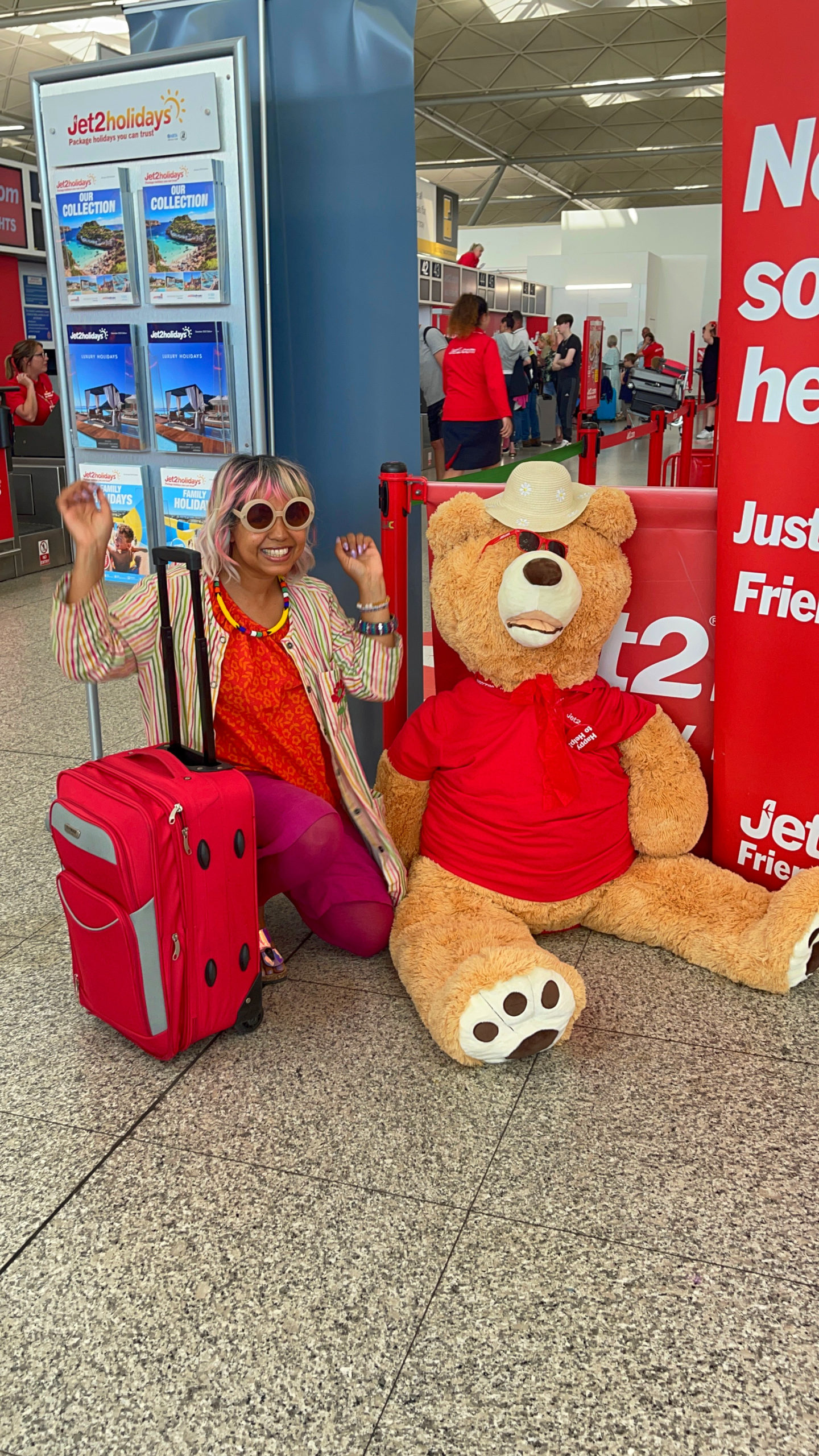 It was a chance to eat All The Donuts and to stay in the most colourful hotel in Tenerife, Bahia Principe Fantasia Tenerife. If you're a sucker for colourful places, cool design and luxury, this is where you need to book your next break.
Let me show you around…
Wait…are you sure you're not in Disneyland?
Ha ha! No, I haven't fooled you. But I did promise you the most fun and colourful hotel in Tenerife. It just so happens to have a fairytale castle right in the middle of it…which at night, lights up in rainbow colours. Should I rename this blog post to 'The Most Heavenly Holidays to Tenerife with Jet2holidays 'cos this is my idea of heaven!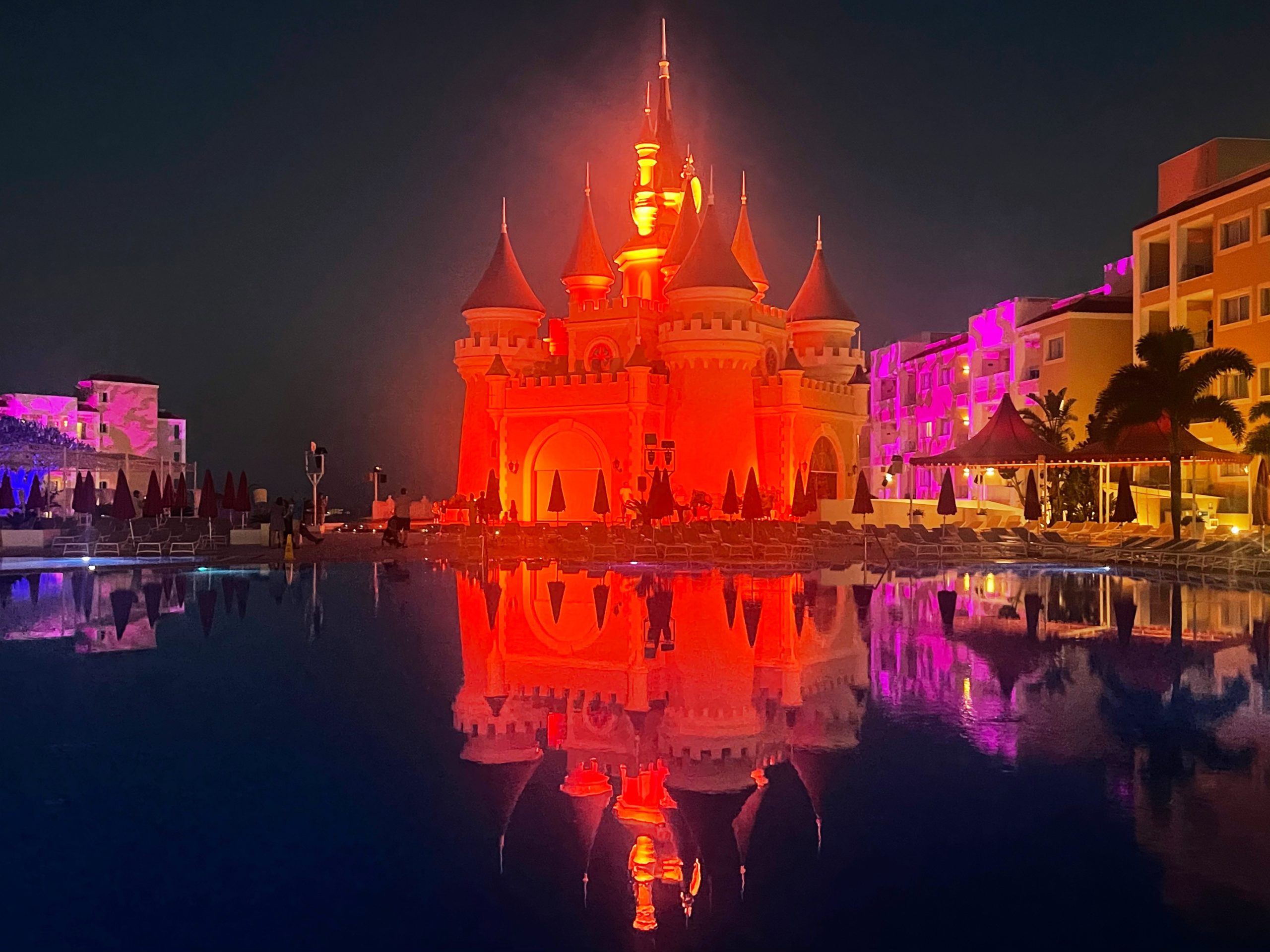 Bahia Principe Fantasia Tenerife is classed as a family hotel, but that doesn't mean you need to have kids in tow. Nor that you'll be faced with a barrage of noise. There's plenty of 'adults only' areas including a pool, dining area and spa. But more on those later, first, let's take a moment to appreciate the Pure Joy of this hotel.
A fantastical place to stay – the most colourful hotel in Tenerife
Bahia Principe Fantasia Tenerife is located in the Golf Del Sur end of Tenerife, a 10-15 minute ride from the airport. The reception lobby leads out onto a vast terrace with three bars.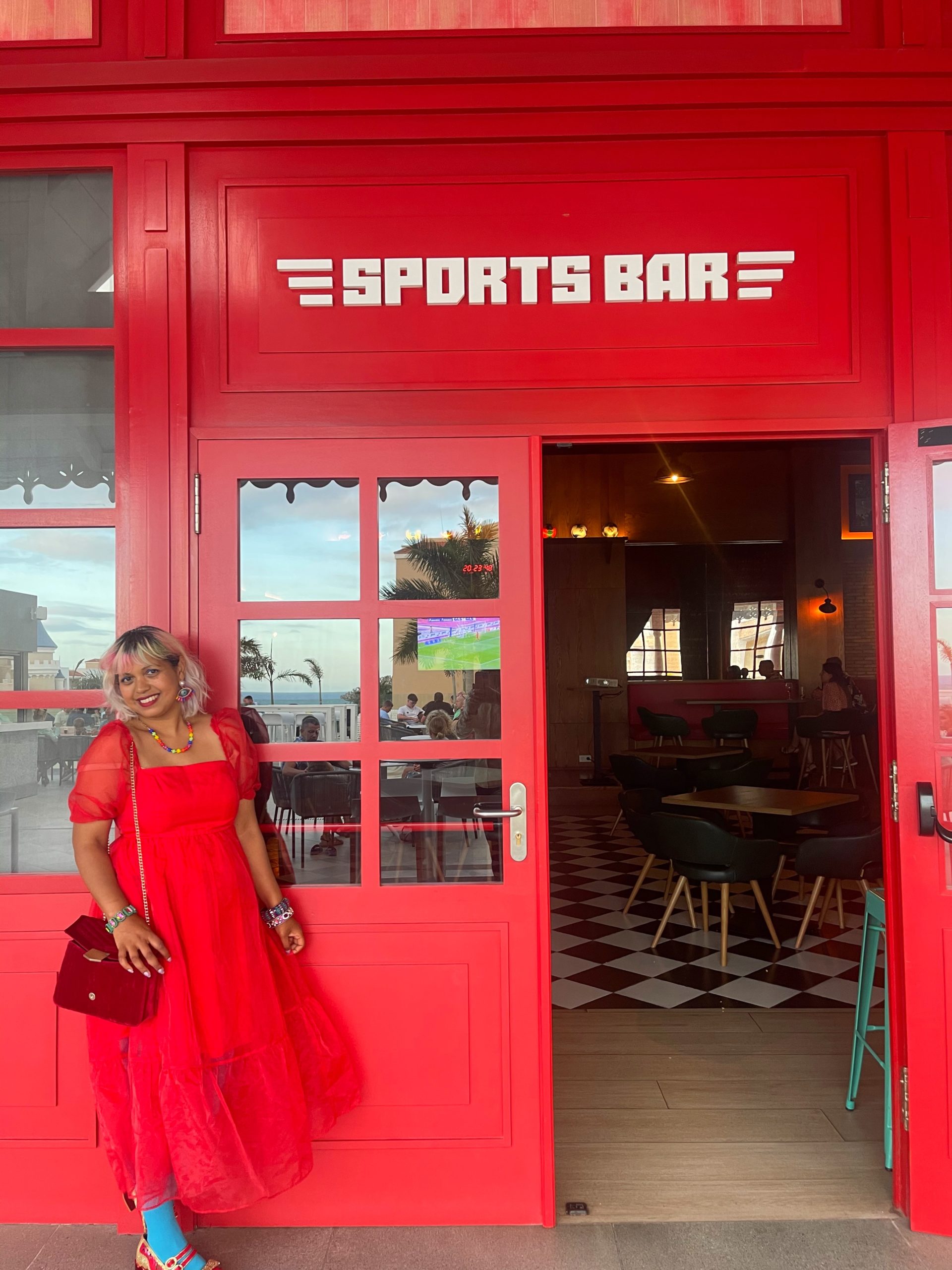 There's plenty of seating to take in the views including the aforementioned fairytale castle. It's the heart of the hotel and as the night draws in you'll find yourself dancing. Even if it's in your seats, to live bands and DJs. I loved chilling here during the day and night. It felt special. Like a secret place witnessed only by those in the know: aka hotel guests.
I couldn't stop smiling the whole time I was here. I mean, look at the views!
Just below the terrace are the main restaurants and pools including a kid's flumes and splash area and the quieter adult's hideaway with an infinity pool that looks out to the sea.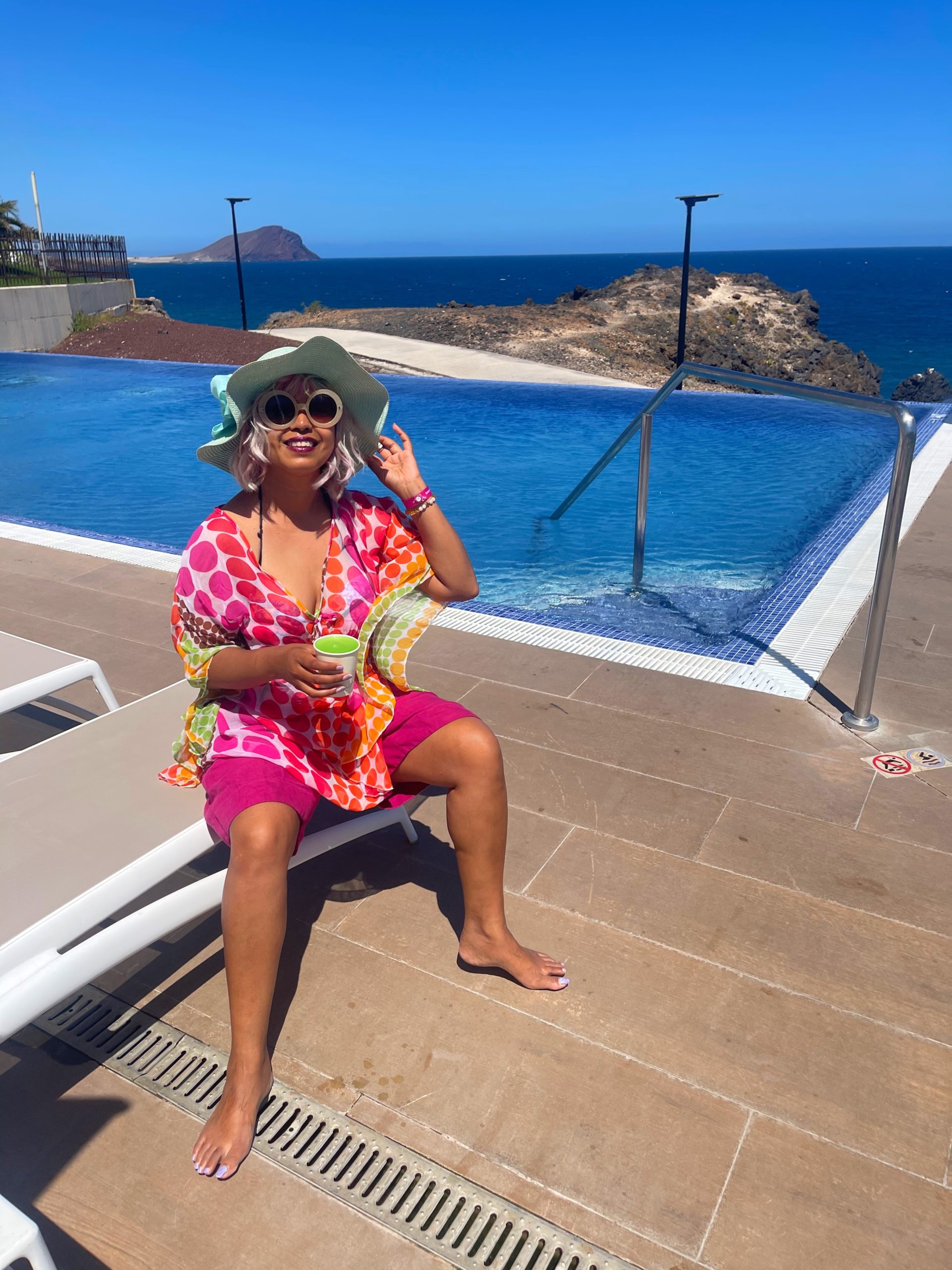 I noticed a prime lounger spot here. A corner where you can avoid the gaze of others and sit without any obstructions. I noted that the couple who occupied it reserved the space from 7am each day with their towels. Talk about commitment! Though don't worry if you can't nab that specific corner as there are more than enough loungers for everyone as well and day beds you can hire if you're seeking a quality alfresco nap.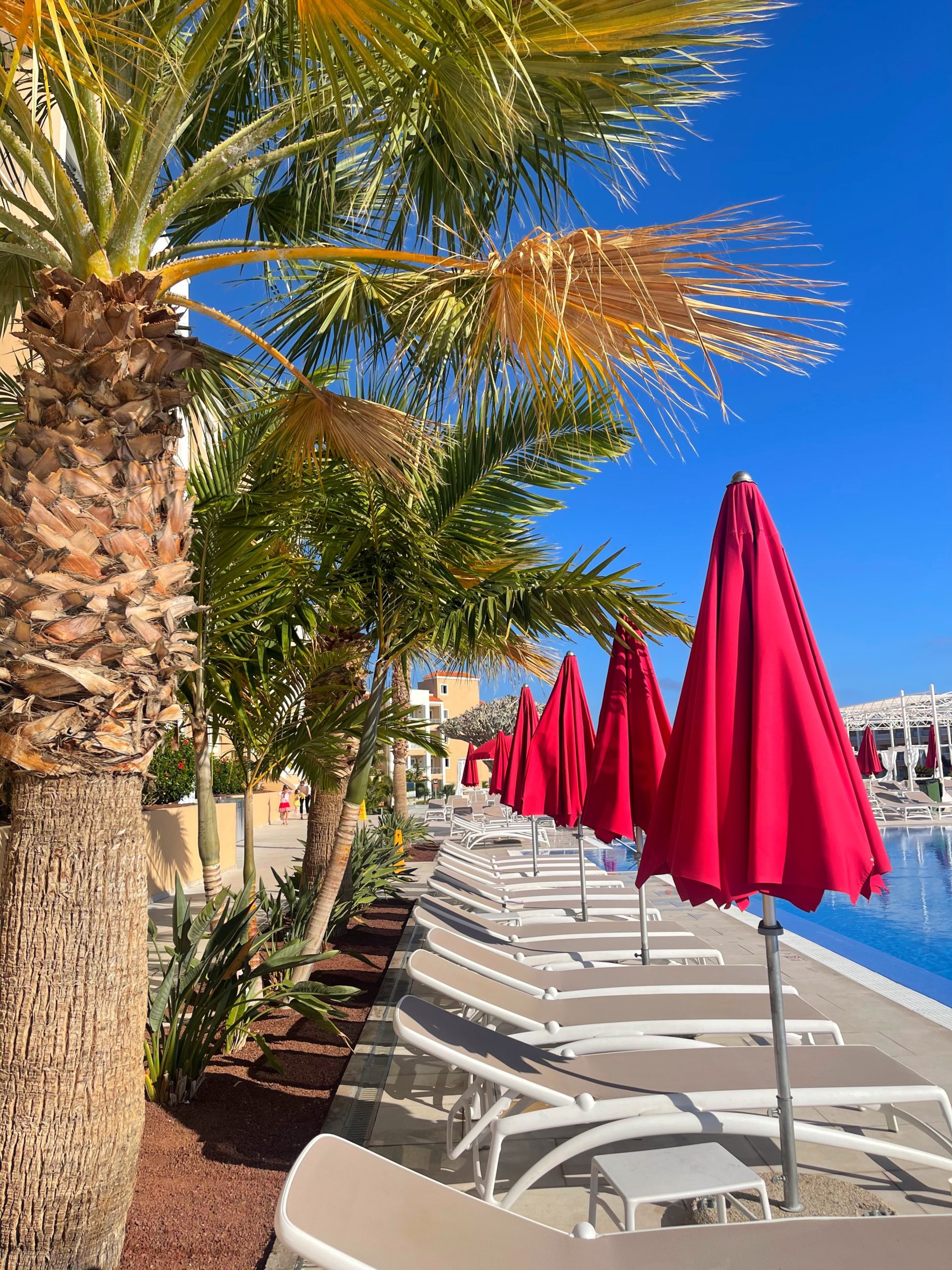 I couldn't stop smiling the whole time I was here. I mean, look at the views! Also yes I posed for a lot of photos, but don't worry if you don't have anyone to take them. There are several photographers based at the hotel so you can arrange for a private shoot if you want to stock up on snaps, Bahia Principe Fantasia Tenerife is as Instagrammable as a hotel comes!
Room service –a pad that will make you glad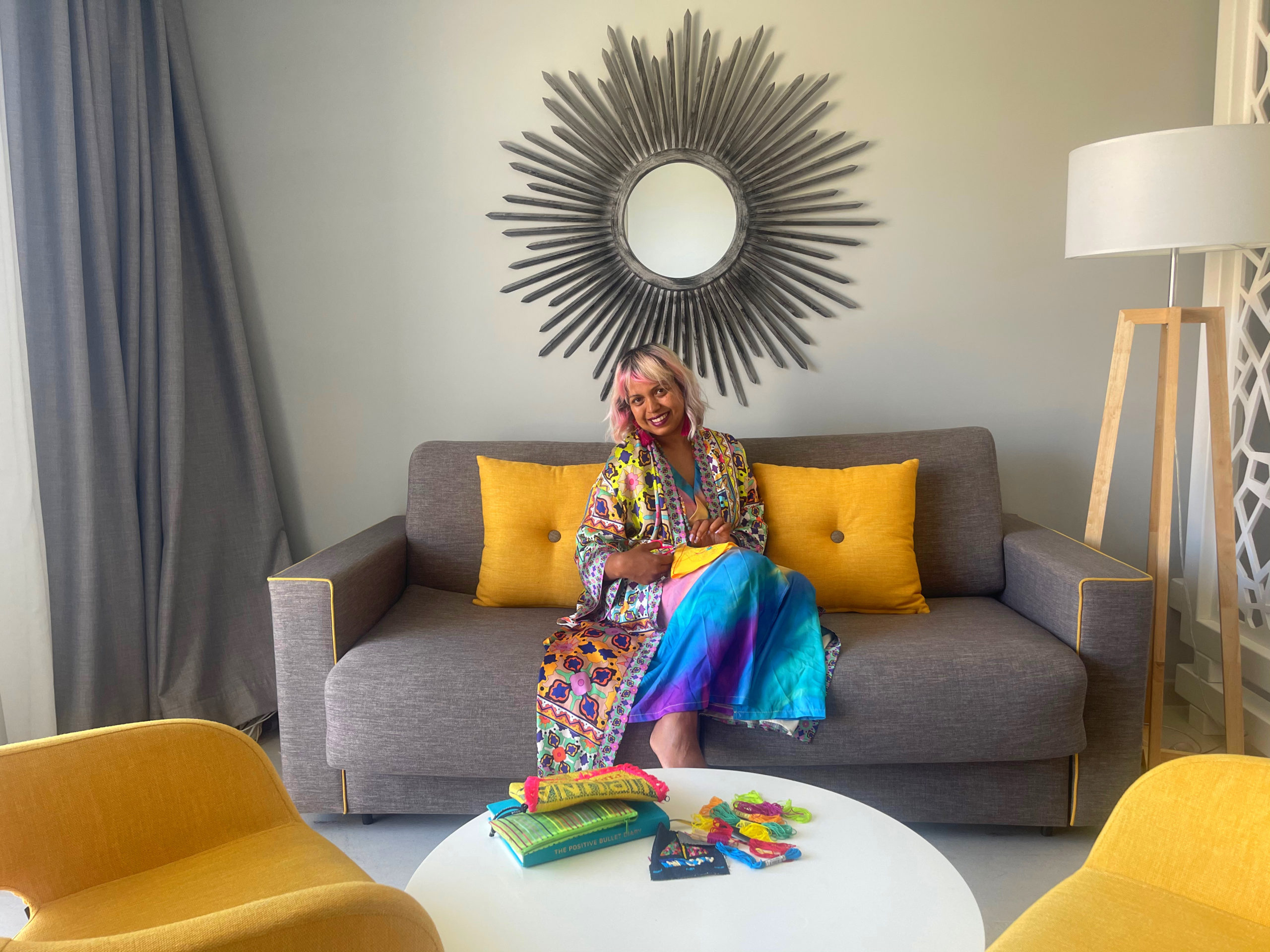 Bahia Principe Fantasia Tenerife is huge and initially slightly intimidating but once you've got the hang of how the accommodation blocks work, you'll find the best shortcuts to get to the pool, bars and reception from your room. I stayed in a Junior Suite and just like the rest of the hotel it was huge!
The bed came with normal and long pillows, there was a separate lounge area, balcony with fairycastle views, double wardrobe, shower room with double sinks and a kettle – in other words, all the essentials you need.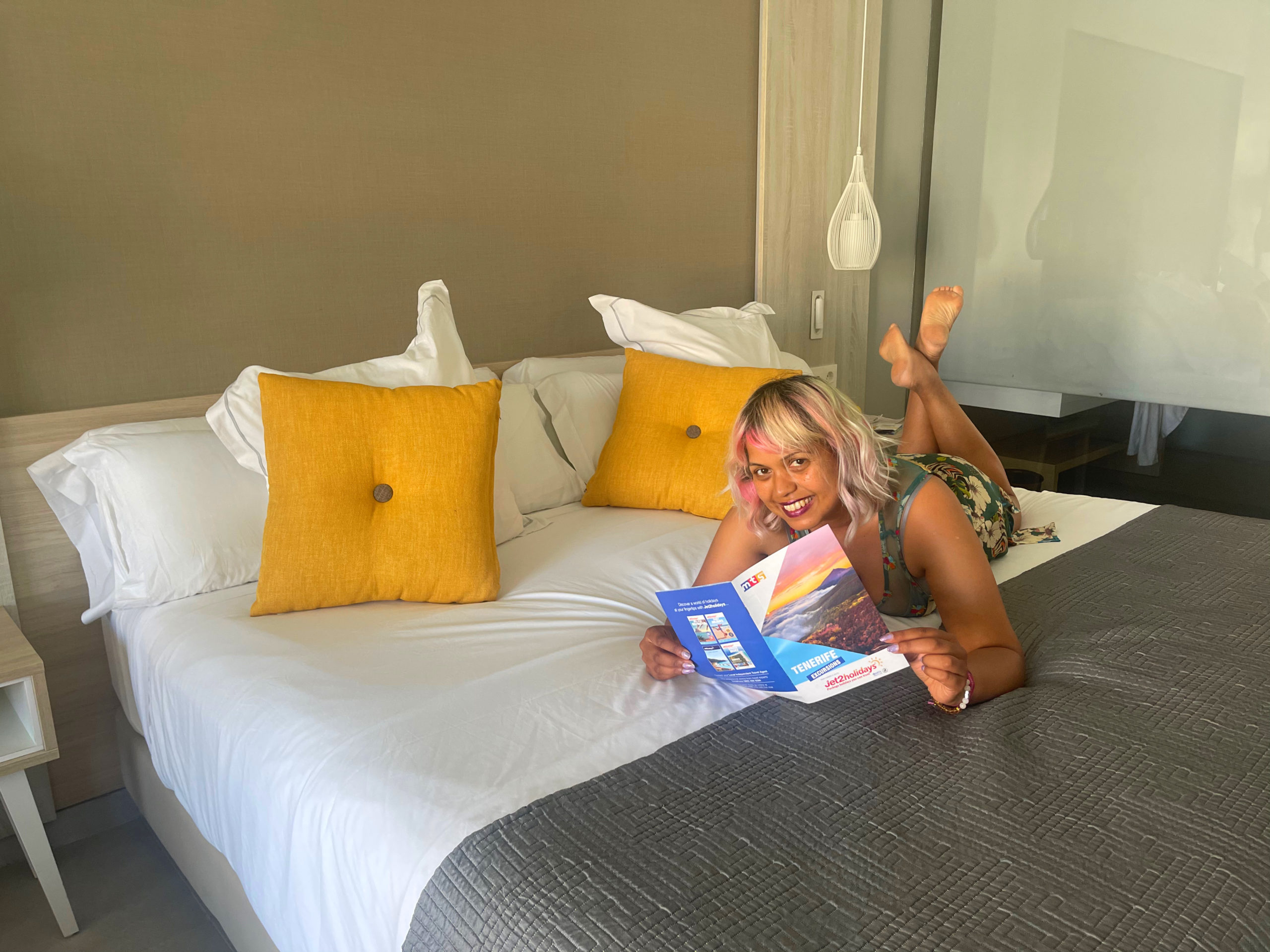 My favourite aspect though was the air-con. It was quiet! You see, I'm not a fan of the grating whirs air-con typically makes, it keeps me awake and I'm not the earplug-wearing type. To stay in a hotel where I could keep it on and not be bothered by the sound was a huge tick.
Note to self, if I was to stay here again at the most colourful hotel on my holidays to Tenerife with Jet2holidays I would book a swim-up suite. They were directly below my balcony and I was well jell looking at them! It makes going for a dip much easier and on a hot day there's nothing nicer than chilling in a private pool. If you're weighing up normal suites and swim-ups, go for the latter!

Did someone say an all-inclusive holiday at the most colourful hotel in Tenerife?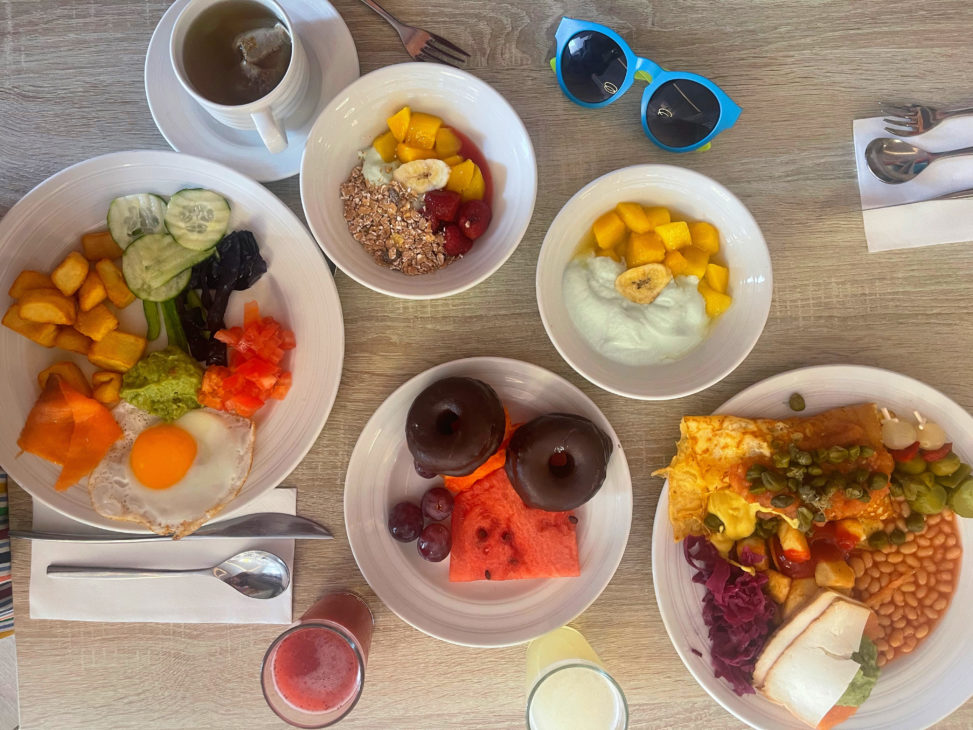 I was chuffed that my four-day break was an all-inclusive holiday. I love an all-you-can-eat buffet so three meals included a day was one of the highlights of my holiday. And yes…that right there are the chocolate donuts on the plate. Don't be fooled though. I ate more than two a day!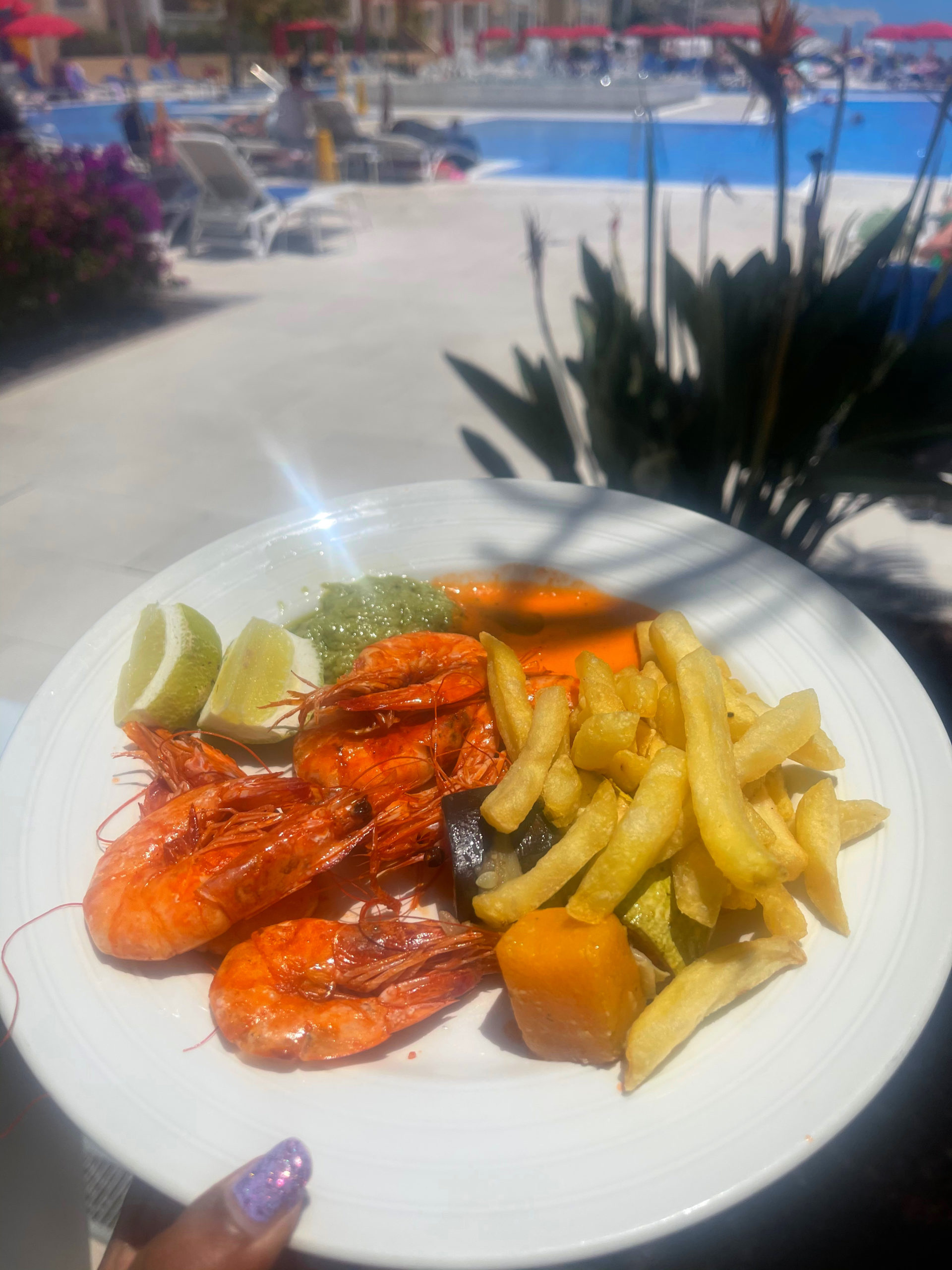 My favourite dishes were the fresh fish and seafood counter, the local mojo sauce and salty potatoes. They're also known as papas arrugadas, or wrinkly potatoes and chocolate donuts, obviously. They were only served at breakfast but on some days also appeared in Dreams Factory snack bar which is kitted out like a diner.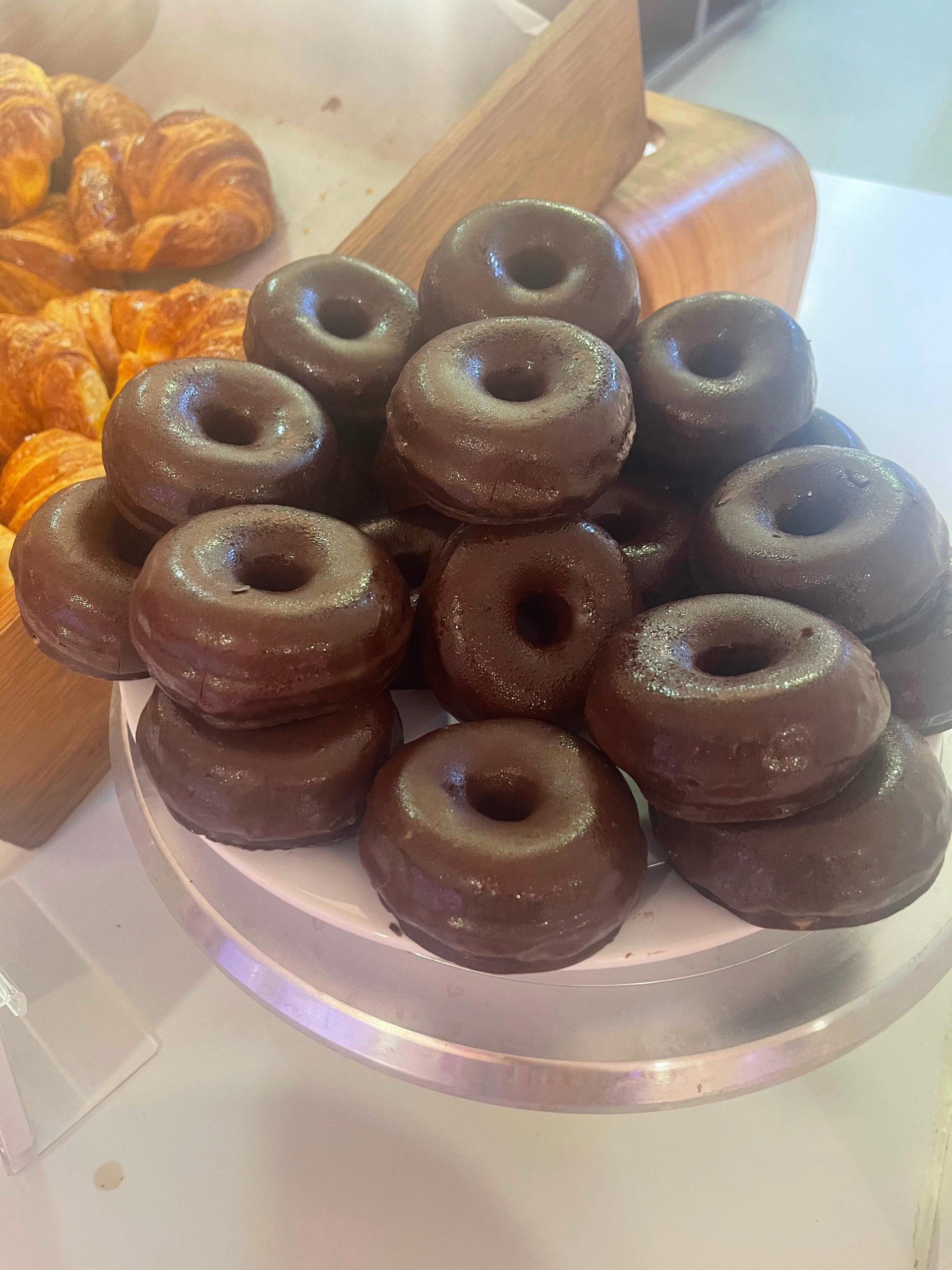 Oh, and the Head Chef there is none other than a celebrity: Ratatouille himself!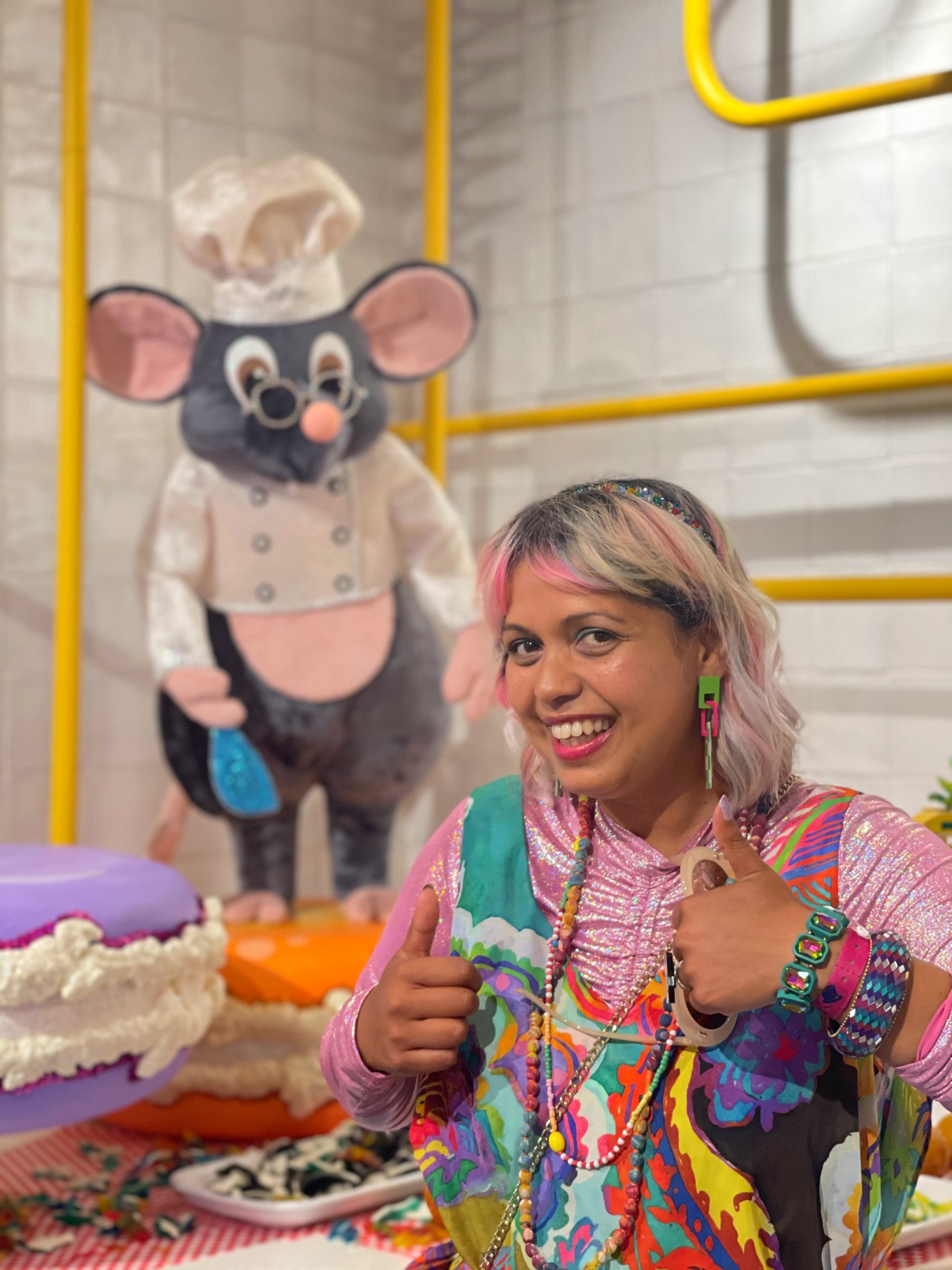 As part of the all-inclusive holiday experience you can pop by Dreams Factory anytime from 10.30am-6.30pm to order diner favourites. Think burgers, chips and milkshakes. The veggie burger I had was light enough to be a pre-dinner snack-gap so I still had room for supper.
The Head Chef is none other than a celebrity: Ratatouille himself!
All-inclusive holidays include at least one meal at one of the hotel's a la carte restaurants if you stay a minimum of four days. I chose Nemura, an Asian eaterie where I devoured a pad thai for my main and mochi for dessert. It made for a surprisingly nice change from the buffet but I was still happy to go back the next day!
The big question on most people's lips when they opt for all-inclusive holidays, is what drinks are included?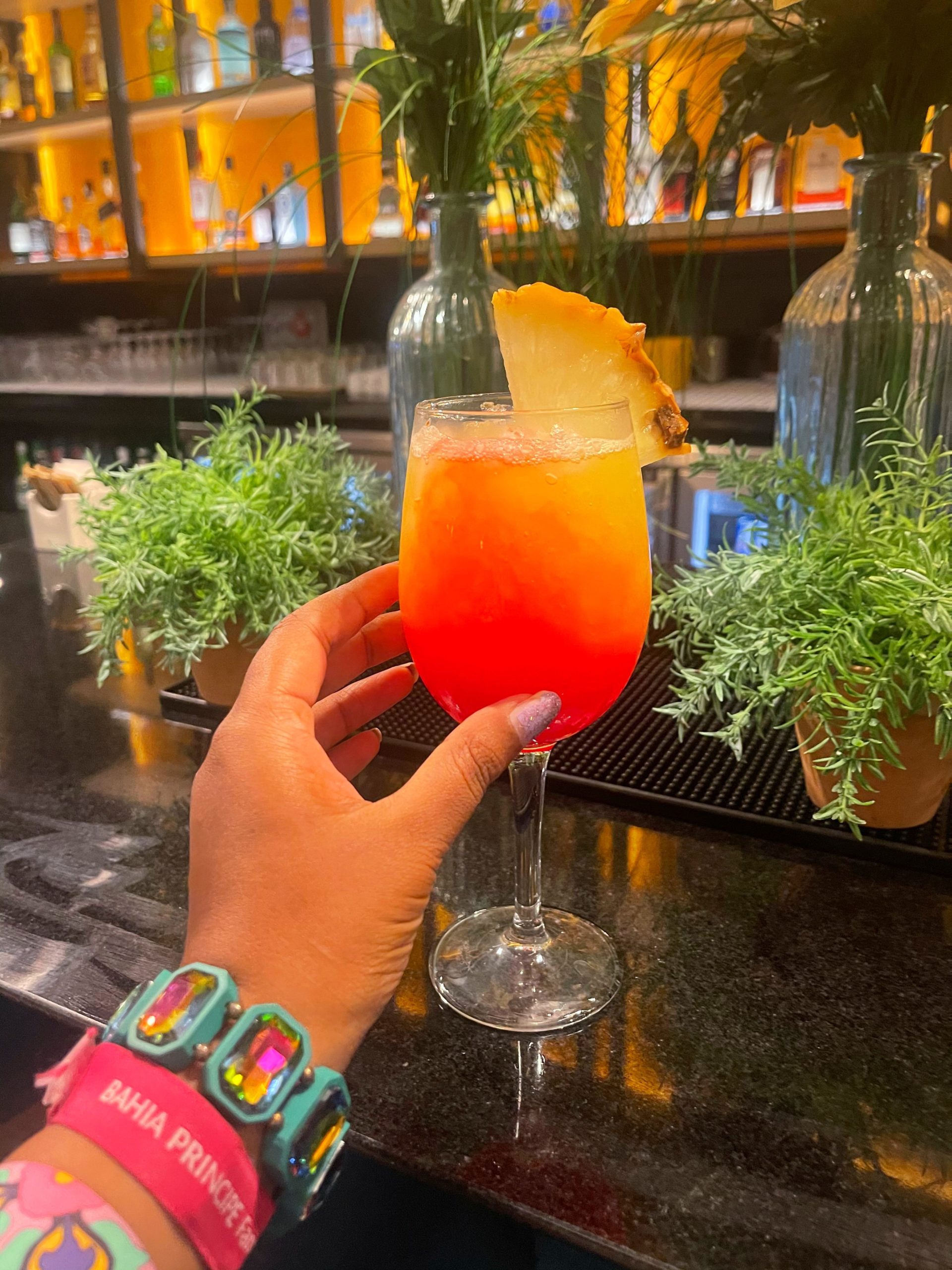 Well, there was lots of wine, a very impressive cocktail menu but only one beer. All others beers were paid 'premium drinks' but it didn't affect me as I was on the non-alcoholic mocktails. The range was impressive and they tasted like proper soft drinks for grown-ups not just coloured syrups. Though you can get frozen cocktails and mocktails, similar to Slush Puppies, which came in handy under the warm Canary Islands Jet2holidays sunshine. My fave mocktail was the signature Bahia Principe made from Blue Curacao, lime, lemonade, orange, pineapple and mango juices and grenadine. If only I'd drunk more of them!
Rainbow hunting – discover the hotel's most colourful spots
From rainbow modern art in the lobby to platters of decadent desserts at dinner and a street-art-inspired youth zone for teenagers, colour has been carefully considered throughout Bahia Principe Fantasia Tenerife. And I am here for it!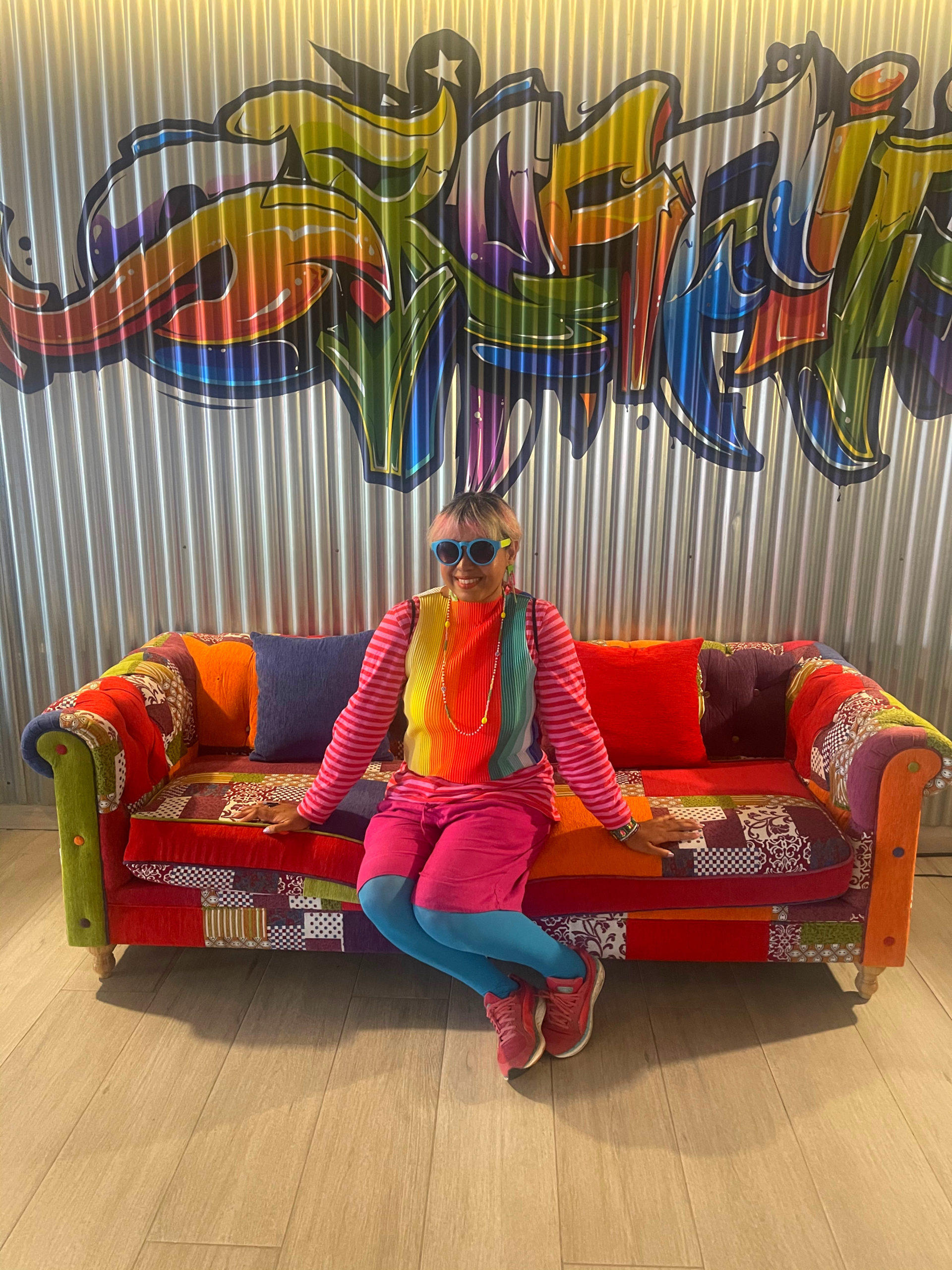 But it wasn't only the bold bright colours that were a delight. Every aspect of the design has been curated to make the hotel areas transition smoothly between each other creating the most colourful hotel in Tenerife. There was discreet colour-coding in the corridors and I loved the juxtaposition of red sun lounger umbrellas set against the white buildings and blue sea and sky. It looked so alluring.

Key colourful areas include the castle at night (which spoiler alert is actually a folly), the kid's play areas, games room and the live shows. One is even themed around rainbows.
It's showtime at the most colourful hotel in Tenerife
You don't need to leave the hotel for a grand evening out. The entertainment programme here offers professional productions suitable for different age ranges. I opted for IMOX.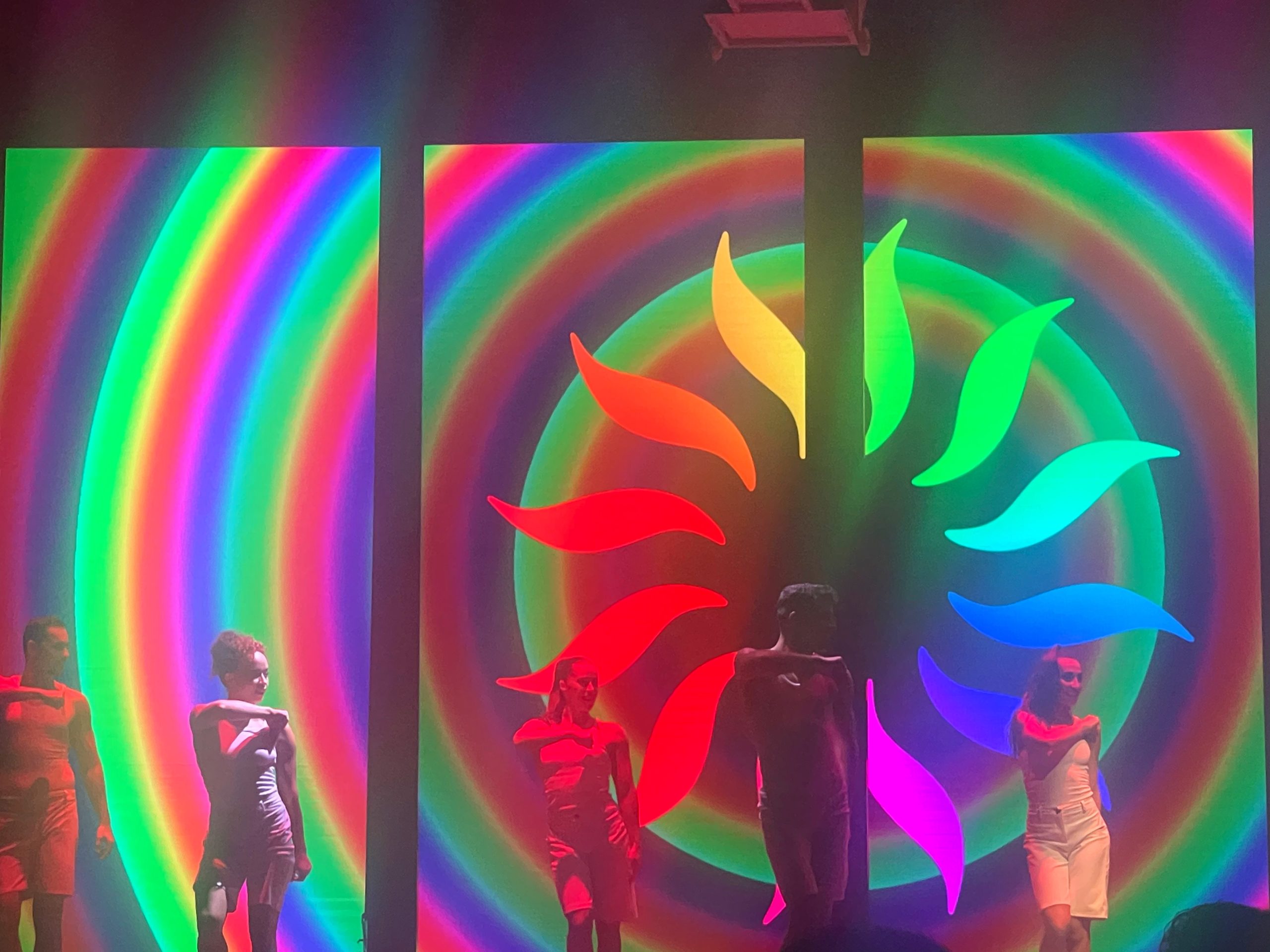 The hotel staff sold it to me as 'it's like Cirque du Soleil.' I scoffed quietly to myself thinking 'yeah sure' but would you Adam and Eve it? They were spot on. A high-energy, acrobatic, dance, magic show – there were some seriously impressive and scary stunts. I was in awe of the performers and the rainbow stage lighting – another tick box for being the most colourful hotel in Tenerife.
Take a breather in the spa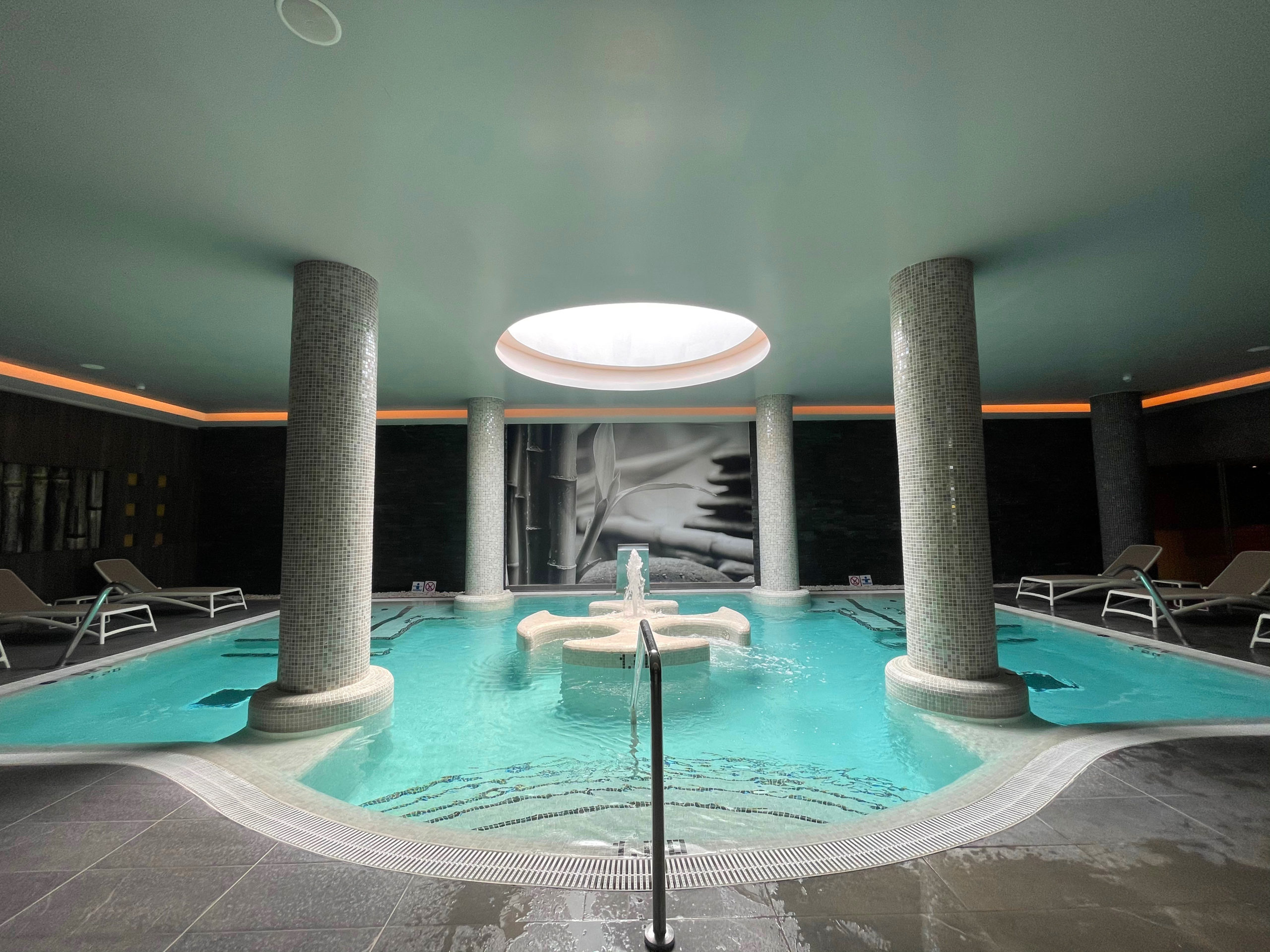 Every vacay should include some form of pampering especially if you're coming with family. Leave the little ones in the reliable hands of the play areas then hot foot it for some 'me' or 'we time.' Or if you're solo or couple travelling, the same principle applies – get to the spa.
The treatment list at the Bahia Principe Fantasia Tenerife spa has all the regular services you find in most spas but the standout must-do activity is to indulge in a spot of DIY pampering, by booking a private hour in the Hydrotherapy Circuit where all the facilities are yours and yours only.
It's 'DIY' because there's no need for any spa staff. They leave you to it to indulge in the hydrotherapy pool with cascading waterfalls, spout jets and bubble pools guaranteed to pummel out any shoulder stiffness and knots. Invigorate your senses in the steam room, get sweaty in the sauna and then opt for a plunge shower, where a bucket of water is tipped on your head. Remember the social media ice-bucket challenge? It's like that but not so terrifyingly freezing! Amazing value at 25 euros per person for an hour.
Book that break! Tenerife travel guide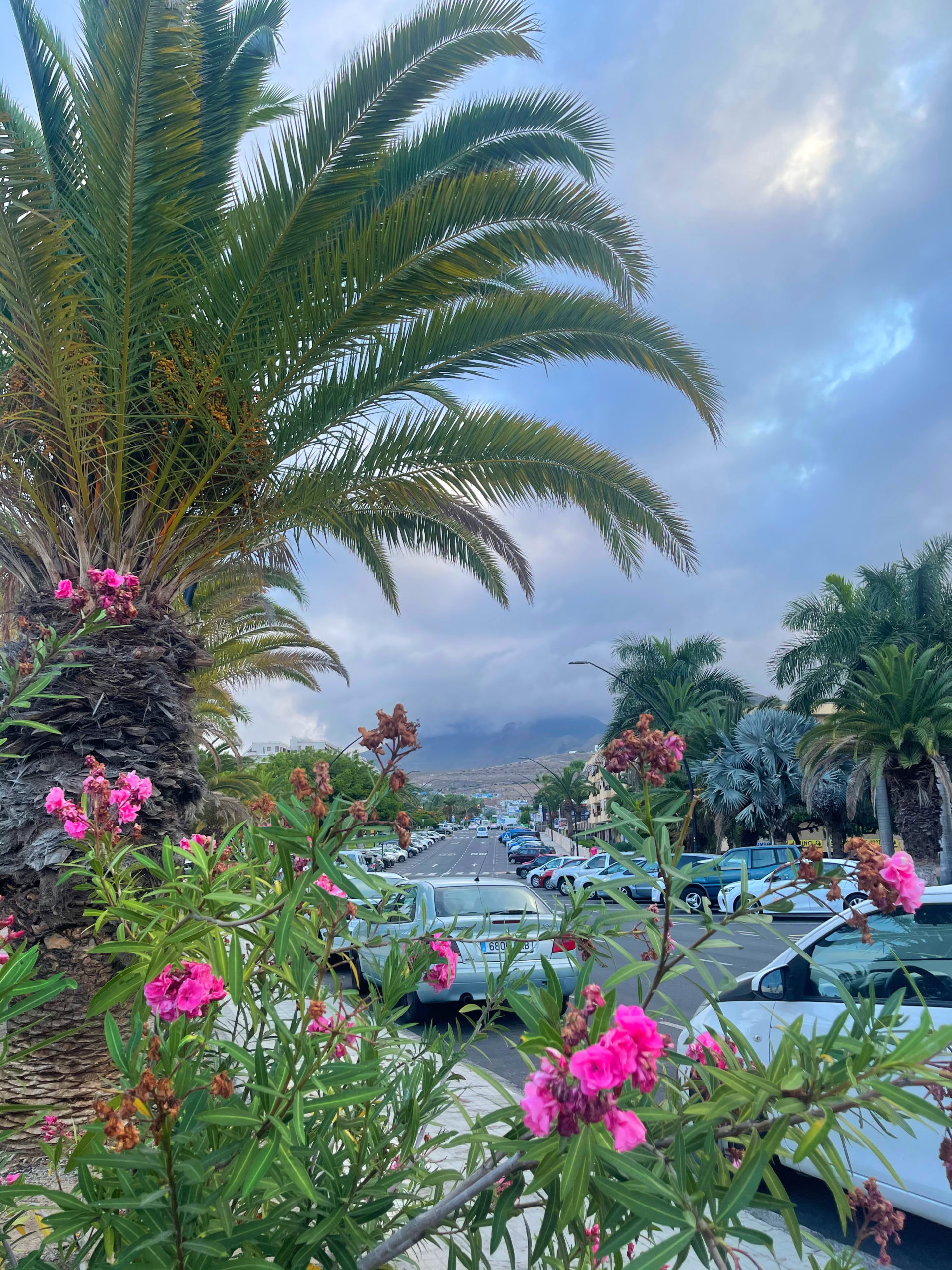 The beaches and hotels in Tenerife are enough for many visitors but if you do venture outside your resort there's no shortage of things to see and do.
Out & about – best things to do in Tenerife
For this stay at Bahia Principe Fantasia Tenerife I didn't stray too far from the hotel, apart from a couple of excursions. But previously I have hired a car and it was a great way to explore the island.
Here are some of my favourite colourful things to do in Tenerife if you do get a chance to explore beyond your hotel.
Tenerife sightseeing by day
Beaches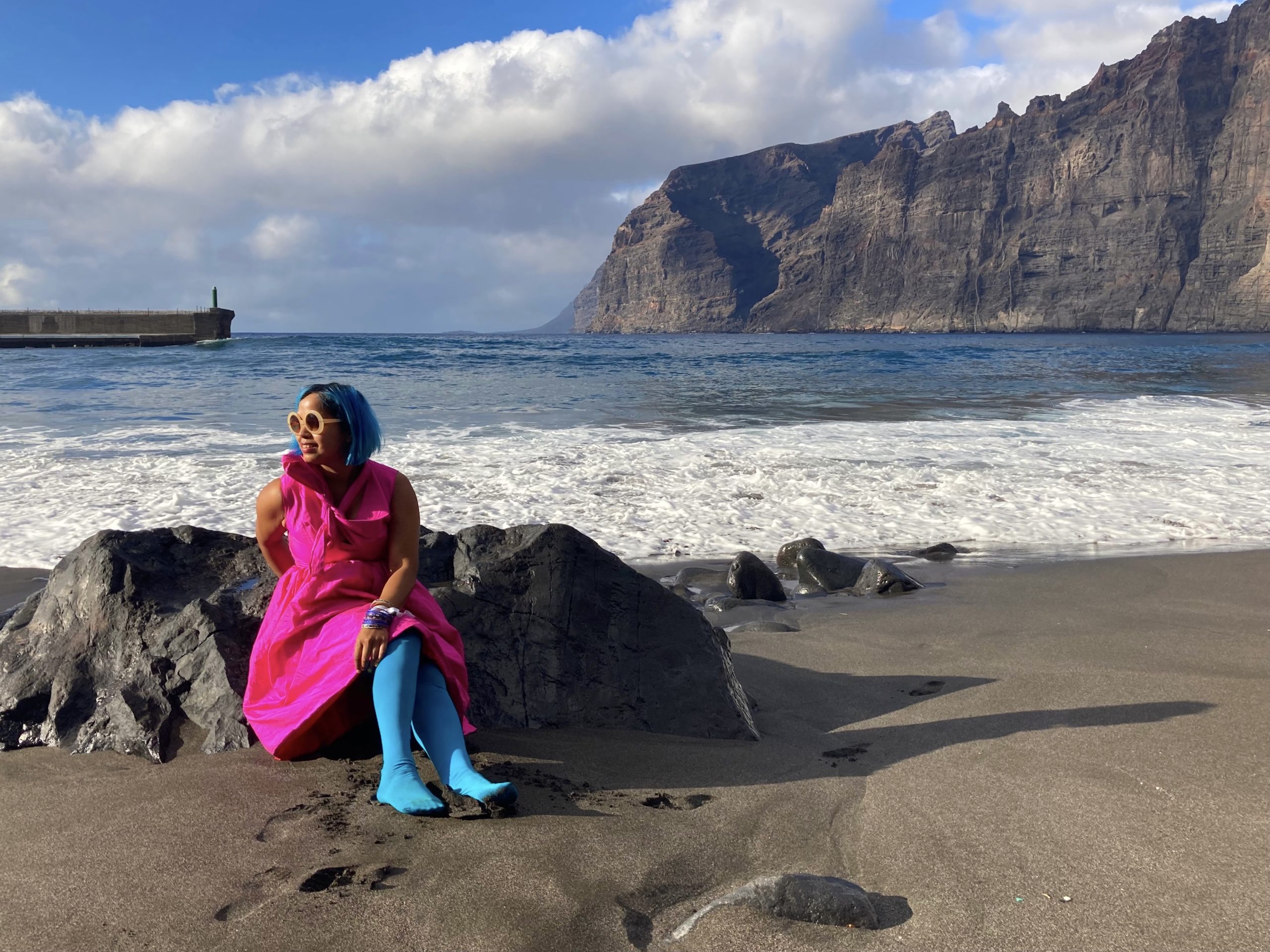 A mermaid's paradise, there are plenty of places to go for a dip in Tenerife and the black sand beaches are quite a sight to behold. Not all the beaches in Tenerife are safe for swimming and some may close when the waves are too strong. The most accessible ones have lifeguards so if you're not sure if you can go in, head to one of the main swimming spots like Playa de las Américas. No black sand here, but a classic golden beach with loungers you can hire and watersports to try like sea kayaking. There are lots of bars, shops and restaurants here too so. I particularly liked the colourful crystal shop.
Waterparks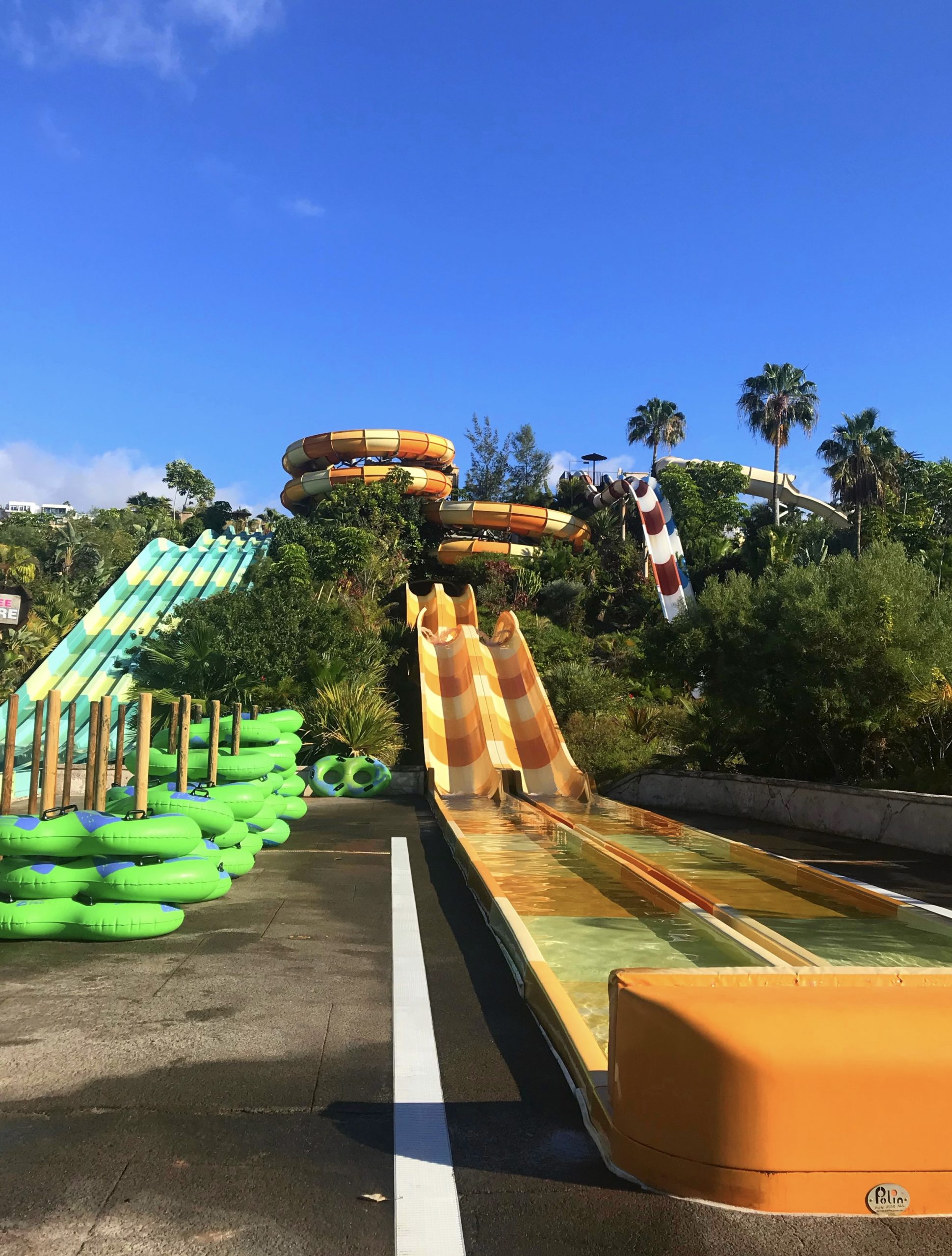 I'm Pro-flume – show me a waterslide and I'll swish down it. The super colossal waterpark that everyone goes ga-ga for in Tenerife is Siam Park named by numerous polls as the best waterpark in the world. Here's the thing, I haven't been there. YET. I did however go on a solo trip to Aqualand Costa Adeje a couple of years ago and I loved it. It's less intense and a bit cheaper but Siam Park is still on my 'one day' list and I know I'll get there eventually. If you get there before me go down The Vulcano an extra time for me, please!
Tenerife vacation by night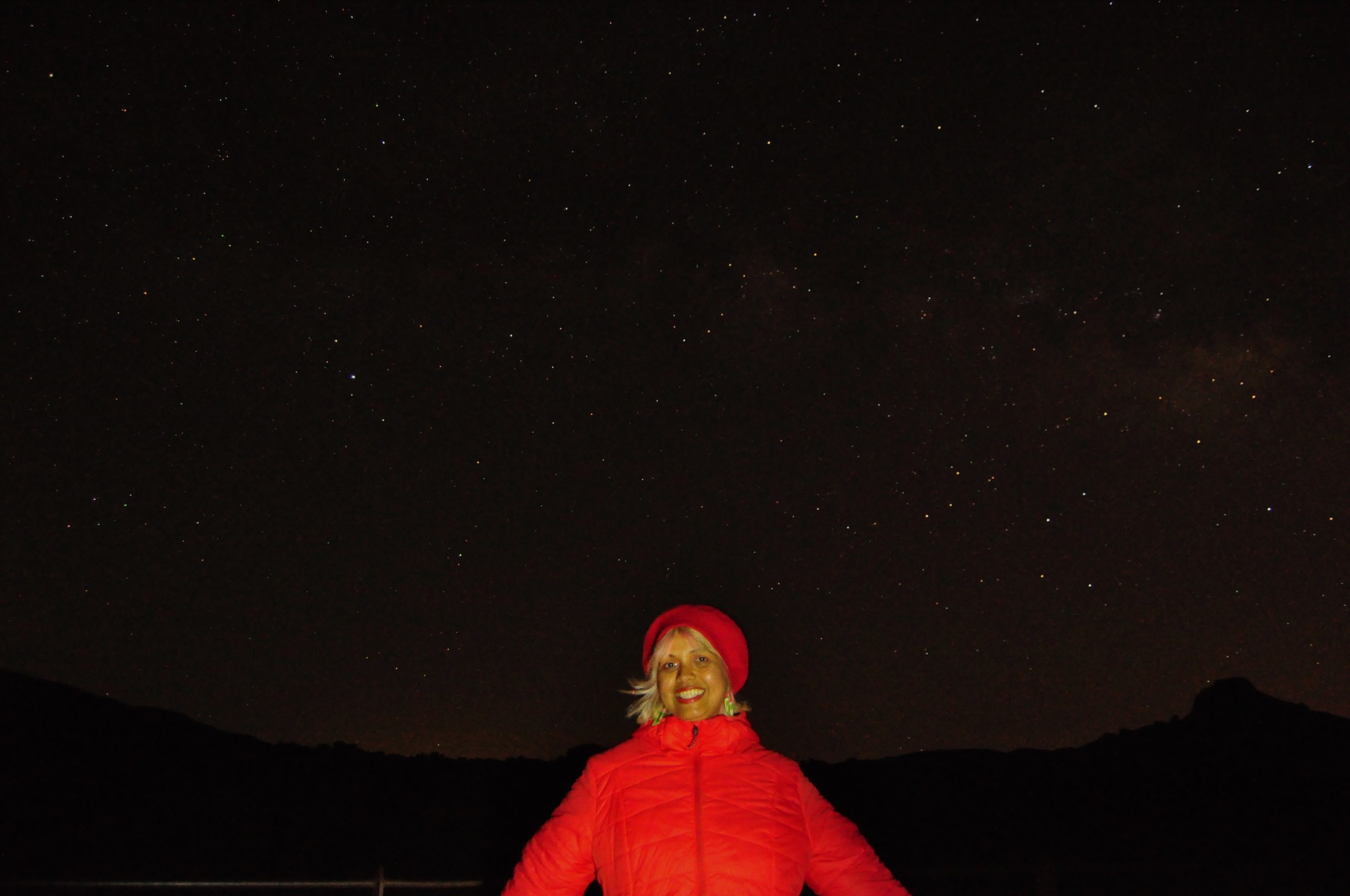 Stargazing hits differently in Tenerife. Watching a twinkling canapé of cosmic clusters under the watchful eye of a giant volcano is all the more fantastical. The pleasure is not just in the planet and star spotting. Delighting in the company of other curious travellers is a lot of fun.
I booked a Night Safari with Night Skies Tenerife which includes dinner, sunset drinks and dark sky watching. The best part was the team who delivered the event; so much charm, humour and charisma. Perfect for learning a few facts and seeing a few stars. It's by no means high-end astronomy but it is something to write home, or blog about. They also give you photos for free and their cameras know how to shoot for the stars!
The best hot chocolate in Tenerife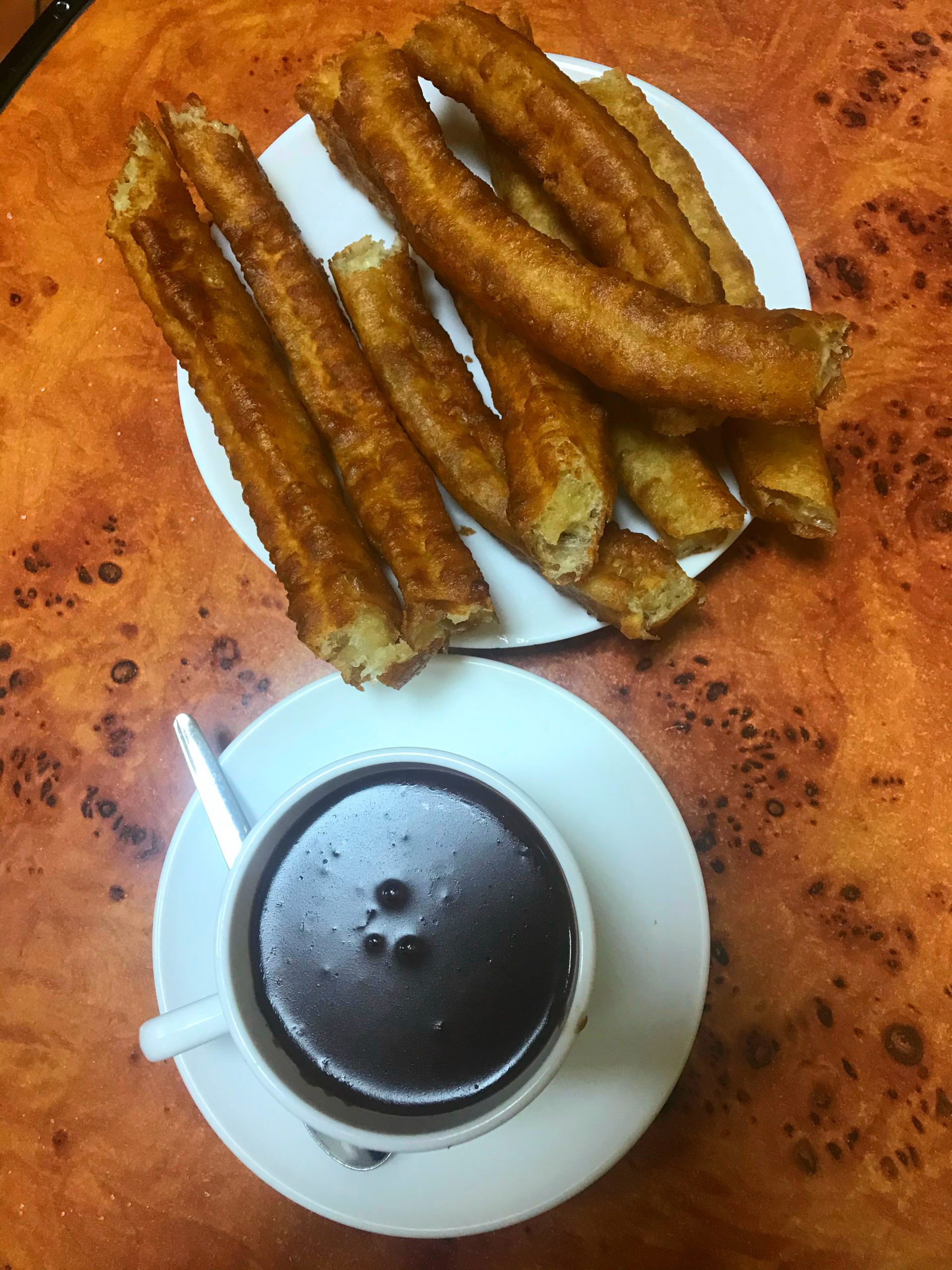 Ok, we know Tenerife is the land of scrumptious chocolate-covered donuts but it being a Spanish island there's also the tradition of hot chocolate and churros. The no.1 place to enjoy this sweet treat is at one of the churreria in San Cristobal La Laguna, a city in the Northern end of the island which is well worth making the trip for.
The city itself holds UNESCO World Heritage status and is effortlessly picturesque with colourful colonial architecture and cobbled streets. But for the creamy, sweet drink and dunking churros, head to an old cafe whose name I can't quite remember now but I will find out and update this post soon!

Just be prepared to get there early if you can or queue. The interiors are basic but service is quick and extremely satisfying, it's the pit stop you need while on holiday.
Tenerife tours
A day trip to La Gomera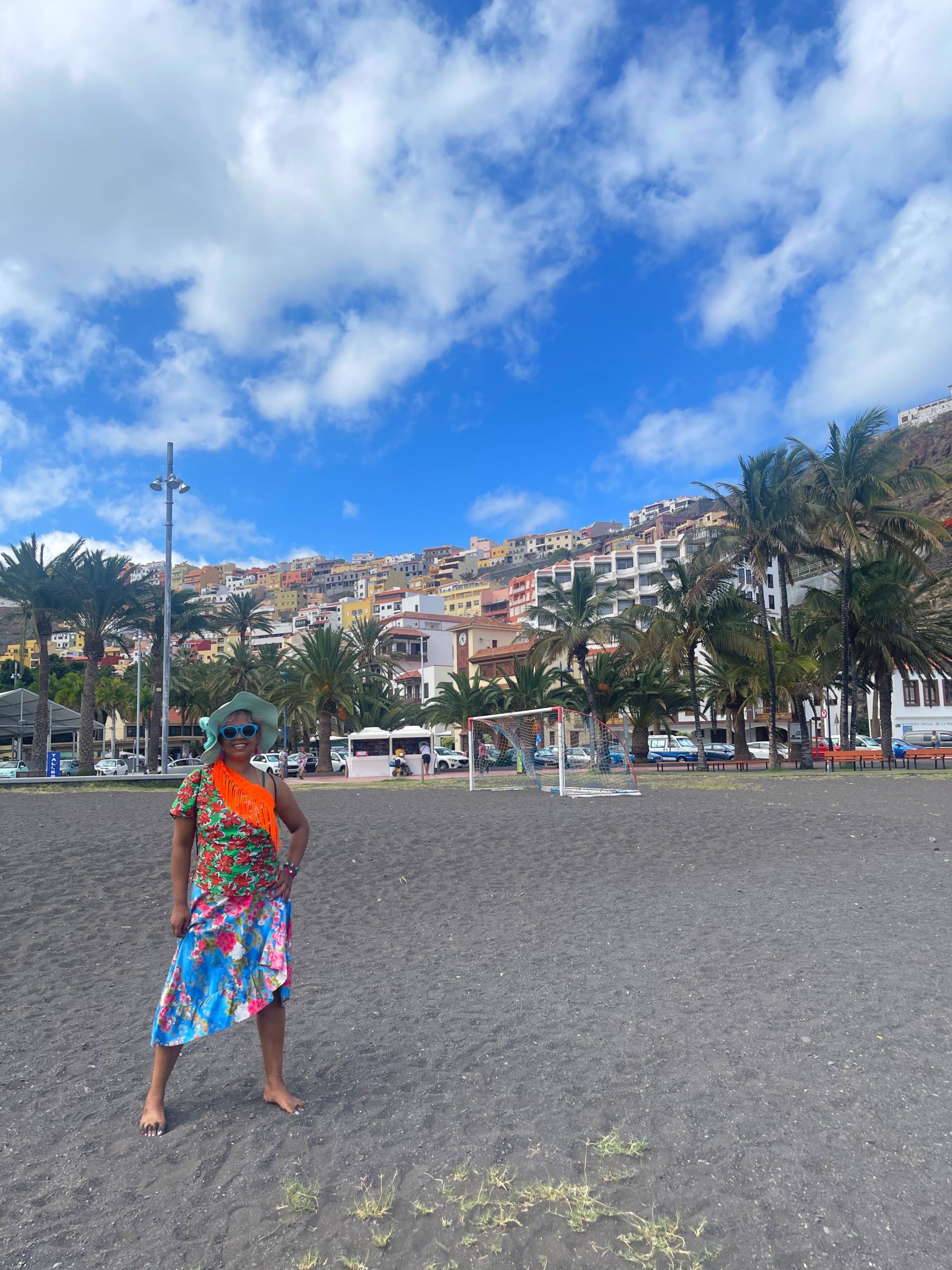 You can't help but be intrigued by the ferries that pull in and out of Tenerife, taking day trippers and overnight explorers to the Canarian island of La Gomera, which is just under an hour away. I knew I'd visit at some point and while I was there for this trip I decided the time had come. If you're only able to do a day trip the best way to do it is with an organised tour, you can find these through Jet2holidays and other local providers. Tours will enable you to zip around and see the sights and it's a similar price to trying to get there yourself as a foot passenger.
My tour collected me at 7.30am from my hotel ready for a 9.30am ferry and landed back at 5.30pm. The day was spent exploring the national park, eating Canarian cuisine, listening to Gomerian whistling (an indigenous island language) and a dip in the sea. The immediate black sand swimming spot by the ferry terminal is a safe and accessible place to swim and I loved going for a dip there.
If you have a spare day during your Canary Islands break with Jet2holidays I recommend a visit to La Gomera but be warned: the climate especially in the higher areas is colder, wetter and greyer than by the coast. It was misty raincoat weather so come prepared.
A day trip to La Orotava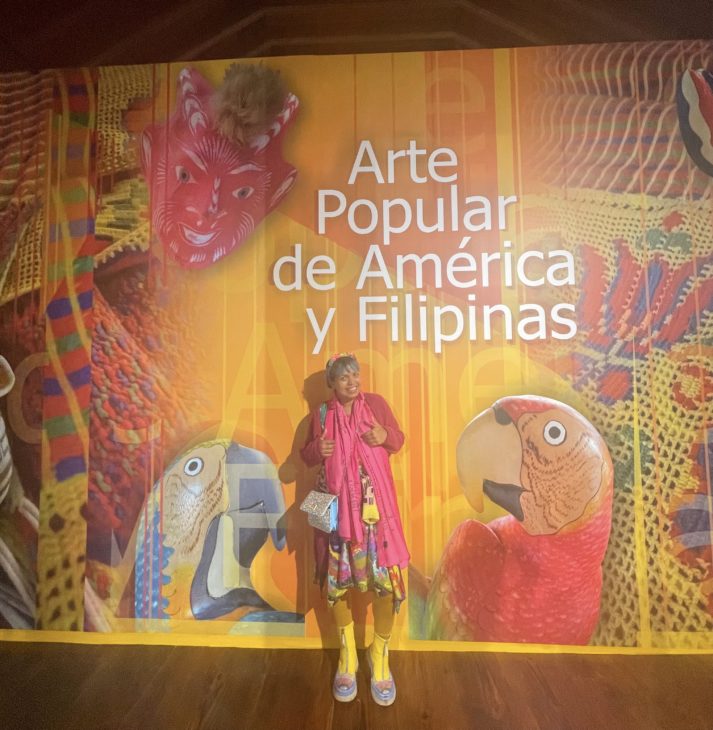 This cute, historic town is one for appreciators of architecture to discover. It takes a couple of hours to drive there in a hire car but it will give you a completely different flavour of Tenerife. It's a place to stroll and admire the quaint streets and cafes and there are several tourist attractions. My favourite is the Latin American Craft Museum of Tenerife. I had no idea there was a connection between this region and the Canary Islands but it's filled with fascinating and colourful stuff.
A day trip to Tenerife's capital Santa Cruz de Tenerife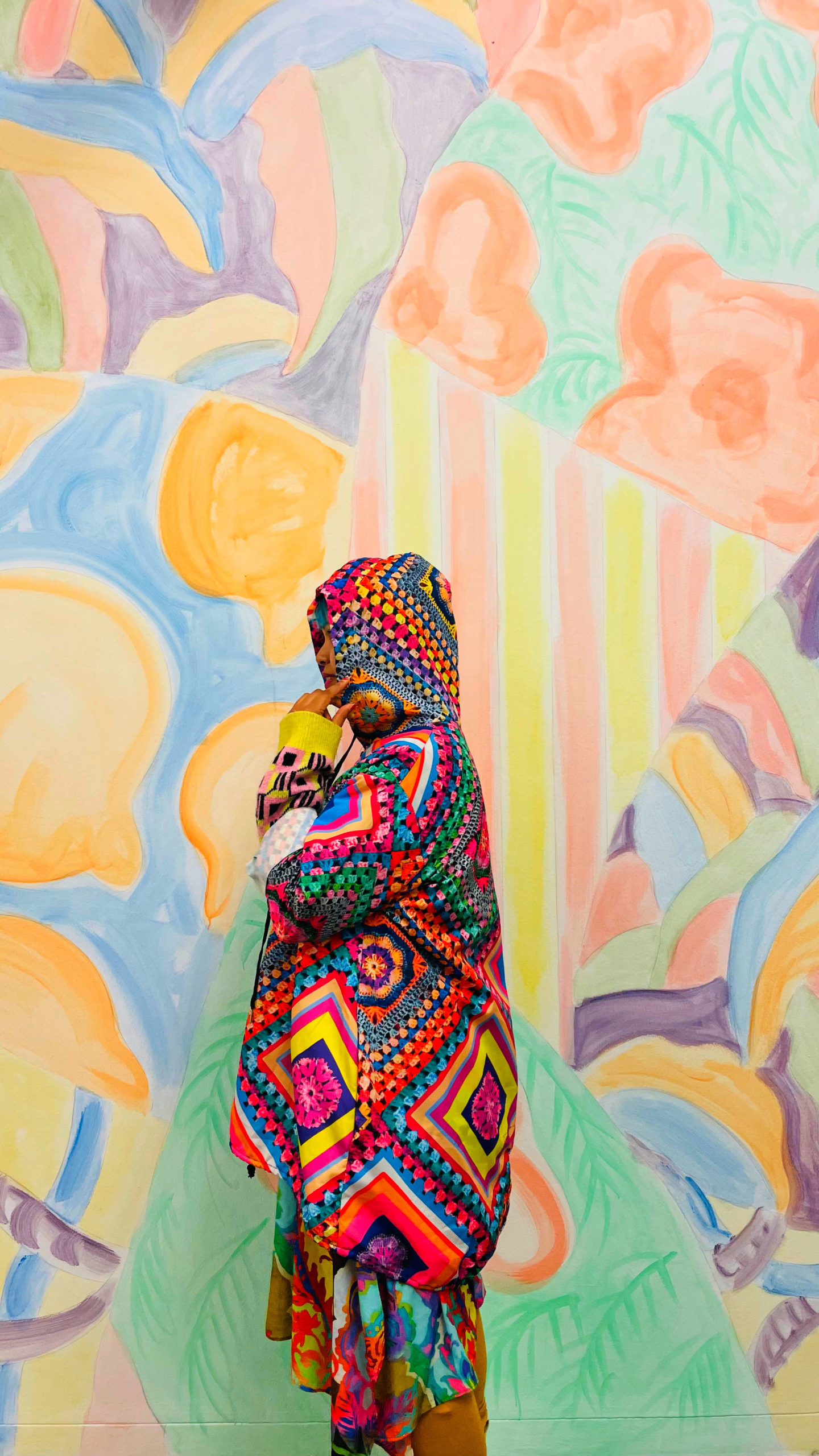 A buzzing coastal town with iconic markets, shops, museums and galleries. If you want to immerse yourself in activity, head to Santa Cruz. The modern art museum TEA Tenerife Espacio de las Artesis free to visit and well worth making time for. There's a cool kid's area and shop that stocks local indie designers.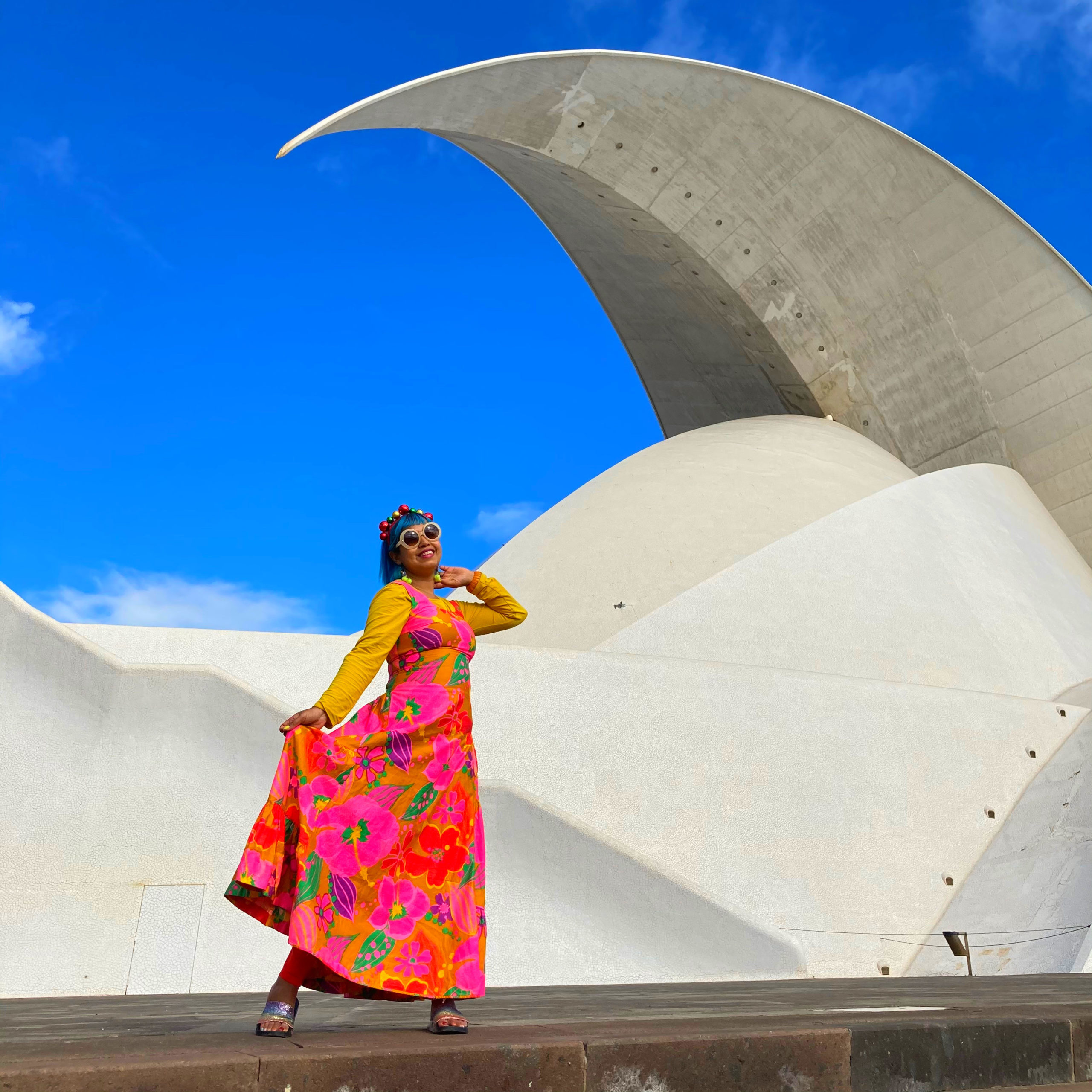 You can't miss the Opera House building either. And you can't pass it without taking some kind of arty shot. I obliged of course!
How to get to Tenerife
Jet2 flights to Tenerife from multiple UK airports including Birmingham, Leeds Bradford, Liverpool, Manchester, Edinburgh and Belfast. I chose my nearest, Stansted. Check-in was quick and smooth and I tried out some tech I'd never used before. I dropped my suitcase straight onto the moving luggage belt which was very fun!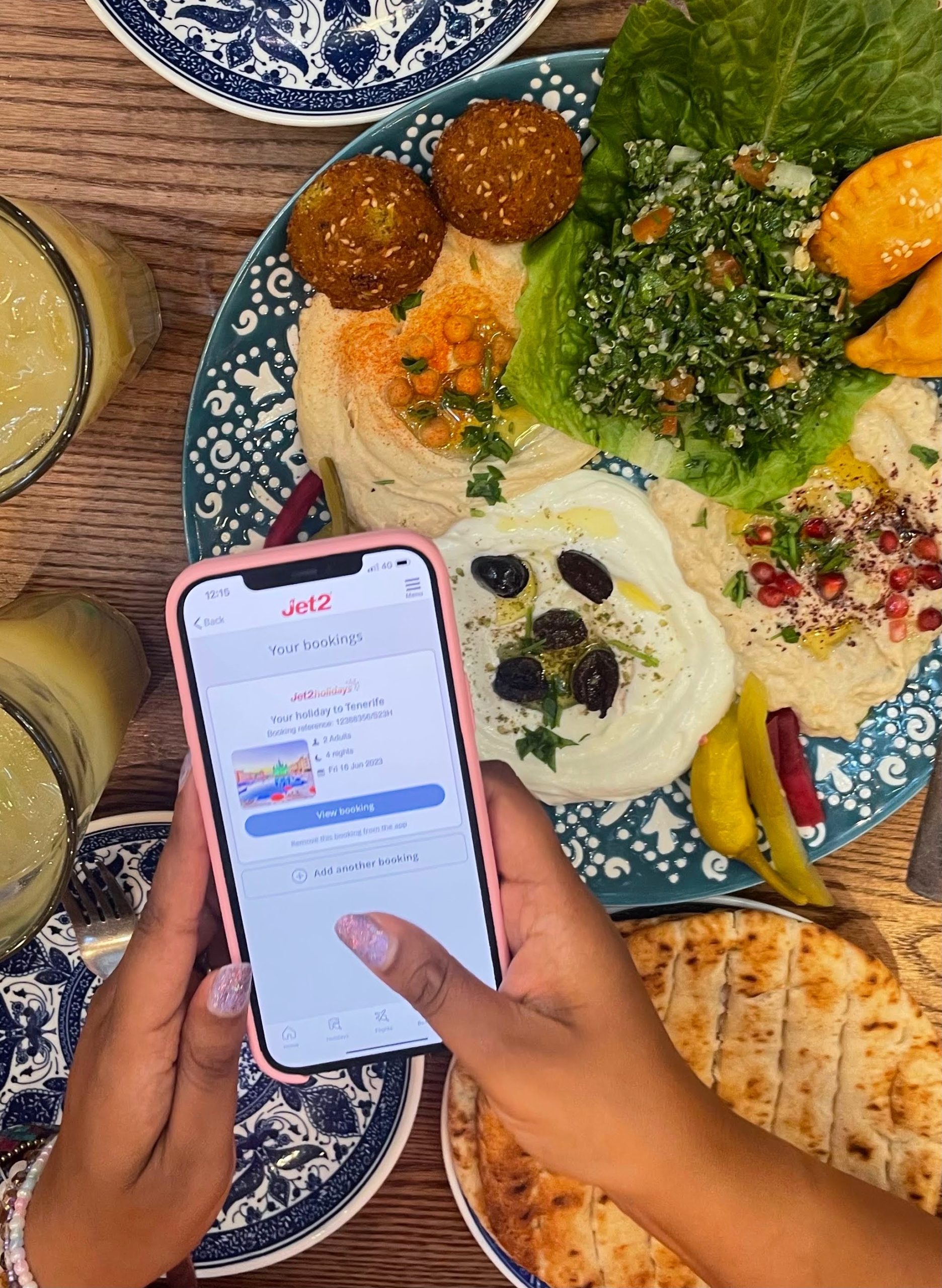 A top tip is to download the Jet2 app. I know, I know how many apps can a phone hold? When you're a Content Creator like me you're constantly taking photos and running out of space so it's tricky accommodating apps. But it's so easy to use. Everything's in one place and there was no faffing trying to find boarding passes or check the flight times, it's just there, alleviating stress.
The Jet2 boarding gate area at Stansted wasn't what I was familiar with. It was so much lighter and more spacious than other airlines I've travelled with and that was another positive tick from me.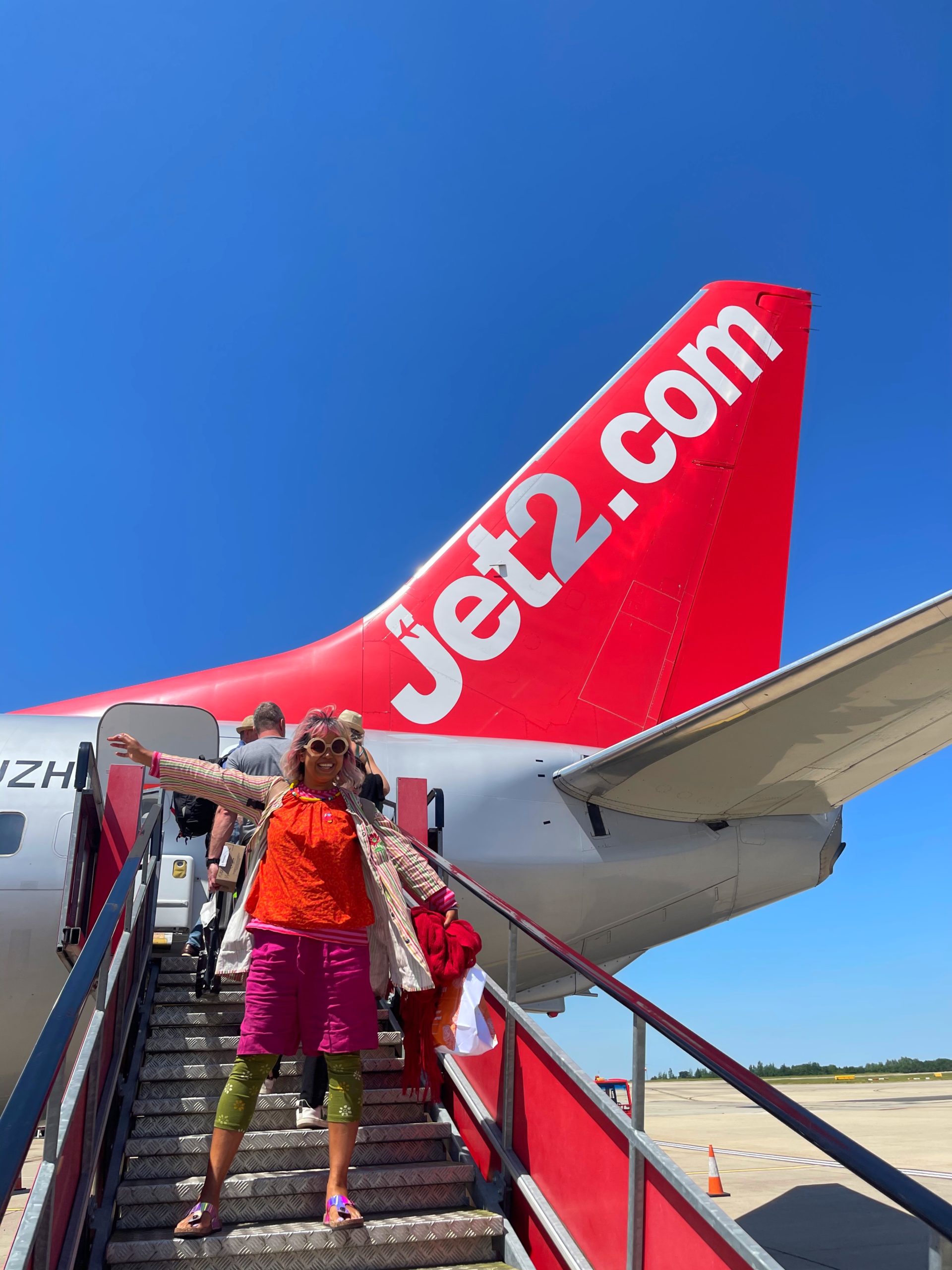 I sat on the left-hand side of the plane and it had incredible views of Mount Teide, the main volcano on Tenerife and Spain's highest point. I recommend sitting on that side of the plane if you can.
Upon landing the ease continues. There's pretty much nothing to do other than wheel your luggage to one of the Jet2 coaches who will drop you to your hotel door. Total travel bliss. It's the same on the way back. You'll get a text advising your pick-up time so there's nothing to plan or worry about.
I left my heart in Tenerife…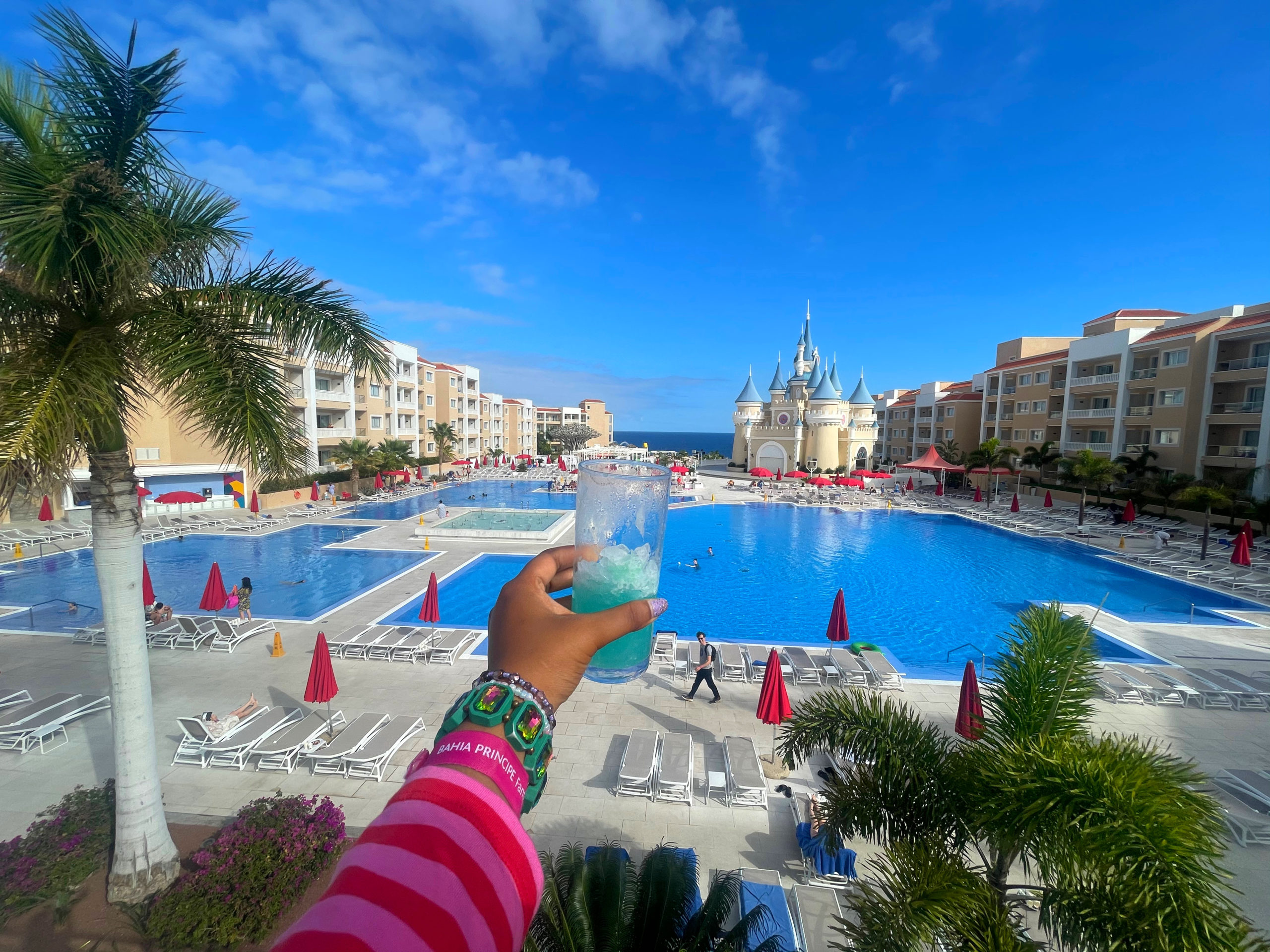 I really should should venture to a different Canary Island next time but I love Tenerife too much. I've come on an annual trip here for the last three years and I'm already looking forward to my next one. Everything is so easy and delicious (yes I'm looking at you choccy donuts!)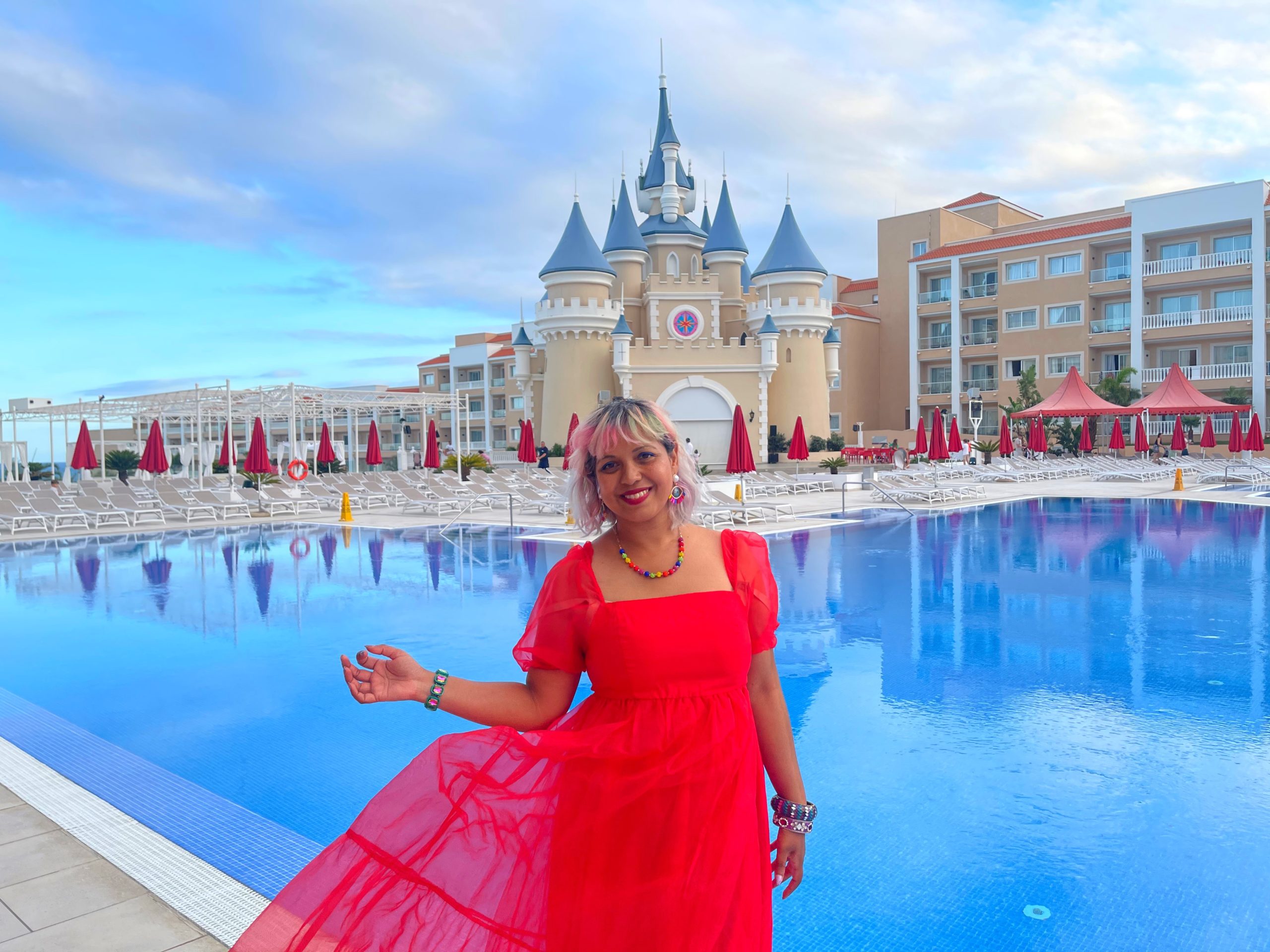 And with the all-year-round warm weather, it ticks the boxes for sun, sea, sand and fun.

My first two trips were in December to get a guaranteed dose of winter sun without having to fly long-haul. This more recent trip was in June 2023 and it was perfect summer holiday weather. I loved the whole experience. If you are planning your holidays to Tenerife with Jet2holidays there's a lot of options for hotels but I'm so pleased with my choice Bahia Principle Fantasia Tenerife. It's definately the most fun and colourful hotel in Tenerife!
Before I came here I'd heard of the term 'Tener-grief' but this island will always be 'Tener-relief' in my books.
Take me back anytime!
* This blogpost is a collaboration with Jet2holidays who paid for my trip. All opinions and photos are my own.
Yours colourfully,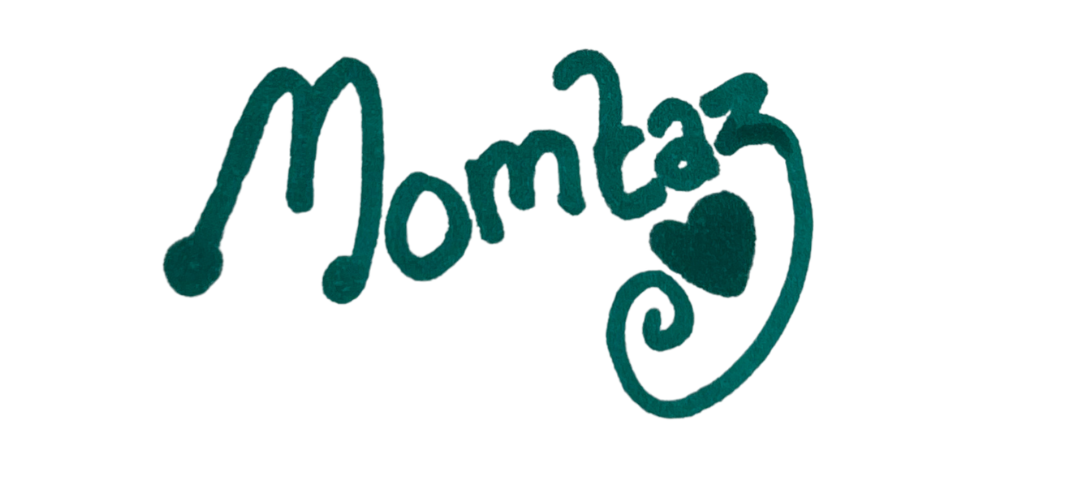 all-inclusive holiday
bahia principe fantastia
canary islands
colourful hotel
family travel
fun hotel
jet airways
jet2
jet2holidays
tenerife