Every time I visit Kent I think to myself, why don't I come here more often? There are so many things to do in Kent, aka 'The Garden of England' and it's so accessible by train from London. Getting to Kent – its towns, Area Of Natural Beauty (Kent AONB) and coastline are all possible day trip excursions; if you live in the capital but if you're further away it makes for a prime weekend getaway spot.
Mostly I've done day tripping, strolling around Deal, Sandwich and Broadstairs seasides, visiting artsy Folkstone for its recent Triennial exhibition and exploring eerie Dungeness to see the colourful Flotsome and Jetsome that gets washed up and made into obscure art sculptures.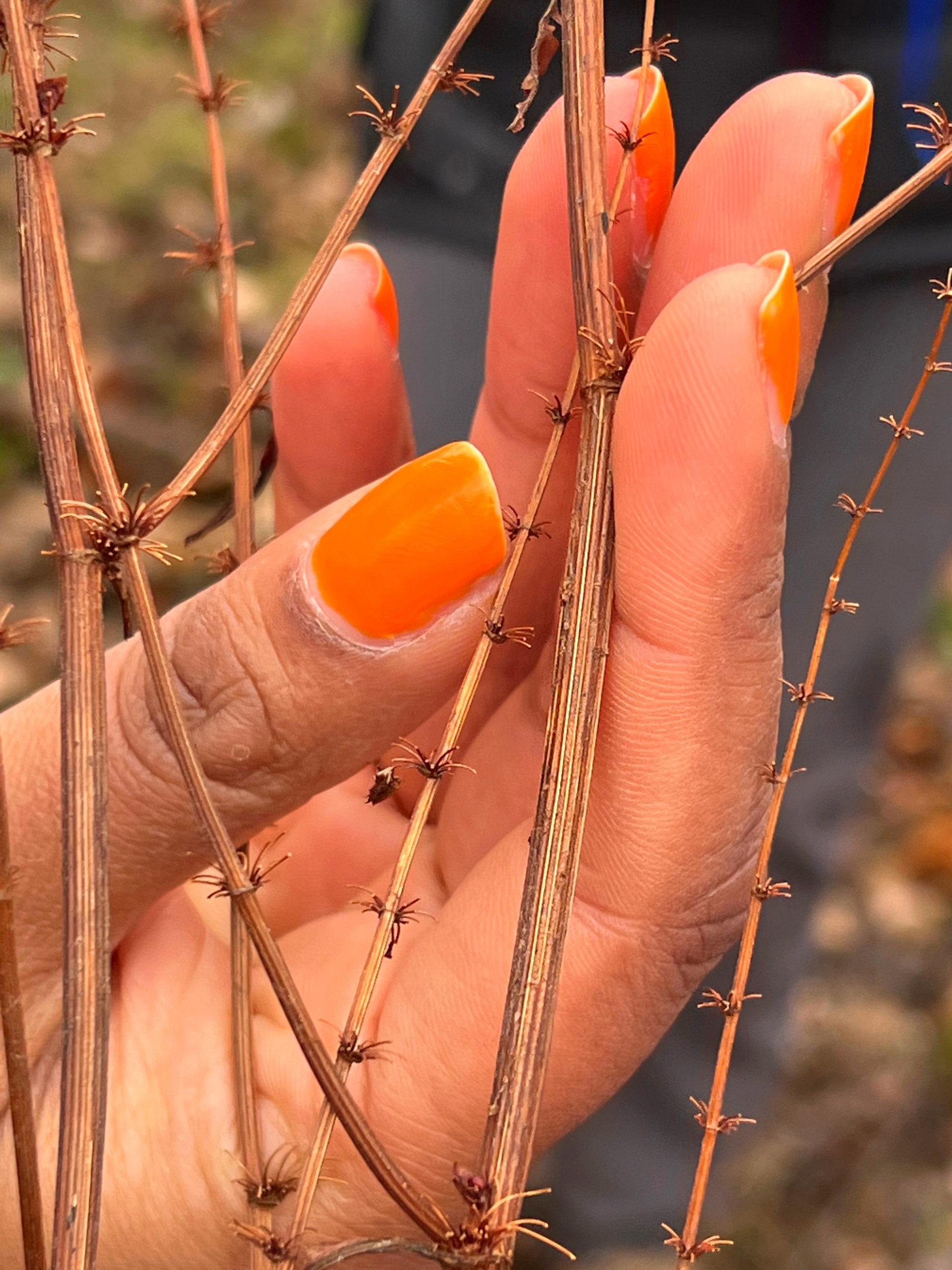 But for this trip, I had a chance to do something a little different. I spent a day focusing on sustainable living doing bushcrafts and survival skills in Kent Downs AONB as part of their Up The Kent Downs programme. Being in an 'area of natural beauty' it was a chance to spend time outdoors, trying some of the many alfresco things to do in Kent which are 'site specific', making the most of the land and natural resources in the area.
I admit it was a bit different for me. I know where I am with seaside towns: visiting charity shops, vintage shops, cute cafés….but this was Kent's rural side, not a retail outlet in sight – instead plenty of fields, woodlands and opportunities to hug trees and light fires. This may be the closest I ever get to being a brownie or girl scout!
What is Kent Downs AONB?
The section of Kent in South East England that's designated as the Kent Downs AONB stretches from the legendary White Cliffs of Dover across to the Surrey/London border. Within it you'll find woodlands, grassland and a coastline – it's a place where sustainability is a priority and there are various initiatives underway connected to nature recovery, climate change and making tourism more sustainable.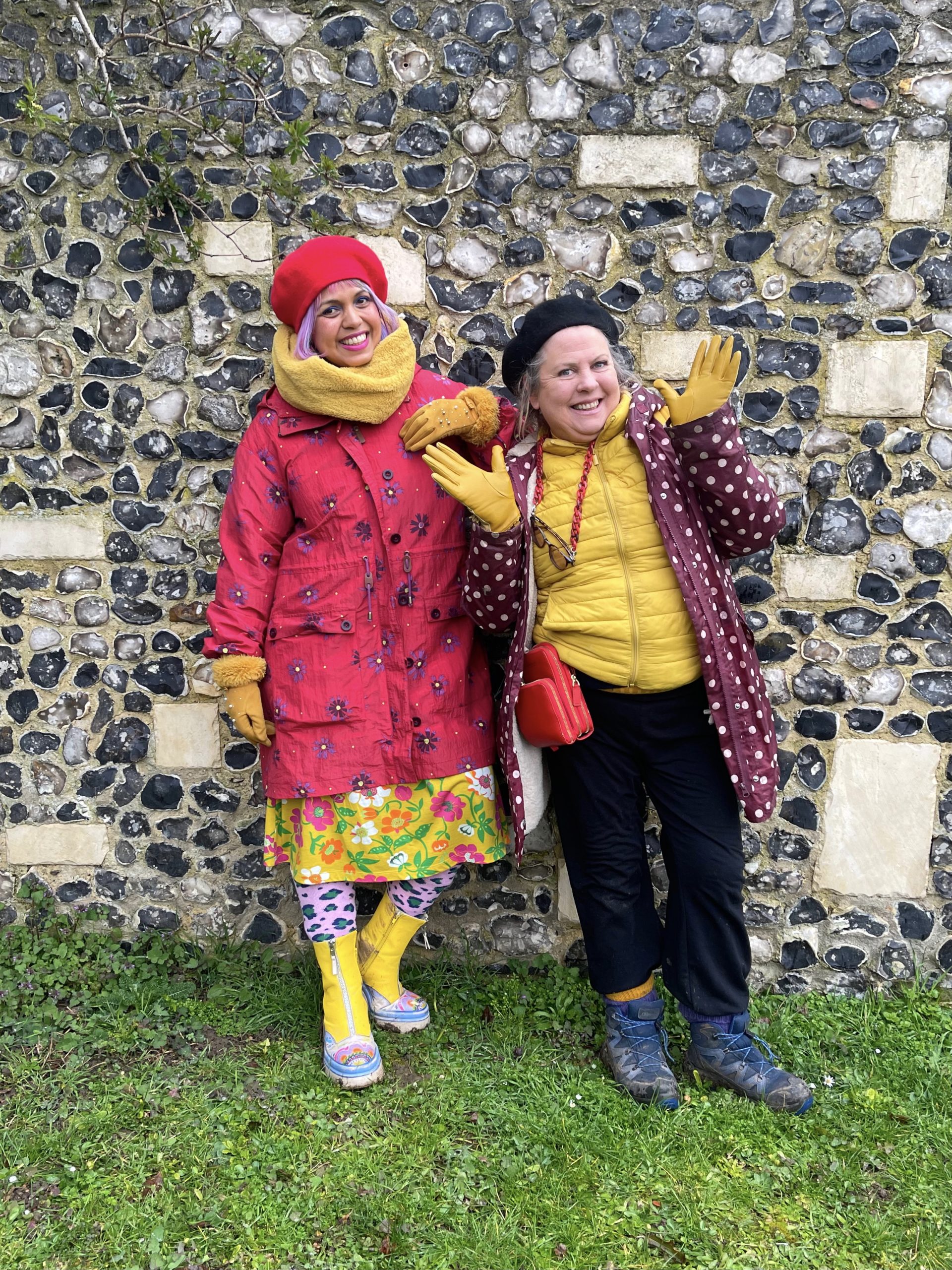 Things to do in Kent Downs AOB
Bushcrafts aren't my typical craft activity of choice, I'd usually be drawn to learning textile skills like embroidery or batik but I have an appreciation for all types of handicrafts and it turns out there are some that that are the core to human survival – being able to make shelter, heat and food and that's what was on the itinerary for the day I spent in Kent Downs AONB.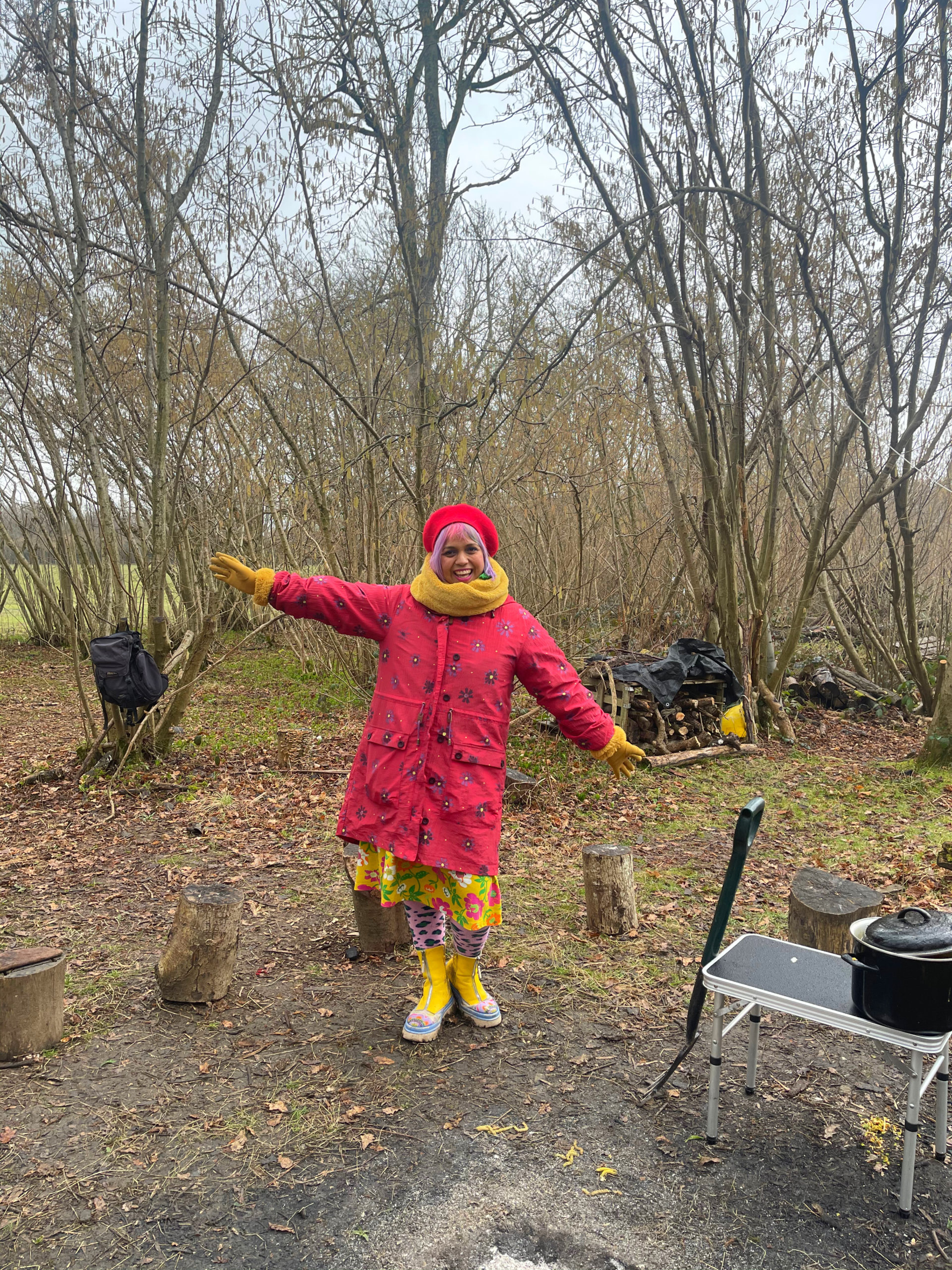 Bushcraft, survival & nature awareness with Natural Pathways
It was a damp wintery March day when a group of us huddled together in the forests near Barham where our guide Hannah who runs Natural Pathways introduced us to the survival skills if the unexpected happens and you get stuck in a forest. Here's hoping that doesn't ever happen, but if it does, I've now got a trick or two up my thermal sleeves to make it through the night at least!
Keeping warm – making a DIY fire
Our first task was to gather up as many twigs and branches as we could find. As it had recently rained much many of them were wet which makes it trickier to create a fire, so we set to work finding the least soggiest on the floor.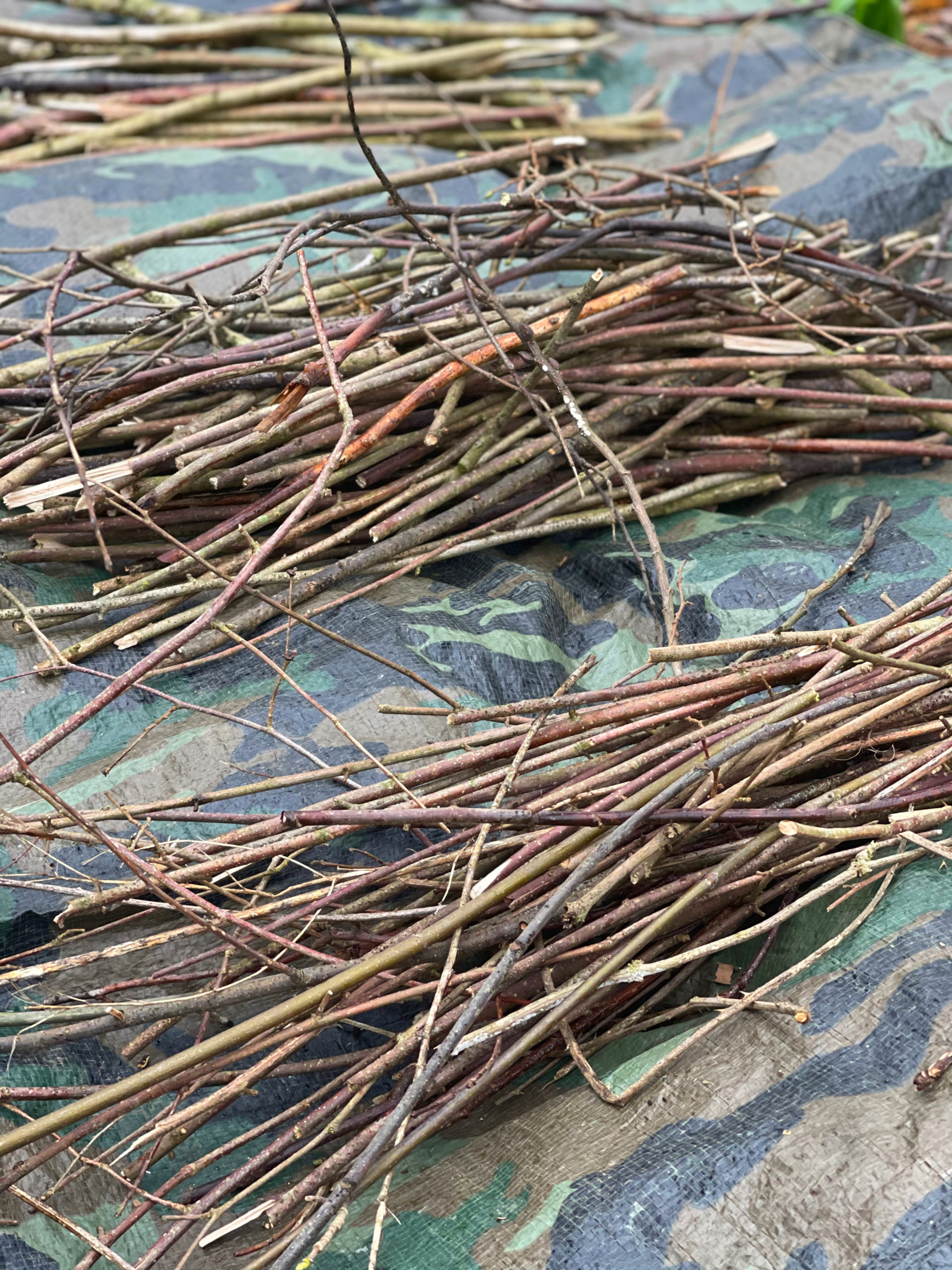 Each one was placed in a pile according to their thickness, 'matchsticks' for the really narrow twigs, 'pencils' for the wider twigs and 'fingers' for those that looked more like hefty tree branches.
Next, Hannah created a small pit area – the important consideration here is that you need dense clay Earth as the base – don't build a fire on peat as it's flammable so could spread and cause a forest fire.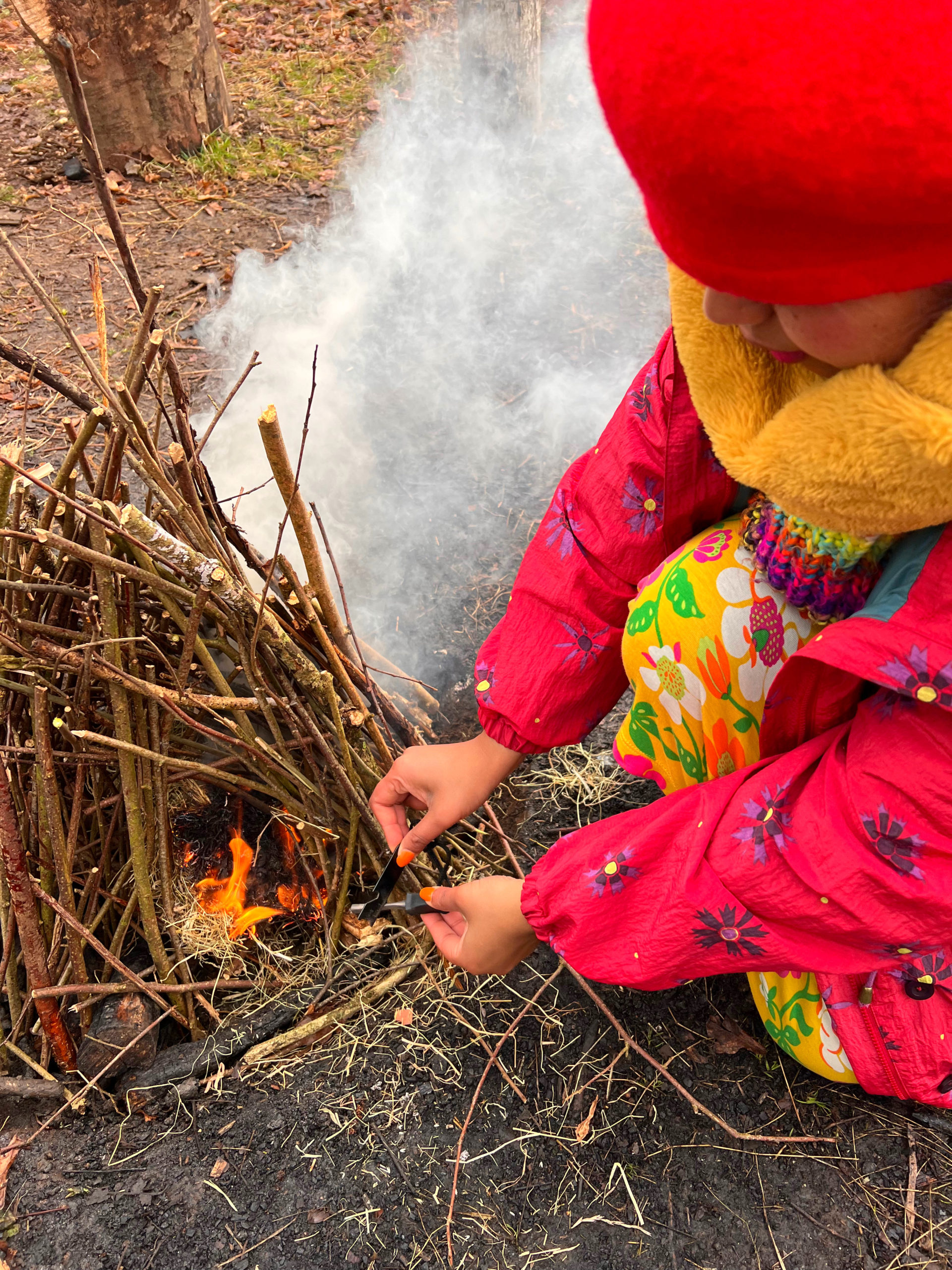 To build the fire we used a teepee technique which is layering up the twigs into a teepee shape. The structure came together surprisingly quickly and easily. To get the fire started we used soft thistle heads and a fire steel which is a small meal tool that when the ends are struck together sparks are created, these catch onto the thistle creating the flames which then make the fire.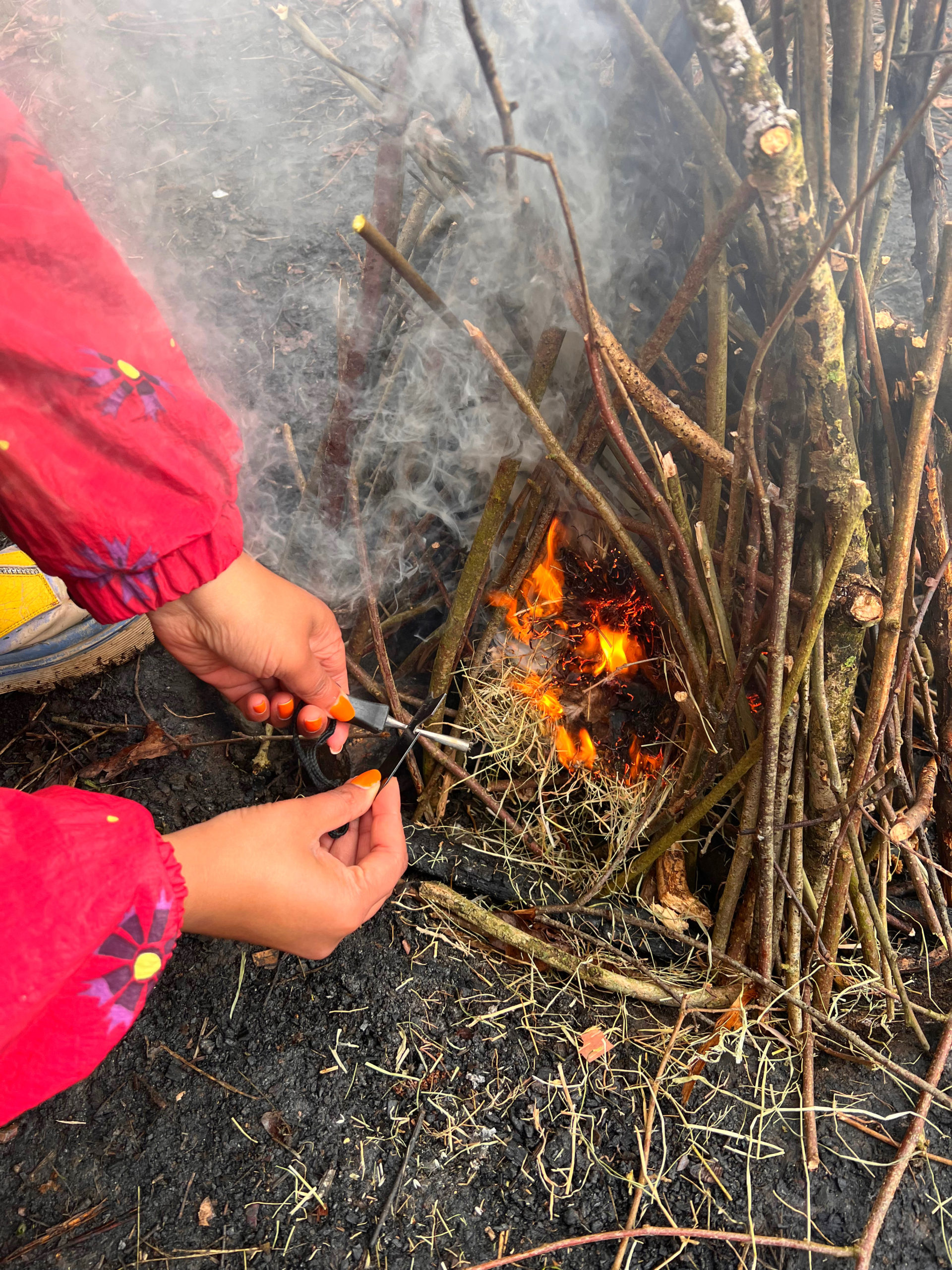 It took me a little while to get the fire started but when you first see those sparks it's very satisfying. The warm fire was instantly welcomed by us but it wasn't just for sitting around to stay snug and share stories around, it doubled up as our cooker, for next it was time to make lunch…but first, find the ingredients!
Foraging in lunch Kent Downs AONB with The Wild Kitchen
For this part of the day, Forager and Wild Food Cook Lucia Stuart who runs The Wild Kitchen took us on a short stroll around the forest which despite covering only a small patch of ground, featured so many edible delicacies, some I'd heard of and others that were completely new to me.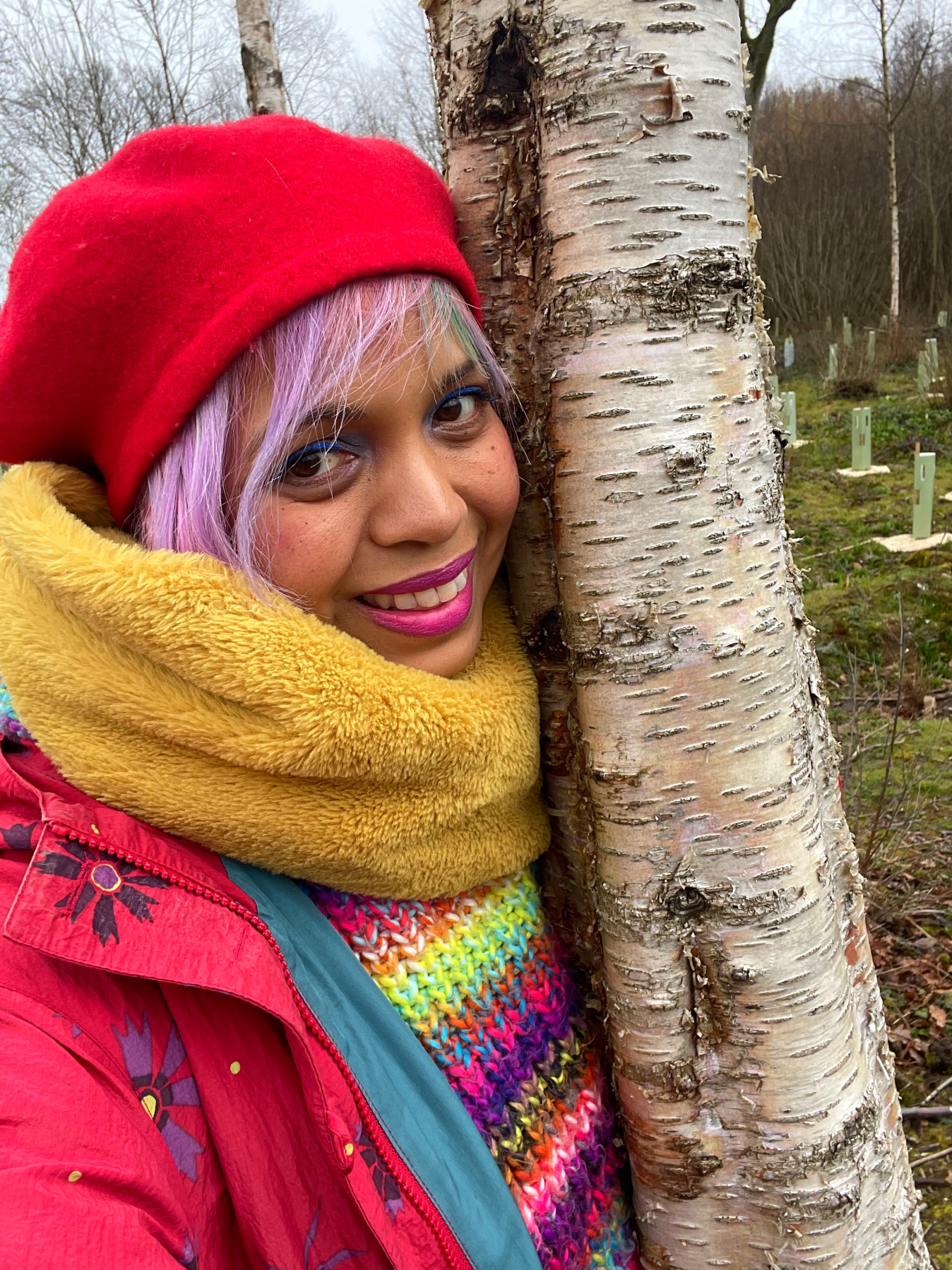 Tapping Silver Birch
First up we hugged silver birch trees to help us get closer to them to listen to their sap. March when the trip occurred is birch-tapping season that's when the edible sap can be extracted. It usually occurs around the second week of March but you may find it last longer depending on seasonal variations.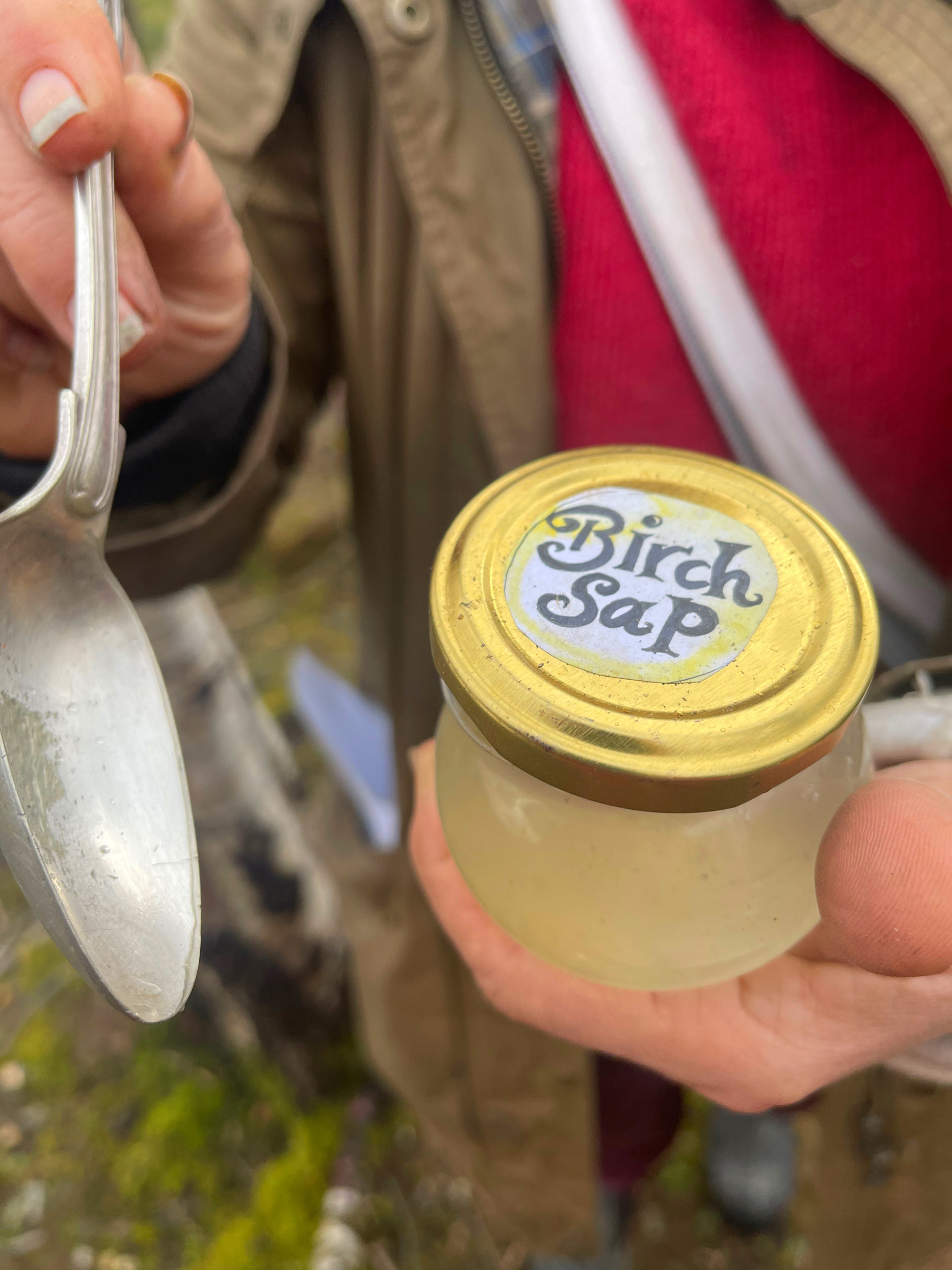 Birch sap is a bit like coconut water in colour and consistency and similarly has detoxifying properties. When you listen to the tree you can hear the liquid sap inside it so you know it's ready to extract. Lucia had a sample of birch sap left over from last year that we sampled.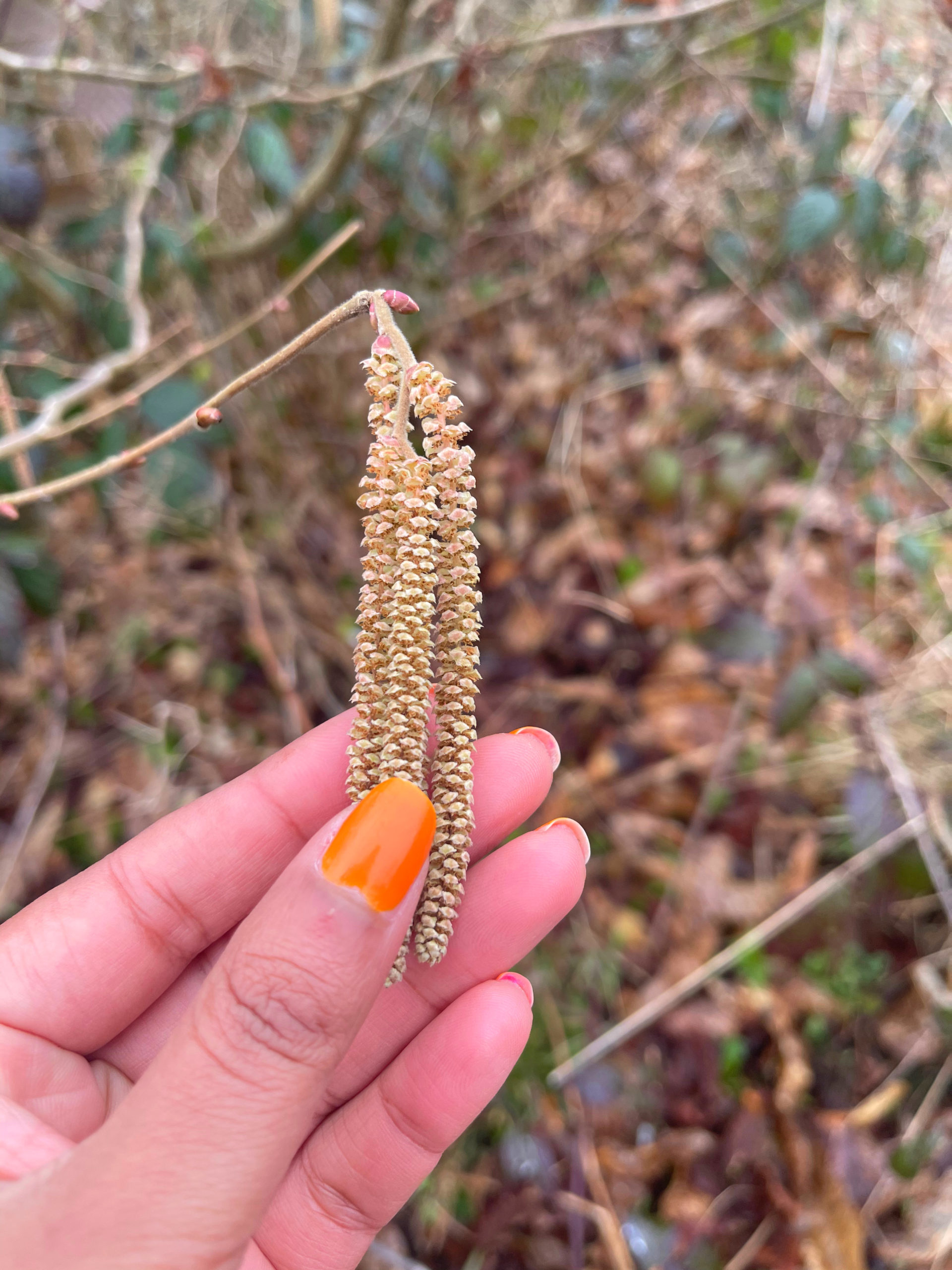 She also introduced us to burdock, wild garlic, dock leaf, and hazel catkins – I had no idea that these become hazelnuts (or in Kent they're known as cobnuts.) It blew my mind considering hazelnut is one of my favourite flavours – I always opt for hazelnut ice-cream and other desserts! Today however we blanched them in hot water to make catkin tea.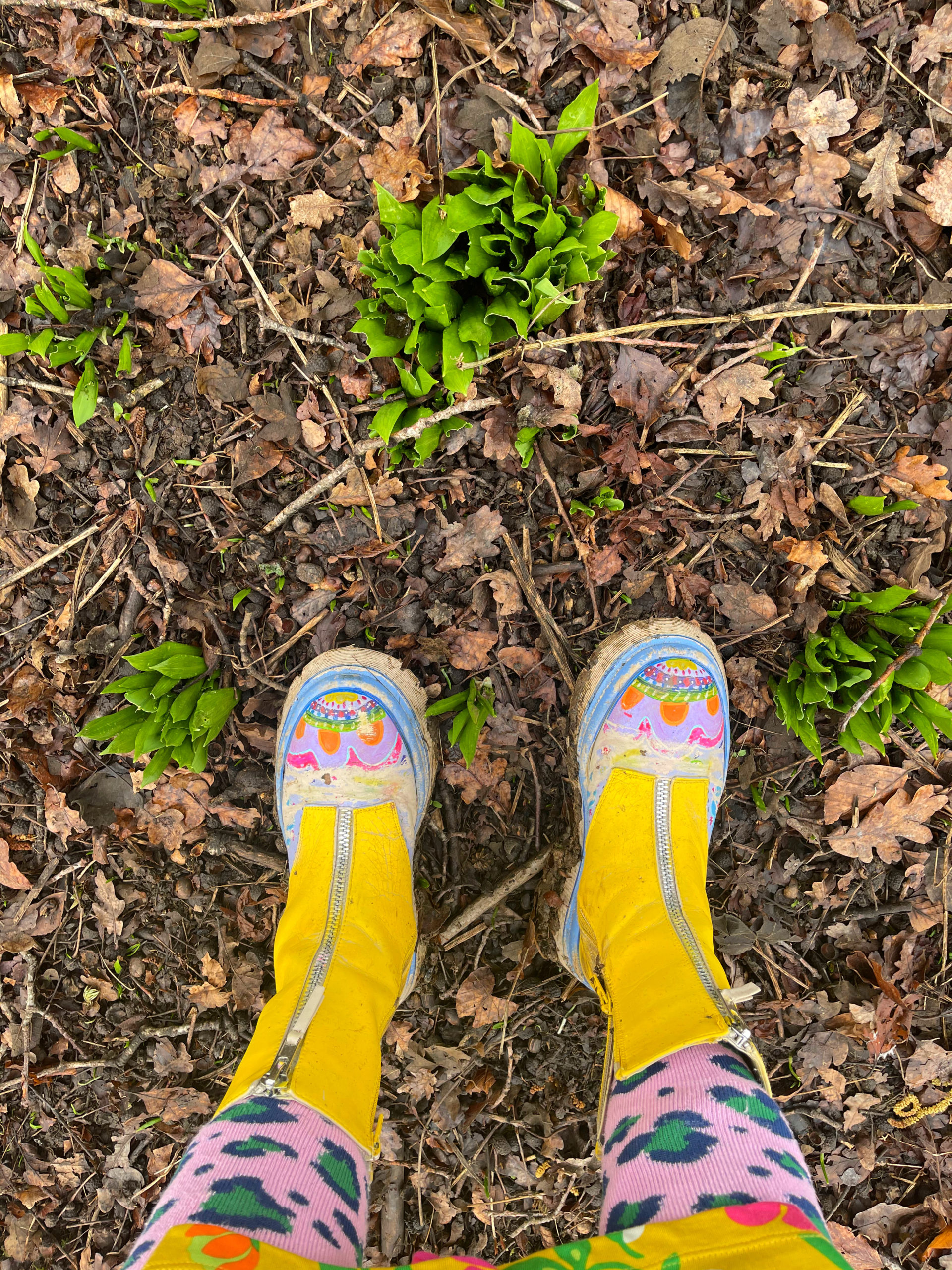 Our other gathered goodies like the wild garlic were added to lunch – a comforting dhal with nettles, served with a wild garlic and cucumber yoghurt, a refreshing glass of cleavers water and finished with a hot mug of hazel catkin tea.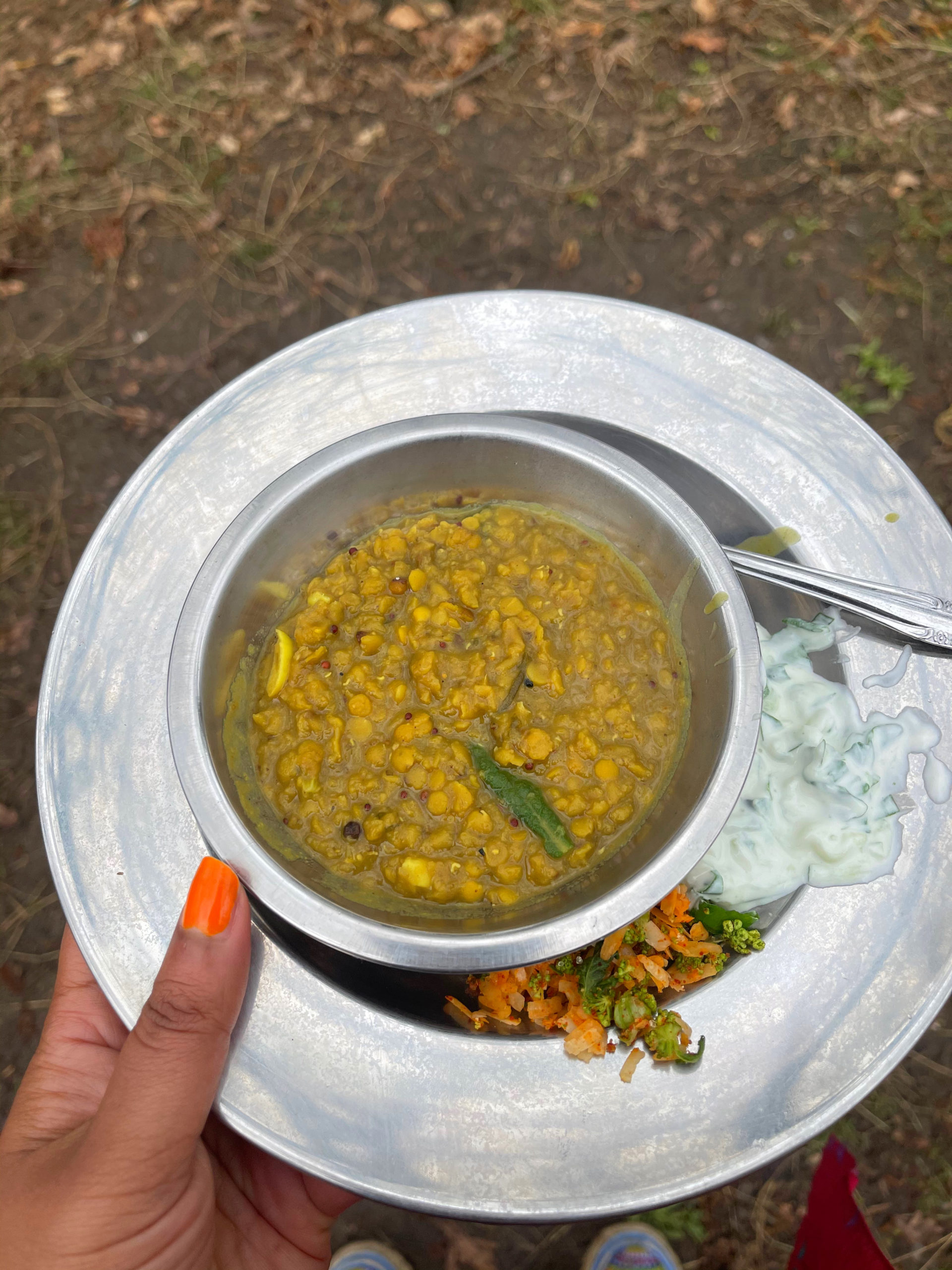 Lunch didn't stop there either. We also sampled local produce and cookery from two other local foodies, a squash soup cooked up on an open fire by The Rebel Farmer, who also treated us to his homegrown microgreens and met WildClassroom who teaches outdoor cookery in schools.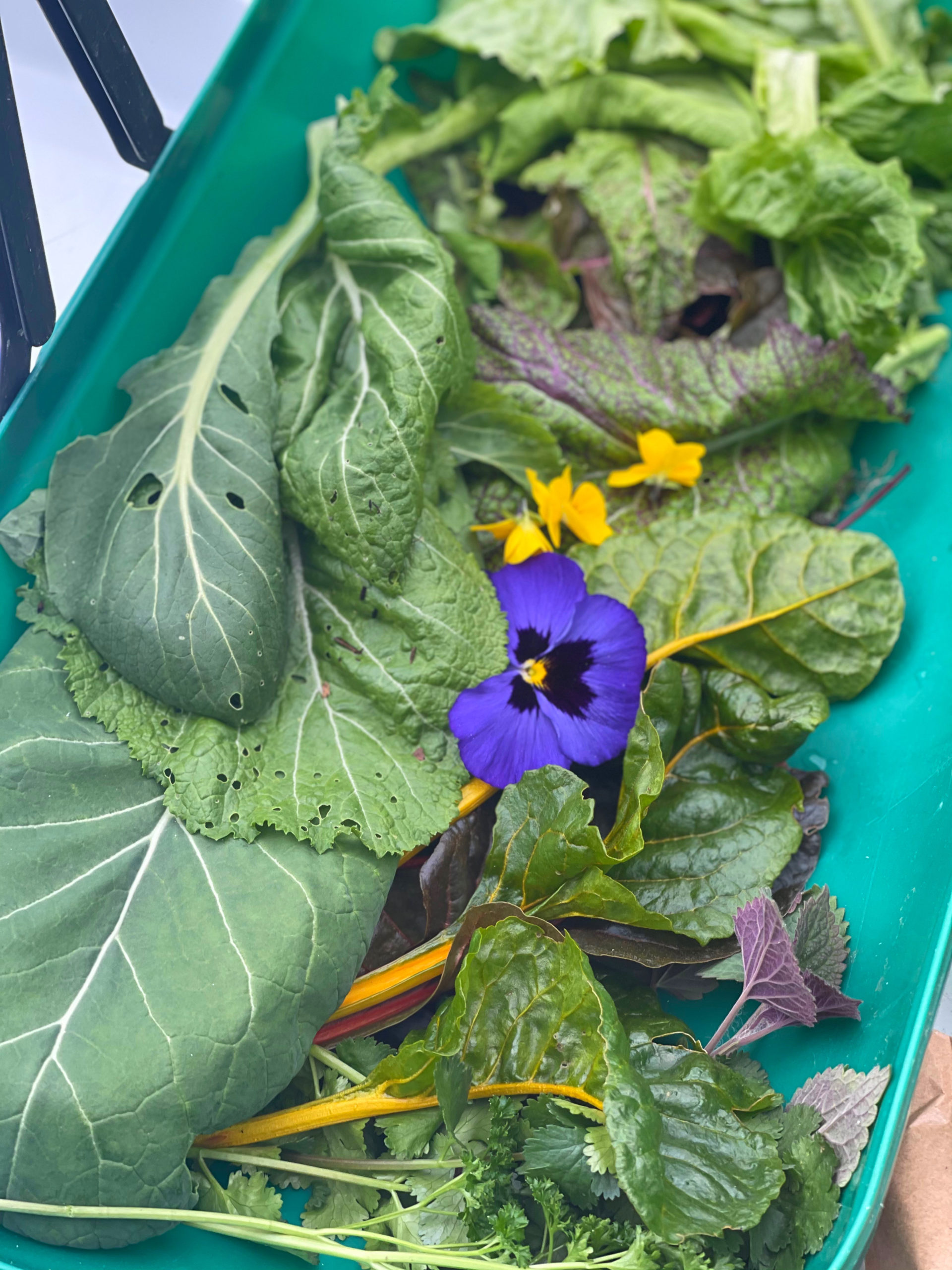 In the afternoon the rain returned, we nestled under a DIY shelter before heading into Canterbury to visit local sights and do a mini pilgrimage walking tour before heading home. A wholesome and healthy day, I felt re-charged, spending a day away from my laptop, soaking up the fresh air and enjoying rewarding activities that you just can't do in the city.
The Kent Downs AONB Experience Project
If you're looking for things to do in Kent that are out of the ordinary there are over 30 different outdoor activities to try in Kent Downs AONB. Their Up The Kent Downs programme features different types of workshops, courses and experiences involving wildlife and nature, arts and crafts and wellbeing.

Ones that caught my eye include Out to the Woods where you can learn how to make wood-fired chapattis in the woods, Outdoor Studios where you can try your hand at cyanotype printing, This Art of Mine where you'll spend the day making clay crafts on a peony farm and Hinoki Forest Bathing, an opportunity to reconnect with nature, meditate and enjoy a Japanese tea ceremony.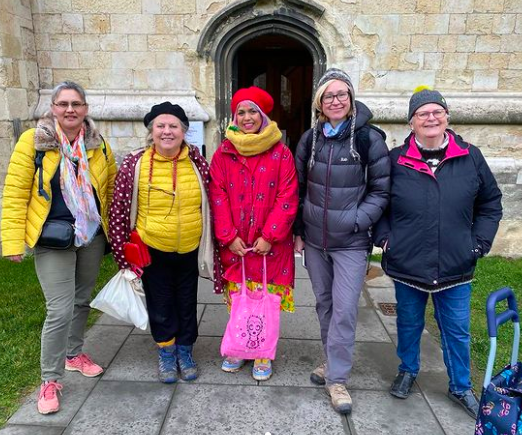 During my trip, I also had a chance to meet with Creative Pilgrimage who are making pilgrimages more accessible. Founders Alexandra Rossignol and Liz Garnett arrange pilgrimages in Canterbury but they aren't just about the walking – there's a creative element too including drawing and writing poetry so if you're after an activity that has a creative and historical theme, that's one worth checking out.
For the full list head to the Kent AONB website.
Where to stay in Kent: The Canterbury Cathedral Lodge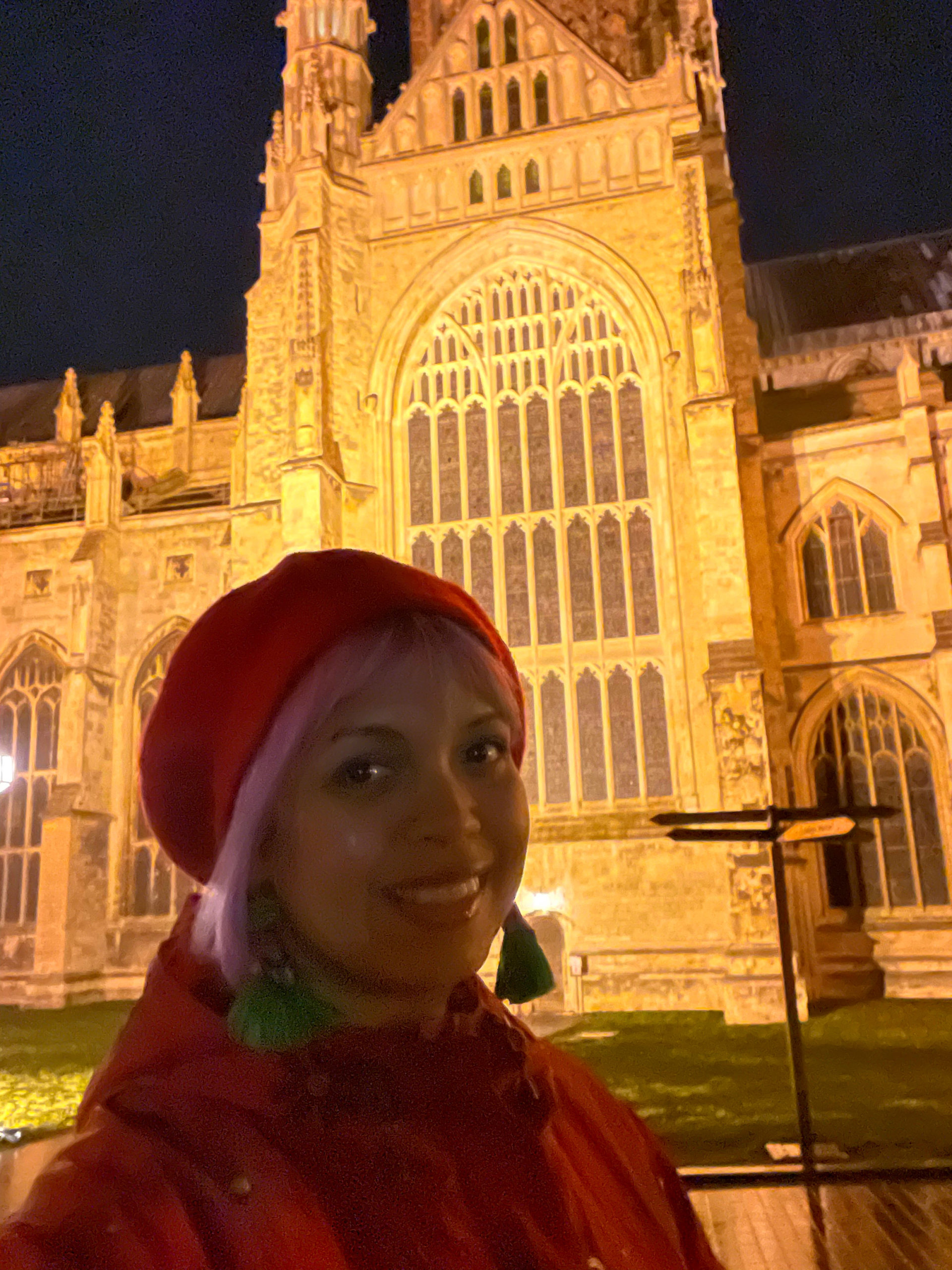 The number one tourist attraction in Kent is Canterbury Cathedral, topping most things to do in Kent guides – but did you know you can sleep in the grounds of the UNESCO World Heritage Site and wake up to its iconic views?
I spent a night in Canterbury before my day trip to the Kent AONB and stayed at the jaw-droppingly located Canterbury Cathedral Lodge. The hotel is part of the whole cathedral complex and when you first turn up it feels very surreal to by-pass the queues of visitors and head straight into your accommodation.
Guests get free entry to the Cathedral included with their stay so it's worth arriving in plenty of time, perhaps drop off your bags early ahead of checking in and take the opportunity to see inside this extraordinary architectural feat.
Public can attend choral services for free, the last one of the day is 5.30pm and I made sure I did that too – though the services are long so don't feel too bad if you do slip away a bit early.
After that, the gates to the grounds are closed to the public but if you're staying at the lodge you can wander around the grounds until 11pm– which obviously I had to do for its pure surreal nature – even on a cold wet night – in fact that added to the eerie charm of being there.
Rooms are basic, some have cathedral views including window ledge seating, and the there's a generous breakfast service but the highlight of staying here is in a secret roof garden, only accessible to guests. You can take all the selfies you desire in a spot with no obstructions – compositions you won't get on ground level.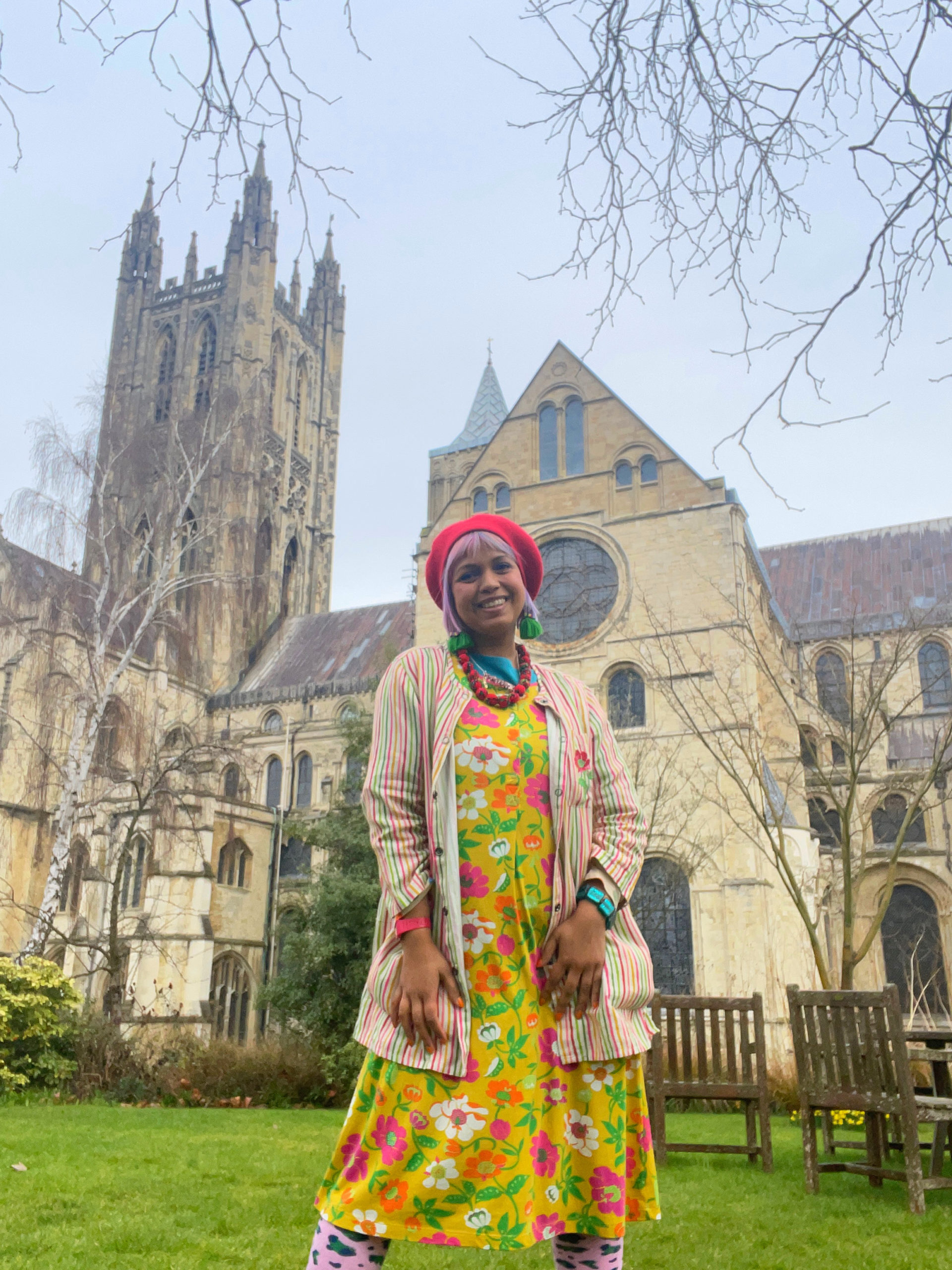 I've previously done day trips to Canterbury but staying here is a reason to make a longer trip here so you can properly enjoy the town's laidback, beautiful setting in awe of this legendary landmark.
My visit to Kent Downs AONB was an invitation from the tourism board which arranged my activities and accommodation. Train ticket provided by Southeastern Railway.
Yours colourfully,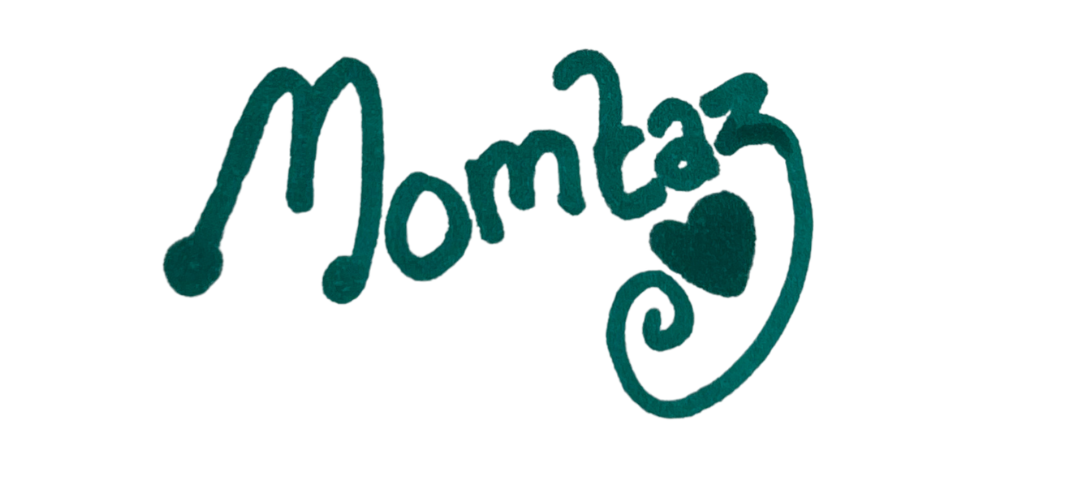 AONB
canterbury cathedral
creative pilgrimage
kent downs
kent uk
natural pathways
the wild kitchen
things to do in kent