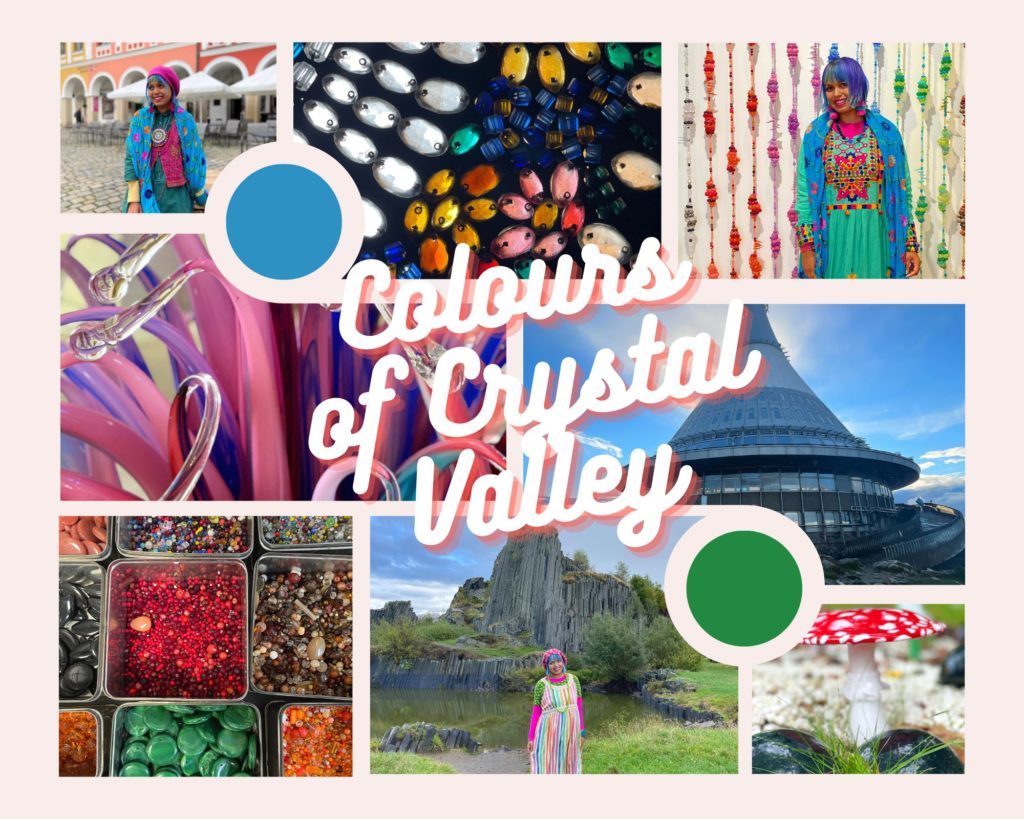 Has TV ever changed your life? I've just finished watching season 3 of Blown Away, the glassblowing challenge series on Netflix and I'm wondering how many people have tried this traditional craft after seeing glass art on the box?
The show helped me appreciate the skill, timing, knowledge and passion that goes into making glass but nothing prepared me for exploring the vastness of Czech glass in The Crystal Valley – an entire region in the north of the Czech Republic dedicated to the production of glass and crystals.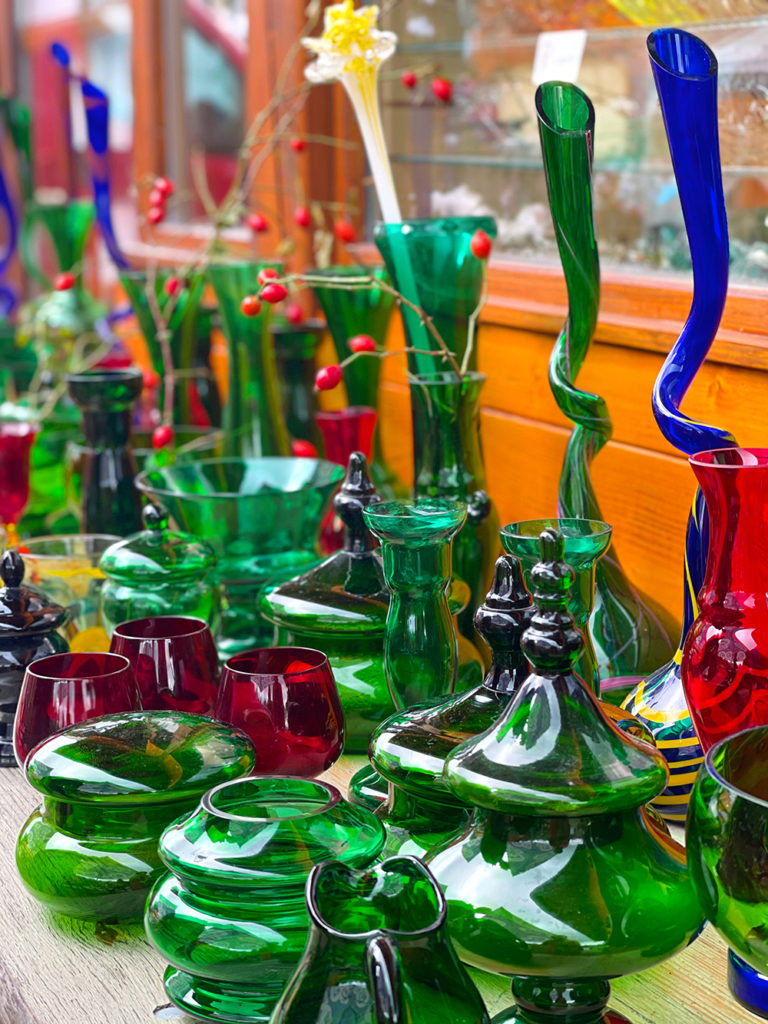 The region is home to over 2100 glassmakers. Czech glass is a serious business, a national tradition and a thing of beauty. I headed out to the town of Liberec, in north Bohemia my base for two nights, while I stepped foot into the colourful, craft-filled world of Czech glass.
Come along and join me on my adventures in colour….
The story of Pacinek glass factory in The Crystal Valley
Just like I got interested in glass blowing after watching it on TV, Czech glass expert Jiri Pacinek had a chance encounter with the craft on television when he was a teenager. He felt immediately drawn to the creative discipline prompting him to change the career he had lined up for him.
Jiri is the owner of Pacinek glass factory his glass-producing company, where we sit down for a chat. He tells me: "I was a sportsman – I don't look like one now but I was a big sportsman, a Greek wrestler and I was very good! My coach saw a big career for me but one Sunday morning I saw a film on TV about glassmaking and found it very interesting. I watched it again the following Sunday and then all 12 episodes and I said to myself 'I love it, I want to be a glassmaker! But when I told my coach he wanted to kill me – he had a career planned for me as a wrestler!'
Speaking to Jiri provided an intriguing introduction into the incredible stories that inspire the glassmakers and the glass creations you can find in The Crystal Valley. In just 15 years glass has become part of Jiri's heritage. He tells me: "I started a new family business, I opened Pacinek with my brother and father-in-law who died last year. We started slowly with a small furnace in my house and as we made money we bought this building and did it up."
Today he's considered a Glass Master though he's humbled by the title: "I don't call myself a Glass Master, I'm a good glass maker but the Masters are really big makers and experts. I feel if that if you do something good, people like your work and you make some money that is enough."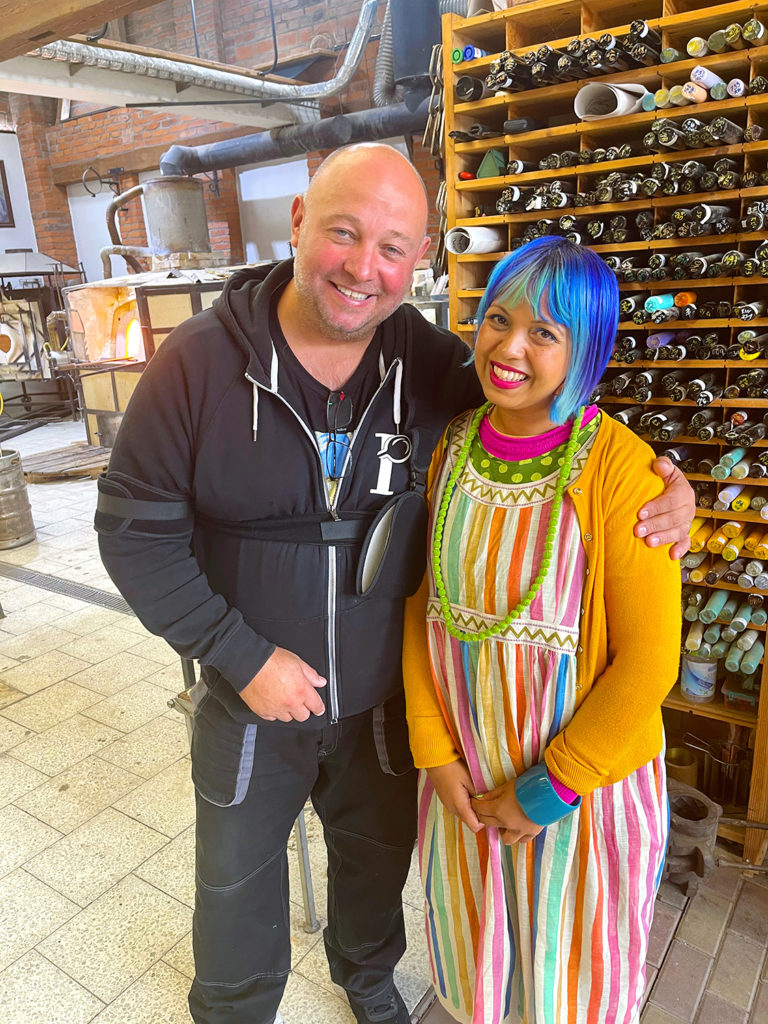 The premises comprise a hot shop where you can witness the glassblowers in action, each who bring a new skill to the table as Jiri explains: "what we do here is glass art. Everyone here knows different techniques though I'm the oldest glass blower so I have skills I can share. Together we do every aspect of making glass like blowing and sculpting. The only thing we don't do is glass engraving that's a specialist skill but I have friends who do this and I work with them if someone asks for it."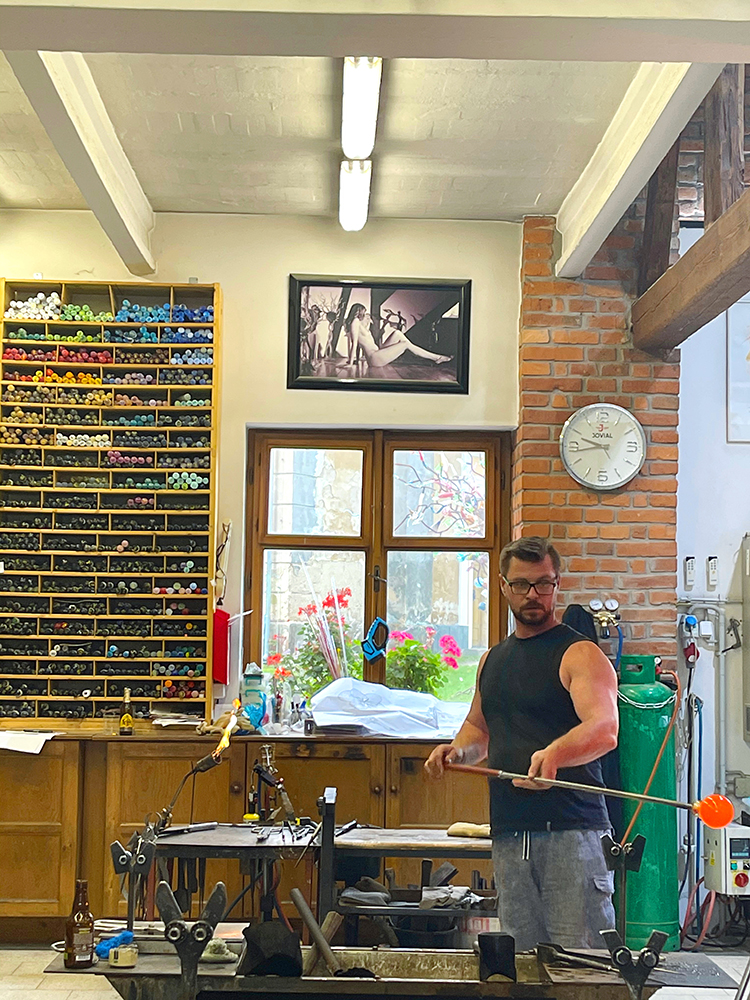 Beside the hot shop is huge glass gallery shop filled floor to ceiling with hand-blown glass art and a colourful glass garden, home to handcrafted ornaments like a glass tree, large sculptures and even tiny details like glass fungi.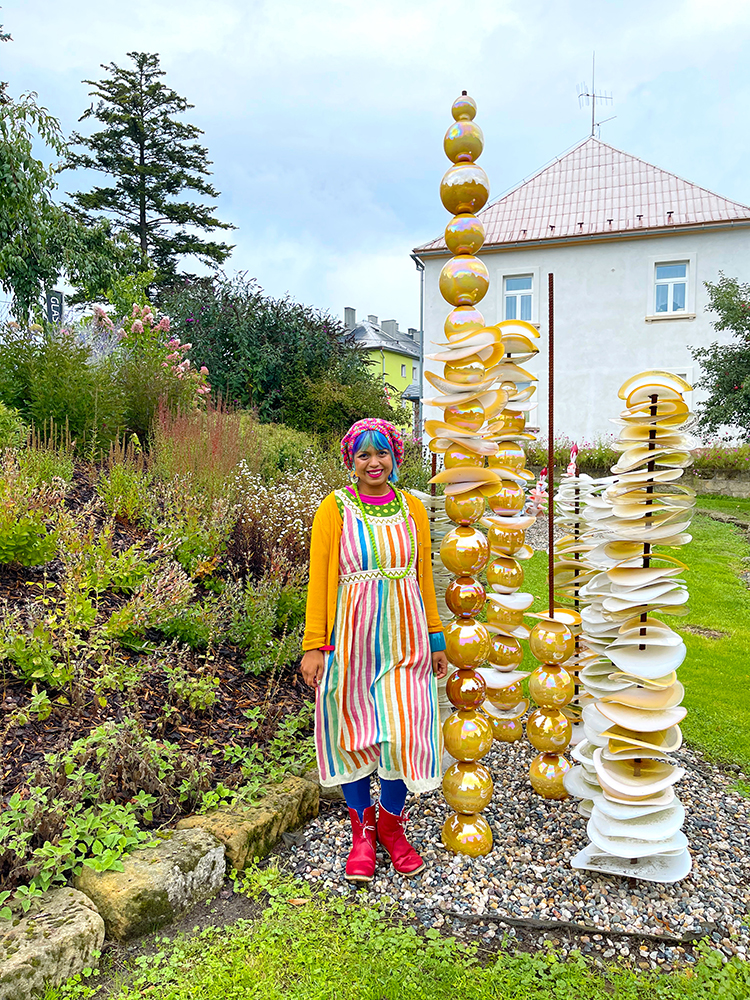 The garden began as a project for the glassblowers during the Covid pandemic when they could no longer take commissions from the public, yet Jiri wanted a way for the team to keep progressing their skills.

He says: "We started the garden when we couldn't work but now it's somewhere beautiful for our glassblowers to enjoy. They work long hours 12-14 hours a day and the garden is somewhere they can enjoy on their breaks."
Drinking on the job! What it's like working in The Crystal Valley as a glass artist
Speaking of breaks I make a very interesting discovery at a second glass factory I visited in the region. Many of the glass-producing companies in The Crystal Valley are open to the public and as well as Pacinek, another place worth visiting is Lasvit which has the Cvikov Brewery as part of its complex where you can tuck into Czech cuisine while watching the glass art come to life.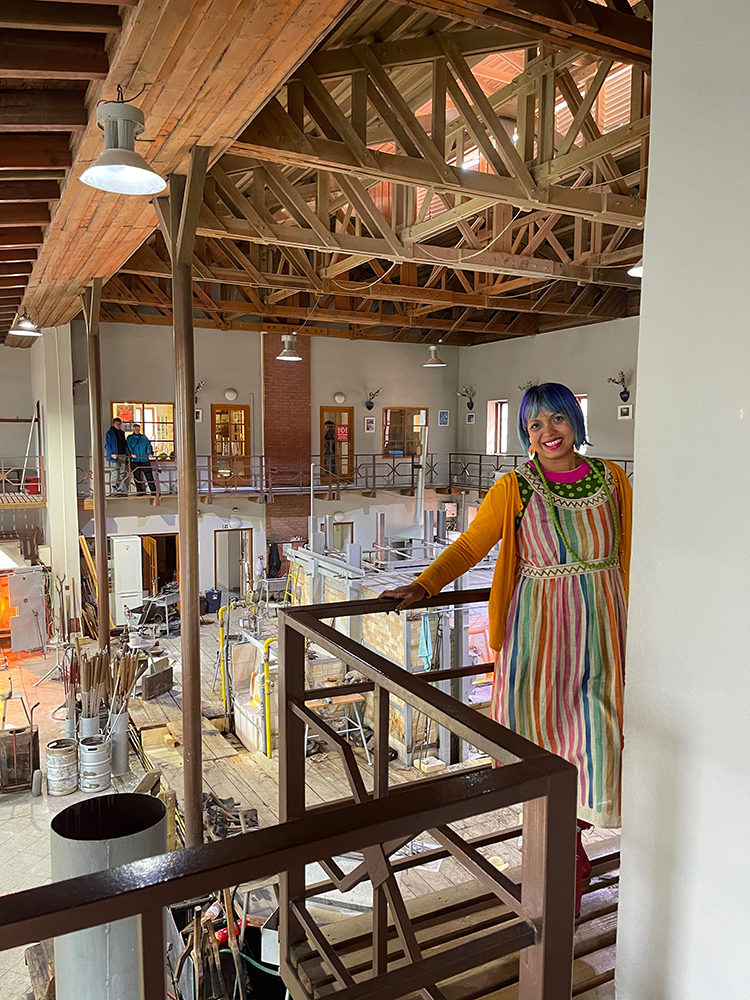 I'm given a tour of the premises by Daniela Divisova, she used to be a solo glassmaker working at home but now is one of the artists that hires a hot shop space at Lasvit. Artists can rent a space here and put work into production, like making the parts of a chandelier or other lighting installations.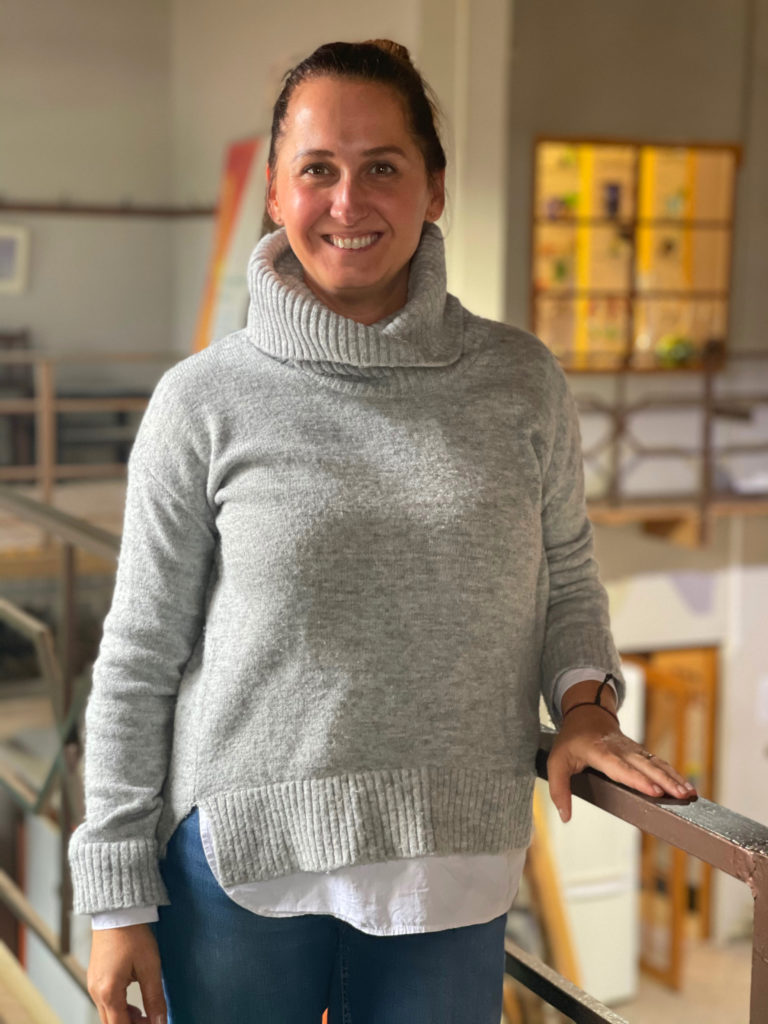 Now about that discovery I made. On the hot shop floor, there are beer barrels everywhere…turns out the glass workers get free beer while working and no this isn't a Czech tradition due to their love of a pint.
Daniela tells me: "glass making is one of the professions where you can drink beer at work though it's very low alcohol. The reason is the glass blowers are constantly sweating out salts which water doesn't replace but beer can help."
Fascinating stuff! Though as a teetotaller I stuck to another Czech tradition in the bar – raspberry lemonade.
Inside Lasvit a luxury glass production company
As Lasvit you can see every stage of the glass-making craft in the Czech Republic and it starts with the raw materials, through to either moulds or glass blowing. Moulds are often used to make large quantities of the same design. One of the iconic pieces Lasvit is known for is producing the Tour De France trophy, so of course, I had to lift one up for size.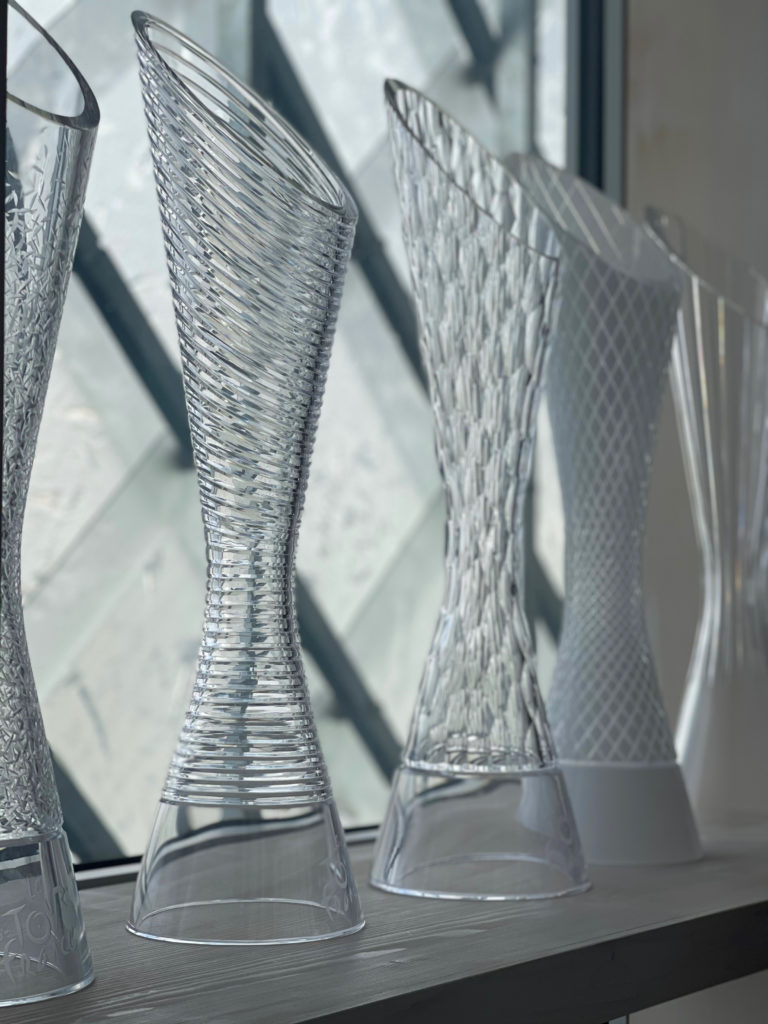 Their mould room houses over 150 wooden moulds. They have to be kept wet so it's a very dark and dank room and also very mouldy in the other sense. New moulds are made daily, carved from wood but it's a great sustainable craft, as not only are the moulds kept and continuously used, the wood shavings are never thrown away, instead, they are used to smoke meat.
On the factory tour at Lasvit, which is open to the public, it's possible to see every single stage of Czech glass production – the glass being de-moulded, cut, washed and polished.
Away from the main factory complex, Lasvit has a second space, its main offices which house a huge warehouse for the production of major light installations. The scale of their studio is like a vast airport hangar and here they create epic light installations that are sent all over the world to be hung in major places like hotel lobbies.
What is so special about Czech glass?
It wasn't until 1953 when a glass object made by a Czech glass artist won a prestigious prize at the Brussels Expo that put glass making in the Czech Republic on the map. It gained an international reputation and it's still considered to be amongst the best glass in the world.
So why did an entire Crystal Valley get created in north Bohemia, the northern part of the Czech Republic? For that we need to head back thousands of years, we're talking around the time of dinosaur extinction.
This was a volcanic area which is what created the sand. Czech glass is 80% sand (the other raw materials are sodium bicarbonate – the same stuff that goes in baking cakes, and potassium from plants.) It made sense to do something with this natural resource and using it for glass turned into a thriving economy and new cultural heritage.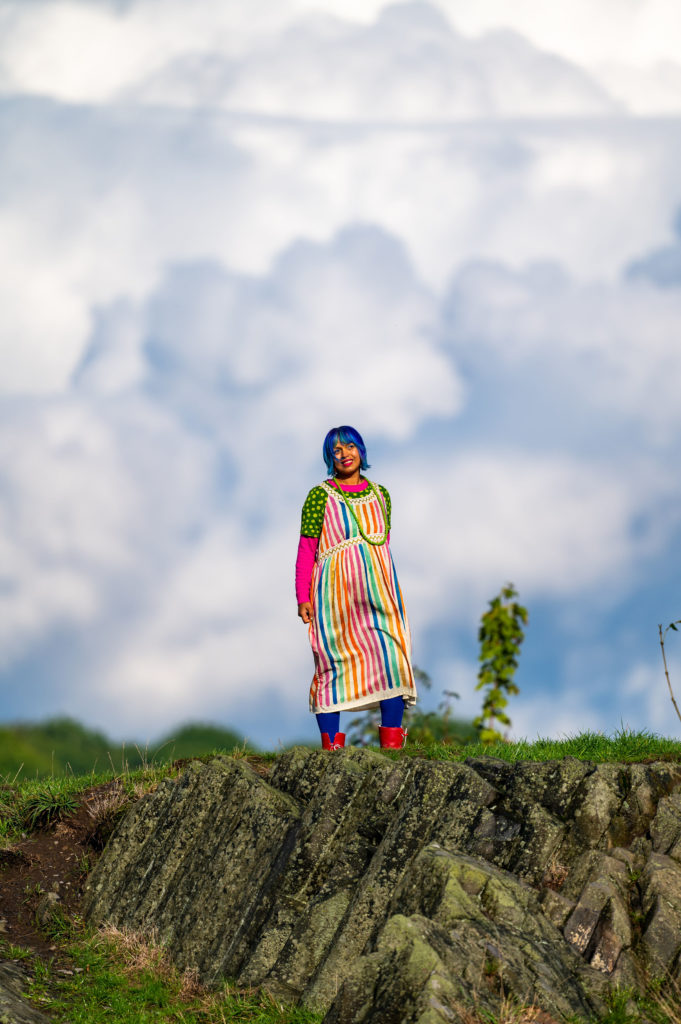 The volcanic activity has also left its legacy in the form Panská Skála. Similar to The Giant's Causeway in Northern Ireland, volcanic lava cooled into the shape of strips giving the rock formation an iconic aesthetic. Visitors can climb to the top of the rocks for stunning viewpoints and if they're lucky, they might even see a rainbow.
Things to do in The Crystal Valley
As well as visiting the colourful and creative glass factories in northern Czech Republic add these other activities to your Crystal Valley itinerary.
1. Climb Panská Skála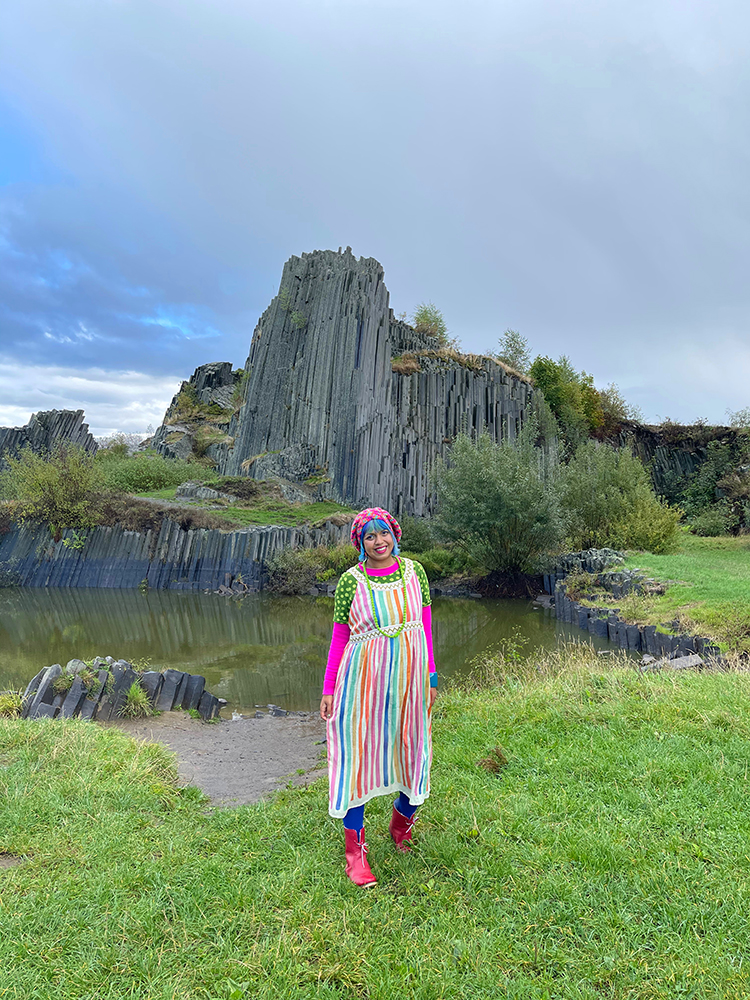 Go back to the roots of glassmaking by visiting the volcanic remains at Panská Skála. It gets rainy in these parts so take a mac and be patient – rainbows frequent this magical place!
2. Get wowed by history at The Glass Temple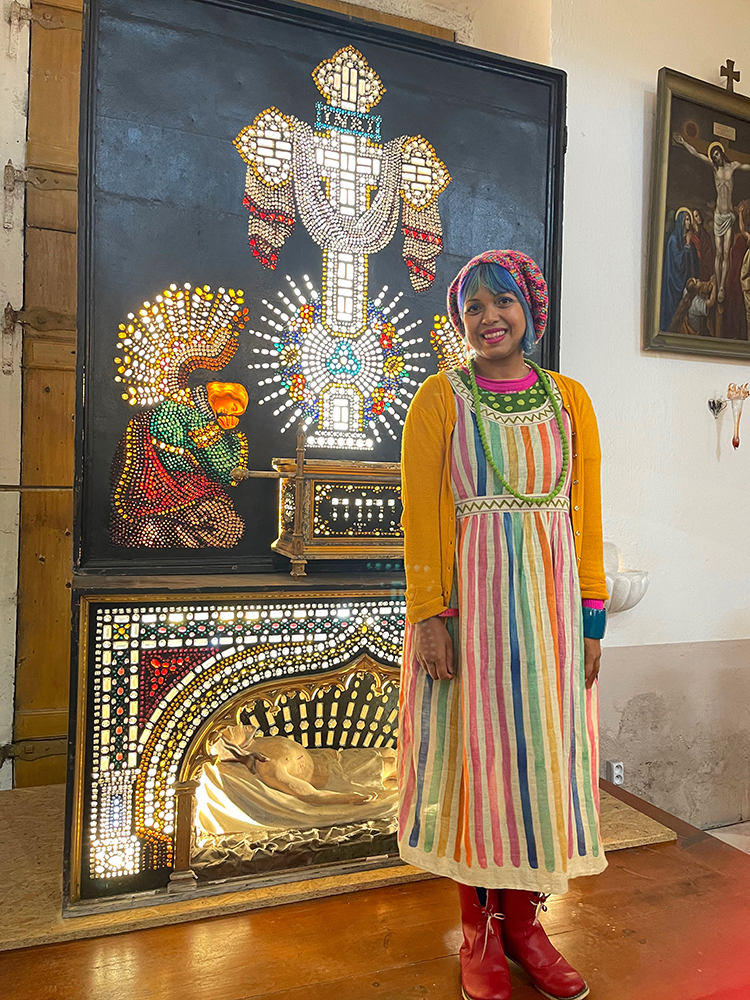 The Crystal Temple is a derelict church next door to Pacinek glass factory and has become an exhibition space for local glass artists to showcase their work. But while this draws in visitors, there's another extraordinary reason to visit.
The priest here uncovered the most stunning crystal-clad glass altar, thought to be 150 years old – discovered for the first time in 2021. Colourful crystals are embedded throughout and it's huge. By visiting The Crystal Temple you'll be one of the few people in the world to see this historic treasure.
3. Buy jewellery at Crystal Paradise in Jablonec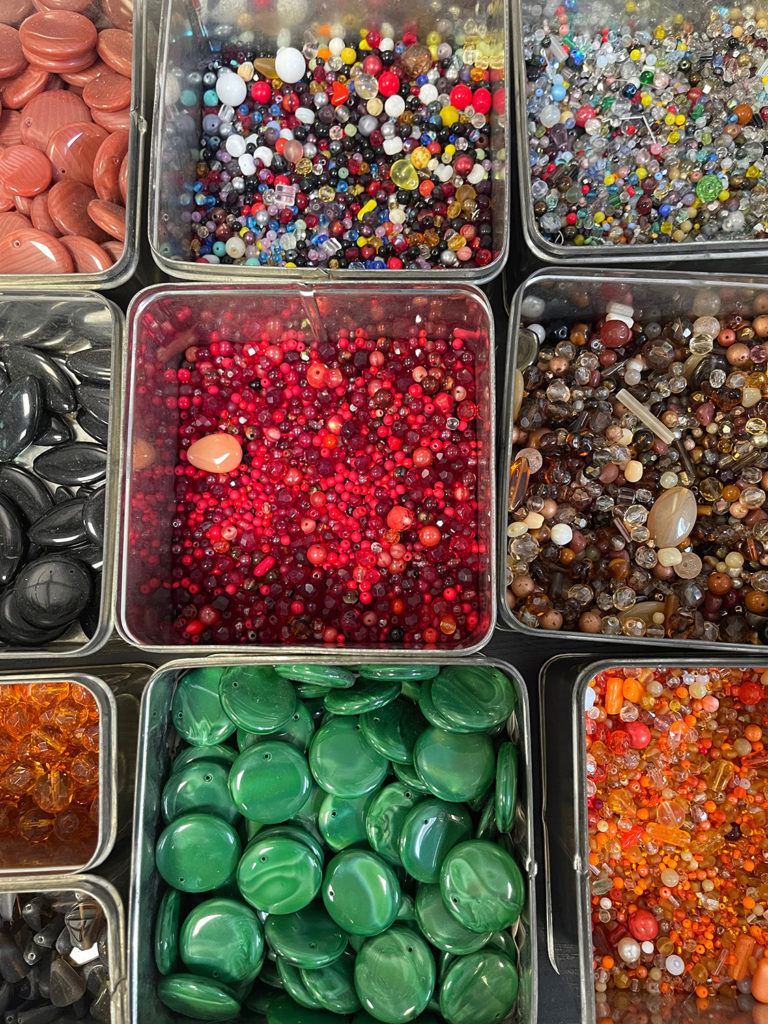 Jablonec is known as the kingdom of pearls and costume jewellery and you'll find both at Crystal Paradise, a huge shop where you can shop for jewellery, do a jewellery workshop and shop for beads to make your own crystal creations.
4. Visit the Museum of Glass and Jewellery in Jablonec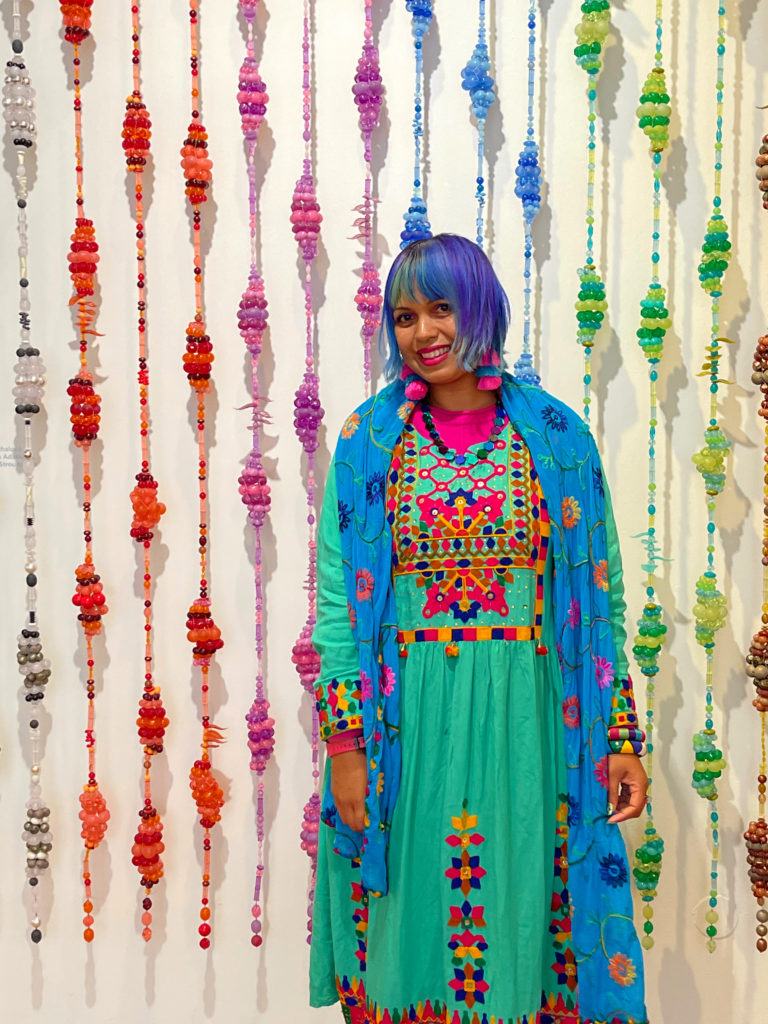 Up there with the favourite museums I've ever visited there are 12 million pieces of jewellery in the collection. If you appreciate jewellery, this is a must-visit bucket-list destination. Check out my separate post about the museum to find out more about it.
5. Take a trip to Jested Tower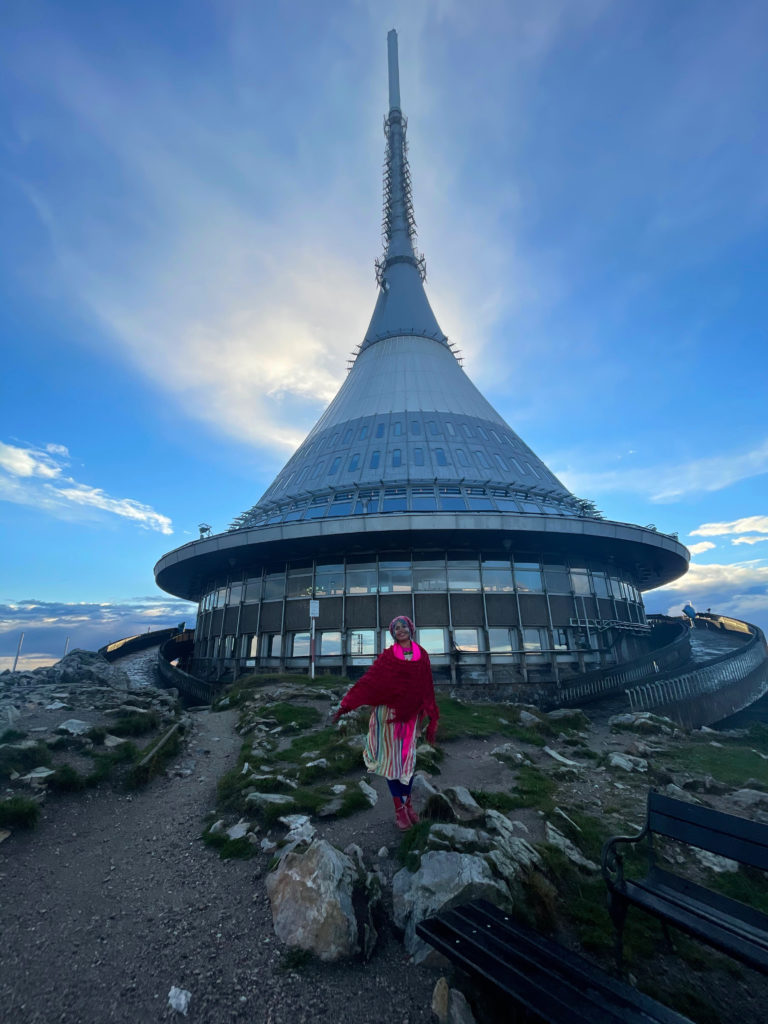 A landmark that presides over the Liberec regions, Jested is a television tower, which offers 360-degree views of the valley. There are a small number of retro-styled bedrooms here too which would make an incredible place to stay to watch the sunset from up here, but rooms get booked up quickly so book ahead if it appeals. The tower was originally reached by cable car but while that undergoes maintenance you can get a taxi up here.
The Practicalities
How to get to The Crystal Valley
I caught a train from Prague to Liberec and then it was a short drive to Liberec town where I stayed. You can visit the iconic rock formation at Panska Skala by catching a public bus from Prague, the journey takes two hours so it's possible to do a day trip. If you catch a bus from Liberec it takes an hour. For more details head to Amazing Czechia.
Where to stay in Liberec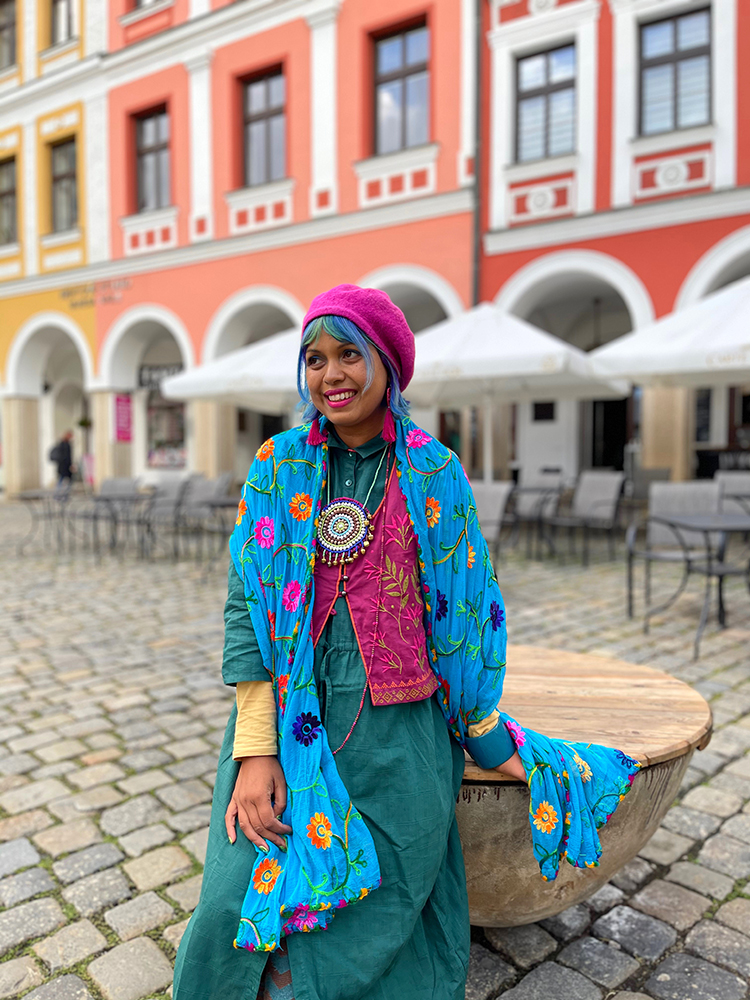 Staying in Central Liberec is a perfect base as you'll be near handy amenities like shops and restaurants, the iconic colourful square (which has appeared in a Spiderman movie!) and it's easy to travel to The Crystal Valley. I stayed at Pytloun Grand Imperial which as a bonus comes with Jacuzzi bathtubs and colour-changing bedroom mood lighting, which I loved!
My visit to The Crystal Valley was supported by the Czech Tourism board – all words, views and images are my own.
To help plan you own trip here visit The Crystal Valley website.
Yours colourfully,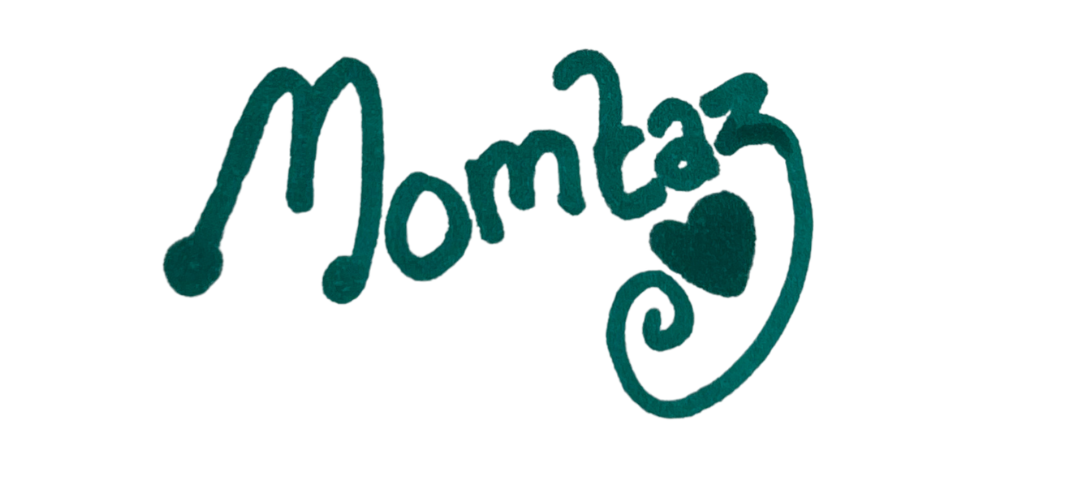 blown away
crystal paradise
crystal valley
czech glass
czech republic
glassblowing
jablonec
jested tower
jiri pacinek
lasvit glass
liberec
north bohemia