It's my birthday so I made my dream outfit: A Bat Girl Sari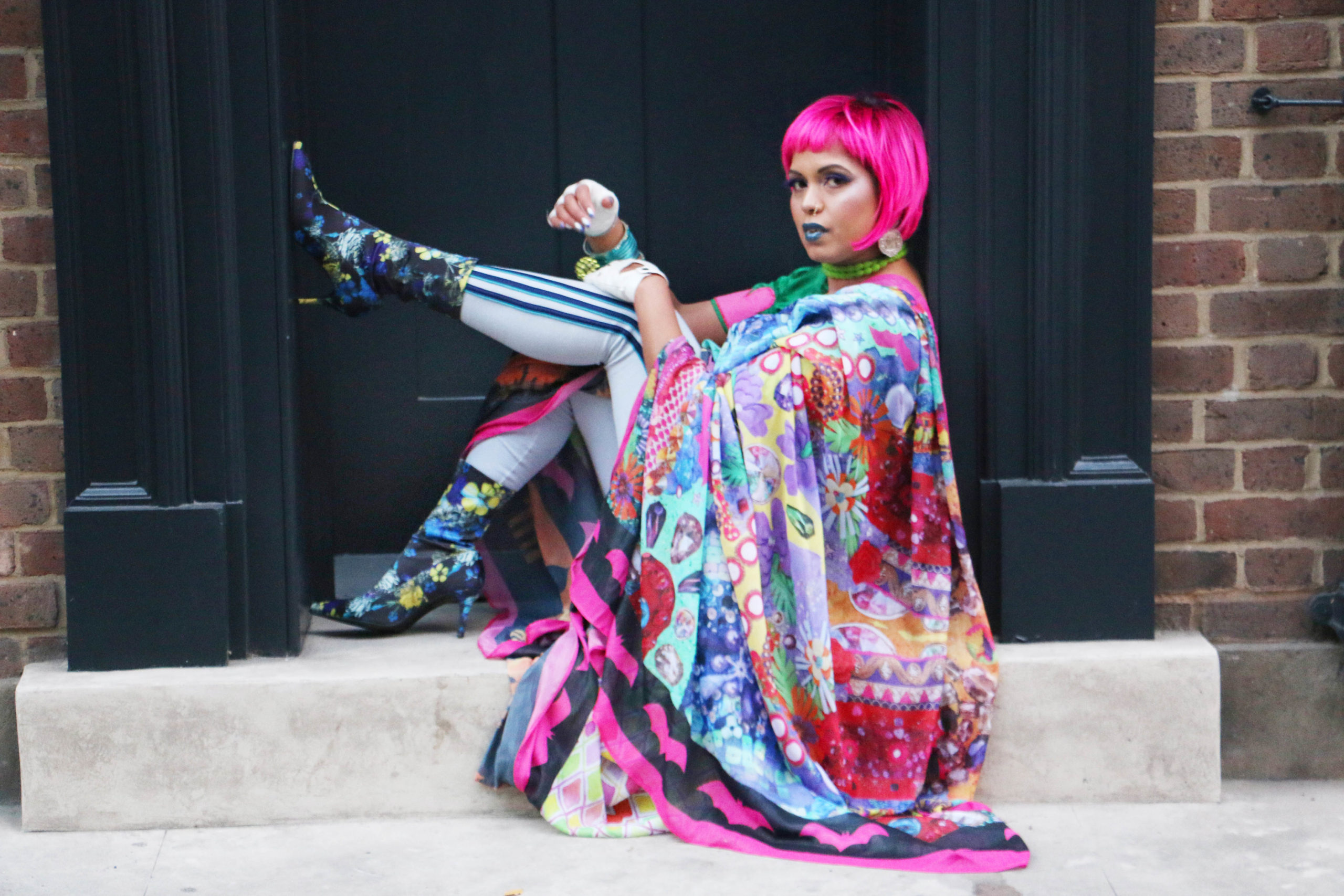 Seriously. What is it with people who do nothing on their birthday? It astonishes me when friends claim they 'don't bother anymore', 'they are too old', blah, blah, blah. The day you were born is an essential celebration in my books, after all; we've survived another year. If we honestly care about ourselves, then birthdays are the time to show it.
Creating a 'birthday suit' is something I love doing. In previous years I've sewn new dresses, but this year I wanted something a little bit different. So I thought about all the things I love. Batman is high up on the list. My favourite superhero, I've long wanted to be Bat Girl. And that's when it clicked; I'd create my own Bat Girl Suit…but not a conventional one. I designed an ensemble that  represents me and my story: my very own Bat Sari. Keep reading to see how I created it…
CHOOSING MY DESIGN
Clothing is a form of self-expression though not everyone takes advantage of the possibilities. Designing my own sari was a chance to play with six whole metres of fabric so I opted to tell my own story through the design.
It starts from the bottom: my very own pink Bat Girl logo. Every super hero has their own logo and a pink bat was exactly what I wanted: fierce yet unashamedly kitsch. I then created a border of a Gothamesque city but it's not a crime ridden fictional town, it's infact a silhouette of the Taj Mahal: built in India to commemorate the Mughal Empress Mumtaz after her death, who I'm named after. I mounted it on a photograph of a sunset I took one Christmas in Brighton, where I was a student. It looks like a painted backdrop but it's an untouched actual photograph of a magical horizon.
I'm a sunset chaser, every time I travel seeing the sunset is my number one priority so seeing one on my sari makes me happy and proud, knowing it's my phoneography skills.
The main visible section of the sari is called the pallu, this is the area that gets styled over the shoulder and this was the area I couldn't wait to create. As a crafter I'm most comfortable when I'm sewing and collaging so that's what I did.
I gathered all my fabrics, beads, sequins, gemstones, broken jewellery, made some handmade paper, raided my trim stash and used these items to create a pattern that depicts my love for colour and appreciate of textiles and texture and were all sourced from different times of my life, including a beaded trim I bought in Kenya and a sample from a handbag I made back in 2001.
DIGITAL PRINT FABRIC
I am utterly obsessed with digital print. If I was Graphic Designer I would be translating all my ideas onto fabric…hang on a minute. Should it stop me just because I don't have the skills? Hell no. I may not be a dab hand with Illustrator, In-Design or Photoshop (or whatever other packages designers use) but I do know how to sew and craft things. And I know designers – a perfect excuse to collaborate. So that's what I did. Of course there was also the question of printing fabric. My friend Tree who knows about these things suggested I check out Fashion Formula who allow you to print your own designs onto fabric and wallpaper and then sell your designs via their website.
They have over 50 fabrics to choose from, from craft felt (imagine the possibilities) to luxury velvet and waterproof shower curtain material. It's mind-blowing when you think about the potential but I had to reign myself in. I was looking for the perfect sari fabric, that had to be light and floaty. I had no idea where to start so I popped into their West London office to have a good feel of their fabrics. Oh my. It was like being in fabric heaven. Seeing so many different textures lined up isn't something you can witness in normal fabric shops. You don't need to trek to West London though, Fashion Formula send out sample books. They are only £1 and they help you compare the feel and weight of the fabric before you choose.
I knew I wanted something floaty and light to give my sari a touch of Bollywood romance (I'm a sucker for watching those) so I asked the Fashion Formula team what they recommended and they suggested a silky soft, light crinkle chiffon lurex which has a natural glistening stripe to it and is new on their fabric list. As I knew my sari would feature images of shimmering, glittering stones it was perfect.
DESIGNING MY SARI
My sari is a collaboration piece, I knew I couldn't do it all myself to I had a think about all the awesome people I know and Graphic Designer & Stylist Sally Hughson came to mind. She designs the fliers for the Craft Night I co-run with my friend Mia, The Make Escape and her ideas are always so imaginative. Sal helped me turn my collages into a digital design while my friend Tree also assisted with creating the patterned section on the main body of the sari. The three of us constructed the design of my dreams, and it was great to have their support rather than me spend hours alone trying to figure out how to cut out and blow up photos of giant jewels.

SARI STORY
It took Fashion Formula just a couple of days to print my sari and though they post out nationally and internationally I was too excited to wait, so I went to collect it.
When I arrived the sari was wound around a cardboard pole, I actually couldn't believe my vision was alive. Alex from Fashion Formula unwound the fabric to show me the pattern and I was utterly amazed, the finished print surpassed all my expectations. The material printed faultlessly and the patterns were so clear and beautiful.
BIRTHDAY PHOTOSHOOT
Again collaboration was in order. I teamed up with Halima @MakeUpSurgery who shares a similar vision to me about fashion and styling: that it's a form of art and expression and that there is absolutely no reason to conform to any ideals other than your own.
We spent an afternoon at her East London 'creative surgery' where she did my make-up, styled me for the shoot and did the photography – with this much skill, she's clearly a Wonder Woman herself. Halima opted for purple lashes and a gorgeous white shimmer on my skin and dressed me in Adidas tracksuit bottoms and white gloves. I felt like I could conquer the world. We took over 1000 photos and all of them were incredible.

I felt so proud wearing a sari that represents me: a British, Bangladeshi, South Asian, Muslim, Londoner, Colour Addict, Craft Queen, Batman loving, Urban Warrioress who is a firm believer in freedom – freedom to be who you want, live where you want, love who you want, go where you want and do what you want as long as it makes you happy. Life is precious and short. Sieze it, do it, say it, be it. And as my friend Karen Arthur says 'wear your happy.'
Oh and I've decided Birthday Photoshoots should be A Thing so celebrate being alive and do one too.
VOILA!
Happy Birthday me!
It's my birthday today and my sari is the ultimate present to myself. Making it was one of the best uses of my time all year. Every second I spent on it made me happy so I've decided not to stop here. In 2018 I'll be launching my own range of sarees, designed for the modern woman who loves dressing up. I'm also keen to collaborate with other designers and artists so if you want to work with me on a sari, get in touch.
Now where's the cake…

My birthday sari was a collaboration with these awesome people:
Fabric printing: Fashion Formula
Make-Up, Styling & Photography: Halima @MakeUpSurgery
Digital/Graphic Design: Sally Hughson Additional design: Tree @StitchlessTV Re-touching: Richard Elsley.
THANK YOU!