Daytripping in Winter: Dreamland Margate ticks the boxes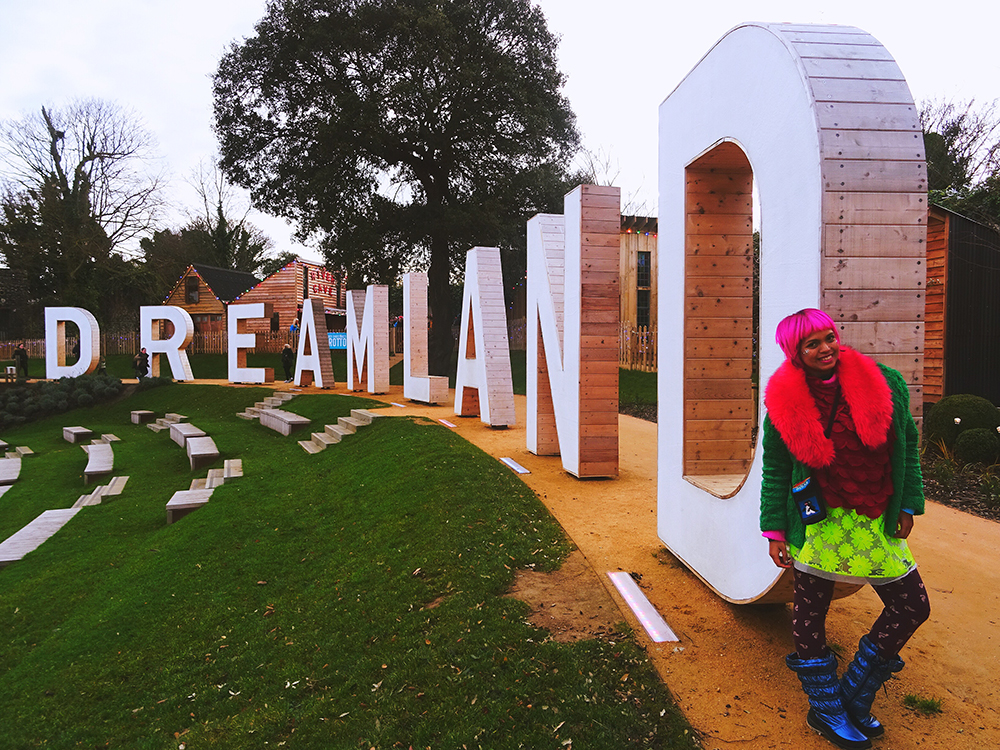 British summer time and seasides make for the perfect daytrip, but does it still work as a December activity?
Since it opened back in May this year following a £25 million investment, the oldest surviving amusement part in the UK, Dreamland Margate has become one of the most Instagrammable destinations for colour lovers. It seems to always be on my feed, colour-hunters, meet-up groups, crafters, bloggers, attending in their hoards to get selfies in front of the rainbow 'Born Slippy' slides and the retro themed roller disco. To say I've been suffering FOMO would be an understatement, I so wanted to visit but I never quite made it before it closed down for the summer season. Booo!
But then I heard it was opening back up for Christmas with a Frosted Fairground so I hotfooted it down to the Kent coast to see what all the fuss is about. Yes it's winter. Yes it's cold, but if you layer up (I had my thermals under all my normal clothes) there is much fun to be had.
My 5 reasons why you should visit Dreamland Margate in winter
Short days
Margate is highly Instagrammable during the day but a fairground really comes to life in the dark and in winter it's dark by 4pm so the fairground lights come on quicker (plus there are extra Xmas ones too.) I call that a Win. It's also really fun to be able to go on the rides in the daytime and at night to compare, especially the legendary Scenic Railway – the oldest rollercoaster in the UK which no matter how scared you think you'll be, you have to go on.
Ice skating
Yes, you can go to the Roller Disco in all seasons but let's face it, skating off- season isn't the same. It's best done in December. Can't skate? Neither can I. Thankfully I found a guide to help me over the course: a plastic penguin!
Banish grey skies
Going to Dreamland on a grey day is no bad thing because there's so much colour in the rides, signage, details that it eases the depressive nature of bleak winter days.
Good vibes
While other places you visit during this time of year (shopping centres, bars, restaurants) are all playing the same old Christmas pop CDs, Margate maintains its vintage vibes by playing golden oldies rather than chart music Xmas mash-ups. There's also live DJs and a huge stage giving it a fun festival feel. Infact it's good vibes all round. Compact in size, friendly staff dotted around the place, rides for all levels of bravery and yummy food carts, all of which create a perfect daytrip experience.
Xmas Shopping
Swap the high-street for the boutique shops of Margate and pick up something a little more interesting. Dreamland is just five minutes walk from Margate train station, five minutes walk to the beach and seafront and five minute walk to the old town shops. A destination couldn't be better designed. And if you are down for Dreamland, Margate has much to explore. The Turner Contemporary Margate Art Gallery is free to visit and has a quirky gift shop which is also a fab place to shop, as is the colourful and curious A Little Bit Margate.
See, daytripping is not just for summertime. And if you're one of those folks that wants to visit Margate but can't hack the crowds it attracts on sunny days, winter is the perfect time to experience it.
Dreamland Margate is open every day from December 16th until 3rd January. (Closed Christmas Day). It's also open weekend of 9/10th December.
Entrance is free rides and skating are paid for separately.
Tickets available from dreamland.co.uk/events