I have a private Pinterest board of droolworthy hotels. A bucket list of cool designs in hip neighbourhoods. Each residence is an Instagrammable destination – could a visit to one of them finally blow up my reels?
They're the quintessential places social media encourages us to desire, the type of haunt that entices one to splurge on a credit card to get 'The Shot.' But what's a photo without real memories?
When I look back at the last few years of my colourful travel adventures, the trips that have connected with my soul on the deepest level, that I catch myself thinking about the most, and I'm not ashamed to admit: the trips that 'changed my life', are the days I spent at homestays, in the abodes of ordinary families.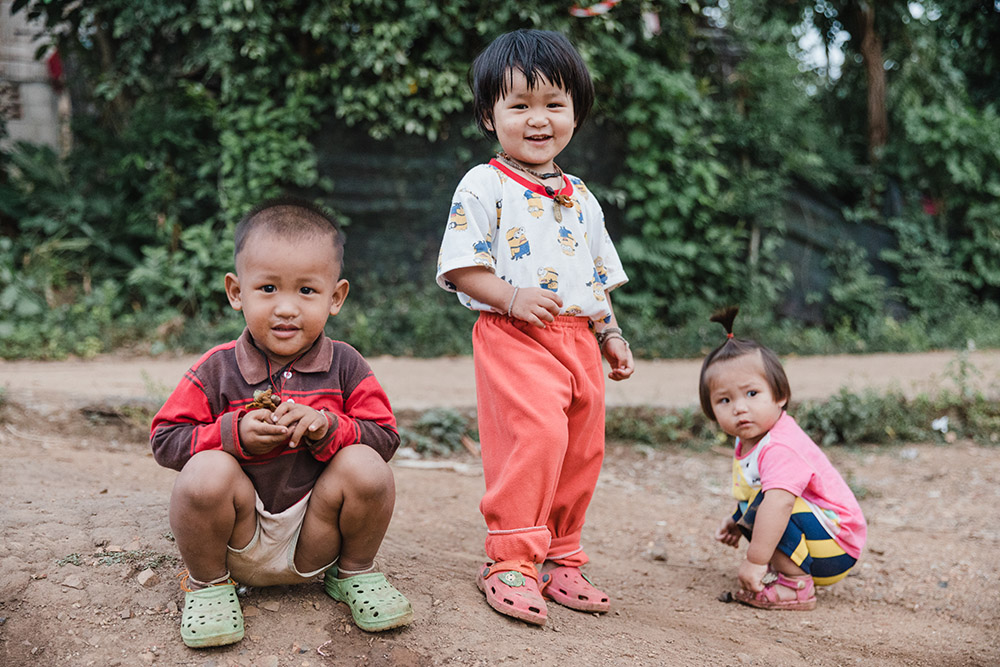 Shared rooms, bucket showers, home-cooking, villages in the middle of nowhere with huge spiders, rich handicraft traditions and grocery shops that operate from the back of a van – this is what makes my travel pulse beat.
A homestay is an opportunity to have a real change of scenery to break up the routine of everyday life.
You'll step into what feels like unfamiliar territory, yet turns out to be completely natural. For human connection is the most natural of urges.
When you stay over at a stranger's home that welcomes you into their family, feeds you their signature recipes and ensures your comfort is put above theirs, that experience affects you on a deeper level so it's no surprise that this type of travel is also referred to as 'deep travel' – it's more special, more real, and more a real flavour what what day-to-day life is really like, something which isn't possible in a hotel.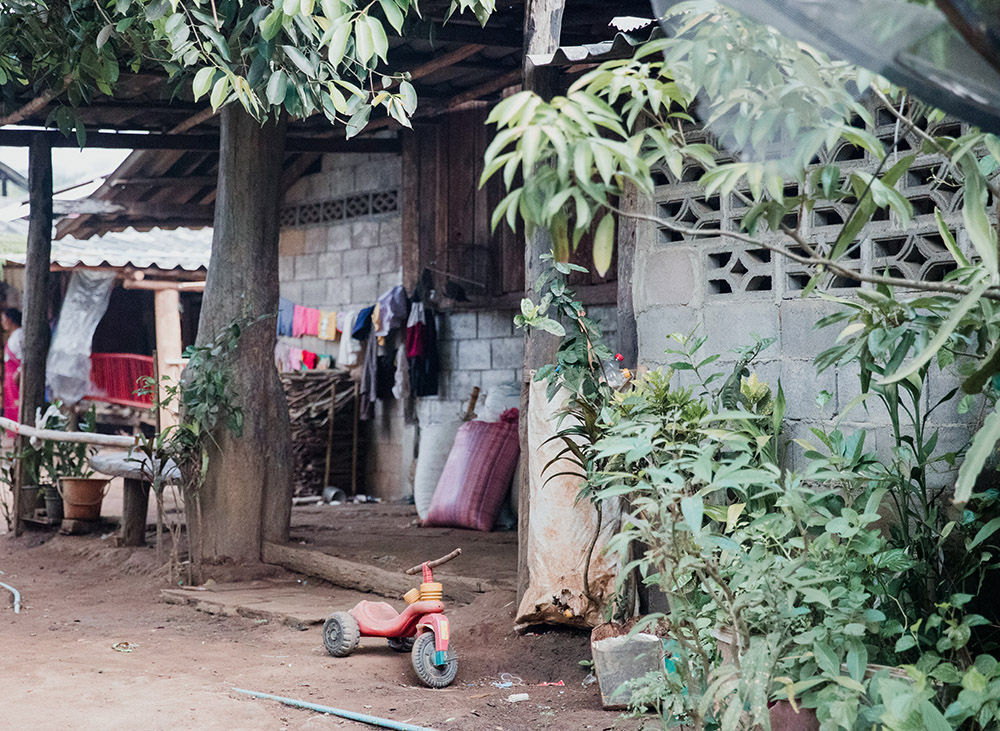 These encounters also birth new friendships, ones you'll treasure. On the surface, it may seem like their lives are different to yours, but their values may be similar.
My own values are to learn, grow and experience with every travel adventure I embark on. I don't want to leave behind a footprint that dries in cement and changes the landscape. I want to give what's helpful and respectful to the environment and its people, and not leave anything behind but warmth.
It's a value that aligns with the ideals of responsible tourism which I discovered when I spent some time living with two hill tribe communities in Northern Thailand.
The value that comes from a homestay is economical, ecological, socially satisfying and rich in responsible tourism.
The first thing to admit was that homestays didn't appeal to me until I ended up at one. My reason was selfish.
In my blog post Why I Travel, I explain that as a child I didn't travel, except the odd daytrip and a couple of family visits to Bangladesh. My memories of those trips are sleeping surrounded by mosquitoes, using floor toilets and being fed unappetising local specialities like cow brain (which looked like scrambled eggs but tasted rotten.)
I felt like I'd done my duty of 'roughing it.' In my defense I was a kid oblivious to the fact I was insulting my own family's way of life.
When I first embarked on my solo travels though I initially stuck to backpacking on a budget, I couldn't bring myself to stay in a homestay.
Turns out this was one of my foolish phases. I've since realised the flaws in my thinking. The benefits of staying in a homestay while you're travelling far outweigh any concerns.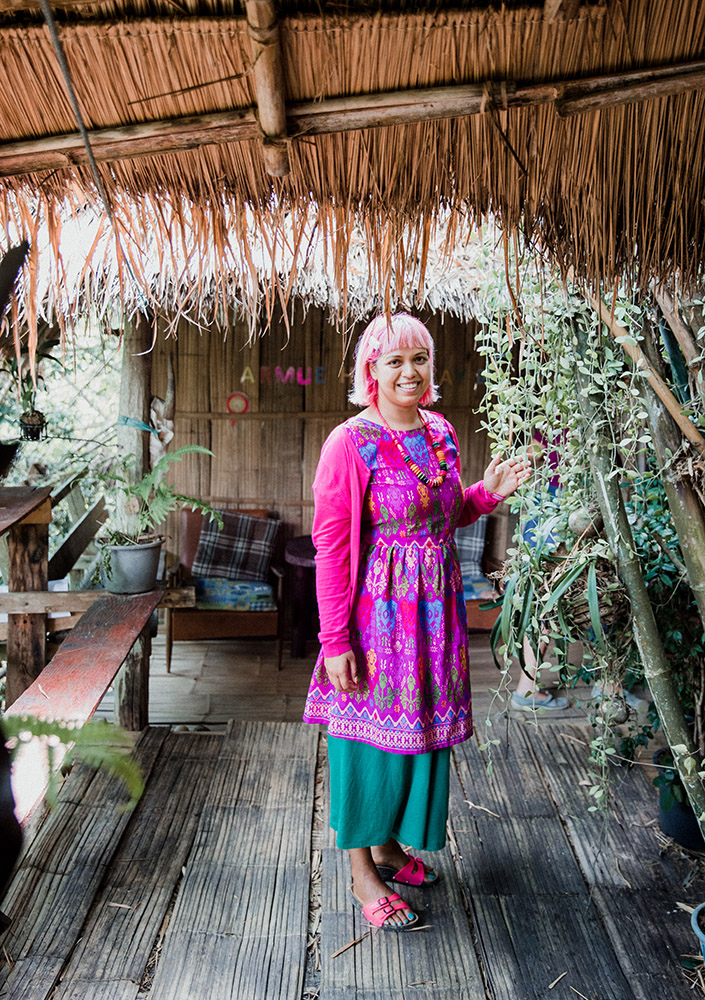 The value that comes from a homestay is economical, ecological, socially satisfying and rich in responsible tourism.
It was looking back at the pages of my travel journal that led me to realise how enriching and powerful a homestay experience can be, so it's only fair to share…
5 things I learned from staying at homestays
What is a homestay?
Not sure what a homestay is, wondering how one works or whether it's for you? Well, grab a cuppa' and get comfortable. I'm about to take you on an adventure that involves culture, crafts, food, rituals and even a wedding.
1. EAT LOCAL – the joy of sustainable home cooking
When I got wind that winter melon was on the menu for lunch I hotfooted it straight to the kitchen. I first sampled the juice at an airport in East Asia and since then, every time I see a carton, I reach for it. Its sweet dark, earthy flavour served cold conjures up holiday memories.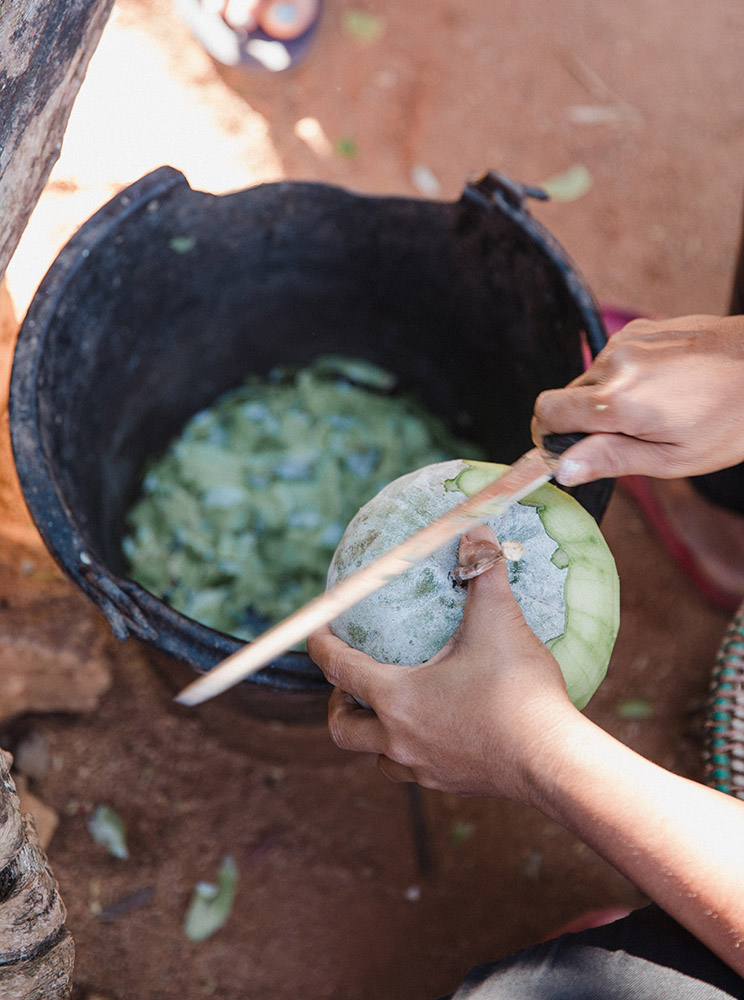 Just like it's been reported that some British children don't know that meat comes from animals, I hadn't realised winter melon was an actual edible vegetable.
Being in Thailand, I assumed I'd be eating Pad Thai most days. On the flight over I watched a film by the tourist board about the dish which claimed you're never far from one because it's eaten everywhere. Talk about naivety.
Nothing I ate at the Akha or Dara-Ang homestays was Thai in origin. The Akha have Chinese roots and the Dara-Ang mostly come from Myanmar. Their meals didn't contain any form of processed ingredients. This was organic feasting at its finest, eating seasonal produce from the garden. Green leaves and vegetables were the staple, served with plump rice grains.
Because it's grown on-site in the homestay gardens, only what's needed is picked and shared.
The winter melon slices floated in a slightly seasoned broth which tasted delicate and clean. Though we ate as a group, tucking into a spread of healthy home cooking, I kept the winter melon in close proximity to me, savouring every mouthful before polishing it off.
Eating in season hits differently. It's food that's meant to be consumed in the here and now so it tastes how nature intended. Because it's grown on-site in the homestay gardens, only what's needed is picked and shared. This is one of the takeaways I took from my visit – being aware of food waste – something I want to be more conscious of.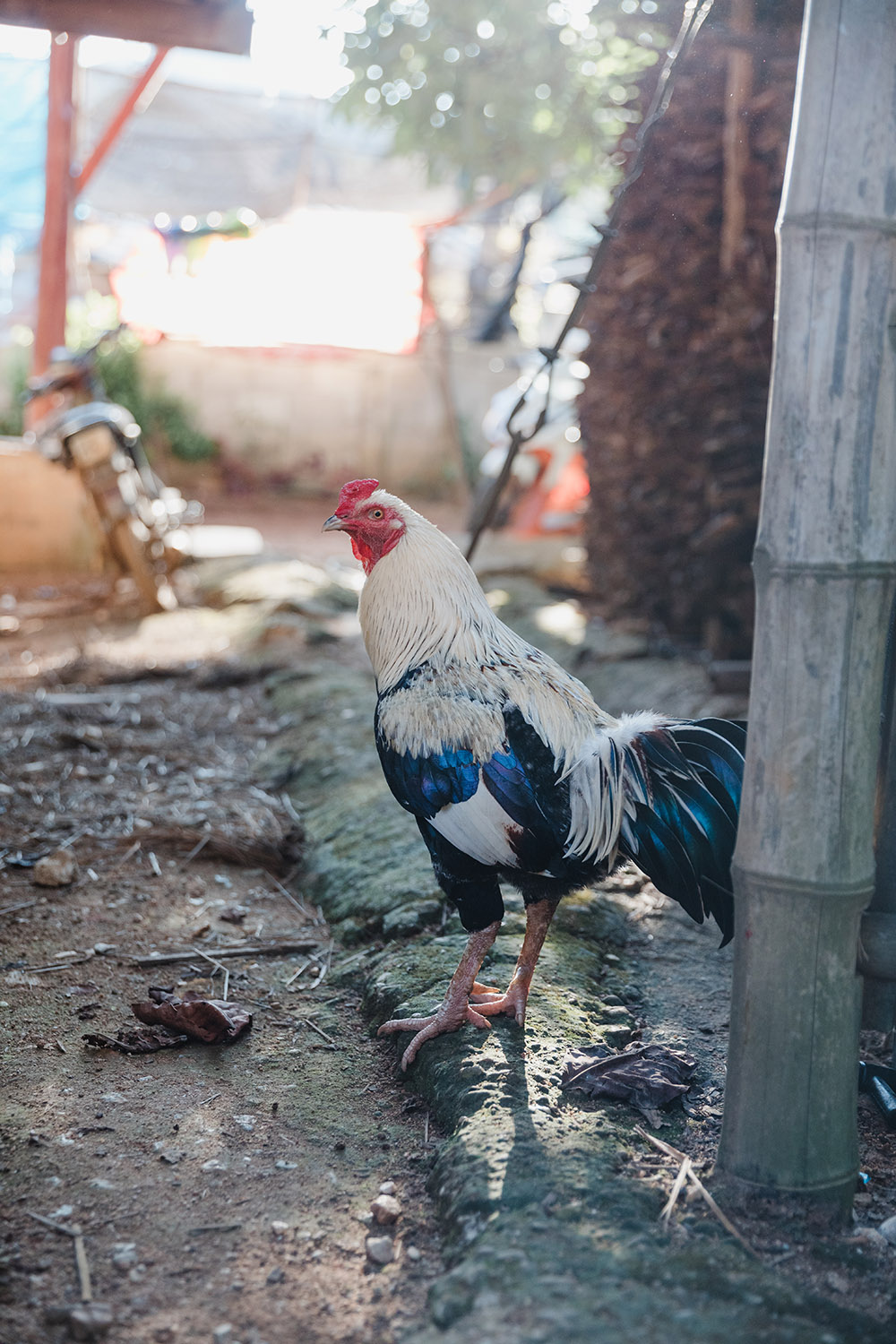 Items that need to be bought are delivered by van each morning so there's no requirement to go to the shops; they come to you. Bread and cans of condensed milk are sold from the boot. The more mouths there are to feed when tourists like me come to stay, the more rewarding the business becomes for the local entrepreneur who sets off early each morning to ensure neighbouring villagers have their breakfast supplies.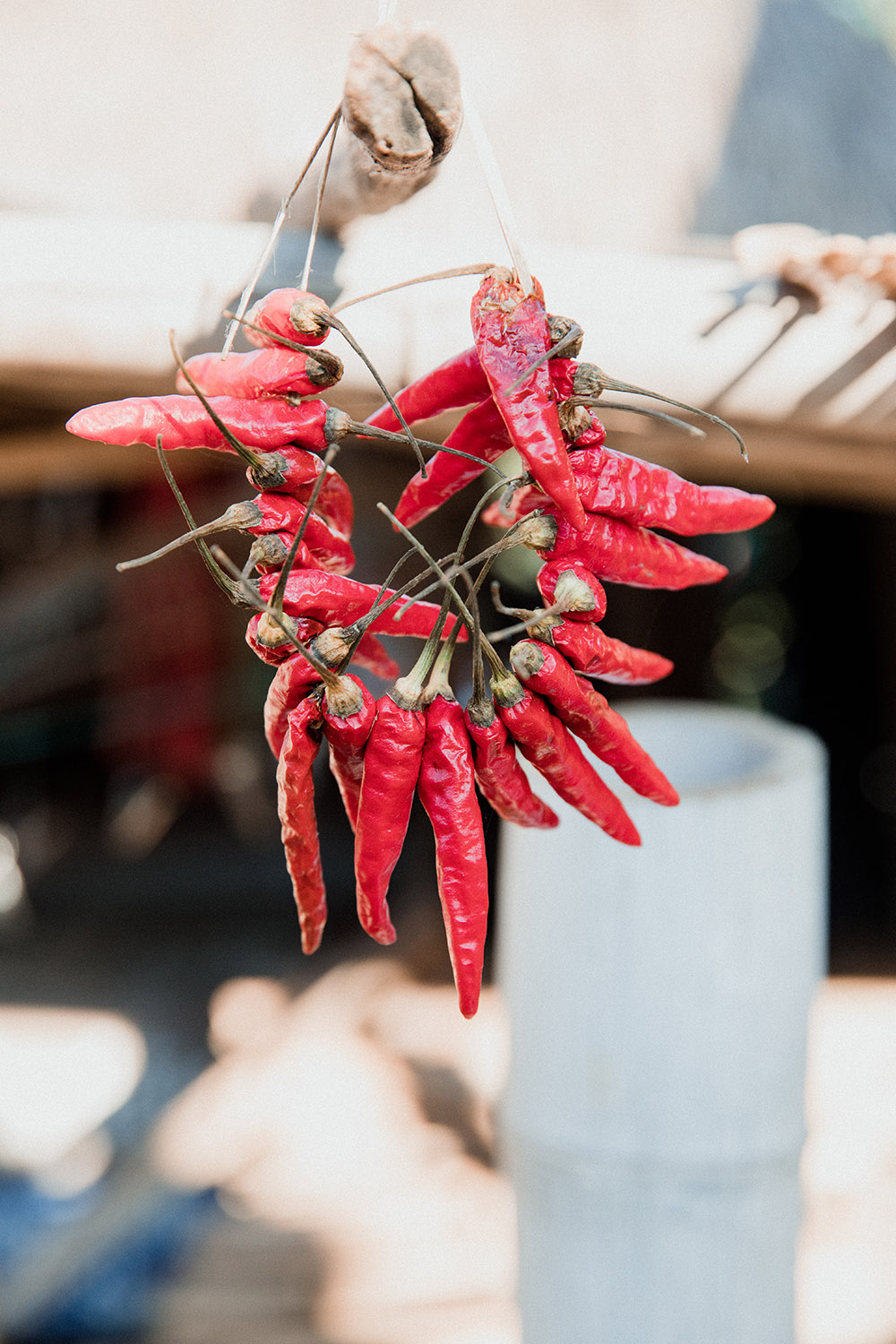 Most villagers, including the family I'm staying with work in local banana plantations; the homestay income is additional to their regular salary, boosting their finances and the village's too – which means a Wi-Fi connection. We might be in the middle of nowhere, but communication with the outside world is available when it's needed.
2. SLOW LIVING – pondering life while waiting for water
Kit who up until now had been our faithful and quiet driver for the week suddenly came into his own when he arrived at the village. It's a place he regularly brings visitors to so though he's not an original resident, he's been adopted.
He captivates us each morning with his pineapple carving skills, and at night when the rest of my tour group head to bed early, he takes me to sit and hang out with the locals, inviting me into their homes and insisting I try various snacks. Sometimes we communicate in mime and other times, he surprises me with his broken English.
The bonus of a bucket wash is that you only ever use the exact amount of water you need
He also adopts the role of being the shower assistant, each morning overseeing the boiling of the water, carrying the kettle to fill buckets and then double-checking the outdoor showers for cockroaches before I step inside.
It's slow travel for those not in a rush and it's welcomed. It's also so far removed from the 'dash in, dash out' washes I usually start my day with, where more hot water is heated than I'll ever need. Here, bathing in cold water carried from pumps is the norm but there's no feeling of shame about being the outsider wanting hot water.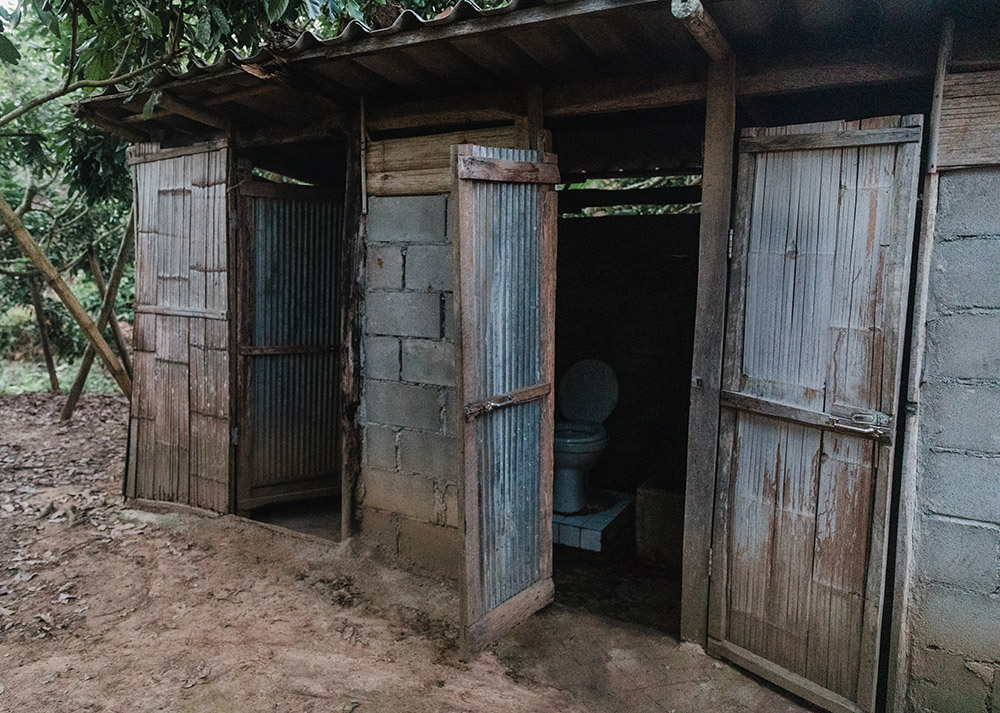 The bonus of a bucket wash is that you only ever use the exact amount of water you need – there's no waste, so no extra pressure is put on the village's resources. They share what they have and it's enough.
3. PRESERVING CULTURE – exploration, not exploitation
When you're a tourist or traveller, the foreign gaze is amplified in certain situations. One of them is when you attend a cultural show like a dance. It's hard to know whether performances are laid on simply as a tourist attraction or whether they are genuine traditions. Regardless of the answer, I can't help but be drawn to the costumes, outfits and accessories. I love arts, crafts, fashion and style so dress-up and seeing people dressed up will always appeal, but I still have to stop and think whether I'm doing a positive thing by going to an event.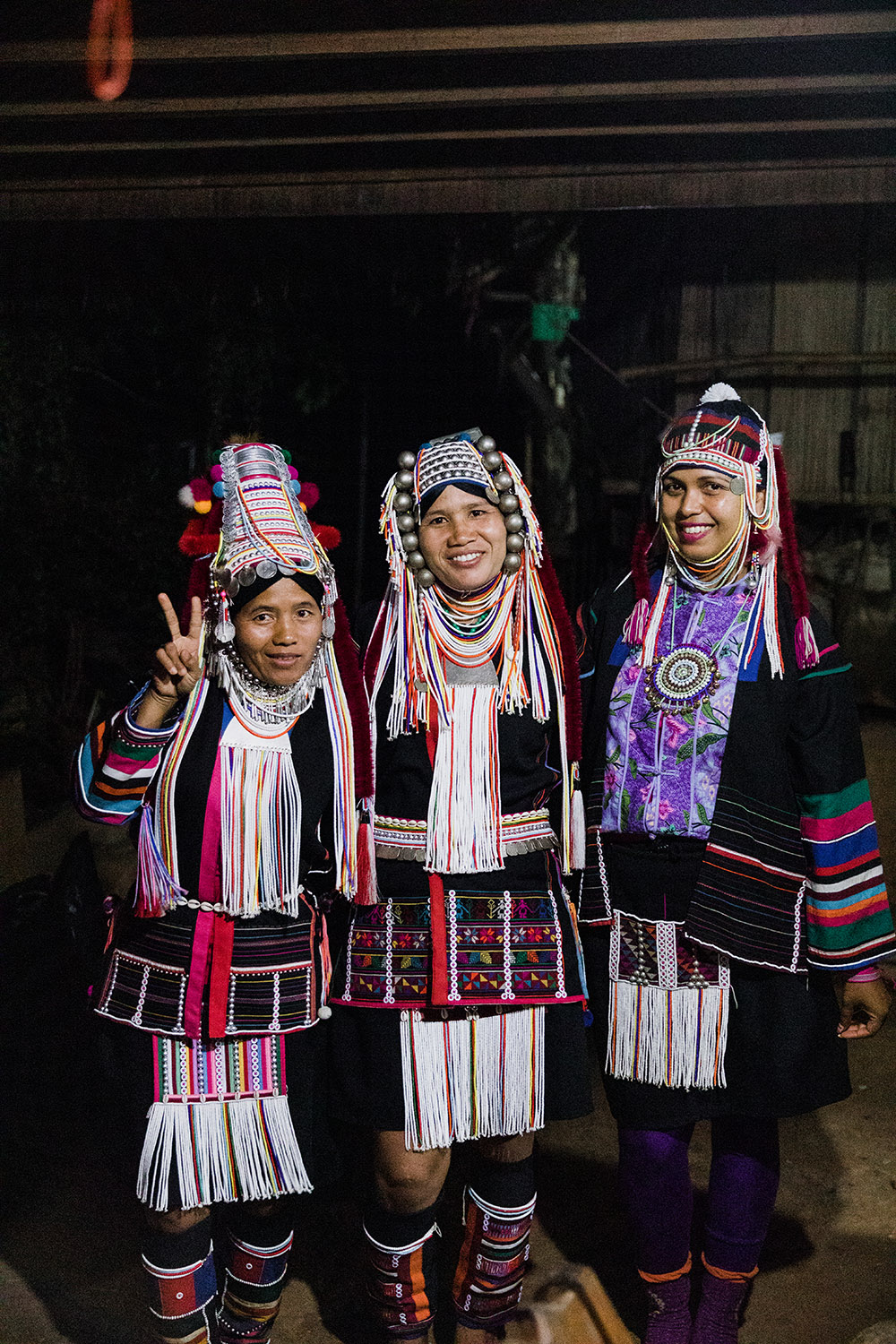 For the Akha community there's a genuine pride and excitement in dancing and while it's clear they organised an evening of entertainment to coincide with the trip I was on, it wasn't just for our benefit.
Sharing cultural traditions without modifying them for visitors is a way of staying connected with roots and each other, and that's what I experienced one Friday night in the Akha village where all the women and girls dressed up, lit a bonfire, sang songs and danced around it, inviting female visitors to do the same.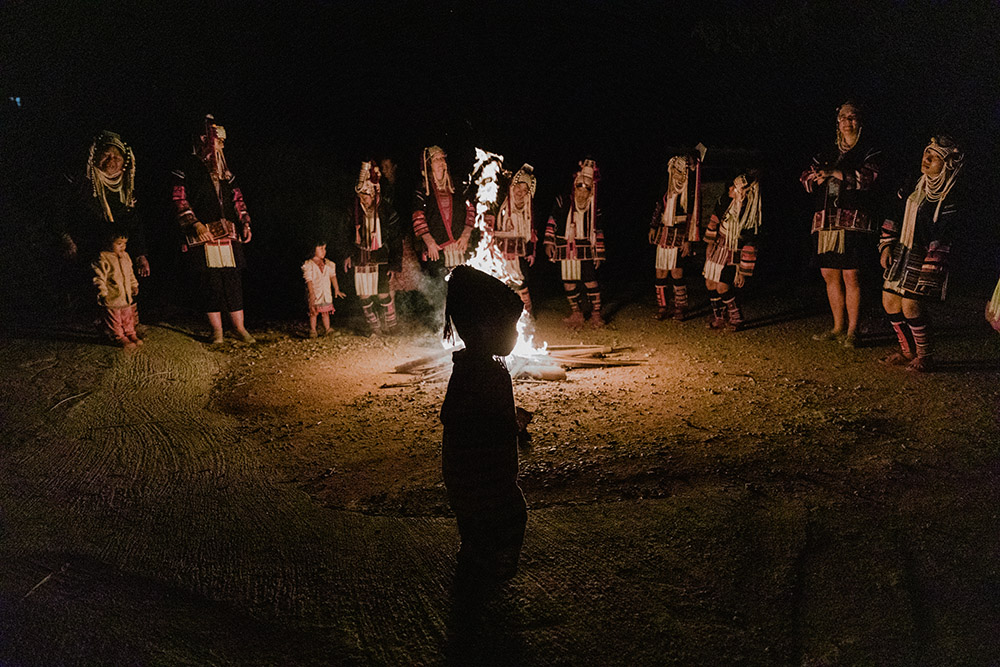 Giving people an opportunity to show their skills publically is beneficial on so many levels from raising confidence to boosting knowledge and if tourism can help that happen it's a positive outcome.
4. SUPPORTING ENTREPRENEURS – economic growth at ground-level
After explaining at the beginning that I wasn't keen on homestays when I first started travelling, I finally stayed at my first one after seeking out an opportunity to visit somewhere I could also learn about a local craft. The two hilltop homestays in Northern Thailand that I chose offered craft classes where I could learn traditional jewellery-making and weaving techniques. These are both skills practised by the communities. They haven't been designed to occupy tourists, they're local knowledge that's being shared regardless. It's a bonus that outsiders want to participate, it contributes to a secondary income in the form of workshops and the selling of handmade goods.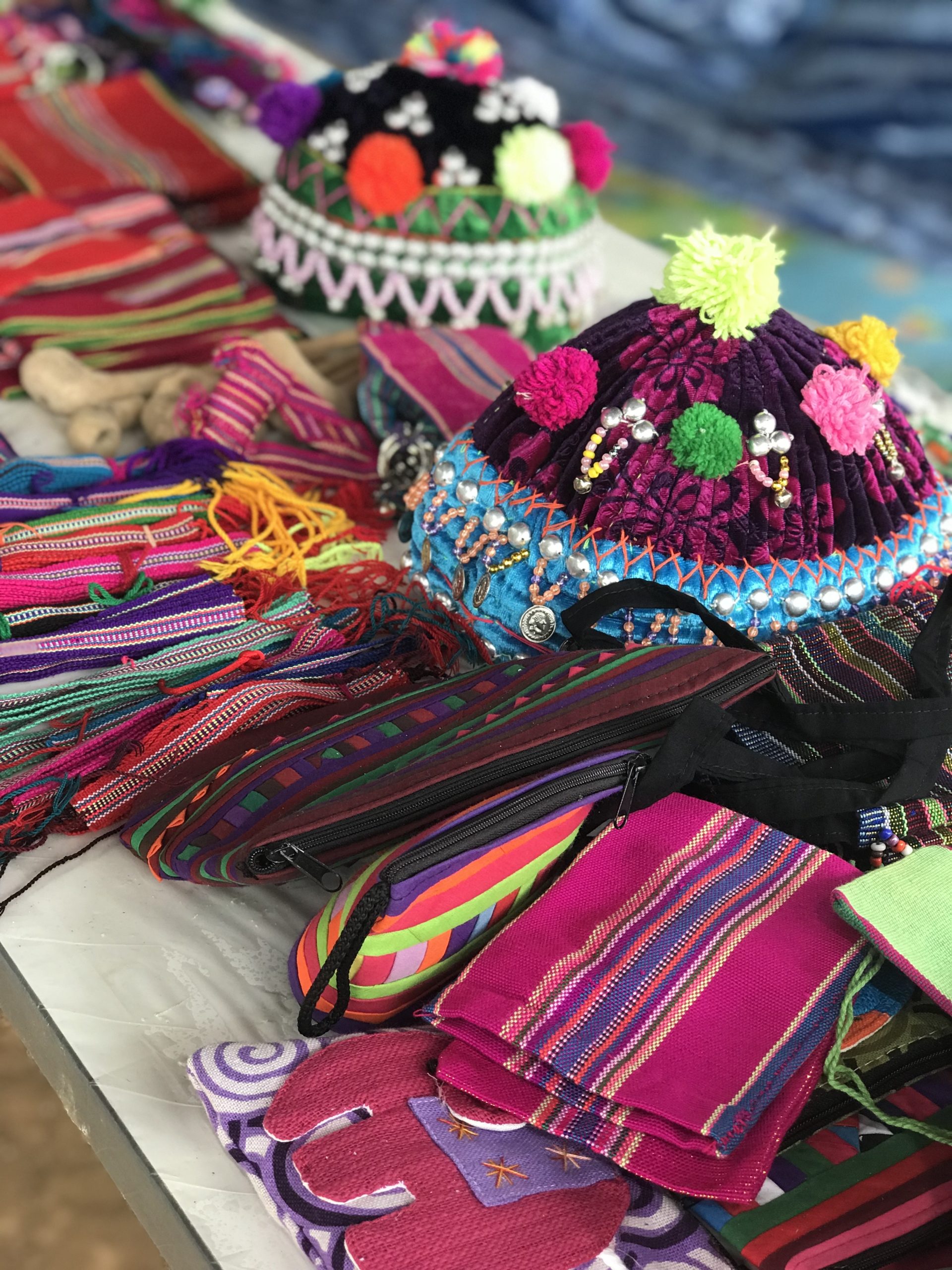 This creates a cycle of sustainability: teaching a skill keeps knowledge alive which conserves culture while boosting the economy. It's one way to be a responsible tourist, being of tangible use to the community.
I explain more about the benefits of supporting local artisans by shopping for handmade crafts directly from maker/designers rather than at the airport in a separate blog post – do have a read to get a better understanding of why supporting crafts is so valuable.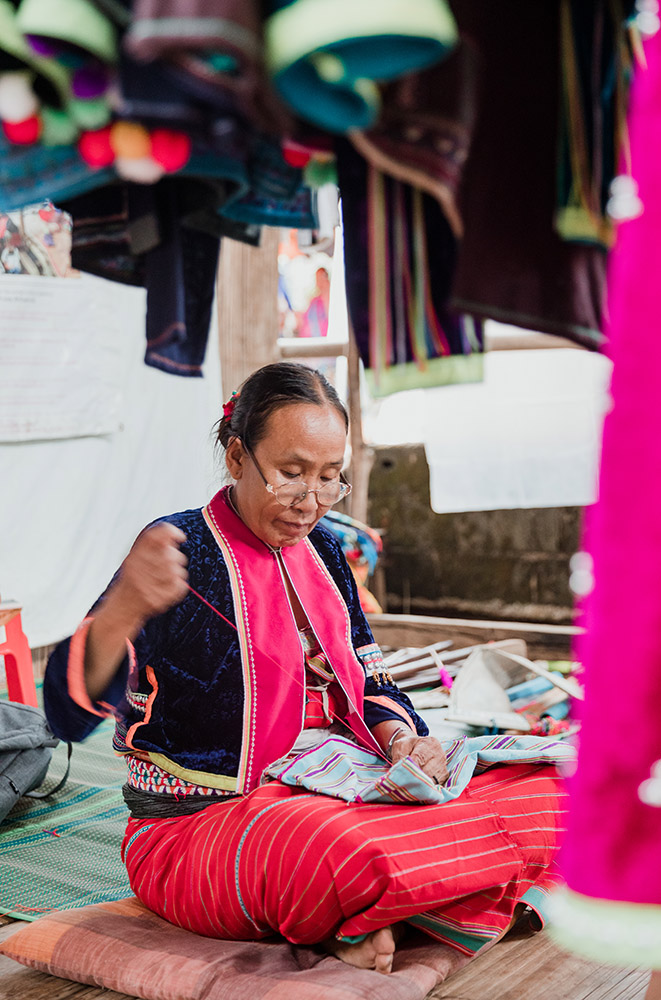 At the Akha homestay, I wonder in awe at the intricate metal accessories worn by the women as part of their indigenous costumes. We're shown how to make a pair of beaded earrings using coins and an intricate homemade device which consists of a thin wire attached to a wooden frame which when spun around, twists feathers into more manageable materials. I've never seen a contraption like it. It's homemade like many of the innovations I see during my visit. Another example of learning how to be more responsible in my own life, making do with materials I have at home rather than buying new.
teaching a skill keeps knowledge alive which conserves culture while boosting the economy.
At the Dara-Ang homestay, I spend two days weaving a bag using a backstrap loom. My mind is blown by the choice of colours and embellishments on offer. The vibrant pompoms and glass beads look like high-end couture but this isn't a design devised for tourists, these are the actual temple bags won by men and women in the village.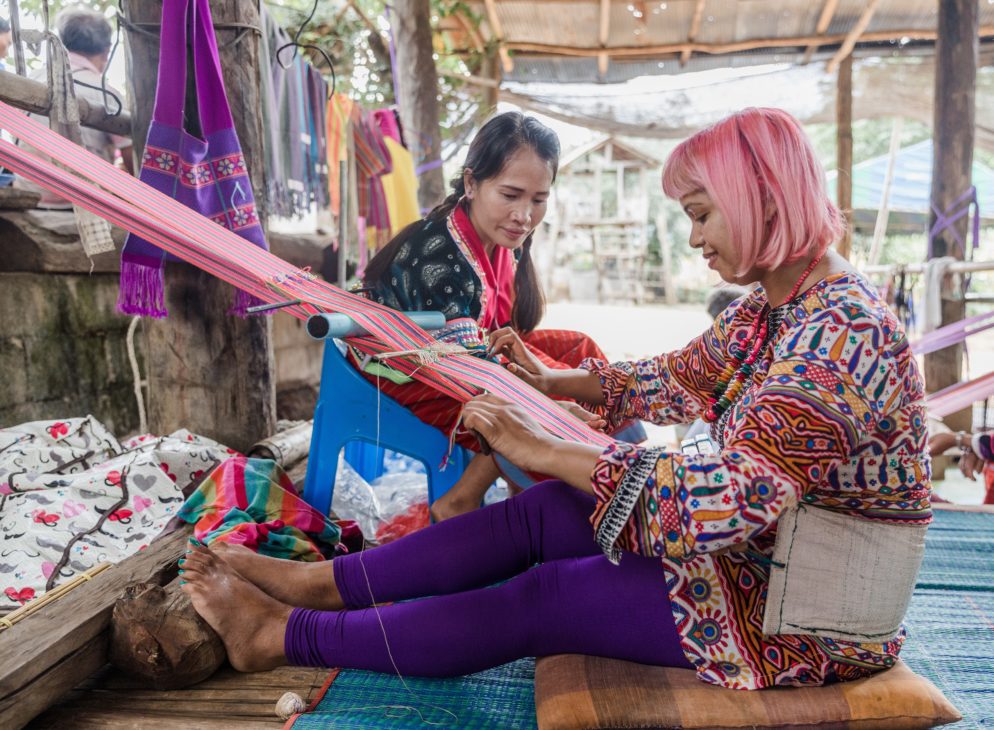 Showing tourists how to make them is a way for the women to take control of the finances. Selling products to passersby and tour groups has allowed the women to purchase a sewing machine which assists them with product development.
5. CELEBRATING COMMUNITY – connection makes the world a better place
Staying with two indigenous communities that have their own language meant that translation apps were redundant and that's a good thing. Observing and finding your own way to communicate is far more enjoyable than trying to have a conventional conversation.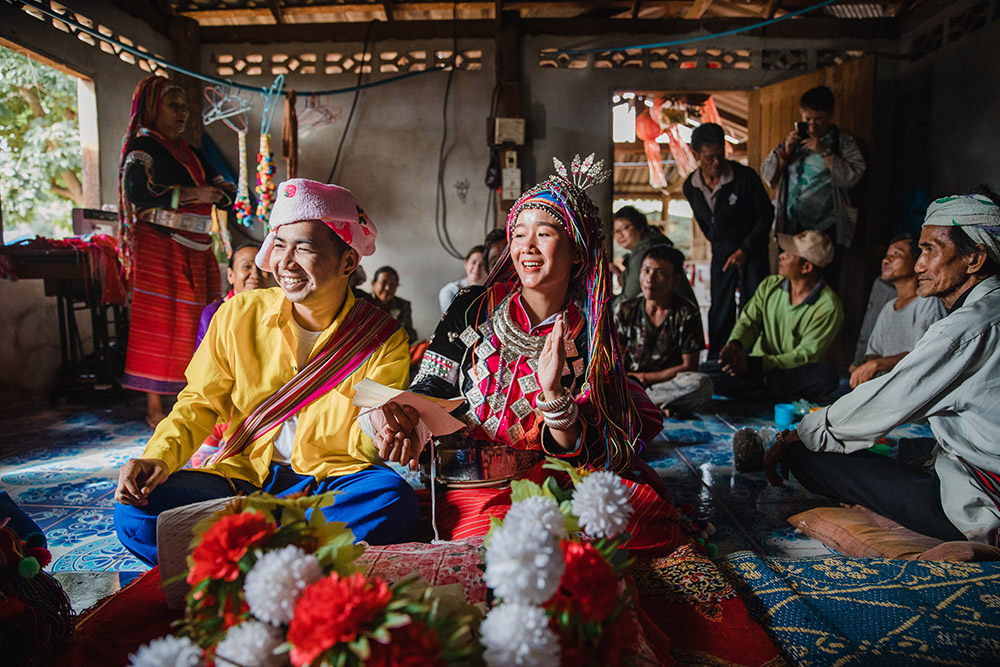 The day I arrived at the Dara-Ang village, preparations were underway for a wedding, due to take place the next day. It turned out to be a once-in-a-lifetime experience, to witness the entire community come together to perform a ritual that has been witnessed by few.
I think back to all the quintessential tourist activities I've done, like watersports, dolphin-watching, trips to flume parks and horse-riding – activities that can come at a cost to the land. They provide jobs and opportunities but they also put pressure on resources.
Alternatively, staying at a homestay was giving me an insight into a way of life I'd never seen before, where no concessions for made were made for visitors, the spectacle simply unfolded.
You can't ask for a more rewarding travel memory than that.
Homestays for beginners
How to find a homestay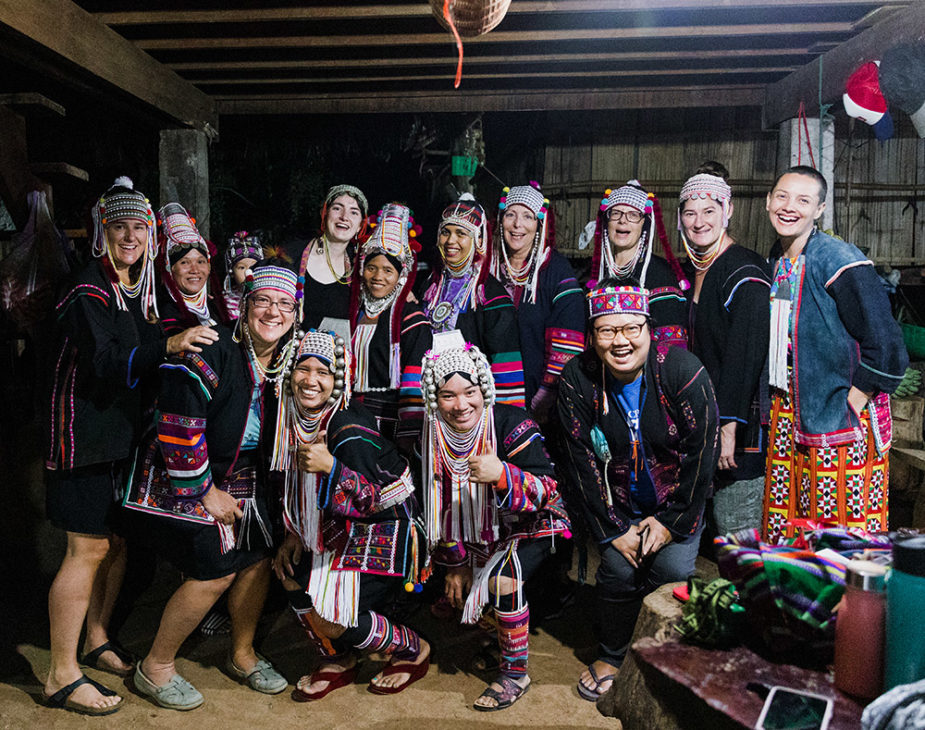 You'll typically find homestays in remote destinations, further out from cities, 'off the beaten track' if you will, but they're easier to find than they sound.
Here are some ways to find a homestay:
Book with a tour operator
Smaller, local tour operators in the destination you're visiting tend to offer the chance to stay in a private home, but you'll need to do the research on this depending on where you are. If you're booking with a larger tour operator like Intrepid Travel or G Adventures some of their trips include homestays, check the itinerary before you book.
Use accommodation websites
Airbnbs and Booking.com have homestays listed along with more traditional accommodation like hotels and apartments. Search by location and accommodation type to see the options.
Explore travel networking communities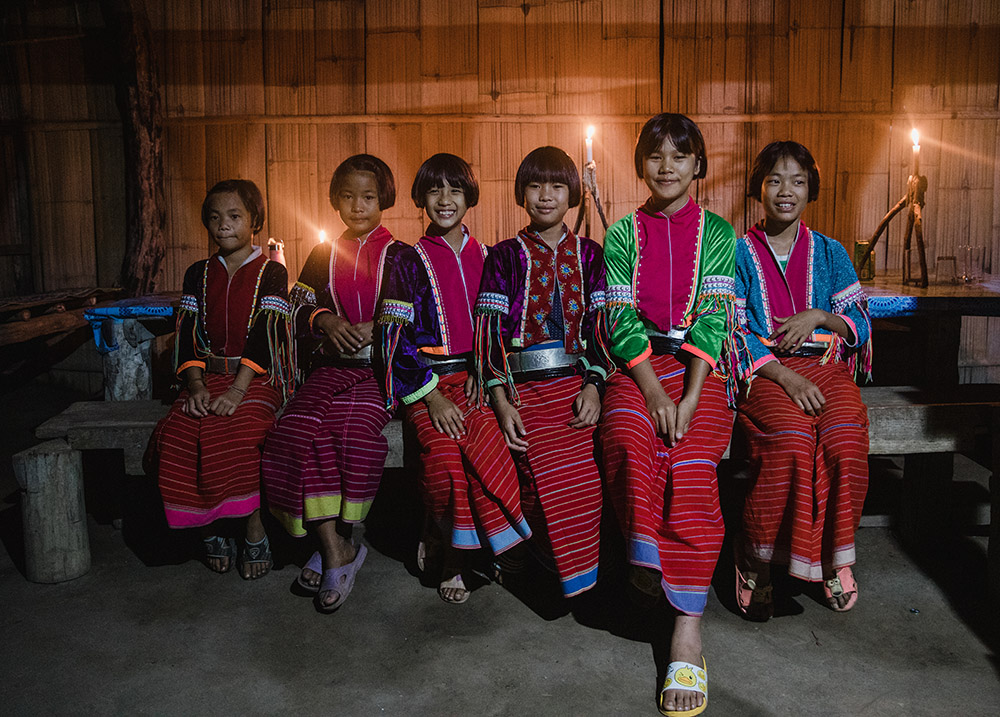 From Couch Surfing to BumblebeeFF and Host a Sister, there are a host of ways to find a 'host' to stay with in their own homes. It suit travellers who are open and flexible. Some people like to plan their itinerary in advance, others like me don't. If you're happy to be flexible and go with the flow, when you connect through a community, you won't just find somewhere to sleep, you'll also be invited to spend time with them, experiencing local life through their eyes.
Chat with people at your destination
Again, this works best if you have space in your itinerary for a change of plans. Speak to locals and get recommendations from other travellers. This type of approach can lead to all kinds of unexpected experiences. In Kenya I was having breakfast in a café when I got chatting to a gentleman who insisted I come to his family house for a traditional meal, cooked by his wife. It was the most delicious meal I had on the trip.
What to expect at a homestay
The best experiences happen to those who are open-minded and willing to step out of their comfort zones. This includes sleeping arrangements which will most likely be communal, washing facilities, you may have to get by without a Western-style toilet and are open to new flavours – get ready to try food you may not have eaten before.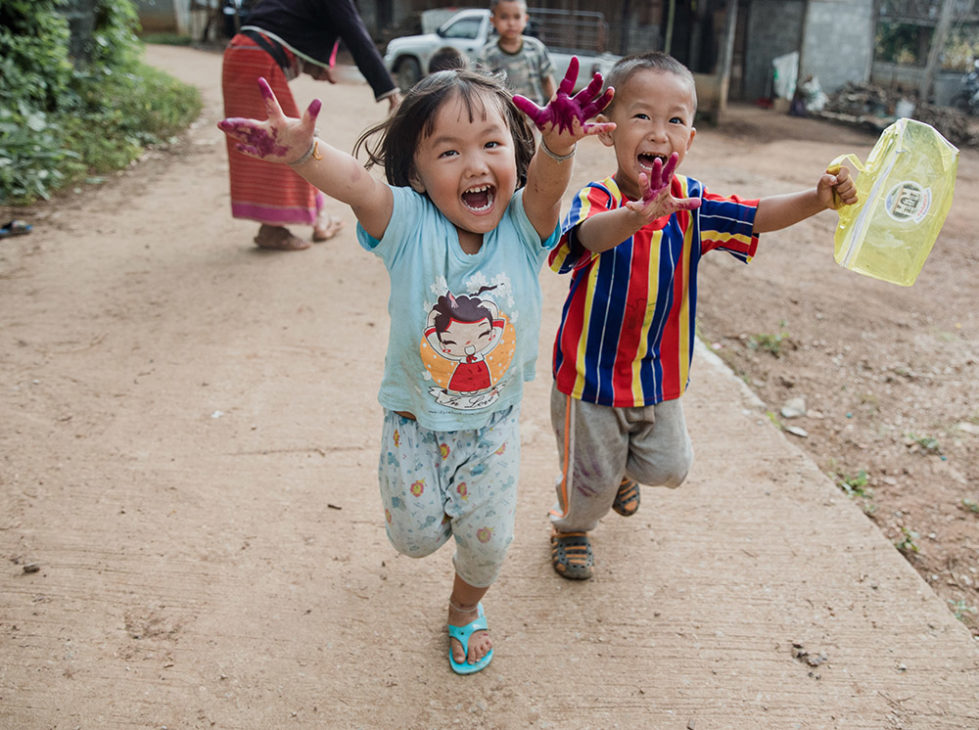 You can't rely on timings going to plan or there being transport; there may not even be electricity. What you will get instead is companionship and communication. You may not know someone's language but you will experience their love language to strangers. If you're willing to sit, observe, join in and take part, the rewards are far greater than an entrance to a tourist attraction.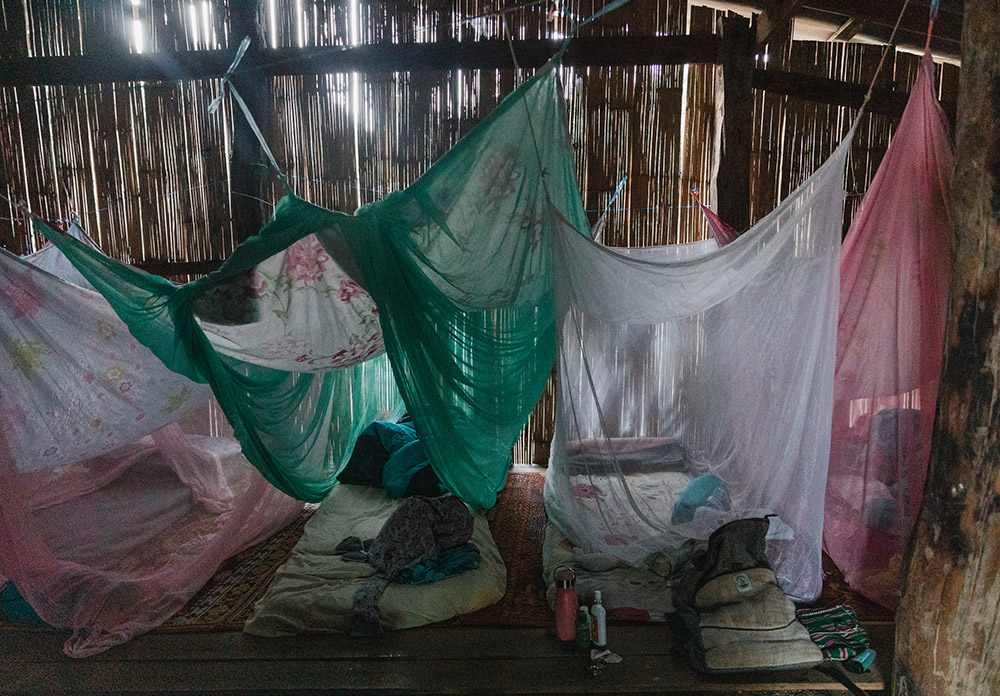 Mixing up homestays with hotels or other types of accommodation is a great way to get accustomed to how they work – but take it from me; no hotel will ever have the charm, character and connection that you'll feel when you decide to book a homestay. There's nothing else like it.
Happy travels.
PHOTOGRAPHY: NOEL BESUZZI
Yours colourfully,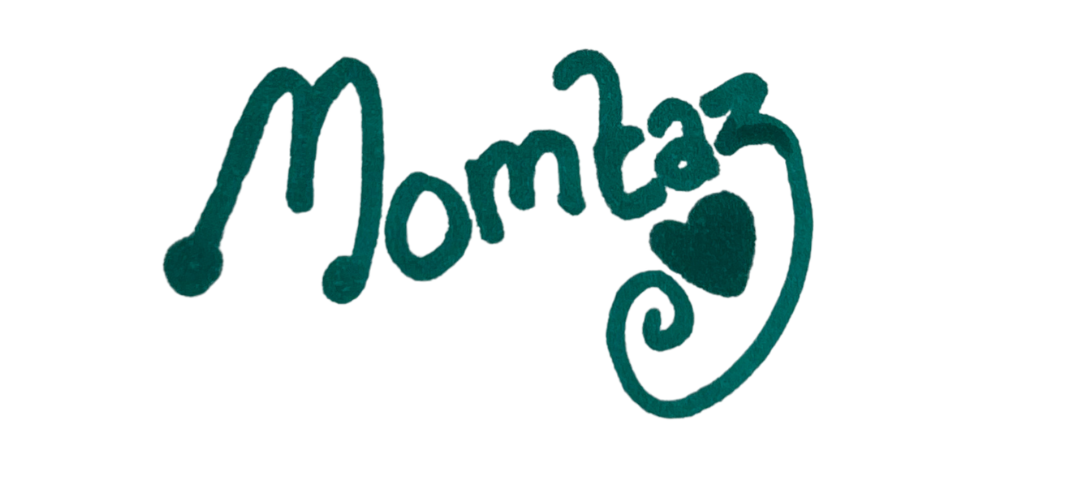 akha tribe
dara ang
homestay
north thailand
responsible travel
thailand hill tribes