Things to do one week in Dubai (for skeptics)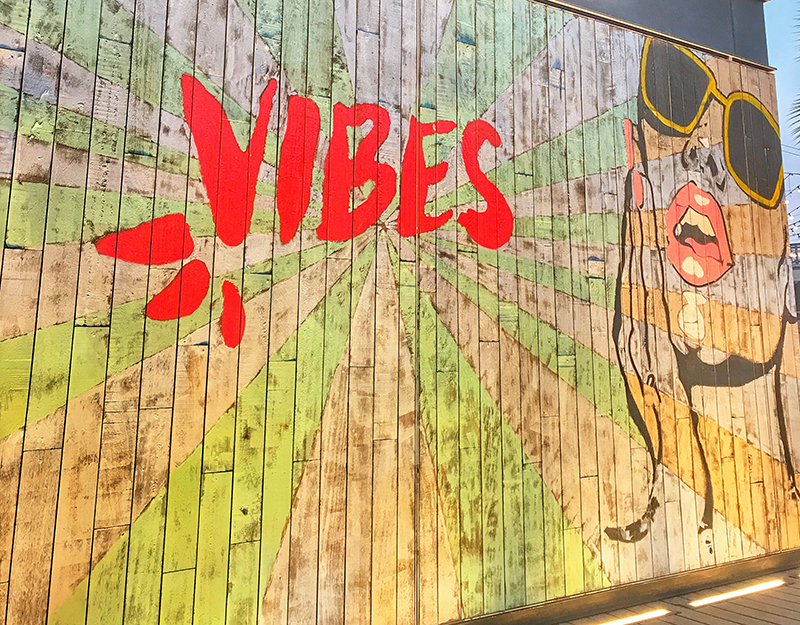 The great thing about turning up for vacation in a city with zero expectations is that anything and everything will surprise you. Take me, I didn't think Dubai was a 'things to do' kind of place. I was one of the skeptics, how could you spend one week in Dubai? Surely it's all about the shopping malls and excessiveness, what else could there possibly be to do?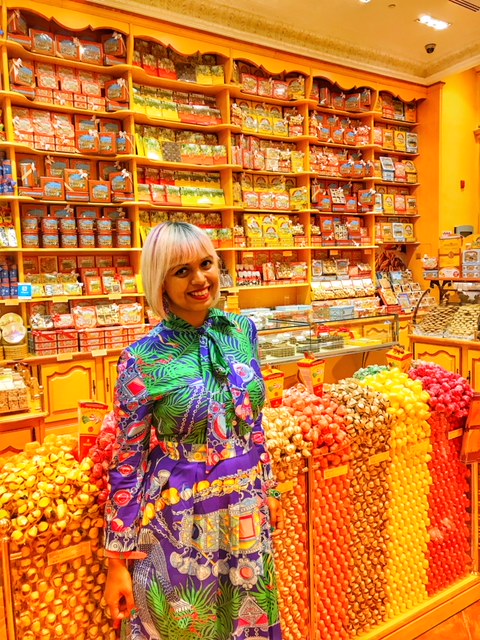 I'd previously spent 24 hours in Dubai on a transfer stopover back in 2014 where I visited the souks and art galleries.
Then through my day job writing for a magazine, I was invited to do a hotel review of Atlantis The Palm. Being an avid fan of waterparks I was in my element for three whole days zipping down waterslides but we never left the hotel. The rest of Dubai remained unknown.
I imagined it was clean and full of tall buildings but other than lazing on the beach (which is only a tiny part of the city) what can one actually do? I was almost ashamed to tell my friends I was going to Dubai for a week but back in October I did just that and blimey…I was shocked! I had a really fun time, turns out there is heaps and heaps of things to do, in fact I could have stayed longer than a week and still not do everything I wanted to.
Would I go back? Absolutely! But for now, here's a bit of reminiscing over my fave bits:
Hitting the beach at Le Mer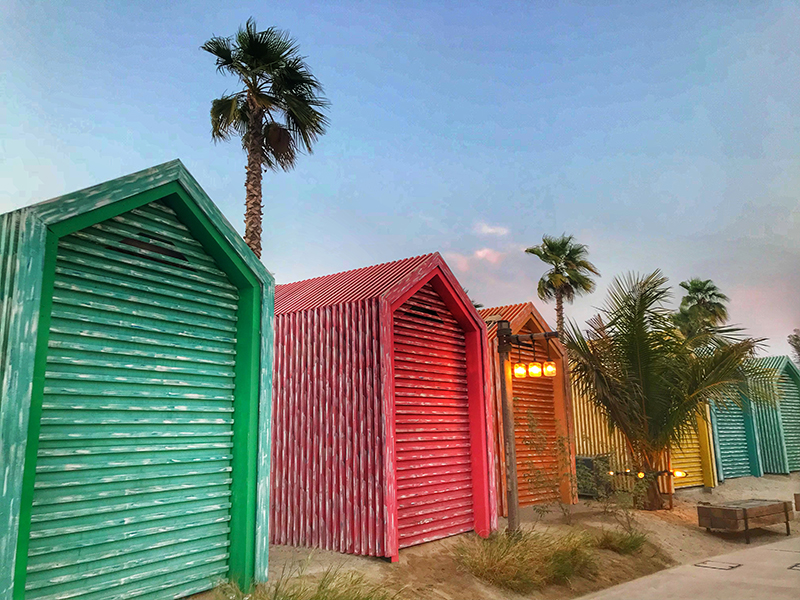 Though my hotel Duke's Dubai had a private beach, I was keen to hit the public beaches and I had read about Le Mer in Time Out Dubai. A stretch of beach that only opened in 2018, it felt more like California than the Middle East (or what I assumed the ME would be like) with palm trees, colourful beach huts, urban art, cool cafes, restaurants and fairylights lining the streets. I opted for some beach lazing, watched the sun go down as I swum in the sea and sipped on bubble tea to cool down in the heat. It's free to visit this area too.
Watching a film in Alerskal Avenue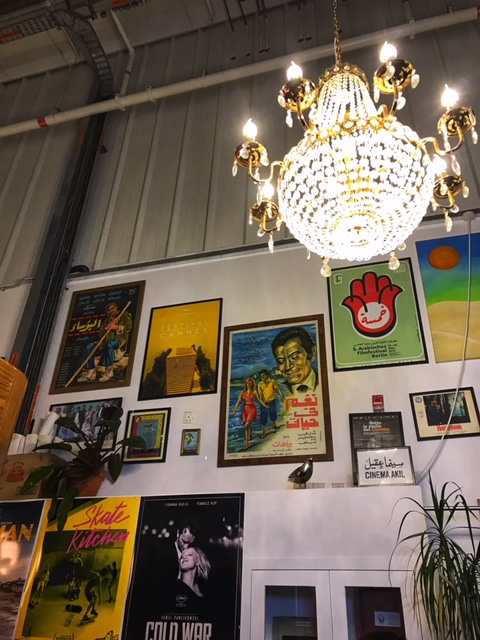 You need a cab to access this derelict warehouse space that from the outside looks like wasteland but inside is alive with artists quarters, a craft centre, juice bar, cafes and indie cinema Akil which serves chai and indian street food. The screening seats are second-hand sofas and the programme features global cinema. When I visited the clientéle was very much ex-pat and creative orientated.
Bat Latte at Tania's Teahouse

Known as of the cities most Instagrammable foodie spots Tania's serves up the usual fayre associated with millennials; avo toast, themed lattes, colourful cakes and #mermaid toast, which yes I ordered. I also asked what latte patterns were possible and turns out if you do that they have heaps which aren't listed on the menu or seen in their social media, e.g my Bat latte. There's two floors to the café with a shop that specialises in tea-themed goodies like beauty products and accessories. It made for the perfect, colourful spot for a date with myself and the toast and latte tasted as good as they looked.
Walking across Dubai Frame

This one started out as pure kitsch factor appeal, there's a giant photoframe inside a park, which I read about in Time Out Dubai so I thought I'd head over and check it out. Turns out Dubai frame is one you can actually go inside, you then fly up to the top level in the lift where you walk inside the very top of the frame…but what makes it so fascinating is that the floor is transparent so it feels like you're walking cross the sky. Mindblogging stuff! Possibly not ideal for anyone scared of heights, but if you're not, then the views on either side are impressive, one side shows 'old Dubai' while the other is the modern built up side the city has become so synonymous with.
Heading up The Burj Khalifa


I had zero plans to go inside the Burj but the truth is when I saw it from the outside I was so impressed with the tallest building in the world and the singing fountains that surround it that I had to go inside. I timed my visit to coincide with sunset on the last day of my trip and it was the perfect ending. There are two tiers of ticket available – heading to the very top which includes a guide and drinks or a few floors down with the masses and I opted for the latter. Much to my delight I discovered there are swing chairs on the floor and I patiently waited to get in one, while my phone was set on time lapse to watch the sun go down.
Daytrip to Sharjah

Sharjah is one of the other Emirates in the UAE but it's only 30 mins from Dubai in a taxi and it's got a completely different feel to it. It's gearing up to be the countries 'cultural centre' and with that in mind there's a number of museums and galleries to visit, including one on Calligraphy. The city is on the waterfront and has a huge food and fish market, take a stroll around the back and you'll see all the fishermen on their boats relaxing in the sun post catch. Oh and the local taxis were very reliable and cheap and much cheaper than Uber which is also available in Dubai.
Desert Safari

Spending an entire evening with several large tour groups may not sound appealing but when there's food and entertainment and a really fun jeep ride across the deserts involved it's really not so bad. It also makes a nice change to being surrounded by skyscrapers. I suspect every day on safari is the same, it's a well-oiled machine of drivers who turn up at your hotel, take you to meet wildlife on route before zipping you across the desert in time for sunset. In a word it's easy and sometimes on holiday that's exactly what you need, to have absolutely everything done for you and do you know what? I loved it.
Hotel Life

I'm no hotel snob. I'd happily Air BnB it around the world but when you do spend a few days inside a nice, comfortable hotel you really can properly make yourself at home which makes a holiday so much more relaxing. Duke's Dubai is on The Palm, but the edge so it's a bit quicker to get to. It's a British themed hotel. Highlight was the buffet breakfast which I'm not shamed to admit, kept me going for more than just breakfast. There was tupperware and a kitchen in the hotel room so it seemed only right to take a few snacks. The hotel also has regular free shuttle buses making it easy to get out and about and as part of their evening programme there offer ladies free drinks on Wednesdays so of course I obliged! The hotel's beach was pretty impressive too but there are plenty of jellyfish. I personally don't mind them, the sea is their home after all so I found it disturbing that the hotel staff round them up to kill them, I even witnessed tourists helping them. I actually set one free but it got recaptured : ( – that was the trip low light but otherwise Dubai gets my all round thumbs up and I am absolutely sure I will return.
My desert safari trip and hotel accommodation was gifted by Arburton Travel, however the rest of my itinerary and all the other places I visited were paid for by me.