Today I'm showcasing the work of 12 British based South Asian Artists that should be on your radar. They range from emerging and established artists to creatives who've taken a break and decided to go back to their artistic roots. Their mediums including painting, weaving, photography and mixed media and all of them are using their art to express their vision, skills, beliefs and passion.
These 12 artists were due to be part of an Art Trail at a London gallery this evening, but instead, under the present circumstances of being in lockdown to stop the spread of coronavirus, I'm sharing their masterpieces online.
What was supposed to happen…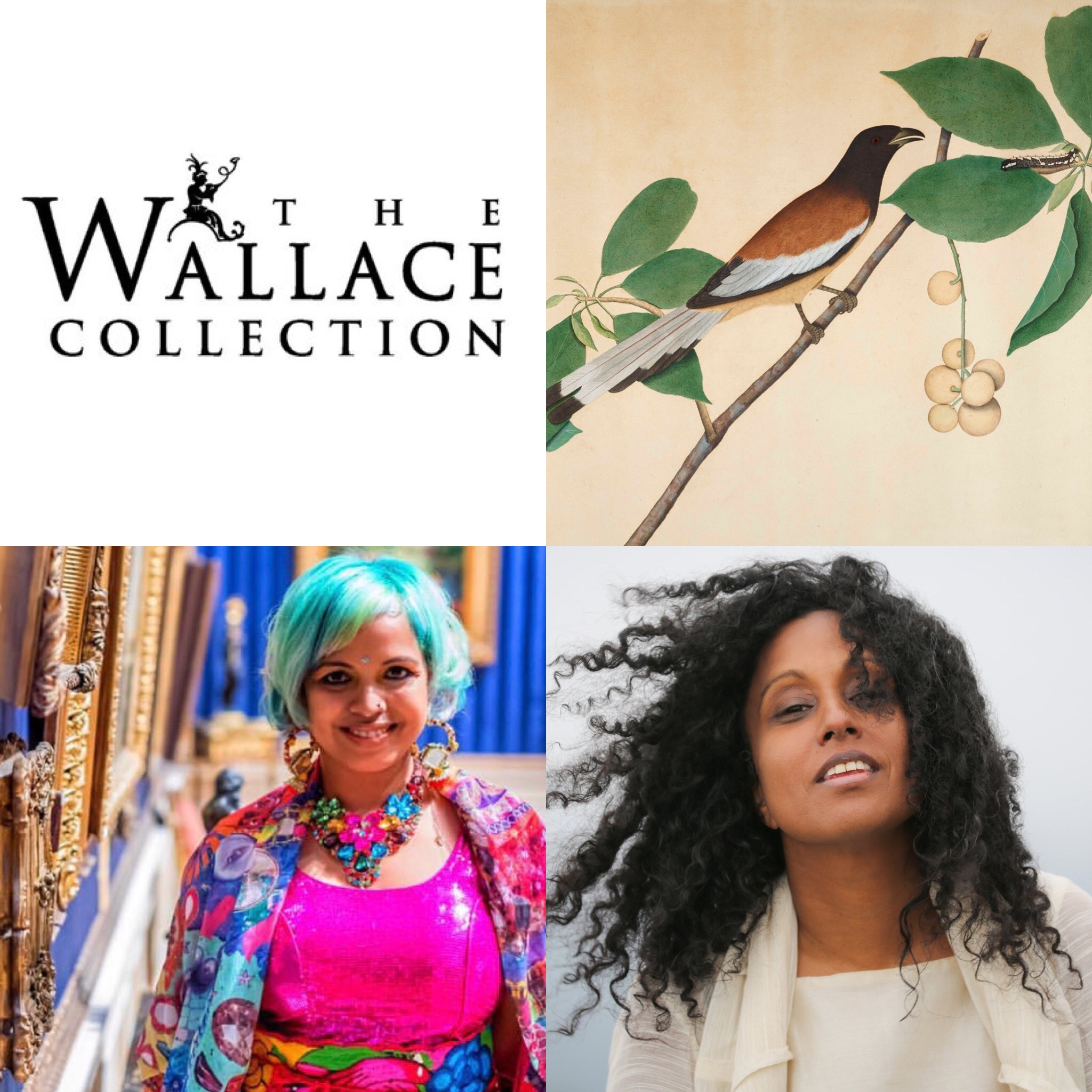 Back in October 2019 I was invited to be the Guest Curator of The Wallace Collection's Forgotten Master's Friday Late, an evening of performance, discussion, live music, workshops and all sorts of other activities led by and inspired by South Asian art and culture – all curated by me. One of the most anticipated parts of the programme was an Art Trail, where I selected 12 emerging and established British based South Asian Artists to showcase their work in the museum's galleries alongside its historic permanent collection which features art works by classic painters such as Rembrandt and Canaletto.
What's happening instead…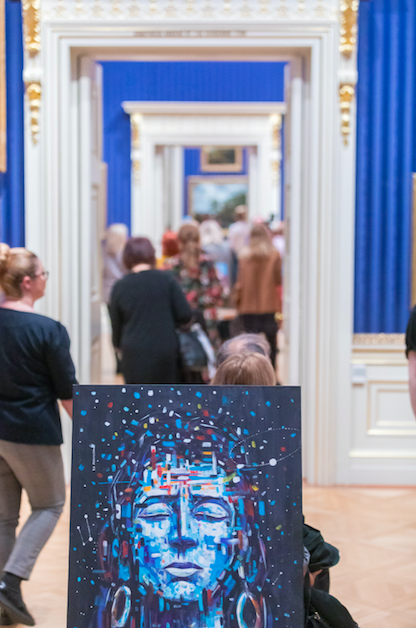 So many artists responded to my open call with their portfolios and narrowing them down to 12 was difficult. I knew the ones I'd chosen should be seen by more people but as the Art Trail was cancelled, only I would have seen the line up and they were too good to keep to myself!
So here are the artists that would have been participating in the Wallace Collection's Friday Late Art Trail.
Some of the photos are examples of their work, and some are the pieces that would have been on display. I've included their contact details so if you're interested in following them on social media or purchasing or commissioning work by them, please contact them directly.
Please do share this post with friends that are interested in art and would appreciate seeing this work too.
The Artists 
Arliyah Hussain
Weaving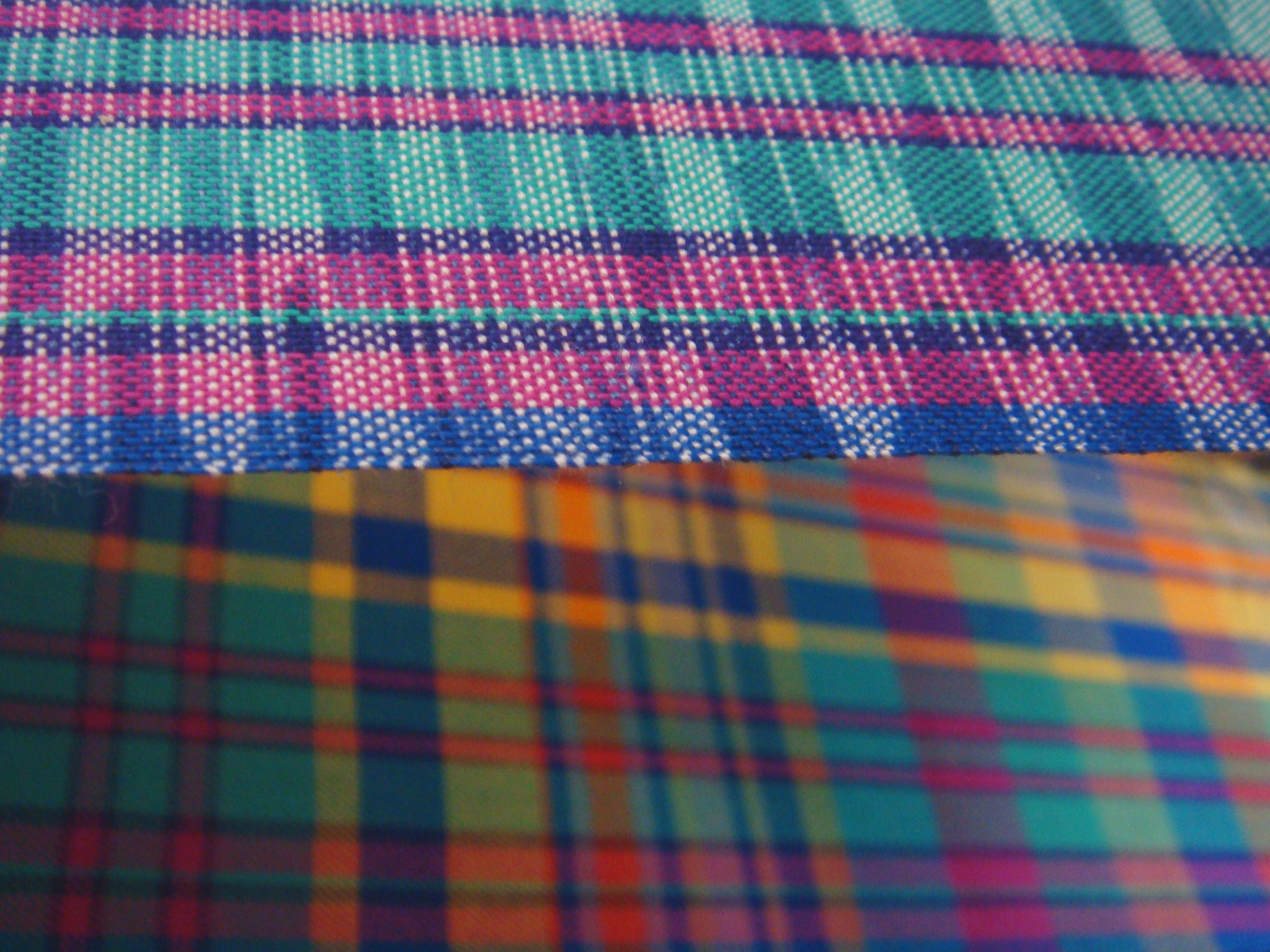 A maker/designer with a diverse background in textiles, jewellery, fashion and teaching, after an unexpected encounter with hand embroidery, Arliyah recently started working in the medium and was going to be presenting new work at the Art Trail. Here's an example of her weaving.
E: arliyah@hotmail.com
Painting: "Garden of Reflection": Hand ground pigment, gum arabic and 24k gold leaf on wasli paper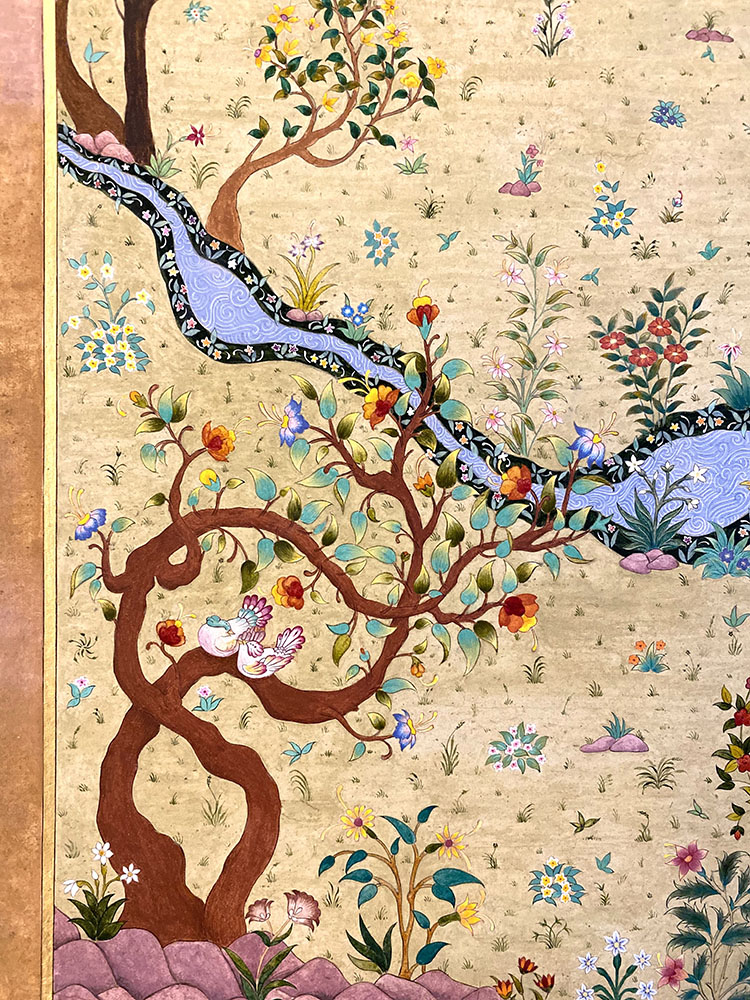 A London based Pakistani artist, Mobeen creates work that reflects her admiration for arabesque, geometric patterns and more recently Persian miniatures. She used traditional methods of creating paint with natural pigments extracted from minerals, earth and plants. Collecting and sourcing them is part of her work. The piece here is a part of larger piece she's created of the Wazir Khan Mosque in Old Lahore in Punjab and the pink pigment used was derived from a rock found on the Isle of Wight.
I: @_mobeenakhtar_
Painting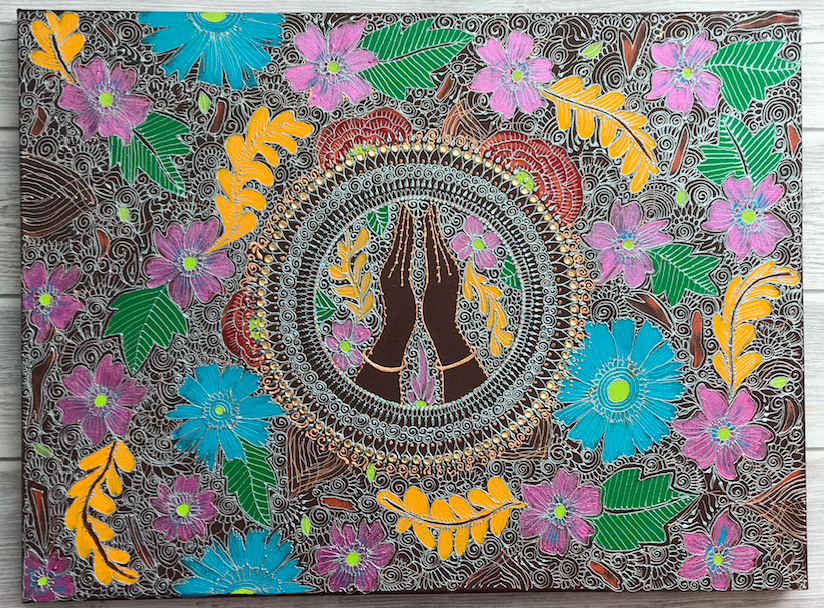 A contemporary henna artist, surface designer and candle painter. Moheeni incorporates elements of nature, zen and mandalas using a variety of mixed mediums. She teaches henna inspired art classes and has written about the benefits of henna art, mindfulness and wellbeing.
T: @moheenipaul I: @moheenipauldesigns.com
Oil painting


Bhavisha was born and raised in India. Her experiences of living in India and London are visible in all her paintings and illustrations. Her paintings focus on emotions of real people's experience' and current affairs.
I: @bhavisha_07
Acrylic painting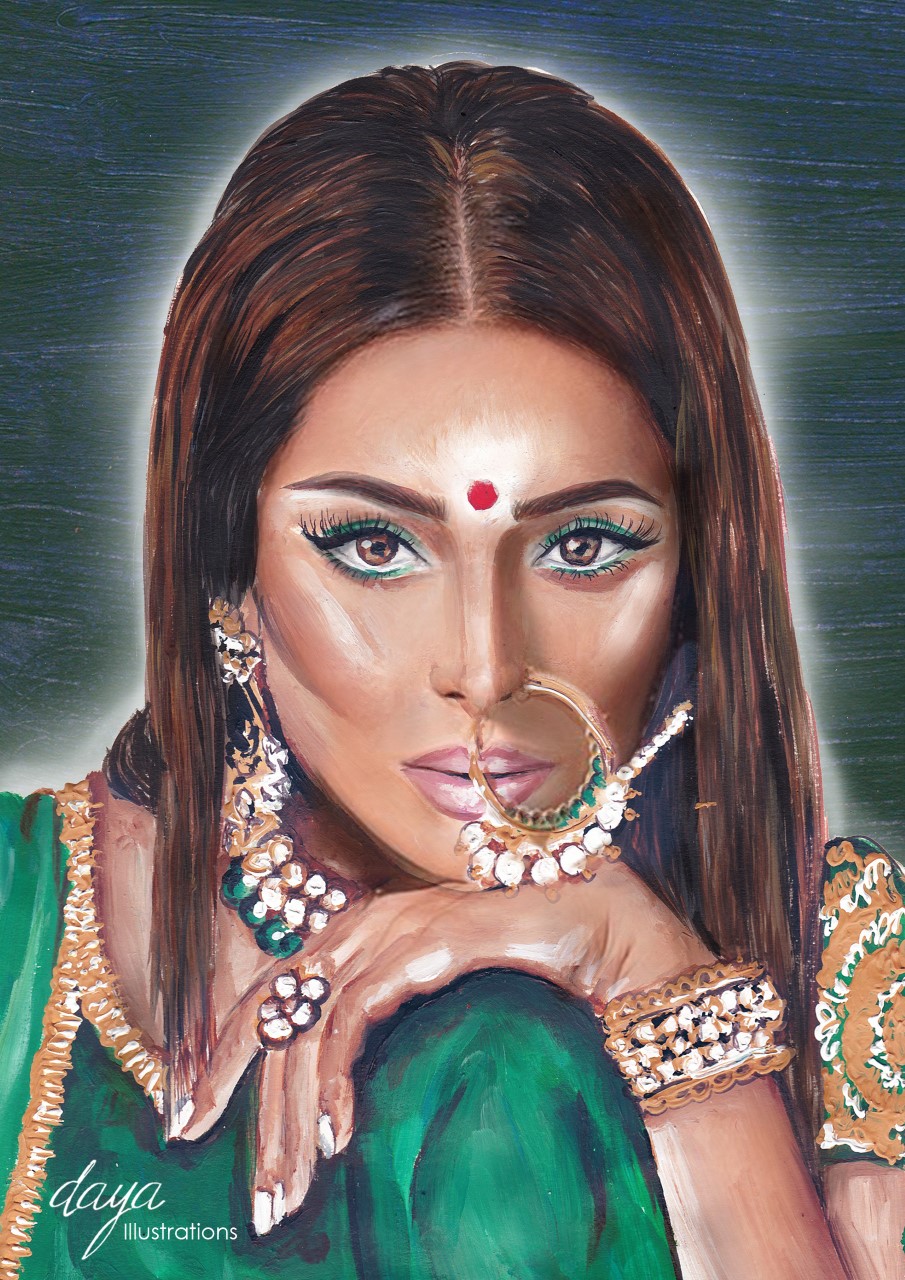 A British Asian artist/illustrator inspired by South Asian culture, film and fashion. Daya's work explores her cultural heritage by translating traditional narratives with a contemporary visual approach whether they're in the form of artwork, patterns, or animations.
I: Dayaillustrations
Paper quilling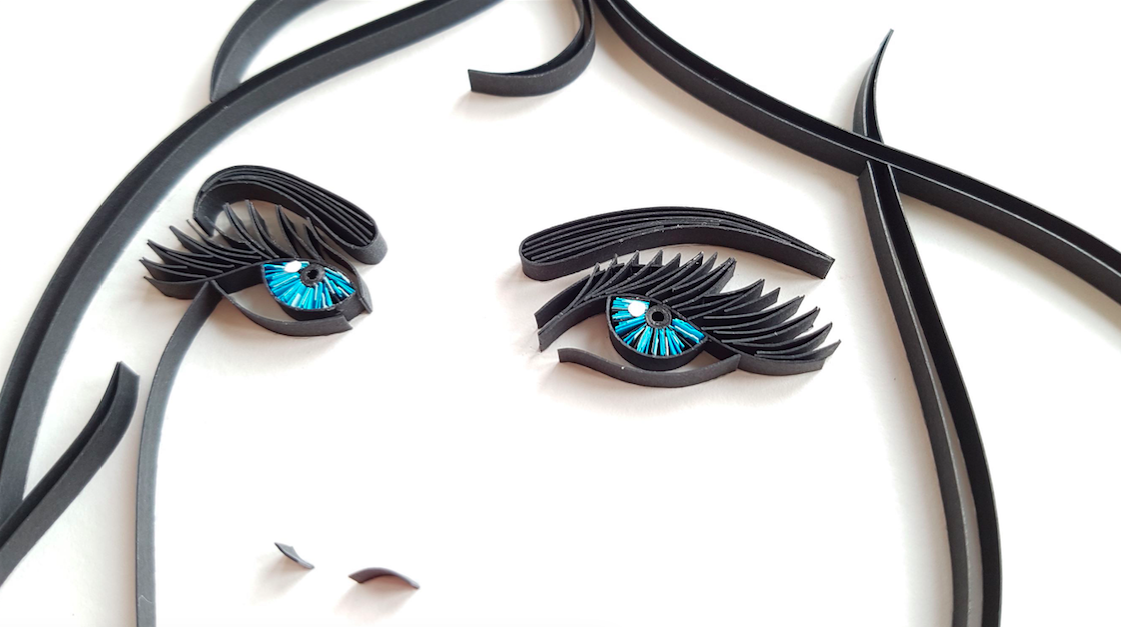 Tina is a paper quilling artist who runs VishwArt, a boutique business that creates bespoke quilling for homes and interiors. From wall art for children's nurseries to large-scale installations for offices, each design is completely hand made using traditional quilling techniques.
I: @vishwartuk T: @vishwart
Harkiran Kalsi
Digital art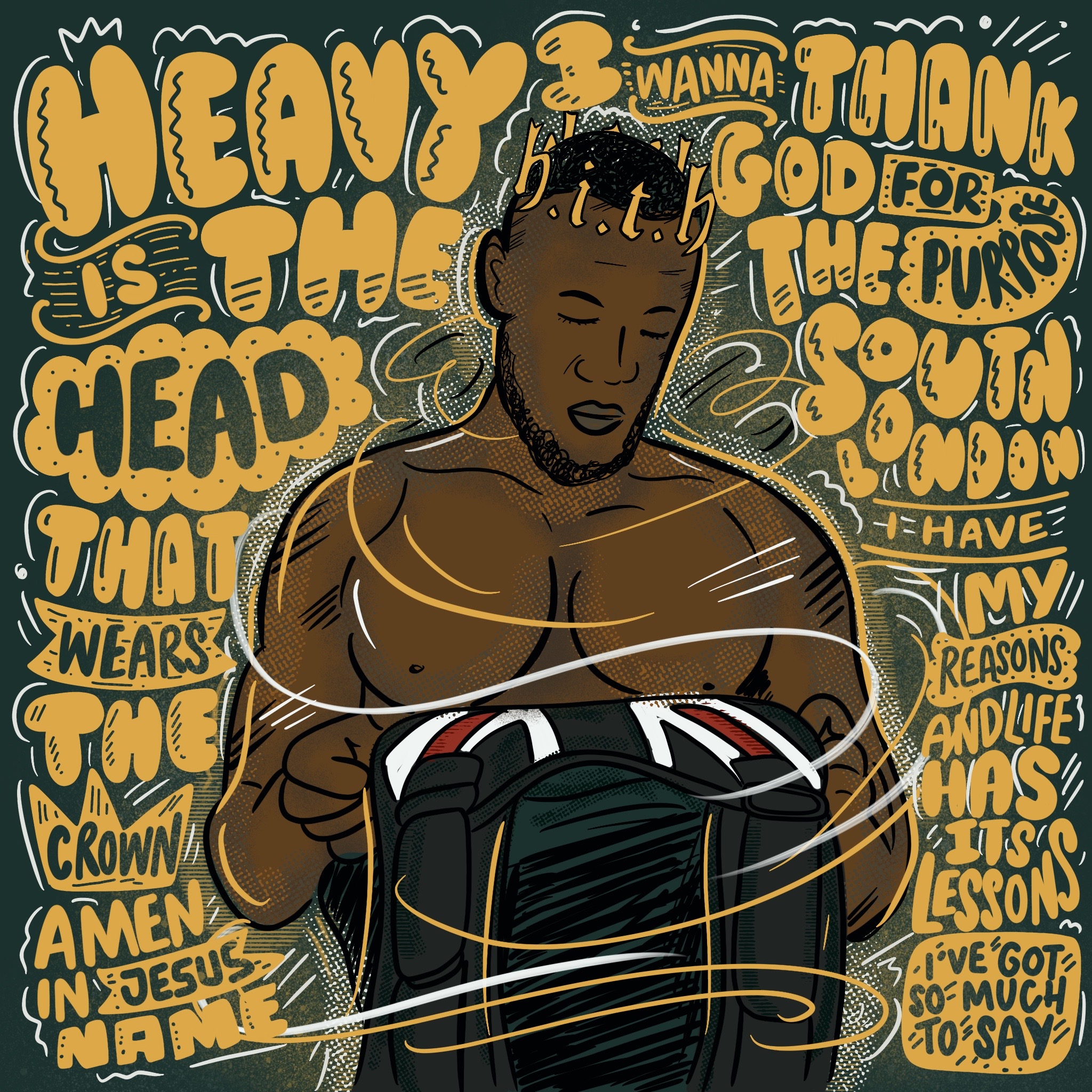 London based freelance designer, illustrator and muralist, Harkiran is regularly commissioned by brands to create illustrations and graphics. She's worked for the likes of the Comic Relief, London Marathon Events, Adidas and Lululemon. In 2015 she realised how powerful words are and she began the 'thankful project' where she would illustrate each day for the entire year. This passion project led to her signature style of using bold, bright typography in her work.
T & I: harkirankkalsi
Mixed media on paper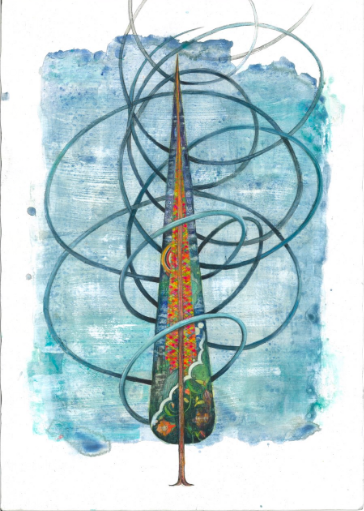 An alumni from Central Saint Martins, London, a British Council scholarship took Amber to Poland where she studied poster design. She's also studied Indian Art at Harvard. Her studio is based in Cockpit Arts, Deptford. Amber's artworks have been shown at Buckingham Palace to mark the 70th birthday of His Royal Highness The Prince of Wales and she was commissioned by HRH to design a 40m carpet for the Picture Gallery in the Palace. This piece Entwined; Ruh is inspired by the Cypress Tree.
I: @amber_khokar
Mixed Media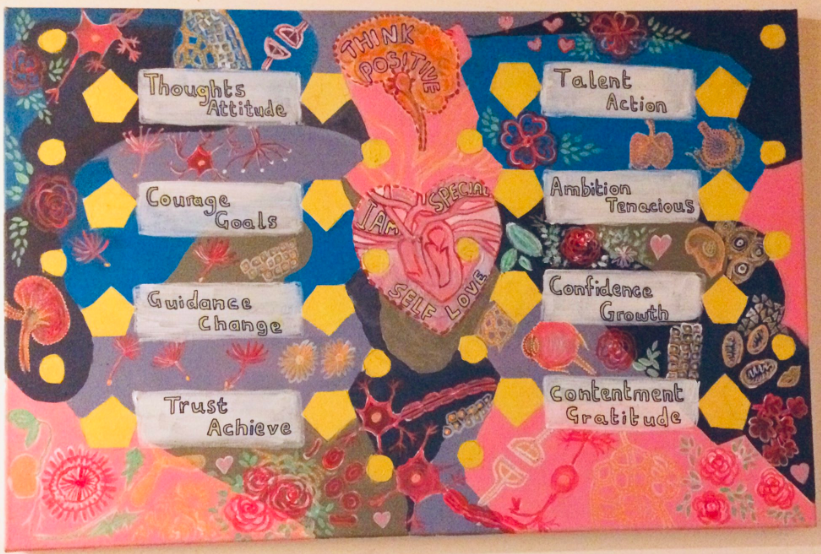 A self-taught artist who spent her early career in medical science and teaching, Fatema now combines her passion for teaching and her love of mixed media art with a focus on personal development and wellbeing. Her work has been sold at Spitalfield's art market and galleries and craft fairs. Her piece Do Not Assume is inspired by DNA molecules and the idea that we are not just our genetics, but are influenced by our environment and our own thinking.
T: @EmaLondoner
Photographic print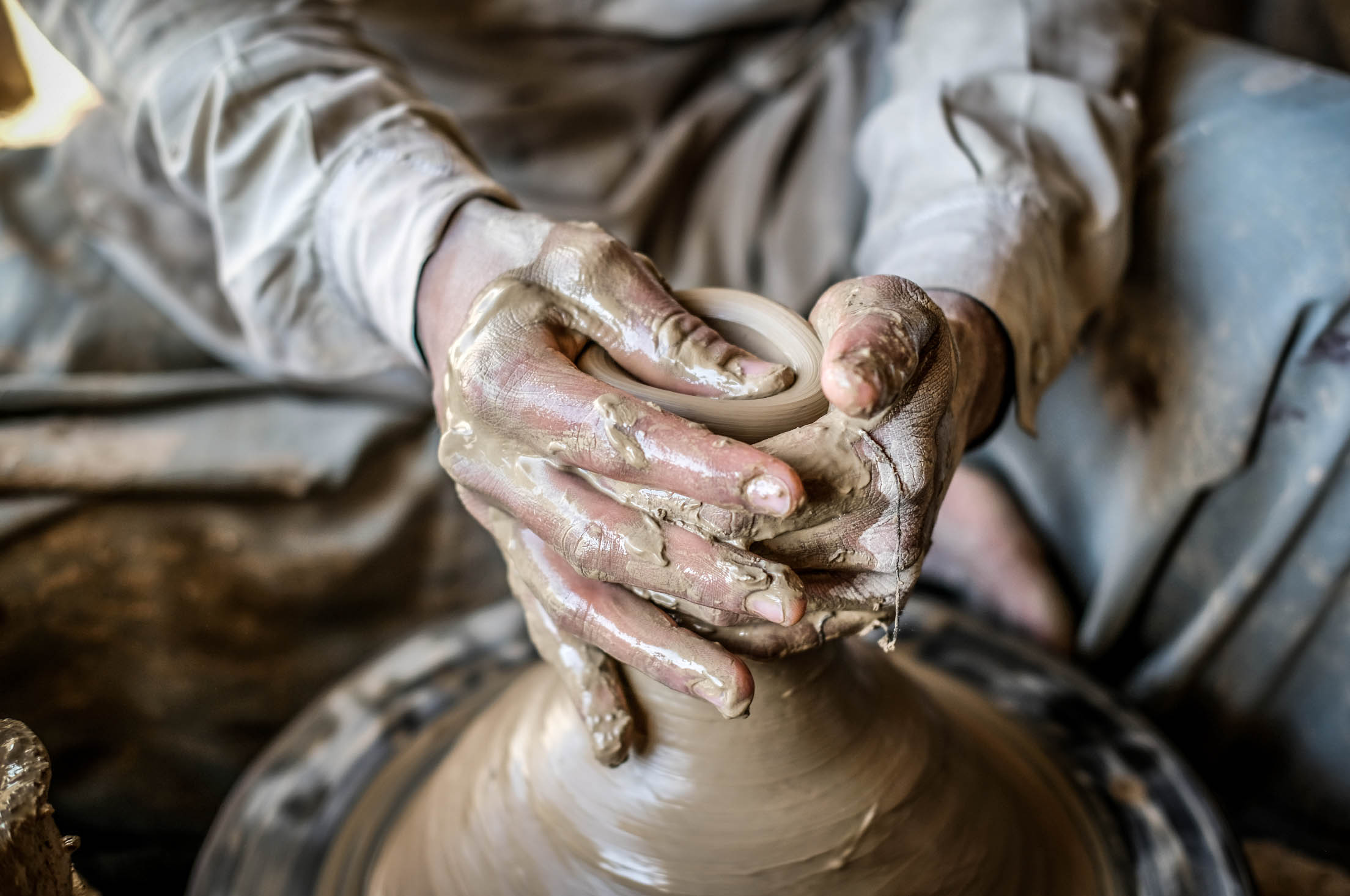 Sohail is a freelance portrait, beauty, travel and landscape photographer from London. He previously worked as Picture Editor for Eastern Eye Newspaper and as the in-house photographer for Asiana Magazine. He is the co-author of the book, A Divine Destruction, the unfinished story of the Kashmir earthquake of 2005. Not afraid to experiment, Sohail is always learning and constantly pushing creative barriers and venturing into the unknown. This piece is part of hisThe Claypot men of Masafi series.
T & I SohailAnjum
Acrylic and ink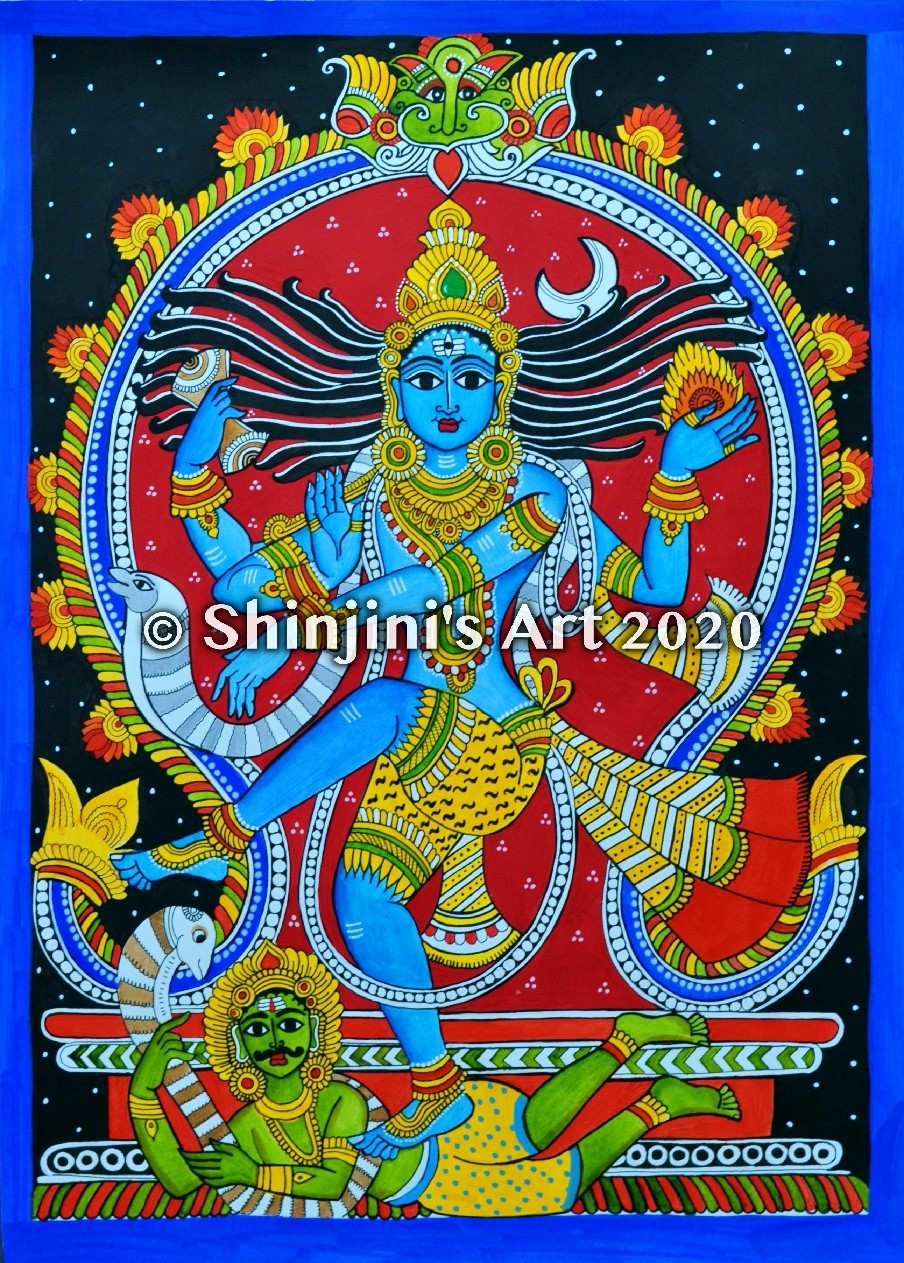 Born in Kolkata, Shinjini is an Indian Folk Artist based in London whose work currently focuses on the traditional forms of Madhubani painting and Kalamkari printing. Her work has previously been exhibited at the V&A Museum, The Bhavan Centre and Nehru Centre. This piece captures Shiva Nataraja's role as a creator, preserver and destroyer of the universe.
I: @shinjinisart
Weaving, fine raw and synthetic silk
Rezia Wahid is a textile artist, educator and curator who specialises in hand weaving. Rezia was appointed an MBE for her contributions to arts in 2005, and researches the natural therapeutic properties of weaving and how it connects people. This piece followed a brief by Burberry Design using Jamdani from Bangladesh. The inspiration was derived from Rezia's visual studies of the British seasides, sand, stones and rocks.
I: ReziaWahid1 Twitter- ReziaWahidWeave
Thank you
…to all the artists involved. Hopefully I can curate another exhibition when this current craziness is behind us.
Thank you too the other talented people who were involved in the evening too, Sba Shaikh, Dotty Art, Box of Prints, Farah Visual Arts, Jaspreet Kaur, Tabish Khan, Suman Bhuchar, Sailesh Ram, Sahera Khan, Nabiha Iqbal, DJ Shai Guy, Bishi, Susheela Rahman, The Dhol Academy and The Make Escape.
Yours colourfully,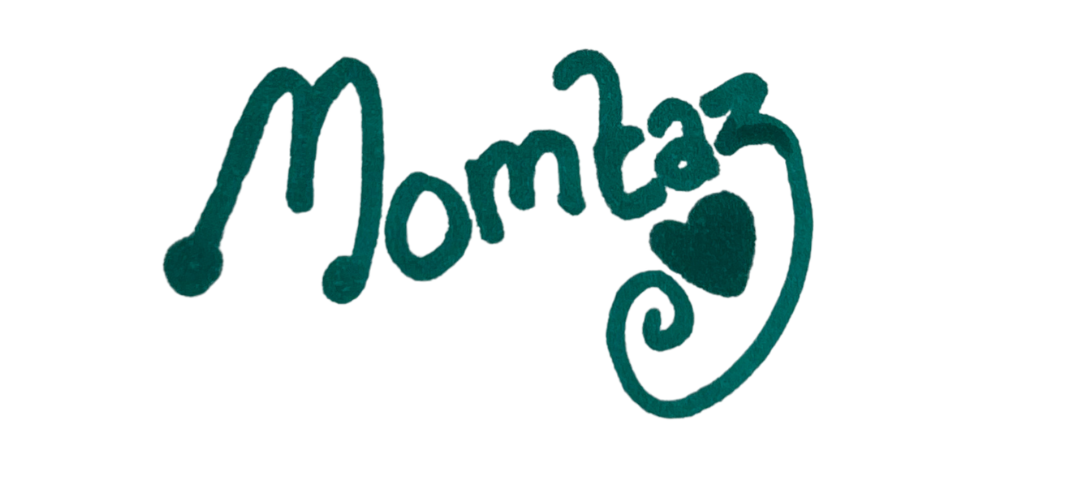 amber khokar
arliyah hussain
art exhibition
art illumination
art trail
artist
bhavisha mehta
british south asian
daya bhatti
digital art trail
fatema hossain
friday late
harkiran kalsi
indian painter
islamic painting
mendhi artist
mobeen akhtar
moheeni paul
Shinjini Thakur
sohail anjum
susheela rahman
tina gajjar
wallace collection