Could this be The Most Colourful Art Exhibition London Has Ever Seen?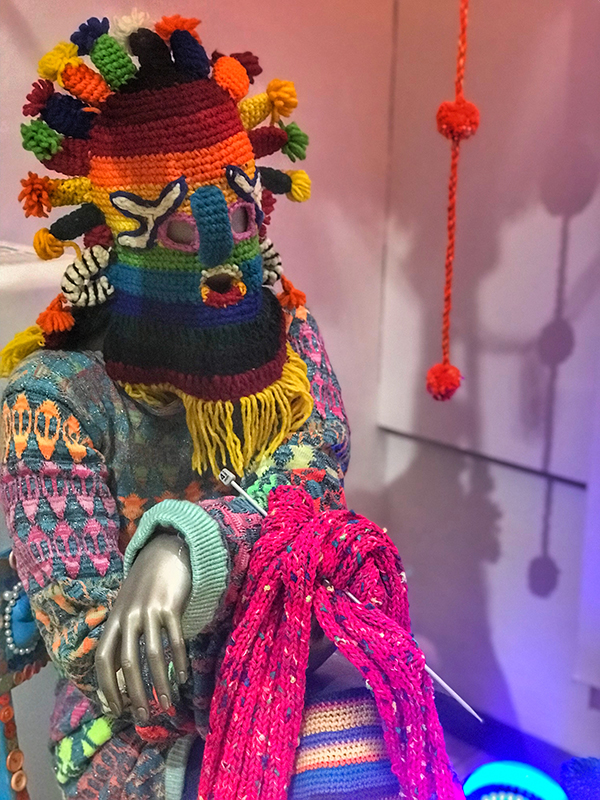 Naming something 'The Most Colourful Art Exhibition London Has Ever Seen' is the highest accolade a Rainbow Hunter like me could possibly bestow upon a gallery but I stand firm. 'The Gently Explosive Art of Yarnbombing and Other Acts of Stitchery' which opened last month at St Pancras Hospital Conference Centre fully embodies this title.
The Sewing Circle presents…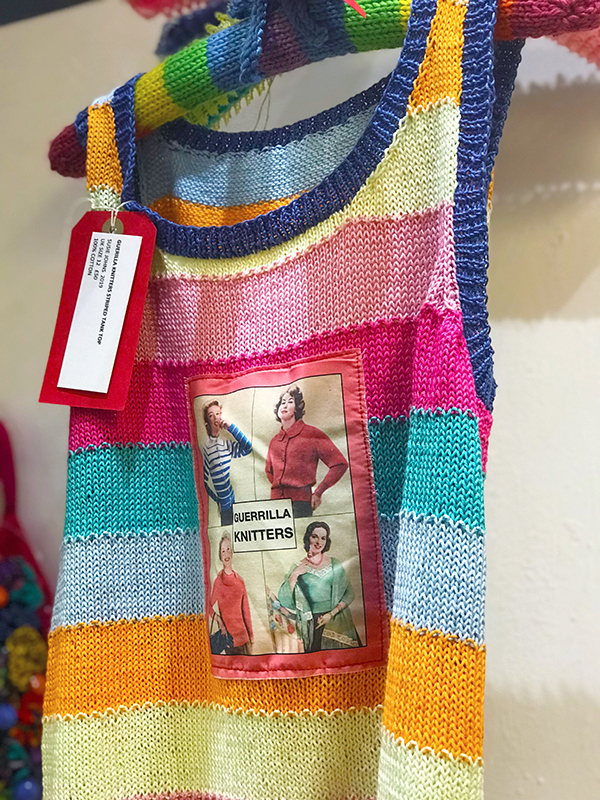 A collaborative show featuring the work of 25 artists, co-curated by Colour Queen Sue Kreizman and Peter Herbert, the entire collection features handmade, handcrafted creations that have either been knitted, crocheted or have some form of stitching, but not as you know it! Think crazy masks, strange dolls and political fashion rather than classic embroidery stitches.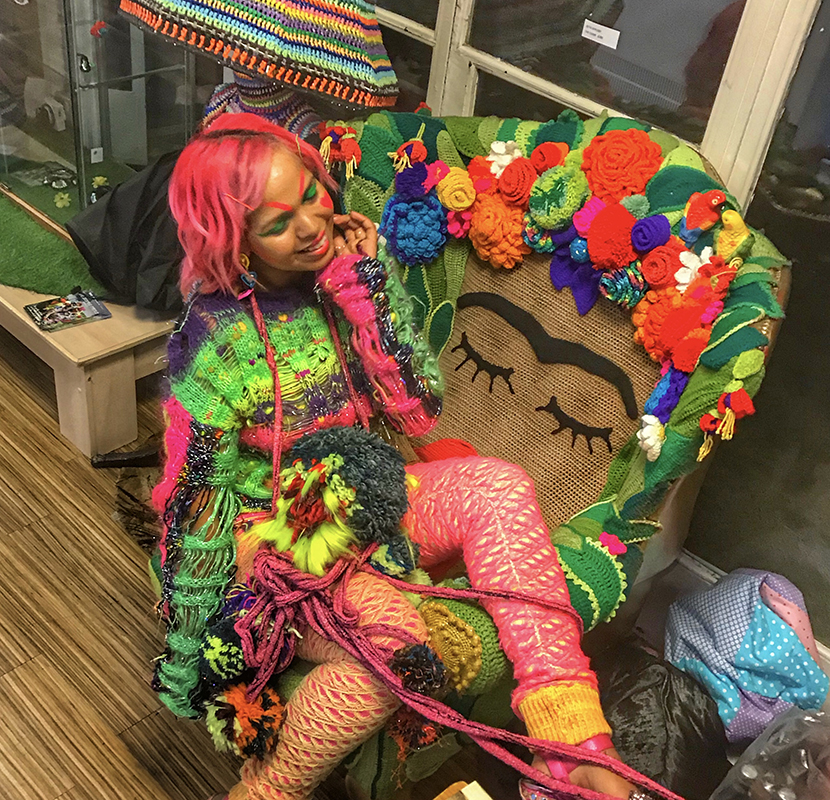 From giant neon chandeliers and crochet-covered mannequins to kitsch jewellery and humorous furniture; everywhere you look there's a new shade, texture or detail to discover. Take your time to savour it.
Feast your eyes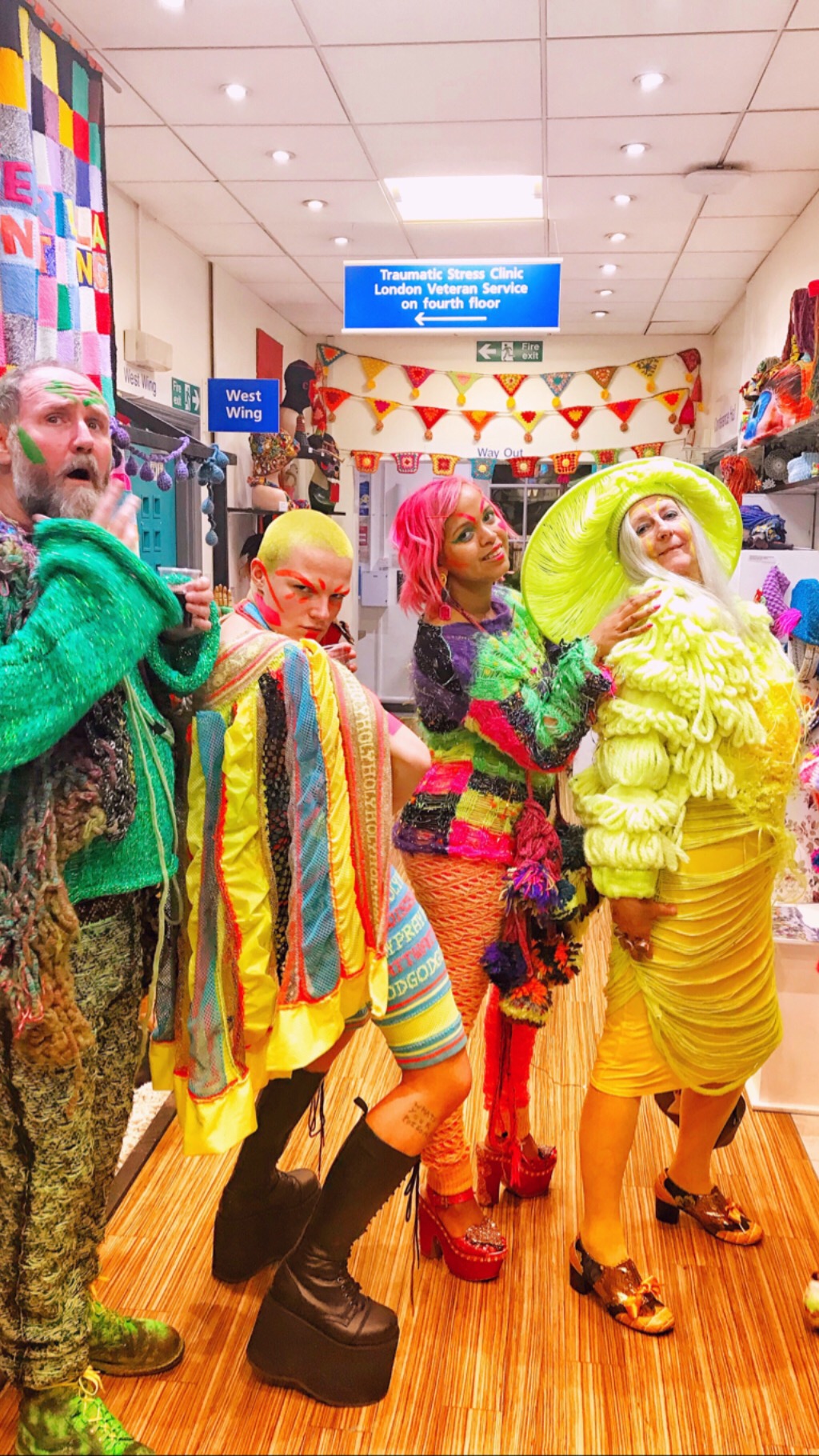 Seeing the pieces displayed in a hospital alongside NHS signage enhances the DIY aesthetic of the concept of this being an exhibition that celebrates the handmade.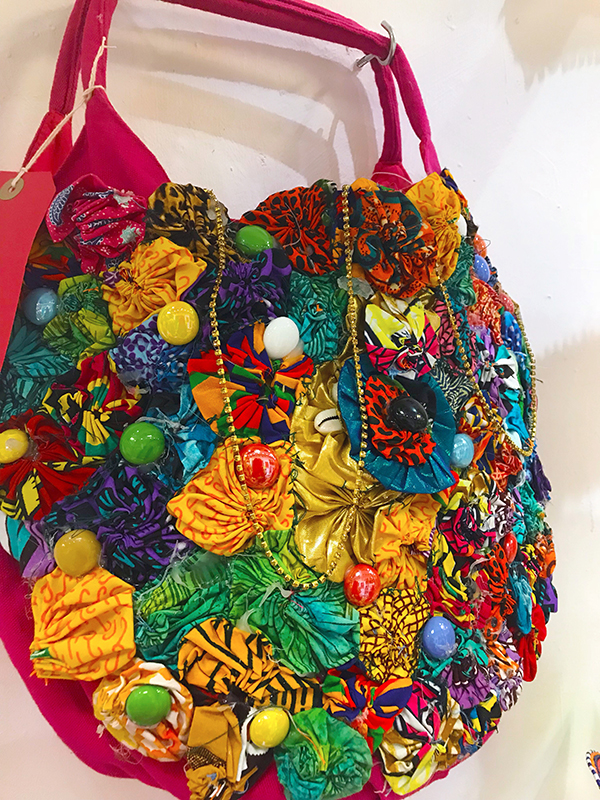 The gallery is a short walk from either King's Cross or Mornington Crescent tube stations and if you have absolutely any degree of interest in the afore-mentioned crafts (crochet, knitting or sewing), like me have an obsession with colour, or you simply want to feed you imagination, it's worth every effort to visit this one of a kind exhibition which will brighten up a winter's day in an instant. It's joyful from the second you walk in.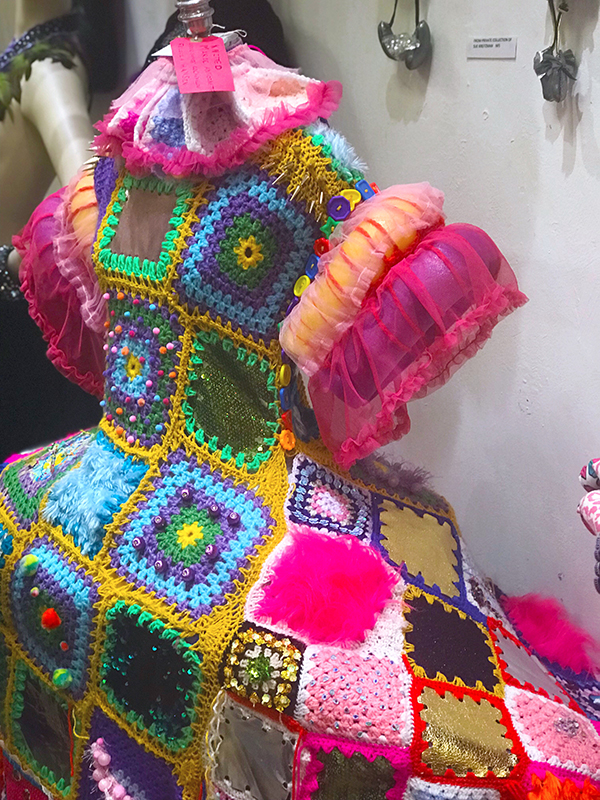 There's only one downside and that's the opening hours. These masterpieces can only be witnessed between the hours of 9am-5pm….Monday to Friday*. But if there was ever a reason to go into work late and say you've got a dentists appointment, or leave a little early…or indeed take a long lunch break it's seeing this show. *You can make an appointment outside of these hours with the organiser Peter Herbert by emailing him at theartsproject1@gmail.com.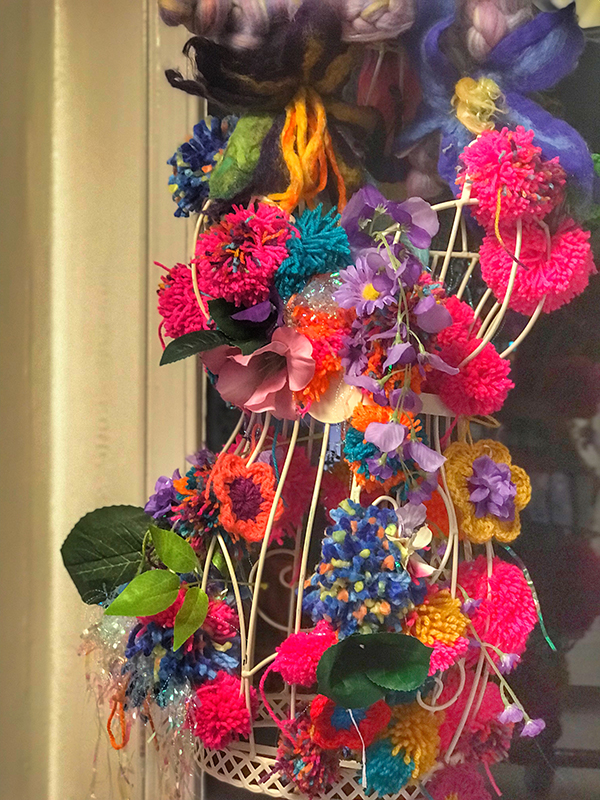 You'll find fashion, home decor, canvas art, jewellery all that blur the lines between art and craft.
Look out for my work!
Oh and if you take a peak in the jewellery cabinet which features kitsch collars designed by Maria Fernanda Latif (her Joker collar is one you have to see!), you'll also find a platter of bejewelled brooches made by me. They're all for sale…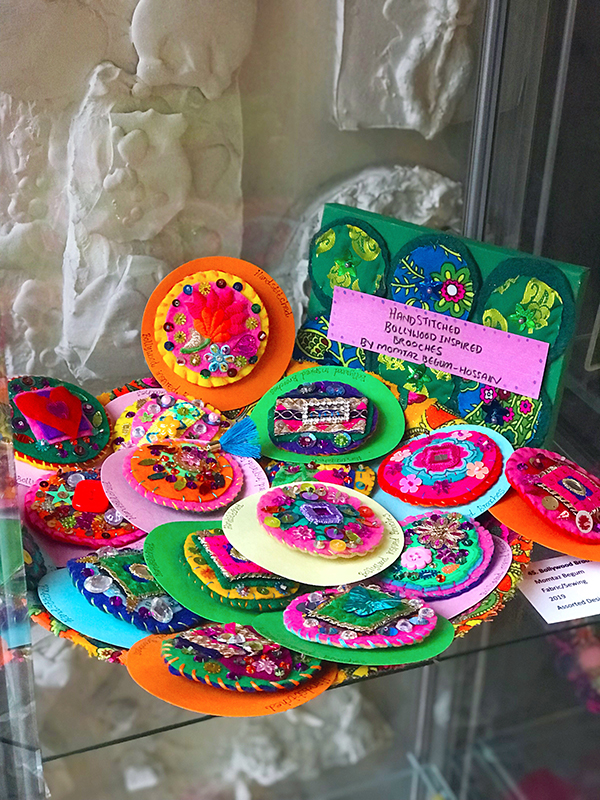 But sadly the Frida sofa sold on opening night…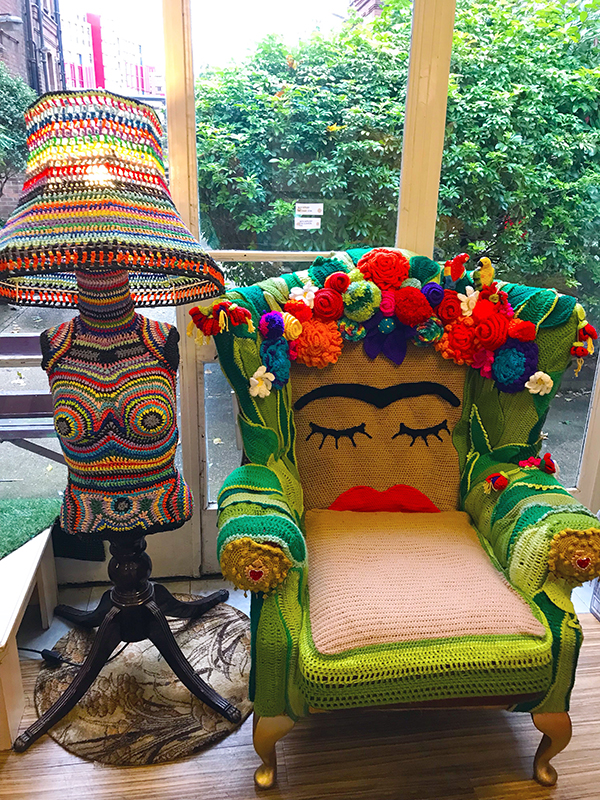 Speaking of the opening, the show kicked off on October 25th with a neon fashion show and I just happened to find myself on the runway. All the pieces we wore were designed by knitwear designer Jylle Narravo who runs neon naked life drawing workshops.
Opening Night Neon Fashion Show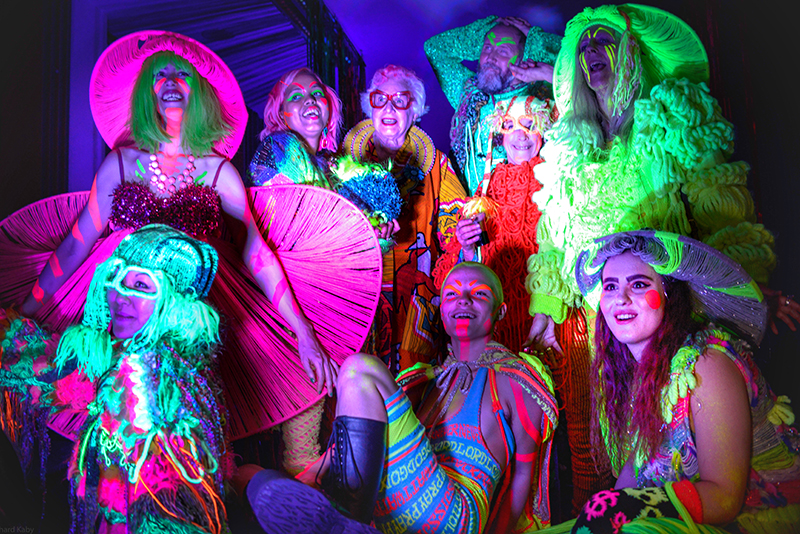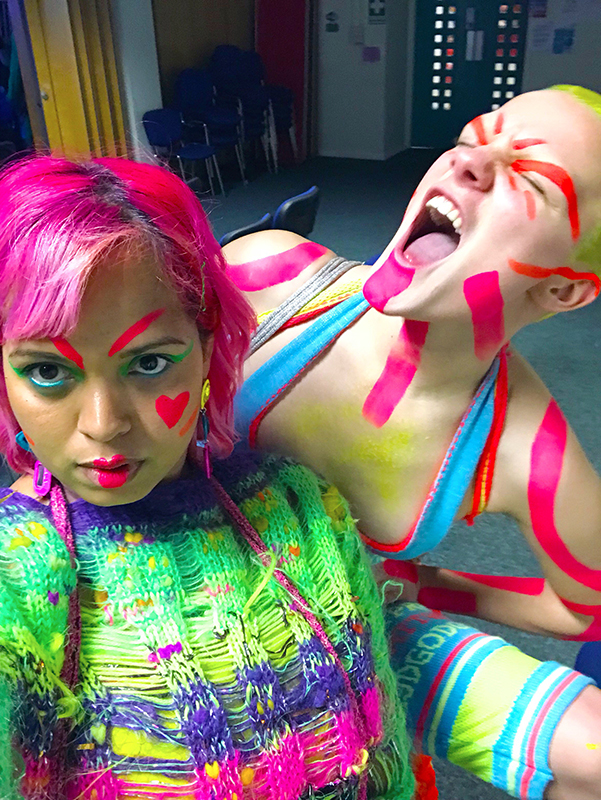 Do check out the exhibition, it runs until January 10th 2020 at The Conference Centre Gallery, St Pancras Hospital, 4 St Pancras Way, London, NW1 OPE. And spread the word, this is the type of exhibition that people will be sad to miss if they find out too late.
Jan 10th includes a special closing night event with a film screening on from 5.30-7.30pm so that's also worth coming to watch!