(Updated January 2023 – This post is about my visit in November 2019 however teamLab Borderless Shanghai is still going, the difference is that are now some temporary installations too, for the latest information see their website but so also keep reading to see what my visit was like so you can get excited about your own trip…)
"Some people spend three hours here, others a whole day." I'm told this as I walk into a dark room where the floors are flickering and moving in ripples towards me. I look at my phone and start to wonder if the hour I've set aside to visit Shanghai's new attraction teamLab Borderless is going to cut it. It's opening week of the 'exhibition' and while on a stopover in the city, on route to Bangkok, I decided to take a look at what all the fuss is about.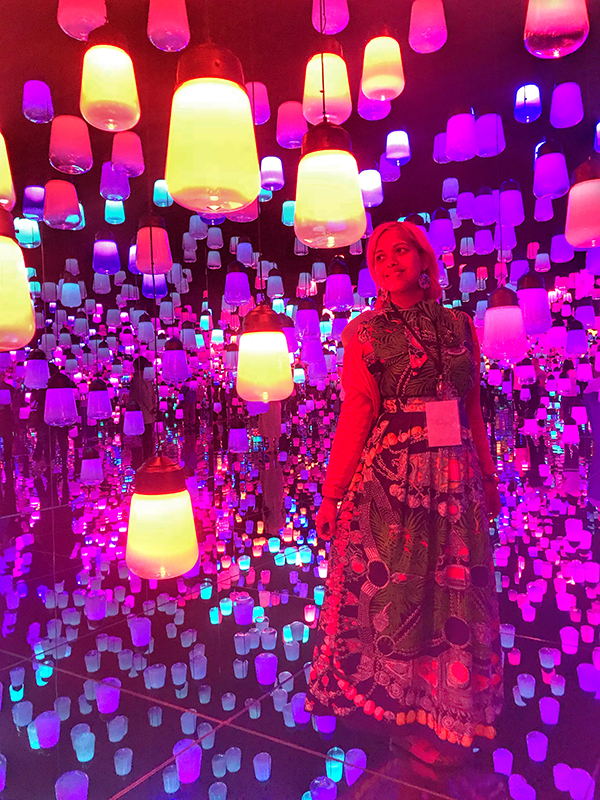 teamLab is a collective of artists, filmmakers, designers, programmers, engineers and visionaries who have come together to create a series of large scale interactive experiences which so far have been created for countries including Japan. But as of 5th November 2019, China has its own permanent version, based on the outskirts of Shanghai next to the iconic Power Station of Art, the cities answer to London's Tate Modern.
There's no doubt that it's just shot to the top of Shanghai's most Instagrammable locations. Every aspect of being here is made for sharing and though it's possible to find solitude and moments of peace, it's just so tempting to whip out your camera and take shots. Wherever you're standing or sitting, every angle, selfie and video comes out looking like a masterpiece.
What's in store at teamLab Borderless Shanghai….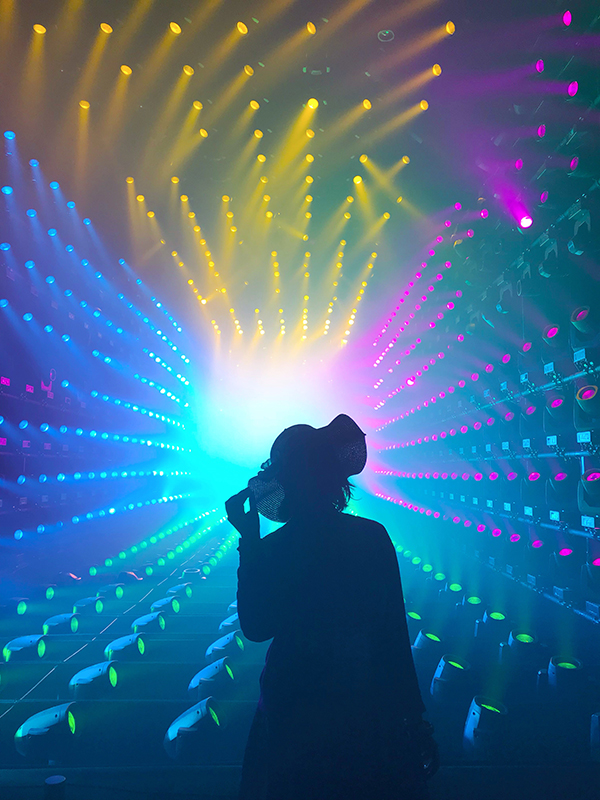 If you've been to a light and sound show before you might think you can imagine what's in store, but there's no chairs here to sit and watch magic unfold. Visiting teamLab Borderless Shanghai is a journey that you have to wander through and if you take it leisurely you may indeed find yourself here all day, but if you go too quickly you'll miss something special.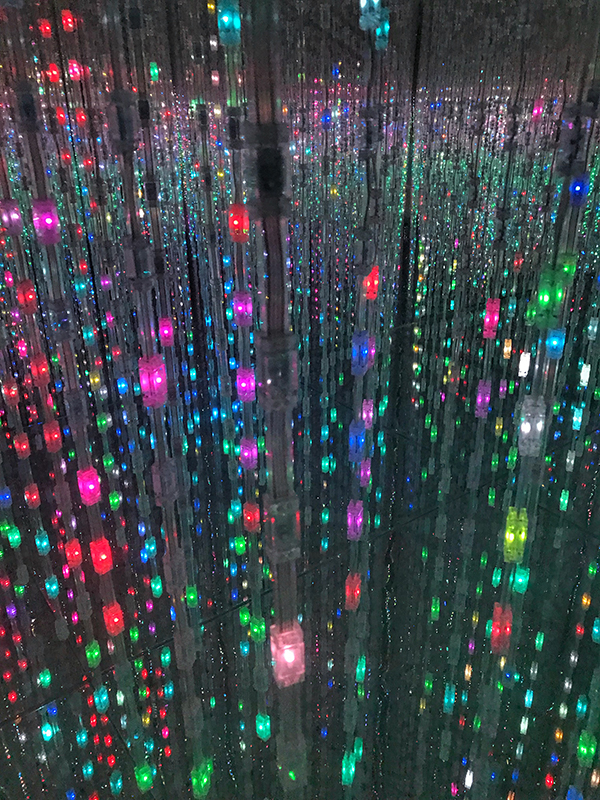 Quite possibly the ultimate maze, there are over 50 interactive rooms and corridors to experience, of varying sizes, located across different floors and altogether it's so vast you genuinely feel like you're in another world, far removed from outside distractions…especially when you start to feel lost and confused about where you are and where to go next. Some rooms are found behind hidden walls so if in doubt it's best to follow the paths others take to help you feel less daunted. And there are lots of paths to follow, it's a busy place.
Dreaming in rainbows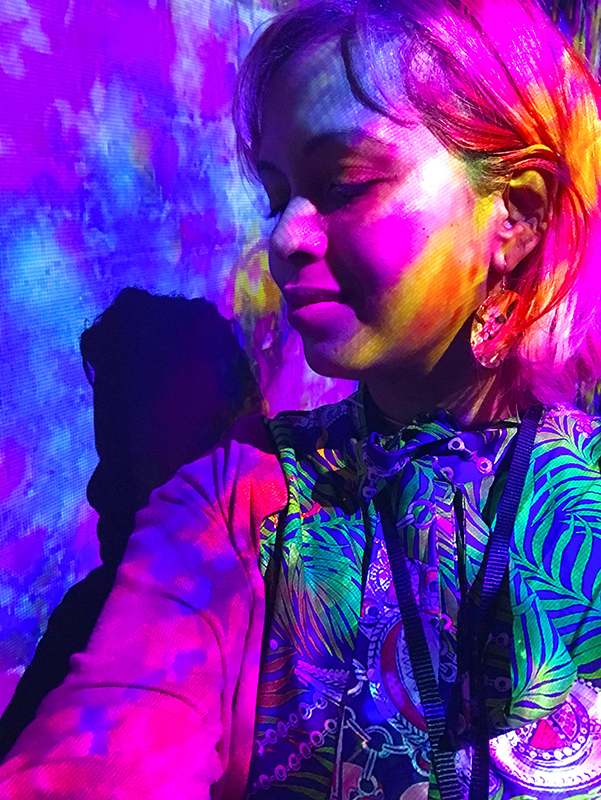 Lovers of colour will no doubt appreciate the lengths to which light is played with and experimented with to create digital backdrops that react to your presence and sometimes even to your touch. You'll walk through rainbows, fields of sunflowers, float on top of waterfalls and feel like you're rotating around the earth as you witness epic sunrises, a forest filled with lamps, all manner of iridescent tubes and even crystals on a conveyor belt; it's like dreaming in rainbows, well rainbows in an alternate universe.
Taking your time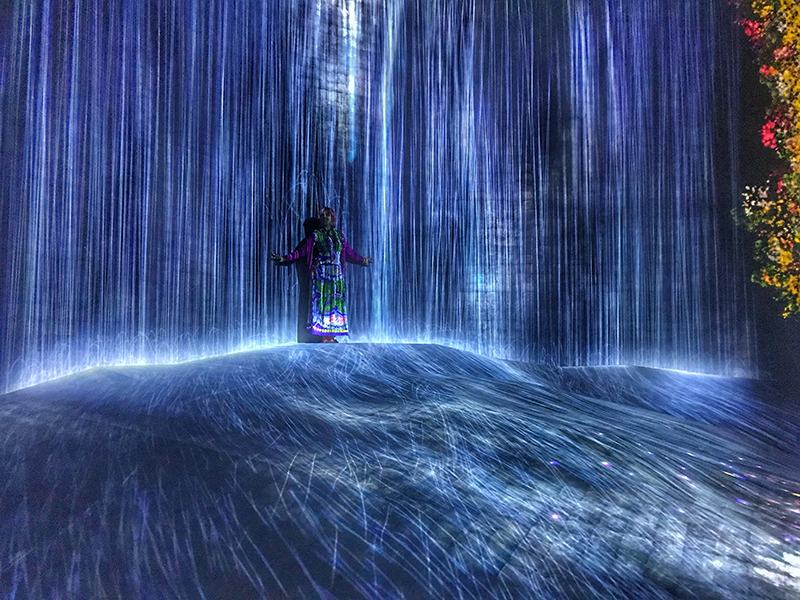 Tickets are premium priced but the fact you can spend hours here ensures you can get as much value from them as you want. Though I had assigned an hour, I ended up staying two and a half. At first you need to get over the overwhelming nature of it, then you start to understand how it all works and once you've had a peek at how the land lies, you may want to go back and experience it all over again.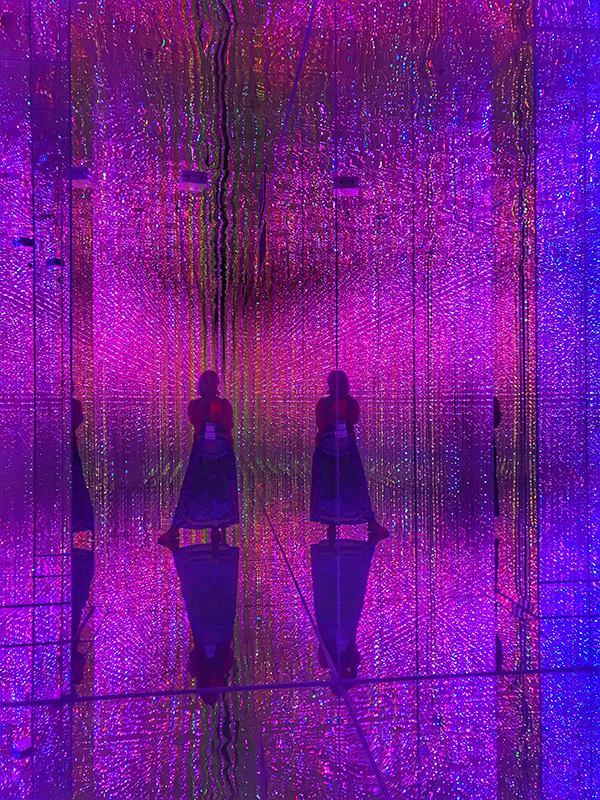 Once you'd had your fill of selfies it's just as satisfying taking pictures of stranger's silhouettes and if you want someone to take a photo of you just ask. The staff it seems aren't allowed to take photos as they're too busy but fellow visitors will happily oblige so if you don't have an Insta-husband or wife to take with you, as I didn't, fear not!
Is it worth the trek?
I'm based in the UK and I am by no means suggesting you fly out to Shanghai just to see the exhibition but if you find yourself in the city, especially if you've got a transit stopover, it makes for a fun and satisfying way to spend a decent couple of hours. I got the metro to the nearest station and then it was a short walk. Ask for directions if you get lost just look out for the giant chimney that belongs to the Power Station of Art and follow it as once you approach that gallery you'll find the 'giant hanger' that is the exhibition next to it.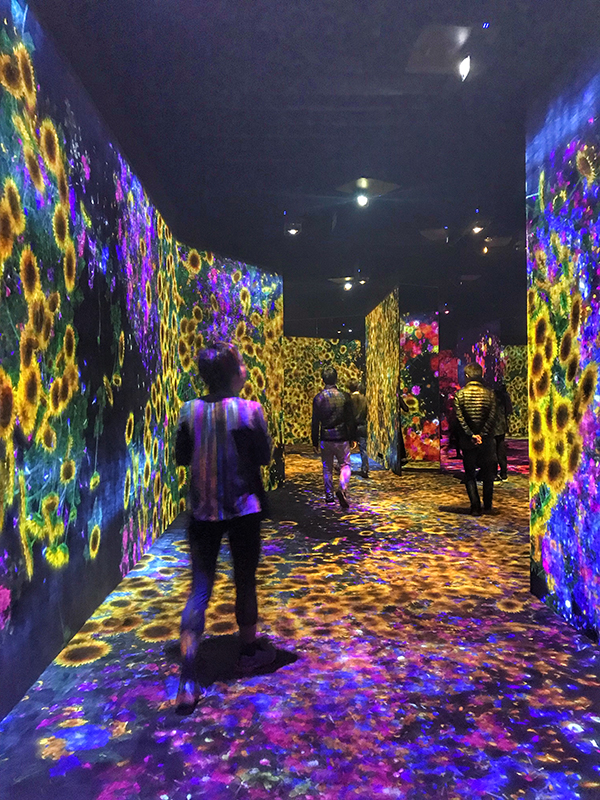 If getting social media content drives you it's a definite yes to visiting. Or if you're intrigued by the digital world and want to experience the future of contemporary art, I recommend it. And if like me you're a Colour Addict then it's essential visiting. But, if you're not a fan of dark or enclosed spaces and can't survive without windows then stick with The Bund.  Here you'll get fresh air and waterfront views and can enjoy the beauty and lights of the city skyscrapers light up sunset instead.
I received a complimentary ticket to visit teamLab borderless Shanghai, all thoughts are my own and I wasn't asked to provide any specific coverage.
Visiting teamLab Borderless Shanghai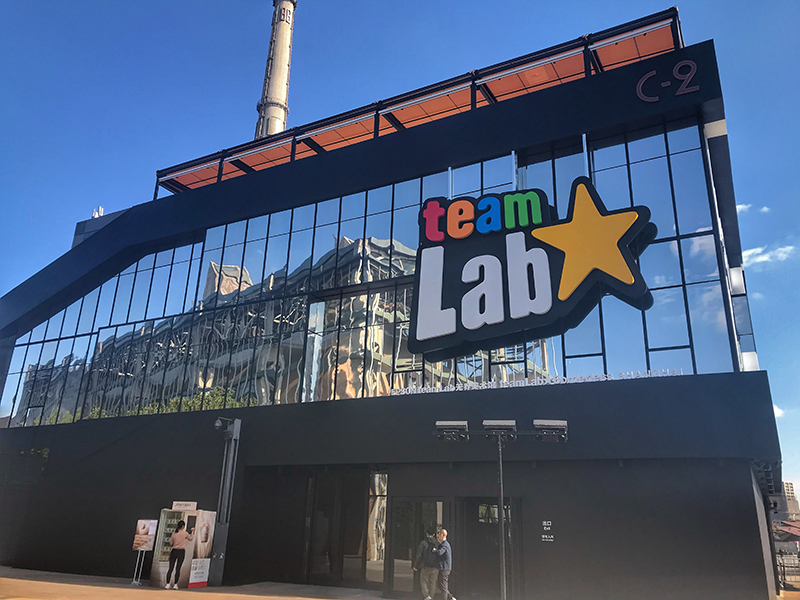 Tickets: Prices vary between week days and weekends and start at CYN 229, that's about £25.
Address: Unit C-2 No 100, Hua Yuan Gang Road, Huangpu, Shanghai
Website: https://borderless.teamlab.art/shanghai/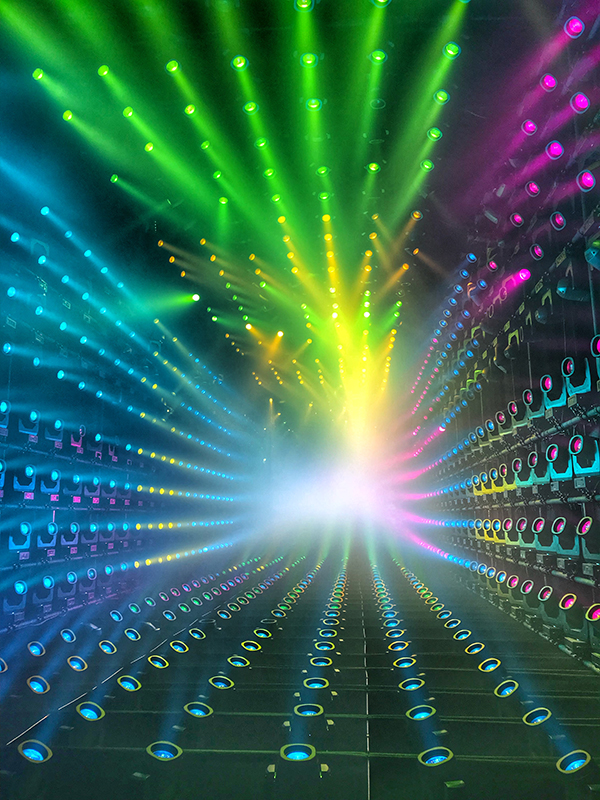 Yours colourfully,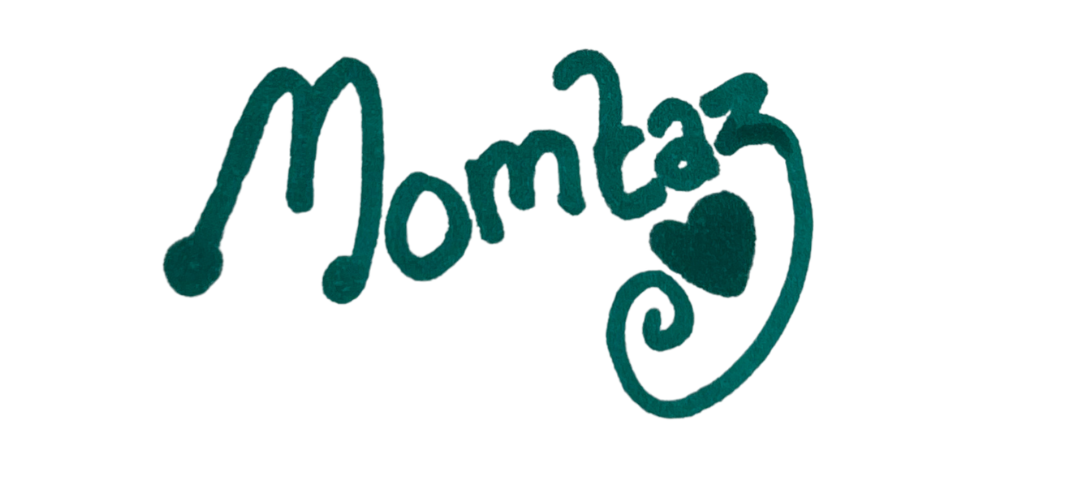 24 hours in shanghai
China
interactive art exhibition
light show
modern art gallery
power station of art
shanghai stopover
teamLab Borderless Shanghai
The Bund
things to do in shanghai