"Being surrounded by good design is one of life's pleasures" – Trisha Guild
Celebrating 50 Years of Designers Guild
I'll never forget the time I discovered "Pattern" by Trisha Guild. An interior design book where every page oozes colour, pattern, texture, textiles…all the things I adore. The book was £30 and it was completely out of my budget. I looked at it regularly in bookshops, pouring over every detail and gasping at its overall aesthetic. I saved up for ages and in the end I managed to get a few pounds off the RRP by getting it from Amazon so I was extra chuffed. It's a book I never tire of delving into, though it's just one of 20 titles that Trisha has written. The latest is Out of The Blue Fifty Years of Designers Guild, and it's the book to accompany an exhibition of the same which opens at the Fashion and Textile Museum in London on February 14th, celebrating 50 Years of Designers Guild.
Valentine's Day couldn't be a better date as 50 Years of Designers Guild is indeed an impressive feat and what's more, the entire exhibition is a colour lover's dream.
So of course, I was in my element when I visited it at a preview…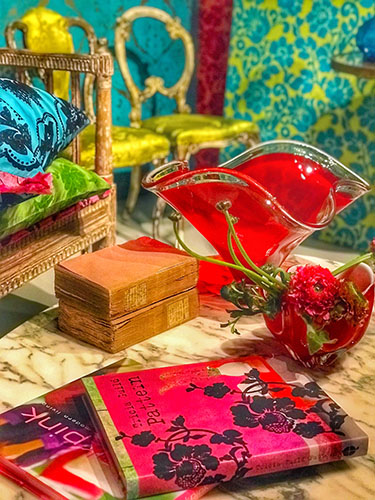 The Doyenne of Design
The Designers Guild came about in 1970 when Trisha co-purchased an interior design company called David Bishop which specialised in Indian-block printed cottons. India and and in fact travel has continued to be a major inspiration in the brand's designs – another reason I'm obsessed with them, the Craft and Travel theme is intrinsic to what they do, just as it is for me.
In 1971 they opened their first shop in King's Road, Chelsea and today they're still found on this infamous road, only now their premises comprises eight shops creating a mega showroom where you can wander in and experience what your home could look like if it was kitted out in Designers Guild interiors.
The 50 Years of Designers Guild exhibition is similar in that it features set ups of many of the collections the brand has become famous for. Some of which are reconstructions of Trisha's actual home. My fave is this set up as it's the era of when her Pattern book came out with all its flock wallpapers and vivid bright colours, it takes me back to those days of getting excited about discovering her and a brand that spoke to my colour-appreciation sensibilities.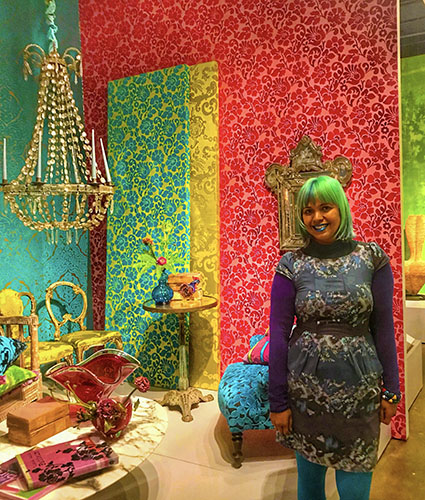 "Colour is what makes her tick"
– Telegraph Magazine 1999
Handprinted wallpapers, paintings, ceramics, handwoven fabrics and digital prints feature in the 'sets' which transport you to different Designers Guild eras. You can really appreciate the juxtaposition of different textures and colour schemes which if someone described to you, may sound like they wouldn't work, but in flesh they are a sight to behold.
At the preview I had a chance to hear from Trisha herself reminiscing about memories of the different collections. I particularly her account of moving into digital printing and how after years of painting by hand, or printing on small screens, it completely opened up possibilities. I've had my own experience of digital printing onto six meters of fabric, when I made my Bat Girl sari.
Inspiring 'Home Sweet Homes'
When you first enter the exhibition there's a space you can take a seat, relax in flick through sample books and pretend for a few minutes you're at home, but the rest of the backdrops are exhibitions so there's no stepping into them, as tempting as they are. I mean just look at this one…it's a colour lover's dream (and a minimalist's nightmare!)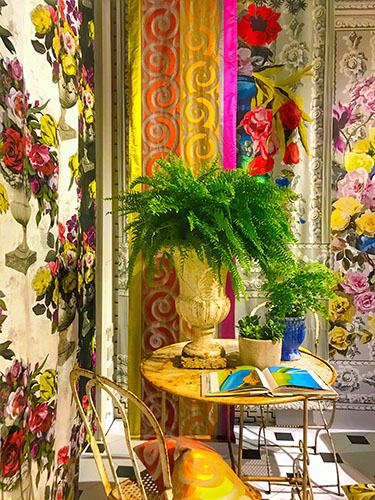 Though all the room sets are exquisite, my favourite bit of the exhibition is actually seeing some of the process behind how designs come about including moodboards and samples, it's just so fascinating to see these and then the finished pieces. It's also worth spending some time sitting down and watching the short film that's looped in the exhibition that shows Trisha and her team at work. It's so captivating, you might end up booking a holiday to Italy.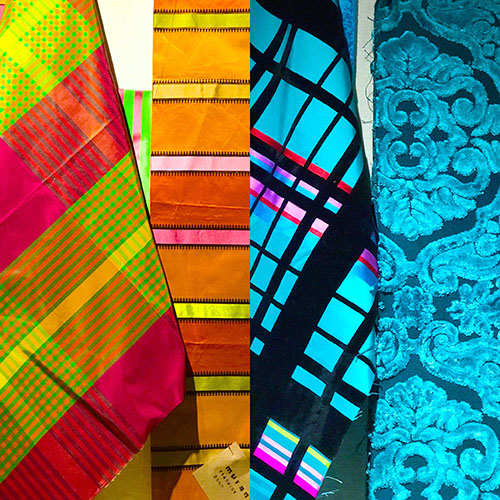 I obviously took the opportunity to tell Trisha what a fan I am and she happily posed for a photo with me. I left buzzing. Just stepping into such a beautifully curated colourful space is enough to lift your spirits, get your creative juices flowing and fill you with an urge to go home and spruce up your own living space. If only I had a budget to stretch to owning anything by Designers Guild. One day!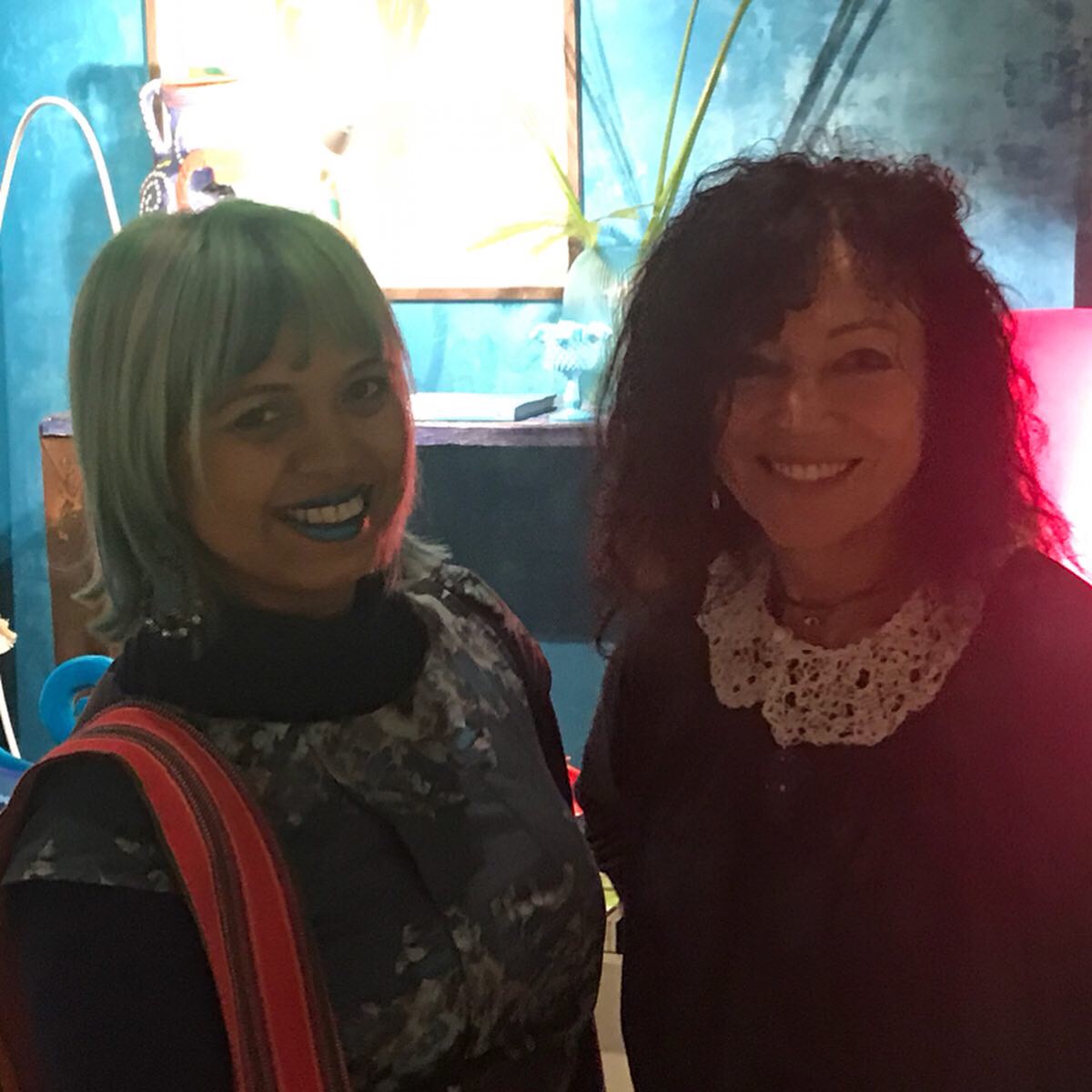 Want to see more? As tempting as it is to share more photos I don't want to give it all away. You'll have to make the trip to get immersed in the vibrancy of the exhibition yourself.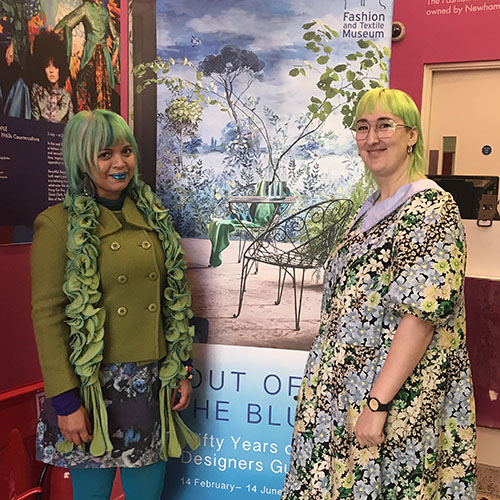 Out of The Blue – Fifty Years of Designers Guild is on at the Fashion and Textile Museum in London from 14th February to 14 June 2020. Nearest station, London Bridge.
www.ftmlondon.org
Yours colourfully,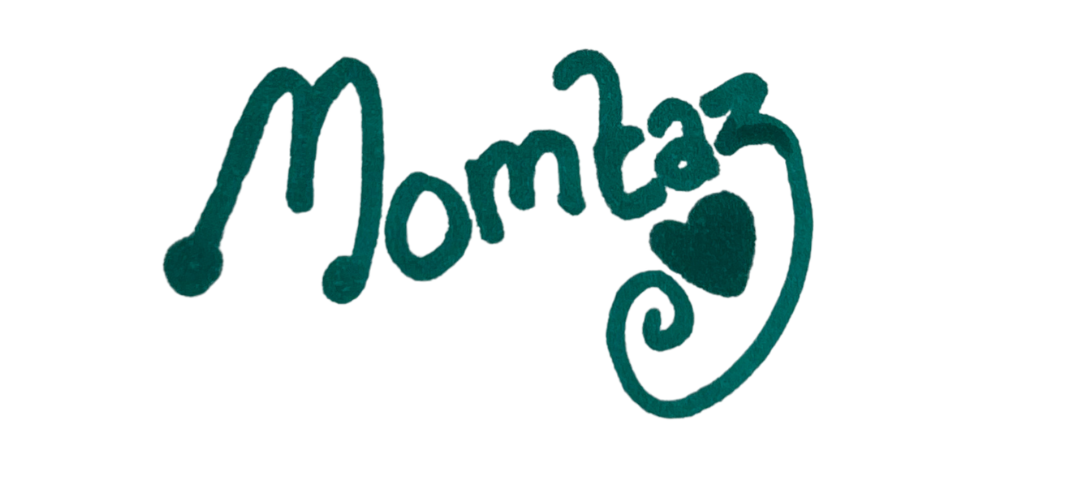 50th anniversary
designer's guild
fashion and texiles museum
February 2020
interior design
London museum
new exhibition
out of the blue
trisha guild