Back in 2020 I joined forced with tour company Sense Earth to organise a group trip exploring the traditional crafts of Eswatini. The itinerary featured a number of craft activities, one of which was a weaving workshop in Eswatini at Tsandza Weaving. Tsandza is a social enterprise where local women weave handicrafts. On the tour we would have spent a day with them, learning how to weave using traditional techniques and have a go at either weaving a bag or a scarf. Sadly due to the global pandemic the tour got postponed then later cancelled.
But I thought it would still be useful to find out more about Tsandza to give you an idea of who they are and what they do, so I had a chat with Kerry their Managing Director about life for the women of Tsandza Weaving.
Interview with Kerry James, Managing Director of Tsandza Weaving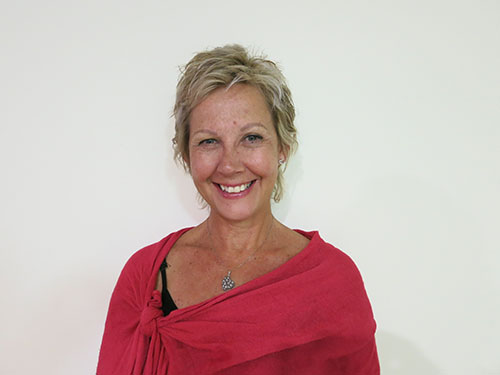 Hi Kerry. Your job as MD of such an important company sounds like a very rewarding job. What's a typical day like?
I purchased the business in November 2013 so when you come to visit in September I would have been there nearly seven years. As MD of Tsandza it plays a very big role in my life. My actual day-to-day involves all aspects of the production: design, working with our trainee supervisor to raise customer orders, updating the production schedule, checking and maintaining stock, operations like being responsible for raising invoices, purchasing all materials, dealing with export and import documentation. I also oversee our two retail shops in Eswatini, manage the payroll, HR, marketing and communications, packaging, looking after the website, do the social media and strategic planning…phew!
Gosh! Sounds like you do everything…apart from the actual weaving! Who does that?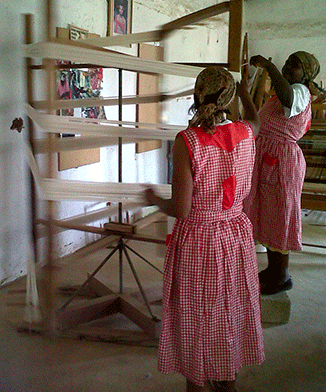 We currently have 26 staff altogether, 25 of which are women. 21 of the women work within the weavery across production while four of the staff work in our two retail shops. They live in rural areas, specifically Gebeni, Gzindza, Ntondozi, and Dwaleni. The greater majority of the women we work with have low literacy levels as free primary school only started to be introduced in Eswatini in 2010. For many, Tsandza will be the only organisation they have ever worked in. The women who join us will usually be aged from between 21 and 30 though they might join us from the age of 16 which is when school education ends. The age of retirement is 60 but that's voluntary, many people continue to work beyond that.
How long would a woman normally stay working at Tsandza Weaving?
We currently have four women who have been working in the business from between 12 years and 40 years when it was first founded and they're now aged between 49 and 57 years of age. Nearly all women that join us will have children. Typically in Eswatini the expectation is that there will be at least six people in each household to be cared for.
In the 6 ½ years I have owned the business, we've had 100 people work with us for varying times. Turn over is unfortunately high. Some of this is due to retirement of those that were with the business prior to me taking it on, other reasons will often be due to personal circumstances such as pregnancy, caring for sick or elderly in the home, the husband not wanting the wife to work, or getting married and moving to the husband's homestead in a different location.
So what type of things do these women weave that we mind find in the shops?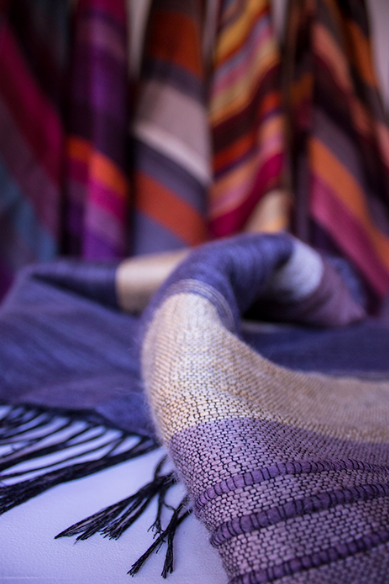 So at Tsandza Weaving we work with bamboo and mohair fibre and turn them into fashion and home accessories such as scarves, shawls, ponchos, bags, purses, throws, cushion covers, blankets and fabrics. We've even got some special items for children.
How do they learn to weave, what type of training is provided?
First of all, it's worth saying that anyone is welcome to join. About four years ago we introduced a formal trainee programme that lasts for six months.
It begins with an interview and a one-week trial to determine if there is a "fit" for the candidate within the business, and whether they wish to continue with their training. Not all choose to do so, opting to either stay at home or leave their children and move to live and work in the urban centres. Should they be successful and complete their traineeship, there is always a job for them here.
Training is done in-house. Our Master Artisan and Trainer has been with the business since the beginning. When the formal trainee programme was introduced we mentored and coached her to manage and train new trainees. She then continues to assist, support and teach them on a day-to-day basis.
What is a typical day like for the weavers?
The women work Monday to Friday 8am to 4pm and we provide staff transport that collects them and takes them home each day. They're required to work at our weavery because that's where the equipment is which includes floor standing countermarched looms, access to dyed materials and support from other parts of production such as quality control. The tasks they do vary and they may be involved in dyeing, weaving spinning or sewing of the product.
Can you explain how the production process of weaving a product works?
We start with the raw fibre (either bamboo or mohair). The bamboo is wound into hanks for dyeing then twisted into "plaits" ready to go onto bobbins.  The mohair gets dyed and is then spun into balls. The dyeing is done by hand in large vats using wood rocket stoves. The dyed fibre is spun onto bobbins that are then used on the looms. The loom set up requires the warp thread to be wound and tied. This is a two-day process on average. It requires one lead artisan and up to four others to assist through the process until the set up is complete. Once woven, the product is cut from the loom, checked, hand sewn and tasselled, checked again, a care label is stitched on using a sewing machine and it's then checked again ready for dispatch.
Where do the materials you use, come from?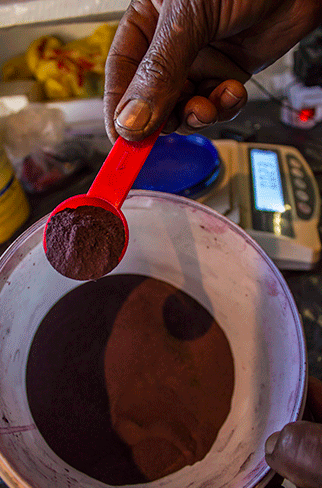 We mainly use bamboo and mohair, but neither of these are produced in Eswatini to so we source the raw materials from South Africa. The colours we use are all biodegradable dye powders which means they wash away and do not cause environmental damage. We currently have round 135 colours and we've made them by creating our own recipes where we vary the combinations of primary colours to create shades of red, blue, yellow, black and brown.
How do the women get paid?
We're required by law to pay a minimum wage based on our industry and at Tsandza we actually pay above the minimum and staff also work less hours, (162.5 rather than 192.5 per month). Our salaries are a combination of piece rates and daily rates. For any task that is measurable, there is a rate paid for that task. There are targets in place that provide a minimum earning per day guide. Targets are set to be highly achievable with the intention that whoever wishes to, can earn beyond the minimum daily target earnings. In addition, there are daily individual and team targets. Beyond this, the women also receive sick leave, compassionate leave, annual leave and a pension contribution. Tsandza also pays for all expenses relating to the transport we provide for the women so they can get to work and return home.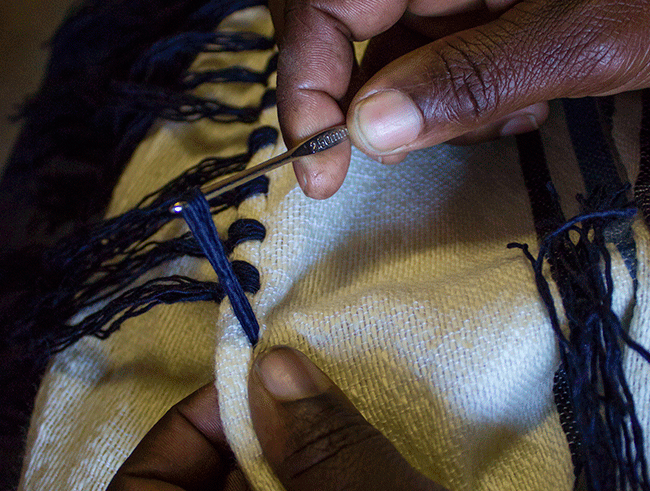 Find out more about Tsandza Weaving – if you're ever in Eswatini do contact them to arrange a visit and perhaps do a workshop.
This post was updated 25 Nov 22 to remove mentions of the tour which is no longer taking place
Yours colourfully,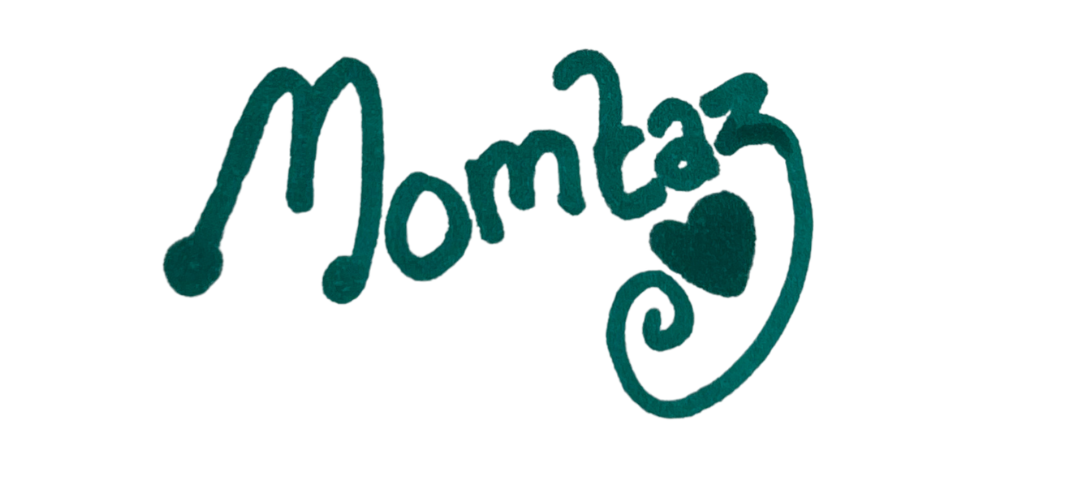 africa
african crafts
craft and safari tour
craft and travel
eswatini
kerry james
learn weaving
sense africa
social enterprise
swaziland
tsandza weaving
weaving workshop