RAW Rainbow Bridge Community Art Project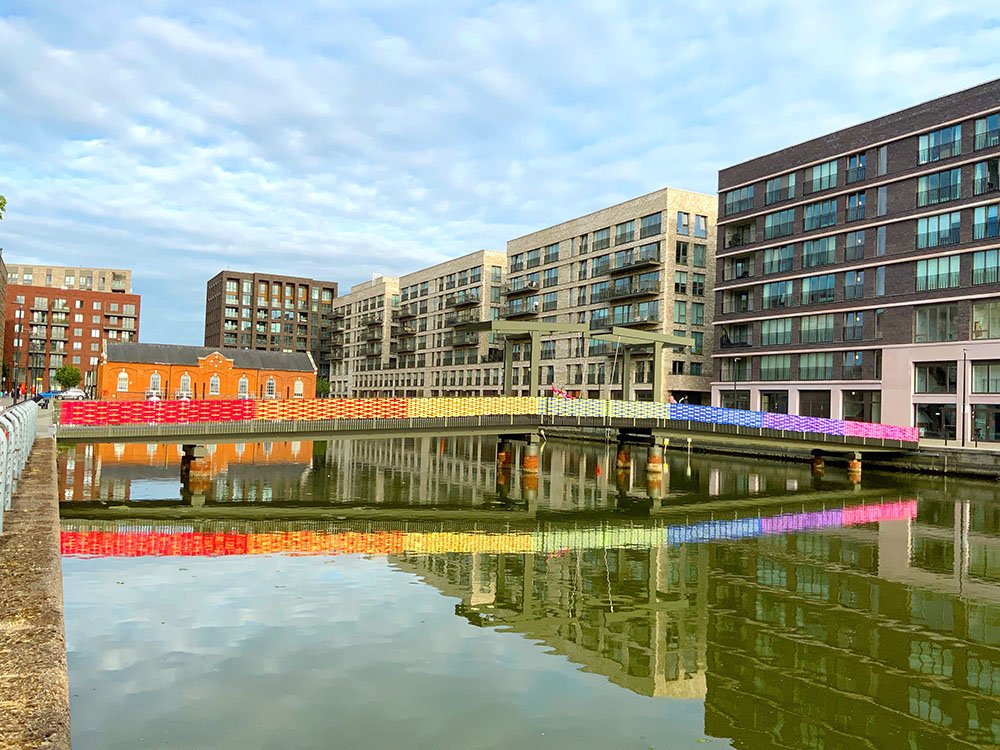 How a socially-distanced community art project has saved me during lockdown…
UPDATE: The RAW Rainbow Bridge won the Dezeen Award 2020 for Public Vote for Best Installation.
One thing that's really excited me about lockdown is spotting the 'rainbows of hope' hung up in windows in possibly every street in the UK. They've sparked all kinds of other rainbow artworks and installations and as a colour addict I have a lot of appreciation for them.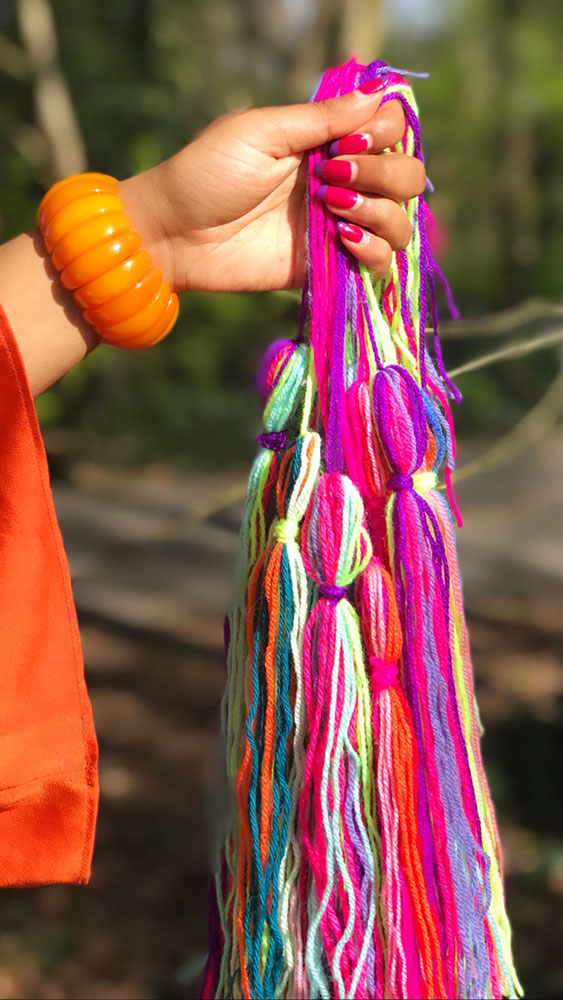 My own efforts to contribute some colourful 'community art' was making giant tassels that I hung up in my local park. A couple of weeks after doing so, more tassels made by other people (I've no idea who) started appearing and it made me happy to know that my idea had connected with strangers.
During lockdown I've really missed being creative with other people. Running and attending craft workshops is a big part of my life so when I heard about a local opportunity to attend a 'socially-distanced' craft workshop where participants would be working together to create a piece of community art (rainbow inspired no less!) I had to get involved…
The RAW Rainbow Bridge Community Art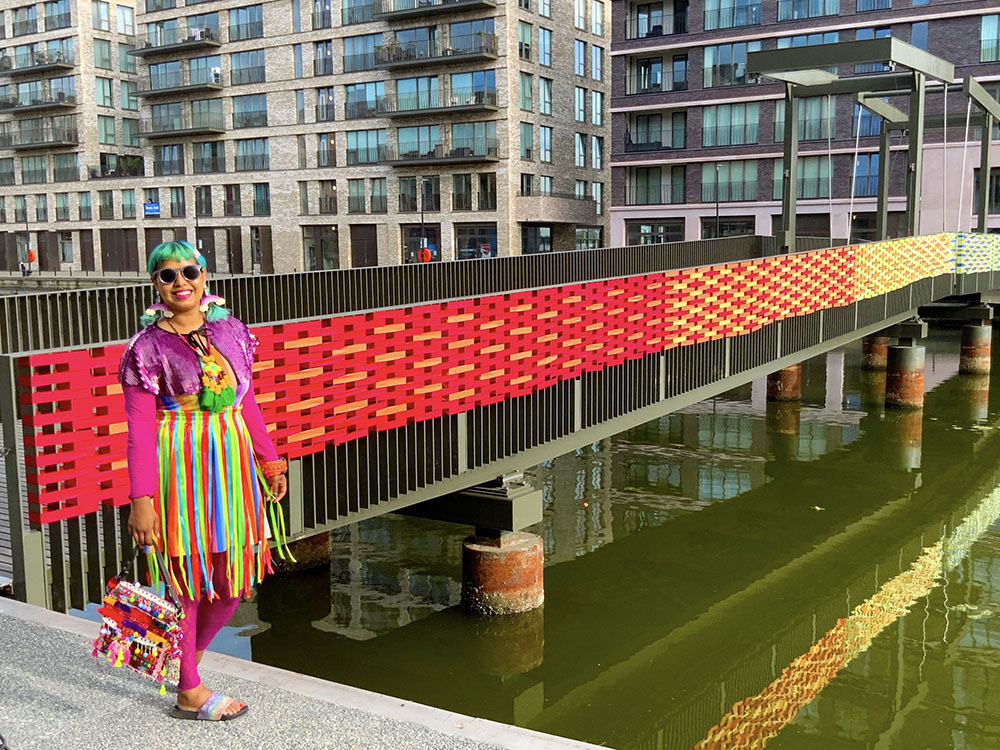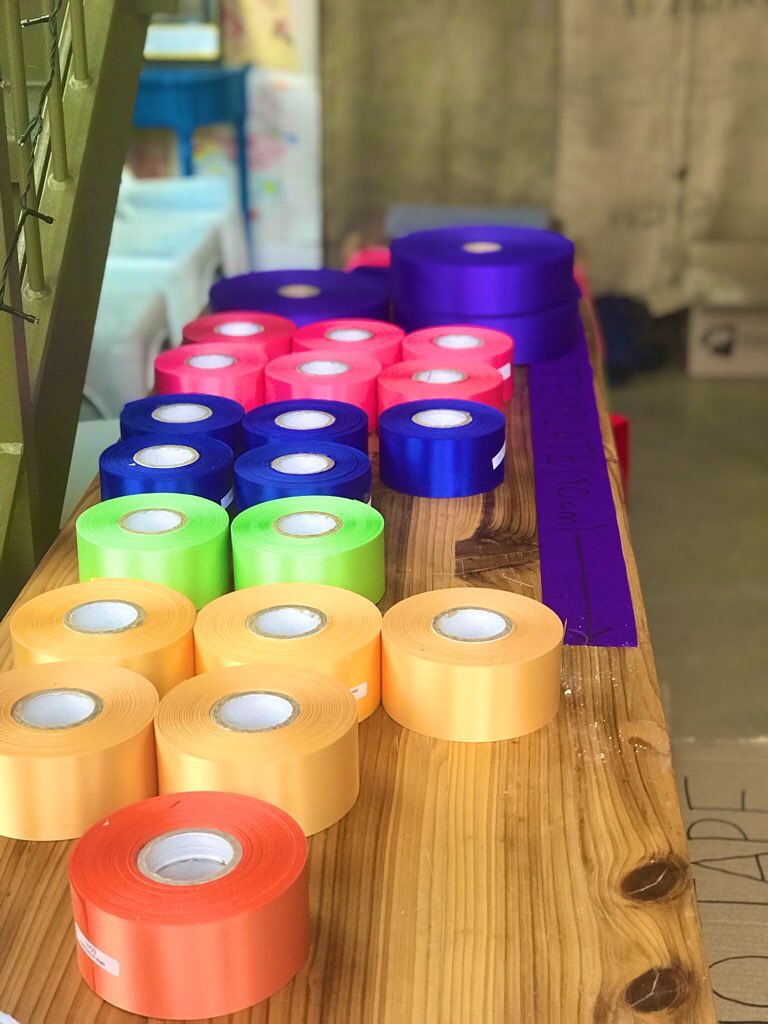 Run over three weekends in May the project hub was the RAW Labs arts centre and café in Royal Albert Wharf, East London. Run by Bow Arts they hold all kinds of creative events and workshops and sell locally made chocolate. It's a place I used to visit a lot so it was good to be back.
When I first saw images of the 'Rainbow Bridge' I thought it was a complicated woven structure when actually it was made up of individual pieces of ribbon, taped onto the bridge. The entire design was masterfully planned out by local resident Andrew Morris including how the different colours interlocked with patterns in between them. He worked out exactly how many pieces of ribbon would need to be cut out – thousands! Andrew and his girlfriend Gosia managed the workshops to ensure they were fully safe and even more importantly – fun. Plus there were options to get involved at home if you didn't want to come to the café.
Ribbon crafting
"I kept getting caught in a sticky situation"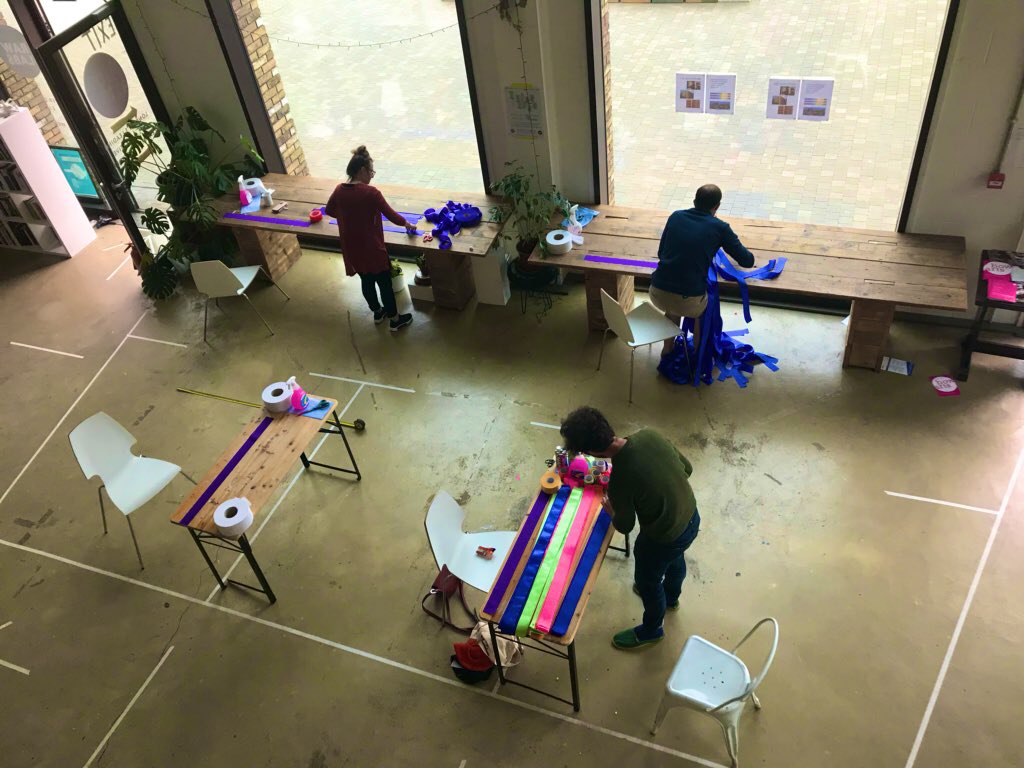 On the first weekend the main task was cutting up the ribbon….around 2,500 strips of 90cm strips. We each had tables to work on and despite being distanced we could still talk to each other.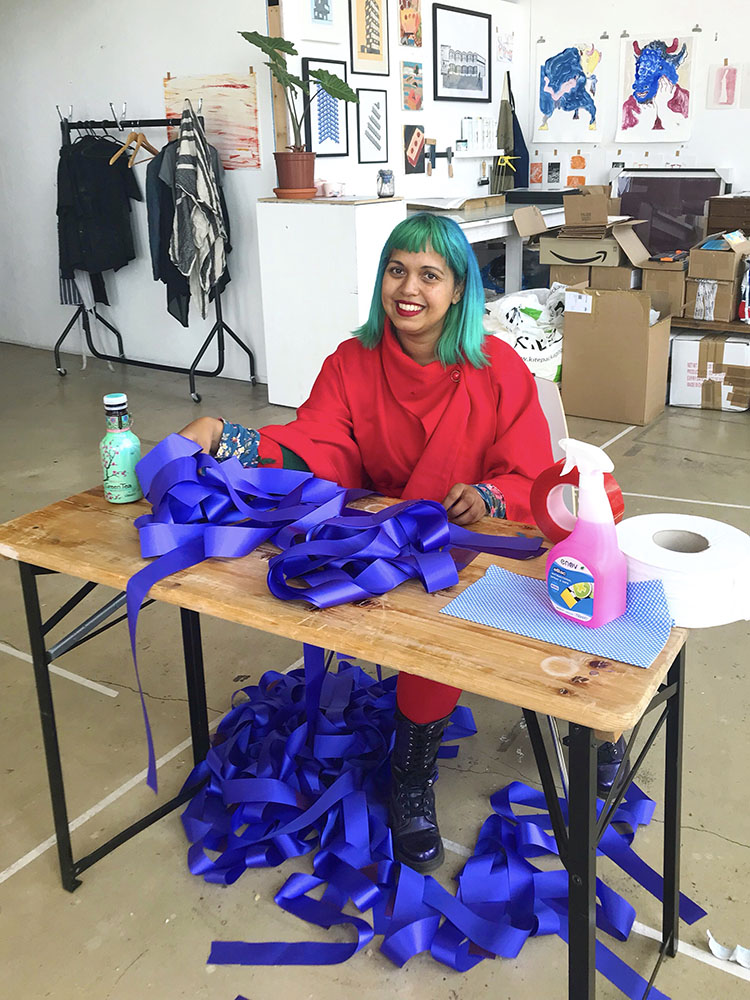 On the second weekend we began attaching sticky tape to one end of the ribbon strips. This took longer than cutting, mainly because the tape was super sticky and I kept getting caught in a sticky situation with the tape all tangled up. Once there was enough pieces the installation got underway.
Artwork installation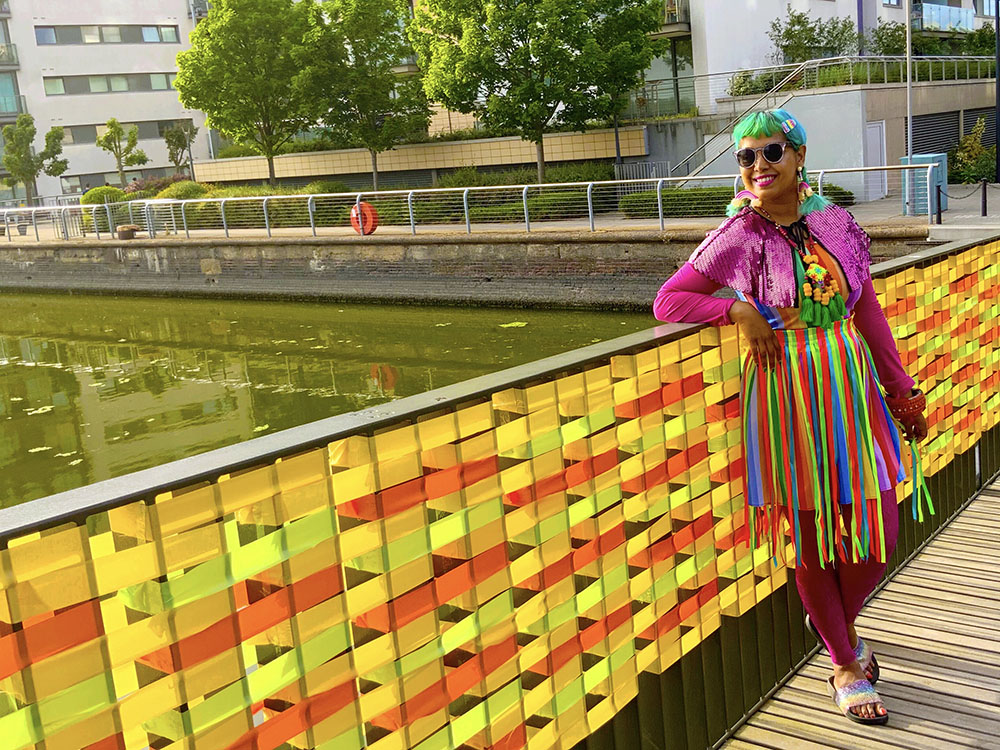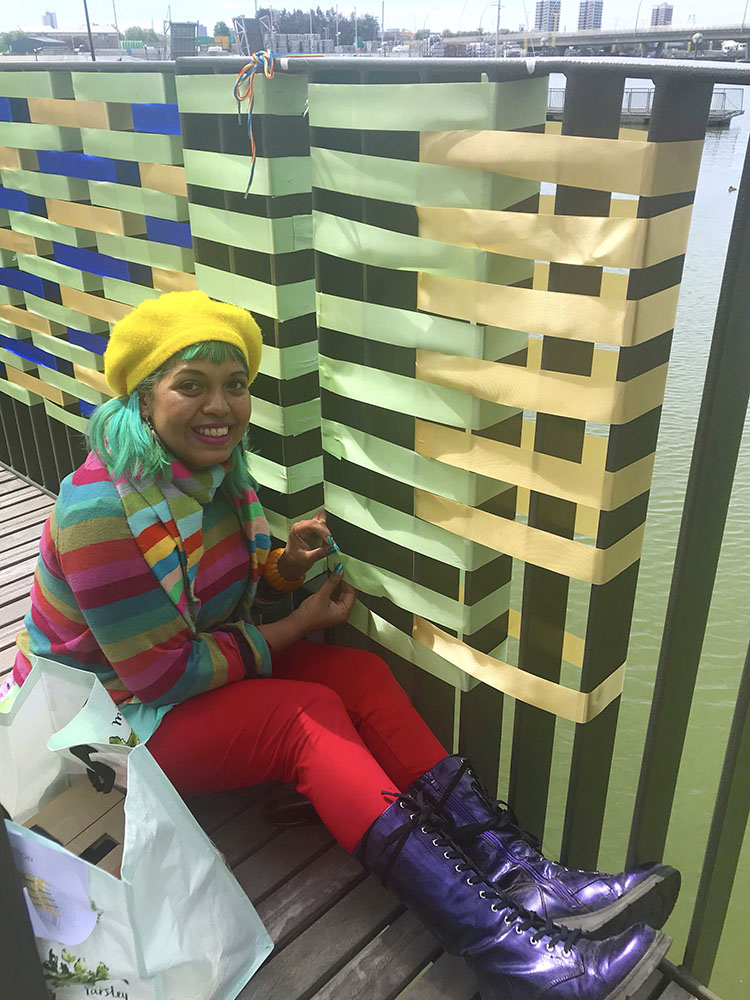 Andrew and Gosia had prepared kits containing the exact number of ribbon strips needed for each section of the bridge along with a chart that showed the ordering of each colour. Then it was a matter of sticking them around the railings and stapling them on for extra security.
It took a while to get into the swing of it, especially getting the tension right but it was satisfying seeing everyone working on different sections at the same time.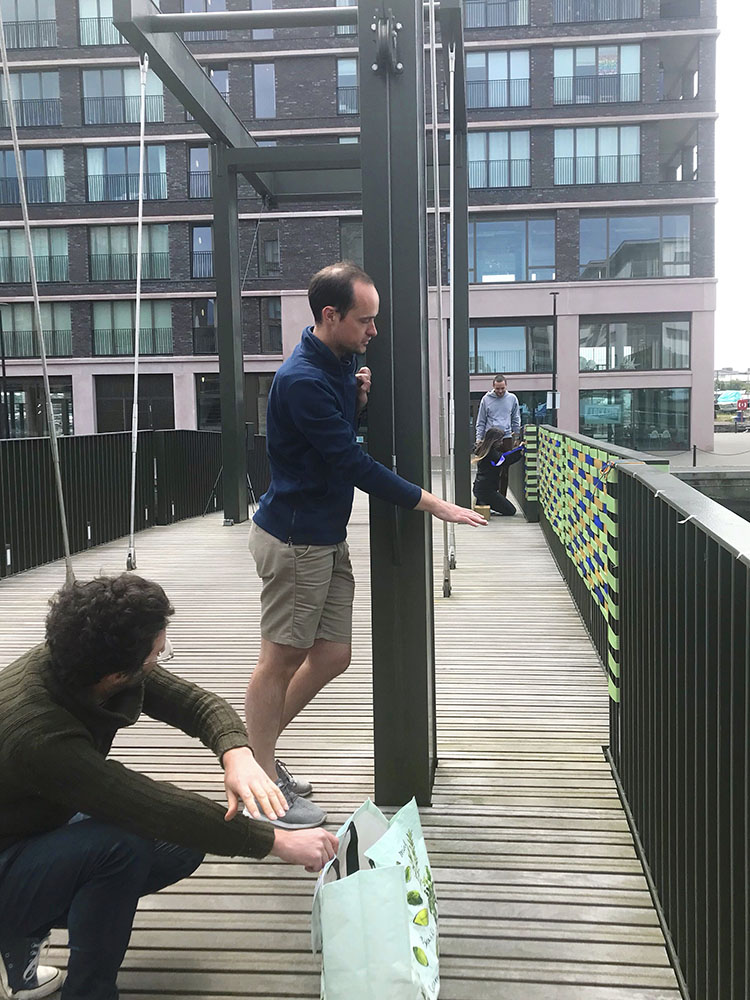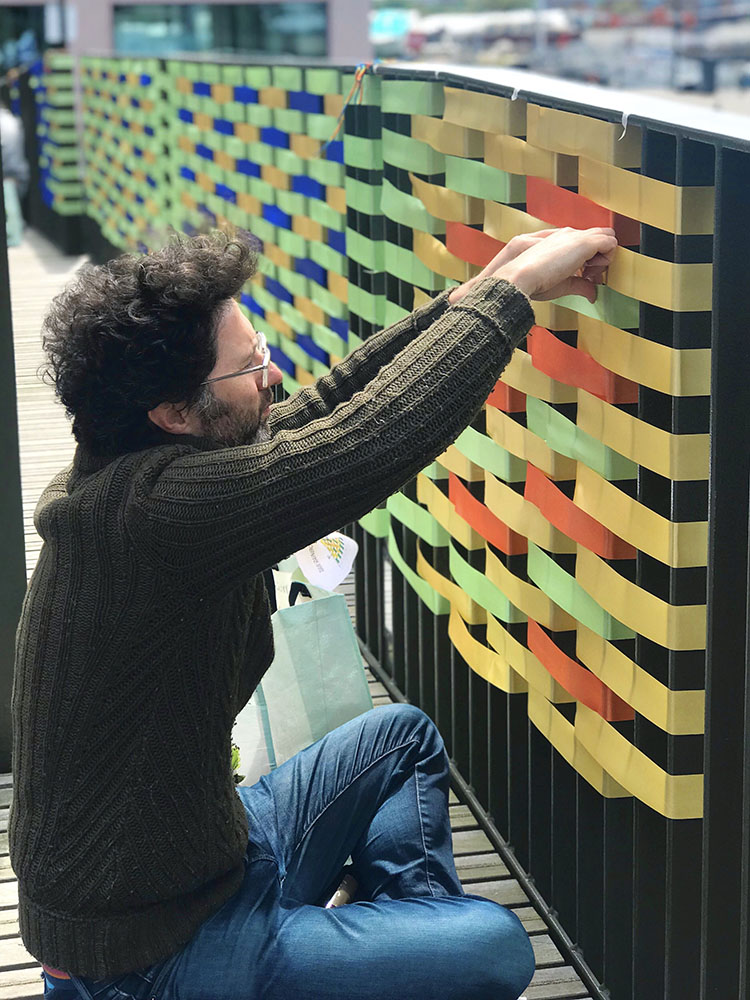 A few local residents came by with complaints that the activity was taking place which was a bit of a dampener but it goes to show that people do care about what is happened in their local areas. The community art project was fully supported and signed off with agreed social distancing measures beforehand. Once it's time for the ribbon bridge to come down the ribbon can be recycled in craft workshops…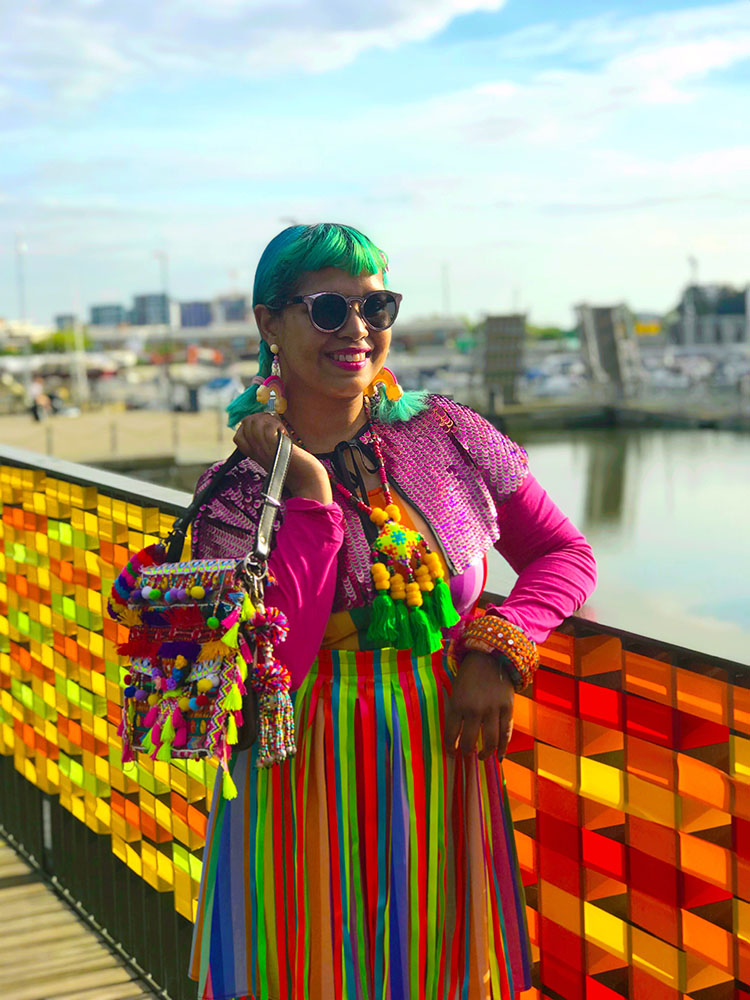 Perhaps they could be turned into a ribbon skirt like this one I made?!
Somewhere over the rainbow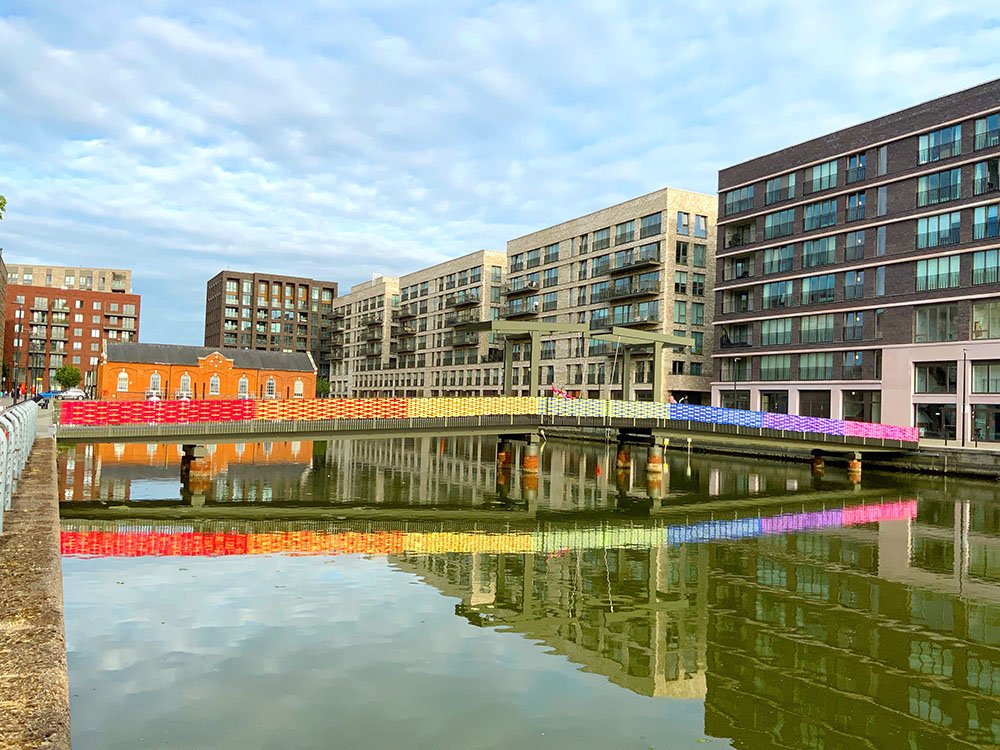 The bridge was completed on Monday and looks far more awe-inspiring and magical then I ever imagined, especially the rainbow reflection that's created on the water. When I came to take photos of it I realised the bridge is such a feat of genius and creativity that I had to write a blog post about it to share its beauty…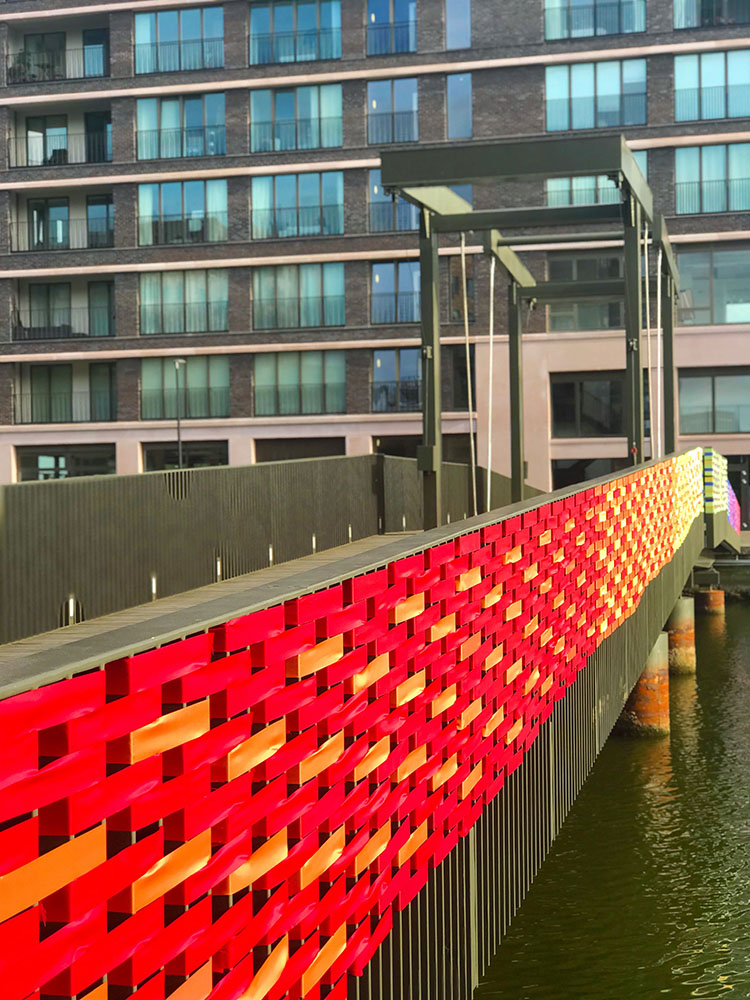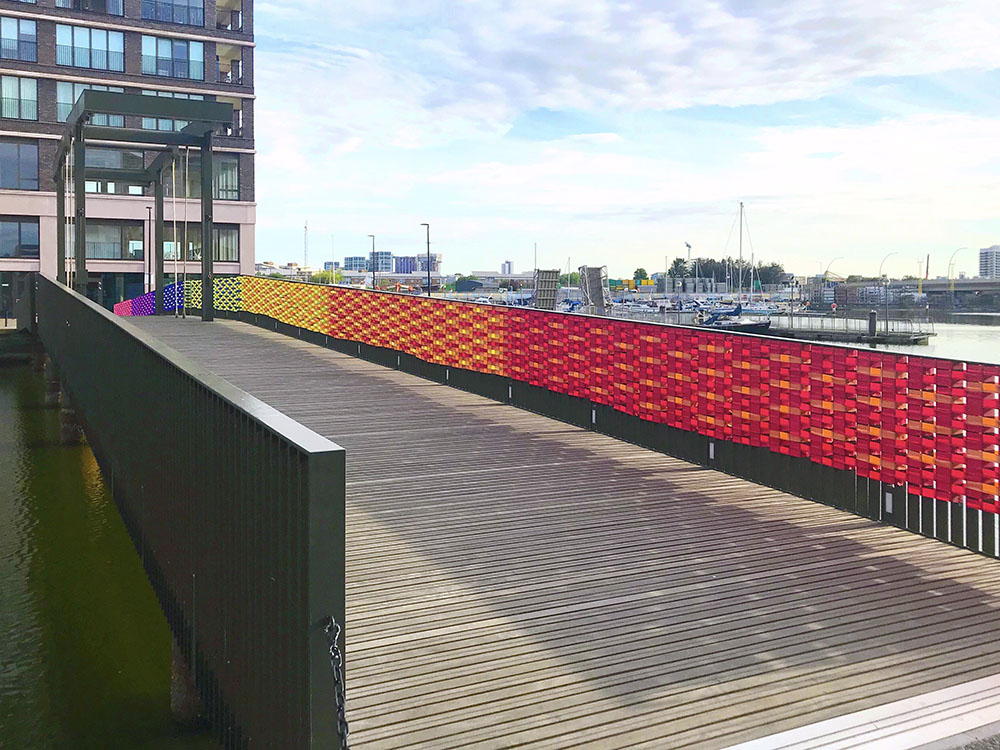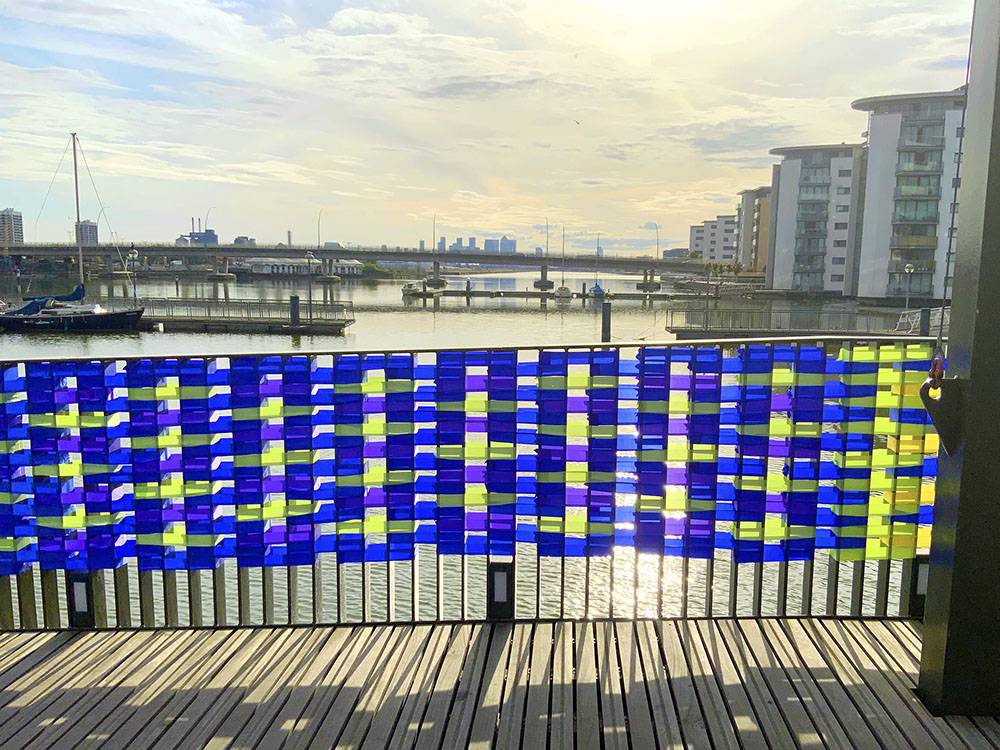 Obviously it's not encouraged to come and look at it if you live outside of East London so I hope you like the photos instead, but as we can currently travel as far as we want for exercise if you fancy a 'jog over the bridge' then jump on a DLR to Gallion's Reach and you'll find the RAW Rainbow Bridge there.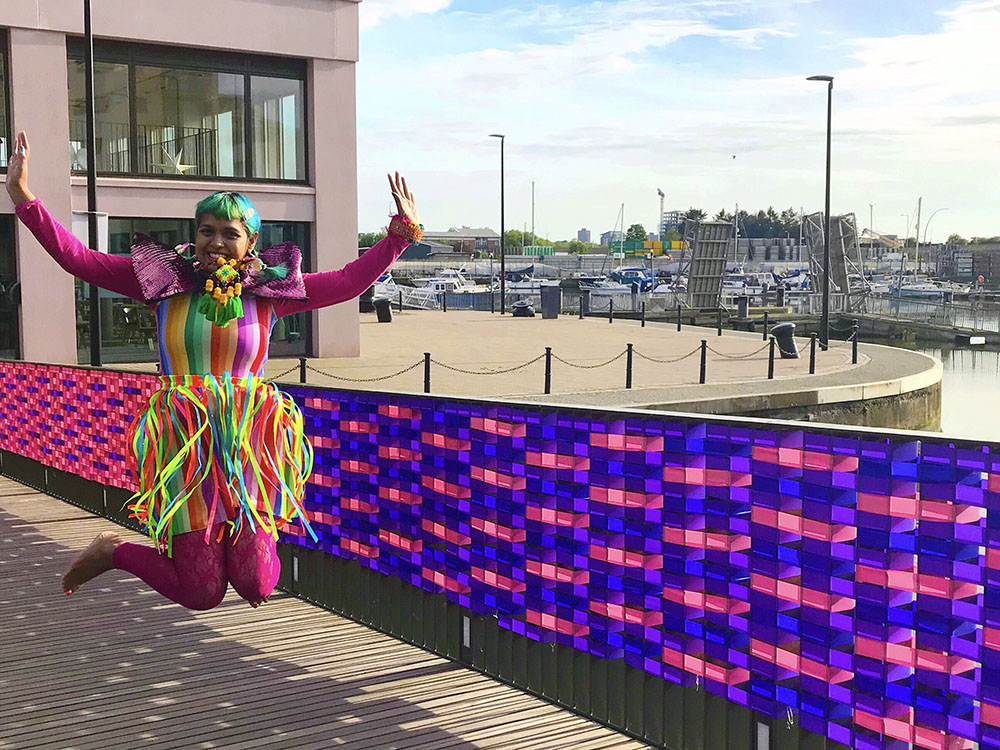 It's a very interesting place and one that's made a previous appearance on my blog….remember my birthday photoshoot from last year? I took that here too!
Thank you to Andrew, Goshi, Bow Arts and all the other volunteers for making the RAW rainbow happen. I feel very proud to have been involved.
The Covid-19 pandemic has meant we've all had a tough few months and there's still more of that ahead but this project was a little ray of sunshine and joy amongst it.
Where to find the RAW Rainbow:
Norton Quays, Royal Albert Wharf, London E16 2QP
(It should be up until mid-July)
IMAGES: Doodling Around
Check out some other things I've made during the Covid-19 pandemic lockdown in my coronavirus crafting post.