My favourite type of crafts are quick, easy ones where you can't go wrong and glass painting is a technique where this is definately the case – hooray! With Diwali the Hindu festival of lights taking place next weekend, now is a great time to get inspired by the celebrations to make some Diwali Crafts so here's a DIY lantern I designed using a washed out pickled onion jar, a great way to upcycle.
Step 1:
You'll need a selection of glass paints. Pebeo is a reliable brand and they have all sorts of colours. You can just stick to buying the primary colours and mixing or buy a pack like me.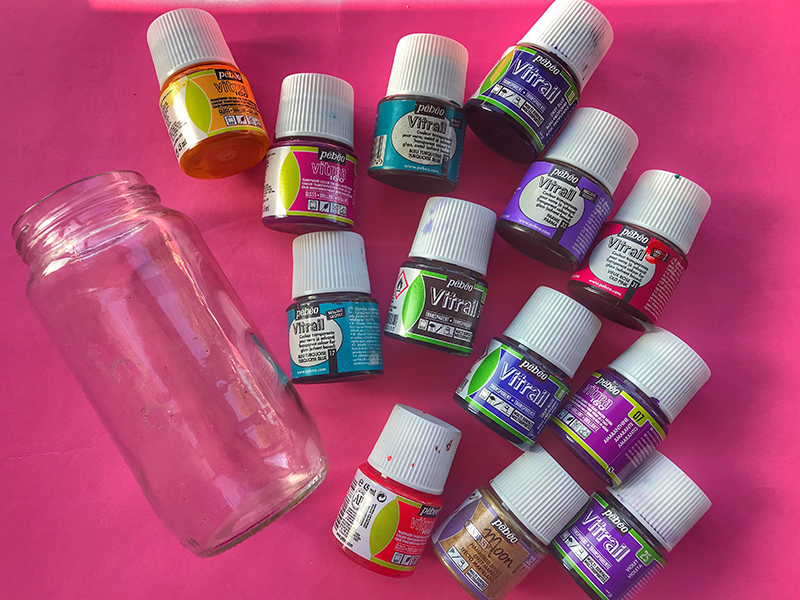 Step 2:
Take an ordinary washing up sponge and cut it into small squares.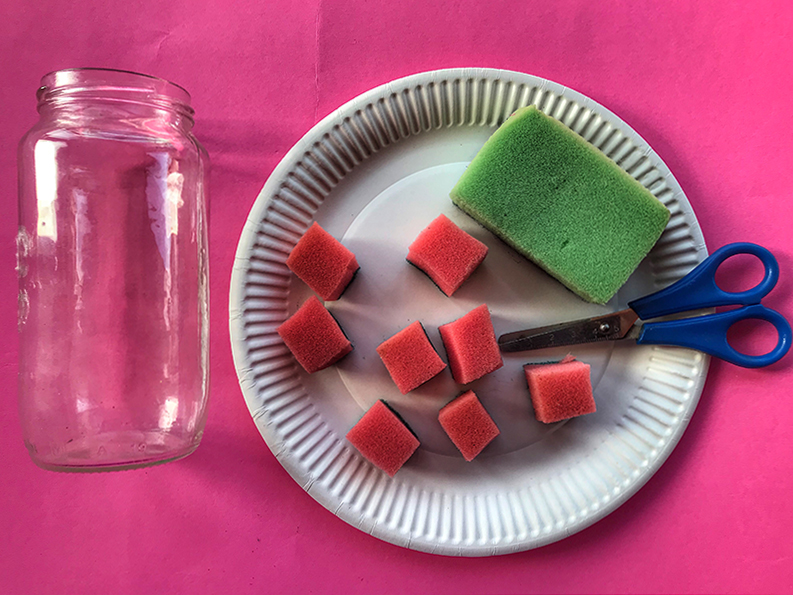 Step 3:
Pour out a tiny bit of paint at a time so it doesn't get wasted use a surface like a plate or paint palette (I have paper plates at home which is why I've used one.)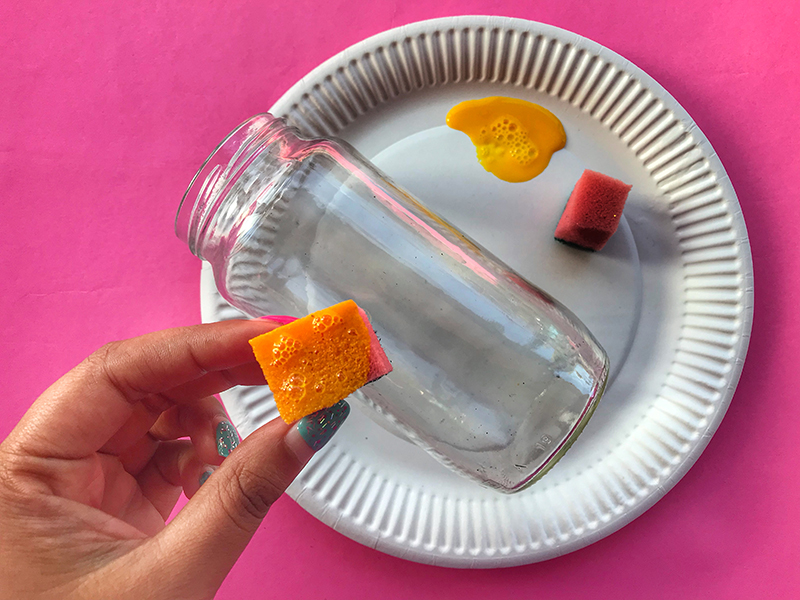 Step 4:
Dip your sponge into the paint then press it all over the surface of your glass jar. I started with a yellow all over. Apply just a thin coverage so it dries within around 20 minutes.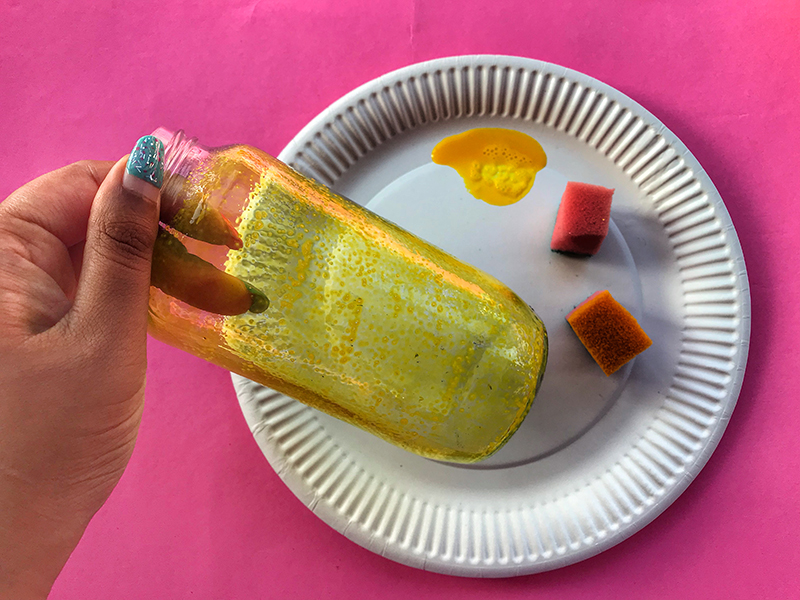 Step 5:
Next apply other colours on top to create a marbled rainbow effect. This time you don't need to wait for layers to dry, keep the layers thin and have fun pressing them on.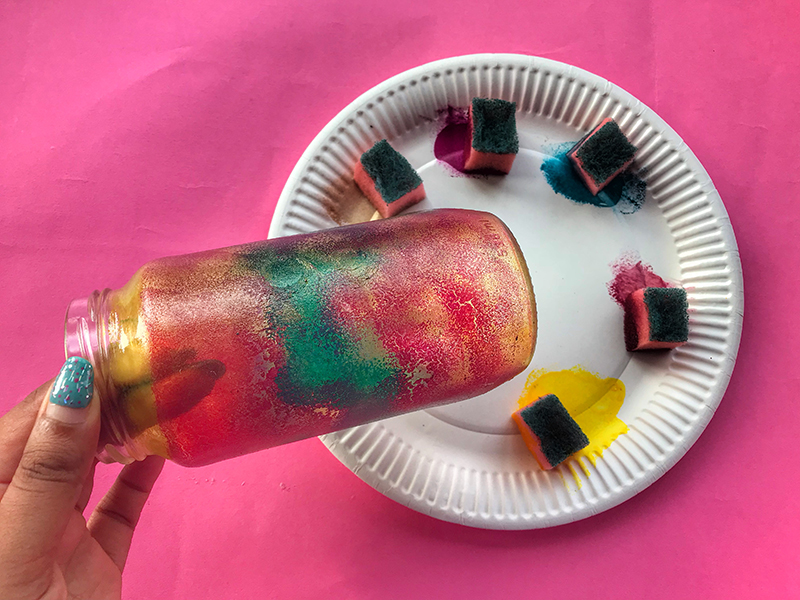 Step 6:
To add details I used a mixed of Posca pens and metallic marker pens as they can be used on any surface including glass. Sharpie pens would also work.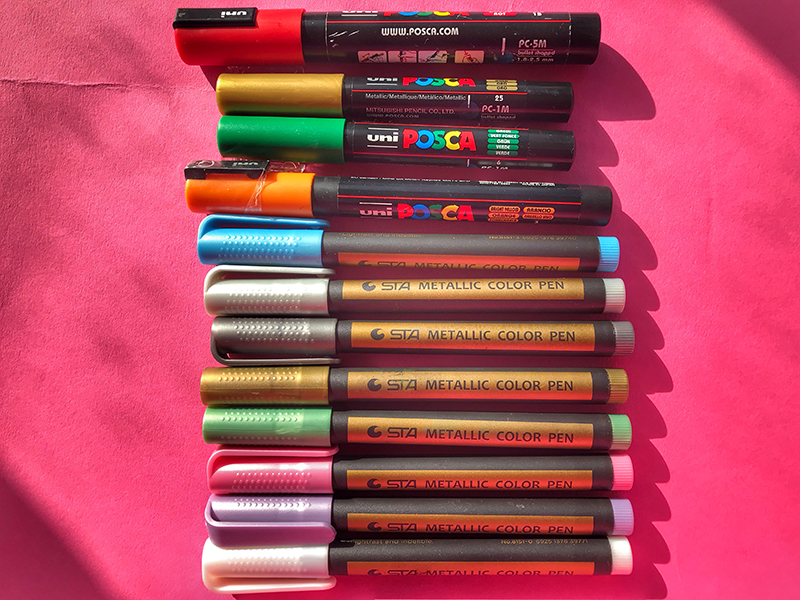 Step 7:
Hand draw on some designs I stuck to shapes like circles, dots, lines and squiggles.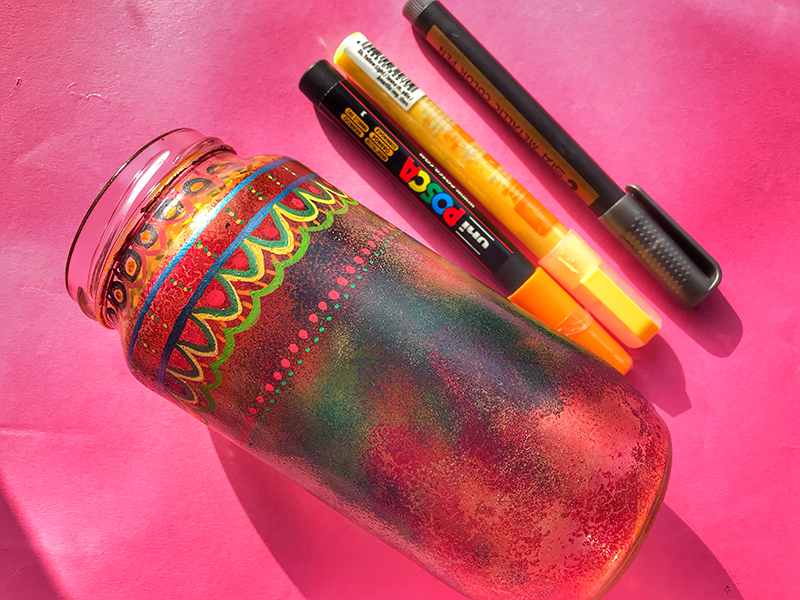 Step 8:
Stop when you're pleased with your design. These pens dry instantly so you won't have a problem going around the whole jar.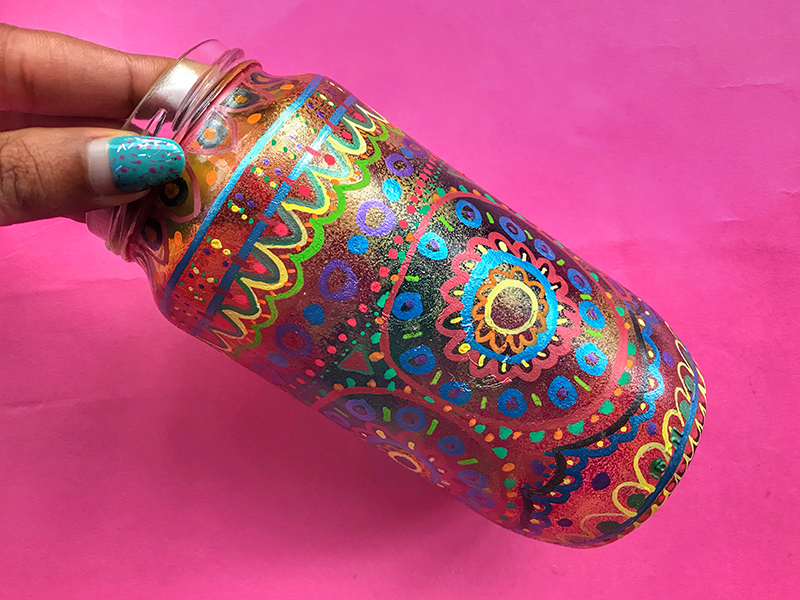 Step 9:
Next you need some craft gems and some pva glue. Use a cocktail stick to apply them on as a brush would be too big.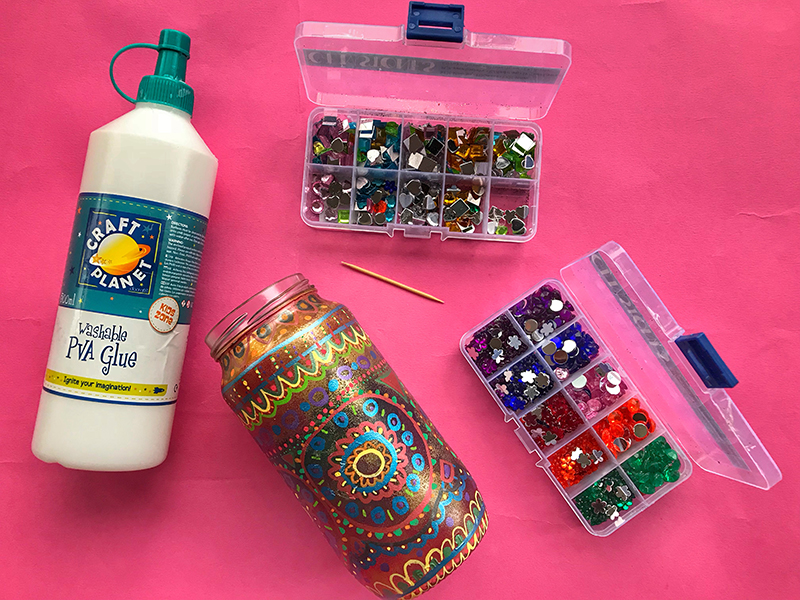 Step 10
Finally if you intend to hang up your lantern tie some string or ribbon around the top but make it long so that it doesn't catch the flame if you're putting a real tealight inside, otherwise use an LED one.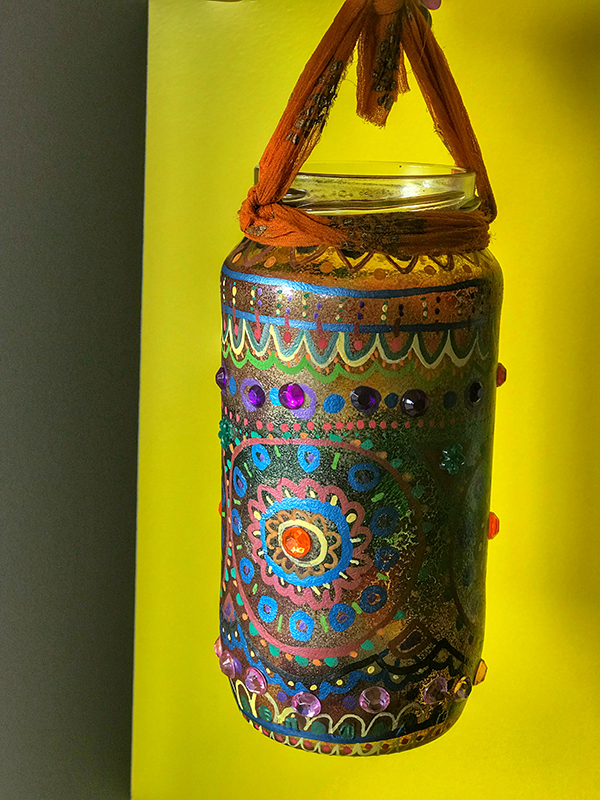 Step 11:
Admire your creation!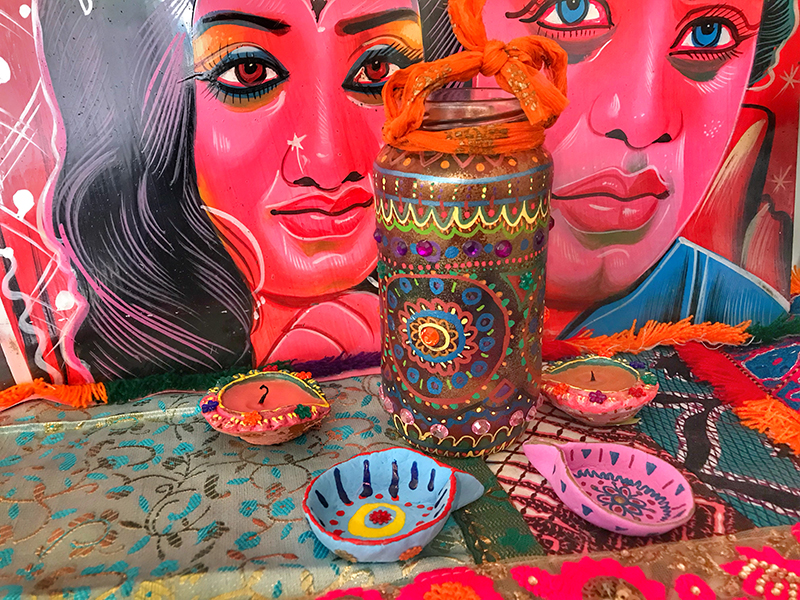 Love colourful crafts? Check how I made a Rainbow Mural.
Happy Diwali 2109!
Yours colourfully,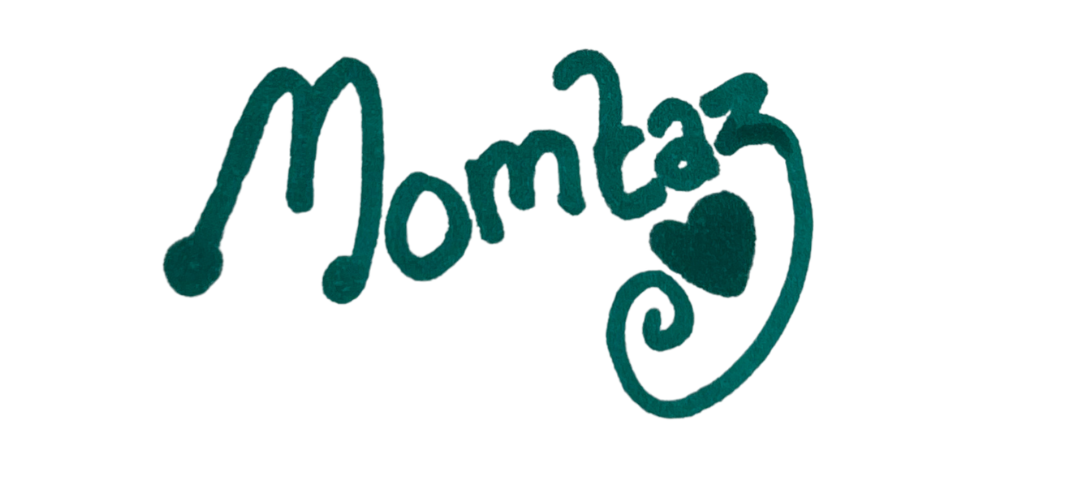 colourful crafts
craft techniques
crafts tutorial
diwali 2019
glass painting
glass paints
indian crafts
quick crafts
upcycled glass jar
upcycling