How To Wear and Tie A Sarong in Thai Style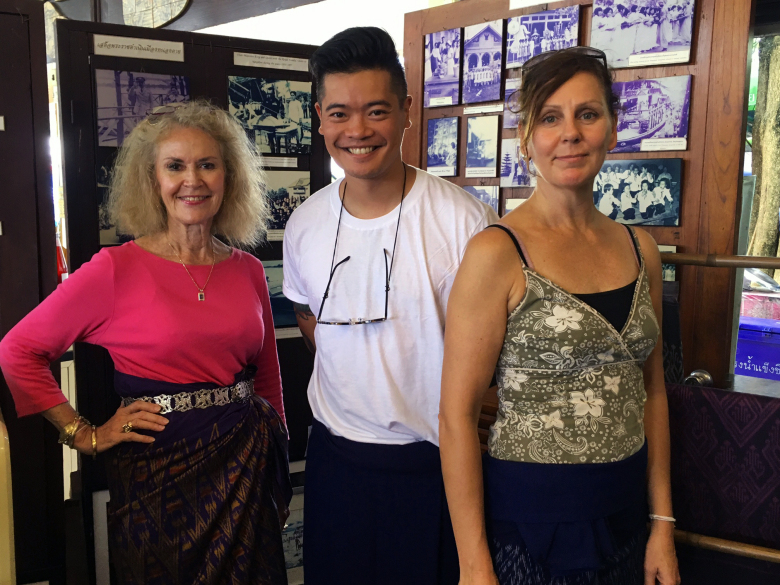 Travelling companions from USA, Copenhagen & Sweden 
Do you know how to wear or tie a sarong? I didn't until this trip! You'll usually only see me wearing a sarong  when I'm on holiday and I need a quick way to cover my legs to get from the swimming pool, back to my hotel room. For most Brits sarongs only come out on summer vacation, but go elsewhere in the world from Malaysia and Indonesia to Africa and Sri Lanka; sarongs are the norm. But how you wear wear or tie a sarong?
Bangladeshi sarongs
I'm Bangladeshi and at home my dad always wore sarongs – the Bangladeshi version is called a lungi, it's made from thin cotton and often has stripes or checked patterns on it. Comfortable, with room to breath and unisex, sarongs are simply a length or tube of fabric: it's in the tying technique where they get transformed from being an ordinary textile into fashionable garment.
Before visiting Thailand I only knew two ways to wear a sarong; wrapped around my waist with a massive slit, or pulled across my body, tied at my neck and worn as a dress. A visit to Mantra in Nong Khai, gave me a whole new insight into how sarongs can be worn and why so I thought I'd share their tips on how to wear or tie a sarong Thai style.
Visiting Mantra Silk Shop Thai style sarongs)
The Owner of Mantra Silk Shop opened her business on the banks of the Mekong River in North East Thailand to promote the work of local craftsworkers. She employs workers from local villages on a fair-trade basis and stocks their handicrafts in her craft boutique Mantra, part of a shopping parade along the river called The Pier Market, Nong Khai. She also promotes and sells Traditional Thai pieces which include silk clothing and fabric based items at fairs and markets. One of her personal concerns is that Thai people don't wear sarongs as much as they used to. She's noticed that people associate them with certain activities, such as the 'commonness' of wearing them to work in the rice paddy field, so she's taken it upon herself to revive the tradition of wearing sarongs by showing her customers new ways to incorporate them, whether that's wearing one on a glamorous night out, to go shopping, or as formal wear.

If you're not keen on the tying, sarongs can also be worn as shawls
My travelling companions and I were shown 10 different ways to tie a sarong which we then strutted down the catwalk in, on a makeshift runway outside the store.
Sarongs, called pa kao mah, are also worn by men – you'll typically see them on fishermen. The one worn by Kenneth was a 'tube shape' rather than a piece of fabric. For these ones you step into it, hold the end up to your stomach and roll over the top to create a band, this is the easiest and quickest way to wear one.
I could get used to being papped in all my outfits! 
Types of sarong
Mantra's sarongs feature traditional weaving and indigo dyeing techniques but I opted for the most colourful in store, bright pink and purple. One thing that surprised me was how high they come above the waist as I had expected them to sit on the hips more, this means they'd work better worn with a shorter style top or blouse.
My biggest fear about wearing a sarong is it falling off but once I had it around my waist it felt very secure, though for added confidence and style I wore mine with a metal chain belt which held it in place. Folding methods varied from concertina style, to different ways of overlapping and wrapping. Having someone else do the folding was clearly much easier, I'm still not entirely sure how well my own folding would turn out.
A few days later when we were dining together in an upmarket restaurant I spotted two women wearing formal, evening style sarongs which made me appreciate their versatility, and made me smile knowing that Mantra's mission to get sarongs recognised as fashionable attire is working.
Catwalk images: Orhan Nuri Kulahcioglu
All other images: Craft and Travel
Find out more: Mantra Nongkhai or Facebook.
Enjoyed this post? On the same trip to Thailand I also learnt how to make silk which you can read here.