Indigo – The Art Of Natural Dyeing in Thailand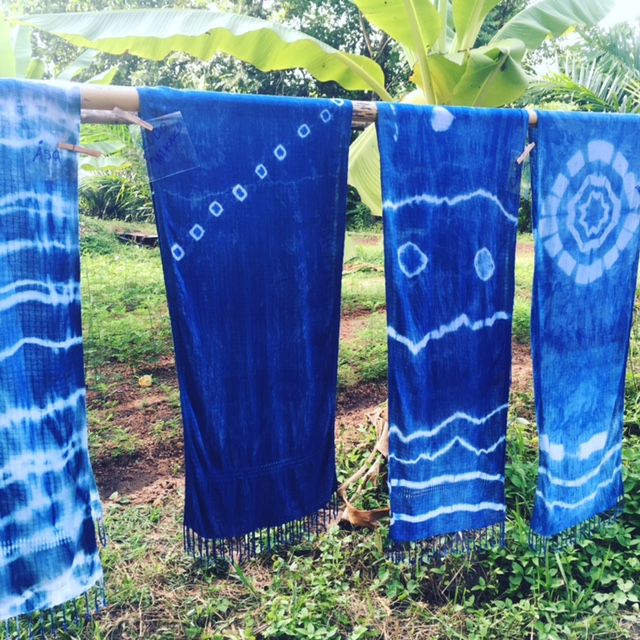 I first tried tie-dye crafts when I was at school. I customised my trousers by applying elastic bands onto a pair of white jeans and then put them in a washing machine with purple dye, which transformed them into the perfect 'festival chic' fashion item.
At that time I had always associated 'tie-dye' with alternative hippy culture and when I went to the markets of Panjam in Goa, India, this was confirmed as I saw endless rainbow tie dye bedspreads, the quintessential 'tie-dyed' textile.
But these were all made with unnatural dyes: bold, bright hues that were made from synthetic colours. It was later that I learnt about the existence of natural dyes and how they are used so commonly around the world – many of which originate from plants.
Indigo-dyeing

View of Kram Sakon Centre
Used for thousands of years, indigo dye is a natural blue colour that is extracted from indigo plants and has been used in India and South East Asian countries for textiles for centuries. Although I've seen classes in the UK advertised about trying out indigo dyeing, I've never had the chance before, so on a trip to Sakhon Nakon, in NE Thailand, I stopped by Kram Sakon, a centre that specialises in Thai indigo dyeing where it's possible to have a go at this traditional technique.
So many options!
To start with we were shown the possibilities: the types of patterns that can be achieved, and the implements required to create them, which were wooden blocs, lollipop stick and elastic bands.
I was drawn to this particular shape and as I was decorating a scarf, decided to make it into a feature shape.
Creating my pattern
To create the main circular design the scarf was folded concertina style into a long triangle. The shapes where then placed at three intervals.
Dyeing the scarf
My group dyeing their scarves
Much more labour intensive than I expected, it wasn't just a matter of leaving it in a bucket and allowing the dye to absorb. Much agitation was needed and it was tiring work.
Initially it was put in the bucket of dye and them moved around for five minutes. It was then hung up to dry for five minutes and then dyed again and repeated several times. There's also an intensive rinsing process.
The dye itself runs out. There gets to a point where you can't dye anything else as it's all been absorbed so you need to get a new bucket but that wouldn't be necessary for a scarf, that's more if you're dyeing several garments.
Indigo dye
To get an understanding of how the actual dye is created, check out this blog post which goes through in detail, how the plants are harvested, leaves picked and soaked and pigment extraction. In fact the blog SlowStitchCraft has some good explanations about natural dyeing in general and the authors are based in North East Thailand.
The finished results
You never really know if your methods will work until you finally unravel your work and see the results. I was actually amazed when I saw the final result.

OOH that's mine!
The scarf needed to dry naturally in the air and is then ready to start using. There's no need to fix it with an iron like synthetic shop bought dyes, another bonus!

Ooh what a lovely scarf!
 Want to have a go yourself?
There's quite a few tutorials online about how to try indigo dyeing in your own home, but I particularly like this one as it uses actual indigo dye and is straight forward. It's also worth looking out for Shibori dyeing classes, this is a Japanese form of indigo dyeing and will give you similar results.
I recently met Susie, based in Cambridge, UK who makes and sells indigo dyed products in her Easy shop EcoMeCreative and runs workshops in London in indigo and other natural dyes. Visit her website for dates and contact details. She also sells indigo dyed products in her Etsy store. 
Kram Sakon has a factory outlet selling indigo items and also a small guesthouse. It's also possible to arrange a complete immersive experience like this one. 
Kram Sakon Address: 212 หมู่ 2, Huai Yang, Mueang Sakon Nakhon District, Sakon Nakhon, Thailand Phone: +66 91 562 1671
Momtaz Begum-Hossain
Images: CraftandTravel.com